Figure 1 Pre-contrast computed tomography image of abdomen.
A: Gross hepatomegaly with tiny foci of calcification in segment IV of liver (black arrow); arterial phase; B: Diffuse low contrast attenuation; C: Venous show heterogeneous contrast enhancement with diffuse low density areas scattered throughout liver parenchyma (yellow and orange spherical).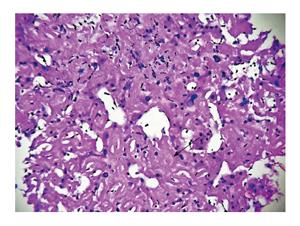 Figure 2 Haemotoxylin and eosin stain of the liver biopsy specimen shows diffuse extracellular amyloid deposit in peri-sinusoidal spaces with compression of hepatocytes (black arrow).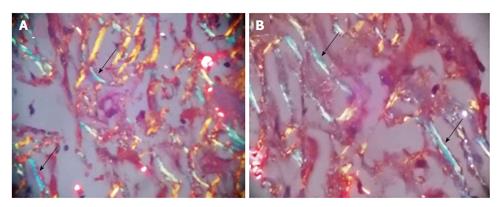 Figure 3 Apple green birefringence demonstrated by amyloid fibrils on polarizing light microscopy (black arrows in A and B) is in liver biopsy specimen.
---
Citation: Sonthalia N, Jain S, Pawar S, Zanwar V, Surude R, Rathi PM. Primary hepatic amyloidosis: A case report and review of literature. World J Hepatol 2016; 8(6): 340-344
---