Copyright
©The Author(s) 2015.
Published by Baishideng Publishing Group Inc. All rights reserved.
Rat embryonic stem cells create new era in development of genetically manipulated rat models
Kazushi Kawaharada, Research and Development Division, DS Pharma Biomedical Co. Ltd., Osaka 564-0053, Japan
Masaki Kawamata, Takahiro Ochiya, Division of Molecular and Cellular Medicine, National Cancer Center Research Institute, Tokyo 104-0045, Japan
Author contributions: Kawaharada K, Kawamata M and Ochiya T contributed to this paper.
Conflict-of-interest statement: Kazushi Kawaharada is an employee of DS Pharma Biomedical Co., Ltd. The other authors declared no conflict of interest.
Open-Access: This article is an open-access article which was selected by an in-house editor and fully peer-reviewed by external reviewers. It is distributed in accordance with the Creative Commons Attribution Non Commercial (CC BY-NC 4.0) license, which permits others to distribute, remix, adapt, build upon this work non-commercially, and license their derivative works on different terms, provided the original work is properly cited and the use is non-commercial. See: http://creativecommons.org/licenses/by-nc/4.0/
Correspondence to: Dr. Takahiro Ochiya, Division of Molecular and Cellular Medicine, National Cancer Center Research Institute, 5-1-1 Tsukiji, Chuo-ku, Tokyo 104-0045, Japan. tochiya@ncc.go.jp
Telephone: +81-3-35422511 Fax: +81-3-55650727
Received: August 22, 2014
Peer-review started: August 23, 2014
First decision: September 28, 2014
Revised: May 29, 2015
Accepted: July 16, 2015
Article in press: July 18, 2015
Published online: August 26, 2015

Embryonic stem (ES) cells are isolated from the inner cell mass of a blastocyst, and are used for the generation of gene-modified animals. In mice, the transplantation of gene-modified ES cells into recipient blastocysts leads to the creation of gene-targeted mice such as knock-in and knock-out mice; these gene-targeted mice contribute greatly to scientific development. Although the rat is considered a useful laboratory animal alongside the mouse, fewer gene-modified rats have been produced due to the lack of robust establishment methods for rat ES cells. A new method for establishing rat ES cells using signaling inhibitors was reported in 2008. By considering the characteristics of rat ES cells, recent research has made progress in improving conditions for the stable culture of rat ES cells in order to generate gene-modified rats efficiently. In this review, we summarize several advanced methods to maintain rat ES cells and generate gene-targeted rats.
Core tip: Rat embryonic stem (ES) cells are thought to be an essential tool for creating transgenic rats. Since the method for establishing rat ES cells using signaling inhibitors was reported, numerous approaches have been made to propagate rat ES cells efficiently. Additionally, recent investigations have demonstrated the usefulness of the signal inhibitors for microinjection. In this review, we summarize the several advanced methods to maintain rat ES cells and generate gene-targeted rats.
---
Citation: Kawaharada K, Kawamata M, Ochiya T. Rat embryonic stem cells create new era in development of genetically manipulated rat models. World J Stem Cells 2015; 7(7): 1054-1063
---
INTRODUCTION
Rattus norvegicus, is widely used as a laboratory animal in many kinds of scientific field, such as biochemical, biomedical, and pharmacological studies. In 1828, albino mutants were brought into laboratories for physiological studies such as fasting studies. Since the nineteenth century, over 700 rat strains including inbred and outbred strains have been developed, and have been used for a multitude of studies[1,2]. Rats offer some advantages over mice in some transplantation, behavior, and pharmacokinetic studies, because the larger size and greater intelligence of rats compared to mice enables ease of surgical operation, a large-volume of blood sampling, and assessment of high-level learning[3,4].
In addition, it has been suggested that rats are a useful model for physiological studies owing to the heart rate of rats being closer than that of mice to the human heart rate[2]. For these reasons, the publications involving rats outnumbered those involving mice for many years. However, far fewer scientific procedures have used transgenic rats than have used mice[5]. One of the reasons for this disparity has been a lack of reliable methods to establish rat embryonic stem (ES) cells. Genetically modified mice have been routinely created using mouse ES cells with gene-manipulation technologies. These genetically modified mice have contributed greatly to scientific development since the first establishment of mouse ES cell technology in 1981[6]. Meanwhile in rats, advancement of one of the gene-targeting technology using zinc-finger nucleases (ZFNs) allowed to generate the first knock-out rats in 2009[7,8]. Microinjection of ZFNs into the pronuclei of rat embryos leads to the creation of knock-out rats. ZFNs are engineered proteins with DNA-binding and nuclease activity, which facilitates the targeted editing of genomes by creating double-strand breaks in the DNA at specified locations and promoting non-homologous end-joining. Moreover, a robust method to establish rat ES cells was reported in 2008[9,10], and the generation of knock-out rats was achieved using rat ES cell-based technology in 2010[11].
ESTBLISHMENT, CHARACTERIZATION, AND MAINTENANCE OF RAT EMBRYONIC STEM CELLS
DIFFERENTIATION OF RAT EMBRYONIC STEM CELLS INTO FUNCTIONAL CELLS
Only a few studies have reported a stable induction method to differentiate rat ES cells into functional cells in vitro. Cao et al[44] supplied a protocol to differentiate rat ES cells into cardiomyocytes, and showed that the functional properties of the differentiated cells were similar to those of rat fetal cardiomyocytes and mouse ES cell-derived cardiomyocytes. However, the efficiency of the cardiac differentiation of rat ES cells was approximately 40%; this was lower than that of mouse ES cells, which were differentiated with over 80% efficiency[45]. Normally, the first step for in vitro differentiation of mouse ES cells is to induce cell aggregation into embryonic bodies (EBs), which can be accomplished in a relatively simple procedure using a differentiation medium containing serum. However, apoptosis was observed in rat ES cells during the formation of EBs in the differentiation medium[26,44]. On the other hand, Peng et al[46] succeeded in efficient differentiation of neural precursors from rat ES cells. They demonstrated that the ROCK inhibitor facilitates the neural differentiation and the GSK3 inhibitor maintains the survivability of the differentiated cells, and high-efficiency neural precursor differentiation (90%) was achieved using the two inhibitors. For the survival of neural precursors differentiated from mouse ES cells, it is sufficient only in the ROCK inhibitor[47]. Thus, optimized differentiation media for rat ES cells are necessary to induce rat ES cells into functional cells efficiently. These media may facilitate not only in vitro studies but also in vivo studies such as the transplantation of rat ES cell-derived differentiated cells or grafts to animal models, which in vivo studies were not reported even though rats are more relevant to humans than mice.
GENERATION OF KNOCK-IN AND KNOCK-OUT RATS USING RAT EMBRYONIC STEM CELLS
Gene-targeting to rat embryonic stem cells
Gene targeting to rat ES cells has been explored in some previous studies. Tong et al[11] and Yamamoto et al[48] reported that the efficiency of homologous recombination was 1.12%-3.70% and 0.9%, respectively, while Meek et al[28] reported that the efficiency was similar to that of mouse and human ES cells. Moreover, the gene-targeted rat ES cells express the pluripotent markers to the same extent as the parent ES cells, and retain the ability to differentiate into all three germ layers[28]. It was noted that serum was effective at minimizing the damage caused when electroporation was performed[49]. In fact, Yamamoto et al[48] used 1% serum during their electroporation procedure. Such efforts are not necessary for the rat ES cells maintained in the condition developed by Kawamata et al[26], because the culture condition already contains 20% FBS.
Embryonic stem cell maintenance for creating
knock-out rats
Soon after the generation of transgenic rats using rat ES cells[26,50], the first study of targeted gene disruption in rats via homologous recombination in rat ES cells were reported by Tong et al[11]. Figure 3 shows a process of generating genetically-modified rats. Tong et al[11] succeeded in generating germline chimeric rats by selecting the colonies that formed a small, round, compact shape, and loose attachment on feeder cells, not the large or strongly adherent colonies. This finding provides a guideline to choose rat ES cell colonies for microinjection. Tong et al[11] found that over 65% of the large and strongly adherent colonies were polyploid, and concluded that such chromosomal abnormalities caused the failure of germline transmission, as the same as the case in mouse ES cells. Hence, the likelihood of successful germline transmission could be increased by the selection of small, loosely adherent rat ES cell colonies for the purpose of microinjection.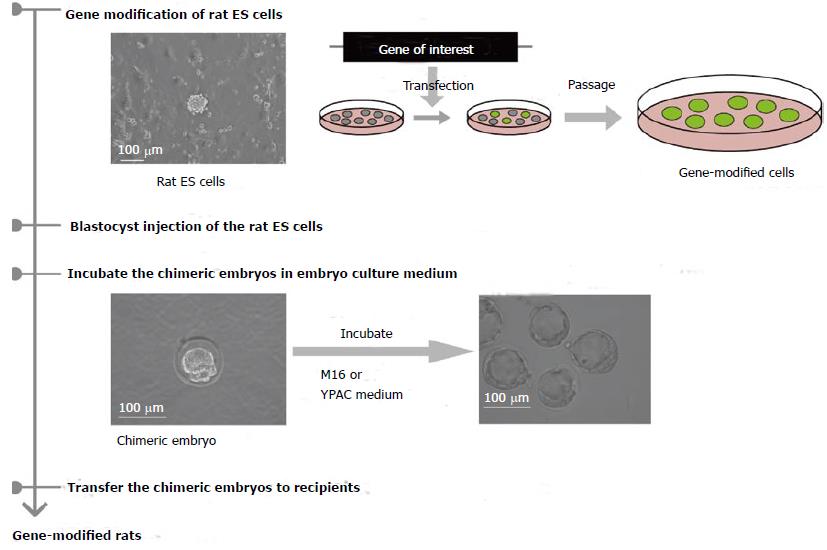 Figure 3 Generation of embryonic stem cell-derived gene-modified rats.
First, a gene of interest is introduced into rat embryonic stem (ES) cells. Next, the gene-targeted rat ES cells are injected into blastocysts and are incubated in embryo culture medium or YPAC medium. Then, the chimeric rat embryos are transferred into recipient rats. After that, gene-modified rats will be generated following breeding of the chimeric rats obtained from chimeric embryos.
An unstable state of rat ES cells in recipient blastocysts after microinjection was also considered as a possible cause for failure to produce germline-competent chimeric rats. In order to study the fate of rat ES cells in recipient blastocysts, Kawamata et al[26] delivered CAG-AmCyan1-transgenic rat ES cells into recipient blastocysts by microinjection. In the absence of YPAC, few cyan-positive cells were present in the blastocysts after 30 h incubation, whereas cyan-positive rat ES cells remained on the surface of the ICM when YPAC was used in both the injection and incubation media. It is reasonable that the addition of the ROCK inhibitor not only suppresses apoptosis, but also promotes adherence to the ICM. Some embryo culture media such as M2, M16, and KSOM have been generally used for the microinjection of mouse ES cells. Similarly, the use of the embryo culture media is also proposed for microinjection of rat ES cells[51]. Specifically, embryos are washed in M2 medium after collection from pregnant rats, and the chimeric embryos are incubated in M16 medium after microinjection to allow recovery. However, the use of the YPAC medium might offer a superior microinjection method to the conventional methods.
Embryonic stem cell-based knock-out rats and their phenotypes
Two kinds of gene-targeted rats - p53-knock-out rats and protease-activated receptor-2 (Par-2) knock-out rats - have been developed using rat ES cell technology, by three groups[11,48,52]. The p53-knock-out rats and p53-knock-out mice revealed differing phenotypes: only 4% of female rats homozygous for the p53 knock-out could survive, whereas the female mice homozygous for the p53 knock-out were normally present at weaning[52]; the major tumor type of the p53-knock-out rats is hemangiosarcoma, while that of the p53-knock-out mice is lymphoma[53]; and developmental abnormalities associated with neural tube defects occurred more frequently in the female p53-knock-out rats than in those female mice[54]. Such sexual distortion associated with the neural tube defects also cause in human[55,56].
A phenotype of Par-2-knock-out rats were reported by Yamamoto et al[48]. The Par-2-knock-out rats showed a lack of responsiveness to PAR-2 receptor activating peptides, which clearly indicated the deficiency of Par-2 protein.
Rat models in studying human diseases
The transgenic rat model of Huntington's disease reflects more typical adult patient pathologies in comparison to the transgenic mice[57]. The transgenic rat model of Alzheimer's disease, harboring mutant human transgenes for amyloid precursor protein and presenilin 1, manifests a complete repertoire of Alzheimer's disease pathological features and demonstrates a markedly greater abundance of soluble oligomeric amyloid-β peptides than mice harboring the same human transgenes[58]. Moreover, the usefulness of transgenic rat models was shown in autism and fragile X syndrome researches. Transgenic rat models lacking disease-associated genes such as fragile X mental retardation 1 gene and neuroligin-3, and these mutations display traits that may be analogous to the characteristics of in their respective human diseases[59].
Although gene knock-out strategies are a promising tool to clarify the mechanism of human diseases such as those mentioned above, some human disease-related gene knock-outs are developmentally lethal. This problem can often be overcome through the use of conditional-knock-out animals, which enable site-specific and inducible gene deletion. Brown et al[60] first generated the conditional-knock-out rats via ZFN-mediated technologies. The system is based on Cre/loxP recombination system, and a target gene is modified by the insertion of two flanking loxP sites, enabling excision of the flanked (floxed) gene segment through Cre-mediated recombination. Conditional-knock-out mice are obtained by mating the floxed mouse line with a Cre-transgenic line, such that the target gene in the progeny becomes inactivated in vivo within the expression domain of Cre[61,62]. To create the conditional-knock-out rats, Brown et al[60] mated the two strains: floxed allele-harboring rats and Cre allele-harboring rats, generated via pronuclear co-injection of a pair of ZFNs along with each donor plasmid.
PERSPECTIVES
Rats are used as the first-preferred animal species for in vivo tests of chemicals. In the meantime, in vitro alternative methods reflecting a response to chemicals have been demanded due to concerns about animal welfare. The use of the in vitro alternatives has many advantages: a decrease in the number of animals used, a reduced cost of animal maintenance, a smaller quantity of chemical needed for testing, and a shortening of the time essential to prepare for and conduct experiments[63-65]. Rat ES cells could provide innovative in vitro screening models, as rat ES cells have an infinite proliferative capacity and can be continuously supplied.
The generation of transgenic rats have been supported by not only rat ES cell-based gene-modification technology but also other new tools for gene modification such as ZFNs, transcription activator-like effector nuclease and clustered regularly interspaced short palindromic repeat[66-68]. Table 2 shows the knock-out rats generated by using of rat ES cells and new gene-modification technologies. However, the new technologies carry a risk of off-target effects by site-specific nuclease activity, and require screening to detect targeted events. In contrast, using ES cell-based technologies allows researchers to easily approach the generation of genetically modified rats with the knowledge obtained from experience in generating genetically modified mice. Therefore, rat ES cell-based gene targeting is still an essential tool for gene modifications.
Ref.
Cell type
Technology
Target
Ménoret et al[69]
Embryo
Meganuclease
Rag1
Ménoret et al[70]
Embryo
ZFN
Immunoglobulin heavy chain
Zschemisch et al[71]
Embryo
ZFN
Rag1
Geurts et al[7]
Embryo
ZFN
GFP
Embryo
ZFN
IgM
Embryo
ZFN
Rab38
Mashimo et al[8]
Embryo
ZFN
IL-2 receptor gamma
Moreno et al[72]
Embryo
ZFN
Renin
Chu et al[73]
Embryo
ZFN
Mdr1
Vaira et al[74]
Embryo
ZFN
Reptin
Tesson et al[66]
Embryo
TALEN
IgM
Ferguson et al[67]
Embryo
TALEN
Tlr4
Yamamoto et al[48]
ES cells
Homologous Recombination
Par2
Tong et al[11]
ES cells
Homologous Recombination
p53
Kawamata et al[52]
ES cells
ZFN
p53
CONCLUSION
Exploring small molecules for the optimum culture conditions for rat ES cells opened up avenues for the generation of genetically modified rats. Although ES cell-based knock-out/knock-in rats have not been widely generated due to the karyotype instability of rat ES cells, further exploration of new combinations of small molecules and growth factors will facilitate germline transmission of genetically modified rat ES cell clones. Additionally, human ES cells with a naïve state could be created by above effort[75]. As the phenotypes of gene-knock-out animals can be different among species, rats represent a valuable tool in which phenotypes can be generated and compared to those of mice with relative ease. Studies using a combination of both mouse and rat disease models will provide beneficial information to clarify the mechanisms of human disease, leading to the development of new drugs. We hope that many researchers again choose to utilize rat models for research, and establish a new platform for basic and clinical applications using gene modification technology.
ACKNOWLEDGMENTS
The authors would like to express the deepest appreciation to Yoshihiro Sumita and Tadayoshi Ueda whose comments and suggestions were of inestimable value for this manuscript. The authors also thanks to Aya Yoshimura (National Institute of Neuroscience) for technical advice, Luc Gailhouste (National Cancer Center Research Institute) for comments on this manuscript and Shigeyuki Ota, Lao Xintian, Makiko Morita, Hiroko Koreishi, Kenryo Furushima and Yasuyuki Tsutsumishita for their sincere encouragement.
P- Reviewer: Feng ZL, Sidhu KS S- Editor: Gong XM L- Editor: A E- Editor: Wu HL