Copyright
©The Author(s) 2023.
Published by Baishideng Publishing Group Inc. All rights reserved.
Modulation of stem cell fate in intestinal homeostasis, injury and repair
Zhe Wang, Department of Gastroenterology, Union Hospital, Tongji Medical College, Huazhong University of Science and Technology, Wuhan 430022, Hubei Province, China
Yan-Ji Qu, Department of Otorhinolaryngology, Union Hospital, Tongji Medical College, Huazhong University of Science and Technology, Wuhan 430022, Hubei Province, China
Min Cui, Department of Orthopedics, Union Hospital, Tongji Medical College, Huazhong University of Science and Technology, Wuhan 430022, Hubei Province, China
Author contributions: Wang Z wrote the manuscript; Qu YJ collected the data; Cui M revised and approved the manuscript; All authors have read and approved the final manuscript.
Supported by the National Natural Science Foundation of China, No. 82202766; the Natural Science Foundation of Hubei Province of China, No. 2022CFB686; the Science Foundation of Union Hospital, No. 2021xhyn102; and the Scientific Research Training Program for Young Talents in Union Hospital, Tongji Medical College, Huazhong University of Science and Technology, China.
Conflict-of-interest statement: All the authors report no relevant conflicts of interest for this article.
Open-Access
: This article is an open-access article that was selected by an in-house editor and fully peer-reviewed by external reviewers. It is distributed in accordance with the Creative Commons Attribution NonCommercial (CC BY-NC 4.0) license, which permits others to distribute, remix, adapt, build upon this work non-commercially, and license their derivative works on different terms, provided the original work is properly cited and the use is non-commercial. See:
https://creativecommons.org/Licenses/by-nc/4.0/
Corresponding author: Min Cui, MD, PhD, Associate Chief Physician, Associate Professor, Doctor, Department of Orthopedics, Union Hospital, Tongji Medical College, Huazhong University of Science and Technology, No. 1277 Jiefang Avenue, Wuhan 430022, Hubei Province, China. cm95588@hust.edu.cn
Received: January 14, 2023
Peer-review started: January 14, 2023
First decision: March 21, 2023
Revised: March 31, 2023
Accepted: April 24, 2023
Article in press: April 24, 2023
Published online: May 26, 2023

The mammalian intestinal epithelium constitutes the largest barrier against the external environment and makes flexible responses to various types of stimuli. Epithelial cells are fast-renewed to counteract constant damage and disrupted barrier function to maintain their integrity. The homeostatic repair and regeneration of the intestinal epithelium are governed by the Lgr5+ intestinal stem cells (ISCs) located at the base of crypts, which fuel rapid renewal and give rise to the different epithelial cell types. Protracted biological and physicochemical stress may challenge epithelial integrity and the function of ISCs. The field of ISCs is thus of interest for complete mucosal healing, given its relevance to diseases of intestinal injury and inflammation such as inflammatory bowel diseases. Here, we review the current understanding of the signals and mechanisms that control homeostasis and regeneration of the intestinal epithelium. We focus on recent insights into the intrinsic and extrinsic elements involved in the process of intestinal homeostasis, injury, and repair, which fine-tune the balance between self-renewal and cell fate specification in ISCs. Deciphering the regulatory machinery that modulates stem cell fate would aid in the development of novel therapeutics that facilitate mucosal healing and restore epithelial barrier function.
Core Tip: The homeostatic repair and regeneration of the intestinal epithelium upon injury are governed by the Lgr5+ intestinal stem cells (ISCs) located at the base of crypts, which fuel rapid renewal and give rise to different epithelial cell types. We review the current understanding of the intrinsic niche signaling and extrinsic stimulating factors that control homeostasis and regeneration of the ISCs. Deciphering the regulatory machinery that modulates stem cell fate, and formulating strategies for better repair and regeneration would aid in the development of novel therapeutics that facilitate mucosal healing and restore epithelial barrier function.
---
Citation: Wang Z, Qu YJ, Cui M. Modulation of stem cell fate in intestinal homeostasis, injury and repair. World J Stem Cells 2023; 15(5): 354-368
---
INTRODUCTION
Intestinal epithelium serves as the first line of defense against the external environment. As an outward single-layered epithelial structure, the intestinal mucosa withstands continuous mechanical, physicochemical, and biological insults[1,2]. To counteract intestinal injury and preserve their barrier function, epithelial cells are renewed every 2–5 d in most adult mammals[3]. The epithelial turnover is coordinated by Lgr5+ intestinal stem cells (ISCs) residing at the base of the crypts where they are kept in a multipotent state and produce transit amplifying (TA) progenitor cells. TA cells will undergo several cycles of division before migrating to the villi and ultimately differentiate into multiple lineages[4,5]. The disrupted barrier function and defective mucosal healing are the predominant biological features of intestinal pathology, and particularly, chronic gastrointestinal inflammation such as inflammatory bowel disease (IBD), which is represented by ulcerative colitis and Crohn's disease[6-8]. Current clinical strategies focus on the symptomatic relief and blockade of inflammatory progression[9,10], while better solutions should emphasize the motivation of regenerative response orchestrated by ISCs for complete mucosal healing.
Mucosal healing is an integrated network initiated by a series of biological processes and signals[11]. Intestinal homeostasis is characterized by constant regeneration which demands a fine-tuned balance between ISC proliferation and differentiation[12,13]. In response to diverse insults, the cellular response, combined with the stem cell niche adaptions, synthetically modulates the fate of ISCs to restore homeostasis by replenishment of damaged epithelial cells, or to hasten cell demise by impairment of cell function and vitality[14,15]. Therefore, understanding the cellular response and niche adaptations during injury-induced intestinal regeneration is therefore of importance for ISC biology.
Constant efforts have been made to exploit the regulatory mechanisms of critical components that seal the fate of ISCs. In this review, we give an overview of ISCs and review the adaptations and signals required for homeostasis maintenance. We focus on the cell fate specification and biological alterations of ISCs upon diverse insults and provide insights into intestinal regeneration.
INTESTINAL STEM CELL
Two distinct ISC populations located at the crypts have been proposed: Crypt base columnar (CBC) cells, the active cycling stem cells that facilitate homeostatic self-renewal[16], and +4 cells, the quiescent stem cells reserved for injury-induced repair[17].
CBC cells have been the centerpiece of stem cell research since they were initially identified in 1974 as continuously cycling cells at the base of the crypts[18]. Radionucleotide labeling and autoradiography have been used to state that the cells derived from the crypts migrate upward along the villi to be extruded at the villus tips[19,20]. This conveyor belt mechanism confirms stem cell fueling this rapid self-renewal process resides at the base of the crypts[21]. The generation of Lgr5EGFP−IRES−CreERT2 mice reveals that Lgr5, a receptor for WNT signaling-associated R-spondins, is a highly suitable candidate for CBC cell recognition and specification[3]. Single-sorted Lgr5+ stem cells are also able to form these crypt–villus organoids and the Lgr5 hierarchy is maintained in organoids[22]. Recent studies have identified that p27 and Mex3a label the slowly cycling subpopulation of Lgr5+ ISCs based on single-cell transcriptome profiling[23,24].
In addition to Lgr5+ CBC cells, Bmi1+ cells localized at the fourth position of the crypt base and discovered by in vivo lineage tracing and transcriptome analyses, are a possible candidate stem cell population[4,25]. Functionally distinct from Lgr5+ ISCs, the quiescent +4 stem cells are considered reserved stem cells that replenish the continuously cycling CBC cells pool when required, and are highly resistant to radiation and insensitive to Wnt signal[17,26]. In face of chemoradiotherapy, Lgr5+ stem cells are vulnerable to chemical- or irradiation-induced injury, due to their predominantly cycling nature[24,27]. Bmi1+ cells quickly revert to ISCs and the de novo-generated Lgr5+ ISCs are vital for epithelial regeneration[28]. The evidence summarizes the relationship between active and quiescent stem cells and identifies Lgr5+ stem cells as a substantial contributor to homeostatic regeneration[29].
The identification of new ISC markers and the dedication each subpopulation of ISCs commit to regeneration have improved the understanding of stem cell biology during homeostasis and disease. The emergence of new technologies has promoted the decoding of many key problems in intestinal diseases and tumors[4].
INTESTINAL STEM CELL NICHES
The niche in which ISCs reside can be defined as the microenvironment essential for self-renewal and stemness maintentance[13]. ISCs are strongly linked with adjacent cells of both epithelial and mesenchymal origin. These components, along with their communications, comprise the ISC niche[30,31]. The specific instructive microenvironment offers a native source of signals that fuel ISCs to maintain tissue homeostasis[32]. Various cell types of the niche elaborate typical paracrine signals containing Wnt, R-spondin, Notch, mammalian target of rapamycin (mTOR), bone morphogenetic protein (BMP), epidermal growth factor (EGF) and Hippo, which fine-tune the balance between differentiation and proliferation of ISCs, and ensure the production of an adequate number of cells in homeostatic and injury conditions[1,33] (Figure 1).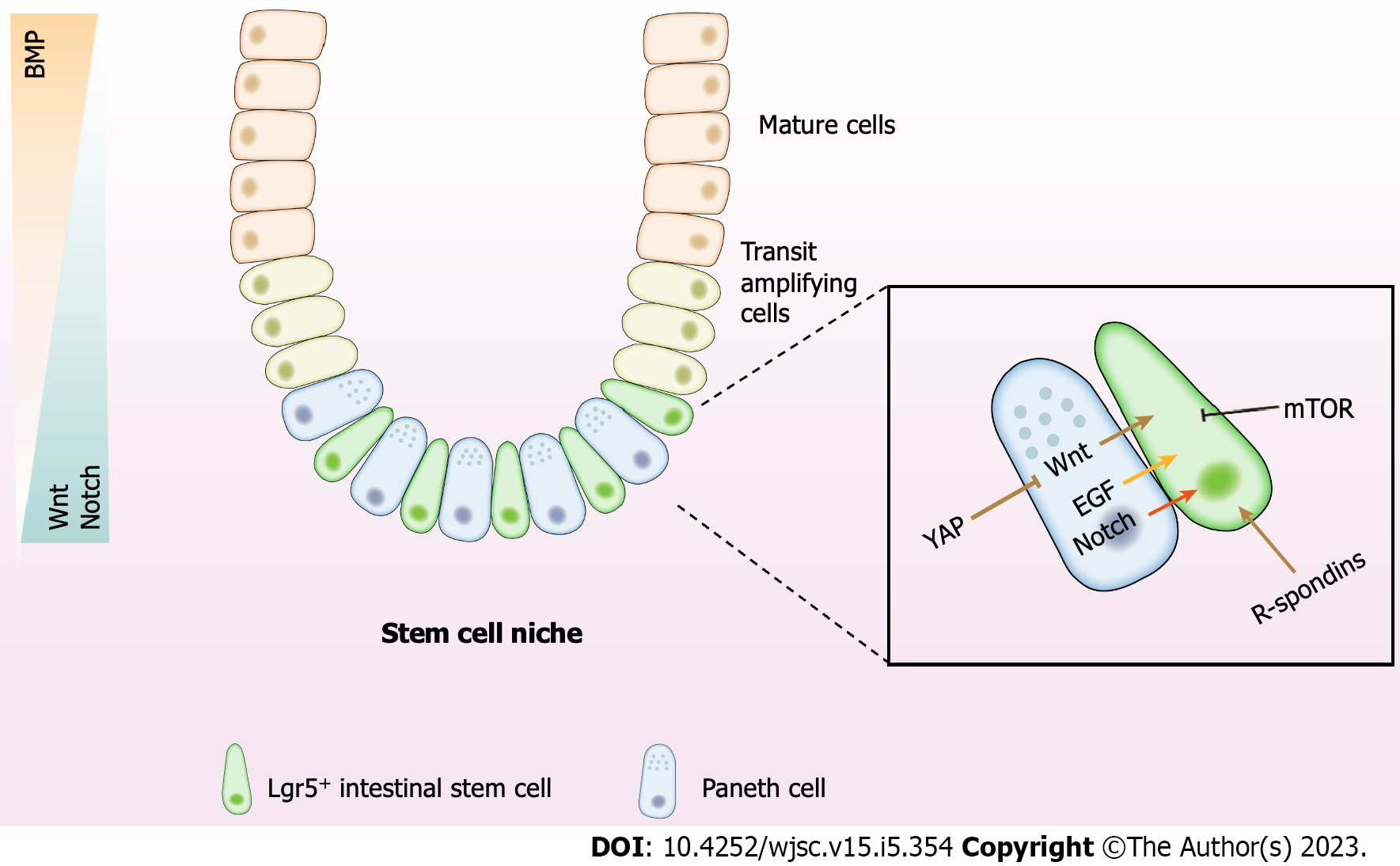 Figure 1 The intestinal stem cell niche and regulatory signals.
The intestinal epithelium consists of crypts and villi. The crypts generate a constant stream of new cells that differentiate and migrate upward into the villi. These Lgr5+ intestinal stem cells reside at the bottom of the crypts and are wedged between Paneth cells, which protect and nurture stem cells. Above the stem cell zone is the lineage-committed progenitor cells, also known as the transit amplifying zone, divided to fuel the rapid epithelial cell turnover. Mature epithelial cells originate from the crypt and move up toward the villus tip. The Wnt and Notch signaling exhibit high activity in the stem cell niche. Activation of the signals decreases along with the increased distance from the crypt bottom. While the BMP activity stands in the opposite direction. WNT, R-spondin, epidermal growth factor, and mammalian target of rapamycin are secreted by Paneth cells or mesenchymal cells. YAP works through the Wnt signaling to maintain the crypt–villus integrity. Besides, Paneth cells provide essential Notch signals to stem cells by expressing Notch ligands. The signaling network in the niche establishes the baseline for self-renewal, fate determination, proliferation, and differentiation of intestinal stem cells. BMP: Bone morphogenetic protein; EGF: epidermal growth factor; mTOR: Mammalian target of rapamycin.
Wnt signaling
The canonical Wnt signaling acts as the prominent driver for ISC proliferation. Synchronous Wnt binding to Frizzled and to LRP5/6 suppresses APC-related ubiquitination of β-catenin which mediates its nuclear translocation, the association with lymphoid enhancer binding factor/T cell factor transcription factors, and the succeeding transactivation of Wnt target genes[34-36]. Multiple Wnts such as Wnt2b, Wnt4, and Wnt5a are abundantly expressed in intestinal stroma[30]. A subset of Foxl1+ mesenchymal stromal cells that form a subepithelial plexus around the crypt is a crucial source of intestinal Wnt[37]. Genetic elimination of Foxl1+ cells triggers the loss of Wnt family expression in the epithelium and an abrupt cessation of proliferation of both epithelial stem cell and TA progenitor cell populations, but not Paneth cell[38]. Wnt2b is highly expressed in Gli1+ or αSMA+ subepithelial stromal cells, which is sufficient to restore epithelial integrity when injected into mice which is devoid of Wnt secretion[39]. Gli1+ subepithelial cells are essential contributors to the integrity of the colonic epithelium for Lgr5+ ISC self-renewal in the colon[40]. As a noncanonical Wnt ligand, Wnt5a deficiency causes a failure to develop new crypts at the wound site and limits the proliferation of crypt cells after injury in a transforming growth factor (TGF)β-dependent manner[41]. These findings reveal the essential role of Wnt signal for the stemness and proliferation of ISC and highlight the contribution of stromal cells in the ISC niche.
The R-spondins comprise one of crucial elements of the niche. R-spondins are secretory glycoproteins which firmly cement the capacity of Wnt ligands for the activation of β-catenin-dependent transcription and canonical Wnt signaling, while R-spondins themselves have no intrinsic Wnt signaling activity[29,42]. Overexpressed R-spondins in vivo forcefully induce the expansion of ISCs and maintain the epithelial integrity against damage induced by the chemotherapeutic agent 5-fluorouracil, dextran sulfate sodium (DSS), or irradiation[43-45]. Wnt proteins are reported to be insufficient to directly regulate ISC self-renewal, while alternatively grant a fundamental competency through motivating R-spondin ligands to actively motivate ISC[46].
Notch signaling
Notch signaling plays a dominant role in the stem cell niche by preserving the quiescent state of ISCs[47]. Integration between Notch ligands (Notch1–4) and receptors (Jag1–2 and Dll1–4) in adjacent cells is required for Notch activation[48]. Different from Wnt signaling that is mainly generated from a stromal microenvironment, Notch signaling may function via neighboring epithelial cells or even stromal subpopulations contacting with ISCs, thus featuring an epithelial niche[49].
Disruption of Notch activity leads to the exhaustion of ISC and differentiation from proliferating TA cells to secretory cells[50]. Simultaneous Notch1/2 deletion recapitulates the global Notch inhibition phenotype of Lgr5+ ISC loss, while the single deletion does not change ISC activity, which suggests the synthetical effect of Notch1/2 in stemness maintenance[51,52].
mTOR signaling
The mTOR signaling is a vital pathway for cellular development and metabolism in mammals. mTOR signaling directly modulates stemness and proliferation of ISCs, functioning as a crucial determinant of cell status within the ISC lineage and modulating differentiation in a nutrient-dependent way[53]. Inhibiting mTOR signaling helps to maintain stemness of ISCs, whereas activation of mTOR facilitates ISCs differentiation and proliferation[54,55]. In the case of caloric restriction, the activity of mTOR complex 1 is inhibited in Paneth cells, resulting in the paracrine release of cyclic ADP ribose that increases self-renewal of ISCs at the cost of differentiation[56]. In high relevance to diet, the mTOR pathway controls stem cell fate possibly by regulating mitochondrial metabolic states.
BMP signaling
BMP signaling acts as an initiator of differentiation in the crypt. Wnt and BMP signalings are deemed as opposite forces along the crypt–villus axis with counteractive gradients of activity[57]. BMP activity is lower in the bottom and higher towards the top of the villus[58]. To offset the inhibitory effects of BMP signaling on ISC fate, BMP antagonists like Noggin, Gremlin-1, and Gremlin-2 are highly expressed in the crypts, permitting the proliferation of ISCs. The BMP antagonists that enhance ISCs self-renewal are secreted by intestinal subepithelial myofibroblasts and smooth muscle cells[59,60].
EGF signaling
EGF is a vital component of the ISC niche[61]. The EGF receptor is abundantly expressed in CBCs, whereas its ligands are expressed in Paneth cells[62]. The activity of ErbB signaling is monitored by the negative regulation of Lrig1, a transmembrane protein coexpressed with Lgr5 in CBCs[62]. Loss of Lrig1 leads to the activation of receptors and a concomitant rapid expansion of crypts and cell numbers. Blockade of EGF signaling in intestinal organoids drives proliferative ISCs into quiescent state and stops organoid budding[63]. The evidence suggests the requirement of EGF in epithelial regeneration.
Hippo signaling
The Hippo pathway, a highly conserved signaling first described in Drosophila as an organ size control pathway, is comprised of a core kinase cascade, Mst1/2 and Lats1/2, which phosphorylate and suppress transcriptional coactivators Yes1 associated transcriptional regulator (YAP) and Tafazzin (TAZ), thereby modulating TEA domain transcription factor 1 (TEAD)-mediated transcriptional activation[64,65]. YAP/TAZ are the core components for stem cell-based regeneration. YAP overexpression in mice accelerates the self-renewal of colonic epithelium, and augments the number of proliferative cells and the cell migration along the crypt-villus axis, as detected by BrdU marker[43]. While YAP depletion causes a significant decrease in crypt proliferation, extensive crypt loss and consequently regeneration failure upon DSS or irradiation[66,67]. Loss of YAP activity contributes to higher sensitivity of ISCs to apoptosis and lower proliferative capacity during regeneration[68]. Moreover, the core Hippo kinases Lats1/2 are essential to maintain ISC activity and their deletion leads to the loss of ISCs[69]. This demonstrates their essential effects on epithelial proliferation and tissue regeneration. YAP may actively block Wnt signaling and thus apply negative feedback on Wnt signaling via β-catenin inhibition[43], indicating the complex interaction between YAP and other niche signals which may need further investigation.
ENDOGENOUS AND ENVIRONMENTAL STIMULI
The intestinal epithelium is exposed to a hostile luminal environment, thus resulting in Lgr5+ ISCs continuously encountering sources of stress to maintain dynamic homeostasis. We summarize the major endogenous and environmental stimuli that influence stem cell regenerative potential (Figure 2).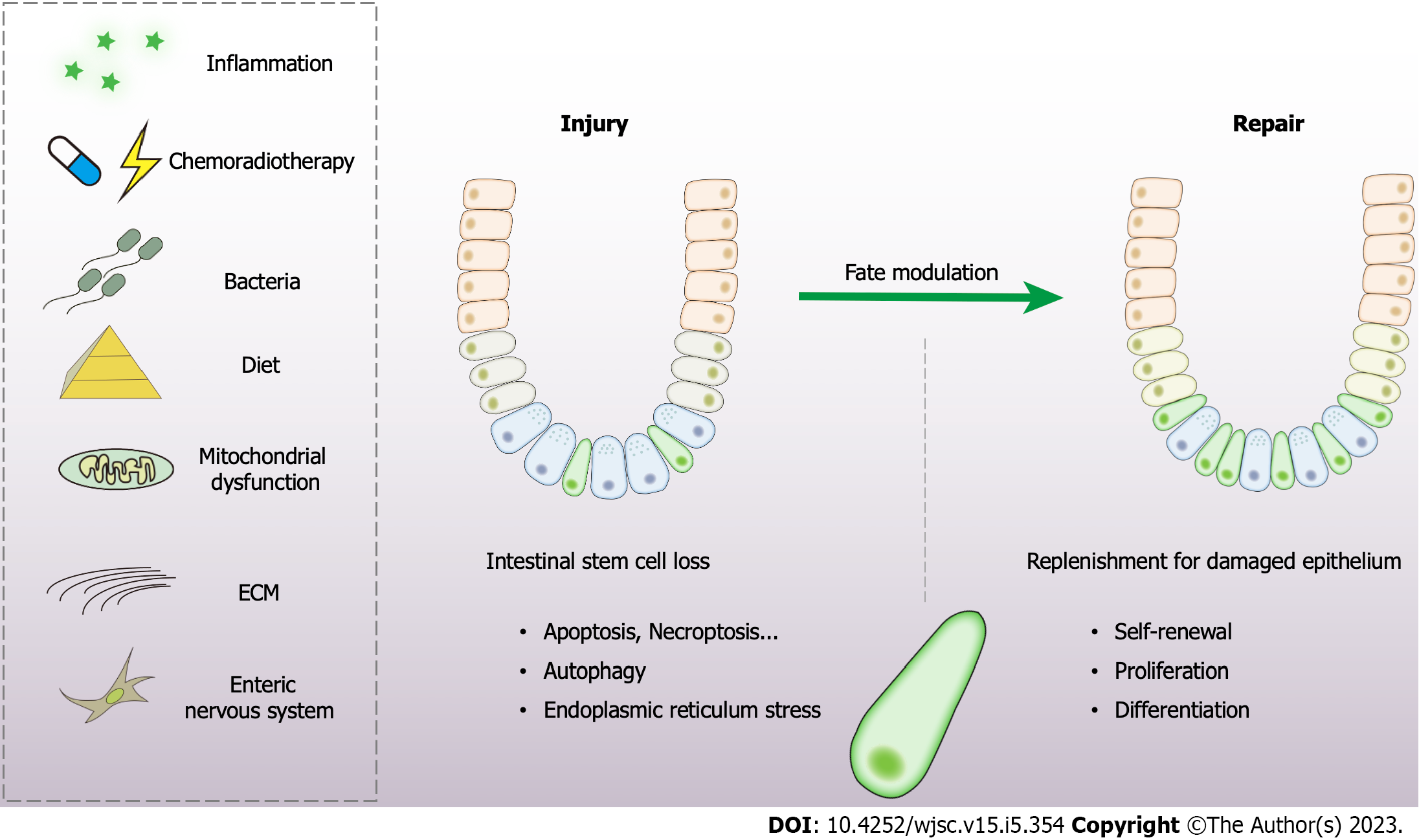 Figure 2 Modulation of stem cell fate determination and epithelial repair by various sources of stress.
Both exogenous (inflammation, chemoradiotherapy, and diet) and endogenous factors (mitochondrial dysfunction, extracellular matrix, and enteric nervous system) have vital effects on stem cell fate modulation. The self-renewal capacity, the balance of proliferation and differentiation are tightly controlled in the process of epithelial repair and regeneration. ECM: Extracellular matrix.
Endogenous factors
Niche signals: Damage to the crypts can result from infections, chronic inflammation, chemoradiotherapy, or traumatic injury and motivate a series of actions in the stem cell niche[31]. The microenvironment monitors the regenerative response via regulating a series of signaling pathways, such as Wnt, Notch, BMP, and Hippo. This has been discussed above.
Extracellular matrix: The state of stem cells largely depends on the properties of the extracellular matrix (ECM)[31]. The integrin complex assists cells in sensing the stiffness of the ECM and directs the fate of ISCs via adhesion signaling[70,71]. In this way, the ECM affects cellular behavior, including proliferation and differentiation. ECM stiffness is also a vital endogenous factor of mesenchymal stem cells to differentiate into osteoblasts, myoblasts, or neurons[72]. In particular, YAP/TAZ lay the foundation for ECM stiffness sensing and play a prominent role in intestinal repair and regeneration[73]. High matrix stiffness significantly enhances ISC expansion in a YAP-dependent manner[74]. These clues speculate that ECM sensation is capable of modulating self-renewal in ISCs.
Mitochondrial function: Mitochondrial function emerges as a central player in cell fate determination and extensive control of cellular stress responses, metabolism, immunity, and apoptosis[75]. Mitochondria are the center of energy metabolism and the regulator of stem cell homeostasis[76,77], and oxidative phosphorylation is particularly important to maintain the function of stem cells[78]. For example, pyruvate oxidation in the mitochondria works as a metabolic checkpoint of ISC self-renewal and/or stemness maintenance[77]. Regulators of mitochondrial signals such as ATP, reactive oxygen species (ROS), the mitochondrial unfolded protein response, and AMP-activated protein kinase signaling, will in turn affect stemness and cell cycle progression[75].
Enteric nervous system: In spite of the limited studies into the underlying relationship between the nervous system and intestinal epithelial regeneration, some novel indications are pointed out that the enteric nervous system exerts a potential role with great value. Enteric glial cells are closely connected with the intestinal epithelium and depletion of enteric glial cells will exacerbate DSS-induced injury[79]. The administration of hepatocyte growth factor from neural cells of the enteric nervous system attenuates the hostile effects of DSS[80]. Several reports also unveil a potential effect of the enteric glial cells in mucosal healing through the release of the specific niche factors like glial-derived neurotropic factor, TGF-β1 or 15-deoxy-12,14-prostaglandin J2[41,81,82].
Extrinsic factors
Diet: The biological behavior of stem cells is largely affected by nutritional state[31]. The mTOR signaling is responsible for sensing the nutritional state[83]. Mice fed with a calorie-restricted diet exhibit an augmented function in Lgr5+ ISCs and Paneth cells compared with mice with a normal diet[56,84]. Moreover, the calorie-restricted diet diminishes mTOR activity in quiescent stem cells, improving their resistance to radiation damage and promoting intestinal repair[85]. In contrast, a high-fat diet can increase ISC activity despite decreasing Paneth cells activity. ISCs of high-fat diet mice exhibit higher resistance to irradiation and more efficient organoid budding potential than control mice. The high-fat diet activates Wnt signaling in ISCs dependent on the nuclear peroxisome proliferator-activated receptor δ[86]. Another study also reveals that an obesogenic diet induces ISCs and progenitor cells hyperproliferation, triggers ISC differentiation and cell turnover, and alters the regional characteristics of ISCs and enterocytes in mice[87]. Acute fasting has been shown to lead to transient phosphatase and tensin homolog (PTEN) phosphorylation within quiescent ISCs and render quiescent ISCs functionally poised to contribute to the regenerative response during refeeding[88].
Microorganisms: Microorganisms play an indispensable role in gut homeostasis, but the underlying mechanisms are complicated and elusive. Small molecules and metabolites produced by gut microbiota significantly contribute to the host intestinal development, function, and homeostasis[89]. Lactate from lactic acid-producing bacteria plays a pivotal role in promoting ISC proliferation and epithelial development[90]. Butyrate within the crypts conveys a growth-inhibiting effect on Lgr5+ ISCs via Forkhead box O3[91]. The bacterial product muramyl dipeptide has been reported to decrease the level of ROS in ISCs, and promote intestinal organoid growth and tissue repair[92,93]. Salmonella can enter the crypts during infection and cause a significant decrease in Lgr5+ ISCs[94,95]. The enteric pathogen rotavirus specifically invades and deteriorates differentiated cells at villus tips, and then motivates Lgr5+ ISCs, crypt expansion, and hyperproliferation[96]. Gut pathogens are thus distinctive elements capable of tuning the stem cell fate.
Inflammatory signaling: In addition to the local niche signals and physicochemical stimuli, the activation of the immune system is also involved in the interactions between epithelial cells and the niche to guarantee proper initiation and continuation of the regenerative response. Interleukin (IL)-22, which derives from the intestine, contains group 3 innate lymphoid cells that reside in close proximity to intestinal crypts and are upregulated after injury and support subsequent epithelial regeneration[97]. Recombinant IL-22 has been shown to directly target ISCs, thus facilitating the growth of human and mice intestinal organoids and promoting ISC self-renewal[98,99]. A recent study also indicates that the symmetric division of ISCs can be triggered by inflammatory signals to prevent excessive expansion in the process of epithelial repair[100].
Chemoradiotherapy: Intestinal mucosal damage occurs in 40%–60% of patients receiving chemotherapy or radiotherapy[101]. Chemotherapy- or radiotherapy-induced cellular apoptosis can be the primary factor initiating the gastrointestinal syndrome[102,103]. The injury response of intestinal epithelium after chemoradiotherapy has been the most extensively characterized model of Lgr5+ ISC loss and proliferation to date, due to its hypersensitivity to radiation and chemotherapy. Targeting p53-dependent stem cell death is the core strategy for intestinal chemo- or radioprotection[102,104,105]. The Toll-like receptor 4 signaling pathway[106], Slit guidance ligand 2 (Slit2)/ Roundabout guidance receptor 1 (Robo1) signaling[45], gut microbiota[90,107], and dietary components such as green tea derivative (-)-epigallocatechin-3-gallate[108], aspartate[109], pectin[110], and vitamin D[111] have been shown to mitigate the loss of ISCs and alleviate intestinal injury. The deletion of CREPT suppresses the proliferation and differentiation of ISCs and reduces Lgr5+ cell numbers after X-ray irradiation[112]. Therapeutic strategies based on the inhibition of ISC apoptosis without compromising the efficacy of cancer treatment are of great potential.
MODULATION OF STEM CELL FATE
The injury response of intestinal epithelium is critical to restore epithelial integrity upon diverse insults[13]. The immediate response of intestinal damage is the loss of Lgr5+ ISCs, while it is generally adaptive modulation since the reserved subpopulations are activated to replenish the defects. However, excessive damage may cause ISC depletion and militate against epithelial regeneration. Critical cellular adaptations have been made to restore homeostasis in ISCs.
FUTURE DIRECTIONS FOR STEM-CELL-BASED THERAPY
Stem-cell-based therapy holds great promise for the complete mucosal healing of gastrointestinal diseases. Related studies have applied exogenous stem cells such as mesenchymal stem cells and placental-derived stem cells for treating intestinal inflammation and injury[131,132], and achieved encouraging outcomes. With the boost of research in the field of ISCs, the intestinal organoid models, especially those of human origin, offer a unique platform to explore the mystery of ISC fate decisions and lineage specification in physiological and pathological conditions[14], and excavate novel strategies to facilitate the regenerative capacity of ISCs. Integration with novel nanomaterials can provide a more effective strategy for facilitating intestinal repair targeting at ISCs, such as grape exosome-like nanoparticles[133], polydopamine nanoparticles[134], and carbon nanoparticles[135]. Thus, one important future direction in the ISCs field is to precisely tune the fate of stem cells for better regeneration.
CONCLUSION
Intestinal epithelial regeneration is a complex network that is based on the function of ISCs. The dynamic balance between stemness and self-renewal is fine-tuned by stem cell niche and various endogenous or extrinsic factors. Great strides have been made in our understanding of the function and fate specification of ISCs in health and disease. In this review, we summarize the different components and signals that function in ISCs in the process of intestinal epithelial injury and repair. Cellular adaptations including apoptosis, necroptosis, autophagy, and UPR have been extensively investigated. Modulating the essential niche signaling or facilitating beneficial elements in the stem cell microenvironment provides novel insights into the regenerative process and opens an avenue for stem cell-based therapies for diseases caused by intestinal epithelial injury.
Provenance and peer review: Invited article; Externally peer reviewed.
Peer-review model: Single blind
Specialty type: Cell and tissue engineering
Country/Territory of origin: China
Peer-review report's scientific quality classification
Grade A (Excellent): A
Grade B (Very good): B
Grade C (Good): 0
Grade D (Fair): 0
Grade E (Poor): 0
P-Reviewer: George TA, Taiwan; Zhang JW, United Kingdom S-Editor: Li L L-Editor: A P-Editor: Zhang XD