Copyright
©The Author(s) 2020.
Published by Baishideng Publishing Group Inc. All rights reserved.
Mesenchymal stem cells as living anti-inflammatory therapy for COVID-19 related acute respiratory distress syndrome
Feng Lin, Thomas E Ichim, Sandeep Pingle, Lawrence D Jones, Shashaanka Ashili, Research and Development, CureScience, San Diego, CA 92121, United States
Santosh Kesari, Cancer Center, John Wayne Cancer Institute and Pacific Neuroscience Institute at Providence Saint John's Health Center, Santa Monica, CA 90404, United States
Author contributions: All authors contributed equally to this paper in conception, literature review and analysis, drafting, critical revision and editing, and approval of the final version.
Conflict-of-interest statement: No conflict of interest to report.
Open-Access
: This article is an open-access article that was selected by an in-house editor and fully peer-reviewed by external reviewers. It is distributed in accordance with the Creative Commons Attribution NonCommercial (CC BY-NC 4.0) license, which permits others to distribute, remix, adapt, build upon this work non-commercially, and license their derivative works on different terms, provided the original work is properly cited and the use is non-commercial. See:
http://creativecommons.org/licenses/by-nc/4.0/
Corresponding author: Feng Lin, PhD, Research Scientist, Research and Development, CureScience, No. 10225 Barnes Canyon Road A207, San Diego, CA 92121, United States. flin@curescience.org
Received: July 6, 2020
Peer-review started: July 6, 2020
First decision: July 30, 2020
Revised: August 13, 2020
Accepted: September 14, 2020
Article in press: September 14, 2020
Published online: October 26, 2020

Coronavirus disease 2019 (COVID-19), a pandemic disease caused by the severe acute respiratory syndrome coronavirus 2 (SARS-CoV2), is growing at an exponential rate worldwide. Manifestations of this disease are heterogeneous; however, advanced cases often exhibit various acute respiratory distress syndrome-like symptoms, systemic inflammatory reactions, coagulopathy, and organ involvements. A common theme in advanced COVID-19 is unrestrained immune activation, classically referred to as a "cytokine storm", as well as deficiencies in immune regulatory mechanisms such as T regulatory cells. While mesenchymal stem cells (MSCs) themselves are objects of cytokine regulation, they can secrete cytokines to modulate immune cells by inducing anti-inflammatory regulatory Treg cells, macrophages and neutrophils; and by reducing the activation of T and B cells, dendritic and nature killer cells. Consequently, they have therapeutic potential for treating severe cases of COVID-19. Here we discuss the unique ability of MSCs, to act as a "living anti-inflammatory", which can "rebalance" the cytokine/immune responses to restore equilibrium. We also discuss current MSC trials and present different concepts for optimization of MSC therapy in patients with COVID-19 acute respiratory distress syndrome. 
Core Tip: Coronavirus disease 2019 a disease caused by the severe acute respiratory syndrome coronavirus 2, is growing exponentially, with no treatments currently available. Preclinical and clinical studies have shown that mesenchymal stem cells (MSCs) work in reversing acute respiratory distress syndrome caused by other conditions such as influenza virus infection, or sepsis. In this review we discuss the unique ability of MSCs, to act as a "living anti-inflammatory", which can "rebalance" the cytokine/immune responses to restore equilibrium.
---
Citation: Lin F, Ichim TE, Pingle S, Jones LD, Kesari S, Ashili S. Mesenchymal stem cells as living anti-inflammatory therapy for COVID-19 related acute respiratory distress syndrome. World J Stem Cells 2020; 12(10): 1067-1079
---
INTRODUCTION
The severe respiratory consequences of the coronavirus disease 2019 (COVID-19) are caused by severe acute respiratory syndrome coronavirus 2 (SARS-CoV-2) with few effective treatments currently available. SARS-CoV-2 along with SARS-CoV and middle east respiratory syndrome coronavirus are coronaviruses that have caused significant human morbidity and mortality[1]. We are currently in the middle of a SARS-CoV-2 global pandemic. As of August 7, 2020, based on a Johns Hopkins University Coronavirus Resource Center Report, there have been at least 19.4 million confirmed cases worldwide, with at least 722706 deaths, and a mortality rate reaching approximately 3.7%. In the United States alone, approximately 5 million people are infected resulting in 161810 deaths and a mortality rate of 3.3%. COVID-19 infection of the lungs leads to extraordinary intensive care unit resource utilization and mortality.
One of the ways COVID-19 produces morbidity and mortality is by severely impairing lung function, causing a condition called acute respiratory distress syndrome (ARDS). This is characterized by a rapid onset of cytokine storm widespread lung inflammation, and sepsis-like conditions. Currently there is no effective anti-viral treatment for COVID-19. However, a few therapeutic strategies have been tested in the clinic or in trials for the treatment of patients with COVID-19. The anti-viral remdesivir can reduce death risk of severe COVID-19 patients as much as 62% when compared with standard care alone. Other anti-viral drugs such as but not limited to lopinavir-ritonavir, favipiravir, chloroquine and hydroxychloroquine have been proposed to treat COVID-19. Many of these anti-viral agents are currently being tested in clinical trials. Anti-inflammatory drugs such as dexamethasone were found to have beneficial effects in critically ill COVID-19 patients. Additionally, tocilizumab and siltuximab are interleukin-6 inhibitors being studied as therapeutics in critically ill patients with severe respiratory failure and elevated serum IL-6. The immunomodulatory functions of mesenchymal stem cells (MSCs) have been well documented in recent years. While MSCs themselves are objects of cytokine regulation, they can secrete cytokines to modulate immune cells by inducing anti-inflammatory regulatory Treg (T) cells, macrophages and neutrophils; and by reducing the activation of T and B cells, dendritic and nature killer (NK) cells. Consequently, they have therapeutic potential for treating severe cases of COVID-19.
Preclinical and clinical studies have shown that MSCs work in reversing ARDS caused by other conditions such as influenza virus infection, or sepsis. For example, MSCs derived from adipose[2-5], bone marrow[6-25], placental[26], amniotic membrane[27,28], umbilical cord[29-35], menstrual blood[36], and lung[37,38] origin, as well as conditioned media[39-46], have demonstrated reduction of pulmonary injury, and neutrophil accumulation. Early clinical trials[47,48] have shown safety of systemic infusions and bronchial instillations of MSCs for treating ARDS and other pulmonary complications. Most recently small studies[49,50] have also suggested that MSCs can be effective in COVID-19 ARDS; however, these approaches have not been well validated. In this review, we discuss the immunomodulatory effects of stem cells and the role of MSCs as potential therapeutic options for cytokine storm and/or ARDS in COVID-19. 
COVID-19 AND ITS PATHOLOGY
SARS-CoV-2 enters host cells through the angiotensin converting enzyme 2 (ACE2) receptor. ACE2 expression was found to be high in the lung, heart, ileum, kidney and bladder[51]. ACE2 is highly expressed on the apical side of lung epithelial cells in the alveolar space, which is how SARS-CoV-2 virus can likely enter and destroy these cells. This is probably why early lung injury was often seen in the distal airway. The issue now becomes in what way does the immune system respond to viral infection in the lung. Innate immunity in the airway mainly includes epithelial cells, alveolar macrophages and dendritic cells. They fight against the virus until adaptive immunity is initiated. T cell mediated responses are initiated by antigen presentation via dendritic cells and macrophages. CD4+ T cells activate B cells to promote the production of virus-specific antibody CD8+ T cells which can kill virus infected cells. Approximately 80% percent of patients with COVID-19 are asymptomatic or experience only mild symptoms such as fever, dry cough and shortness of breath. However, some patients deteriorate quickly and develop ARDS[52]. Patients with severe diseases were reported to have increased plasma levels of proinflammatory cytokines, including IL-6, IL-8, IL-10, GM-CSF, macrophage inflammatory protein 1-alpha, and TNF-alpha[53]. 
Information regarding the pathological findings in COVID-19 is still limited, although several reports on this topic have been published recently.  Xu et al[54] reported one case where the patient presented 15 d of symptoms. Biopsy samples from both lungs showed bilateral diffuse alveolar damage[55] with cellular fibromyxoid exudates and hyaline membrane formation, indicating ARDS in both lungs. Noteworthy is the observation that the pathological features of COVID-19 greatly resemble those seen in SARS and middle east respiratory syndrome coronavirus infections[56,57]. In addition, over-activation of T-cells was manifested by an increase of Th17 and high cytotoxicity of CD8 T cells, partially accounting for the severe immune injury in the patient.
Tian et al[58] described the early histopathological features in two patients who underwent postmortem for lung cancer but were later discovered to have had COVID-19 upon resection. The results of the lung evaluation from the two patients exhibited only nonspecific histologic changes, including edema, proteinaceous exudate, hyperplastic pneumocytes, patchy inflammation, and multinucleated giant cells with no hyaline membrane. Given that the two patients were asymptomatic from COVID-19 at the time of postmortem, they were likely only in the early stages of acute lung injury from the infection[58]. Tian et al[59] also conducted another postmortem study of four COVID-19 patients with a minimum of 15 days of symptoms, demonstrated ARDS in all biopsies. 
Two COVID-19 autopsies on the lungs of a 77-year-old man revealing diffuse alveolar damage, the most common histopathologic correlation with ARDS, and on the lungs of a 42-year-old man presenting no evidence of diffuse alveolar damage/ARDS[60]. Magro et al[61] demonstrated in a report of five cases that diffuse alveolar damage was not prominent with the presentation of hyaline membranes, inflammation, and type II pneumocyte hyperplasia, all hallmarks of classic ARDS. These pulmonary findings were accompanied by significant deposits of terminal complement components C5b-9, C4d, and mannose binding lectin-associated serine protease 2, in the microvasculature, consistent with sustained, systemic activation of the alternative and lectin-based complement pathways. There was co-localization of COVID-19 spike glycoproteins with C4d and C5b-9 in the interalveolar septa and the cutaneous microvasculature of two cases examined. This indicated the pathophysiologic importance of complement in COVID-19. The results suggest that at least a subset of severe COVID-19 infection involves a catastrophic, complement-medicated thrombotic microvascular injury syndrome with sustained activation of the alternative and lectin-based cascades, possible pathways apart from virus spike protein engagement.
In general, ARDS is a common manifestation of cytokine storms and as well could be the cause of death in many COVID-19 patients, although other mechanisms may also be involved. A better understanding of COVID-19 patients' underlying pathogenesis will pave the way for formulating a timely therapeutic strategy to reduce mortality.
MSCS IMMUNOMODULATORY EFFECTS
MSCs are fibroblast-like and multipotent stromal cells. Human MSCs are positive for a number of cell surface markers including CD73, CD44, CD90, and CD105 and negative for the hematopoietic markers of CD34, CD45 and HLA-DR[62]. MSCs are traditionally isolated from bone marrow, and a variety of fetal, neonatal and adult tissues, including cord blood, peripheral blood, fetal liver and lung, adipose tissue, compact bone, dental pulp, dermis, endometrial, human islet, adult brain, skeletal muscle, amniotic fluid, synovium, and the circulatory system[63-65]. MSCs can differentiate into a variety of cell types of mesodermal origin, including osteoblasts, chondrocytes, cardiomyocytes, neural cells, smooth muscle cells and adipocytes[62,66-68]. MSCs are likely the only stem cell type that possesses both regenerative and immunomodulatory capabilities. Consequently, they have been used widely in the treatment of many degenerative and inflammatory diseases.
One property that greatly increases the value of MSCs in therapeutic applications is their ability to modulate immune responses. MSCs can exert their immunomodulatory function by producing many molecules having immunomodulatory effects, these include prostaglandin E2 (PGE2)[69], nitric oxide[70], indolamine 2,3-dioxigenase (IDO)[71], transforming growth factor beta[72,73], IL-6[74,75], hemoxygenase-1[76], leukocyte inhibitory factor[77], HLAG5 and chemokines[78], PDL1/2[79] and other surface markers-FasL[80]. MSCs can escape the immune system because bone marrow derived MSCs (BM-MSCs) are not recognized by NK cells as they lack expression of HLA Class I surface markers. They also lack expression of HLA Class II antigens, which is desirable for transplantation applications.
The immunosuppressive activity of MSCs is well described, with recent reports providing some mechanistic insights into key soluble factors and receptors. Programmed death-ligand 1/CD274 also known as B7 Homolog 1 (B7-H1) has been shown to be expressed in cultured MSCs and is strongly upregulated following IFN-γ stimulation. Combination therapy using rapamycin and MSCs induced immune tolerance to allografts, but monoclonal antibodies against B7-H1 were shown to abrogate this tolerance leading to allograft rejection[81]. The immunomodulatory effects of MSCs were mediated in part through upregulation of regulatory immune cells including CD4+CD25+FoxP3+ T cells[82,83] and tolerogenic dendritic cells[84] and a decrease in alloantibody levels. MSCs that expressed B7H1 may also induce the apoptosis of activated T-cells as a co-culture of CD4+CD25- T cells with MSCs resulting in significant upregulation of programmed cell death-1 receptor (PD-1) on activated T cells[85]. Similar results were reported by Chinnadurai et al[86] who further examined the role of IFN-γ in the "licensing" of MSCs to inhibit the proliferation of activated T cells[86]. Both MSCs and IFN-γ licensed MSCs inhibited T-cell proliferation; however, only IFN-γ licensed MSCs significantly inhibited Th1 cytokine (IFN-γ, TNFα and IL-2) production as well as T-cell degranulation. This IFN-γ licensed MSCs inhibitory effect on T-cells is thought to be dependent on IDO[71]; however, Chinnadurai showed that MSC IDO catalytic function is dispensable with regard to MSC driven T-cell inhibition. Chinnadurai et al[86] identified the B7-H1 PD1 pathways as essential effectors in blocking T-cell function. Further complexity was also suggested by a recent report that IFN-γ treatment of MSCs upregulated HLA-DR /Class II MHC after 48 h, and MSCs ability to inhibit T cells through B7-H1 was dependent upon the presence of HLA-DR[87].
MSCs express the adhesion molecules VCAM-1 and ICAM-1, which allow T-lymphocytes to adhere to their surface. Subsequently MSCs can affect them by molecules which have a short half-life. Their effect is in the immediate vicinity of the cell[70]. Examples of such molecules include nitric oxide, PGE2, HGF[88], and activation of receptor PD-1. MSCs reduce T cell proliferation between G0 and G1 cell cycle phases G[89], and decrease the expression of IFNγ of Th1 cells while increasing the expression of IL-4 of Th2 cells[90]. MSCs also inhibit the proliferation of B-lymphocytes between G0 and G1 cell cycle phases.
A novel mechanism for MSC-induced immunosuppression was recently proposed by Obermajer and colleagues who showed that cells of the Th17 type, predominantly associated with the rejection of allogeneic solid organ grafts, can be directly converted into a regulatory T cell type[91]. The induction of Tregs was preceded by development of a CD11b(hi)Gr1(int) myeloid-derived immunosuppressive cell-mediated Th17. They identified retinoic acid receptor-related orphan receptor γ as a common factor in the differentiation of T and Th17 cells. The identification of a specific subset of T cells IL-17A+Foxp3+ double-positive and ex-IL-17- producing IL-17A-Foxp3+ in this paper argues for direct conversion as the mechanism for MSC-mediated immuno-tolerance. This proposed mechanism where MSC-induced myeloid-derived immunosuppressive cells act as mediator for immune tolerance without complete immunosuppression may have significant implications for therapeutic applications.
MSCs have an effect on macrophages, neutrophils, NK cells, mast cells and dendritic cells in innate immunity and effector T cells, regulatory T cells, and B cells in adaptive immunity illustrated in Figure 1. In severe COVID-19 patients, their immune responses to SARS-CoV-2 infection are usually over-activated. MSCs are able to exert their anti-inflammatory effect by regulating immune cells and balancing the immune responses. Furthermore, MSCs can migrate to the site of injury, where they polarize through GE2 macrophages into phenotype-2 which is characterized by an anti-inflammatory effect[92,93]. Further, PGE2 inhibits the ability of mast cells to degranulate and produce TNF-α. Proliferation and cytotoxic activity of NK cells are inhibited by PGE2 and IDO. MSCs also reduce the expression of NK cell receptors-NKG2D, NKp44 and NKp30[94], MSCs inhibit respiratory flare and apoptosis of neutrophils by production of cytokines IL-6 and IL-8[95]. Differentiation and expression of dendritic cell surface markers is inhibited by IL-6 and PGE2 of MSCs[96]. The immuno-suppressive effects of MSCs also depend on IL-10, but it is not certain whether they produce it alone, or only stimulate other cells to produce it[97,98].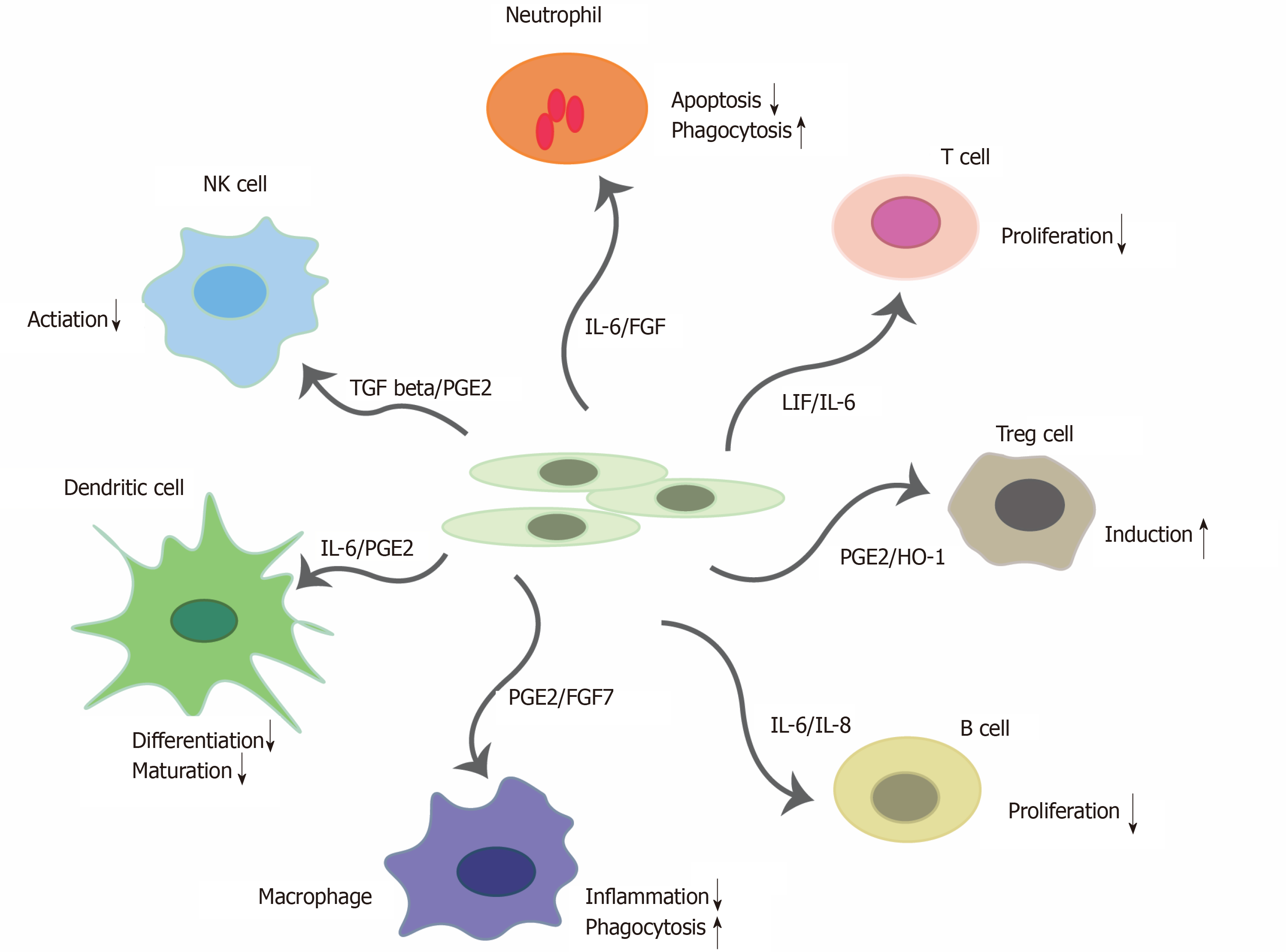 Figure 1 Immunomodulatory effects of mesenchymal stem cells on immune cells.
Mesenchymal stem cells secrete cytokines to modulate immune cells by inducing anti-inflammatory regulatory Treg cells, macrophages and neutrophils, reducing the activation of Treg and B cells, dendritic and nature killer cells. T cell: Treg cell; PGE2: Prostaglandin E2; NK cell: Nature killer cell.
MSCS THERAPY FOR INHIBITION OF ACUTE INFLAMMATION AND CYTOKINE STORM
MSCs have been shown to possess a comprehensive and powerful immuno-modulatory function to suppress excessive activation of the immune system, thus promoting endogenous repair by improving the microenvironment. There have been 13 MSCs therapies approved for treating a number of conditions (Table 1) outside of the United States, mainly in the EU, Japan, South Korea and India. Among the conditions, two adipose tissue derived MSC products, Alofisel® and Cupistem®, have been used for complex perianal fistulas in Crohn's disease. The underlying mechanism of action is the MSC immunomodulatory and anti-inflammatory effects at the inflammation sites. Specifically MSCs impair proliferation of activated lymphocytes and reduce the inflammatory cytokines. Two BM-MSC products, Prochymal® and Temcell® HS, have been used for treating GvHD, due to MSCs immunomodulatory effects.
---

Product name

---

Source

---

Autologous/Allogeneic

---

Indication

---

Company/Country

---

1
Alofisel
Adipose tissue-derived stem cells
Allogeneic
Complex perianal fistuals in Crohn's disease
TiGenix NV/Takeda PharmaceuticalEU
2
Chondrocytes-T-Ortho-ACI
Chondrocyte
Autologous
Cartilage damage, lesions and defects
Ortho Cell, Australia
3
Spherox
Chondrocyte
Autologous
Symptomatic articular cartilage defects
CO.DON AG, Germany and EU
4
Ossgrow
BM-MSCs
Autologous
Avascular necrosis
Regrow, India
5
Stempeucel
BM-MSCs
Allogeneic
CLI
Stempeutics, India
6
Porchymal
BM-MSCs
Allogeneic
GvHD in children
Osiris Therapeutics, Canada
7
Temcell HS
BM-MSCs
Allogeneic
GvHD
JCR Pharmaceuticals, Japan
8
NeuroNata-R
BM-MSCs
Autologous
Lou Gehrig's disease, or ALS
Corestem, Korea
9
Cupistem
AT-MSCs
Autologous
Crohn's fistula
Anterogen, Korea
10
Cartistem,
UC-blood-derived MSCs
Allogeneic
Damaged cartilage
Medipost Inc., Korea
11
Cellgram-AMI
BM-MSCs
Autologous
Acute myocardial infarction
Pharmicell, Korea
12
AstroStem
AT-MSCs
Autologous
Alzheimer's disease
Nature cell, Korea
13
Stemilac
BM-MSCs
Autologous
Alzheimer's disease
Nipro and Sapporo Medical University, Japan
Preclinical study has demonstrated that MSCs can inhibit the progress of acute inflammation in the lungs and alleviate symptoms of respiratory distress[99]. The feasibility of utilizing MSCs for the treatment of ARDS has been demonstrated in animal models and extracorporeal lung models[100]. MSCs of adipose, bone marrow, placental, amniotic membrane, umbilical cord, menstrual blood, and lung, origin, as well as conditioned media with secreted exosomes, have demonstrated a reduction of pulmonary injury and neutrophil accumulation. In a recent study using a sheep model of ARDS[9], both endobronchial and intravenous administration of bone marrow-derived multipotent adult progenitor cells were effective for the treatment of ARDS.
Additionally, an analysis of 342 systemic infusions and 57 bronchial instillations (204 recipients) of cells of various origins for ARDS and other pulmonary issues demonstrated safety in early human clinical trials[47]. Recently, a study involving two patients with severe refractory ARDS, both showed improvement[99]. Both patients received 2 × 106 cells per kilogram of body weight. Subsequently, each of the patients improved with resolution of respiratory, hemodynamic, and multiorgan failure. In parallel, a decrease was seen in multiple pulmonary and systemic markers of inflammation, including epithelial apoptosis, alveolar-capillary fluid leakage, proinflammatory cytokines, microRNAs, and chemokines. In vitro studies of the MSCs demonstrated a broad anti-inflammatory capacity, including suppression of T-cell responses and induction of regulatory phenotypes in T cells, monocytes, and neutrophils. Some of these in vitro potency assessments correlated with, and were relevant to, the observed in vivo actions.
RECENT SUCCESS OF MSCS FOR COVID-19 PATIENTS AND CLINICAL TRIALS
Currently, drugs alone or in combination with other therapeutic approaches have not afforded a cure; however a number of investigational drugs in clinical trials, including antivirals such as chloroquine/hydroxychloroquine, remdesivir, immune-based therapies and adjunctive therapies have shown promise, particularly in mitigating certain systemic markers according to NIH COVID-19 Guidelines. Potential antiviral drugs: remdesivir, chloroquine or hydroxychloroquine, hydroxychloroquine plus azithromycin, lopinavir/ritonavir and other HIV protease inhibitors. Immune-based therapy under evaluation: Convalescent plasma, Immunoglobulins: SAR-CoV-2-specific and non-SAR-CoV-2 specific, MSCs, Corticosteroids, Interferons alpha and beta, IL-1 and IL-6 inhibitors, Kinase inhibitors: Bruton's tyrosine kinase inhibitors and Janus kinase inhibitors; Adjunctive therapy: antithrombotic therapy, vitamin C and vitamin D, zinc supplementation.
To date, there are over 50 clinical trials using MSCs to treat COVID-19 patients based on the registration in clinicaltrial.gov website, we listed the most relevant studies in Table 2. Umbilical cord MSCs (UC-MSCs), BM-MSCs, AT-MSCs and other MSCs, as well as exosomes from MSCs are used in clinical trials, among them UC-MSCs are the most desirable for treating severely compromised COVID-19 patients due to its rich and extensive source of stem cells, scalable expansion capability, and ability to be allogeneic as low MHC-I expression[49]. The dose and delivery times are also varied in different trials. Recent reviews have described the potential for and rationale of using different types of MSCs for treating severe COVID-19 patients to protect alveolar epithelial cells, to reclaim the pulmonary microenvironment, to induce anti-inflammatory macrophages, regulatory T and B cells, and regulatory dendritic cells. In addition, MSCs can inactivate T cells in order to prevent cytokine storm, prevent pulmonary fibrosis and cure lung dysfunction[101-104]. Details of MSCs clinical trials for COVID-19 have also been discussed in other reviews[101,104-106].
NCT number

---

Cell type

---

Autologous

---

Phase

---

Sponsor

---

NCT04490486
UC-MSCs
Allogeneic
I
Joshua M Hare, United States
NCT04456361
UC-MSCs
Allogeneic
I
Instituto de Medicina Regenerativa, Mexico
NCT04313322
UC -MSCs
Allogeneic
I
Stem Cells, Arabia
NCT04288102
MSCs
NA
II
Beijing 302 Hospital
NCT04346368
BM-MSCs
NA
I/II
Guangzhou Institute of Respiratory Disease
NCT04366323
Adipose-derived MSCs
Allogeneic
I/II
Andalusian Network for Design and Translation of Advanced Therapies
NCT04273646
UC-MSCs
Allogeneic
I
Wuhan Union Hospital, China
NCT04349631
Adipose-derived MSCs
Autologous 
II
Hope Biosciences
 NCT04339660
UC-MSCs
Allogeneic
I/II
Puren Hospital Affiliated to Wuhan University of Science and Technology
NCT04366063
MSCs
NA
II/III
Royan Institute
NCT04352803
Adipose-derived MSCs
Autologous
I
Regeneris Medical
NCT04355728
UC-MSCs
Allogeneic
I/II
Camillo Ricordi
NCT04366271
UC-MSCs
Allogeneic
II
Hospital Infantil Universitario Niño Jesús, Madrid, Spain
NCT04348461
Adipose-derived MSCs
Allogeneic
I
Instituto de Investigación Sanitaria de la Fundación Jiménez Díaz
NCT04345601
BM-MSCs
Allogeneic
I
Baylor College of Medicine
NCT03042143
UC-MSCs (CD362 enriched)
Allogeneic
I/II
Belfast Health and Social Care Trust
NCT04361942
MSCs
Allogeneic
II
Red de Terapia Celular
NCT04269525
UC-MSCs
Allogeneic
II
Zhi-Yong Peng, Hospital
NCT04333368
UC-MSCs
Allogeneic
I
Assistance Publique - Hôpitaux de Paris
NCT04299152
Cord blood stem cells (CB-SC)
Allogeneic
II
Tianhe Stem Cell Biotechnologies Inc.
NCT04341610
Adipose-derived MSCs
Allogeneic
I/II
Rigshospitalet, Denmark
NCT04276987
Adipose MSC-derived exosomes (inhalation)
Allogeneic
I
Ruijin Hospital
NCT03857841
BM-MSC derived extracellular vesicles (UNEX-42)
Allogeneic
I
United Therapeutics
MSCs have been used effectively to treat patients with COVID-19 in recent reports[50,107,108]. The underlying processes involve preventing the cytokine storm from occurring as well as reversing the cytokine storm in compromised patients. A total of seven patients with COVID-19 were enrolled in the study[50], the results have shown that MSCs significantly improved the functional outcome without observed adverse effects. The pulmonary function and symptoms of these patients were significantly improved in two days after MSC transplantation. Among them, two common and one severe patient recovered and were discharged within 10 d after the treatment. Compared to the placebo control group, the level of TNF-alpha was significantly decreased, and IL-10 increased in the MSCs treatment group. The gene profile showed MSCs were ACE2- and TMPRSS2- which indicate MSCs are free from COVID-19 infection. In another case report[107], UC-MSCs were infused into a severely compromised COVID-19 patient. The pulmonary function and symptoms of the patient were significantly improved in 2 d after UC-MSCs transplantation. The patient recovered and was discharged in 7 d after treatment. The percentage and counts of lymphocyte subsets (CD3, CD4, and CD8 T cell) were increased, and the level of IL-6, TNF-α, and C-reactive protein was shown to have significantly decreased after UC-MSCs treatment. Guo et al[108] reported a 31-patient trial with UC-MSCs infusion. After the first infusion of UC-MSCs, the SARS-CoV-2 PCR results of 30 patients (96.8%) became negative after a mean time of 10.7 d (SD, 4.2 d). Laboratory parameters tended to improve after UC-MSCs therapy compared to the status before treatment, including elevated lymphocyte count, decreased C-reactive protein and IL-6 levels. Thus far, the intravenous transplantation of MSCs has been shown to be effective for the treatment of patients with COVID-19 pneumonia, especially for the patients in critical condition.
Exosomes derived from MSCs have been studied in clinical trials for treating severely compromised COVID-19 patients[104,109,110]. Exosomes (ExoFloTM) derived from allogeneic bone marrow MSCs in a single 15 mL dose were evaluated in a 24-patient trial[110] for both safety and efficacy from days 1 to 14 post-treatment. No adverse events were observed; a survival rate of 83% was observed; 71 patents recovered, 13% remained critically ill though stable, and 16% patients expired for reasons unrelated to the treatment. Overall, after one treatment, patients' clinical status and oxygenation improved with an average pressure of arterial oxygen to fraction of inspired oxygen ratio (PaO2/FiO2) increase of 192%. Laboratory values revealed significant improvements in absolute neutrophil count and lymphopenia with average CD3+, CD4+, and CD8+ lymphocyte counts increasing by 46%, 45%, and 46%, respectively. Likewise, acute phase reactants declined, with mean C-reactive protein, ferritin, and D-dimer reduction of 77%, 43%, and 42%, respectively. The study demonstrated the excellent safety profile and capacity to restore oxygenation, downregulate cytokine storm, and reconstitute immunity. Exosome derived from MSCs is a promising therapeutic candidate for severely compromised COVID-19 patients.
CONCLUSION
The social burden of COVID-19 is growing with the global pandemic. However, there is no effective or curative therapy for COVID-19, and preventive vaccines, other than the vaccine recently approved in Russia, but for which there is limited information, are still under development and will not be available until next year. The most recent clinical trials with MSCs may fulfill the unmet medical need of COVID-19, to reduce the related ARDS and cytokine storm. There are several issues that need to be addressed in order to move forward: dose, delivery times, type of MSCs, efficacy and cost-effectiveness. An understanding of all facets of MSCs and pathomechanism of COVID-19 is necessary to fully translate the MSCs therapy into a meaningful treatment for COVID-19. The next therapeutic strategies may focus on a combination approach using two or more types of MSCs, certain type of MSCs, and immune-based therapies or antiviral therapies to achieve maximal therapeutic efficacy.
Manuscript source: Unsolicited manuscript
Specialty type: Cell and tissue engineering
Country/Territory of origin: United States
Peer-review report's scientific quality classification
Grade A (Excellent): 0
Grade B (Very good): 0
Grade C (Good): C, C
Grade D (Fair): 0
Grade E (Poor): 0
P-Reviewer: Figueiredo CS, Li ZJ S-Editor: Zhang L L-Editor: A P-Editor: Xing YX