Copyright
©The Author(s) 1998.
Published by Baishideng Publishing Group Inc. All rights reserved.
World J Gastroenterol.
Jun 15, 1998;
4(3): 185-191
Published online Jun 15, 1998. doi: 10.3748/wjg.v4.i3.185
Molecular biology and the diagnosis and treatment of liver diseases
Howard J. Worman, Feng Lin, Naoto Mamiya, Paul J. Mustacchia, Departments of Medicine and of Anatomy and Cell Biology, College of Physicians and Surgeons, Columbia University, 630 West 168th Street, New York, NY 10032, USA
Author contributions: All authors contributed equally to the work.
Correspondence to: Dr. Worman J Howard, Department of Medicine, College of Physicians and Surgeons, Columbia University, 630 West 168th Street, New York, NY 10032, USA. hjw14@columbia.edu
Telephone: 212-305-8156 Fax: 212-305-6443
Received: May 25, 1998
Revised: June 3, 1998
Accepted: June 8, 1998
Published online: June 15, 1998

---
Citation: Worman HJ, Lin F, Mamiya N, Mustacchia PJ. Molecular biology and the diagnosis and treatment of liver diseases. World J Gastroenterol 1998; 4(3): 185-191
---
TEXT
Molecular biology has made a tremendous impact on the diagnosis and treatment of liver diseases[1]. This review will provide several recent examples. Emphasis will be placed on how molecular biology has influenced the diagnosis of viral hepatitis, autoimmune and metabolic liver diseases. The use of recombinant DNA technology for drug development and the possibility of gene therapy as a treatment modality will then be discussed.
DIAGNOSIS OF VIRAL HEPATITIS
Hepatitis B
Approximately 350000000 individuals are chronically infected with the hepatitis B virus (HBV) worldwide and the disease is endemic in eastern Asia including China[2]. As viral protein antigens can be readily detected in serum, chronic HBV infection can usually be diagnosed by serological assays for the presence of hepatitis B surface antigen (HBsAg). HBsAg is detectable in virtually all infected individuals and the hepatitis B e antigen (HBeAg) is detected in most individuals with high levels of viral replication. Serological assays, usually enzyme linked immunosorbant assays (ELISAs), can utilize either proteins purified from serum or recombinant proteins expressed in yeast or tissue culture cells. ELISAs for detection of antigens can utilize monoclonal antibodies.
Because HBV infection can usually be diagnosed by serological assays, molecular biological methods to measure or detect nucleic acids are usually not necessary in routine clinical diagnosis. In some instances, however, measurement of viral nucleic acids from serum may be helpful in the assessment of patients with chronic hepatitis B. Viral nucleic acid concentrations in serum can be assessed by hybridization to complementary DNA sequences and by a branched chain DNA (bDNA) assay[3]. Such assays can be quantitated to provide estimates of the concentration of viral DNA in serum. As serum viral DNA concentrations may be predictive of prognosis or of response to treatment and prognosis, estimation of viral loads may be useful clinically.
Polymerase chain reaction (PCR) amplification[4,5] of HBV DNA is also relatively easy as HBV is a double stranded DNA virus whose genome is fairly stable in blood and tissue. Sequencing of amplified DNA can be performed to identify mutant viruses of clinical significance. Truncating mutations in the HBV precore gene have been identified that prevent secretion of the e antigen but allow the continued assembly of infectious virus[6,7]. Such mutant strains may be actively replicating even though HBeAg is not detectable using serological assays.
Hepatitis C
In Western countries, molecular biology has arguably had its greatest clinical impact with regards to liver diseases in the diagnosis of viral hepatitis C. Although the virus that causes hepatitis C cannot be propagated in cell culture, molecular biological methods have enabled the identification of this virus and determination of the sequence of its entire genome. This has revolutionized the practice of hepatology.
The hepatitis C virus (HCV) was identified in 1989 by investigators at Chiron Corporation[8]. HCV was identified by antibody screening of cDNA expression libraries made from DNA and RNA from the plasma of chimpanzees infected with serum from humans with what was then called non-A, non-B hepatitis. The expression library was screened with serum antibodies from patients with non-A, non-B hepatitis. This work led to the isolation of cDNA clones that were derived from portions of the HCV genome and encoded fragments of viral polypeptides. The authors also showed that HCV was a positive stranded RNA virus[8] and that the vast majority of individuals with chronic non-A, non-B hepatitis had antibodies against this virus[9].
Following the identification of fragments of the HCV genome, the entire genome was cloned and sequenced in several laboratories[10-13]. This work showed the HCV genome to be a positive stranded RNA of approximately 10000 nucleotides with a single open reading frame encoding a polyprotein of 3010 to 3033 depending upon the strain (Figure 1). The polyprotein is processed by host cell and virally encoded proteases into several structural and non-structural polypeptides (Figure 1). The structural proteins are the core and two envelope polypeptides. The several non structural proteins have various different enzymatic functions.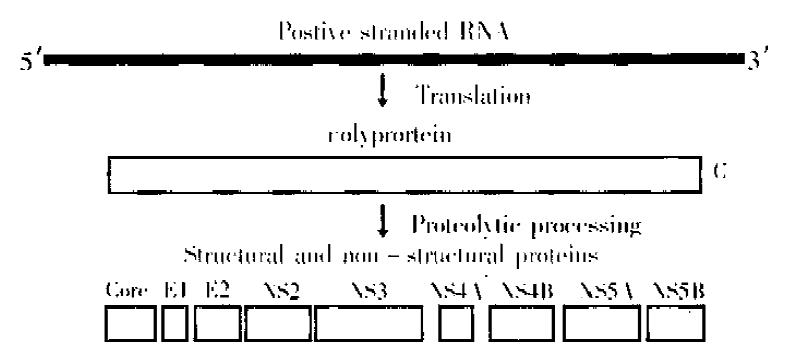 Figure 1 Schematic diagram of the HCV genome and proteins.
The positive stranded RNA of about 10000 nucleotides is translated into a polyprotein of approximately 3000 amino acids. This polyprotein is proteolytically cleaved into several smaller proteins. Core, E1 and E2 are structural polypeptides. Core protein is the virus nucleocapsid and E1 and E2 are viral envelope proteins. A small polypeptide known as P7 (not shown) is also produced by additional cleavage between E2 and NS2. The major non-structural proteins are NS2, NS3, NS4 and NS5. NS4 is further processed into NS4A and NS4B and NS5 into NS5A and NS5B. NS2 and part of NS3 are proteases that process the viral polyprotein. NS3 also has RNA helicase activity. NS4A is a cofactor for the NS3 protease and NS5B is an RNA-dependent, RNA polymerase. The functions of NS4B and NS5A are less well understood but NS5A is thought to play a role in determining sensitivity to interferon.
ELISAs utilizing recombinant HCV polypeptides have been available since the discovery of the virus to detect antibodies against HCV. In individuals with risk factors, the presence of anti-HCV antibodies and an elevated serum alanine aminotransferase activity is highly sensitive for the diagnosis of infection. However, false positive antibody tests are not uncommon and some individuals with HCV in fection develop antibodies at low titers that may not be detected.
In the past few years, assays have become routinely available for the detection of HCV RNA in serum. In the bDNA assay, viral RNA is captured by virus-specific nucleotide probes followed by hybridization to branched DNA molecules which are detected by a chemiluminescent substrate system[3,14]. The bDNA assay can be quantitated and is relatively easy to perform in the routine clinical laboratory. However, bDNA is of lower sensitivity than PCR that is now available to detect HCV RNA is serum and tissue. Since the HCV genome is RNA, reverse transcription must be performed before HCV complementary DNA sequences can be amplified by PCR. The amplified cDNA products are separated by agarose gel electrophoresis and detected by a variety of methods such as ethidium bromide staining or Southern hybridization. Care must be taken in the clinical laboratory to avoid contamination when using reverse transcription-PCR to detect HCV RNA, however, the standardization of this method in excellent clinical laboratories has made it the gold-standard for the detection of HCV infection. PCR has even been made semi-quantitative by using competitive inhibitors or highly standardized assay procedures.
The ability to readily reverse transcribe, amplify and s equence HCV RNA has led to the identification of several HCV genotypes[15]. By using different PCR primers and probes to amplify and detect different sequences from various isolates, routine HCV genotype analysis is possible in the clinical laboratory[16,17]. Different genotypes may differ in the severity of disease they cause and the response to treatment[18].
Hepatitis G
Sensitive molecular biological techniques led to the identification of a new virus in 1995 and 1996 in individuals with hepatitis[19,20]. This virus, termed both hepatitis G virus (HGV) and GB-C virus, is a novel Flavivirus with approximately 25% sequence identity to HCV. The initial identification of this virus was originally met with considerable enthusiasm as it was proposed to be a relatively common cause of non-A, non-B, non-C acute and chronic hepatitis. However, subsequent studies[21,22] have questioned the etiological role of HGV/GB-C as a cause of serious liver disease. Most investigators now feel that HGV/GB-C infection is quite common but that it does not cause clinically significant liver disease.
AUTOIMMUNE LIVER DISEASES
Autoimmune liver diseases such as primary biliary cirrhosis, autoimmune hepatitis and sclerosing cholangitis are associated with the presence of variousauto antibodies. Although the pathophysiological significance of these autoantibodies are generally unclear, their detection is central to diagnosis. Basic molecular biological methods have made possible the identification and cDNA cloning of some of the intracellular protein antigens and the predominant epitopes recognized by disease-specific autoantibodies. This work has led to the development of assays for their detection that can be used in the clinical laboratory.
Illustrative examples on the identification of intracellular antigens recognized by autoantibodies in a liver disease come from work on primary biliary cirrhosis (PBC). Almost all individuals with this disease have autoantibodies directed against the E2 subunits of mitochondrial oxo-acid dehydrogenases[23-25] and about 25% of patients have autoantibodies against gp210, an integral membrane protein of the nuclear pore complex[26,27]. Autoantibodies of these specificities are virtually 100% specific for primary biliary cirrhosis.
Screening of bacteriophage lambda cDNA expression libraries with autoantibodies from patients with PBC was used to identify the E2 subunits of the pyruvate dehydrogenase complex, the branched chain 2-oxo-acid dehydrogenase complex and the 2-oxo-glutarate dehydrogenase complex as the mitochondrial autoantigens in this disease[24,25,28-30]. ELISAs utilizing expressed recombinant proteins have been devised that are sensitive and specific for the detection of antibodies against these proteins[23,31,32]. Determination of the immunodominant epitopes the E2 subunits of all three oxo acid dehydrogenases has allowed for the construction a designer hybrid clone that contains the major epitope of each[32]. An immunoassay utilizing a polypeptide expressed from this hybrid clone is highly sensitive and specific for the diagnosis of PBC[32].
In 1990, nuclear pore membrane glycoprotein gp210 was identified as an autoantigen recognized by approximately 25% of individuals with PBC[33]. Using overlapping cDNA for gp210, its immunodominant epitope which was mapped to a stretch of 15 amino acids in this protein of over 1880 amino acids[34]. Based on this information, two ELISAs have been developed for the detection of autoantibodies, one which utilizes a recombinant HJfusion protein expressed in bacteria[35] and the other which uses a synthetic polypeptide[36].
As PBC is a relative uncommon diseases, assays to detect autoantibodies again oxo-acid dehydorgenase subunits and gp210 have not received much commercial attention. These examples nonetheless demonstrate how molecular biology can impact on the diagnosis of a relatively rare disease.
GENE DISCOVERY AND METABOLIC LIVER DISEASES
Advances in positional cloning and genomics have led to the identification of the genes responsible for some of the major metabolic diseases that affect the liver. In the past decade, genes mutated in Wilson disease, hereditary hemochromatosis, congenital hyperbilirubinemias and inherited cholestatic disorders have been discovered (Table 1). These discoveries will permit the use of molecular diagnostic methods to diagnose these disorders. An understanding of the defective genes will also lead to new treatment options. This section reviews some of the major discoveries of genes responsible for metabolic liver diseases in the 1990s. The entry number for On line Mendelian Inheritance in Man (OMIM; http://www3.ncbi.nlm.nih.gov/Omim/) is given for each diseased that is discussed.
| | |
| --- | --- |
| Disease | Gene |
| Wilson disease | Cu-transporting ATPase |
| Hereditary hemochromatosis | HFE |
| Crigler-Najjar syndrome | UDP-glucuronosyltransferase |
| Dubin-Johnson syndrome | cMOAT |
| Benign recurrent intrahepatic cholestasis | P-type ATPase |
| Progressive familial Intrahepatic Cholestasis Type 1 | P-type ATPase |
Wilson disease (OMIM # 277900)
Wilson disease is an autosomally inherited disorder that causes changes in the basal ganglia and liver that respectively lead to neuropsychiatric disease, hepatitis and cirrhosis. Abnormalities in serum ceruloplasmin, urinary copper excretion and copper accumulation in the liver have for many years suggested a primary defect in copper metabolism as the cause. In 1985, the Wilson disease gene was shown to be linked to the esterase D locus on chromosome 13[37]. Over the next eight years, the Wilson disease locus was more precisely localized by genetic analysis of various families and individuals and was placed at the junction of band q14.3 and q21.1 on chromosome 13 in 1993 by using fluorescence in situ hybridization studies of chromosomal aberrations[38]. Finally, in 1993, several yeast artificial chromosomes spanning this region were molecularly cloned and a gene encoding a P-type ATPase that was mutated in individuals with Wilson disease was identified[39-41]. This ATPase was highly similar to the ATPase previously shown to be responsible for Menke disease, another disorder of copper metabolism, and is thought to be a copper-translocating ATPase. At least 70 different mutations have since been described in this copper-ATPase gene in individuals with Wilson disease[42].
Hereditary hemochromatosis (OMIM #235200)
Hereditary hemochromatosis is the most common inherited disease in individuals of European descent[43]. Homozygous individuals suffer from the complications of excess iron deposition in the liver, heart, joints and some endocrine organs. Excessive hepatocyte iron causes hepatitis and cirrhosis. The disease often goes undiagnosed which is especially unfortunate because phlebotomy is effective treatment.
In the 1970's, hereditary hemochromatosis was linked to the HLA-A locus on chromosome[44-46]. In 1996, investigators at Mercator Genetics[47] used linkage disequilibrium and full haplotype analysis to identify a candidate gene for hemochromatosis on chromosome 6. They termed this gene HLA-H because of its homology to other MHC class I family members; the current accepted designation of this gene is HFE. A guanine to adenine transition at coding nucleotide 845 of this gene resulted in a cysteine to tyrosine substitution at amino acid residue 282 in the protein in 85% of 178 patients they examined. Several other studies subsequently confirmed the mutations identified by the group at Mercator Genetics[48-50] and the cysteine to tyrosine substitution in HFE is now felt to be present in between 70% and 100% of individuals with hereditary hemochromatosis[51]. Another mutation in HFE that converts histidine 63 to aspartate also increases the relative risk of for the development of hemochromatosis in individuals who are heterozygous for the cysteine to tyrosine substitution at amino acid 282[47,52].
When the HFE gene was discovered, it was unclear how a protein with homology to MHC class I proteins could be involved in the regulation of iron metabolism. Recently, however, it has been shown that the protein encoded by HFE associates with the transferrin receptor and decreases the affinity of transferrin receptor for iron bound transferrin[53-55]. The cysteine to tyrosine mutant protein does not interact with transferrin receptor and hence does not decrease its affinity for iron-bound transferrin, while the histidine to aspartate mutant protein associates with transferrin receptor but does not decrease its affinity for iron bound transferrin as much as the wild type protein[54]. These findings can explain how mutations in the HFE gene product cause iron overload.
Crigler-Najjar syndrome type 1 (OMIM #218800)
Individuals with Crigler-Najjar syndrome type 1 have a complete absence of activity of the UDP-glucuronosyltransferase isoform that catalyzes the conjugation of bilirubin to mono and diglucuronides[56,57]. Affected individuals present with severe childhood disease manifested by jaundice, kernicterus, resultant abnormal neurologic development and early death. Patients with Crigler-Najjar syndrome type 2 have a partial deficiency of this enzyme activity and generally survive through adulthood without significant problems[57]. A single gene of chromosome 2 called UGT1 encodes bilirubin, phenol, and other UDP glucuronosyltransferase isozymes with identical carboxyl termini[58]. Several different mutations in UGT1 have since been described in individuals with Crigler Najjar syndrome type 1[58-61].
Dubin-Johnson syndrome (OMIM #237500)
Dubin-Johnson syndrome results form the inability of conjugated bilirubin to be secreted from hepatocytes. A cDNA for a rat multispecific organic anion transporter (cMOAT), a protein homologous to the multidrug resistance proteins that is located in the canalicular membrane of hepatocytes, was characterized in 1996[62]. In 1997, the human orthologue of rat cMOAT was mapped to chromosome 10q24[63]. The human cMOAT cDNA was cloned and sequenced in 1997[64] and mutations in this gene have been identified in individuals with Dubin Johnson syndrome[64,65].
Benign recurrent intrahepatic cholestasis (OMIM #243300) and progressive familial intrahepatic cholestasis type 1 (OMIM #211600)
Benign recurrent cholestasis type 1 or Summerskill syndrome is characterized by intermittent episodes of cholestasis without extrahepatic bile duct obstruction. The symptoms usually spontaneously resolve after periods of weeks to months and patients generally have a good prognosis. In 1994, a candidate gene was localized by linkage disequilibrium to chromosome 18[66], and in 1997, the localization was further refined to chromosome 18q21[67]. Progressive intrahepatic cholestasis or Byler disease was first described in the OLd Order Amish. This condition is severe and usually leads to death within the first decade of life. Because both benign recurrent intrahepatic cholestasis type 1 and progressive familial intrahepatic cholestasis have similar symptoms, albeit different prognoses, it was suspected that they may be caused by different mutations in the same gene. In 1995, the gene for progressive familial intrahepatic cholestasis was mapped to chromosome 18q21-22, the benign recurrent intrahepatic cholestasis region, in an extended Amish kindred[68]. In 1998, a gene at this locus that encodes a P-type ATPase was identified[69]. Different mutations in the gene encoding this P-type ATPase were identified in individuals with benign recurrent intrahepatic cholestasis and progressive familial intrahepatic cholestasis type 1. The P-type ATPases responsible for these two diseases likely actively transports bile salts across cell membranes. Depending upon the specific mutation in this P-type ATPase, a cholestatic disorder with a relatively benign or very severe phenotype can result.
MOLECULAR BIOLOGY AND DRUG DEVELOPMENT
CONCLUSIONS
Molecular biology will continue to have a tremendous impact on the diagnosis and treatment of liver diseases. The basic research conducted in the past three decades will revolutionize the way hepatology, and all of medicine, is practiced. As a result, common conditions such as viral hepatitis B and C and inherited metabolic diseases affecting the liver such as hemochromatosis will hopefully vanish from the world.