Copyright
©The Author(s) 2023.
Published by Baishideng Publishing Group Inc. All rights reserved.
World J Gastroenterol.
Jan 21, 2023;
29(3): 561-578
Published online Jan 21, 2023. doi: 10.3748/wjg.v29.i3.561
Small intestinal angiosarcoma on clinical presentation, diagnosis, management and prognosis: A case report and review of the literature
Xiao-Mei Ma, Yuan Yang, Guo-Zhi Wu, Ying-Wen Li, Xiao Yu, Xiao-Li Ma, Yu-Ping Wang, Qing-Hong Guo, Department of Gastroenterology, The First Hospital of Lanzhou University, Lanzhou 730000, Gansu Province, China
Xiao-Mei Ma, Yuan Yang, Guo-Zhi Wu, Ying-Wen Li, Xiao Yu, Xiao-Li Ma, The First Clinical Medical College, Lanzhou University, Lanzhou 730000, Gansu Province, China
Bao-Shun Yang, Xu-Dong Hou, General Surgery Ward 5, The First Hospital of Lanzhou University, Lanzhou 730000, Gansu Province, China
Author contributions: Ma XM contributed to data analysis and manuscript writing; Yang BS contributed to conceptualization and methodology; Yang Y contributed to data curation and visualization; Wu GZ contributed to data curation, writing-original draft preparation; Li YW, Yu X, and Ma XL contributed to literature search and screening; Wang YP and Hou XD contributed to revised the manuscript and approved the final version; Guo QH contributed to supervision and final confirmation.
Informed consent statement: Informed written consent was obtained from the patients for the publication of this report and any accompanying images.
Conflict-of-interest statement: The authors declare that they have no conflict of interest to disclose.
CARE Checklist (2016) statement: The authors have read the CARE Checklist (2016), and the manuscript was prepared and revised according to the CARE Checklist (2016).
Open-Access
: This article is an open-access article that was selected by an in-house editor and fully peer-reviewed by external reviewers. It is distributed in accordance with the Creative Commons Attribution NonCommercial (CC BY-NC 4.0) license, which permits others to distribute, remix, adapt, build upon this work non-commercially, and license their derivative works on different terms, provided the original work is properly cited and the use is non-commercial. See:
https://creativecommons.org/Licenses/by-nc/4.0/
Corresponding author: Qing-Hong Guo, PhD, Chief Physician, Department of Gastroenterology, The First Hospital of Lanzhou University, No. 1 Donggang West Road, Chengguan District, Lanzhou 730000, Gansu Province, China. gqh@lzu.edu.cn
Received: November 11, 2022
Peer-review started: November 11, 2022
First decision: November 24, 2022
Revised: December 3, 2022
Accepted: December 23, 2022
Article in press: December 23, 2022
Published online: January 21, 2023

BACKGROUND
Angiosarcoma is a highly malignant soft-tissue sarcoma derived from vascular endothelial cells that mainly occurs in the skin and subcutaneous tissues. Small-intestinal angiosarcomas are rare, and the prognosis is poor.
CASE SUMMARY
We reported a case of primary multifocal ileal angiosarcoma and analyze previously reported cases to improve our understanding of small intestinal angiosarcoma. Small intestinal angiosarcoma is more common in elderly and male patients. Gastrointestinal bleeding, anemia, abdominal pain, weakness, and weight loss were the common symptoms. CD31, CD34, factor VIII-related antigen, ETS-related gene, friend leukemia integration 1, and von Willebrand factor are valuable immunohistochemical markers for the diagnosis of small-intestinal angiosarcoma. Small-intestinal angiosarcoma most commonly occurs in the jejunum, followed by the ileum and duodenum. Radiation and toxicant exposure are risk factors for angiosarcoma. After a definite diagnosis, the mean and median survival time was 8 mo and 3 mo, respectively. Kaplan-Meier survival analysis showed that age, infiltration depth, chemotherapy, and the number of small intestinal segments invaded by tumor lesions were prognostic factors for small intestinal angiosarcoma. Multivariate Cox regression analysis showed that chemotherapy and surgery significantly improved patient prognosis.
CONCLUSION
Angiosarcoma should be considered for unexplained melena and abdominal pain, especially in older men and patients with a history of radiation exposure. Prompt treatment, including surgery and adjuvant chemotherapy, is essential to prolonging patient survival.
Core Tip: Small intestinal angiosarcoma is a rare malignant soft tissue tumor. We report a primary multifocal ileal angiosarcoma with metastases to the adrenal gland and lumbar spine. The patient died 4 mo after surgical resection. Further, we collected relevant case reports and analyzed statistically. We concluded that small intestinal angiosarcoma tend to occur in elderly men. Melena and anemia were the most common symptoms. The diagnosis depended on microscopic morphology and immunohistochemistry. CD31, CD34, factor VIII-related antigen, ETS-related gene, friend leukemia integration 1, and von Willebrand factor were valuable diagnostic markers. Surgery and chemotherapy could improve the prognosis of patients.
---
Citation: Ma XM, Yang BS, Yang Y, Wu GZ, Li YW, Yu X, Ma XL, Wang YP, Hou XD, Guo QH. Small intestinal angiosarcoma on clinical presentation, diagnosis, management and prognosis: A case report and review of the literature. World J Gastroenterol 2023; 29(3): 561-578
---
INTRODUCTION
Angiosarcoma is a rare malignant mesenchymal sarcoma that arises from vascular or lymphatic endothelial cells and accounts for only 1%-2% of all soft tissue sarcomas[1]. Angiosarcoma can invade any location in the body due to the widespread distribution of the blood and lymphatic systems[2]. Angiosarcoma has skin, visceral, and soft tissue subtypes, with visceral angiosarcoma accountings for 15%-47% and being more challenging to diagnose than the other subtypes[3]. Small intestinal angiosarcoma has a low incidence and presents with atypical abdominal pain, weight loss, nausea, vomiting, and gastrointestinal bleeding[4]. Various factors, including trauma, vinyl chloride, and radiation, have been implicated in the development of angiosarcoma. However, morbidity following exposure to these risk factors is rare. For example, a previous follow-up study showed that the overall risk of angiosarcoma after radiotherapy ranged from 0.01%-0.30%[5]. Timely diagnosis of small intestinal angiosarcoma is challenging owing to the diversity and non-specificity of the clinical symptoms, signs, and limited diagnostic methods, resulting in poor prognosis[6].
In this study, we report a case of primary small-intestinal angiosarcoma with lumbar and bilateral adrenal metastases. Furthermore, we retrospectively analyzed previously reported cases to explore the clinicopathological factors, diagnosis, treatment, and prognosis of small-intestinal angiosarcoma to further optimize the management and treatment of the disease.
CASE PRESENTATION
Chief complaints
A 70-year-old Chinese man presented with abdominal pain and melena for 4 mo.
History of present illness
The patient's symptoms had started four months earlier, accompanied by distension, constipation, poor appetite. There was no apparent cause. The patient had lost 15 kg.
History of past illness
The patient had a history of hypertension but no history of abdominal surgery, toxicity, or radiation exposure.
Personal and family history
The patient denied any family history of malignant tumors.
Physical examination
Physical examination revealed a chronically ill man. In addition, his abdomen was mildly swollen, with tenderness around the navel.
Laboratory examinations
Laboratory data revealed hemoglobin, hematocrit, and C-reactive protein levels of 10.1 g/dL, 30.8%, and 17.18 mg/L, respectively. The tumor marker levels were not elevated.
Imaging examinations
Electron gastroscopy and colonoscopy revealed no abnormalities. Computed tomography (CT) revealed that the part of the lower abdominal intestinal wall was significantly thickened with different degrees of enhancement in the arterial phase. In addition, bilateral adrenal masses and multiple soft-tissue nodules were noted in the right perirenal fascia (Figure 1). Magnetic resonance imaging (MRI) showed local abnormally enhanced nodules in the cauda equina at the L1/L2 Level; thus, metastasis was considered. Moreover, multiple nodules with abnormal signals in the bilateral adrenal area and right kidney were apparent, also leading to the consideration of metastasis (Figure 2). Electron enteroscopy revealed continuous periannulus ulcers 2.4-2.5 m above the ileocecal valve (Figure 3). The ulcer surface was covered with mucous moss, and the surrounding mucosa showed an irregular eminence, bled easily when touched, and had a hard texture.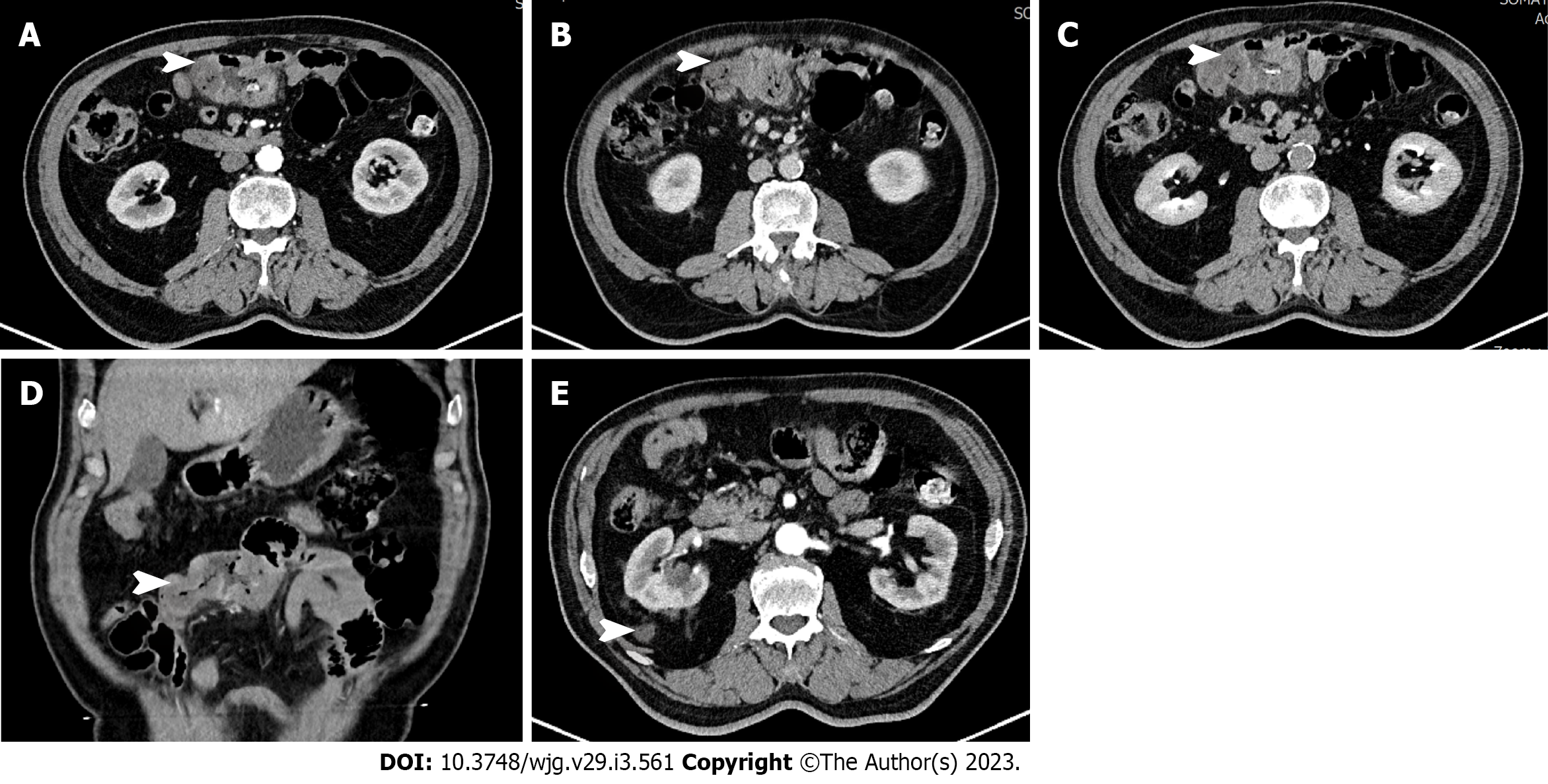 Figure 1 Computed tomography showed segmental thickening of the small intestine (white arrow), with lesion enhancement in the arterial phase.
A: Arterial phase; B: Venous phase; C: Balanced phase; D: Coronal plane; E: Adrenal masses.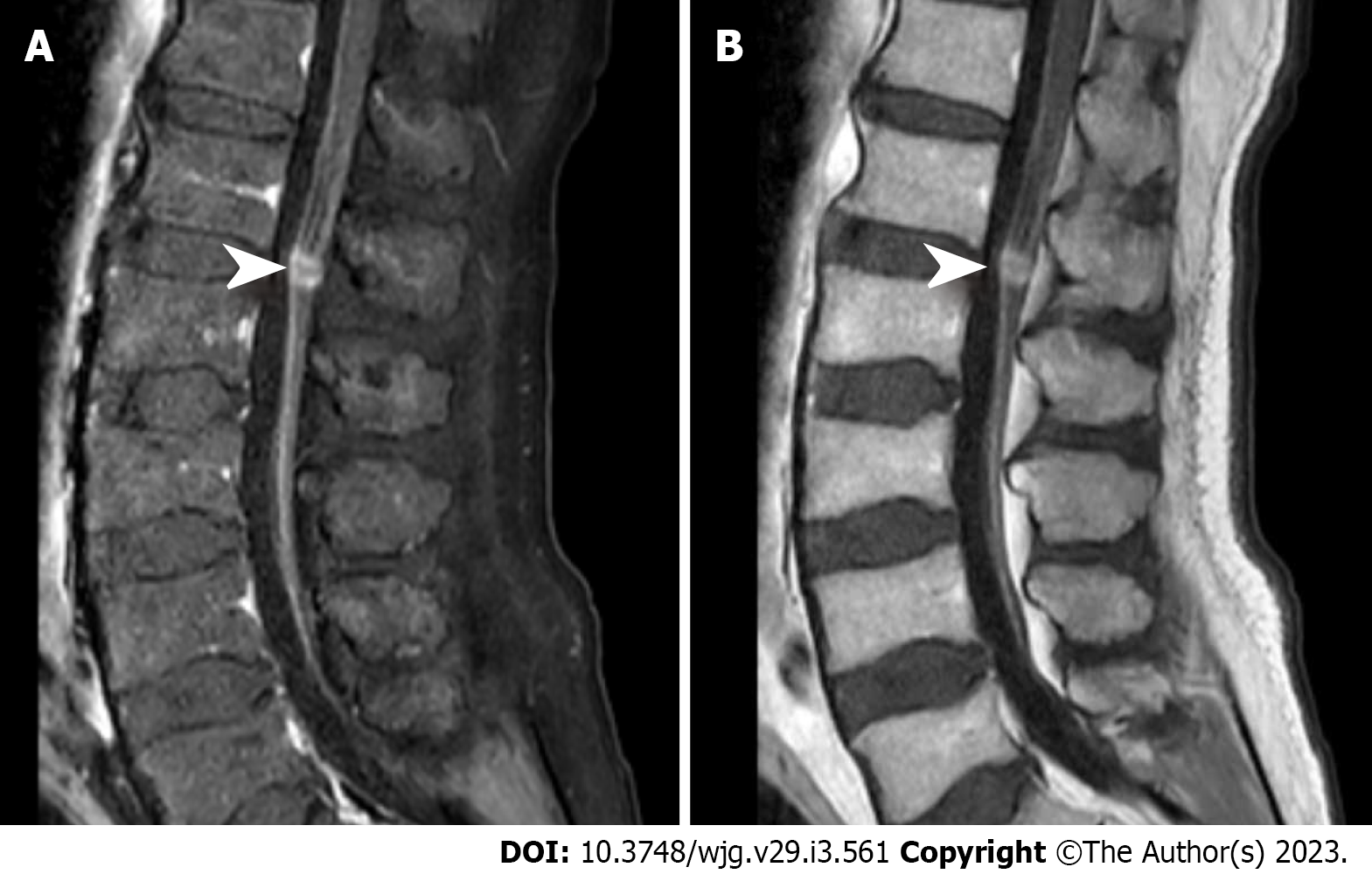 Figure 2 Magnetic resonance imaging showed local abnormally enhanced nodules (white arrow) at the L1/L2 Level in the cauda equina.
A: T1 phase; B: T2 phase.
PATHOLOGIC FINDINGS
A laparotomy was performed that revealed multiple grayish-red ulcerative tumors in the mucosa of the ileum, with a thin film of foul moss on the surface (Figure 4). An 8 cm × 6 cm ulcerative mass was also detected 2 m distal to the ligament of Treitz, resulting in intestinal obstruction. All lesions were resected and sent for pathological examination. Microscopically, the tumor tissues were hemorrhagic and necrotic. Spindle tumor cell infiltration was observed with round or spindle nuclei, thick chromatin, and mitotic images. Giant tumor cells were arranged in cords or scattered singly. Some tumor cells formed vascular channels with erythrocytes in the center, and parts of the lumen anastomosed with each other (Figure 5). Tumor cells infiltrated the subserosal layer. No tumor tissue was detected at the resection margins or perienteral lymph nodes. Immunohistochemistry results showed that the tumor cells were positive for CD31, vimentin, ETS-related gene (ERG) and p53, but negative for CK (Pan), epithelial membrane antigen (EMA), CD34, SMA, CD117, DOG1, S100, Melan A, HMB45, and MyoD1. The Ki-67 proliferation index was 40%.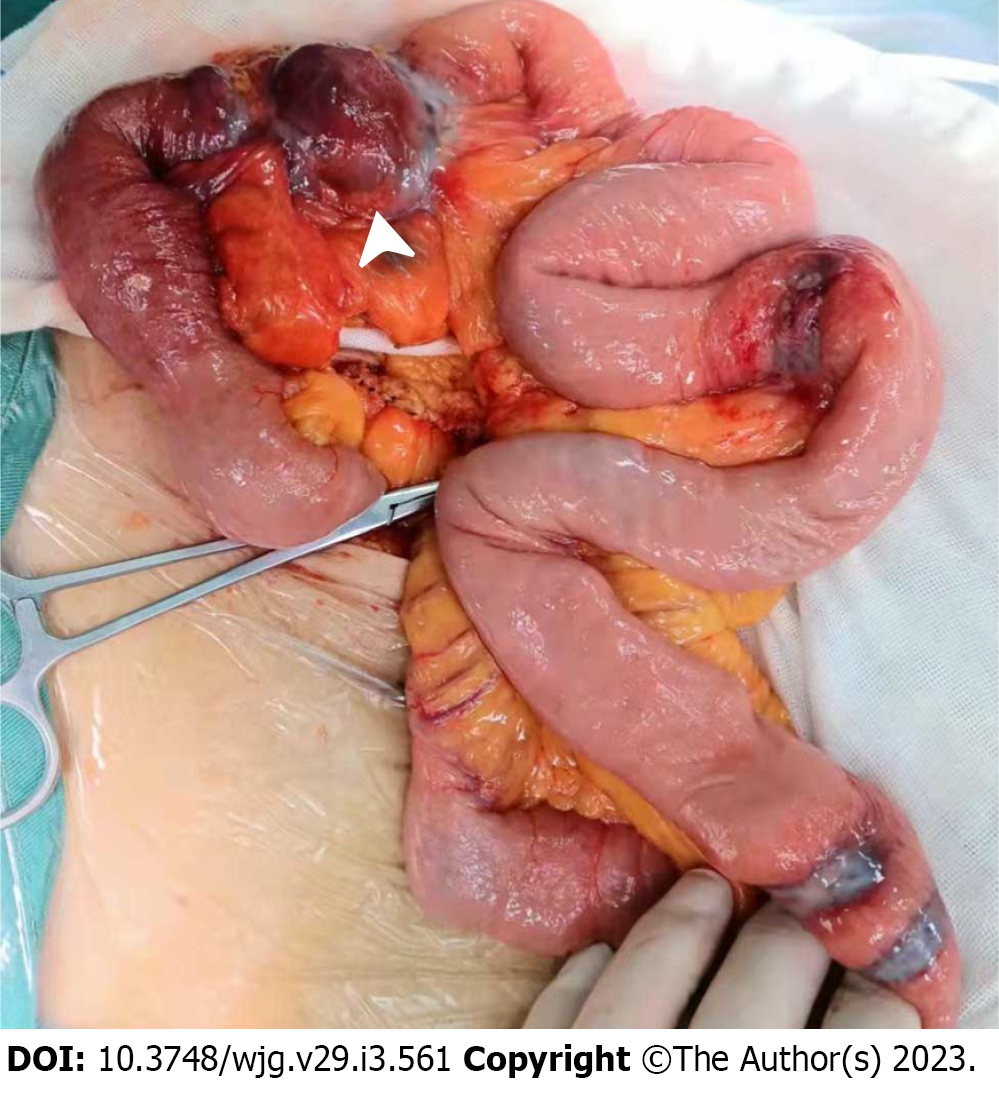 Figure 4 During the operation, multiple grey-red ulcerative tumors were observed in the ileum mucosa covered with moss.
In addition, an 8 cm × 6 cm ulcerative mass (white arrow) resulted in intestinal obstruction.
FINAL DIAGNOSIS
According to the pathological findings, the patient was definitely diagnosed with small intestinal angiosarcoma.
TREATMENT
The patient received R0 resection of small intestinal sarcoma with D2 Lymph node dissection and further functional end-to-end anastomosis. General supportive treatment was provided postoperatively. Further chemotherapy and molecular targeted therapy were suggested, but the patient declined owing to financial constraints.
OUTCOME AND FOLLOW-UP
Following surgery, the patient's symptoms were relieved and there was no further melena. The patient was discharged following an improvement in his general condition. Shortly after discharge, the patient developed anorexia and diarrhea. However, the patient did not visit the hospital for review. He died four months later.
DISCUSSION
Primary small intestinal malignancies are rare, accounting for < 2% of gastrointestinal tumors[36]. Small intestinal malignant tumors are often discovered late, due to their nonspecific symptoms and limited examination methods, resulting poor prognosis[51]. Gastrointestinal bleeding caused by small intestinal angiosarcoma is difficult to detect using routine gastroscopy and electronic colonoscopy[17]. CT, capsule endoscopy[25], PET[29], tagged red blood cell scanning[18], and push enteroscopy[28] may aid in the detection of small intestinal lesions. However, lesions were not detected in some patients after multiple examinations, thus necessitating surgical exploration. Even with endoscopic tissue biopsies, definitive diagnosis requires several attempts in some patients[9]. Thus, small intestinal angiosarcoma should be considered in patients with early abdominal symptoms, especially in older adults with melena, to avoid rapid disease development due to missed diagnosis.
Angiosarcoma is an aggressive tumor with high lymph node and peripheral metastases[51]. In our literature review, primary small intestinal angiosarcoma had a distant metastasis rate of at least 56.5%. Small intestinal angiosarcoma often metastasizes to the lungs, liver, large intestine, and spleens. Respiratory failure due to pulmonary metastases is a common cause of death in patients with small intestinal angiosarcoma (15 cases). There was one case of metastasis to an uncommon site, the right atrial appendage and right ventricular septum, with a survival of only 12 d[34]. Therefore, for patients diagnosed with angiosarcoma of the small intestine, systemic examinations, such as PET-CT, are recommended, with attention paid specifically to pulmonary metastases.
Depending on the degree of differentiation, angiosarcoma can develop and range from being a well-differentiated vascular form to a poorly differentiated solid tissue. The solid growth pattern of angiosarcoma consists of two cell types: Sheets of spindle-shaped or large, polygonal epithelioid-type cells with a high mitotic rate[29]. The specific angiosarcoma subtype consisting of epithelioid tumor cells is called epithelioid angiosarcoma[32]. Epithelioid morphology is typical, but it can also express endothelial-related markers, such as cytokeratin, leading to confusion with other entities, such as malignant melanoma, fibrosarcoma, mesothelioma, or sarcoma with epithelioid features (particularly gastrointestinal stromal tumors)[10,28].
Immunohistochemistry is essential for the diagnosis of angiosarcoma. Positive expression of endothelial markers, including CD31, CD34, factor VIII, ERG, Fli-1, and vWF, help define the vascular nature of the tumor[3]. CD31 and ERG show the highest positive detection rates. The specificity of CD34 is relatively low and is positively expressed in 60%-70% of gastrointestinal stromal tumors[78]. Vimentin is a marker of epithelial-mesenchymal transition, and its overexpression in tumors is closely related to accelerated growth, invasion, and poor prognosis[52]. Vimentin is also widely expressed in other tumors, including melanoma, malignant mesothelioma, and epithelioid sarcoma, thus lacking reliability in the differential diagnosis of angiosarcoma[3]. As a negative marker in angiosarcoma, S-100 proteins help differentiate angiosarcoma from carcinoma and melanoma[10]. EMA cannot be used definitively in the differential diagnosis of angiosarcoma as it can be positive for epithelioid angiosarcoma[3,52]. CD117 is commonly used to diagnose gastrointestinal stromal tumors[78]. However, previous studies have shown that > 50% of angiosarcomas are positive for CD117[79]. Additionally, epithelioid and some non-epithelioid angiosarcoma cases may express keratin[3,76].
The prognosis for small intestinal angiosarcoma is poor, and the one-year survival rate was only 20.8% among the cases reviewed in the present study. Old age, infiltration depth, and involvement of two or all segments of the small intestine are risk factors for poor prognosis. Multivariate Cox regression analysis showed that surgery and chemotherapy can significantly improve the prognosis of patients with small intestinal angiosarcoma. In addition to surgical resection and chemotherapy, nutritional support, medication or endoscopic hemostasis, blood transfusion, and other treatments are also important. Local radiotherapy is also an alternative treatment.
With the development and clinical application of molecular targeted drugs, molecular targeted therapy for tumors has become a research hotspot in medical oncology. Studies have shown that vascular endothelial growth factor (VEGF) and its receptor (VEGFR) are highly expressed in angiosarcoma. VEGF and VEGFR inhibitors or multi-tyrosine kinase inhibitors, including bevacizumab and pazopanib, are potential drug targets for angiosarcoma. Malignant vascular tumors, including angiosarcoma, express high levels of adrenergic receptors. Targeting these receptors with drugs such as protamine inhibited tumor growth in mouse vascular cell lines[80]. In addition, a few cases with cutaneous angiosarcoma showed significant responses to checkpoint inhibitors, including pembrolizumab, anti-PD-L1 antibody, and anti-CTLA-4 antibody[81]. However, existing immunotherapy clinical trials mostly focused on cutaneous angiosarcoma, and relevant research on small intestinal angiosarcoma is lacking. Bevacizumab was administered to only one patient with angiosarcoma of the small intestine. However, due to the rapid progression of the patient's disease and failure to take drugs regularly, it was impossible to objectively evaluate its effect[17].
CONCLUSION
This study reported a case of multiple small intestinal angiosarcomas that resulted in intestinal obstruction with lumbar and bilateral adrenal metastases. Furthermore, we summarized the clinical features, diagnosis, treatment, and prognosis of 82 reported cases of small intestinal angiosarcoma. We found that small intestinal angiosarcoma occurred mainly in older men, and the most common symptom was gastrointestinal bleeding, which mainly manifested as melena. The main treatment methods were surgical resection and chemotherapy, which effectively improved patients' survival. This will help clinicians to understand small intestinal angiosarcomas and guide their clinical diagnosis and treatment. However, statistical bias is inevitable because of the small sample size. In addition, few clinical trials are related to chemotherapy and immunotherapy, and treatment methods are limited. Therefore, we expect that statistical analysis of larger samples and drug clinical trials will improve patients' clinical management and prognosis with small intestinal angiosarcoma.
ACKNOWLEDGEMENTS
We sincerely appreciate the patient and his families for their cooperation in information acquisition, treatment, and follow-up.
Provenance and peer review: Unsolicited article; Externally peer reviewed.
Peer-review model: Single blind
Specialty type: Oncology
Country/Territory of origin: China
Peer-review report's scientific quality classification
Grade A (Excellent): 0
Grade B (Very good): B, B, B
Grade C (Good): 0
Grade D (Fair): 0
Grade E (Poor): 0
P-Reviewer: Martino A, Italy; Thongon N, Thailand; Zhai JF, China S-Editor: Chen YL L-Editor: A P-Editor: Chen YL