Copyright
©The Author(s) 2023.
Published by Baishideng Publishing Group Inc. All rights reserved.
Gut microbiome therapeutic modulation to alleviate drug-induced hepatic damage in COVID-19 patients
Khansa Ahsan, Nayla Munawar, Department of Chemistry, United Arab Emirates University, Al Ain 15551, United Arab Emirates
Munir Ahmad Anwar, Industrial Biotechnology Division, National Institute for Biotechnology and Genetic Engineering College, Pakistan Institute of Engineering and Applied Sciences (NIBGE-C, PIEAS), Faisalabad 38000, Pakistan
Author contributions: Ahsan K performed data acquisition, the majority of the writing, and prepared the figures; Anwar MA wrote a section, reviewed, and edited; Munawar N conceptualized the manuscript, designed the outline and figures, wrote the abstract, and provided major input in writing and guidance in the investigation of data for the manuscript.
Supported by United Arab Emirates University UPAR 2022 Research Grant, No. 12S094.
Conflict-of-interest statement: The authors report no relevant conflicts of interest for this article.
Open-Access
: This article is an open-access article that was selected by an in-house editor and fully peer-reviewed by external reviewers. It is distributed in accordance with the Creative Commons Attribution NonCommercial (CC BY-NC 4.0) license, which permits others to distribute, remix, adapt, build upon this work non-commercially, and license their derivative works on different terms, provided the original work is properly cited and the use is non-commercial. See:
https://creativecommons.org/Licenses/by-nc/4.0/
Corresponding author: Nayla Munawar, PhD, Assistant Professor, Department of Chemistry, College of Science, United Arab Emirates University (UAEU), Al Ain 15551, Abu Dhabi, United Arab Emirates. nmunawar@uaeu.ac.ae
Received: September 15, 2022
Peer-review started: September 15, 2022
First decision: November 15, 2022
Revised: January 6, 2023
Accepted: March 7, 2023
Article in press: March 7, 2023
Published online: March 21, 2023

Coronavirus disease 2019 (COVID-19) infection caused by the severe acute respiratory syndrome coronavirus 2 virus, its symptoms, treatment, and post-COVID-19 effects have been a major focus of research since 2020. In addition to respiratory symptoms, different clinical variants of the virus have been associated with dynamic symptoms and multiorgan diseases, including liver abnormalities. The release of cytokines by the activation of innate immune cells during viral infection and the high doses of drugs used for COVID-19 treatment are considered major drivers of liver injury in COVID-19 patients. The degree of hepatic inflammation in patients suffering from chronic liver disease and having COVID-19 could be severe and can be estimated through different liver chemistry abnormality markers. Gut microbiota influences liver chemistry through its metabolites. Gut dysbiosis during COVID-19 treatment can promote liver inflammation. Here, we highlighted the bidirectional association of liver physiology and gut microbiota (gut-liver axis) and its potential to manipulate drug-induced chemical abnormalities in the livers of COVID-19 patients.
Core Tip: There are several reviews in the literature focused on the pathophysiology of liver damage during severe acute respiratory syndrome coronavirus 2 infection. However, we highlighted the potential role of gut microbiota in managing drug-induced liver damage during and after coronavirus disease 2019. We shed light on various metabolites produced by gut microorganisms that have a significant role in reducing liver damage in coronavirus disease 2019 with the use of different probiotics and prebiotics.
---
Citation: Ahsan K, Anwar MA, Munawar N. Gut microbiome therapeutic modulation to alleviate drug-induced hepatic damage in COVID-19 patients. World J Gastroenterol 2023; 29(11): 1708-1720
---
INTRODUCTION
Coronavirus disease 2019 (COVID-19) is an infectious viral disease caused by severe acute respiratory syndrome coronavirus 2 (SARS-CoV-2) that spreads easily from person to person via respiratory droplets in the form of aerosols. COVID-19 has a global overall mortality rate of 2%-3%[1]. After the first case was reported in Wuhan, China in November 2019[2], SARS-CoV-2 rapidly spread throughout the world. Because of the consequential health crisis worldwide, the World Health Organization declared COVID-19 a global pandemic disease in March 2020[3]. To date, more than 6 million deaths caused by the virus have been reported around the globe.
Similar to all other RNA viruses, when SARS-CoV-2 enters and adapts to a new human host, its nucleic acids mutate, which results in new viral progeny. Several variants have gained concern during the course of the pandemic due to their impact on human health, such as alpha (B.1.1.7), beta (B.1.351), gamma (P.1), delta (B.1.617.2), and omicron (B.1.1.529)[4]. SARS-CoV-2 binds to angiotensin-converting enzyme 2 (ACE2) receptors of the host prior to entry into the cells. ACE2 is a protein receptor found on the epithelial lining of many cells and tissues such as the nose, mouth, and lungs. It is also present on blood vessels, the heart, kidneys, the liver, and the gastrointestinal (GI) tract[5,6].
Patients during the first outbreak of COVID-19 exhibited only respiratory symptoms. Approximately 2.6% suffered from diarrhea, and 2% suffered from chronic liver illness[7]. With the progression of the disease, several patients started to report gastric issues, including diarrhea, nausea, anorexia, vomiting, abdominal pain, anxiety, and intestinal bleeding[8]. These gastric symptoms lead to gut dysbiosis, which is associated with bacterial translocation into the blood during the course of COVID-19 infection, resulting in lethal secondary infections[9]. Similarly, COVID-19 damages the liver to various degrees. Numerous factors that could contribute to liver damage during infection include direct viral cytopathic effects, immune-mediated injury (systemic inflammatory response syndrome), passive hepatic congestion due to right-sided heart failure, liver hypoxia, and drug-induced liver injury[10]. Hence, COVID-19 is not limited to the respiratory tract but is also a multiorgan disease with dynamic symptoms.
To date, there is no effective therapy or antivirals for SARS-CoV-2 due to rapid genomic changes in the virus; however, symptoms are treated with various drugs. Clinical trials are being conducted to evaluate these drugs, although some of them have adverse effects on human health including liver damage or abnormal liver function[10]. It is well known that the use of drugs can cause dysregulation of gut microbiota (gut dysbiosis) as well[11]. Gut dysbiosis can result in hepatic inflammation through the biliary tract, portal vein, and systemic circulation. The translocation of endotoxins and bacteria due to increased intestinal permeability and reduction in the production of commensal gut microbial metabolites such as butyric acid, bile acids, phenolic compounds, indole and bile acid derivatives, and carotenoids promote liver inflammation. The intestine and the liver communication with each other through the gut microbiota and their metabolites have been highlighted in several studies[12]. In addition, the molding of gut community structure with drugs used for the treatment of COVID-19 infection is also well-documented[13,14]. It ultimately disturbs the gut-liver link and participates in the severity of COVID-19 consequently.
This review was conducted with the aim of evaluating and explaining the bidirectional association of the gut microbiota and liver and resolving drug-induced liver damage by investigating the role of the microbiota in restoring liver chemistry. We understand that the incorporation of microbiome-targeted therapeutics may potentially create a new way of alleviating or preventing drug-induced hepatic damage in COVID-19 patients.
SARS-COV-2 PATHOGENESIS
SARS-CoV-2 invades host cells by binding its spike protein to ACE2 host cell receptors, which is a transmembrane protein. More specifically, spike S1 of SARS-CoV-2 binds to the enzymatic domain of mACE2 (membrane-bound ACE2) of epithelial cells, resulting in the invasion of the virus in the form of endosomes. Since these membrane receptors are known to be expressed on the epithelial lining of the nose, lungs, GI tract, heart, liver, and blood vessels, they are prone to viral attachment[6]. Viral entry occurs via host proteases such as transmembrane serine protease types 2 and 4 followed by viral replication[15].
The SARS-CoV-2 virus also disrupts the normal intestinal microbiome, leading to digestive issues such as diarrhea. Meta-analysis of 60 studies comprising 4243 patients from China, Singapore, South Korea, the United Kingdom, and the United States showed a frequency of GI symptoms (nausea, vomiting, diarrhea, anorexia) of 17.6%. Among these, anorexia and diarrhea were most common at 26.8% and 12.5%, respectively. These symptoms usually appear after 1-2 d of respiratory symptoms (dry cough, sore throat, shortness of breath, pneumonia, and lung infection)[16,17]. Furthermore, there is an increase in the number of lung-derived C-C chemokine receptor 9 and cluster of differentiation 4 (CD4+) T cells in the small intestine by elevated levels of chemokine ligand 25, causing intestinal inflammation[18].
Several studies have shown the association of the GI tract in the pathogenesis of COVID-19, signifying the link between gut microbiota and the clinical outcome of the disease. Consequently, gut microbial dysbiosis has been found to be related to the development and severity of the disease[19,20]. When the gut microbial composition of patients with COVID-19 was compared with healthy individuals, numerous gut commensals with well-known immunomodulatory potential including Faecalibacterium praunitzii, Eubacterium rectale, and bifidobacteria were observed to be depleted in COVID-19 individuals and persisted to be low in stool and blood samples collected up to 1 mo after recovery from the disease. This unbalanced microbial composition indicated stratification according to disease severity corresponding to higher levels of inflammatory cytokines and blood markers including C-reactive protein, lactate dehydrogenase, γ-glutamyl transferase, and aspartate aminotransferase. The study not only specified the association of gut microbiome with disease severity but also indicated that altered gut microbiota may contribute to persistence of symptoms[20].
Similarly, Zuo et al[21] observed that the gut microbiome profiles of COVID-19 patients had prominent alterations with an increase in opportunistic pathogens such as Coprobacillus, Clostridium ramosum, and Clostridium hathewayi and a decrease in Faecalibacterium prausnitzii (butyrate producing anti-inflammatory bacterium), leading to severity of the disease[21]. Correspondingly, patients had higher proportions of opportunistic fungal pathogens in their fecal samples including Candida albicans, Candida auris, and Aspergillus flavus when compared to controls. Prolonged gut dysbiosis was observed during the hospitalization of these patients even after nasopharyngeal clearance of SARS-CoV-2, which indicates the long-term influence of the disease on the microbiota composition[21].
A cross-sectional study involving 30 patients suffering from COVID-19, 24 influenza A (H1N1) patients and 30 healthy individuals was conducted by Gu et al[22]. 16S rRNA analysis of V3-V4 regions revealed a decrease in gut microbial diversity of COVID-19 patients and a relative increase in opportunistic pathogens including Streptococcus, Rothia, Actinomyces, Vellionella, and Erysipelatoclostridium compared to healthy controls. Total number of Streptococcus and Escherichia/Shigella significantly increased in COVID-19 and H1N1 patients, respectively[22]. Disturbance in the normal gut microbiome and abundance of opportunistic pathogens leads to intestinal inflammation. Hence, the GI epithelium may become susceptible to SARS-CoV2 infection under certain circumstances such as viral load, coexisting disease, age, medication, gut dysbiosis, and inflammation[23]. Correspondingly, levels of interleukin (IL-17A) rise, triggering neutrophils to migrate. Hence, the lungs become prone to cytokines and bacterial invasions via the bloodstream, resulting in inflamed lungs[24].
The bidirectional axis of the intestine, microbiome, and liver via the portal vein is also affected. The portal vein transports host and microbial metabolites such as ammonia to the liver, which has an impact on liver functioning. Gut microflora that are involved in the fermentation of amino acids, constantly produce ammonia as metabolic waste, which is transported to the liver and converted into urea to be excreted in the urine. Opportunistic pathogens such as Clostridium and Peptostreptococcus are known to produce high levels of ammonia causing disruption in body nitrogen homeostasis. This eventually leads to hepatocellular metabolic dysfunction and liver injury[25] that might increase by gut dysbiosis during antiviral drug treatment of COVID-19 infection.
PATHOPHYSIOLOGY OF THE LIVER IN COVID-19 INFECTION
Despite the fact that SARS-CoV-2 is a respiratory infection, it is also primarily associated with the liver. As mentioned above, the presence of ACE2 receptors makes the host's liver prone to injury. The expression of the ACE2 receptor is significantly higher in cholangiocytes, i.e. 57.7% (bile duct epithelial cells) vs 2.6% in hepatocytes[26]. Multiple factors are involved in liver damage during COVID-19, such as direct cytopathic attack by SARS-CoV-2, inflammation, intrahepatic immunity, multidrug-induced liver damage, drug toxicity, hypoxia, and gut dysbiosis (Figure 1)[27-30]. A direct viral attack can also lyse or induce hepatic apoptosis. Virus-specific protein 7a induces a caspase-dependent apoptosis pathway that is usually present in the lungs, kidneys, and liver[31]. Viral replication has also been observed in hepatic cells with viral spikes present in the host cytoplasm[32]. These observations suggest the cytopathic effect of SARS-CoV-2 on hepatocytes. Wang et al[33] further observed dilatation of the endoplasmic reticulum, reduced glycogen granules, mitochondrial swelling, and membrane disruption in hepatocytes followed by hepatic apoptosis and binuclear hepatocytes.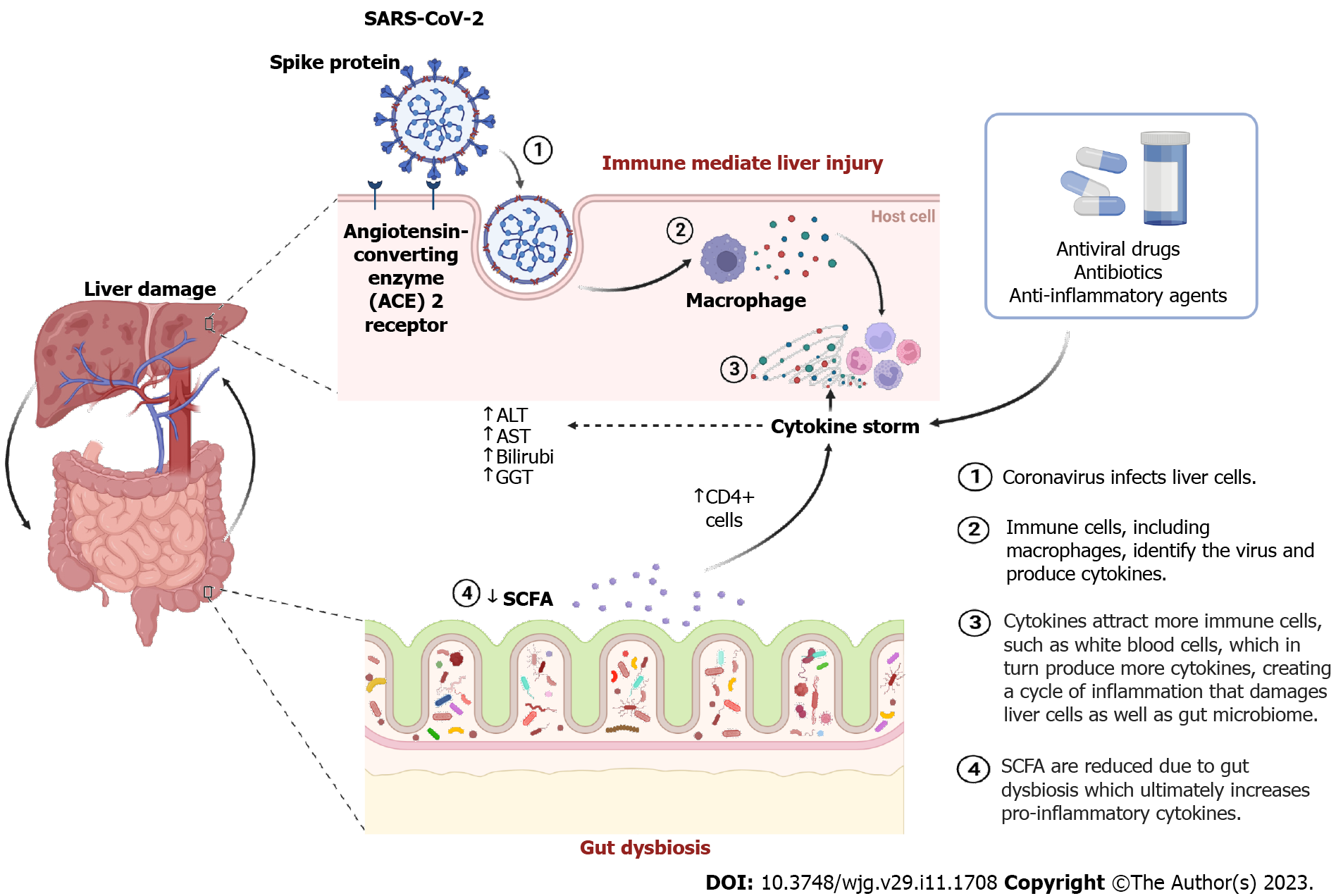 Figure 1 Potential causes of liver injury during coronavirus disease 2019. Following severe acute respiratory syndrome coronavirus 2 infection, liver injury may arise due to direct viral entry [via angiotensin-converting enzyme 2 (ACE2) receptors on hepatocytes] or gut microbial dysbiosis leading to cytokine storm in the liver. ALT: Alanine aminotransferase; AST: Aspartate aminotransferase; CD4+: Cluster of differentiation; GGT: Gamma-glutamyl transpeptidase; SCFA: Short-chain fatty acids.
Another significant cause of liver damage is immune-mediated liver injury. It typically occurs due to a cytokine storm with elevated levels of IL-1, IL-6, viral-induced cytotoxic T cells (CD8), and tumor necrosis factor produced by host cells against viral infection[32,34-36]. Liver tissues of 40 patients who died due to COVID-19 were subjected to PCR for viral RNA in a study by Lagana et al[37]. Mitochondrial enlargement, dilation of the endoplasmic reticulum, and membrane dysfunction were observed in autopsies. Additionally, hepatic enzymes such as alanine aminotransferase (ALT) and aspartate aminotransferase (AST) were found to be elevated to 68 U/L (normal 46 U/L) and 102 U/L (normal 37 U/L), respectively. Seventy-five percent of patients had macrovesicular steatosis, 50% had lobular necroinflammation (acute hepatitis), and 15% had sinusoidal microthrombi, indicating that COVID-19-infected individuals had biochemical evidence of liver damage.
Neutrophils, Kupffer cells, and plasmocytes were observed in hepatic lobules and sinusoidal and portal regions in autopsies of 48 COVID-infected patients[38]. Liver damage related to COVID-19 infection results in a change in liver enzyme serum levels, with an increase ranging from 16% to 62% for aminotransferases and 5%-20% for bilirubin[39]. Another study by Guan et al[40] indicated increased aminotransferase levels in serum by 22% in 757 hospitalized patients, increased AST in 18.2% of patients with mild symptoms, 39% of patients with severe symptoms, and 50% of patients admitted to the intensive care unit (ICU). Serum bilirubin levels were also above the upper limit of normal in 13.3% of patients with mild symptoms and 20.8% of patients with severe symptoms[40].
DRUG-INDUCED LIVER DAMAGE (HEPATOTOXICITY)
The use of drugs for underlying chronic diseases, including antibiotics, antivirals, anti-inflammatory drugs, and anticoagulants, during COVID-19 infection is a major cause of liver damage (Figure 1)[41]. Cai et al[42] revealed that over 10% of the patients had elevated liver enzymes when they were admitted to the hospital, which may have been caused by prescribed medications[42]. A systematic review/meta-analysis consisting of 20874 SARS-CoV-2 patients summarized from 107 articles showed that 25.4% of patients had drug-induced liver toxicity. Among 208 patients who received remdesivir treatment, 15.2% had a drug-induced liver injury. Lopinavir/ritonavir had a higher incidence rate of 37.2% in 775 patients[43]. Furthermore, antiviral drugs (such as favipiravir, remdesivir, lopinavir/ritonavir, chloroquine, oseltamivir, and ribavirin) and antipyretics (acetaminophen) can lead to hepatotoxicity during the course of COVID-19 infection[34]. One of the most common causes of liver damage was underlying liver disease (chronic liver disease, hepatitis, cirrhosis, and non-alcoholic steatohepatitis), which was found in a meta-analysis of 13 studies including 3046 COVID-19 patients. Of these, 25% of individuals had a hepatic injury, 21% had elevated ALT, and 24% had elevated AST. These injuries lead to the severity of COVID-19 symptoms[44]. Therefore, it was suggested that patients with underlying liver diseases must not be prescribed hepatotoxic drugs since most of the drugs are metabolized in the liver, including oseltamivir, lopinavir/ritonavir, and chloroquines. Moreover, gamma-glutamyl transferase (GGT) and bilirubin levels mainly increase with the use of antiviral drugs in COVID-19 patients. The GGT enzyme is primarily found in liver cells. In the case of liver damage, the enzyme may leak out into the bloodstream, resulting in high levels of GGT in the blood and causing liver damage.
Drugs such as lopinavir (ritonavir) may cause a transient and slight increase in liver enzymes. Patients with advanced liver disease had elevated lopinavir plasma levels. Approximately 57.8% of patients taking lopinavir developed liver damage[45]. Lopinavir is a protease inhibitor. It is usually given in combination with ritonavir to increase the plasma half-life for the treatment of human immunodeficiency virus (HIV). Since it has low efficacy toward SARS-CoV-1, it must be prescribed as early as possible after the initial diagnosis of COVID-19[46]. Severe hepatotoxicity could be caused by a high dose of ritonavir (i.e. 1200 mg/day). However, in lower doses (200-400 mg), it could boost other drugs (such as lopinavir and indinavir)[47].
Lopinavir/ritonavir showed 63% adverse drug reactions in 217 COVID-19 patients. However, other drugs (umifenovir, chloroquine, and antibacterial) contributed to 47% of adverse drug reactions in total[48]. Fan et al[49] further indicated that out of 148 COVID-19 patients, 45 individuals had a normal baseline liver function test, among which 48% developed liver abnormalities after hospital admission. When compared to patients with normal liver function (31.3%), a significantly higher percentage of patients with abnormal liver function (57.8%) had received lopinavir/ritonavir after admission[49]. Similarly, in a study involving 417 COVID-19 patients, Cai et al[42] indicated that liver dysfunction was considerably more prevalent in the lopinavir/ritonavir-treated groups. Within 2 wk of admission, the presence of abnormal liver tests became more pronounced, with levels of ALT, AST, total bilirubin, and GGT exceeding the upper limit of normal in 49 (23.4%), 31 (14.8%), 24 (11.5%), and 51 (24.4%) patients, respectively. However, the definition of drug-induced liver injury by clinical guidelines from the European Association for the Study of the Liver was not applicable to this study due to the lack of evidence demonstrating the role of drugs in observed liver injury[42].
Simultaneous use of lopinavir/ritonavir and arbidol in COVID-19 patients with mild symptoms increased the odds of liver function, up to 3.58 times greater than in those who did not receive the medications. Human liver microsomes were used to examine the metabolic interactions between the two drugs in an effort to determine the cause of this unexpected increase. The following chain of evidence revealed that the use of tocilizumab was observed to improve both lung and liver functions within 3 wk in a case series of 7 patients who had significant abnormal liver tests in addition to worsening respiratory system function 5-7 d after receiving treatment with lopinavir/ritonavir, hydroxychloroquine, and azithromycin[50].
Since the direct effect of lopinavir/ritonavir on gut microbiota in SARS-CoV2 patients is still unknown, changes in bacterial diversity of HIV-1 patients have been observed when lopinavir/ritonavir was administered in antiretroviral therapy. Predominantly affected phylum include Firmicutes, Proteobacteria, Bacteriodetes, and Actinobacteria. Moreover, levels of gut microbial genera such as Lachnospira, Butyricicoccus, Oscillospir, and Prevotella were reduced. The Provetella population has been previously linked to HIV-induced inflammatory response in the host[51]. Also, a decrease in Lachnospira, Butyricicoccus, and Oscillospir has adverse effects on the host immune system since these are beneficial microbiota of the human gut[52]. Short-chain fatty acids (SCFA) such as butyrate produced by gut microbiota suppress colon inflammation. Consequently, it protects against liver damage and regulates insulin signaling in adipose tissues[53,54]. Hence, the change in gut microbiota related to lopinavir/ritonavir treatment could pose a risk of liver damage during COVID-19 infection.
Another drug used for COVID-19 patients is remdesivir, which is a nucleotide prodrug of an adenosine analog. It terminates viral replication by binding to viral RNA-dependent RNA polymerase enzyme without interfering with host RNA or DNA polymerases[55]. Remdesivir has been used for the treatment of the Filoviridae viral family, including the Ebola and Marburg viruses[56]. Its efficacy extends to Lassa fever virus and pathogenic CoV (including Middle East respiratory syndrome and SARS CoVs)[2]. Grein et al[57] reported the first study in a cohort of 53 COVID-19 patients. Drug effects were observed from 5-10 d of administration. Elevated levels of hepatic enzymes with a 23% incidence rate were the most frequent adverse effect. Additionally, elevated liver aminotransferase was the reason why 1 of the 4 patients stopped receiving treatment[57].
A similar pattern was observed in the study by Kalil et al[58] that included 402 patients to determine the best time course for intravenous remdesivir. The most frequent adverse effects on the liver in that grade were reported to be ALT and AST elevations of 1-2 (i.e. 7% and 6%, respectively). Moreover, Wang et al[33] demonstrated a placebo-controlled double-blind clinical trial on a group of 255 patients. Grade 1-2 elevated AST was identified as an adverse liver effect (12% in the placebo group, 7% in the drug-treated group), and grade 1-2 elevated ALT resulted in discontinuation of the drug (1%). Nevertheless, grade 1–2 hypoalbuminemia (15% in the placebo group, 13% in the drug-treated group) and grade 1–2 increased bilirubin (9% in the placebo group, 10% in the drug-treated group) were the most frequent liver adverse effects[33].
Interestingly, the harmful effects of remdesivir were studied in COVID-19 patients from intensive care units (ICUs) and infectious disease wards (IDWs). The approximately same level of increase in aminotransferase was observed in both groups (ICU: 44.4%; IDW: 41.2%); however, the level of bilirubin increased more in the ICU group than in IDW individuals, indicating that the difference in enzyme levels may be related to the difference in symptomatic severity in patients[59]. In another case, an acute rise in ALT was noted after the start of remdesivir for 2 d and was immediately reversed after stopping it. The patient developed hepatotoxicity, which was proposed to be due to a drug-drug interaction of remdesivir and P-glycoprotein inhibitors. Hence, it was suggested to use the drug with caution[60]. Remdesivir-associated liver failure improved in a study reported by Carothers et al[61], suggesting that the use of acetylcysteine could be beneficial. However, there is a limitation in data regarding the management of acetaminophen-associated liver failure with acetylcysteine.
Similarly, favipiravir (avigan) is also considered for the treatment of SARS-CoV-2 infection. It is a broad-spectrum antiviral medicine that was initially administered for the treatment of influenza in Japan. Favipiravir is a prodrug that is taken up by viral RNA polymerase as a purine nucleotide after being intracellularly phosphorylated to form the active metabolite (favipiravir ibofuranosyl-5'-triphosphate), effectively inhibiting RNA-dependent RNA polymerase. It has been effective against RNA viruses such as West Nile virus, yellow fever virus, foot-and-mouth disease, Ebola, and Lassa virus[62]. In a case study, favipiravir was found to cause cholestatic liver injury. The authors suggested that liver injury developed due to the use of antibacterials followed by a high dose of favipiravir (6000 mg on the 1st d and 2400 mg for 14 d), which worsened liver function with elevated transaminase and total bilirubin levels[63].
A recent study comparing patients in the favipiravir group to those in the control group receiving lopinavir/ritonavir 400 mg/100 mg twice daily for 14 d plus aerosolized interferon-α by inhalation (5 million U twice daily) showed that the favipiravir group significantly reduced the amount of time needed for viral clearance (median 4 d vs 11 d) while also experiencing fewer side effects[64]. Additionally, teratogenicity (abnormal fetal development), hyperuricemia[50], diarrhea, and neutropenia are the known side effects of this drug[65]. Although the dose regimen for clinical trials or experimental drugs used for COVID-19 patients is aided by information from the treatment of influenza, more clinical testing is necessary to determine the exact effectiveness of favipiravir[65].
Guaraldi et al[66] in a retrospective cohort study found that tocilizumab (an IL-6 receptor antagonist) does not have any harmful effects on the liver when administered to 1351 COVID-19 patients. However, serum transaminase levels were elevated up to 40 fold[67]. Similarly, a significant correlation was later found between the administration of lopinavir/ritonavir, hydroxychloroquine, remdesivir, and tocilizumab, leading to liver damage in 1827 patients[68]. Other drugs, including hydroxychloroquine and azithromycin, are known to be used for SARS-CoV-2 infections leading to liver damage[69].
Most of these drugs also inhibit liver transporters including ABCB11/BSEP, ABCC2/MRP2, SLC47A1/ MATE1, ABCC3/MRP3, ABCC4/MRP4, SLC22A1/OCT1, SLCO1B1/OATP1B1, SLCO1B3/OATP1B3, and SLC10A1/NTCP. Since these transporters play a significant role in the clearance of endobiotics and other toxic compounds, their inhibition may affect liver functioning and cause alterations in the GI tract and kidney damage[1].
Since inflammatory cytokines are produced in response to COVID-19 infection, excessive cytokine (cytokine storm) causes septic shock, tissue damage, and organ failure. The microbial imbalance found in the blood analysis of COVID-19 patients was also linked to elevated levels of inflammatory cytokines and blood markers, such as C-reactive protein and specific enzymes, as a result of tissue damage[20]. The gut dysbiosis-associated hepatic inflammation led to severe symptoms of COVID-19 and increased mortality. Therefore, incorporation of the drug-induced gut dysbiosis and its connection to hepatic injury could better elucidate the gut-liver-bidirectional-axis association with COVID-19 severity. A precise understanding of interaction between gut microbiota and liver physiology will facilitate the development of targeted therapeutics to improve the condition of COVID-19 patients.
GI MANIFESTATION AND GUT DYSBIOSIS (METABOLIC DYSFUNCTION)
Studies have suggested that altered gut microbiota (dysbiosis) can play a significant role in immune-mediated inflammatory diseases[70]. Similarly, dysbiosis of the gut microbiota might determine the clinical outcome of patients with underlying comorbid illnesses such as type 2 diabetes, hypertension, and obesity in COVID-19[71]. A potential role of gut microbiota in overall pathogenesis and outcomes is implied by the fact that gut microbial diversity generally decreases with age and that COVID-19 severity and fatality increase in older individuals. The impact of this disease can be minimized by improving the gut microbiota profile via personalized nutrition and supplements that improve immunity in older patients and immunocompromised individuals[72].
It has further been suggested that patients with COVID-19 have compromised gut microbiota, which has well-known immunomodulatory potential. Blood and stool samples were collected from 100 COVID-19 patients in a two-hospital cohort study. A significant alteration in gut microbial composition was found in COVID-19 patients compared to healthy individuals. Gut commensal microbiota with known immunomodulatory potential, such as Bifidobacteria, Faecalibacterium prausnitzii, and Eubacterium rectale, decreased in number and remained low even when the samples were collected until 30 d after recovery from COVID-19 infection. Moreover, blood markers, including AST, C-reactive protein, lactate dehydrogenase, and GGT, were elevated in this perturbed composition, which also showed stratification with disease severity[20]. Since the digestive and respiratory systems have an impact on each other via the gut-lung axis (common mucosal immune system), it is believed that improved GI ecology will have a positive impact on COVID-19 patients[73].
Although a small case series from China suggested that COVID-19 patients had less Lactobacillus and Bifidobacteria during microbial dysbiosis, no conclusive research linked the intestinal microbiota to COVID-19 at that time[74]. However, the SARS-CoV-2 receptor ACE2 was found to control intestinal microbial homeostasis via amino acids in a previously reported study[75]. Gut microbiota are known to produce SCFAs by fermentation. Predominant gut bacteria [Ruminococcaceae (cluster IV) and Eubacterium (cluster XIVa) in order Clostridia and phylum Firmicutes] produce SCFAs including acetate, propionate, and butyrate, which are frequently metabolized[76]. SCFAs that remain undigested further promote the formation of naïve CD4+ T cells, which mainly aid in controlling the level of lymphocytes in bone marrow and peripheral blood circulation (Figure 1). Consequently, gut microbial homeostasis is disturbed, ultimately compromising the immune system.
Increased levels of cytokines and inflammatory cells during COVID-19 infection are linked to sepsis and acute respiratory distress syndrome (ARDS). Inflammatory cytokines [IL-6, IL-8, IL-10, and tumor necrosis factor α (TNF-α)] were found to be high in number, leading to ARDS and multiple-organ dysfunction[77,78]. Butyric acid produced by intestinal bacteria is known to reduce cytokine storm[79]. Thus, the gut microbiota could help in reducing the prevalence of ARDS and sepsis, which are major mortality risks in COVID-19. Moreover, some researchers think that sepsis and abnormalities of the gut microbiota should be promoted together[80].
POTENTIAL THERAPEUTICS: PROBIOTICS AND PREBIOTICS
Considering the link between gut dysbiosis due to cytokine storm and COVID-19 severity, modulation of the gut microbiome holds great therapeutic potential for disease modification (Figure 2). However, there is currently no microbiota-directed therapy that has been shown to be effective in preventing the development or progression of COVID-19. Nevertheless, scientists are raising concerns about the health benefits and disease prevention properties of diet and gut microbiota during the course of infection. Growth of Bifidobacterium and Lactobacillus spp. in the human gut is promoted by plant-based fibers, which also help reduce harmful microbiota (Clostridia)[81]. Since microbial SCFAs are produced by the fermentation of dietary fibers and have anti-inflammatory effects, fiber intake can improve the host immune system[82]. When tested in mouse models, a fiber-rich diet promoting SCFA was found to increase immunity against allergic inflammation in the lungs, whereas a low-fiber diet with low SCFA levels increased allergic airway disease[83,84]. Studies have verified that the use of whole-grain fiber can reduce the mortality rate in various respiratory diseases[85].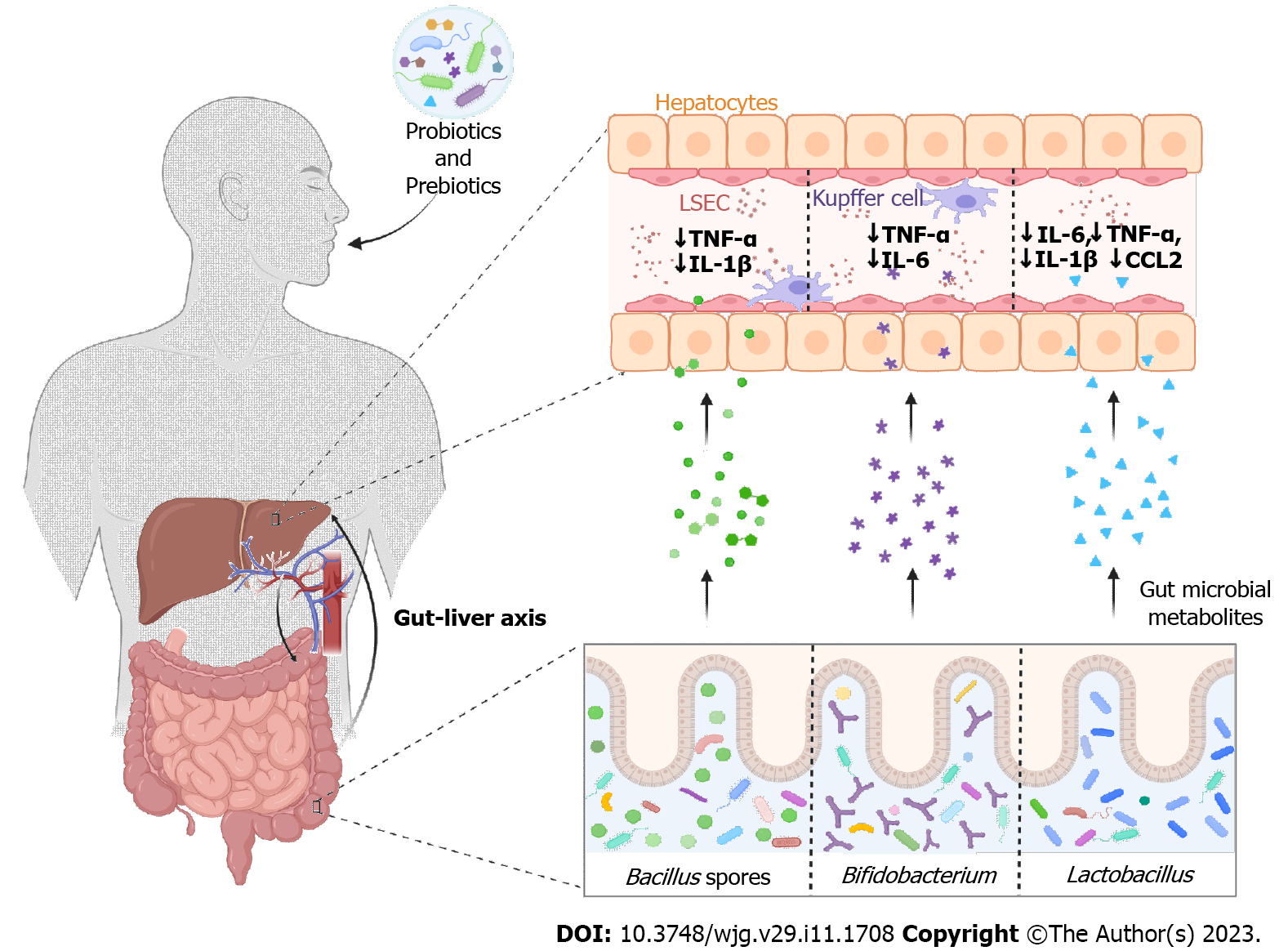 Figure 2 Modulation of gut microbiota and its role in the gut-liver axis during coronavirus disease 2019. Probiotics and prebiotics could be used as potential therapeutics to lower coronavirus disease 2019 symptom severity by producing various bioactive metabolites, which are absorbed into the liver mainly via the hepatic portal vein, for regulation of hepatic function by reducing inflammatory cytokines. CCL2: Chemokine (C-C motif) ligand 2; IL-1β: Interleukin-1 beta; IL-6: Interleukin 6; LSEC: Liver sinusoidal endothelial cells; TNF-α: Tumor necrosis factor-α.
Similarly, oral administration of probiotics alters the composition of the gut microbiota once it reaches the intestine[81]. Several studies have shown that the consumption of probiotics (beneficial bacteria) changes the local and systemic inflammatory balance, which in turn reduces respiratory infections and other extra-intestinal illnesses. When Lactobacillus gasseri SBT2055 was administered orally as a probiotic in mice, the inflammatory response against respiratory syncytial virus infection in the lungs was repressed. Levels of proinflammatory cytokines (IL-6, TNF-α, IL-1β, and chemokine ligand 2) significantly decreased and were maintained at equivalent levels compared to control mice[86]. Furthermore, the cellular immunity of 30 elderly volunteers was boosted when they took Bifidobacterium lactis HN019[87]. Similarly, placebo-controlled clinical trials using the probiotic Bacillus subtilis and Enterococcus faecalis were effective and safe ways to prevent ventilator-associated pneumonia and gastric colonization of potentially pathogenic microorganisms[88]. Probiotics seem to be among the most suitable, efficient, and potentially safe strategies if dysbiosis is indeed involved in the pathogenesis of severe COVID-19. In fact, the National Health Commission (China) suggested the use of probiotics for maintaining gut microbial homeostasis and preventing secondary bacterial infections[89].
Since drug-induced liver damage is one of the major outcomes of COVID-19 infections, scientists are focusing on possible strategies to mitigate liver damage. As discussed, hepatotoxicity is most likely induced by chemical exposure, disrupted intestinal microbiome, gut mucosal barrier damage, and systematic immune activation. However, many preclinical studies have shown that prebiotic and probiotic supplementation could improve drug-induced liver injury[90]. Pretreatment with Lactobacillus reuteri DSM 17938 was performed on rats after undergoing a model of liver failure. Not only did it lower serum ALT, AST, GGT, IL-1, IL-2, IL-18, macrophage colony-stimulating factor, and macrophage inflammatory protein 3α levels, but it also improved histological abnormalities in the terminal ileum and liver caused by d-galactosamine[91].
Similarly, the hepatotoxic effect of acetaminophen was observed to be reduced using probiotic Mega Spore Biotic TM, which is a Bacillus spore-based probiotic. It also decreased proinflammatory cytokines such as TNF-α and L-1β and reduced hepatocyte necrosis[92]. Acetaminophen is a widely used antipyretic and has adverse effects in COVID-19 patients[93]. Moreover, the use of Bifidobacterium adolescentis CGMCC15058 in rats with liver failure was reported to have therapeutic effects with reduced levels of inflammatory liver cytokines such as TNF-α and IL-6[94]. Amplicon sequencing revealed the loss of potential SCFA-producing gut microbiota, such as ASV0AKS_Oscillibacter, ASV009F_Anaerofustis, ASV02YT_Blautia, ASV07LA_Blautia, and ASV0AM6_Eubacterium hallii in post-acute COVID-19 syndrome. These gut microbial species could be elevated using a high-fiber formula. Clinical parameters such as alkaline phosphatase, AST, ALT, albumin, and total bilirubin returned to normal levels after a high-fiber diet, leading to improved post-acute COVID-19 GI symptoms and liver function[95].
CONCLUSION
The gut microbiota play an important role in maintaining human health. Irrespective of the poor understanding of the connection between the gut and drug-induced hepatic injury mechanisms, the gut microbiota poses a significant role in liver protection through different pathways seems to be critical. The use of antiviral agents in SARS-CoV-2 patients results in gut dysbiosis that may predispose patients to severe COVID-19, as intestinal permeability and bacterial products spilling out enhanced by increased proinflammatory cytokine due to liver damage led to the severity of symptoms. It is therefore crucial that we explore potential preventive and therapeutic targets, such as probiotics and dietary interventions for gut rebiosis. Different probiotics using diverse prebiotics produce a variety of hepatic protective bioactive metabolites that could mitigate drug-induced liver damage during COVID-19. We believe that the risk of drug-induced liver injury could be minimized by boosting hepatic function via rebuilding the dysbiotic intestinal environment with probiotics and prebiotics. The targeted intervention of gut microbiota may regulate the intestinal microbial community and thus manage liver injury. Moreover, we suggest well-planned experiments on animal models and clinical trials to understand the interactions between gut microbes and liver diseases to use this approach comprehensively.
ACKNOWLEDGEMENTS
The author acknowledges United Arabs Emirates University for all research and financial support.
Provenance and peer review: Invited article; Externally peer reviewed.
Peer-review model: Single blind
Specialty type: Gastroenterology and hepatology
Country/Territory of origin: United Arab Emirates
Peer-review report's scientific quality classification
Grade A (Excellent): 0
Grade B (Very good): B, B
Grade C (Good): 0
Grade D (Fair): D
Grade E (Poor): 0
P-Reviewer: Baloch Z, China; Ling Q, China; Mahmoud MZ, Saudi Arabia S-Editor: Liu GL L-Editor: Filipodia P-Editor: Liu GL