Copyright
©The Author(s) 2020.
Published by Baishideng Publishing Group Inc. All rights reserved.
Vascular anomalies associated with hepatic shunting
Michael J Schmalz, Department of Pediatric Gastroenterology, Cleveland Clinic, Cleveland, OH 44106, United States
Kadakkal Radhakrishnan, Department of Pediatric Gastroenterology, Children's Hospital, Cleveland Clinic, Cleveland, OH 44106, United States
Author contributions: Schmalz MJ and Radhakrishnan K contributed equally to this work, both authors have read and approved the final manuscript.
Conflict-of-interest statement: The authors have no conflicts of interest with regards the topic of this review.
Open-Access
: This article is an open-access article that was selected by an in-house editor and fully peer-reviewed by external reviewers. It is distributed in accordance with the Creative Commons Attribution NonCommercial (CC BY-NC 4.0) license, which permits others to distribute, remix, adapt, build upon this work non-commercially, and license their derivative works on different terms, provided the original work is properly cited and the use is non-commercial. See:
http://creativecommons.org/Licenses/by-nc/4.0/
Corresponding author: Michael J Schmalz, MD, Academic Fellow, Department of Pediatric Gastroenterology, Cleveland Clinic, 8950 Euclid Ave, Cleveland, OH 44106, United States. michaeljschmalz@gmail.com
Received: August 12, 2020
Peer-review started: August 12, 2020
First decision: September 30, 2020
Revised: October 14, 2020
Accepted: October 27, 2020
Article in press: October 27, 2020
Published online: November 14, 2020

Congenital vascular anomalies affecting the liver have been described in the scientific literature for decades. Understanding these malformations begins with knowledge of hepatic vascular embryology. Surgeons have applied numerous classification systems to describe both intrahepatic and extrahepatic shunts, which can confuse the reader and clinician. In our experience, focusing on one classification system for extrahepatic shunts and one for intrahepatic shunts is better. Today many patients with these shunts carry good long-term prognosis thanks to advances in imaging to better detect shunts earlier and classify them. Timely intervention by skilled radiologists and surgeons have also limited complications arising from dynamic shunts and can avoid a liver transplant. Congenital hepatic shunts are not the only vascular condition affecting the liver. Hereditary hemorrhagic telangiectasia, also known as Osler Weber Rendu syndrome, particularly type 2, may have varying severity of hepatic involvement which warrants longitudinal care from an experienced hepatologist. Lastly, congenital hemangiomas, often first identified on the skin and oral mucosa, also can affect the liver. While most will resolve in infancy and childhood, the pediatric hepatologist must understand how and when to treat persistent lesions and their complications. This article serves as a concise reference to help clinicians better care for patients with these rare conditions.
Core Tip: Hepatic shunts present from birth, hepatic hemangiomas, and hereditary hemorrhagic telangiectasia have all been described in the scientific literature over the decades. Most reviews were written by radiologists or surgeons, but none have adequately covered all these topics from the gastroenterologist's perspective. Our review serves as a reference for most congenital vascular anomalies that present in the liver. Our goal is to provide knowledge to help clinicians understand the burden of disease of these conditions and guide management decisions.
---
Citation: Schmalz MJ, Radhakrishnan K. Vascular anomalies associated with hepatic shunting. World J Gastroenterol 2020; 26(42): 6582-6598
---
INTRODUCTION
Congenital hepatoportal shunts (CHS) are rare but represent a unique entity and prognosis for pediatric patients. This review is an effort to succinctly describe various vascular anomalies and conditions associated with hepatic shunts including congenital hepatic shunts, hereditary hemorrhagic telangiectasia (HHT), and hepatic hemangiomas. We will also discuss various treatment considerations for such diseases and long-term prognosis.
EMBRYOLOGY
When discussing vascular abnormalities, it is important to first understand the origins of the normal hepatic vasculature. Embryological development of the liver occurs between the fourth and tenth weeks of life. Hepatic tissue originates from endoderm foregut tissue. This tissue undergoes specification after exposure to fibroblast growth factor and bone morphogenic protein, followed by morphogenesis into a liver bud. This process is orchestrated by multiple complex signaling molecules including Hex and GATA6[1].
The afferent and efferent hepatic venous vasculature develops from a complex evolution of the cardinal veins, vitelline veins, and the umbilical veins. The right and left cardinal veins run vertically through the developing fetus. Both veins have cranial and caudal segments that interface at a confluence beneath the developing right atrium and on top of the primordial liver called the sinus venosus (Figure 1A). The sinus venosus also receives blood from the terminal ends of the umbilical veins and incorporates an anastomosis between the two vessels. This confluence of vessels along with drainage from developing hepatic veins will eventually develop into the inferior vena cava by the eighth week of gestation[1].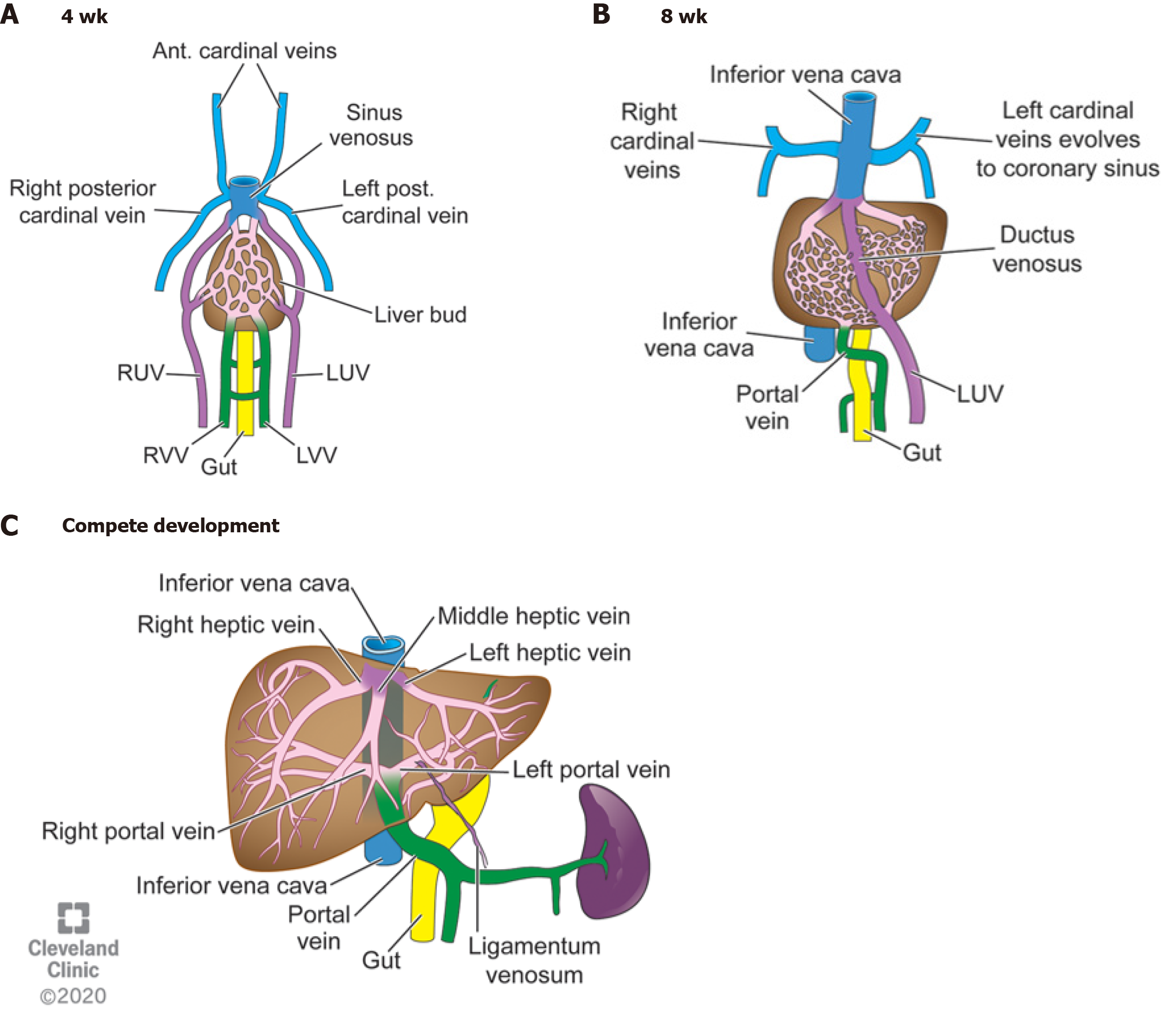 Figure 1 Four weeks gestation, eight weeks gestation, and the mature liver vasculature after birth.
A: Right and left umbilical, cardinal, and vitelline veins making up the primitive vasculature to the developing liver bud. Cardinal and umbilical veins converge on top of the liver to form the sinus venosus. The vitelline veins return blood from the developing gut; B: Posterior cardinal veins coalesce to form the upper part of the inferior vena cava. The right umbilical vein involutes and left umbilical vein makes up the ductus venosus (DV). The intrahepatic vessels start to form mature hepatic veins. The vitelline veins start to mature into the portal venous system; C: The DV collapses at birth after the umbilical cord is cut and becomes the ligamentum venosum. The portal veins and hepatic veins are mature. RUV: Right umbilical vein; LUV: Left umbilical vein; RRV: Right vitelline vein; LVV: Left vitelline vein; IVC: Inferior vena cava. Reprinted with permission, Cleveland Clinic Center for Medical Art & Photography ©2020. All rights reserved.
The right and left vitelline veins and their bridging anastomoses originate on the anterior surface of the yolk sac and surround the primitive foregut at four weeks gestation. The vasculature is symmetric at this stage and structured like rungs on a ladder. By the tenth week of gestation, the inferior segments of the right vitelline vein and superior portions of the left vitelline vein regress leaving an S-shaped dominant vessel that carries blood from the maturing intestines into the liver: The main portal vein (Figure 1B). Within the liver, this venous web eventually organizes to form the right and left hepatic veins. The left portal vein typically arises from one of the vitelline anastomoses.
The umbilical veins also transform from the symmetric right and left vessels which flow into the sinus venosus and directly into the liver to a single left vessel which ends in the liver parenchyma. In utero, this vessel supplies oxygenated, nutrient-rich blood to the body and forms a main intrahepatic bypass vessel through to the systemic venous drainage called the ductus venosus (DV). Approximately 40%-50% of the blood from the umbilical veins flows through the DV and onto systemic circulation. The remaining blood flow is distributed through the liver sinusoids. After birth, umbilical venous blood flow is disrupted when the umbilical cord is cut. The umbilical vein normally becomes the ligamentum teres and the DV regresses into the ligamentum venosum. This process occurs within minutes after birth but can take up to three weeks to complete.
The fully developed portal vein supplies 75% of the blood flow into the liver. It receives blood directly from the spleen, gallbladder, pancreas, and entire gastrointestinal tract, aside from the rectum, via the connecting superior and inferior mesenteric veins. The splenic vein typically flows into the superior mesenteric vein (SMV). Once in the liver, the portal vein normally divides into a left and right portal vein. The right portal vein further divides into an anterior and posterior branch (Figure 1C).
The complexity of hepatic vasculature development leads to several opportunities for abnormalities, namely from the failed closure of embryologic vessels. Other abnormalities arise from the proliferation of end vessels. This article will further review the formation, presentation, and therapeutic considerations of each of these congenital abnormalities.
CONGENITAL HEPATIC SHUNTS
A vascular shunt is any connection or orientation of blood vessels that bypass its intended organ. Congenital hepatic shunts usually present early in life either through incidental findings on imaging, on workup for liver injury secondary to the shunt itself, or work up for other causes of systemic disease either secondary to the shunt or associated with shunts. They are thought to arise from the persistence of the vitelline venous system in relation to the developing hepatic sinusoids. The incidence is roughly 1:30000-1:50000 live births. Several classification systems exist; however, the practicality of such systems has led to much debate because: (1) Anatomical characteristics can be complex; and (2) It may not make a difference clinically or with regards to management. There are two broad categories of congenital shunts: Extrahepatic where portal blood flows bypass the liver and connect to the systemic circulation, or intrahepatic where blood flow through the liver connects to the systemic circulation before it is filtered by the hepatocytes. Intrahepatic and extrahepatic shunts may overlap within the same patient. For simplification, we will only discuss two classification systems that cover most extrahepatic and intrahepatic shunts.
HHT (OSLER WEBER RENDU SYNDROME)
HHT is a rare autosomal dominant condition occurring in 1-2 cases per 10000, characterized by multiple angiodysplasia lesions which classically present in the skin and mucous membranes. In mucosa, they occur at the capillary level where postcapillary venules dilate and fuse with arterioles creating an arteriovenous shunt[13]. Clinical diagnostic criteria are listed[14] (Table 3). Frequent epistaxis is the most common clinical manifestation. Visceral organ involvement can occur in the liver (most common), pulmonary system, intestines, or brain and spinal cord[15]. Earlier diagnosis is on the rise following improvements in multidetector CT which can produce a clearer definition of vascular abnormalities within the organs. HHT has been categorized into two distinct types associated with distinct gene mutations with a third type currently undergoing investigation[15]. Types 1 and 2 both involved genes which control the transforming growth factor beta (TGF-beta) pathway[15]. TGF-beta signaling pathway will go on to stimulate vascular endothelial growth factor which induces vascular proliferation. The genetic mutation for type 1 is in a gene called ENG, found on chromosome 9, which codes for Endoglin, a TGF-beta receptor. Type 2 is caused by a mutation on chromosome 12 which codes for activin receptor-like kinase type 1 (ALK-1). Hepatic involvement in HHT is almost always associated with ALK-1 mutation and type 2 HHT[16,17]. There have also been cases of patients with juvenile polyposis syndrome (SMAD4 mutation) with HHT overlap, presenting with anemia, epistaxis, and pulmonary and liver telangiectasia[18]. Studies have suggested that between 15%-22% of patients with SMAD4 mutation can develop JPS-HHT overlap[18].
Hereditary hemorrhagic telangiectasia (must have at least three of the following)
---
Recurrent spontaneous epistaxis
Mucocutaneous telangiectasia
Family history of HHT
Presence of visceral involvement
Liver involvement with HHT was first proposed in the late 19th century. By the mid-20th century medicine had described three categories of HHT based on if hepatic telangiectasia were present and if the patients developed fibrosis or cirrhosis[19]. Hepatic involvement can occur in 74%-79% of patients and can be identified at an early age; however, symptoms typically do not manifest before the third decade of life[16]. Liver biopsy will show fibrosis and cord atrophy, capillary hyperplasia, and hyperplastic vascular ectasia[16]. The type and extent of the shunt can determine the involvement. Only eight percent of patients with HHT and liver involvement will become symptomatic[16].
Liver vascular malformations are unique to other telangiectasias given the three vascular pathways which interact with the liver: Hepatic arteries, hepatic veins, and portal veins. Three types of intrahepatic shunts can develop: Arteriovenous, arterioportal, and portovenous. More than one type of shunt can develop in the same patient, but one may dominate functionally[15]. Arteriovenous shunts are the most common (50%). They can classically induce hepatomegaly following congestive heart failure and pulmonary hypertension. Arterioportal shunts are less common and patients usually have arteriovenous shunting as well. Arterioportal shunts often induce portal hypertension from increased blood flow and back pressure on the portal tree. Portal hypertension, classically defined as a hepatoportal venous gradient > 10 mmHg, develops in the fifth or sixth decade of life. It presents with classic transudative ascites and varices are prone to hemorrhage. Lastly, portovenous shunts are typically only seen on microscopy in childhood but may become more prominent shunts by the fifth or sixth decade of life[15].
Presentation and diagnosis
Complications from liver involvement typically occur in middle age. High output cardiac failure is the most common symptom and is associated with vascular malformations large enough to produce a bruit or palpable thrill in the epigastrium on exam[15]. The presentation of cardiac failure with orthopnea, dyspnea on exertion, and edema is classic. Pregnancy may be a precipitating or exacerbating event in women. Abdominal angina secondary to mesenteric artery "steal" phenomenon has also been described[15]. Portal hypertension is the second most common complication and is associated with arterioportal malformations. They can eventually cause ascites and gastric and esophageal variceal bleeding. Altered blood flow through the hepatocytes can create perfusion abnormalities. This can lead to focal nodular hyperplasia (2.9% of cases) and periportal fibrosis. Focal nodular hyperplasia and concomitant portal hypertension may be misdiagnosed as liver cirrhosis. Unlike in cirrhosis, these livers typically maintain synthetic function[15] (Table 4).
Vascular shunts associated with HHT

---

Associated systemic/Hepatic manifestations

---

Arteriovenous
Hepatomegaly
Pulmonary hypertension
High output cardiac failure
Biliary ischemia/biloma
Abdominal angina
Arterioportal
Focal nodular hyperplasia
Non-cirrhotic portal hypertension
Hepatic encephalopathy
Portovenous
Hepatomegaly
Hepatic encephalopathy
High output cardiac failure
Non-cirrhotic portal hypertension
Focal nodular hyperplasia
Biliary disease is also well described in HHT with liver involvement. It is thought to be related to shunt induced biliary ischemia and manifests as strictures of the gallbladder neck or intra or extrahepatic bile ducts. This typically affects women in their late 30 s. Often serum alkaline phosphatase and gamma-glutamyl transferase are elevated, thus patients may be erroneously diagnosed with cholecystitis and undergo cholecystectomy. In another case series of HHT patients, three of 12 patients developed bilomas[16]. Surprisingly, each of these patients had intrahepatic arteriovenous shunting and elevated alkaline phosphatase, but with normal bilirubin. Lastly, large portovenous malformations leading to hepatic encephalopathy have been rarely reported.
Diagnosis of liver involvement typically begins with a high index of suspicion following history and exam and is confirmed with imaging. Patients with known HHT without pulmonary arterio-venous malformations (AVMs) who present with dyspnea and ascites may be in cardiac failure. Liver ultrasound with Doppler and contrast spiral CT are recommended as initial, non-invasive investigations. These tests will show evidence of intrahepatic telangiectasias and an enlarged common hepatic artery in symptomatic individuals[15]. Biliary abnormalities seen on magnetic resonance cholangiopancreatography (MRCP) or endoscopic retrograde cholangiopancreatography (ERCP) are seen even in patients without biliary symptoms suggesting a progressive course of the disease. Cardiac catheterization and angiography are invasive but considered the gold standard for determining the shunt severity as well as the degree of heart failure if present. Portal wedge pressures can also be measured to confirm portal hypertension if present. Mesenteric steal syndrome can also be confirmed in patients presenting with abdominal pain.
Treatment
Treatment of HHT is largely symptomatic control. Patients may require blood transfusions for ongoing blood loss from cutaneous bleeding. Iron deficiency is common, and supplementation is frequently required. Laser therapy may be needed for treatment of skin telangiectasias. Endoscopy typically utilizes argon plasma coagulation for gastrointestinal AVMs. Esophageal varices should be treated as they are for any other cases of portal hypertension. Liver AVMs can predispose to high output cardiac failure and may be treated with diuretics. Previously used as a compassionate care drug to treat childhood cancers, bevacizumab is an anti-VEGF antibody that has been shown to treat bleeds from cutaneous and gastrointestinal telangiectasia leading to a significantly decreased need for transfusions. Interferon has been utilized for control of cutaneous telangiectasia. In adults, hepatic arterial embolization has been described as a more of a temporizing, palliative care option in patients with arteriovenous and arterioportal shunts who failed medical management. For extensive, medically refractory disease or portovenous disease, liver transplant remains an option. This is often used for extensive hepato-biliary necrosis and or heart failure (Table 5).
HHT hepatic involvement treatment considerations
---
Symptom control: Iron deficiency, heart failure, esophageal varices
Anti-VEGF antibodies (i.e., bevacizumab)
Hepatic arterial embolization: Typically, an adult palliative option
Liver transplant: In setting of extensive hepato-biliary necrosis or heart failure
MULTIFOCAL VASCULAR HEMANGIOMAS WITH EXTRACUTANEOUS DISEASE
Infantile hemangiomas remain the most common tumor in neonates with a prevalence estimated at 4%-5% of all infants[20]. They are benign endothelial tumors but can lead to comorbidities based on size, location, and the number of lesions. Isolated cutaneous lesions are the most common, but visceral involvement, most commonly in the liver, is also seen with and without cutaneous lesions.
While isolated hemangiomas are common, multiple lesions are more likely to have a genetic cause and carry higher morbidity and mortality if untreated. Diffuse neonatal hemangiomas were first described in the early 1970s and 1980s, but the term suffered from ambiguity over the decades. It has meant to cover several conditions that have now been isolated through immunohistochemistry studies and better clinical characterization[21]. The term multifocal vascular hemangiomas with or without extracutaneous disease are now the preferred terminology; however, most of the literature still uses a variety of terms.
A recent publication in the Journal of Pediatrics[22] classified hemangiomas in the first year of life as either congenital or infantile as they follow different courses and have different treatment and management guidelines. Congenital hemangiomas grow in-utero and are present at birth. They are often identified on antenatal ultrasound. Lesions typically stain negative for glucose transporter 1 (GLUT-1) if biopsied. Large lesions have high vascular flow and are associated with hemodynamic instability and heart failure which may be the presenting symptom at birth. Other complications from large lesions include mild anemia, thrombocytopenia, and hypofibrinogenemia; however, these are typically transient and not as dramatic as what is seen in the Kasabach-Merritt phenomenon. Congenital hemangiomas are subcategorized into one of three patterns: Rapidly involuting congenital hemangiomas (RICH) where there is a complete self-resolution of the lesion within two years, partially involuting congenital hemangiomas where size reduces but never fully resolves, and non-involuting congenital hemangiomas where lesion size remains the same. Monitoring is the mainstay of treatment for these lesions with regular complete blood counts in the neonatal periods to assess for cytopenias and echocardiogram to monitor heart function. Hepatic lesions should be monitored with ultrasound every two weeks initially and extending the image interval by two weeks when lesion(s) are stable or start to involute. Patients should be followed for at least one year. RICH will have 80% total remission by 12 mo of age. Overall, 50% of congenital hemangiomas resolve by age five and 90% by age nine.
In contrast, infantile hemangiomas that develop in the neonatal period follow a different pattern. They typically grow over the first 6-12 mo of life. They often stain positive for GLUT-1 and are multifocal. Their progression in size through infancy means that their risk of complications increases during the first year of life compared to congenital hemangiomas. Heart failure and compartment syndrome are the most severe risk and carry a 16% mortality if not treated. Lastly, cytopenias may develop over time.
Hepatic hemangiomas
Hemangiomas presenting in the liver require thorough workup and close observation. They may be present in 0.4% to 20% of the population at any time, and between 0.4% and 7.3% based on autopsy studies[23,24]. Most are incidental findings on imaging for abdominal pain which are often unrelated to the hemangioma, particularly if it is small. Outcomes are dependent on the level of hepatic involvement. Hepatic hemangiomas can be categorized by size: Small (0-3 cm), medium, (3-10 cm), and large (greater than 10 cm)[24]. Solitary small and medium hepatic hemangiomas are more likely to behave like solitary cutaneous hemangiomas. These lesions may self-involute, while others can have high flow and persist. As such, they may be amenable to embolization via coiling or enucleation. If lesions are multifocal or diffuse, they are more reflective of infantile hepatic hemangiomatosis (IHH). IHH can be associated with high output cardiac failure, and coagulopathy depending on the level of involvement. Hepatic hemangiomatosis can either be present in the nodular or the non-nodular patterns which can be identified on CT or magnetic resonance imaging (Figure 11). The non-nodular pattern is more common overall. The latter will show coalescing ovoid low attenuation nodules measuring between 5-10 mm[25]. Contrast images may find vascular pooling within the lesion and centripetal enhancement[26]. Biopsy of these lesions will show endothelial-lined sinusoidal proliferation with erythrocyte content. Often, they are GLUT-1 positive. Of note, there has been one incidental case of diffuse hereditary hemangiomatosis in a 68-year-old adult with only liver involvement[27]. Large hemangiomas, up to 20 cm in some reports, can cause compressive symptoms causing pain and cholestasis in some cases[23].

Figure 11 Magnetic resonance imaging results.
A: Magnetic resonance imaging (MRI) of liver in a 4-month-old at the time of the diagnosis, axial T2-weighted (HASTE) image showing multiple nodular hyperintense lesions with centripetal fill-in on the delayed phase; B: MRI of the liver 3 mo after starting atenolol treatment, subsequent axial T2-weighted image showing interval decrease in size of enhancing lesions and improving hepatomegaly.
Multifocal lymphangioendotheliomatosis with thrombocytopenia (MLT) should be on the differential for any child who presents with multiple hemangiomas. This diagnosis is distinct with notable thrombocytopenia, caused by a consumptive process, as well as the presence of lymphatic vessel endothelial receptor 1 (LYVE-1) on skin biopsies. GLUT-1 is negative in MLT. Hemangiomas are smaller 1-2 mm in diameter by comparison and grow at a slower rate than hemangiomatosis. GI bleeding is common, but liver involvement is rare. Platelet consumption is also seen in kaposiform hemangioendothelioma or tufted hemangiomas. This carries a high risk of developing Kasabach-Merritt syndrome[21].
Treatment and prognosis
As stated above, most isolated cutaneous hemangiomas will self-resolve without the need for medical or surgical management. Treatment considerations for the gastroenterologist are outlined here (Table 6). Large hepatic hemangiomas are associated with hypothyroidism secondary to increased type III thyronine deiodinase activity which binds and eliminates circulating T3 thyroid hormone[28]. Thyroid hormone screening on all infants with IHH is recommended and replacement is advised to prevent complications of hypothyroidism[28]. Of note, hypothyroidism on newborn screen is not typically detected in these patients.
Treatment considerations for hepatic hemangiomas
---
Monitoring for self-involution
Propranolol (2-3 mg/kg/d) superior to corticosteroids or IV vincristine
Surgical ligation or resection of internal or complex hemangiomas
Enucleation for peripherally located hemangiomas
Artery embolization or radiofrequency ablation for emergency bleeding or in preparation for surgical intervention
Liver transplant for exceptionally large lesions or diffuse lesions, with severe complications such as heart failure and Kasabach-Merritt syndrome not amenable to medical management
The prognosis of infantile hemangiomas is favorable and needs only conservative treatment; however, multiple lesions and visceral organ involvement warrant medical therapy, as high output heart failure and coagulopathy carry a high mortality if untreated[21,29]. Propranolol has been proven to be effective in the treatment of hepatic as well as cutaneous hemangiomas[28,30-32]. Meta-analysis has found it to be superior to placebo and oral steroids[33]. Commonly reported adverse events with oral propranolol include diarrhea, constipation, and bronchial hyperreactivity. Propranolol's mechanism of action is thought to be related to regression of hemangioma cells and peripheral vasoconstriction leading to permanent involution within a couple of months (Figure 11). Daily dosing on 2 mg/kg/d is commonly utilized, but up to 3 mg/kg/d has been effective in high-risk airway and facial/orbital hemangiomas[34]. Corticosteroids and weekly IV vincristine have also been studied as a treatment, but the results are inferior to propranolol[35]. Co-involvement of a dermatologist is crucial to diagnosis and management.
Lastly, surgical, ligation, enucleation, or resection of large and or symptomatic lesions not amenable to medical therapy[23]. Enucleation is technically easier with peripherally located hepatic hemangiomas and is associated with lower morbidity when compared with resection[23]. Resection is typically reserved for centrally located lesions. Laparoscopic resection has decreased morbidity over open surgery. Artery embolization, or radiofrequency ablation have been used for management of acute bleeding or to shrink large lesions prior to surgery. Liver transplant is reserved for very large lesions with severe complications such as heart failure, or Kasabach-Merritt syndrome[23].
CONCLUSION
We have discussed various conditions that can cause congenital hepatic shunts. Many review articles have been written on these conditions separately and through the lens of various specialties such as radiological or surgical perspectives. Our goal was to create a concise review of all congenital shunts from the stance of the pediatric hepatologist. As imaging techniques and interventional therapeutics evolve, we are better able to diagnose and study these conditions. Early detection and monitoring best serve patients and clinicians in making medical management decisions.
ACKNOWLEDGEMENTS
We would like to thank Dr. Myers M, MD from The Department of Pediatric Diagnostic Radiology and Dr. Fagan T, MD from The Department of Pediatric Cardiology at the Cleveland Clinic Foundation for their assistance with reviewing and selecting radiographic images for this review.
Manuscript source: Invited manuscript
Specialty type: Gastroenterology and hepatology
Country/Territory of origin: United States
Peer-review report's scientific quality classification
Grade A (Excellent): 0
Grade B (Very good): B, B
Grade C (Good): 0
Grade D (Fair): 0
Grade E (Poor): 0
P-Reviewer: Katada K S-Editor: Huang P L-Editor: A P-Editor: Wang LL