Copyright
©The Author(s) 2016.
Published by Baishideng Publishing Group Inc. All rights reserved.
Metabolic alterations and hepatitis C: From bench to bedside
Ming-Ling Chang, Liver Research Center, Department of Gastroenterology and Hepatology, Chang Gung Memorial Hospital, Taoyuan 33305, Taiwan
Ming-Ling Chang, Graduate Institute of Clinical Medical Sciences, Chang Gung University, Taoyuan 33302, Taiwan
Author contributions: Chang ML analyzed the literatures and wrote the manuscript.
Supported by Grants from the Chang Gung Medical Research Program, No. CMRPG380353, No. CMRPG3B1251, No. CMRPG3B0401, No. CMRPG3B1741, No. CMRPG3B1742 and No. XMRPG3A0521; and the National Science Council, Taiwan, No. 100-2314-B-182-069-, No. 101-2314-B-182-083- and No. 102-2628-B-182-021-MY3.
Conflict-of-interest statement: The author has no conflict of interest to report.
Open-Access: This article is an open-access article which was selected by an in-house editor and fully peer-reviewed by external reviewers. It is distributed in accordance with the Creative Commons Attribution Non Commercial (CC BY-NC 4.0) license, which permits others to distribute, remix, adapt, build upon this work non-commercially, and license their derivative works on different terms, provided the original work is properly cited and the use is non-commercial. See: http://creativecommons.org/licenses/by-nc/4.0/
Correspondence to: Ming-Ling Chang, MD, PhD, Liver Research Center, Department of Gastroenterology and Hepatology, Chang Gung Memorial Hospital, No. 5, Fu Hsing Street, Kuei Shan, Taoyuan 33305, Taiwan. mlchang8210@gmail.com
Telephone: +886-3-3281200-8102 Fax: +886-3-3272236
Received: May 29, 2015
Peer-review started: June 4, 2015
First decision: July 14, 2015
Revised: August 14, 2015
Accepted: October 23, 2015
Article in press: October 26, 2015
Published online: January 28, 2016

In addition to causing cirrhosis and hepatocellular carcinoma, hepatitis C virus (HCV) is thought to cause hypolipidemia, hepatic steatosis, insulin resistance, metabolic syndrome, and diabetes. The viral life cycle of HCV depends on cholesterol metabolism in host cells. HCV core protein and nonstructural protein 5A perturb crucial lipid and glucose pathways, such as the sterol regulatory element-binding protein pathway and the protein kinase B/mammalian target of rapamycin/S6 kinase 1 pathway. Although several lines of transgenic mice expressing core or full HCV proteins exhibit hepatic steatosis and/or dyslipidemia, whether they completely reflect the metabolic alterations in humans with HCV infection remains unknown. Many cross-sectional studies have demonstrated increased prevalences of metabolic alterations and cardiovascular events in patients with chronic hepatitis C (CHC); however, conflicting results exist, primarily due to unavoidable individual variations. Utilizing anti-HCV therapy, most longitudinal cohort studies of CHC patients have demonstrated the favorable effects of viral clearance in attenuating metabolic alterations and cardiovascular risks. To determine the risks of HCV-associated metabolic alterations and associated complications in patients with CHC, it is necessary to adjust for crucial confounders, such as HCV genotype and host baseline glucose metabolism, for a long follow-up period after anti-HCV treatment. Adipose tissue is an important endocrine organ due to its release of adipocytokines, which regulate lipid and glucose metabolism. However, most data on HCV infection and adipocytokine alteration are inconclusive. A comprehensive overview of HCV-associated metabolic and adipocytokine alterations, from bench to bedside, is presented in this topic highlight.
Core tip: Hepatitis C virus (HCV) is thought to cause hypolipidemia, hepatic steatosis, insulin resistance, and diabetes. Its life cycle depends on host cholesterol metabolism. HCV core protein and nonstructural protein 5A perturb crucial metabolic pathways. Many cross-sectional studies have demonstrated increased cardiometabolic risks in HCV patients. Utilizing anti-HCV therapy, most cohort studies have demonstrated the favorable effects of HCV clearance in attenuating cardiometabolic risks. Adipose tissue is an important endocrine organ due to its release of adipocytokines, which strongly regulate metabolism. A comprehensive overview of HCV-associated metabolic and adipocytokine alterations, from bench to bedside, is presented in this topic highlight.
---
Citation: Chang ML. Metabolic alterations and hepatitis C: From bench to bedside. World J Gastroenterol 2016; 22(4): 1461-1476
---
INTRODUCTION
Hepatitis C virus (HCV) infection is a substantial global health burden. HCV infects an estimated 170 million people globally, with millions newly infected each year, and chronic infections are established in the majority of infected individuals[1]. Its variants can be classified into 6 major genotypes, which differ in 30%-35% of the nucleotides in the complete genome[1]. HCV causes cirrhosis and hepatocellular carcinoma and is thought to cause metabolic alterations resulting in hypolipidemia, hepatic steatosis, insulin resistance (IR), metabolic syndrome (MS), and diabetes[2,3]. Much of the HCV life cycle is closely associated with lipid metabolism, and this association includes entry into naïve cells, infectivity, RNA replication, viral assembly and viral secretion[2]. Furthermore, HCV core protein[4-10] and nonstructural (NS) protein 5A participate in crucial lipid and glucose metabolic pathways in host cells[11-14]. Additionally, some organelles harbor virions and/or viral proteins during the HCV life cycle, leading to increased oxidative stress[15], which in turn modifies cellular metabolism. These factors contribute to a cascade of systemic metabolic alterations in the host. Although several lines of transgenic mice expressing either HCV core[16-21] or full HCV proteins[22,23] have demonstrated phenotypes revealing metabolic alterations and have revealed potentially altered pathways, whether these mice completely reflect the effects of human HCV infection remains unknown. Furthermore, conflicting data exist among various cross-sectional human studies on HCV-associated metabolic alterations. The inconsistencies primarily result from individual variations, including the different viral and host factors studied. The eradication of HCV by either interferon-based therapy[24] or direct-acting antiviral (DAA) drugs[25] provides the opportunity to study the causal relationship between HCV infection and metabolic alterations in the same individuals without individual variation. In contrast, hepatitis B virus (HBV), which infects 350 million individuals worldwide, is another main pathogen leading to liver cirrhosis and hepatocellular carcinoma[26], and conflicting data regarding its association with hypolipidemia have been reported[27,28]. Chronic HBV infection is not associated with hepatic steatosis, IR, or diabetes[29]. Hepatic steatosis may even promote spontaneous hepatitis B surface antigen seroconversion[30]. Furthermore, data on HBV-associated metabolic alterations are mainly based on case-control studies rather than cohort studies to view the influence of viral clearance[31]. Together, host metabolic alterations are much less associated with HBV infection than with HCV infection.
Adipose tissue has emerged as an important endocrine organ due to its release of adipocytokines[32], which regulate lipid and glucose metabolism via the adipoinsular axis[33]. Because both HCV infection and alterations in adipocytokines are critical in lipid and glucose metabolism, their potential relationship has attracted attention[34,35]. However, most data regarding HCV infection and adipocytokine alterations are inconclusive.
Thus, the current review aims to provide a comprehensive overview of HCV-associated metabolic and adipocytokine alterations, from bench to bedside, to serve as a cornerstone for future research and clinical practice.
HCV GENOME, PROTEINS AND LIFE CYCLE
HCV, a member of the Hepacivirus genus within the Flaviviridae family, has a viral genome consisting of single-stranded RNA with positive polarity that is approximately 9.5 kb long[36]. Untranslated regions (UTRs) located at the 5' and 3' ends of the genome flank a single open reading frame (ORF), which encodes a polyprotein of approximately 3000 amino acids[36]. The polyprotein is processed by viral and cellular proteases that produce mature viral structural and NS proteins. Structural proteins, including the core protein and envelope glycoprotein 1 (E1) and E2, are encoded in the N-terminal region of the ORF, whereas NS proteins, including NS1, NS2, NS3, NS4B, NS5A and NS5B, reside in the C-terminal region (Figure 1). HCV core protein is not only a component of the viral nucleocapsid but also a multifunctional protein that modulates viral and cellular gene expression[37]. The assembly of HCV requires a platform of cellular lipid droplets and interactions between NS5A and the core protein[38] (Figure 2). Thus, most HCV-associated metabolic alterations in hosts involve HCV core[4-10] and NS5A[11-14] proteins. Assembled particles bud into the endoplasmic reticulum (ER) and traffic through the secretory pathway, from which they are exported from the cell in conjunction with lipoprotein secretory pathways[39,40]. In the blood, HCV particles are heterogeneous in size and density as a result of their association with serum lipoproteins, namely, lipoviral particles (LVPs)[41] (Figure 2).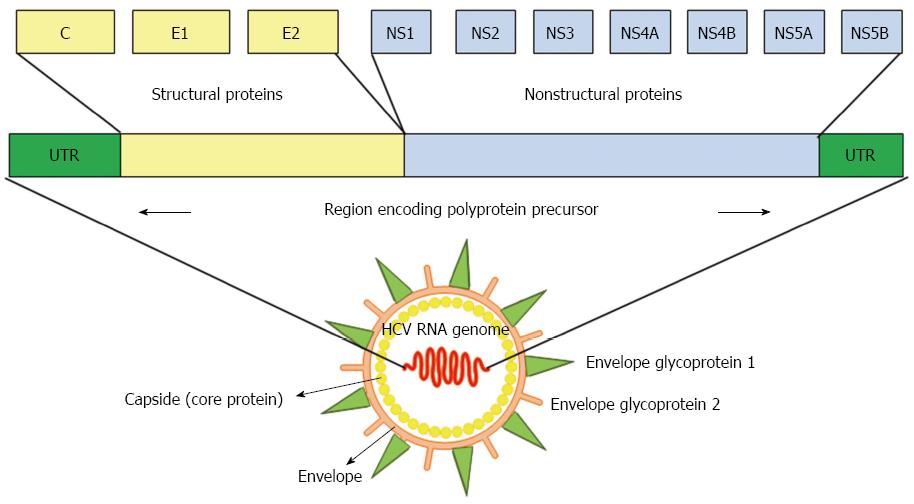 Figure 1 Diagram of the hepatitis C viral genome.
Hepatitis C virus is a single-stranded RNA virus, and its genomic organization shows highly conserved 5' and 3' nonstructural proteins. UTR: Untranslated region; C: Core protein; E1 and E2: Envelope glycoprotein 1 and 2; NS: Nonstructural protein.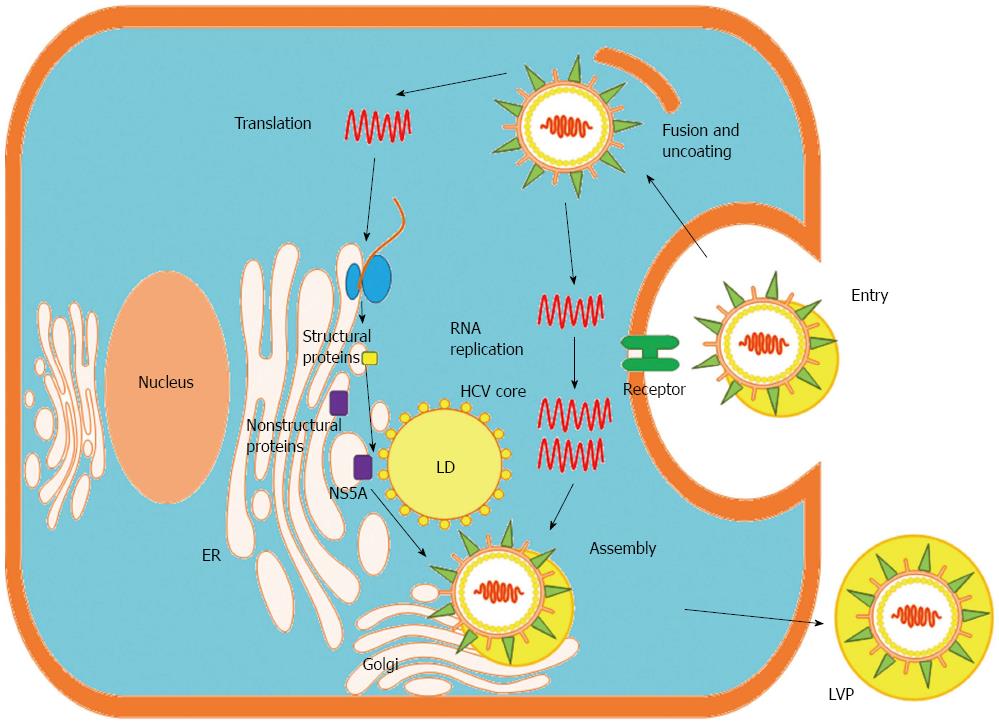 Figure 2 Life cycle of hepatitis C virus in the hepatocyte. Hepatitis C virus (HCV) LVPs enter hepatocytes via receptor-mediated endocytosis. Released viral RNA is translated at the endoplasmic reticulum (ER), producing a single polyprotein precursor that is cleaved by host and viral proteases. The viral NS proteins (e.g., NS5A protein) form RNA replication complexes in lipid rafts, where positive-strand RNA is replicated via a negative-strand intermediate. Newly synthesized positive-strand RNA is encapsidated by the HCV core protein in close proximity to LDs, and envelope glycoproteins are acquired through budding into the ER lumen. LVPs mature in the ER through interactions with lipoproteins and exit the cell via the cellular Golgi apparatus. LD: Lipid droplet; LVP: Lipoviral particle; Golgi: Golgi apparatus.
METABOLIC ALTERATIONS AND HCV: IN VITRO STUDIES
Most clinically isolated HCV is difficult to replicate in cultured cells[42]. Therefore, cells harboring HCV subgenomic replicons are widely used to study HCV replication[43]. Although very effective at replication, the replicon system is unable to produce infectious HCV particles. In contrast, a strain of genotype 2 (G2) HCV is capable of replicating in Huh7 cells and producing HCV particles that are infectious in cultured cells[44,45]. HCV particles produced through cell culture (referred to as HCVcc) are able to establish long-term infections in chimpanzees and in mice containing human liver grafts[46]. Pseudoparticles of HCV (HCVpps) are retroviral nucleocapsids surrounded by a lipid envelope containing authentic HCV glycoprotein complexes[47]. HCVpp is an ideal system for studying receptor binding and entry and has been used to characterize neutralizing antibodies[48]. Most data from in vitro HCV studies use the aforementioned systems.
Lipid metabolism
The HCV life cycle is closely associated with the cholesterol and lipogenesis pathways in hepatocytes. HCV influences host lipid metabolism in three ways, causing enhanced lipogenesis, impaired degradation and impaired export[2] (Figure 3). Hepatic steatosis arises from these conditions.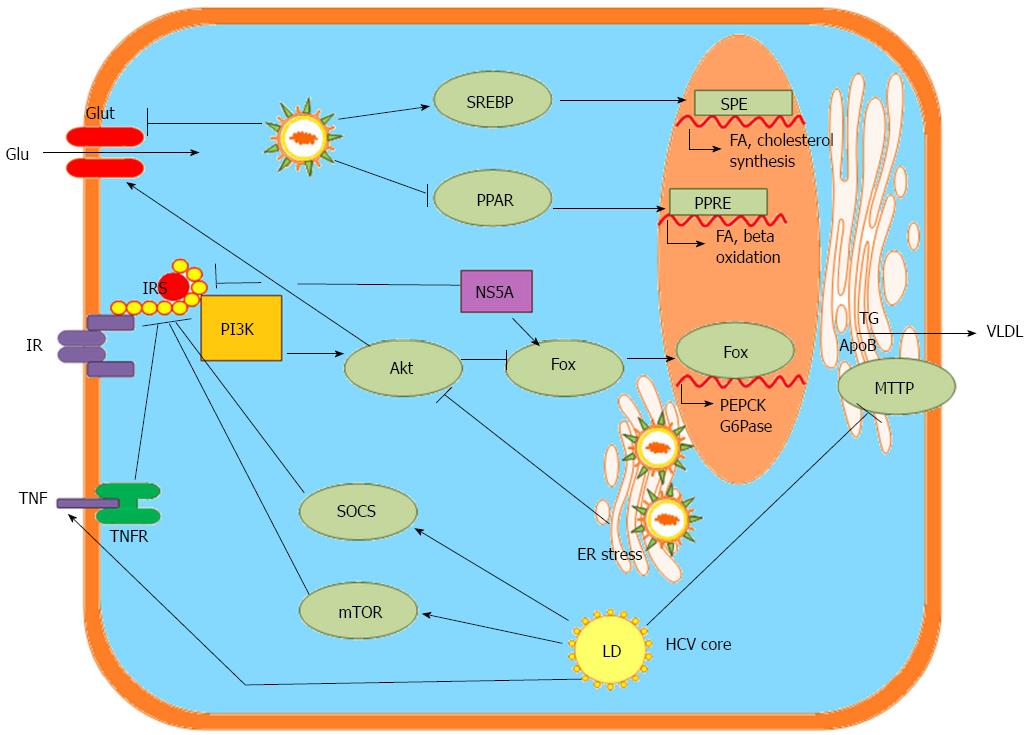 Figure 3 Hepatitis C virus-associated metabolic alterations in the hepatocyte, data from bench studies.
SREBP: Sterol regulatory element-binding proteins; PPAR: Peroxisome proliferator-activated receptors; Glu: Glucose; Glut: Glucose transporter; ER: Endoplasmic reticulum; SRE: SREBP response element; FA: Fatty acid; PPRE: PPAR response element; PI3K: Phosphatidylinositide 3-kinase; Akt: Protein kinase B: Fox: Transcription factor forkhead box; PEPCK: Phosphoenolpyruvate carboxykinase; G6Pase: Glucose 6-phosphatase; IR: Insulin receptor; IRS: Insulin receptor sustrate; NS5A: HCV nonstructural protein 5 A; TG: Triglyceride; ApoB: Apoliporptoein B; MTTP: Microsomal triglyceride transfer protein; VLDL: Very low-density lipoprotein-cholesterol; SOCS: Suppressor of cytokine signaling proteins; mTOR: Mammalian target of rapamycin; TNF: Tumor necrosis factor; TNFR: Tumor necrosis factor receptor; LD: Lipid droplet.
Enhanced lipogenesis: Inhibiting sterol regulatory element-binding protein (SREBP) activation by treatment with 25-hydroxycholesterol[49], cholesterol 25-hydroxylase[50], nordihydroguaiaretic acid[51] and subtilisin/kexin-isozyme-1 or site-1 protease[52] blocks HCV replication. Fatty acid synthase (FAS), an enzyme primarily involved in the de novo synthesis of fatty acids, is up-regulated during HCV infection, and the inhibition of FAS activity inhibits HCV replication and release[53,54]. One product of the mevalonate pathway produced during the synthesis of cholesterol, geranylgeranyl lipid, that is required for HCV RNA replication, as shown by experiments in which the inhibition of HCV RNA replication by lovastatin was overcome by the addition of geranylgeraniol[55,56]. This finding is further supported by the observation that HCV replication can be blocked by an inhibitor of geranylgeranyl transferase I[55]. Inhibitors of the synthesis of triacylglycerides and cholesterol esters, triacsin C and YIC-C8-434, which inhibit long-chain acyl-CoA synthetase and acyl-CoA:cholesterol acyltransferase, respectively, reduce HCV RNA synthesis[57]. These observations highlight the importance of up-regulating the de novo synthesis of fatty acids and cholesterol to enhance the availability of important lipid constituents and to establish efficient HCV replication[2]. Altered pathways have been documented in HCV replicon-expressing cells using the Kyoto Encyclopedia of Genes and Genomes Pathway database; these pathways include mitogen-activated protein kinase, steroid biosynthesis, steroid biosynthesis and sphingolipid metabolism pathways, which are required for efficient HCV replication[58].
Impaired degradation: HCV impairs mitochondrial lipid β-oxidation, which results in low lipid combustion and the inhibition of mitochondrial trifunctional protein by HCV, as noted in HCV-infected hepatocytes[59]. Additionally, a systems biology approach identified the mitochondrial fatty acid oxidation enzyme dodecenoyl coenzyme A delta isomerase as a bottleneck protein controlling host metabolic reprogramming during HCV infection[60].
Impaired export: HCV has been shown to impede lipid export from the liver by reducing microsomal triglyceride transfer protein (MTTP) activity in animal studies[16].
Viral proteins and associated alterations to lipid metabolism: HCV infection, mainly through the activity of the HCV core protein, decreases the expression and activity of peroxisome proliferator-activating receptor (PPAR)-α/γ in hepatocytes[61]. HCV core protein localizes in the membrane of lipid vesicles and induces hepatic fat accumulation by activating SREBP-1c[6,7]. An in vitro interaction between HCV core protein and apolipoprotein AII has also been reported[8]. It has been suggested that HCV core protein directly interacts with retinoid X receptor α, a transcriptional regulator that controls many cellular functions, including lipid metabolism[9]. HCV core protein acts as a pathogenic factor involved in lipid droplet accumulation, changes in lipogenic gene expression, and/or the activity of lipogenic proteins in a genotype-specific manner[62]. Amino acid substitutions at positions 182 and 186 of genotype 3a (G3a) HCV and at amino acid 70/Q of genotype 1b (G1b) HCV affect lipid metabolism and contribute to the development of steatosis[63]. Hepatic steatosis is most common in patients infected with genotype 3 (G3) HCV, possibly due to the direct effects of G3 HCV core proteins[64]. However, HCV core protein may not be the only viral protein involved in HCV-induced steatosis. An interaction between HCV NS5A and apolipoprotein AI was observed in vitro, and core protein/NS5A colocalization was observed in cytoplasmic lipid droplets after transfection[12,13]. The expression of HCV NS5A in human hepatoma cells increased lipid droplet formation through enhanced lipogenesis and the transcriptional expression of PPARγ coactivator (PGC)-1α and diacylglycerol acyltransferase-1 but reduced the transcriptional expression of MTTP and PPARγ[11,12].
MicroRNA 122: Although microRNA 122 (miR-122) promotes the accumulation of HCV RNA through a direct interaction with viral RNA and stimulates the mevalonate pathway in the liver, the inhibition of miR-122 has negligible effects on the rate of 3-hydroxy-3-methyl-glutaryl-CoA reductase RNA synthesis. These findings suggest that miR-122 does not directly affect HCV RNA abundance through the mevalonate pathway[65].
Glucose metabolism
Altered pathways: HCV down-regulates glucose transporter 2 (GLUT2), which transports glucose to hepatocytes, and up-regulates the genes for phosphoenolpyruvate carboxykinase (PEPCK) and glucose 6-phosphatase (G6Pase), which are rate-limiting enzymes for hepatic gluconeogenesis. PEPCK and G6Pase are regulated by the transcription factor forkhead box O1 (FoxO1)[66]. The phosphorylation of FoxO1 was diminished in HCV-infected cells, resulting in an increased nuclear accumulation of FoxO1[67]. Additionally, increased hepatic expression of PGC-1α has been implicated in the elevation of G6Pase secondary to HCV infection[68]. HCV modulates the protein kinase B/mammalian target of rapamycin/S6 kinase 1 (Akt/mTOR/S6K1) signaling cascades by increasing tumor necrosis factor production while enhancing the activity of suppressor of cytokine signaling 3 (SOCS-3)[66,69] in inhibiting insulin receptor substrate (IRS) function to perturb glucose metabolism via the down-regulation of GLUT4 and the up-regulation of PCK2 for IR[10,70] (Figure 3).
Viral proteins and associated alterations to glucose metabolism: HCV proteins associate with mitochondria and the ER to promote oxidative stress, which involves p38 mitogen-activated protein kinase and activates nuclear factor kappa B[71]. HCV core protein induces the proteasomal degradation of IRS-1 and IRS-2, blocking intracellular insulin signaling[10]. Genotype-specific impairment of insulin signaling was observed during HCV infection; the expression of the G3 HCV core protein led to the down-regulation of PPARγ and the up-regulation of SOCS-7, whereas the G1 core protein activated mTOR[72]. HCV NS5A was directly linked to FoxO1-dependent increased gluconeogenesis[67] and to cellular hexokinase 2, the first rate-limiting enzyme of glycolysis[14]. HCV NS5A also increased the serine phosphorylation of IRS-1, thereby hampering metabolic activity and contributing to IR[11] (Figure 3).
HCV and cellular organelles: Evidence suggests that the impairment of mitochondrial functions, including the modification of metabolic fluxes, fatty acid oxidation, the generation and elimination of oxidative stress, Ca2+ signaling and apoptosis, plays a central role in HCV-associated metabolic alterations, particularly as several HCV proteins localize to mitochondria[73]. Attention has been focused on the PPARs due to their role in controlling liver lipid metabolism[74]. HCV infection also induces ER stress that results in the up-regulation of PGC-1α[75]. Upon envelopment at the ER, HCV exits the cell via the secretory pathway, as shown by the localization of HCV core protein to the Golgi and its co-trafficking with components of the recycling endosome[76].
Generalized metabolic alterations: Proteomic and lipidomic profiling performed in acute HCV-infected Huh-7.5 cells has shown that HCV induces early perturbations in glycolysis, the pentose phosphate pathway, and the citric acid cycle; these changes favor host biosynthetic activities supporting viral replication and propagation. These effects are followed by a compensatory shift in metabolism aimed at maintaining energy homeostasis and cell viability during elevated viral replication and increasing cellular stress. Thus, HCV infection may be associated with a delay in cell cycle progression that is accompanied by an adaptive metabolic response aimed at channeling substrates from synthetic to energetic purposes[77]. In a persistently HCV-infected cell line displaying prominent steatosis and supporting HCV infection for more than 2 years, the citric acid cycle was preferentially facilitated over the glycolysis pathway with marked increases in most amino acids[78]. Another study involving transcriptome sequencing, microarray analysis, and proteomic analyses of HCV infection in Huh 7.5 cells showed that HCV caused X receptor/retinoic acid receptor activation as a potential host antiviral response, and integrin-linked kinase signaling served as an entry factor. These responses also led to increases in cellular cholesterol and free fatty acid levels, which were associated with a profound and specific decrease in cellular glucose levels[79].
METABOLIC ALTERATIONS AND HCV: ANIMAL STUDIES
Studies using constitutional HCV core transgenic mice have demonstrated the augmented production of oxidative stress and the activation of the scavenging system, including catalase and glutathione[17,79]. Together with the observed activation of PPARα[80], these findings may account for the hepatic steatosis induced by HCV infection[17]. In another line of constitutional HCV core transgenic mice, core expression led to reductions in MTTP activity and in the particle size of nascent hepatic very low-density lipoprotein cholesterol, hampering lipid export from the liver[16]. Using a line of conditional HCV core transgenic mice, we have shown the topological relationship between HCV core protein and hepatic lipid vesicles[19]; we also demonstrated that HCV core-induced nonobese hepatic steatosis is associated with the down-regulation of the leptin gene in visceral fat and concurrent hypoadiponectinemia[20], and gene expression analyses in HCV core transgenic mice revealed SREBP pathway activation and the dysregulation of genes involved in lipid metabolism, including 3-hydroxy-3-methylglutaryl-coenzyme A synthase 1, apolipoprotein AII, apolipoprotein CI, acyl-CoA thioesterase I, and fatty acid binding protein 1[21]. In transgenic mice expressing the full-length HCV ORF, hepatic steatosis was associated with reduced plasma triglyceride levels. Triglyceride secretion was impaired, whereas activated lipogenesis was evidenced by increased lipogenic enzyme transcription resulting from the maturational activation and nuclear translocation of SREBP1c[22]. Another transgenic mouse line expressing all HCV proteins showed that fatty acid synthase was redistributed from its normal periportal expression into the midzone of the lobule. The alteration of zonation was not limited to lipogenic enzymes and appeared to be driven by systemic signaling via the Wnt/β-catenin pathway. These results help to explain the systemic effects of HCV on liver metabolism, which are triggered by a minority of infected cells[23]. HCV-infected Tupaia belangeri chinensis demonstrated a perturbation of the taurine, hypotaurine, ether lipid, glycerophospholipid, arachidonic acid, tryptophan, and primary bile acid metabolism pathways[81].
METABOLIC ALTERATIONS AND HCV: HUMAN STUDIES
Cross-sectional studies
In cross-sectional human studies, HCV genotype, baseline glucose profile and ethnicity were crucial confounders for metabolic alterations[82-90]. The metabolic alterations and complications associated with HCV infection are discussed below (Figure 4):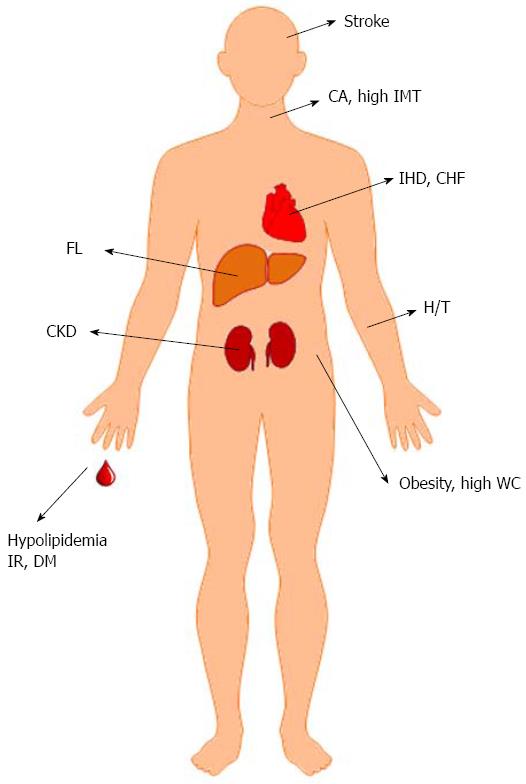 Figure 4 Hepatitis C virus-associated metabolic alterations and cardiovascular events, data from human studies.
CA: Carotid atherosclerosis; IMT: Intima-media thickness; IHD: Ischemic heart disease; CHF: Congestive heart failure; FL: Fatty liver; H/T: Hypertension; WC: Waist circumference; IR: Insulin resistance; DM: Diabetes; CKD: Chronic kidney disease.
Hepatic steatosis and hypolipidemia: The overall prevalence of hepatic steatosis in patients with HCV infection is 55.54%, which is higher than in uninfected individuals[91]. In contrast to non-alcoholic fatty liver disease (NAFLD), which is usually associated with hyperlipidemia[92], chronic hepatitis C (CHC) is strongly linked to hypolipidemia, including hypo-cholesterolemia, hypo-triglyceridemia and low low-density lipoprotein (LDL) cholesterol levels[93,94]. The presence of NAFLD in patients with HCV is strongly associated with features of MS and is a risk factor for advanced fibrosis[95]. In G3-HCV infections, hepatic steatosis is related to viral load and hypolipidemia but not to metabolic factors and is termed "viral steatosis." In G1, G2, or G4 HCV infections, steatosis appears to be secondary to IR/MS and is regarded as "metabolic steatosis"[85,96-98]. MTTP may play a central role in HCV-related steatosis because it is modulated by different genotype-specific mechanisms, mainly hyperinsulinemia in non-G3 CHC patients, and by more profound and direct virus-related effects in G3 CHC individuals[99]. Viral steatosis as observed in G3 CHC does not contribute significantly to liver fibrosis. IR, rather than steatosis, was independently associated with fibrosis for both G1 and G3 HCV[100]. However, other studies with 160 to 3026 CHC patients confirmed the positive role of steatosis in G3 CHC in accelerating fibrosis[101,102]. HCV-associated hypolipidemia is most prominent in G3 CHC[103]. A proportional relationship between serum lipid profiles and G2 HCV viral load has been reported based on a study of more than 500 Asian CHC patients[87]. Concordantly, triglyceride levels have been shown to be associated with HCV levels in Western G1 CHC patients[104]. In a study of the impacts of genetics on metabolic alterations, Caucasian G1 CHC patients with the CC polymorphism in interleukin-28B (IL28B) had higher levels of total cholesterol and LDL-cholesterol, lower levels of triglycerides, and a lower prevalence of IR and moderate-severe steatosis than patients without this genotype[105]. Moreover, an inverse correlation between microvesicular steatosis and level of autophagy was reported[106]. The activation of hepatic cannabinoid receptor 1 [CB(1)] is associated with steatosis and fibrosis, and CB(1) is up-regulated and is associated with increased steatosis in G3 CHC patients[107].
IR, diabetes, MS and obesity: High prevalences of IR, diabetes, MS and obesity (increased levels of mesenteric fat) in CHC patients compared with controls have been demonstrated in several studies[82,107-110]. IR was shown to be associated with high serum HCV RNA levels in G1, G2, G3 and G4 patients[82,83], but IR was more common in patients with G1 and G4 than in those with G2 and G3[84], or more common in those with G1, 2, and 4 than in those with G3 HCV infection[85]. Whether a dose-response relationship between the HCV RNA level and the presence of IR exists in Asian G1 and G2 CHC patients remains unclear[86,88,105]. MS was more frequent in G1 patients than in G2 patients, and MS and G1 were significantly related to SOCS-3 overexpression[89]. Among nondiabetic CHC patients, IR does not seem to be associated with viremia[90]. Ethnicity and BMI might be individually associated with the progression of fibrosis and the presence of cirrhosis[111,112] because Hispanics had the highest fibrosis indices and prevalences of cirrhosis, whereas African Americans had the lowest[112]. Visceral obesity was associated with high viral loads and histological damage in elderly (≥ 60 year) patients with reduced adiponectin levels[113]. In a study of the effects of genetics on IR, G2 CHC patients carrying the patatin-like phospholipase domain containing 3 protein (PNPLA3) I148M allele had increased IR and lower viral loads at baseline[114]. However, among non-diabetic G1 and G4 CHC patients, the rs738409 (PNPLA3) GG genotype was associated with advanced fibrosis and steatosis but not with IR. In contrast, the IL28B non-CC genotype was an independent risk factor for IR[115].
Cardiovascular events: Despite the favorable lipid profile caused by HCV infection noted above, many studies have shown an unfavorable role of HCV infection in cardiovascular events. Higher waist circumferences, hypertension rates[116,117], prevalences of late chronic kidney disease[118], stroke and past ischemic heart disease[119], intima-media thicknesses (IMT, an index of early atherosclerosis)[120], rates of congestive heart failure[117], serum homocysteine levels[121] and rates of carotid atherosclerosis (CA)[122] were noted in CHC patients compared with normal controls. However, a Japanese study of 88 CHC patients showed that carotid IMT was reduced in CHC patients compared with controls[123]. Notably, IMT, carotid plaques and coronary heart disease were found to be significantly associated with HCV infection only after adjustment for "classical" cardiovascular risk factors, particularly LDL cholesterol and systolic blood pressure[110]. These results may suggest that HCV affects cardiovascular risk mainly via non-conventional pathways rather than by virus-induced metabolic modifications, such as IR and good lipoprotein profiles, which may balance one another[124]. Furthermore, HCV RNA levels were found to be independently associated with CA in both the early phases of IMT lesions and the advanced phases of plaques[122]. Direct viral invasion of cardiovascular tissues and systemic inflammation caused by HCV infection are potentially responsible for the high rates of cardiovascular events in CHC patients[125].
Longitudinal studies
The combination of pegylated interferon (Peg-IFN)-α and ribavirin has provided a "cure" for a considerable proportion of patients with CHC, particularly in patients with the favorable IL28B genotype[24]. These cure rates were further improved by replacing interferon-based therapy with potent DAA drugs[25]. Thus, the many longitudinal studies of CHC patients receiving Peg-IFN-based or DAA therapy provide a landscape in which to study metabolic alterations and the associated manifestations caused by HCV clearance by comparing pre- and post-anti-HCV treatment metabolic profiles.
Predictors for the therapeutic failure of anti-HCV therapy: High waist circumference[126], high homeostatic model assessment (HOMA)-IR (for G1b, G2, G3 and G4 HCV infection)[105,127-129], high pre-anti-HCV treatment HCV RNA level, old age (for G1b)[128], low serum total and LDL-cholesterol and oxidative stress (for G1, 2 and 3)[130], steatosis (for non-G3)[131,132], DM[133], IL28B non-CC genotype (for G1 and 4)[129] and high serum uric acid level[134] predict anti-HCV treatment failure. Although hepatic steatosis is associated with lower sustained virological response (SVR), this effect is attenuated by IL28B in G1 Caucasian CHC patients[135]. Furthermore, studies of 96 to 932 CHC patients have shown that steatosis independently predicts relapse in G3 CHC patients with SVR[136,137]. However, IR does not predict rapid virologic responses or SVRs in CHC patients without MS[138,139].
Hepatic steatosis and hypolipidemia: Although the reversal of both hepatic steatosis and hypolipidemia has been reported only in G3 CHC patients and is not shared by other genotypes[140], accumulating evidence demonstrates that the reversal of hypolipidemia is not genotype specific[3,141]. In a study of genotype-specific HCV-associated lipid alteration, G2 CHC patients were shown to benefit more than G1 CHC patients from viral clearance resulting from lipid alterations, particularly in those without baseline IR[3]. Using a targeted paired cholesterol metabolomics study of CHC patients who received anti-HCV therapy, G3 but not G2 HCV was shown to selectively interfere with the late cholesterol synthesis pathway, as shown by lower distal sterol metabolites and preserved lanosterol levels. This distal interference resolves with SVR[142].
IR, diabetes, MS and obesity: Among CHC patients without baseline glucose abnormalities, HCV clearance did not reduce the risk of glucose intolerance[143]. However, another study showed that among non-diabetic CHC patients, HCV ameliorates β-cell function[144]. The data on genotype-specific effects are even more diverse. For example, the eradication of HCV was thought to reduce the incidences of type 2 diabetes in both G1 and G2 patients[145]. However, reduced IR at 12 wk after treatment was observed in G1 but not G2 or G3 patients with SVR[146]. Concordantly, a study based on Virahep-C showed that among G1 CHC patients with IR before treatment, viral clearance results in improvements in the HOMA-IR index 24 wk after treatment completion[147]. Although a prospective study that enrolled non-diabetic G1, 2, 3 and 4 CHC patients failed to demonstrate any differences between the mean pre- and 24 wk post-anti-HCV treatment HOMA-IR values in patients with SVR, there was an increased rate of de novo IR in non-SVR patients compared with SVR patients 24 mo after treatment completion, regardless of viral genotype[148]. All of the above results indicate that follow-up > 24 wk after treatment completion is essential for studying favorable glucose metabolism alterations after HCV viral clearance, especially in G1 CHC patients, after adjusting for baseline metabolism. In a study of patients who underwent orthotopic liver transplantation (OLT) in the setting of recurrent HCV after OLT, MS was strongly associated with long-term fibrosis progression[149]. CHC subjects were more likely to be overweight and obese at the time of transplant, and these conditions are associated with a higher risk of post-transplant diabetes that persists for up to 5 years post-transplant compared with that for CHB patients[150]. Interestingly, a study of G1 CHC patients showed that a high visceral adiposity index score is independently associated with steatosis and has a direct correlation with viral load[151].
Cardiovascular events: A retrospective United Kingdom cohort study of 4809 HCV-infected patients and 71668 controls failed to demonstrate different incidences of myocardial infarction between HCV-infected and HCV-uninfected patients during a median follow-up of 3.2 years[152]. In contrast, a community-based prospective Taiwanese cohort study of 1095 anti-HCV seropositive and 18541 anti-HCV seronegative patients showed higher circulatory and renal disease mortality in anti-HCV seropositive than in anti-HCV seronegative patients during an average follow-up period of 16.2 years[153]. Several large population-based cohort studies using the Taiwan National Health Insurance Research Database have recently shown that anti-HCV therapy is associated with decreased 8-year cumulative cardiovascular incidences in CHC patients[154,155]. These conflicting reports suggest the importance of follow-up duration (likely more than 8 years) when evaluating the effects of HCV infection on cardiovascular complications.
The HCV-associated cardiometabolic diseases and their recoverability after viral clearance, which were mainly obtained from longitudinal studies, are listed in Table 1.
HCV-associated cardiometabolic diseases
Reversible after viral clearance
Ref.
Hypolipidemia
Yes
[3,110,140-142]
Hepatic steatosis
Yes
[140]
Obesity
No
[110]
Glucose intolerance, insulin resistance and diabetes
No
[110,143]
Yes
[145-148]
Cardiovascular events
No
[152]
Yes
[153-155]
HCV infection and adipocytokine alterations
Adipocytokines, including leptin[156], adiponectin[157-162,164-167], plasminogen activator inhibitor-1 (PAI-1)[168], visfatin[169], retinol-binding protein 4 (RBP4)[170,171] and resistin[172-176], are discussed below:
Leptin: In a study of 42 patients, the serum leptin levels in CHC patients were higher than in controls[156].
Adiponectin: The data regarding adiponectin alteration and its correlation with HCV viral load are quite diverse among studies involving various HCV genotypes. For example, G3 CHC patients showed lower adiponectin levels than those of patients with other genotypes[157]. High HCV load and G2 were significantly associated with lower serum adiponectin levels[158]. Adiponectin level increases with the progression of hepatic fibrosis but is not related to viral load in G4 CHC patients[159]. In G1 or G3 CHC patients, adiponectin was associated with steatosis only in males and paradoxically increased with hepatic inflammation[136]. IR was associated with a decrease in adiponectin in G3 but not G1 CHC patients[160]. Adiponectin levels were significantly decreased in G1 and G3 CHC patients[161]. Whether HCV viral clearance leads to hyper- or hypo-adiponectinemia remains unclear and may differ between G3 and G4 HCV[159,163]. The lack of clarity regarding HCV infection and adiponectin alterations may stem from heterogeneous hepatic pathologies, metabolic conditions and immune reactions of the patients involved in various studies. In patients with CHC, fibrosis and steatosis are associated with hyperadiponectinemia and hypoadiponectinemia, respectively[164,165]. Furthermore, adiponectin is negatively correlated with IR, hepatic steatosis and MS[166]. The positive role of serum adiponectin in anti-HCV specific immune responses has been demonstrated[161]. Thus, after SVR, the decrease in adiponectin in G4[159] patients may reflect the reversal of hepatic fibrosis and hypo-triglyceridemia, whereas the increase in adiponectin in G3[163] patients may indicate an improvement in hepatic steatosis, which is most evident in G3 CHC[167].
PAI-1: Serum PAI-1 levels were identified as positive predictors of interferon-based therapeutic response[168].
Visfatin: No correlation between visfatin and HCV genotypes, viral load, or treatment response to Peg-IFN/ribavirin therapy has been shown[169].
RBP4: CHC patients had lower RBP4 levels than did control subjects. Higher RBP4 levels were linked to lower alanine aminotransferase, hyperlipidemia and high HOMA-IR in CHC patients[170]. Only patients with SVR had higher post-anti-HCV treatment RBP4 levels than pre-anti-HCV treatment levels[171].
Resistin: Hyper-resistinemia in CHC patients has been consistently reported[172-175]. This condition is reversed after viral clearance[176] and determines moderate to severe fibrosis[174] but is not associated with therapeutic response[176].
CONCLUSIONS AND PROSPECTIVE STUDIES
Using in vitro systems and animal models, the basis for HCV-associated metabolic alterations has been elucidated in detail in the literature. However, in human studies, various viral factors, especially HCV genotype, and host factors, including IL28B genotype, ethnicity and baseline metabolic conditions, may obscure metabolic alterations and complications attributed to HCV. By using anti-HCV therapy, prospective studies of CHC patients with viral clearance after anti-viral therapy followed by long periods of off-therapy observation provide the opportunity to study genuine metabolic homeostasis and establish personalized care for CHC patients. The future challenge for hepatologists, in an era in which almost all HCV is eradicable by potent DAAs, will be to determine whether hepatitis C virus-associated metabolic alterations and cardiovascular events are completely reversible or whether some are aggravated after viral clearance by anti-hepatitis C therapy. These discoveries will help to provide personalized care for patients with chronic or past HCV infection.
ACKNOWLEDGMENTS
The author thanks Mr. Chun-Ming Fan and Ms. Shiang-Chi Chen for their excellent assistance with delicate illustrations, and Mr. Chun-Kai Liang for his assistance with word processing.
P- Reviewer: Montalto G, Takagi H S- Editor: Yu J L- Editor: A E- Editor: Zhang DN