Copyright
©The Author(s) 2016.
Published by Baishideng Publishing Group Inc. All rights reserved.
World J Gastroenterol.
Jan 21, 2016;
22(3): 906-916
Published online Jan 21, 2016. doi: 10.3748/wjg.v22.i3.906
Bisphosphonates as potential adjuvants for patients with cancers of the digestive system
Celina Ang, Department of Medicine, Division of Hematology/Oncology, Icahn School of Medicine at Mount Sinai, New York, NY 10029, United States
Erin Doyle, Pre-doctoral Student, Graduate School of the Icahn School of Medicine at Mount Sinai, New York, NY 10029, United States
Andrea Branch, Department of Medicine, Division of Hepatology, Icahn School of Medicine at Mount Sinai, New York, NY 10029, United States
Author contributions: Ang C and Branch A were co-conceptors of this review; Doyle E designed the accompanying figures; Ang C performed the literature review and wrote the manuscript.
Conflict-of-interest statement: None to report in relation to this manuscript.
Open-Access: This article is an open-access article which was selected by an in-house editor and fully peer-reviewed by external reviewers. It is distributed in accordance with the Creative Commons Attribution Non Commercial (CC BY-NC 4.0) license, which permits others to distribute, remix, adapt, build upon this work non-commercially, and license their derivative works on different terms, provided the original work is properly cited and the use is non-commercial. See: http://creativecommons.org/licenses/by-nc/4.0/
Correspondence to: Celina Ang, MD, Associate Professor, Department of Medicine, Division of Hematology/Oncology, Icahn School of Medicine at Mount Sinai, Box 1079, New York, NY 10029, United States. andrea.branch@mssm.edu
Telephone: +1-212-8248584 Fax: +1-646-5379639
Received: June 10, 2015
Peer-review started: June 12, 2015
First decision: October 14, 2015
Revised: November 5, 2015
Accepted: December 8, 2015
Article in press: December 8, 2015
Published online: January 21, 2016

Best known for their anti-resorptive activity in bone, bisphosphonates (BPs) have generated interest as potential antineoplastic agents given their pleiotropic biological effects which include antiproliferative, antiangiogenic and immune-modulating properties. Clinical studies in multiple malignancies suggest that BPs may be active in the prevention or treatment of cancer. Digestive tract malignancies represent a large and heterogeneous disease group, and the activity of BPs in these cancers has not been extensively studied. Recent data showing that some BPs inhibit human epidermal growth factor receptor (HER) signaling highlight a potential therapeutic opportunity in digestive cancers, many of which have alterations in the HER axis. Herein, we review the available evidence providing a rationale for the repurposing of BPs as a therapeutic adjunct in the treatment of digestive malignancies, especially in HER-driven subgroups.
Core tip: Bisphosphonates demonstrate antineoplastic activity in various malignancies but have received little attention in cancers of the digestive tract. We review the preclinical and clinical experience with bisphosphonates in digestive cancers and discuss their potential therapeutic application in this disease group, particularly in the context of recent data on bisphosphonate-induced inhibition of human epidermal growth factor receptor signaling.
---
Citation: Ang C, Doyle E, Branch A. Bisphosphonates as potential adjuvants for patients with cancers of the digestive system. World J Gastroenterol 2016; 22(3): 906-916
---
INTRODUCTION
Cancers of the digestive system, including esophagogastric, hepatocellular, pancreatobiliary, small and large bowel carcinomas were projected to comprise about 17% of the 1.6 million new cancer diagnoses made in the United States during 2014[1]. Systemic therapy with cytotoxic chemotherapy and/or molecularly targeted agents is the mainstay of treatment for these cancers when they are at an advanced stage. Despite advances in drug development and improved insights into the molecular pathobiology of these diseases, median survival for most stage IV digestive cancers is less than 12 mo, the exceptions being small bowel and colorectal adenocarcinoma. These sobering facts underscore the chasm between theoretical knowledge and clinical application, and highlight the urgent need for novel therapeutic approaches.
In recent years, there has been a growing recognition that some drugs that are effective in treating one type of disease can be "repurposed" for treatment of an unrelated condition. Repurposing is a particularly attractive option because the therapeutic agents have known safety profiles.
Bisphosphonates (BPs) inhibit osteoclast-induced bone resorption which is a property that underlies their use in the treatment of bone resorption disorders such as osteoporosis and Paget's disease. In patients with advanced cancer, BPs are used in the supportive management of complications such as hypercalcemia of malignancy, and the prevention of skeletal-related complications in patients with bone metastases. Indications that BPs might have direct antineoplastic effects came from randomized clinical trials of adjuvant estrogen suppression therapy in women with resected breast cancer which revealed that the addition of BPs not only decreased bone density loss but also decreased the risk of contralateral breast cancer and improved disease-free survival[2-4]. The beneficial effects of BPs on clinical outcomes were most pronounced in postmenopausal women in whom systemic estrogen levels are low[4]. Subsequent randomized trials in patients with multiple myeloma and other advanced solid tumors such as lung and prostate cancer provided additional evidence that BPs improve oncologic outcomes including overall survival and prevention of bone metastases[5-10]. In addition, a number of observational studies have reported decreases in risk of breast and colorectal cancer among BP users[11-17]. Collectively, these data suggest that BPs may be clinically active in the prevention as well as treatment of cancer. Studies focusing on the activity of BPs in patients with digestive tract cancers are limited, however.
BPs, especially nitrogen-containing bisphosphonates (NBPs), have antiproliferative, antimotility, pro-apoptotic, antiangiogenic and immunomodulatory properties[5,18,19]. Many of these activities are attributed to inhibition of the mevalonate synthesis pathway by NBPs[20,21]. Recently, NBPs have been shown to bind to and inhibit signaling by the human epidermal growth factor receptor (human EGFR/HER), causing apoptosis in HER-driven cancer cell lines and synergizing with HER tyrosine kinase inhibitors[22,23]. Many digestive cancers have alterations in the HER axis, highlighting an actionable target for NBPs. In this review, we summarize the preclinical and clinical experience with BPs in digestive malignancies and discuss how BPs might be integrated into current treatment strategies.
BISPHOSPHONATE STRUCTURE, FUNCTION AND MECHANISM OF ACTION
BPs are inorganic pyrophosphate derivatives with a central nonhydrolyzable carbon atom, a hydroxyl group, and two flanking phosphate groups (Figure 1). The chemical structure of BPs confers a strong affinity for the mineral component of bone, which facilitates their uptake by osteoclasts[24]. Bone resorption is inhibited by BPs due to osteoclast growth arrest and apoptosis. The addition of a nitrogen group increases the antiresorptive potency of BPs by up to 10000 fold[21,24]. NBPs currently used in clinical practice include the oral agents alendronate, ibandronate and risedronate, and intravenous formulations such as pamidronate and zoledronic acid (ZA).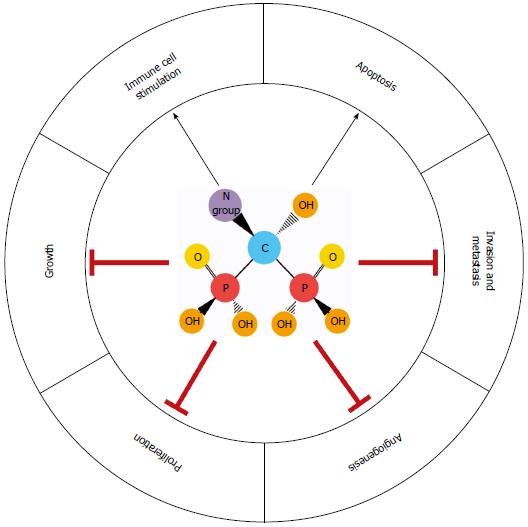 Figure 1 Chemical structure of nitrogen-containing bisphosphonates and effects on the mevalonate synthesis pathway.
The molecular mechanisms of action differ between BPs and NBPs. Early generation BPs, such as etidronate and clodronate, induce osteoclast death by generating cytotoxic ATP analogs, which impair mitochondrial oxygen consumption[25]. As previously mentioned, many of the biological effects of NBPs are attributed to their interactions with the mevalonate synthesis pathway. Among the key components of this pathway are farnesyl pyrophosphate synthase and geranylgeranyl pyrophosphate synthase, which mediate the posttranslational prenylation and activation of small signaling GTPases (e.g., Rab, Rac, Rho, Rap1A and Ras), promoting cell growth, proliferation, migration and survival (Figure 1)[18-21,26,27]. Suppression of the mevalonate synthesis pathway inhibits protein prenylation, arresting these processes in osteoclasts as well as other cell types. In breast cancer cells, ZA inhibits farnesylation of centromere protein-F, preventing assembly of the mitotic spindle apparatus and halting cell cycle progression. The addition of farnesol reverses this process, allowing mitosis to resume[28]. Interestingly, dendritic cells treated with ZA have an enhanced ability to stimulate expansion of γδ T cells, which are cytotoxic against a variety of solid tumor cell lines[29,30]. These events are associated with the accumulation of isopentenyl pyrophosphate, a potent chemoattractant and stimulator of γδ T cells. Increased isopentenyl pyrophosphate also promotes formation of cytotoxic ATP analogs, which disable mitochondrial adenine nuclear translocase, causing apoptosis[31]. Furthermore, tumor cells treated with NBPs show increased sensitivity to γδ T cell-mediated cytotoxicity[32]. BPs also target angiogenesis and cell invasion by countering hypoxia-inducible factor-1α, vascular endothelial growth factor, tumor associated macrophages (TAMs) and matrix metalloproteinases[33-35]. These findings illustrate the pleiotropic effects of BPs on cancer cells and the tumor microenvironment (Figure 2).
A novel mechanism of action of NBPs involving the HER pathway has recently been described. Using protein thermal shift, cell-free kinase assays and computational modeling, NBPs have been shown to bind to the tyrosine kinase domain of HER1/2. Binding leads to global inhibition of HER signaling and decreased viability of HER-driven breast and lung cancer cell lines[22]. The growth inhibitory effects persist despite knockdown of farnesyl pyrophosphate synthase, but are completely abrogated by knockdown of HER, indicating that they are dependent on HER and not the mevalonate synthesis pathway. ZA enhances the antineoplastic efficacy of HER1 tyrosine kinase inhibitor, erlotinib, in lung cancer cells, and inhibits tumor growth and viability in cells that have become erlotinib-resistant[23]. These findings highlight the therapeutic potential of co-targeting HER with both NBPs and anti-HER agents, particularly in patients with HER-driven cancers.
It is important to note the unique toxicities of BPs stemming from their mechanism of action. Osteonecrosis of the jaw is one of the most serious side effects BPs, with a reported incidence ranging from 0.85%-18.6%[36]. The use of BPs for malignant vs benign indications, intravenous vs oral BP formulations, prolonged duration and high cumulative dose of therapy, recent dental procedure, and concurrent therapy (e.g., glucocorticoids, anti-angiogenic agents) are variables that may increase the risk of developing osteonecrosis of the jaw. Atypical femoral fractures are another unusual side effect of BPs, the reported incidence ranging from 0.3 to 11 per 100000 person years[37]. Patients with a prior history of low-energy fracture, glucocorticoid exposure, long duration of BP therapy, pre-existing rheumatoid arthritis or collagen disease and low serum vitamin D levels may be at higher risk. Other reported adverse events include nephrotoxicity, flu-like symptoms, ocular inflammation, atrial fibrillation and hypocalcemia[38].
BISPHOSPHONATES IN DIGESTIVE CANCERS
CONCLUSION
Bisphosphonates have pleiotropic biologic effects on cancer cells and their microenvironment, providing a rationale for evaluating their use as therapeutic adjuncts in the management, and possibly prevention, of cancer. Mechanistically, BPs target key processes that are universally operational in oncogenesis, maintenance and progression, suggesting their utility across a broad array of malignancies. Though the reported experience on the clinical use of BPs in digestive cancers is limited, preclinical studies across this diverse disease group consistently show that BPs exert antitumor effects as monotherapies, and may increase the efficacy of other systemic agents when given in combination. The combination of anti-HER agents and NBPs is of particular interest given recent mechanistic insights into the interactions of BPs with the HER family as well as the prevalence of HER aberrations in digestive malignancies. Studies to assess the clinical relevance of BPs as antineoplastic adjuncts in digestive cancers represent a largely untapped research opportunity.
P- Reviewer: Garfield D, Kucherlapati MH, Massironi S, Picardi A, Yamagata M S- Editor: Qi Y L- Editor: A E- Editor: Liu XM