Copyright
©The Author(s) 2016.
Published by Baishideng Publishing Group Inc. All rights reserved.
Advanced gastric cancer: What we know and what we still have to learn
Federico Coccolini, Giulia Montori, Marco Ceresoli, Gabriela E Nita, Luca Ansaloni, Department of General Surgery, Papa Giovanni XXIII Hospital, 24127 Bergamo, Italy
Simona Cima, Radiation Oncology Center, Department of Experimental, Diagnostic and Specialty Medicine - DIMES, Sant'Orsola-Malpighi Hospital, University of Bologna, 40138 Bologna, Italy
Simona Cima, Maria Carla Valli, Radiation Oncology Unit, Oncology Institute of Southern Switzerland, 6500 Bellinzona, Switzerland
Arianna Heyer, University of California, Berkeley, CA 94720-5800, United States
Fausto Catena, Department of General and Emergency Surgery, Maggiore hospital, 43100 Parma, Italy
Author contributions: Coccolini F, Montori G, Ceresoli M and Ansaloni L designed research; Coccolini F, Montori G, Ceresoli M, Ansaloni L, Catena F, Cima S, Valli MC, Nita GE and Heyer A analyzed data; Coccolini F, Montori G, Ceresoli M, Ansaloni L, Catena F, Cima S, Valli MC and Nita GE wrote the paper; Heyer A revise the english language; all authors read and approved the manuscript.
Conflict-of-interest statement: The authors have no conflict of interest related to the manuscript.
Open-Access: This article is an open-access article which was selected by an in-house editor and fully peer-reviewed by external reviewers. It is distributed in accordance with the Creative Commons Attribution Non Commercial (CC BY-NC 4.0) license, which permits others to distribute, remix, adapt, build upon this work non-commercially, and license their derivative works on different terms, provided the original work is properly cited and the use is non-commercial. See: http://creativecommons.org/licenses/by-nc/4.0/
Correspondence to: Federico Coccolini, MD, Department of General Surgery, Papa Giovanni XXIII Hospital, Piazza OMS 1, 24127 Bergamo, Italy. federico.coccolini@gmail.com
Telephone: +39-35-2673486 Fax: +39-35-2674963
Received: May 29, 2015
Peer-review started: June 6, 2015
First decision: August 26, 2015
Revised: September 25, 2015
Accepted: November 24, 2015
Article in press: November 24, 2015
Published online: January 21, 2016

Gastric cancer is a common neoplastic disease and, more precisely, is the third leading cause of cancer death in the world, with differences amongst geographic areas. The definition of advanced gastric cancer is still debated. Different stadiating systems lead to slightly different stadiation of the disease, thus leading to variations between the single countries in the treatment and outcomes. In the present review all the possibilities of treatment for advanced gastric cancer have been analyzed. Surgery, the cornerstone of treatment for advanced gastric cancer, is analyzed first, followed by an investigation of the different forms and drugs of chemotherapy and radiotherapy. New frontiers in treatment suggest the growing consideration for intraperitoneal administration of chemotherapeutics and combination of traditional drugs with new ones. Moreover, the necessity to prevent the relapse of the disease leads to the consideration of administering intraperitoneal chemotherapy earlier in the therapeutical algorithm.
Core tip: New frontiers in treatment suggest the growing consideration for intraperitoneal administration of chemotherapeutics and combination of traditional drugs with new ones. Moreover, the necessity to prevent the relapse of the disease leads to the consideration of administering intraperitoneal chemotherapy earlier in the therapeutical algorithm.
---
Citation: Coccolini F, Montori G, Ceresoli M, Cima S, Valli MC, Nita GE, Heyer A, Catena F, Ansaloni L. Advanced gastric cancer: What we know and what we still have to learn. World J Gastroenterol 2016; 22(3): 1139-1159
---
INTRODUCTION
Gastric cancer (GC) is a common neoplastic disease and, more precisely, is the third leading cause of cancer death in the world, with differences amongst geographic areas. In fact the GC and advanced gastric cancer (AC) incidence and related mortality vary between the latitudes with an higher peak of mortality in the western countries and a lower mortality rates in the eastern ones. In fact the United States account for about 21600 new cases of GC each year, the South Korea accounts for about 33000 new cases per year; China has the highest incidence of GC followed by Mongolia, Japan and South Korea[1,2]. Patients suffering from GC in eastern countries have a better prognosis than in western ones. This is mainly due to successful, decade-old screening programs that detect GC as early as possible; in Japan the survival for resectable GC is almost 70%[3]. The same results have not been achieved in Europe and US where the 5-year survival is almost 25% in advanced cancer (AC)[4]. The major differences in eastern and western countries is summarized in Table 1. They start from the staging systems [Japanese classification of GC (JCGC) and American Joint Committee on Cancer Staging Manual (AJCCSM-TNM)] and pass through all the step of chemotherapeutical and surgical management of GC (neoadjuvant, perioperative and adjuvant treatment, and lymphadenectomy)[5-8].
ESMO
Germany
United Kingdom
United States
Canada
Japan
Type of standard lymphadenectomy
D2
D2
D2
D1
D1
D1 (for T1)
D2 (not routinely)
Modified D2 (see in the text)
The most commonly used classification around the world is the 7th edition TNM[9,10].
The definition of early gastric cancer is well established[11]. As a counterpart the definition of AC is still matter of debate. Some authors define as AC the T3 and T4 cancers. However the vast majority considers as AC the tumors infiltrating beyond the submucosal layer that are not-early and not-metastatic even with N0 staging. According to the AJCC-TNM (7th edition) classification, AC are: T2-T4b/N0-3b/M0-M1
VALUE OF SURGERY
Extension of gastric resection
The only curative treatment either for early GC or non-metastatic AC is radical surgery with adequate surgical resection and lymphadenectomy. Lymphadenectomy is considered adequate if at least 16 lymphnodes are removed[12].
The concept of adequacy of surgical resection changed through the years. In the past decades total gastrectomy has been considered superior to the partial one for tumors of the antrum. However in the nineties, some trials demonstrated no survival or recurrence advantages between the two techniques[13,14]. At present definitive agreement has been reached about the resection extension in relation to the position of the tumor and its pattern. For large tumors or for tumors of the lesser curve total gastrectomy would be preferable. A proximal margin of at least 3 cm is recommended for T2 or higher degree tumors with "expansive growth pattern" and a proximal margin of at least 5 cm is recommended for those with "infiltrative growth pattern".
Lymphadenectomy
The penetration of the serosa (T3 disease) and the lymphnode involvement[15] are the principal factors strongly related with prognosis. Literature reports that the clearance of lymph-nodes remains crucial[16-18].
The lymphadenectomy has shown an important role in accurate disease staging and in increasing the long-term survival since the first JCGC in 1998[7,15,19]. However the extension of the lymphadenectomy is still a matter of debate. Differences exist between the JCGC and the TNM classification and are related to the different values of the two classifications. Some studies reported that TNM system has greater prognostic power than the JCGC, however TNM does not provide treatment guidance and should primarily be used as a guide for prognosis[20]. In contrast, the JCGC system has been designed as a comprehensive guide to treatment, and the anatomy-based N-staging system was established on the basis of lymphadenectomy effectiveness[20]. Part of the problem was solved considering that in "standard lymphadenectomy" (D1) almost 15-18 lymph-nodes must be removed to have a proper staging. The TNM classification is more accurate in categorizing the number of metastatic lymph-nodes and gives a better prediction of the overall survival for GC[16].
The importance of lymphadenectomy is an issue of continue interest: recently some authors reported the high propensity of GC to involve lymph-nodes, particularly for Lauren mixed/diffuse adenocarcinomas[17,21]. In Europe the state-of-the-art in curative-intent surgery for GC is gastrectomy with a R0 resection associated with a D2 lymphadenectomy and omentectomy[15,17]. This target has been achieved after numerous randomized controlled trials and cohort studies[7,22-24].
D1 lymphadenectomy: According to the JCGC, D1 dissection consists in the resection of the peri-gastric stations (from 1 to 7 stations)[7,25]. In case of esophageal-gastric junction tumors also the infradiaphragmatic, paraesophageal and supradiafragmatic stations (19, 20, 110 and 111 stations) are included[7]. D1 lymphadenectomy is considered appropriate for T1a tumor not suitable for endoscopic resection and for differentiated and small (≤ 1.5 cm) cT1bN0 tumors[26]. Some authors reported a D1-plus lymphadenectomy consisting in the removal of nodal stations 8a, 9, and 11p in cT1N0 tumors or as alternative to D2 in high-risk patients)[26].
D2 lymphadenectomy: D2 dissection consists in the resection of the peri-gastric stations (D1) and of second echelon lymph-nodes [hepatic artery (station 8), Celiac artery (station 9), splenic artery (station 11) and anterior hepatoduodenal ligament (station 12a-b)][7]. This procedure should yield at least 16 or more lymph-nodes for the pathologic evaluation.
D3 lymphadenectomy: The lymphadenectomy can be considered D3 when posterior (stations No. 12p, No. 13, No. 14v) and para-aortic (No. 16) lymph-nodes are removed. D3 is supposed to provide a better local control of disease in advanced gastric tumors with mixed-diffuse histotype[21]. The inclusion of para-aortic lymph-node stations (16-a para-aortic nodes between the level of the celiac axis and the left renal vein, and 16-b para-aortic nodes between the left renal vein and the inferior mesenteric artery) (considered also as D2 plus) is important in upper third tumors in large tumors or in tumor with involvement of station n. 7 (29% of para-aortic involved lymph-nodes compared to the 7% in middle and lower third GC; P < 0.001)[27,28]. However extended lymphadenectomy and routinely removal of para-aortic lymph-nodes does not correlate with a benefit in terms of survival[29,30].
Super-extender D3 lymphadenectomy: Splenectomy or distal pancreatectomy is strongly discouraged unless deemed necessary based on tumor involvement[18,31,32]. Even in scenarios of higher risk for splenic hilum node involvement, i.e., with proximal and mid greater curvature primaries, spleen-preserving hilum lymphadenectomy can be performed with satisfactory results[33].
Table 2 reports the data about mortality, morbidity and survival in different types of lymphadenectomy in the most important published trials. Results from the first Randomized controlled trials (RCTs)[34-36] reported a superiority of the D1 compared with D2 lymphadenectomy, but these data were not confirmed by other RCTs, meta-analysis and prospective studies[23,24,37,38]. A recent meta-analysis by Jiang et al[18] showed that the results from these two trials seem to be related with the high rate of splenectomy and pancreatic resection included in the D2 resection (65% and 56% respectively), as previously highlighted in other papers[32,39]. The analysis of the data from the Italian Gastric Cancer Study Group showed that D2 dissection without splenectomy and pancreatic resection is feasible and safe with comparable results to those of D1[39]. Splenectomy and pancreatectomy might be considered beneficial only in case where the primary tumor or the lymph-node metastasis involve these organs[18,32]. In 2010 a 15-years follow up of the Dutch trial[30,34] showed an increased survival rate in patients underwent to D2 dissection compared to D1 (29% vs 21%, P = 0.34) with a gastric-cancer-related death and a regional recurrence rates increase in D1 group (48% vs 37% and 19% vs 13% respectively). In 2015 Galizia et al[26] published a RCT to evaluate the difference between D1 plus and D2 lymphadenectomy D2 lymphadenectomyincluded splenectomy. The results reported a similar median recurrence rate (47.2% vs 51.4% in D2, P = NS). D2 lymphadenectomy is also considered the standard in elderly patients with acceptable survival[40].
Ref.
Year
Country
Type of study
N° pts
Perioperative mortality (%)

---

Overall morbidity (%)

---

Overall survival (%)

---

D1
D1+
D2
D2+
D3
P value
D1
D1+
D2
D2+
D3
P value
D1
D1+
D2
D2+
D3
P value
[34]
1999
Holland
RCT
711
4
-
10
-
-
0.004
25
-
43
-
-
< 0.0001
45
-
47
-
-
NS
[35,36]
1996
United Kingdom
RCT
400
6.5
-
13
-
-
0.04
28
-
46
-
-
< 0.001
35
-
33
-
-
NS
1999
[23,24]
1998
Italy
Prospective
191
-
-
3.1
-
-
-
-
-
20.9
-
-
-
-
-
55
-
-
-
2004
[37]
2004
Italy
RCT
162
1.3
-
0
-
-
NS
10.5
-
16.3
-
-
NS
[42,43]
2004
China
RCT
221
0
-
-
-
0
NS
7.3
-
-
-
17.1
0.012
53.6
-
-
-
59.5
0.041
2006
Taiwan
[28,44]
2004
Japan
RCT
523
-
-
0.8
0.8
-
NS
-
-
20.9
28.1
-
NS
-
-
69.2
70.3
-
NS
2008
[22]
2007
Japan
RCT
275
-
-
4.9
2.2
-
NS
-
-
27.7
21.6
-
NS
-
-
-
-
-
-
[30]
2010
Holland
Prospective
711
-
-
-
-
-
-
-
-
-
-
-
-
21
-
29
-
-
NS
[39]
2010
Italy
RCT
267
3
-
2.2
-
-
NS
12
-
17.9
-
-
NS
-
-
-
-
-
-
[21]
2015
Italy
Retrospective
-
-
4
-
2.4
NS
-
-
-
-
-
-
-
-
-
-
-
-
The evaluation of the possible role of an extended lymphadenectomy in reducing the risk of a local recurrence has been reported in several studies[21,28,29,41,42]. A Japanese study[22] showed a better outcome in terms of mortality and morbidity in patients underwent to a D2 with para-aortic lymph-nodes dissection compared to the only D2, due to the frequent rates of involvement of Para Aortic lymph-nodes (17%-40%). However, in a similar study in 2008, Sasako et al[28] reported that D2 plus para-aortic lymph-nodes dissection in T2-subserosa, T3, T4 stages was not associated with an improving survival (70.3% in D2 plus vs 69.2%, P = NS) or recurrence free survival (61.7% in D2 plus vs 62.6%, P = NS), with a similar perioperative mortality and an increase morbidity in extended surgery group.
Wu et al[41] randomized patients to receive D1 vs D3 lymphadenectomy: the rate of morbidity was higher in extended surgery (17.1% vs 7.3%, P = 0.012), but with no reported mortality in the groups. The overall survival was significantly higher in D3 group (59.5% vs 53.6% in D3 resection, P = 0.041) with a decreased regional recurrence rate in D3 (40.3% vs 47.6%, P = 0.063)[29]. An extended lymphadenectomy (as D3) with an acceptable rate of mortality could be useful in the future to be compared with perioperative chemotherapy (as in MAGIC trial)[43] or adjuvant chemoradiotherapy (as in McDonald trial)[44] and to achieve a good long-term survival only with surgery[29]. de Manzoni et al[21] in their analysis emphasized the importance of the interaction between the histology and the extension of lymphadenectomy (P = 0.004), and reported a higher rate of relapse in D3 group in case of intestinal pattern (45.1% vs 35.3%, P = NS), then in mixed/diffuse pattern (48.3% vs 61.5%, P = NS, caused by a pronounced lymphotropism and grater propensity to metastasize to third level lymph-nodes), with a similar mortality in the two groups.
The lymph node ratio is A novel promising prognostic factor(ratio between metastatic and harvested lymph nodes)[45]: in a retrospective study on a large sample of patients an higher N ratio was significantly correlated with a worse prognosis and was a significant prognostic factor, differently from the N stage. N Ratio could be a really interesting prognostic tool, able to standardize data on lymphadenectomy extension. However further prospective studies are needed to assess its real value.
In addition, recent studies reported the importance of the sentinel node to detect the first lymph nodes apt to receive cancer cell drainage, as in breast cancer and melanoma[46]. The aims are to give a sentinel node mapping and intra-operative biopsy to prevent complications of extended and unnecessary lymphadenectomy particularly in early stage patients (2%-18% lymph nodes invasion in T1, and about 20% in T2) where the greater part of lymph-nodes resected is not involved[46]. The techniques to determine sentinel node with a high sensitivity are intraoperative radiation with a gamma probe, or indocyanine green, or with the Maruyama technique[47] with Indian ink. However these techniques are not yet validated and showed a high rate of false negative. Some trials are on going to determine their efficacy and further evidence is needed to standardize the technique.
Cytoreductive surgery: In the treatment of AC with local or diffuse peritoneal carcinosis (PC) the multimodal treatment combines systemic chemotherapy, radical surgery and intra-peritoneal chemotherapy (IPC). This new approach radically changed the outcome in locally advanced and advanced gastric cancer[48-50].
The necessity of complete removal of disseminated intra-peritoneal disease has already been demonstrated in different diseases. In fact, few previous studies showed potential middle/long-term survival benefit of the complete removal of the primary disease and the disseminated macroscopic nodules[51,52]. In ovarian cancer the complete removal of PC has been demonstrated to increase significantly the survival rate[52].
In patients with GC and PC, no survival benefits have been reported for treatment with Cyto Reductive Surgery (CRS) alone. Kodera et al[53] showed that PC cannot be cured using only CRS because of invisible cancer cells remain even after CRS. In fact they found in peri-gastric peritoneum and in macroscopically intact peritoneum even distant from the surgical field is possible to detect CEA/cytokeratin 20 mRNA. This could suggest that without an intraoperative chemotherapy effective in penetrating the peritoneum no gain in term of reduction of free cancer cells is possible even with a complete macroscopic removal of cancer nodules[54]. Recently, also multi-drug intra-peritoneal chemotherapy has been demonstrated to be safe and effective[55].
As a counterpart, CRS in addition to intraperitoneal peri-operative chemotherapy assures a significant benefit in survival rate even in GC with PC[29,56-58]. A previous meta-analysis clearly demonstrated that patients affected by advanced GC, either with either without PC benefit from IPC[51].
Some studies demonstrated that during CRS, if associated to IPC, the completeness of cytoreduction was an independent favourable prognostic factor[56]. Yonemura et al[59,60] reported that complete cytoreduction was associated with a median survival of 19.2 mo and a 5-year survival rate of 27%. Glehen et al[61] confirmed those results in one of the bigger prospective cohort study published about gastrointestinal diseases.
A recent meta-analysis demonstrated as the completeness of cytoreduction (CC) results in a real gain in survival[62]. It reported a 1, 2, 3, and 5-years survival rate increased in CC0-CC1 cytoreduction (1 year: RR = 2.41, 95%CI: 1.66-3.49; 2 year: RR = 8.18, 95%CI: 3.06-21.84; 3 year: RR = 8.66, 95%CI: 2.16-34.79; 5 years: RR = 7.96, 95%CI: 2.70-23.41) (Figure 1) The gain in terms of survival is progressively higher, with the increasing of the years of follow-up. This shows that the gain is a long-term result. Moreover it has been shown a gain also for minimal differences in terms of millimetres of residual disease. CC-0 in fact showed better outcomes than CC-1 cytoreduction. An increased survival has been demonstrated also in the comparison between CC0 and CC1 cytoreduction at 1 and 3 years (1 year: RR = 2.28, 95%CI: 1.26-4.14; 3 years: RR = 6.36, 95%CI: 1.86-21.82) (Figure 2). The reported morbidity rates ranged between 1.1% and 38.5%.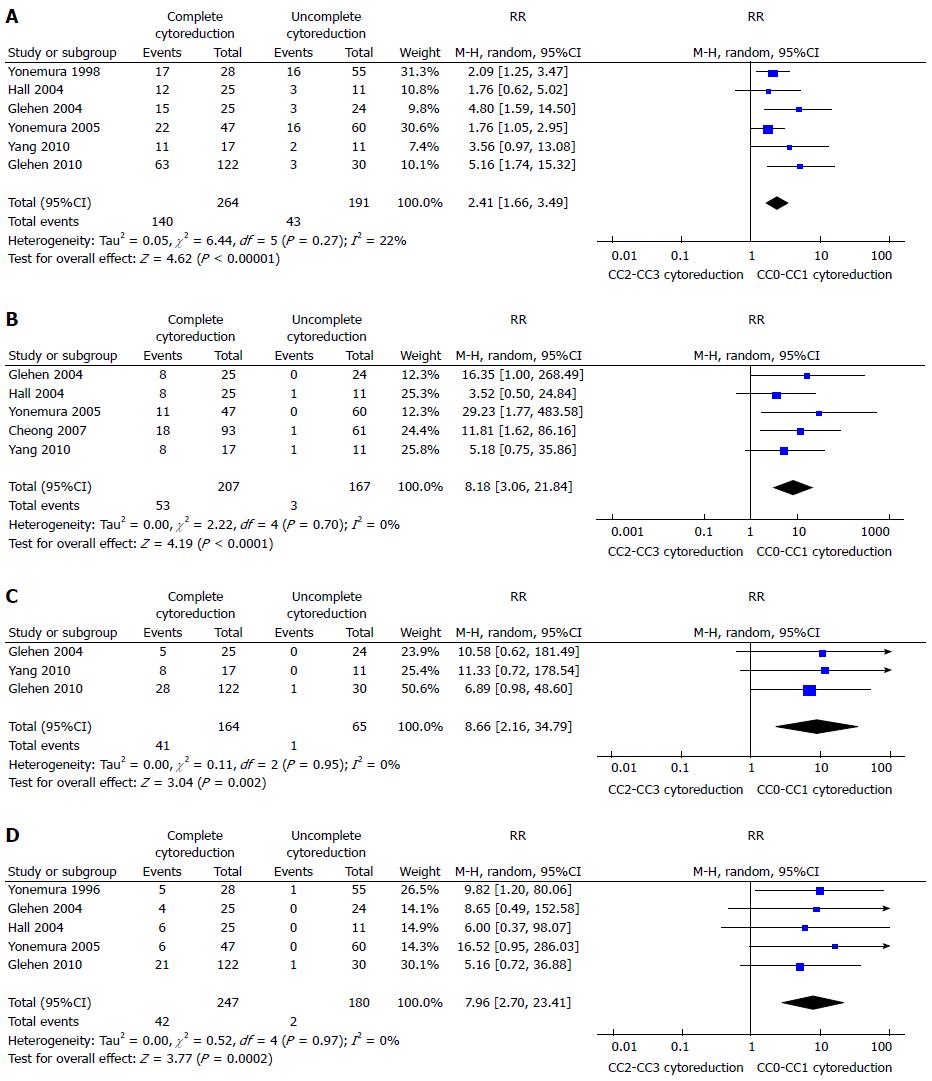 Figure 1 Overall 1-year (A), 2-year (B), 3-year (C) or 5-year (D) survival in patients undergone to CC0-CC1 procedure[62].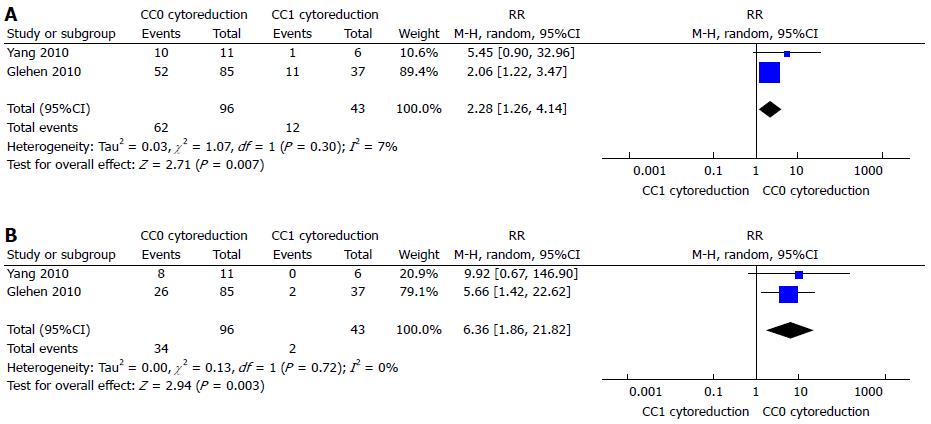 Figure 2 One-year (A) or 3-year (B) survival compared between CC0 and CC1 cytoreduction[62].
Certainly these data should be considered at the light of the supposed increased complication rate in such aggressive surgical procedure. As a consequence a PCI cut-off evaluating the reasonability of CRS + IPC treatment is needed.
A recent study by Yonemura et al[63] evaluating 95 patients with PC from GC, showed that it was possible to obtain a complete cytoreduction in 91% (42/46) of the patients with a PCI ≤ 6 but in only 42% (12/29) of the patients with a PCI ≥ 7. In addition, the study demonstrated as the survival of patients with a PCI score ≤ 6 was significantly better than those with a PCI score ≥ 7.
The reported 1, 2, 3, 5 years survival change significantly above and below a PCI of 12. In fact the reported overall median 1, 2, 3, 5 years survival for a 0-6 PCI are 56%-36%-33%-30% respectively, for a 7-12 PCI are 65%-25%-18%-0% respectively while for a 13-19 PCI are 35%-22%-0%-0% respectively and are all 0% for a PCI > 19[61]. Other studies reported a median survival for PCI below and above 20 of 3-27.7 and 6.4-10.2 mo respectively[64-66].
Minimally invasive surgery
No study dedicated to the use of minimally invasive surgery in advanced gastric cancer exists. All the papers considered patients mixed together. However the results could be considered as indicative about the possibility to apply this kind of surgery to gastric cancer. One of the main concerns has historically been the lymph node retrieval.
Laparoscopic surgery: On the one hand, several studies showed that laparoscopic gastrectomy is feasible and effective to treat early gastric cancer with a D1 lymphadenectomy obtaining better results than the open technique in terms of postoperative pain, time to return to normal bowel function and resumption of oral feeding, time to recovery, length of hospital stay, cosmetic results and financial outcome[67-70]. In terms of morbidity and mortality rates laparoscopy reached results comparable to open resections[36,39,71]. On the other hand, however, for D2 or higher lymphadenectomy laparoscopic intervention reduces the possibility to be accurate in dissecting lymphnodes especially from high-risk nodal stations (i.e., stations 10 and 12a).
A recent meta-analysis by Wang et al[72] including 17 studies considered a total of 2313 patients (955 undergone to laparoscopic total gastrectomy and 1358 to open total gastrectomy). Laparoscopy showed longer operative time (WMD = 47.00, 95%CI: 31.67-62.33, P = 0.001), less blood loss (WMD = 2179.60, 95%CI: 2251.80-2107.89, P = 0.001), fewer analgesic uses (WMD = 22.46, 95%CI: 22.71-22.22, P = 0.001), earlier passage of flatus (WMD = 20.80, 95%CI: 21.11-20.50, P = 0.001), quicker resumption of oral intake (WMD = 21.11, 95%CI: 21.57-20.64, P = 0.001), earlier hospital discharge (WMD = 23.37, 95%CI: 24.58-22.16, P = 0.001), and reduced postoperative morbidity. No statistical difference was found between the two groups in the number of harvested lymph nodes (WMD = 2.33, 95%CI: 20.04-4.71, P = 0.054), proximal resection margin, hospital mortality, 5-year OS and DFS were similar.
Another meta-analysis about the comparison between laparoscopic and open gastrectomy analyzed 15 non-randomized comparative studies with 2022 patients (811 undergone laparoscopic total gastrectomy and 1211 to open intervention) partially confirmed the outcome of the other studies[73].
Robotic surgery: The feasibility, safety and eventual advantages of robotic gastrectomy compared to open or laparoscopic gastrectomy in treating gastric cancer are not well defined.
A meta-analysis of four studies considering 5780 patients with 520 (9.00%) that underwent robotic gastrectomy and 5260 (91.00%) that underwent open gastrectomy has been published by Liao et al[74]. Robotic gastrectomy has a significantly longer operation time (WMD = 92.37 min, 95%CI: 55.63-129.12 min, P < 0.00001), lower blood loss [WMD: -126.08, 95%CI: -189.02-(-63.13), P < 0.0001], and shorter hospital stay [WMD = -2.87, 95%CI: -4.17-(-1.56), P < 0.0001]. No statistical difference was noted in overall postoperative complication, wound infection, bleeding, number of harvested lymph nodes, anastomotic leakage and postoperative mortality rate.
Shen et al[75] in another meta-analysis considering eight studies with 1.875 patients, compared robotic and laparoscopic gastrectomy. The study showed as robotic gastrectomy was associated with a longer operative time (WMD = 48.46 min, 95 %CI: 29.49-67.43, P < 0.05), lower estimated blood loss [WMD = -38.43 mL, 95%CI: -67.55-(-9.30), P < 0.05], and a longer distal margin (WMD = 1.04 cm, 95%CI: 0.46-1.62, P < 0.05). In this meta-analysis complications (OR = 0.95, 95%CI: 0.7-1.28, P > 0.05), hospital stay (WMD = -1.00, 95%CI: -2.57-0.56, P > 0.05), proximal margin (WMD = 0.1 cm, 95%CI: -0.25-0.45, P > 0.05), and harvested lymph nodes (WMD = 1.06, 95%CI: - 2.33-4.45, P > 0.05) for robotic and laparoscopic gastrectomy were similar.
VALUE OF RADIOTHERAPY
External beam Radiotherapy (RT) has a role in the treatment of locally advanced gastric cancer in preoperative, postoperative or palliative setting.
Neoadjuvant or adjuvant radiochemotherapy (RCTh) improves overall survival, compared to surgery alone. However a clear consensus on the better treatments integration hasn't already been defined.
Neoadjuvant therapy increases the probability of curative resection due to down-staging. The pre-operative RT target volume is generally smaller and the presence of the macroscopic tumor displaces surrounding normal structures (organ at risk). On the contrary, organs at risk receive higher dose if they fill the original tumor site in the postoperative setting. Moreover postoperative strategies generally require higher doses to achieve the same local control effect, because of the increased tissue hypoxia. The irradiated volumes are the tumor with a safety margin surrounding it, in the preoperative setting, or the tumor bed in the postoperative one. Regional lymph nodes (perigastric, celiac axis, pancreaticoduodenal, porta hepatis, paraaortic and splenic hilar lymph nodes) are part of the target volume according to the stage or the extension of disease.
The prescribed total dose is usually 45 Gy in 25 daily fractions.
The modern RT techniques (i.e., 3D-conformal, intensity-modulated RT, Arc techniques, Tomotherapy) seem to allow a better target coverage and a lower radiation related toxicity, even if clinical trials are still ongoing.
Pre-operative setting
The role of neoadjuvant RCT have been explored considering the excellent results in terms of local control and overall survival (OS) in the treatment of esophageal and rectal cancer[116,117]. Trials of neoadjuvant chemotherapy (CT) or RCTh compared to surgery alone have shown an OS improvement in patients with esophageal and esophago-gastric junction Siewert I-II adenocarcinomas.
Small prospective studies have examined the use of induction CT prior to preoperative RCTh for potentially resectable gastric cancer showing good rates of pathological response and R0 resection, with acceptable acute and late toxicity[118-120].
Single institution retrospective data have also been published[121-124], but we lack significant evidence on the effectiveness of neoadjuvant approach in gastric cancer.
The randomized trial "Preoperative Therapy for Gastric and Esophagogastric Junction Adenocarcinoma" compares neoadjuvant CT vs RCTh. It started with randomization in 2009 and the end of enrollment is planned for 2020[125].
Post-operative setting
In 2001 the pivotal INT0116 study has established the role of adjuvant RCTh in the management of locally advanced gastric cancer demonstrating that adjuvant RT (45 Gy in 25 fractions over 5 wk) plus 5-fluorouracil based CT increases relapse-free and OS, compared with surgery alone, despite high toxicity[44]. This result is confirmed significant with a hazard ratio for OS of 1.32 in favour of adjuvant RCT[126] after ten years follow-up.
The main limitation of the study is the suboptimal surgical treatment because 54% of patients have been treated with a D1 lymphadenectomy and only 10% with D2 lymphadenectomy, suggesting that postoperative RCTh may compensate for sub-optimal surgery. This hypothesis is supported by the Dutch D1D2 trial, which results confirm reduction of local recurrence rate if adjuvant RCTh is given in case of D1 lymphadenectomy, but provides no benefit in case of D2 nodal dissection[127].
The ARTIST trial, designed for comparing adjuvant chemotherapy with capecitabine plus cisplatin to RCTh, failed to demonstrate differences in DFS and OS between the two groups. Noteworthy the subgroup analysis evidenced a benefit in terms of disease free survival if Radiotherapy was added in patients with lymph node metastasis[128].
The subsequent phase III trial (ARTIST-II) is still ongoing for reconfirming these results.
The CRITICS trial investigates if perioperative chemotherapy followed by postoperative RCTh (45 Gy in 25 fractions plus cisplatin and capecitabine) improves clinical outcome. Patients accrual has been started in 2006 for recruiting 788 patients.
One observational and one randomized study suggested potential benefits from postoperative RCTh even after optimal D2 dissection[129,130]. However RCTh as adjuvant treatment after D2 dissection still remains controversial.
Palliative setting
Radiotherapy has been shown to be effective for palliation in case of gastric bleeding, pain and obstruction.
Fields et al[122] have analyzed treatment outcomes of RCT vs chemotherapy alone in 79 patients with locoregional recurrence of gastric cancer, showing better overall symptom-control rate in the former group without significant differences in toxicity rate.
Tey et al[131] have conducted a retrospective review of 115 patients, treated with palliative intent, showing symptoms control at one month in 46%-81% of cases with low toxicity profile. Dose fractionation regimen ranged from 8Gy single fraction to 40 Gy in 16 fractions. The gastric bleeding control could safely be obtained with low radiotherapy doses without significant side effects[132]. The role of a higher dose (> 41 Gy), remains debatable in the obstruction treatment[133].
CONCLUSION
Gastric cancer is an aggressive disease with a high risk of peritoneal dissemination either at early stages. Surgical therapy of GC should be based on radical surgery aiming to eradicate all the macroscopic disease. As peritoneal dissemination of GC is the main cause of long term failure of the treatment a peritoneal fluid cytology should always be done. Uncertainty about its results however suggests the importance of preventing peritoneal dissemination and subsequent carcinosis with an anticipated use of the intraperitoneal chemotherapy. Moreover the use of perioperative and bidirectional chemotherapy should be considered. Advanced gastric cancer with positive cytology at stadiative laparoscopy should be treated in experienced centre in order to introduce the use of "preventive intraperitoneal chemotherapy" either in the absence of macroscopic peritoneal dissemination associated to perioperative chemotherapy regimen.
P- Reviewer: Aoyagi K S- Editor: Ma YJ L- Editor: A E- Editor: Liu XM