Copyright
©The Author(s) 2016.
Published by Baishideng Publishing Group Inc. All rights reserved.
World J Gastroenterol.
Jan 7, 2016;
22(1): 8-23
Published online Jan 7, 2016. doi: 10.3748/wjg.v22.i1.8
Optimal management for alcoholic liver disease: Conventional medications, natural therapy or combination?
Moon-Sun Kim, Madeleine Ong, XianQin Qu, School of Medical and Molecular Biosciences, University of Technology Sydney, Sydney, NSW 2007, Australia
Moon-Sun Kim, Faculty of Pharmacy, University of Sydney, Sydney, NSW 2006, Australia
Author contributions: Kim MS, Ong M and Qu X contributed to writing the manuscript; Kim MS produced the figures and Ong M thoroughly edited the manuscript.
Conflict-of-interest statement: The authors declare no conflicts of interest.
Open-Access: This article is an open-access article which was selected by an in-house editor and fully peer-reviewed by external reviewers. It is distributed in accordance with the Creative Commons Attribution Non Commercial (CC BY-NC 4.0) license, which permits others to distribute, remix, adapt, build upon this work non-commercially, and license their derivative works on different terms, provided the original work is properly cited and the use is non-commercial. See: http://creativecommons.org/licenses/by-nc/4.0/
Correspondence to: Xianqin Qu, PhD, MD, School of Medical and Molecular Biosciences, University of Technology Sydney, PO Box 123, Broadway, Sydney, NSW 2007, Australia. xianqin.qu@uts.edu.au
Telephone: +61-2-95147852 Fax: +61-2-95147852
Received: April 28, 2015
Peer-review started: May 5, 2015
First decision: June 23, 2015
Revised: July 7, 2015
Accepted: November 13, 2015
Article in press: November 13, 2015
Published online: January 7, 2016

Alcohol consumption is the principal factor in the pathogenesis of chronic liver diseases. Alcoholic liver disease (ALD) is defined by histological lesions on the liver that can range from simple hepatic steatosis to more advanced stages such as alcoholic steatohepatitis, cirrhosis, hepatocellular carcinoma and liver failure. As one of the oldest forms of liver injury known to humans, ALD is still a leading cause of liver-related morbidity and mortality and the burden is exerting on medical systems with hospitalization and management costs rising constantly worldwide. Although the biological mechanisms, including increasing of acetaldehyde, oxidative stress with induction of cytochrome p450 2E1, inflammatory cytokine release, abnormal lipid metabolism and induction of hepatocyte apoptosis, by which chronic alcohol consumption triggers serious complex progression of ALD is well established, there is no universally accepted therapy to prevent or reverse. In this article, we have briefly reviewed the pathogenesis of ALD and the molecular targets for development of novel therapies. This review is focused on current therapeutic strategies for ALD, including lifestyle modification with nutrition supplements, available pharmacological drugs and new agents that are under development, liver transplantation, application of complementary medicines, and their combination. The relevant molecular mechanisms of each conventional medication and natural agent have been reviewed according to current available knowledge in the literature. We also summarized efficacy vs safety on conventional and herbal medicines which are specifically used for the prevention and treatment of ALD. Through a system review, this article highlighted that the combination of pharmaceutical drugs with naturally occurring agents may offer an optimal management for ALD and its complications. It is worthwhile to conduct large-scale, multiple centre clinical trials to further prove the safety and benefits for the integrative therapy on ALD.
Core tip: The aim of this article is to review the impairment of hepatocellular dysfunction in alcoholic liver diseases and their prospective managements. Specifically, we focused on the natural therapies with their efficacies and safeties. Moreover, we summarized molecular mechanisms of herbal therapy to treat alcoholic liver disease (ALD). With evidence-based natural therapy, this article highlighted that the combination of pharmaceutical drugs with naturally occurring agents may offer an optimal management for this complex liver disease. It is worthwhile to conduct large-scale, multiple centre clinical trials further to prove the safety and benefits for the integrative therapy on ALD.
---
Citation: Kim MS, Ong M, Qu X. Optimal management for alcoholic liver disease: Conventional medications, natural therapy or combination? World J Gastroenterol 2016; 22(1): 8-23
---
INTRODUCTION
Alcohol is a psychoactive substance and has been widely used in many cultures for centuries. Alcoholic abuse causes a large range of diseases and is also a social and economic burden in world societies. Reduction of alcohol consumption is now becoming the global strategy, with attempts to define "harmful use" of alcohol by the World Health Organization (WHO) to reduce the associated morbidity and mortality. Alcohol intake is a principal etiological factor in chronic liver diseases. Alcoholic liver disease (ALD), which initially manifests as hepatic fat accumulation, followed by an inflammatory response to induce final stage liver failure, is now a deleterious health problem[1]. Alcohol abuse accelerates various types of liver diseases, such as alcoholic fatty liver disease (AFLD), alcoholic steatohepatitis, alcoholic hepatitis (AH), progressive fibrosis, liver cirrhosis and liver failure[2]. Patients with ALD, especially with alcoholic cirrhosis, are associated with increased risk of hepatocellular carcinoma (HCC)[3,4].
The prevalence of ALD has increased in the last years, parallel with the increasing alcohol consumption in the western world as well as in Asian counties[5]. According to the WHO report in 2011, chronic alcohol consumption results in approximately 2.5 million deaths each year with much of the burden related to ALD[6]. Though ALD significantly contributes to the rising morbidity and mortality statistics and related health expenses, there is a lack of effective treatments for ALD, especially cirrhosis and HCC. Abstention from alcohol may reverse the early stage of ALD to a normal condition. The treatment for ALD with conventional medicines, mainly pharmaceutical medications, has limited success with side-effects. Recently, natural medicines, which mainly apply herb-derived agents, are emphasized as alternative therapies to manage the various alcohol-related liver diseases. It is the aim of this article to provide an overview of understanding the mechanisms of ALD, which could generate therapeutic interventions with conventional medicines, natural therapies and their combinations to reverse or retard the progression of ALD.
Pathogenesis of ALD is multifactorial. Strategically, the liver is the most important organ to target as about 90% of alcohol intake is metabolized by the liver[7]. Alcohol consumption can cause fatty liver by disrupting hepatic lipids and glucose metabolism. Furthermore, ethanol and its oxidative and non-oxidative metabolites have direct toxic effects on the liver[8]. Histologically, fatty liver, or HS, is a malfunctioned fat accumulation in the parenchymal cells of the liver. HS is a reversible lesion. Fibrosis (or scar formation) is the subsequent result if liver injury persists. Fibrosis determined by biopsy increases the likelihood of progression to cirrhosis and end-stage liver disease. Biochemically, alcohol abuse contributes to a serious complex phenomenon involving different molecular and biological mechanism to induce ALD. Many hypotheses have been investigated and established to explain the pathogenic mechanisms of ALD. These include: (1) activation of alcohol dehydrogenase (ADH) and aldehyde dehydrogenase (ALDH) to cause the over generation of acetate[9]; (2) induction of cytochrome P450 2E1 (CYP2E1) for alcoholic oxidative stress and hepatotoxicity[10]; (3) abnormal lipid metabolism by increasing fatty acid (FA) synthesis and decreasing of FA oxidation[10]; (4) hepatic inflammation indicated by an increase of tumour necrosis factor-α (TNF-α) and cytokine release[11]; (5) induction of hepatocyte apoptosis and subsequent activation of Kupffer cells; (6) increased hepatic levels of cellular fibronectin and tissue growth factor-β (TGF-β) related to the activation of hepatic stellate cells[12]; and (7) ethanol-induction of gut endotoxins[13,14]. Proposed mechanisms impacting hepatocellular dysfunction by alcohol exposure within ALD pathogenesis are summarized in Figure 1. To further improve current strategies for managing ALD, a deeper understanding of the pathomechanisms of the disease is needed. Various curative approaches based on these mechanisms could prevent the progression of ALD and its downstream sequelae.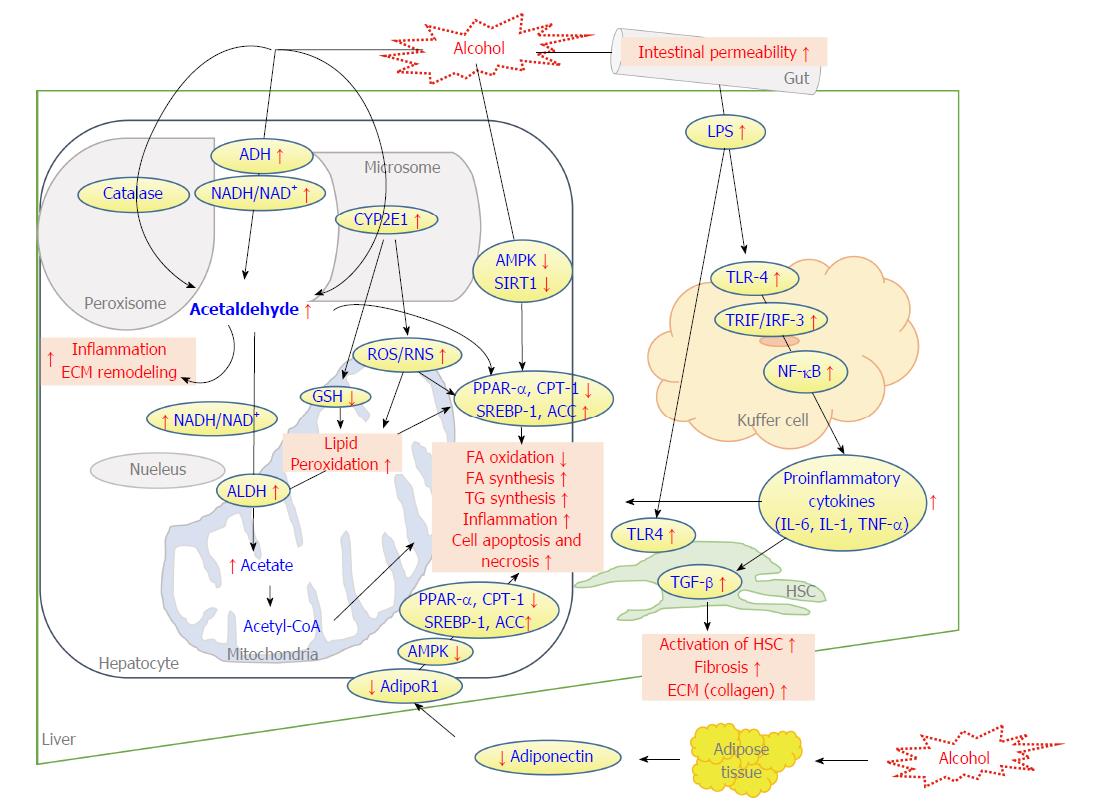 Figure 1 The molecular mechanisms of alcohol-related liver pathogenesis and therapeutic targets.
Adapted from references[8,13,159]. When alcohol intake is chronic and heavy, alcohol oxidation occurs via cytochrome P450s, resulting in increased levels of CYP2E1, which in turn causes oxidative stress through the generation of ROS which are responsible for lipid peroxidation and alcoholic liver injury. ROS also negatively regulates the activation AMPK and leads to overexpression of SREBP-1, resulting in an increase of de novo lipogenesis. GSH also has been reported to its depletion by CYP2E1 followed by the development of oxidative stress. Alcohol consumption negatively affects adiponectin secretion from adipocytes then causes inactive AMPK pathway, leading to elevated de novo lipogenesis and inflammatory process in the liver, while simultaneously decreasing fatty acid β-oxidation and contributing to hepatocyte necrosis. The red font indicates the end-point of pathology in the liver. ACC: Acetyl-CoA carboxylase; ADH: Alcohol dehydrogenase; AdipoR1: Adiponectin 1; ALDH: Acetaldehyde dehydrogenase; AMPK: 5' adenosine monophosphate-activated protein kinase; CYP2E1: Cytochrome P450 2E1; CPT-1: Carnitine palmitoyl-transferase-1; ECM: Extracellular matrix; FA: Fatty acid; GSH: Glutathione; HSC: Hepatic stellate cells; IRF-3: Interferon regulatory factor 3; IL-6/IL-1: Interleukin 6 and 1; LPS: Lipopolysaccharide; NADH/NAD+: Nicotinamide adenine dinucleotide hydrogen, nicotinamide adenine dinucleotide; NF-κB: Nuclear factor kappa; ROS: Reactive oxygen species; RNS: Reactive nitrogen species; PPAR-α: Peroxisome proliferator-activated receptor-α; SIRT1: Sirtuin 1; SREBP1: Sterol regulator element binding protein 1; TG: Trigylcerides; TLR-4: Toll-like receptor 4; TNF-α: Tumour necrosis factor-α; TGF-β: Tissue growth factor-β.
CURRENT MANAGEMENT FOR ALD
General management of ALD should initially be abstinence from alcohol[2]. This becomes increasingly vital as the condition progresses. However, this is largely dependent on patient willingness and compliance. Currently, there is no universally accepted therapy to prevent or reverse the progression of ALD. Successful managements include lifestyle modification with the correction of nutritional deficiencies, conventional drugs, liver transplantation, application of complementary medicines, and their combinations[15,16].
FUTURE OUTLOOK AND PERSPECTIVE
It is undeniable that chronic alcohol abuse leads to deleterious implications for the liver regardless of age, gender or other factors. The more advanced the stage of alcoholic liver disease, the more morbid and life-threatening the complications become. Various therapies should, therefore, aim to reverse these complications but are often only palliative. As an initial therapy of ALD, abstinence from alcohol accompanied with basic lifestyle modifications when appropriate. When the injury becomes decompensated, pharmacological therapy should be accompanied to reverse the more severe stages of ALD. The present studies are still inconclusive with humble methodological quality and design, high heterogeneous patient populations, and poorly defined point of progression of ALD. These flaws may partly explain the conflicting reports in the literature to support the effectiveness of treatment for ALD for many conventional medications, such as Corticosteroids, PTX, and SAM. Mechanistic studies are still insufficient to prove their pharmaceutical potency and future studies will be thirsty to investigate the molecular mechanisms related in the complex relationships between ethanol metabolism, oxidative stress, immune response, HSC activation and extracellular matrix remodelling. Larger RCTs with a longer follow-up period are required for further evaluation.
Increasing attention has been paid to herbal medicines as a newly emerging treatment strategy for ALD. In this review, we summarized functionalities of CAM for the prevention and treatment of ALD. Most single herbs and formulae have resulted in improvement of ALD-related conditions with multiple and diverse mechanisms of actions in spite of their mild side effects. To date, only a few active compounds from herbal extracts have been identified as candidates to treat ALD and alcohol induced liver injury. Although many herbal constituents have shown promising potential for the treatment of ALD with multi-targets, the underlying molecular mechanisms, especially that of single herbal compounds, have not been completely elucidated. Moreover, clinical trials to adjust concurrent systematic review are still required in the area of ALD research. More profound studies underlying the prospective effect of herbal medicines should be further investigated. In addition, some unique therapies are now increasing to develop the treatment of ALD. Epigenetic regulation underlying alcohol metabolism, such as histone modification may be a new trend to advance effective treatment strategies for ALD[157]. Acetate may affect histone modification by up-regulating acetyl-CoA and enhance the inflammation in ethanol-exposed macrophages by interfering histone deacetylase activity[158]. With many natural products potentially possessing this ability of epigenetic modification, it would be a particularly beneficial breakthrough for ALD patients.
P- Reviewer: Wan JB S- Editor: Kong JX L- Editor: Filipodia E- Editor: Wang CH