Copyright
©The Author(s) 2016.
Published by Baishideng Publishing Group Inc. All rights reserved.
Glypican-3 is a prognostic factor and an immunotherapeutic target in hepatocellular carcinoma
Yukihiro Haruyama, Hiroaki Kataoka, Section of Oncopathology and Regenerative Biology, Department of Pathology, Faculty of Medicine, University of Miyazaki, Miyazaki 889-1692, Japan
Author contributions: Haruyama Y and Kataoka H contributed equally to this work; Haruyama Y and Kataoka H designed the review style, reviewed literatures and wrote the paper.
Supported by Collaborative Research Fund from Chugai Pharmaceutical Co. (to Kataoka H); and Grant-in-Aid from The Ministry of Education, Culuture, Sports, Science and Technology, Japan, No. 24390099 (to Kataoka H).
Conflict-of-interest statement: Kataoka H receives collaborative research funding from Chugai Pharmaceutical Co. Haruyama Y declares no potential conflicts of interest with respect to this article.
Open-Access: This article is an open-access article which was selected by an in-house editor and fully peer-reviewed by external reviewers. It is distributed in accordance with the Creative Commons Attribution Non Commercial (CC BY-NC 4.0) license, which permits others to distribute, remix, adapt, build upon this work non-commercially, and license their derivative works on different terms, provided the original work is properly cited and the use is non-commercial. See: http://creativecommons.org/licenses/by-nc/4.0/
Correspondence to: Hiroaki Kataoka, MD, PhD, Section of Oncopathology and Regenerative Biology, Department of Pathology, Faculty of Medicine, University of Miyazaki, 5200 Kihara, Kiyotake, Miyazaki 889-1692, Japan. mejina@med.miyazaki-u.ac.jp
Telephone: +81-985-852809 Fax: +81-985-856003
Received: May 25, 2015
Peer-review started: May 27, 2015
First decision: August 31, 2015
Revised: October 29, 2015
Accepted: November 19, 2015
Article in press: November 19, 2015
Published online: January 7, 2016

Glypican-3 (GPC3) is a cell surface oncofetal proteoglycan that is anchored by glycosylphosphatidylinositol. Whereas GPC3 is abundant in fetal liver, its expression is hardly detectable in adult liver. Importantly, GPC3 is overexpressed in hepatocellular carcinoma (HCC), and several immunohistochemical studies reported that overexpression predicts a poorer prognosis for HCC patients. Therefore, GPC3 would serve as a useful molecular marker for HCC diagnosis and also as a target for therapeutic intervention in HCC. Indeed, some immunotherapy protocols targeting GPC3 are under investigations; those include humanized anti-GPC3 cytotoxic antibody, peptide vaccine and immunotoxin therapies. When considering the clinical requirements for GPC3-targeting therapy, companion diagnostics to select the appropriate HCC patients are critical, and both immunohistochemical analysis of tissue sections and measurement of serum GPC3 level have been suggested for this purpose. This review summarizes current knowledge regarding the clinical implication of GPC3 detection and targeting in the management of patients with HCC.
Core tip: Glypican-3 is frequently overexpressed in hepatocellular carcinoma (HCC). Accumulating evidence indicates that high glypican-3 expression is a significant prognostic factor that predicts poor outcome of patients with HCC. Thus, it serves as a promising molecular target for the development of novel therapies for HCC, and preclinical and clinical trials targeting glypican-3 are currently underway. Evaluation of the glypican-3 levels in HCC tissues or in sera of patients with HCC would be of value for predicting the patients' prognosis and companion diagnostics for future glypican-3-targeting therapies.
---
Citation: Haruyama Y, Kataoka H. Glypican-3 is a prognostic factor and an immunotherapeutic target in hepatocellular carcinoma. World J Gastroenterol 2016; 22(1): 275-283
---
INTRODUCTION
Hepatocellular carcinoma (HCC) is the most common form of liver cancer and is the fifth most common malignant neoplasm worldwide[1]. Despite progress in surgical and non-surgical therapies, the prognosis of HCC remains poor. Although the multi-kinase inhibitor sorafenib prolonged median survival and the time to progression by nearly 3 mo[2], new biomarkers and molecular targets are urgently needed to develop novel treatment strategies.
Glypican-3 (GPC3) is a member of the heparan sulfate (HS) proteoglycan family. It attaches to cell membranes by a glycosylphosphatidylinositol (GPI) anchor[3,4]. GPC3 is widely expressed in human embryos, and it regulates morphogenesis or growth, possibly through insulin-like growth factor, bone morphogenic protein, fibroblast growth factor (FGF) or hedgehog signaling[5-7]. GPC3 gene mutation results in Simpson-Golabi-Behmel syndrome (SGBS), in which patients display fetal macrosomia and continue to grow and gain weight at an unusual rate with a varying range of dysmorphisms[8,9]. In fact, GPC3-deficient mice exhibit several of the clinical features observed in SGBS, including developmental overgrowth, perinatal death, cystic and dysplastic kidney and abnormal lung development[10]. In the liver, normal expression of GPC3 was identified from gestational weeks 18 to 30, and no GPC3 expression was observed in any normal adult liver tissue[5,11,12]. On the other hand, significantly high levels of GPC3 are expressed in HCC cells compared to normal liver and non-neoplastic liver lesions[11,12]. Therefore, GPC3 is a promising tumor marker and may be a potential molecular target for the development of innovative therapies for HCC[3]. This review focuses on the expression of GPC3 and discusses the possible usefulness of GPC3 as a prognostic marker and an immune-therapeutic target for patients with HCC.
GPC3
In 1988, Filmus et al[13] isolated a developmentally regulated cDNA clone, called OCI-5, from a rat small intestine cell line. As the OCI-5 gene encoded a protein highly homologous to the glypican family, the human gene was renamed GPC3[14], and it was found to be located on the human X chromosome (Xp26)[15]. The glypican family consists of six members (GPC1 - GPC6), all of which have a cysteine-rich repeat domain at similar positions[4]. GPC3 is abundantly expressed in the placenta and fetal tissues such as liver, lung and kidney; however, its expression is significantly reduced in adult organs[4]. The GPC3 gene encodes 580 amino acids that produce a core protein with a mass of 70 kDa. After cleavage between Arg358 and Cys359 by furin, two subunits linked by disulfide bonds (a 40-kDa N-terminal subunit and a 30-kDa C-terminal subunit) are generated[16]. The mature GPC3 heterodimer is expressed on the cellular surface as a GPI-anchored protein with two HS chains attached to the C-terminal region close to the cell membrane (Figure 1)[3,4]. GPC3 can be released from the cell surface into the extracellular environment. Several forms of secreted GPC3, such as glycated forms with a molecular weight larger than 100 kDa or a 50 kDa fragment lacking HS side chain have been reported[11,17,18]. Therefore, several mechanisms may be involved in the shedding of GPC3. One such mechanism is mediated by notum, a kind of lipase that cleaves GPI-anchored proteins, and it results in the release of the full-length glycated form of GPC3[19]. As shorter forms of soluble GPC3 can be detected in culture supernatant of human HCC cells, an alternative shedding or cleaving enzyme may also be present, area requiring further analysis.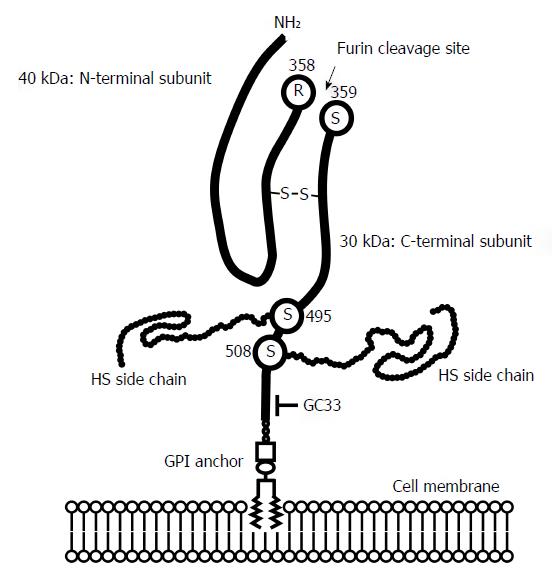 Figure 1 A schematic drawing of the structure of the glypican-3 molecule. The core protein consists of 580 amino acids, and two heparan sulfate (HS) side chains are attached close to the C-terminal portion. Cleavage by furin between Arg358 and Cys359 results in a 40-kDa N-terminal subunit and a 30-kDa C-terminal subunit linked by a disulfide bond. Monoclonal antibody GC33 recognizes an epitope at the C-terminal portion.
ENHANCED GPC3 EXPRESSION IN HCC TISSUES
In 1997, Hsu et al[20] identified an mRNA (MXR7) that was highly expressed in HCC tissue, and it was identical to GPC3 mRNA. The mRNA was hardly detectable in adult non-neoplastic liver (3.2%) but was overexpressed in most HCC tissues (74.8%). They also showed a close correlation between the GPC3 mRNA level and elevated serum alpha-fetoprotein (AFP) level[20]. Since then, a number of studies have analyzed GPC3 immunohistochemistry (IHC), and the results indicated specific and enhanced expression of GPC3 in HCC tissues[3,11,12,21]. Many IHC studies used the anti-GPC3 mouse monoclonal antibody 1G12 that recognizes a C-terminal portion of GPC3 near its membrane-bound site[11]. One study used two monoclonal antibodies (A1836A and GPC3-C02) that recognized N-terminal and C-terminal portions of GPC-3, respectively, and showed similar immunostaining patterns[4]. Evidence obtained by those IHC studies revealed acceptable specificity and sensitivity of GPC3 IHC for diagnostic purposes in HCC management. While GPC3 was undetectable in normal adult liver, 70%-100% of HCC cases were positive with enhanced immunoreactivity in less-differentiated tumors[3,11,12,21]. Dysplastic regenerative nodules in cirrhotic liver also showed weak and focal immunoreactivity; however, GPC3 was hardly detectable in hepatocellular adenoma and intrahepatic cholangiocarcinoma[11,12,21]. It should be noted that some extrahepatic cancers with known AFP expression, such as yolk-sac tumor, hepatoid adenocarcinoma and other AFP-producing digestive tract cancer variants, also showed high GPC3 expression[22-29], indicating that GPC3 may be an oncofetal protein like AFP. Indeed, evidence suggested that both the GPC3 and the AFP genes may be regulated by a similar transcription factor[30]. In addition, recent IHC studies have suggested that GPC3 can be expressed in other tumors, including thyroid cancers and ovarian clear cell carcinoma[29,31,32].
Recently, another mouse monoclonal antibody (GC33 and its humanized version) was developed, and it recognized an epitope similar to that of 1G12[33]. Notably, GC33 showed a significant cytotoxic activity mediated by antigen-dependent cell cytotoxicity (ADCC) and complement-dependent cell cytotoxicity (CDC) on GPC3-expressing cells[33,34]. Therefore, the humanized GC33 would have significant implications in the development of GPC3-targeting immunotherapy. To develop GPC3-targeting therapies for HCC, it would be necessary to evaluate the GPC3 expression level in individual patients (i.e., companion diagnostics). In formalin-fixed paraffin-embedded tissue sections, anti-GC33 antibody detected HCC cells with a sensitivity and specificity similar to 1G12[35,36]. Four distinct patterns of GPC3 immuno-localization were observed in HCC cells: peri-canalicular membranous, luminal membranous, circumferential membranous and intracytoplasmic[21,36]. Considering the targeting of GPC3 by humanized GC33, it is reasonable to postulate that the circumferential membranous expression of GPC3 in HCC cells is particularly important. Therefore, an IHC scoring system that placed particular emphasis on circumferential membranous immunoreactivity was proposed in the GPC3 IHC study using anti-GC33 antibody[36].
PROGNOSTIC SIGNIFICANCE OF GPC3 IHC
After the diagnostic utility of GPC3 IHC was established in HCC histopathology, extensive studies searching for the prognostic significance of GPC3 expression were conducted in patients with HCC. The clinicopathological studies with GPC3 IHC revealed that higher expression of GPC3 in HCC cells was corelated to a poorer prognosis for patients after curative partial hepatectomy[36,37], and subsequent studies supported this trend[38-41]. The circumferential membranous immunoreactivity scoring system may be superior in predicting the patients' prognosis than a scoring system simply reflecting the positive area ratio[36]. Subsequently, meta-analytic studies of the prognostic significance of GPC3 expression were published. They confirmed that a strong GPC3 IHC score was of prognostic value as it was correlated with shorter overall survival (OS) and disease-free survival (DFS) of HCC patients[42,43]. Therefore, these patients may potentially benefit from adjuvant therapy, particularly that targeting GPC3.
In addition, these IHC studies revealed significant intra-tumoral heterogeneity of GPC3 expression levels in HCC tissue, casting doubt on the usefulness of needle biopsy specimens for the evaluation of GPC3 expression in HCC[21,36,44]. The immunoreactivity observed in a small needle biopsy specimen may not represent the overall level of GPC3 expression of the tumor. This may be a critical issue for needle biopsy specimens if one attempts to use GPC3 IHC as a biomarker of HCC.
SERUM GPC3 LEVEL AS A PROGNOSTIC MARKER OF HCC
As mentioned earlier, GPC3 can be released from the cell surface, and soluble GPC3 is detectable as serum GPC3 (sGPC3). Therefore, measuring sGPC3 levels may be a promising alternative for the estimation of GPC3 expression level in HCC tissue. Indeed, there have been several reports that attempted to measure sGPC3 by enzyme-linked immunosorbent assay (ELISA) in patients with HCC or other chronic liver diseases[11,17,45-54]. The details of each study are displayed in Table 1. However, the reported values of sGPC3 differed considerably between the studies even in healthy controls. This is presumably because of the different antibody epitopes used in each ELISA setting and/or possible heterogeneity in the molecular forms of sGPC3. Meta-analysis of the literatures has suggested that sGPC3 is indeed higher in HCC patients than normal subjects. However, its diagnostic utility is questionable, and further studies are required[55]. Moreover, prognostic analyses were not performed in those studies.
Ref.
Epitope(AA)1
sGPC3 (ng/mL), median (range)
n
(mean ± SD)

---

Healthy
CH/LC
HCC
Capurro et al[11] 2003
C-terminal subunit
ND (53)
ND/0 (0-117) (18/20)
167.5 (0-2924) (34)
(511-580)
(ND/5.85 ± 26.16)
(441 ± 669.8)
Hippo et al[17] 2004
N-terminal subunit
- (96)
- (38)
- (69)
(25-358)
(0.65 ± 0.32)
(1.09 ± 0.74)
(4.84 ± 8.91)
Beale et al[46] 2008
ELISA kit (BioMosaics, Burlington, VT)
-
- (41)
- (50)
(125.41 ± 281.05)
(161.41 ± 422.33)
Tangkijvanich et al[47] 2009
C-terminal subunit
ND (40)
0 (0-43.6) (100)
46.3 (0-7826.6) (100)
(511-580)
(-)
(-)
Liu et al[48] 2010
ELISA kit (BioMosaics)
-
- (32)
- (37)
(3 cases are > 300 ng/mL)
(16 cases are > 300 ng/mL)
Yasuda et al[49] 2010
ELISA kit (BioMosaics)
-
1.16 (200)
0.92 (200)
(-)
(-)
Ozkan et al[50] 2011
ELISA kit (Wuhan EIAab Science, Wuhan, China)
0.004 (0.004 - 0.008) (28)
0.006 (0.004 - 0.24) (55)
0.005 (0.004-0.09) (75)
(-)
(-)
(-)
Qiao et al[51] 2003
ELISA kit (USCN Life Science, Wuhan, China)
- (30)
- (18/40)
- (101)
(5.93 ± 5.46)
(9.98 ± 9.60/12.09 ± 9.69)
(29.29 ± 17.34)
Chen et al[52] 2013
N-terminal subunit
0 (0 - 563.2) (136)
0 (0-563.2)/6 (0-365.7) (180/124)
15.11 (0-2400) (155)
(350-364)
(4.14 ± 31.65)
(10.45 ± 46.02/19.44 ± 50.88)
(99.94 ± 267.2)
Lee et al[53] 2014
ELISA kit (Cusabio Biotech, Wuhan, China)
-
66.4 (40)
75.8 (21.7-482.5) (120)
(-)
(-)
Abd El Gawad et al[54] 2014
ELISA kit (USCN Life Science)
0.99 (0.86-1.67) (10)
2.74 (1.99 - 5.93) (10)
7.7 (4.9-11) (40)
(-)
(-)
(-)
Haruyama et al[56] 2015
N-terminal subunit
0.12 (0.04 - 0.17) (25)
0.11 (9)
0.24 (0.05-2.96) (115)
(321-350)
(0.11 ± 0.04)
(0.12 ± 0.60)
(0.41 ± 0.51)
Very recently, we reported a novel sandwich ELISA system that recognized the N-terminal subunit of sGPC3 (sGPC3N)[56]. This ELISA system was highly sensitive compared to others that have been reported (Table 1). Using this ELISA system, sGPC3N antigen levels of 25 healthy volunteers and 115 HCC patients who had undergone curative partial hepatectomy were measured, and the relationship between sGPC3N and clinicopathological parameters was analyzed[56]. The mean ± standard deviation (SD) of sGPC3 levels in healthy controls was 110.12 ± 37.70 pg/mL, with a median value of 115.95 pg/mL. In HCC patients, sGPC3N levels were significantly increased compared to healthy controls and showed mean and median values of 405.16 pg/mL and 236.19 pg/mL, respectively. About 60% of HCC cases showed abnormally high sGPC3N levels (i.e., > mean GPC3 + 2 SD of healthy controls) in preoperative sera and the levels declined significantly after curative partial hepatectomy[56]. Notably, we observed that high preoperative sGPC3N levels were significantly associated with shorter OS and DFS after hepatectomy and also with larger GPC3 IHC-positive areas in the resected HCC tissues. More importantly, multivariate analysis revealed that elevated sGPC3N was an independent prognostic marker for poor OS or DFS[56].
FUNCTIONS OF GPC3 IN HCC PROGRESSION
An important remaining question is whether GPC3 has a direct role in the aggressive behavior of HCC cells, or whether the expression is simply an epiphenomenon of malignant progression. Some experimental evidence has suggested that it is a direct relationship, but interpretation is complicated by the roles of cellular GPC3 in HCC cell biology. Cell surface GPC3 forms a complex with Wnt via its HS side chains and stimulates Wnt/β-catenin signaling in HCC cells (Figure 2)[57]. Sulfatase 2 (SULF2), an enzyme that removes 6-O-sulfate groups from HS, is also overexpressed in HCC cells and releases Wnt from the GPC3/Wnt complex, which also upregulates Wnt signaling[58]. Cell surface GPC3 may also act as a storage site for heparin-binding growth factors, such as FGF, hepatocyte growth factor (HGF) and heparin-binding epidermal growth factor, all of which are likely involved in the invasive growth of HCC cells via ERK and/or AKT signaling (Figure 2)[59,60]. A recent study suggested that high expression levels of GPC3 may promote the epithelial-mesenchymal transition (EMT) of HCC cells through ERK activation[61], and EMT is known to be involved in the metastatic phenotype and drug resistance of cancer cells[62]. On the other hand, enhanced shedding of GPC3 with HS side chains may eliminate GPC3-attached Wnt and growth factors from HCC's cell surface or may show dominant-negative effects by neutralizing these GPC3-binding factors in the pericellular microenvironment[59]. Therefore, GPC3 may have both positive and negative effects on Wnt signaling and pericellular growth factor activities.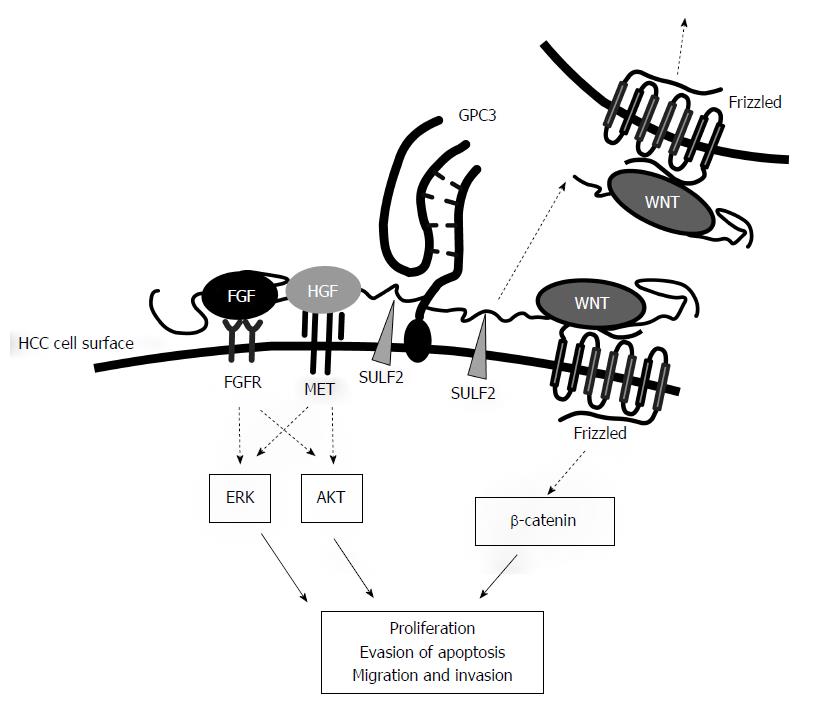 Figure 2 Possible roles of glypican-3 in progression of hepatocellular carcinoma. Cell surface glypican-3 (GPC3) forms a complex with Wnt and heparin-binding growth factors such as fibroblast growth factor (FGF) and hepatocyte growth factor (HGF) via its heparan sulfate (HS) side chains and stimulates receptor-mediated signaling in hepatocellular carcinoma (HCC) cells. SULF2 expressed in HCC cells cleaves the HS to release these ligands from the GPC3/ligand complex, which may also upregulate signaling in neighboring HCC cells.
The oncoprotein c-Myc may also contribute to the presumed GPC3-induced malignant phenotypes. In the GPC3 gene promoter region, Li et al[63] identified a binding site for c-Myc, and the binding of c-Myc directly activated the transcription of the GPC3 gene. Interestingly, GPC3 also upregulated c-Myc expression, which eventually forms a positive feedback signaling loop between GPC3 and c-Myc in HCC cells[63].
Studies with GPC3-deficient mice indicated that loss of GPC3 function impaired the differentiation of macrophage lineage cells, resulting in the reduction of monocyte/macrophage precursor-derived osteoclasts in the diaphysis of the bone[64]. This evidence may suggest a relationship between macrophage function and GPC3. In many solid tumors, intratumoral infiltration of macrophages and the shift of their polarity to M2 phenotype have important roles in malignant progression[65]. Thus, we used IHC to assess the association of GPC3 expression with the number of tumor-associated macrophages (TAM) and their polarity in HCC tissues. Our results indicated that enhanced circumferential membranous staining of GPC3 (i.e., a high A-Cm score) was associated with increased TAM with an M2-polarized phenotype[66,67]. We also observed a correlation between a high A-Cm score and the expression of monocarboxylate transporter 4 (MCT4) in HCC cells, and patients with MCT4-positive HCC also had poor prognoses[67]. MCT4 is an important proton symporter that regulates intracellular pH, and its expression is regulated by HIF1 signaling. Enhanced expression of MCT4 has been reported in many solid cancers[68]. It is currently unknown whether GPC3 expression and MCT4 expression are functionally related in HCC. Nonetheless, the pericellular microenvironment of HCC cells may have important roles in GPC3 expression.
GPC3-TARGETING IMMUNOTHERAPY
HCC is an extremely malignant tumor. Many researchers and clinicians are searching for novel treatment strategies for this deadly disease, including molecular targeting therapy, immune therapy, oncolytic virotherapy and microRNA-based therapy[69-73]. The humanized anti-GPC3 monoclonal antibody GC33 shows significant cytotoxic activity against GPC3-expressing human HCC cell lines in vivo through ADCC and/or CDC[33,34]. The first clinical phase I study of humanized GC33 was performed in the United States, and the results were reported in 2013[74]. Twenty patients with advanced HCC were treated with humanized GC33 antibody (2.5-20 mg/kg, iv, weekly), and there were no dose-limiting toxicities[74]. Another phase I trial in Japanese HCC patients also showed that GC33 given up to 20 mg/kg weekly was well tolerated[75]. A randomized phase II trial of humanized GC33 was performed in 185 advanced HCC patients, the results of which were presented at the 2014 ASCO meeting by Yen et al[76] Prior to randomization of the patients, they were separated into 3 groups based on the GPC3 expression levels judged by IHC. The 121 randomized patients were then treated with humanized GC33 (1600 mg every two weeks, iv, after two weekly doses), and 64 patients were treated with a placebo. Median progression-free survival (PFS) in the humanized GC33 and placebo groups were 2.6 and 1.5 mo, respectively (HR: 0.97, P = 0.87)[76]. Therefore, treatment of humanized GC33 did not show a benefit in this trial. However, exposure-efficacy analysis suggested that higher exposure of GC33 with FcγR3A-158V polymorphism or CD16 expression intensity may correlate with prolonged PFS[76]. As GC33 induces cytotoxic effects through ADCC and/or CDC, antibody concentration and efficacy of immune responses in HCC tissue might be critical. Further studies analyzing the immuno-microenvironmental factors in GPC3-expressing HCC are warranted.
GPC3 is also considered an immunotherapeutic target for peptide vaccine therapies[77-79]. Komori et al[78] developed HLA-A2 and -A24-restricted GPC3-derived peptide vaccines (GPC3144-152: FVGEFFTDV and GPC3298-306: EYILSLEEL, respectively). The patients who were induced by the peptides showed increased GPC3-specific cytotoxic T cells (CTLs). Then, by using these two peptides, a phase I trial was performed, in which 39 Japanese patients with advanced HCC were enrolled[80]. No severe common adverse events were observed, and one patient showed partial response and 19 patients showed stable disease. Notably, GPC3-specific CTLs were increased in 30 patients, and the frequency of the GPC3-specific CTLs correlated with OS[80]. On the other hand, development of T cells expressing GPC3-targeting chimeric antigen receptor was reported, which potently eliminated GPC3-positive HCC cell xenografts[81].
The chimeric proteins composed of an antibody fragment fused to a toxin (i.e., immunotoxins) may also have a therapeutic potential in GPC3-targeting therapies. Recently, Gao et al[82] reported successful regression of tumor xenografts of two human liver cancer cell lines, Hep3B and HepG2, by treatment with anti-GPC3 immunotoxin. They used two anti-GPC3 monoclonal antibodies (HN3 and YP7) conjugated to Pseudomonas exotoxin A. HN3 inhibited Wnt signaling induced by GPC3[83] and YP7 recognized an epitope in the C-terminus portion of GPC3. HN3-immunotoxin treatment showed superior anti-tumor effects compared to YP7-immunotoxin[81].
CONCLUSION
GPC3 is frequently overexpressed in HCC, and its expression level serves as a promising prognostic biomarker. GPC3 may also be a promising molecular target for the development of innovative therapies to improve prognosis of HCC patients. Although a clinical benefit of GPC3-targeting therapy has not yet been confirmed in HCC patients, researchers are actively investigating novel strategies to develop GPC3-targeted therapies for the treatment of HCC.
P- Reviewer: Ding HG, El-Hawary AK, Tziomalos K S- Editor: Yu J L- Editor: A E- Editor: Wang CH