Copyright
©The Author(s) 2016.
Published by Baishideng Publishing Group Inc. All rights reserved.
Left ventricular function assessment in cirrhosis: Current methods and future directions
Francisco Sampaio, Cardiology Department, Centro Hospitalar de Gaia/Espinho, 4430-502 Vila Nova de Gaia, Portugal
Francisco Sampaio, Joana Pimenta, Cardiovascular Research & Development Unit, Faculty of Medicine, University of Porto, 4200-319 Porto, Portugal
Author contributions: Sampaio F reviewed the literature and drafted the paper; Pimenta J reviewed the paper critically for important intellectual content; both authors read and approved the final version of the manuscript.
Conflict-of-interest statement: The authors have no conflict of interest to report.
Open-Access: This article is an open-access article which was selected by an in-house editor and fully peer-reviewed by external reviewers. It is distributed in accordance with the Creative Commons Attribution Non Commercial (CC BY-NC 4.0) license, which permits others to distribute, remix, adapt, build upon this work non-commercially, and license their derivative works on different terms, provided the original work is properly cited and the use is non-commercial. See: http://creativecommons.org/licenses/by-nc/4.0/
Correspondence to: Francisco Sampaio, MD, PhD, Cardiology Department, Centro Hospitalar de Gaia/Espinho, Rua Conceição Fernandes, 4430-502 Vila Nova de Gaia, Portugal. fpasampaio@gmail.com
Telephone: +351-227-865100 Fax: +351-227-830209
Received: April 27, 2015
Peer-review started: April 29, 2015
First decision: July 14, 2015
Revised: July 29, 2015
Accepted: October 13, 2015
Article in press: October 13, 2015
Published online: January 7, 2016

Cirrhotic cardiomyopathy has been defined as a chronic cardiac dysfunction in patients with cirrhosis characterized by impaired contractile responsiveness to stress and/or altered diastolic relaxation with electrophysiological abnormalities in the absence of other known cardiac disease. Non-invasive cardiovascular imaging modalities play a major role in unmasking systolic and diastolic dysfunction in patients with cirrhosis. Echocardiography has been the most commonly used modality for assessing myocardial function in these patients. Conventional echocardiographic indices rely on several assumptions that may limit their applicability in patients with a hyperdynamic circulation. Newer imaging modalities may contribute to a more accurate diagnosis of cardiovascular abnormalities in cirrhotic patients, thereby influencing clinical management. We aimed to review the different non-invasive imaging technologies currently used for assessing left ventricular systolic and diastolic function in cirrhosis, as well as to describe new imaging modalities with potential clinical applicability in the near future.
Core tip: Cardiac dysfunction has been documented in cirrhosis. Conventional non-invasive methods are frequently used to detect abnormalities. Newer imaging techniques have been developed and can contribute to a more accurate diagnosis of cirrhotic cardiomyopathy. However, it is essential to understand the strengths and limitations of every modality in order to correctly interpret the results. Currently applied methods for assessing left ventricular myocardial function as well as future perspectives are reviewed.
---
Citation: Sampaio F, Pimenta J. Left ventricular function assessment in cirrhosis: Current methods and future directions. World J Gastroenterol 2016; 22(1): 112-125
---
INTRODUCTION
Cardiovascular dysfunction in patients with cirrhosis has been recognized for more than sixty years[1,2]. These abnormalities were initially attributed exclusively to the effects of alcohol; however findings from animal and clinical studies performed during the last decades, lent support to the existence of a specific cardiomyopathy in cirrhosis, irrespective of its etiology[3]. Based on these reports, in 2005, cirrhotic cardiomyopathy was defined as a "chronic cardiac dysfunction in patients with cirrhosis characterized by impaired contractile responsiveness to stress and/or altered diastolic relaxation with electrophysiological abnormalities in the absence of other known cardiac disease". Several criteria for diagnosing this entity were proposed, relying mostly on non-invasive assessment of myocardial function[4-6].
In the last years, the role of cardiac imaging in the management of cardiovascular diseases has been increasingly important. The development of newer imaging modalities resulted in an improvement in diagnostic accuracy and prognostic information thereby influencing clinical management of several cardiac disorders. Although the role of these methods in the diagnostic work-up of cirrhotic cardiomyopathy is still uncertain, several recent studies suggested their utility in unmasking myocardial dysfunction in this population[7,8]. The aim of this paper is to review the different non-invasive imaging technologies currently used for assessing left ventricular systolic and diastolic function in cirrhosis, as well as to describe new imaging modalities with potential clinical applicability in the near future.
SYSTOLIC FUNCTION
Ejection fraction (EF) is the most widely used parameter of global left ventricular systolic function. It is calculated from end-systolic and end-diastolic volumes, which can be estimated by different methods.
Echocardiography was the most commonly used modality for assessing EF in studies in cirrhosis[9-11]. The disk summation method in two orthogonal planes (modified Simpson's rule; Figure 1) is still the method of choice for calculating ejection fraction in recent recommendations[12]. Volumes and EF derived from linear dimensions may be very inaccurate in several conditions and should not be used. Three-dimensional echocardiography (3DE) is becoming more available and increasingly used in clinical practice (Figure 1). Left ventricular volumes derived from 3DE do not rely on geometrical assumptions and may be more accurate and reproducible, when compared to cardiac magnetic resonance (CMR)[13-16]. Fully automated software is commercially available allowing fast online measurements and better reproducibility. However, 3DE is highly dependent on image quality and has lower temporal resolution than two-dimensional echocardiography (2DE); some ultrasound systems still require electrocardiogram gating and breath hold making it more prone to artifacts. These issues may limit its applicability in cirrhotic patients with tachycardia and/or unable to hold their breath[17]. Volumes obtained with 3DE are larger than 2DE-derived volumes and should not be used inter-changeably in serial measurements[12]. To the best of our knowledge, there are no studies comparing 3DE with 2DE or CMR in cirrhosis; hence, its validity in this specific setting remains unproven.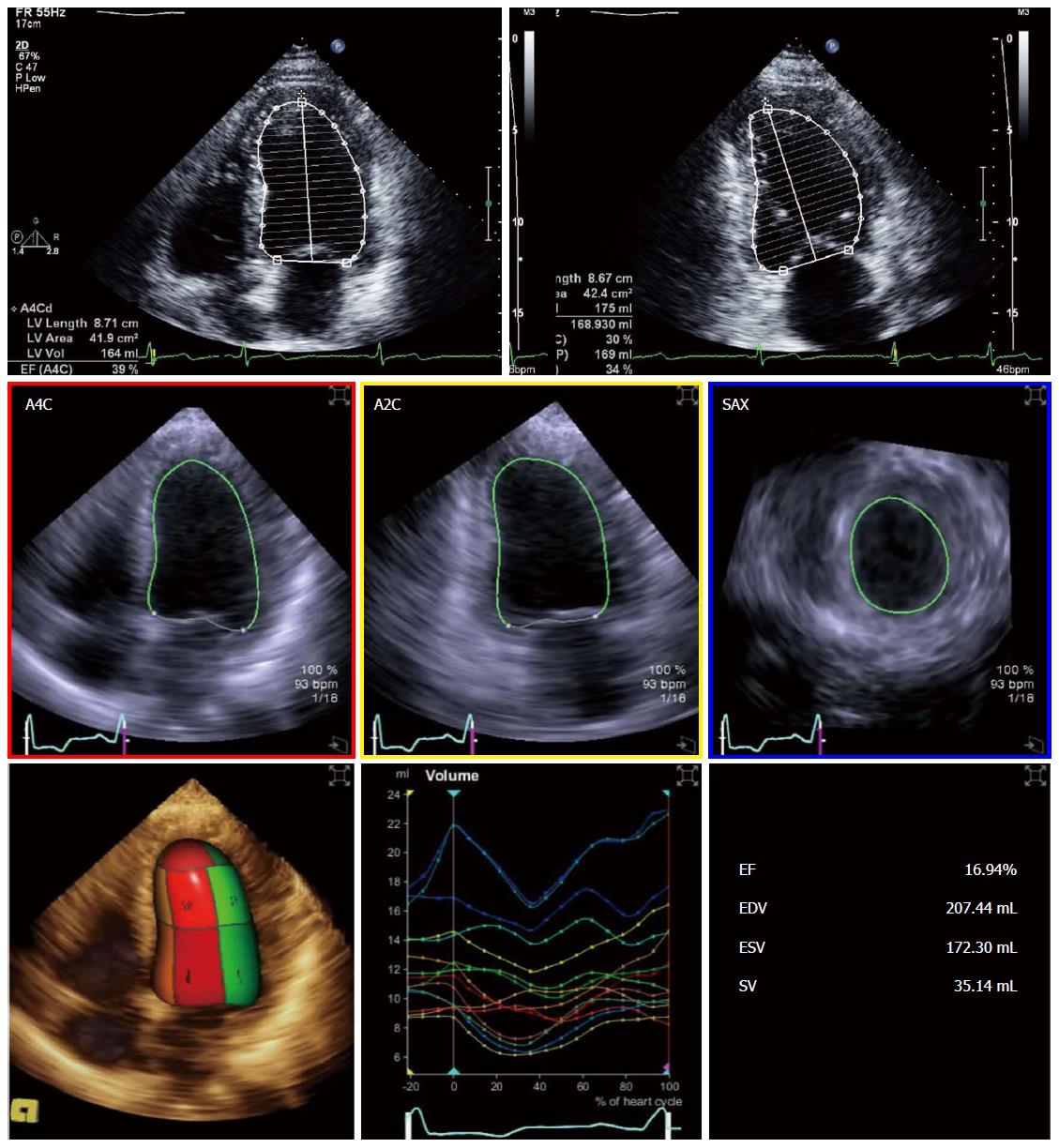 Figure 1 Ejection fraction determination using two-dimensional (biplane Simpson's method - upper panel) and three-dimensional echocardiography (fully automated software - lower panel).
Cardiac magnetic resonance has evolved into the reference standard methodology for assessment of cardiac morphology and volumes[18,19]. Such as echocardiography it provides morphological and functional information, does not use ionizing radiation and has a better spatial resolution than 2DE. Volumes obtained with CMR are also larger than echocardiography-derived values[16,20-22]. The widespread use of this method is limited by availability and cost. Its use in cirrhotic patients may also be hampered by the need of repeated end-expiratory apneas for image acquisition and tachycardia (decreasing temporal resolution) or irregular heart rates. Current development of improved free breathing and short breath-hold sequences may soften some of these problems in the near future[23,24].
Computed tomography and single photon emission computed tomography (SPECT) are alternative modalities for calculating EF and some studies in cirrhosis have used SPECT to quantify LV function[25,26]. However, these methods are limited by low temporal resolution and radiation.
According to the current consensus, an EF of less than 52% in men and 54% in women, using 2DE, suggests systolic dysfunction. Reference values for 3DE may be different since there is less published data on normal subjects[12]. Higher cut-off values may also apply to CMR[27]. In the 2005 World Congress of Gastroenterology, a resting EF < 55% was proposed as a diagnostic criteria of systolic dysfunction. However, since EF is highly dependent on loading conditions, a higher cut-off value may need to be considered in patients with cirrhosis due to the peripheral vasodilatation and decreased afterload. This probably explains the finding of normal resting ejection fraction in the majority of the studies in cirrhosis[5,28-30].
NEWER INDICES OF SYSTOLIC FUNCTION
Although widely used in systolic function assessment, EF has several limitations. Ejection fraction is not an index of contractility and depends on loading conditions, heart rate and valvular function[31]. Besides, EF relies on accurate tracing of endocardial borders and the inter-observer agreement in different measurements can be modest[32].
Tissue Doppler imaging (TDI) and speckle tracking echocardiography are newer imaging modalities able to objectively quantify regional and global LV function. Deformation is computed from the spatial gradients of myocardial velocities (using TDI) or from the relative position of "speckles" within a myocardial region, along the cardiac cycle (speckle tracking). Strain (ε) is the fractional change in length of a myocardial segment relative to its original dimension, and is expressed as a percentage (%). Strain rate (SR) is the change in strain over a period of time and is usually expressed as 1/s or s-1. Both TDI and speckle tracking have strengths and weaknesses, that are described in detail elsewhere[33,34]. Briefly, TDI is mainly limited by angle-dependency (making it unsuitable to assess circumferential motion) and by artifacts, while speckle tracking has lower temporal resolution, which may limit its use in patients with higher heart rates (such as patients with decompensated cirrhosis) or in the assessment of short-lived events. Speckle tracking has the advantage of being able to quantify all the components of myocardial mechanics (longitudinal, circumferential and radial motion/deformation as well as rotation and torsion; Figure 2) within the image plane. It may also be more reproducible than TDI[35-39]. There is a large body of evidence supporting the clinical utility of myocardial deformation analysis in cardiovascular disease. These methods were successfully used in identifying subclinical myocardial dysfunction in different settings, in the improvement of the performance of stress echocardiography for diagnosing coronary artery disease, in the assessment of therapeutic interventions in cardiomyopathies and in the prediction of outcomes[40-48]. Left ventricular longitudinal dysfunction has also been previously documented in patients with cirrhosis, at rest[7,8]. Longitudinally oriented subendocardial fibers are more susceptible to damage than the radial fibers of the middle myocardium layer and this probably accounts for these findings. Loading conditions also influence strain and strain rate[49-51] and this should be taken into account when interpreting strain results in patients with cirrhosis, since the decreased afterload secondary to peripheral vasodilatation improves strain values. This may explain previous findings of strain values within the normal range in patients with decompensated cirrhosis as well as similar strain between hospitalized and ambulatory patients[7,8,52].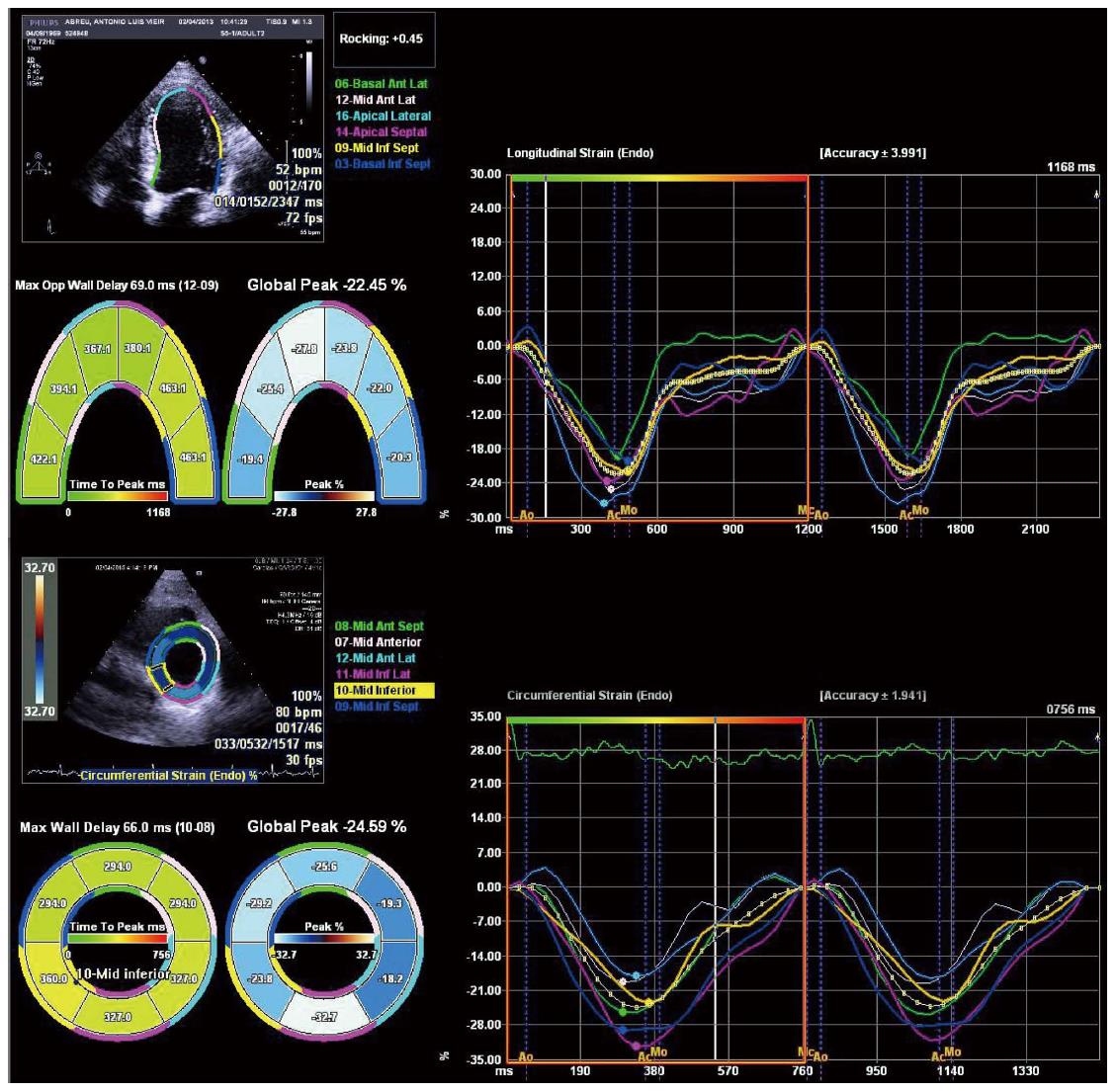 Figure 2 Left ventricular deformation analysis using speckle tracking echocardiography.
Longitudinal (top panel) and circumferential (lower panel) strain curves are displayed.
The presence of an abnormal response to exercise or pharmacological stress has been reported as a feature of cirrhotic cardiomyopathy[26,53-58]. Limitations of classical non-invasive parameters of systolic function also apply under stress (particularly pharmacological stress). Deformation may also be assessed during stress and abnormalities in the response of myocardial deformation to exercise have been found in heart failure patients, using speckle tracking[59]. The improvement in longitudinal strain under low-dose dobutamine may be lower in patients with cirrhosis when compared to a control group suggesting that longitudinal dysfunction can contribute to the inotropic incompetence previously documented in these patients[60].
A major limitation to the widespread use of speckle tracking in routine clinical practice is the significant variability that exists among vendors and software packages that prevent the definition of normal reference values. Likewise, abnormal strain variations in follow-up echocardiographic studies cannot be safely determined when using different analysis software[61,62]. An effort to implement standardization in strain imaging is currently underway and will hopefully reduce intervenor variability of strain[63].
DIASTOLIC FUNCTION
Diastolic dysfunction (DD) has been reported as a common finding in patients with cirrhosis. Abnormalities in membrane receptor function and intracellular signaling pathways, as well as changes in contractile proteins and extracellular matrix composition are probably involved in the pathogenesis of DD in cirrhosis[64-68].
Non-invasive assessment of DD has classically relied on the echocardiographic analysis of mitral inflow pattern using pulsed-wave Doppler (Figure 3). In the presence of mild DD, early diastolic filling is decreased as a result of delayed LV relaxation and atrial contraction becomes a more important contributor to left ventricular filling. This impaired relaxation pattern (grade I DD) is characterized by a decrease in E wave velocity, prolongation of E-wave deceleration time, and an increase in A wave velocity resulting in an inverted E/A ratio (< 1). With worsening DD, the increase in left atrial pressure restores the early diastolic pressure gradient, increasing E wave velocity; on the other hand, LV pressure at the end of diastole is higher, so that the contribution of atrial contraction (A wave) is reduced. So, in grade II DD, mitral flow is similar to that in the normal individual (hence called pseudonormal pattern), with the E wave again greater than the A wave. The Valsalva maneuver, which decreases preload, can be used to differentiate a normal from a pseudonormal pattern since the latter is changed to an impaired relaxation pattern during the maneuver. With even more severe DD (grade III), there is a marked elevation in LA and LV pressures and most filling occurs during early diastole. In this restrictive pattern, E wave velocity is increased, E wave deceleration time is very short (< 160 mseg) and the E/A ratio is > 1.5.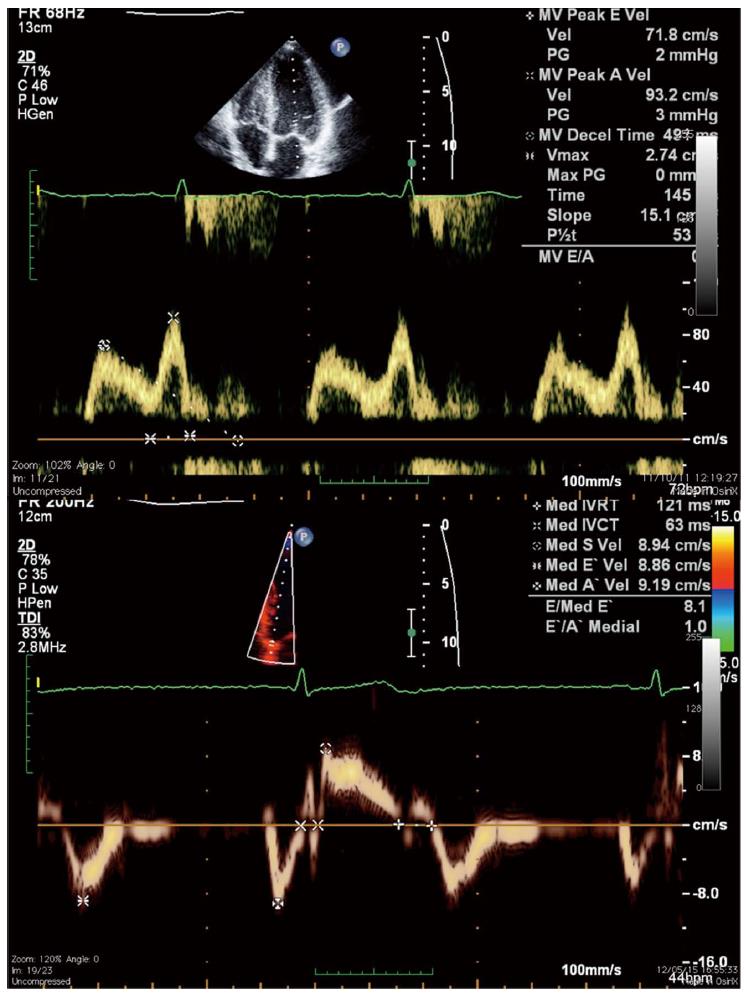 Figure 3 Mitral inflow velocities using pulsed-wave Doppler showing a impaired relaxation pattern (top), and tissue-Doppler derived mitral annulus velocities at the septal wall (bottom).
Diastolic dysfunction, as defined in the 2005 World Congress of Gastroenterology (E/A ratio < 1.0, deceleration time > 200 ms and isovolumetric relaxation time > 80 ms, is highly prevalent in patients with cirrhosis[10,69,70]. An association between liver disease severity and DD and an improvement in DD after paracentesis has also been reported. Earlier studies also suggested that DD was related to the liver disease severity and improved after paracentesis[10,71]. More importantly, an association between an E/A ratio < 1 and increased mortality and slower mobilization of ascites after transjugular intrahepatic portosystemic shunt (TIPS) insertion has been suggested[72,73].
However, mitral inflow-based assessment of diastolic function has several limitations that should be taken into account[74-78]. Different loading and heart rate can significantly change the E/A ratio and DT, even in normal subjects[79-81]. This can be a major issue in cirrhotic patients, due to the blood pooling in the splanchnic bed and reduced preload which, along with faster heart rates, may result in lower E/A ratios, regardless of the presence of impaired relaxation. This can also contribute to the association of this pattern with mortality since there is usually a direct relation between hyperdynamic circulation and disease severity[82]. Besides, impaired relaxation has a better prognosis than more advanced stages of DD, both in the general population and in heart failure patients[83,84].
Acknowledging the pitfalls of mitral-flow variables, recommendations for evaluating left ventricular diastolic function by echocardiography have been issued in 2009[80]. According to this consensus document, tissue-Doppler diastolic velocities of the mitral annulus play a major role on DD assessment (Figure 3). Early diastolic annular velocity (E') is a sensitive parameter of myocardial relaxation[85-87]. E' is also a surrogate marker of the volume that enters the left ventricle during early diastole. Since E wave velocity reflects the pressure gradient between the left atrium and left ventricle, the E/E' ratio represents the volume that enters the ventricle for a given LA-LV pressure gradient. A high E/E' ratio means that there is a small volume change between the two chambers despite a high pressure gradient, reflecting diastolic dysfunction with an increase in left ventricular filling pressure[88,89].
Using a tissue-Doppler based approach, some studies have found a lower prevalence of DD in cirrhotic patients; furthermore, the prevalence of DD did not differ between disease stages[8,52,90,91]. The association between DD and prognosis also remains controversial, with conflicting results reported in different studies[52,92-94].
Although a clear advance in the diagnostic workup of DD, tissue-Doppler based parameters are not flawless, and E/E' may not adequately reflect left ventricular filling pressures in different settings. Hence, the diagnosis of DD should not rely on a single measurement and a multi-parameter approach (including tissue-Doppler mitral annulus velocities, pulsed-waved Doppler mitral inflow and pulmonary veins velocities, and left atrial volume) is usually recommended[80,95]. Unfortunately, the use of these more complex algorithms results in some variability in the classification of DD, even among expert echocardiographers[96,97]. This probably explains some of the differences in the prevalence of DD among more recent studies in cirrhosis.
Speckle tracking echocardiography can also provide information regarding diastolic function, through the analysis of strain rate during isovolumic relaxation, early filling and late diastole[33,85]. However, the lower temporal resolution of speckle tracking can limit the analysis of fast events (such as those during diastole), and there is no evidence to support its superiority over the already established TDI parameters[98].
Left atrial volume, preferably indexed to body surface area, is a mandatory measurement for the assessment of diastolic function. Left atrial volume index (LAVI) is strongly associated with the severity and duration of DD reflecting the cumulative effects of elevated filling pressures over time[83]. As for LV volumes and EF, the disk summation algorithm is the recommended method for calculating LAVI (Figure 4)[12]. An increase in LAVI has also been reported in cirrhosis, which has been interpreted as a marker of DD in these patients[29]. However, dilated atria may also be seen in patients with volume overload, anemia or other high-output states such as cirrhosis. We have previously found that, in a cohort of patients with cirrhosis of several etiologies, LAVI was associated with stroke volume, LV end-diastolic volume and hemoglobin and not with diastolic dysfunction, suggesting that atrial enlargement in cirrhosis may be related to loading conditions and should not be used as a marker of DD[99]. Speckle tracking echocardiography can also be used in the assessment of left atrial phasic volumes and deformation, providing information about left atrial function (Figure 5)[100,101]. Atrial dysfunction may be involved in the pathophysiology of heart failure with preserved ejection fraction and may be associated with symptom onset[102-105]. Left atrial longitudinal strain correlates better with LV filling pressures than LA volume or other echocardiographic indices such as the E/E' ratio[106,107]. A decrease in LA longitudinal strain has also been reported in patients with cirrhosis, and this seems to relate to abnormal relaxation in these patients[99].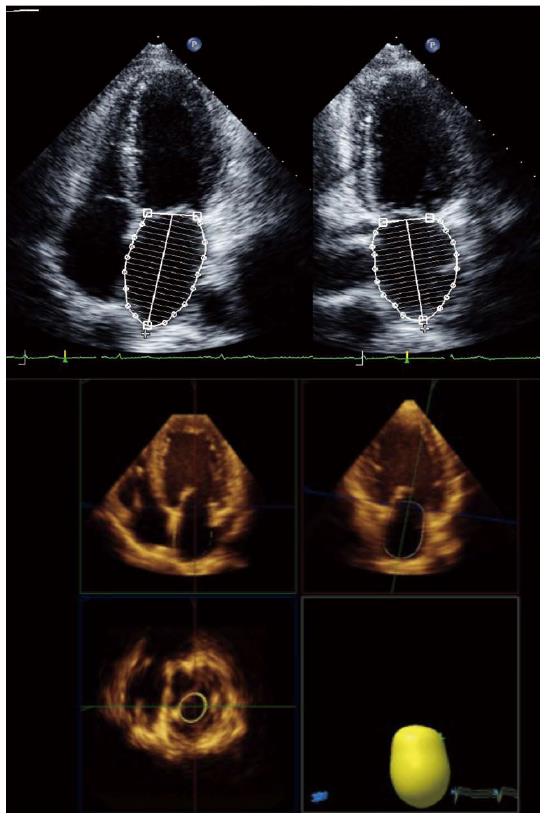 Figure 4 Left atrial volume quantification using two-dimensional (biplane Simpson's method - upper panel) and three-dimensional echocardiography (lower panel).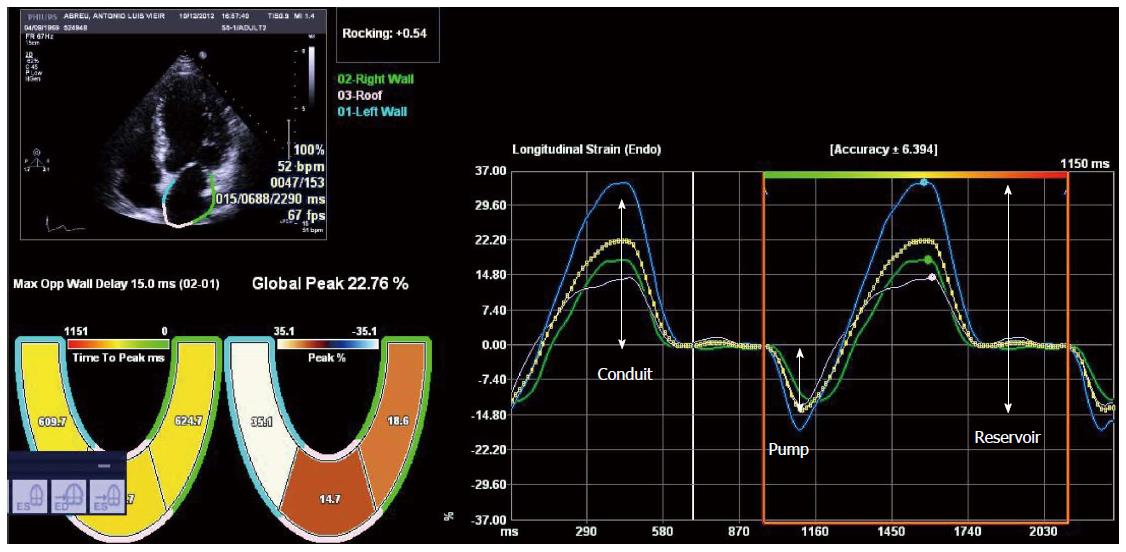 Figure 5 Left atrial deformation analysis using speckle tracking echocardiography.
Reservoir, conduit and pump function of the left atrium during the cardiac cycle can be quantified from the strain curves.
Magnetic resonance can be used to study diastolic function[108]. Both mitral inflow and pulmonary vein velocities can easily be determined and a good correlation with echocardiography-derived indices has been demonstrated[109]. However, like echocardiographic variables, mitral inflow velocities calculated by magnetic resonance are heavily dependent on loading conditions and heart rate. Availability issues, costs, and lower temporal resolution (when compared to echocardiography) also hamper cardiac magnetic resonance limiting its use to patients in which echocardiography is non-diagnostic.
Magnetic resonance can also be used to detect myocardial fibrosis through the quantification of late gadolinium enhancement (LGE). A diffuse pattern of intramyocardial LGE has been previously described in patients with cirrhosis; the authors did not analyze a possible relation between LGE extent and DD indices[110]. The use of gadolinium-based contrast agents should be very cautious in patients with renal failure due to case-reports of nephrogenic systemic fibrosis induced by older linear gadolinium chelates[111]. This may be an issue in patients with advanced cirrhosis and hepatorenal syndrome.
FUTURE PERSPECTIVES
Three-dimensional echocardiography will improve to allow the acquisition of single-heartbeat full-volume data sets with higher temporal and spatial resolution. Chamber volume quantification will become quicker, more simple and reproducible with the use of fully automated software (Figures 1 and 4). Three-dimensional speckle tracking can analyze the deformation of the heart from a single data set. Although limited by a lower temporal resolution, 3D speckle tracking use will result in a more complete and more accurate analysis of myocardial function[112].
Myocardial deformation can also be quantified with CMR. Systolic and diastolic strain rate, atrial deformation parameters and twisting/untwisting are indices of myocardial function that can be assessed with CMR[113-115]. Newer technologies, like feature tracking (a technique analogous to speckle tracking, which tracks tissue voxel motion of CMR cine images) will result in faster scans and post-processing analysis times (Figure 6).
T1 mapping is a new CMR application that quantifies T1 relaxation times for each myocardial pixel. With the use of gadolinium-based contrast agent, the extracellular volume fraction of the myocardium - a surrogate marker of the size of extracellular matrix - can also be quantified. This may allow for the detection and quantification of diffuse myocardial involvement in different disease processes. A detailed description of technical aspects of these new modalities can be found elsewhere[116,117]. T1 mapping has been a field of intensive research in the last few years. Its usefulness in diagnosing infiltrative diseases (such has amyloidosis, Fabry disease or iron overload) as well as the diagnostic and prognostic value of fibrosis quantification in heart failure, cardiomyopathies, myocarditis or cardiac involvement in systemic diseases has been suggested in several studies[118-132]. Although never previously reported, its use in cirrhosis, conceptually, appears to be very promising. However, issues regarding standardization still preclude clinical use of T1 mapping and this technique is mainly in the research field[116].
In conclusion, these newer CMR technologies, along with classical volume determination, flow analysis and late enhancement quantification will allow a comprehensive evaluation of myocardial function in a single exam, not dependent on a good "acoustic window" for image acquisition and with no radiation.
CONCLUSION
A large number of parameters derived from different imaging modalities are currently available for the assessment of left ventricular function. Newer technologies will become widely available in the near future, allowing a detailed evaluation of myocardial function, and improving the diagnostic accuracy of the tests. However one must be aware of the limitations of every parameter in order to correctly interpret the results. On the other hand, the use of these new methods in cirrhosis has been limited to a few studies and further work is needed to evaluate their diagnostic performance and, more importantly, the impact on clinical management of this specific group of patients.
P- Reviewer: Hollingsworth KG S- Editor: Yu J L- Editor: A E- Editor: Zhang DN