Copyright
©The Author(s) 2015.
Published by Baishideng Publishing Group Inc. All rights reserved.
Acute-on-chronic liver failure: Pathogenesis, prognostic factors and management
Sara Blasco-Algora, José Masegosa-Ataz, María Luisa Gutiérrez-García, Sonia Alonso-López, Conrado M Fernández-Rodríguez, Service of Gastroenterology, Hospital Universitario Fundación, 28922 Alcorcón, Madrid, Spain
Author contributions: Blasco-Algora S, Masegosa-Ataz J, Gutiérrez-García ML, Alonso-López S and Fernández-Rodríguez CM contributed to the study idea, study design, literature search, manuscript writing and final revision of the article.
Conflict-of-interest statement: The authors declared that they do not have anything to disclose regarding funding or conflict of interest with respect to this manuscript.
Open-Access: This article is an open-access article which was selected by an in-house editor and fully peer-reviewed by external reviewers. It is distributed in accordance with the Creative Commons Attribution Non Commercial (CC BY-NC 4.0) license, which permits others to distribute, remix, adapt, build upon this work non-commercially, and license their derivative works on different terms, provided the original work is properly cited and the use is non-commercial. See: http://creativecommons.org/licenses/by-nc/4.0/
Correspondence to: Conrado M Fernandez-Rodriguez, MD, Service of Gastroenterology, Hospital Universitario Fundación, Alcorcón, Av Budapest-1, 28922 Alcorcón, Madrid, Spain. cfernandez@fhalcorcon.es
Telephone: +34-91-6219513 Fax: +34-91-6219975
Received: June 28, 2015
Peer-review started: July 1, 2015
First decision: July 20, 2015
Revised: August 17, 2015
Accepted: September 30, 2015
Article in press: September 30, 2015
Published online: November 14, 2015

Acute-on-chronic liver failure (ACLF) is increasingly recognized as a complex syndrome that is reversible in many cases. It is characterized by an acute deterioration of liver function in the background of a pre-existing chronic liver disease often associated with a high short-term mortality rate. Organ failure (OF) is always associated, and plays a key role in determining the course, and the outcome of the disease. The definition of ACLF remains controversial due to its overall ambiguity, with several disparate criteria among various associations dedicated to the study of liver diseases. Although the precise pathogenesis needs to be clarified, it appears that an altered host response to injury might be a contributing factor caused by immune dysfunction, ultimately leading to a pro-inflammatory status, and eventually to OF. The PIRO concept (Predisposition, Insult, Response and Organ Failure) has been proposed to better approach the underlying mechanisms. It is accepted that ACLF is a different and specific form of liver failure, where a precipitating event is always involved, even though it cannot always be ascertained. According to several studies, infections and active alcoholism often trigger ACLF. Viral hepatitis, gastrointestinal haemorrhage, or drug induced liver injury, which can also provoke the syndrome. This review mainly focuses on the physiopathology and prognostic aspects. We believe these features are essential to further understanding and providing the rationale for improveddisease management strategies.
Core tip: Acute on-chronic liver failure is a newly recognized syndrome characterized by acute deterioration of a compensated or decompensated chronic liver disease, leading to organ failure, and a mortality rate ≥ 15% at 28-d. Pathogenesis involves an exaggerated systemic inflammatory response in the setting of immune dysregulation and oxidative stress. Alcohol is a frequent precipitating factor seen most commonly in the West, and untreated hepatitis B virus infection is more prevalently seen in the East. However, it must be noted, that specific precipitant factors cannot be established in up to the 40% of cases. Recent prospective work has generated data on definition, prevalence, precipitating factors and scoring systems. Treatment of precipitant factors, complications, organ failure support, and liver transplantation are the current therapeutic options.
---
Citation: Blasco-Algora S, Masegosa-Ataz J, Gutiérrez-García ML, Alonso-López S, Fernández-Rodríguez CM. Acute-on-chronic liver failure: Pathogenesis, prognostic factors and management. World J Gastroenterol 2015; 21(42): 12125-12140
---
INTRODUCTION
In recent years, a new clinical form of liver failure has been recognised. Traditionally there were two types of liver failure: Acute liver failure (ALF), a rapid deterioration of the liver function in the absence of pre-existing liver disease, in the setting of an acute hepatic insult and chronic liver failure (CLF), a progressive and slow deterioration over the course of pre-existing end-stage liver disease[1-4]. In 1995, a third type of liver failure was first described[5]: Acute-on-chronic liver failure (ACLF). This new entity is characterised by acute complications of compensated or even decompensated cirrhosis and is characterised by a high rate of organ/system failure(s), and a high short-term mortality rate (> 15% at 28-d). Over the last decade, many definitions have been proposed, based on expert's opinion rather than on evidence-based data. The heterogeneity of definitions illustrates the differences in underlying aetiologies of liver disease between Eastern and Western countries[6-9]. The Asian Pacific Association for the Study of the Liver (APASL) defines ACLF as an "Acute hepatic insult manifesting as jaundice and coagulopathy, complicated within 4 wk by ascites and/or encephalopathy in a patient with previously diagnosed or undiagnosed chronic liver disease"[10]. Whereas, the American Association for the Study of Liver Disease (AASLD)/as well as the European Association for the Study of the Liver (EASL) consensus defines it as: "Acute deterioration of pre-existing, chronic liver disease (CLD), usually related to a precipitating event and associated with increased mortality at 3 mo due to multi-system organ failure"[6,11]. Given the lack of consensus among researchers, a group of investigators from the EASL-Chronic Liver Failure (CLIF) Consortium, undertook a prospective multicenter study in patients with cirrhosis suffering from acute decompensation (AD). The study identified patients with cirrhosis at a high risk of short term mortality. The study also aimed to develop a definition of ACLF. This large study was called EASL-CLIF Acute-on-Chronic Liver Failure in Cirrhosis (CANONIC)[12]. Based on data analysis obtained from 1343 hospitalized patients with cirrhosis and AD, at 29 liver units in 8 European countries this study established diagnostic criteria for ACLF. This study also permitted to know prevalence, precipitating factors, pathogenic mechanism and the phenotypic features of patients with ACLF.
DIAGNOSTIC CRITERIA OF ACLF
In the CANONIC study, the overall prevalence of ACLF was 30.9%. The definition of the ACLF diagnostic criteria was based on the presence of the 3 key characteristics of the syndrome: (1) AD: defined by acute development of large volume ascites, hepatic encephalopathy (HE), gastrointestinal haemorrhage, bacterial infections, or a combination of any of these[4,13-16]. In other words, the acute development of at least one of these major complications of liver disease must be present; (2) organ Failure: defined by a modified SOFA scale (Sequential Organ Failure Assessment) the CLIF-SOFA scale that takes into account some specificities of cirrhosis (Table 1)[17-21]; and (3) short-term mortality (28-d) at least 15%[12].
Organ failure
0
1
2
3
4
Liver (Tbil, mg/L)
< 1.2
≥ 1.2 to < 2.0
≥ 2.0 to < 6.0
≥ 6.0 to < 12
≥ 12.0
Kidney (cr, mg/dL)
< 1.2
≥ 1.2 to < 2.0
≥ 2.0 to < 3.5
≥ 6.0 to < 12
≥ 5.0
Or use of renal replacement therapy
Cerebral (HE grade)
No HE
I
II
III
IV
Coagulation (INR)
< 1.1
≥ 1.1 to < 1.25
≥ 1.25 to < 1.5
≥ 1.5 to < 2.5
≥ 2.5 or PLT ≤ 20 × 109/L
Circulation (MAP, mmHg)
≥ 70
< 70
DA ≤ 5 or DOB or Terlipressin
DA > 5 or E ≤ 0.1 or NE ≤ 0.1
DA > 15 or E 0.1 or NE > 0.1
Lung PaO2/FiO2
> 400
> 300 to ≤ 400
> 200 to ≤ 300
> 100 to ≤ 200
≤ 100
Or SpO2/FiO2
> 512
> 357 to ≤ 512
> 214 to ≤ 357
> 89 to ≤ 214
≤ 89
According to these characteristics, patients admitted to the hospital for an AD can be classified into 4 groups (Table 2). However, the majority of the patients did not have ACLF (77.5%). The Figure 1 summarizes the mortality rate according to the ACLF subtype.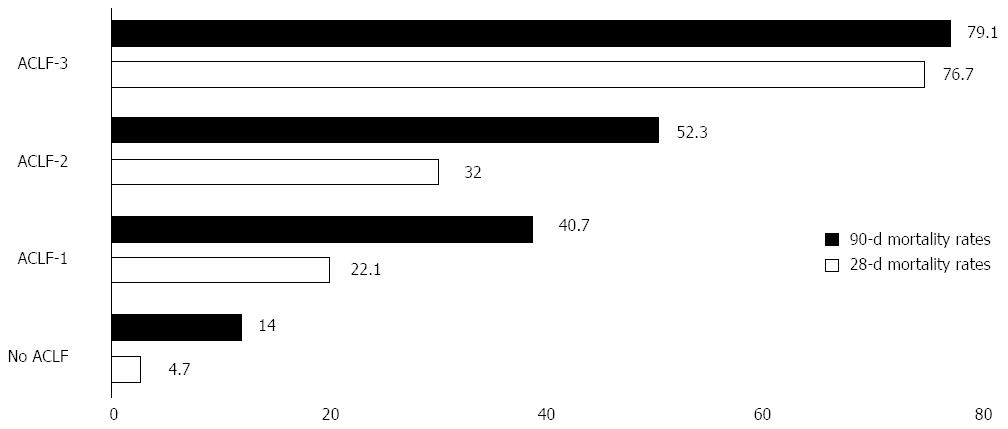 Figure 1 Mortality rates according to the grade of acute-on-chronic liver failure at 28 d and 90 d according to the grade of acute-on-chronic liver failure.
Data from the CANONIC study[12]. Mortality increases with the grade of ACLF, directly related to the type and number of organ failure. ACLF: Acute-on-chronic liver failure.
No. ACLF
ACLF grade 1
Single- organ failure (coagulation, liver, circulation, lungs) in patients with sCr 1.5-1.9 mg/dL and/or grades 1-2 HE or braine failure with sCr range from 1.5-1.9 mg/dL
ACLF grade 2
Two organ failures
ACLF grade 3
Three or more organ failures
PATHOPHYSIOLOGY OF ORGANS FAILURE
PROGNOSIS, PREDICTORS OF MORTALITY
ACLF is associated with a high mortality rate of 50%-90% (which means it is 15 times higher of a rate in patients with ACLF), as compared to patients with an AD without ACLF[12]. Unfortunately, there are no well-established prognostic indicators available for predicting ACLF progression. The discrepancies and unevenness in the definition of ACLF, and therefore the different characteristics of the population under study, has limited research into the identification of clear indicators of severity and outcome predictors[9,135-138]. As previously mentioned, ACLF is a serious illness, in which reversibility is sometimes suggested in about half of the patients, or in other cases can progress to a life-threatening situation. It is, therefore, of fundamental importance to have accurate prognostic indicators in place, to be able to identify patients at high risk of ACLF that may require intensive care treatment, concise clinical decision making to improve management and minimize futile and expensive care. Due to a lack of universally accepted prognostic model for ACLF, many already widely used prognostic models for cirrhosis have been applied for the evaluation of this syndrome. In this regard prognosis scores can be categorized in two: the former that evaluates the severity of liver dysfunction (CPs, MELD) and the latter, global prognostic scores [Acute Physiology and Chronic Health Evaluation (APACHE II) and SOFA]. Several lines of evidence demonstrate that global prognostic scores are superior to specific liver scores for estimation of prognosis in these patients[103,105,139-141]. These findings emphasize the importance of OF in defining the prognosis of ACLF, because once extrahepatic failure has begun, outcome is mainly determined by the degree of end-organ dysfunction and less by the severity of the liver disease[101,104,142-144].
Some studies suggested that APACHE-II is the best predictive scoring system, owing to the fact that in ACLF once liver failure is established the prognosis is determined by the degree of other organ dysfunction and not by the severity of liver failure[10,98,142,145]. In some studies, MELD has been found to be a discrimination factor similar to SOFA and APACHE II[146]. The CLIF-SOFA also proved to be a strong predictor of short-term mortality but does not significantly improve the prediction accuracy of MELD and MELD-Na[18,19]. Recently, based on data from the CANONIC study, a specific prognostic score for ACLF has been developed named the "CLIF-CONSORTIUM score for ACLF" (CLIF-C ACLF score). This score is the result of combining "CLIF-Consortium Organ Failure (CLIF-C OF)" score (designed for the diagnosis of ACLF), and two other independent predictors of mortality (age and white-cell count)[7,135,147]. This new score at ACLF diagnosis showed a significantly higher predictive accuracy than MELDs, MELD-Na and CPs[7,135]. CLIF-C ACLF score has also been shown to be an independent predictor of course severity[45,148].
Furthermore, ACLF has been shown to be dynamic process. In this connection, scoring taking into account dynamic changes, or improvement/impairment in the same score, have shown to predict outcomes[149,150]. In this line, Kumar et al[151] has demonstrated that any improvement in the MELD score over 2 wk suggests a good outcome.
A large number of studies have indicated that the greater the number of organ dysfunction or OF at diagnosis, the lower the ACLF patient survival[12,98,152,153]. The basic mechanism is the importance of systemic inflammation on OF, and its impact on prognosis[132]. Along these lines, ACLF mortality has been associated with loss of organ function (Higher CLIF-SOFA score), high leukocyte counts, and high C-reactive protein (CRP). ACLF is especially severe in patients with no prior history of AD, characterized by higher numbers of OF, higher levels of inflammatory mediators, leukocyte count and higher rates of mortality[12,154]. Patients with ACLF are younger than those without, and age is associated with more vigorous immune response[154]. These data sets do not coincide with the findings from Shi et al[155] suggesting that ACLF patients with or without prior decompensation had comparable short-term prognosis, but the former group was characterized by increased delayed mortality.
Many studies suggest that HE is associated with higher mortality, especially in those with grade III-IV encephalopathy[83,90,151,156]. This association is highlighted by the incorporation of HE to modified scores [i.e., integrated-MELD (iMELD) score] with the aim of improving its predictive value[157,158]. In a recent study from Shi et al[159] when compared ACLF precipitated by hepatic insults to those precipitated by extrahepatic ones, the latter group had significantly higher 90-d and 1-year mortality; however, both groups had comparably high short-term mortality. This study also, demonstrates that the iMELD score may be a better predictor for hepatic-ACLF short-term prognosis, whereas CLIF-C-ACLF might be more beneficial for extrahepatic-ACLF patients. This novel score incorporates age and HE into MELD score, both, strong predictors of prognosis in hepatic-ACLF patients. The iMELD score has better predictive value of 3-mo mortality than the original MELD, SOFA, CLIF-SOFA and CPs in HBV-ACLF patients[158].
Recently, Wu et al[160] established and validated a new score to predict mortality risk in patients with HBV-ACLF. This score named "ALPH-Q score", integrates electrocardiography parameters, age, liver cirrhosis, prothrombin time and HE greater performance than CPs, MELD, and Logistic regression model (LRM) for predicting short-term mortality of patients with HBV-ACLF.
Many other factors summarized at Table 3 had been described.
| | |
| --- | --- |
| High levels of bilirubin | Gustot et al[148], López-Velázquez et al[206], Cordoba et al[90] |
| Age and high INR | Shi et al[155], Cordoba et al[90], Garg et al[146], Kumar et al[151], Moreau et al[152] |
| Decreased serum thyroid-stimulation hormone (TSH) levels | Wu et al[207] |
| Low free T3 levels | Agiasotelli et al[208] |
| Systemic haemodynamic changes | Garg et al[146] |
| Iron metabolism and transport | Maras et al[209] |
| Neutrophil-lymphocyte ratio (NRL) | Lin et al[210], Liu et al[211] |
| Presence of SIRS | Katoonizadeh et al[177], Thabut et al[108] |
| Infection and sepsis | Sargenti et al[212], Bruns et al[164], Linderoth et al[213] |
CONCLUSION
ACLF is a devastating syndrome since it remains a highly prevalent, life-threatening disease, which is clinically, pathophysiologically and prognostically a distinct entity from a mere decompensation of cirrhosis. In ACLF, altered host response to precipitating injury plays a pivotal pathophysiological role, such as SIRS. The degree of background immune paralysis and severity of OF determine the outcome of this syndrome. Ambiguity and variability among researcher groups on definitions criteria hampers precise characterization of this entity. Considerable efforts have been made to delve into the knowledge of this syndrome. Despite the progress, especially in pathophysiology, several questions remain: Fist, treatment strategies are currently limited to organ support; thereby a better understanding of underlying mechanisms will allow the development of new drugs and devices. Second, the absence of consensus on diagnostic criteria hampers the recognition of biomarkers and factors determining the outcome. Third, the most ambitious goal is, probably, the early recognition of this syndrome, in order to implement strategies to avoid the development of OF owing to the reversibility of this profile of liver failure. Finally, a universally accepted definition is urgently needed.
ACKNOWLEDGMENTS
We thank Mrs. Eulalia Grifol for facilitating information searching and providing bibliographic support and Lady Suzanne Edwards for writing and editing assistance.
P- Reviewer: Tai DI S- Editor: Ma YJ L- Editor: A E- Editor: Zhang DN