Copyright
©The Author(s) 2015.
Published by Baishideng Publishing Group Inc. All rights reserved.
Asymmetric dimethylarginine as a mediator of vascular dysfunction in cirrhosis
Paloma Lluch, Department of Gastroenterology and Hepatology and Institute of Health Research INCLIVA, Hospital Clínico Universitario Valencia, 46010 Valencia, Spain
Gloria Segarra, Pascual Medina, Department of Physiology, University of Valencia and Institute of Health Research INCLIVA, Hospital Clínico Universitario Valencia, 46010 Valencia, Spain
Author contributions: All authors contributed equally to this work.
Supported by University of Valencia, Instituto de Salud Carlos III, and Consellería de Sanidad, Generalitat Valenciana.
Conflict-of-interest statement: Authors reported no conflict of interests.
Open-Access: This article is an open-access article which was selected by an in-house editor and fully peer-reviewed by external reviewers. It is distributed in accordance with the Creative Commons Attribution Non Commercial (CC BY-NC 4.0) license, which permits others to distribute, remix, adapt, build upon this work non-commercially, and license their derivative works on different terms, provided the original work is properly cited and the use is non-commercial. See: http://creativecommons.org/licenses/by-nc/4.0/
Correspondence to: Pascual Medina, PhD, Department of Physiology, University of Valencia and Institute of Health Research INCLIVA, Hospital Clínico Universitario Valencia, Avenida Blasco Ibáñez 15, 46010 Valencia, Spain. pascual.medina@uv.es
Telephone: +34-96-3864983 Fax: +34-96-3864642
Received: April 22, 2015
Peer-review started: April 24, 2015
First decision: May 18, 2015
Revised: June 5, 2015
Accepted: July 18, 2015
Article in press: July 18, 2015
Published online: August 28, 2015

Cirrhosis is associated with marked abnormalities in the circulatory function that involve a reduction in systemic vascular resistance. An important cause of this vasodilatation is the increased production or activity of nitric oxide (NO) in the splanchnic circulation. During portal hypertension and cirrhosis an increased endothelial NO synthase (eNOS) activity is demonstrated in splanchnic vessels. In contrast, the activity of eNOS in the cirrhotic liver is decreased, which suggests a different regulation of eNOS in the liver and in the splanchnic vessels. Asymmetric dimethylarginine (ADMA) is an endogenous NO inhibitor and higher plasma levels of ADMA are related to increased cardiovascular risk in both the general population and among patients with cirrhosis. It has been demonstrated that the liver is a key player in the metabolism of ADMA. This observation was further supported by investigations in human patients, showing a close correlation between ADMA plasma levels and the degree of hepatic dysfunction. ADMA is degraded to citrulline and dimethylamine by dimethylarginine dimethylaminohydrolases (DDAHs). DDAHs are expressed as type 1 and 2 isoforms and are widely distributed in various organs and tissues, including the liver. In this review, we discuss experimental and clinical data that document the effects of dimethylarginines on vascular function in cirrhosis. Our increasing understanding of the routes of synthesis and metabolism of methylarginines is beginning to provide insights into novel mechanisms of liver disease and allowing us to identify potential therapeutic opportunities.
Core tip: Several lines of evidence point out that the liver is an important organ clearing asymmetric dimethylarginine (ADMA), an endogenous inhibitor of nitric oxide synthase and a mediator of elevated intrahepatic vascular tone in cirrhosis. ADMA is degraded by dimethylarginine dimethylaminohydrolases that are expressed widely in the liver. Therefore, liver dysfunction could lead to alterations in the levels of ADMA and modifies nitric oxide bioavailability. Our increasing understanding of the routes of synthesis and metabolism of methylarginines is beginning to provide insights into novel mechanisms of liver disease and allowing us to identify potential therapeutic opportunities.
---
Citation: Lluch P, Segarra G, Medina P. Asymmetric dimethylarginine as a mediator of vascular dysfunction in cirrhosis. World J Gastroenterol 2015; 21(32): 9466-9475
---
SYNTHESIS OF NITRIC OXIDE
Nitric oxide (NO) is generated from the metabolism of L-arginine by three isoforms of NO synthase (NOS), namely endothelial NOS (eNOS), inducible NOS (iNOS) and neuronal NOS (nNOS)[1]. Endothelial NO accounts for the powerful vasodilator effects of endothelium-derived vasodilator factor[2-4] and consequently plays a decisive role in determining vasomotor tone. Upon its generation in endothelial cells, NO acts in part by stimulating soluble guanylate cyclase to produce second-messenger cyclic guanosine monophosphate (cGMP), which in turn mediates vasodilatation[5].
SYNTHESIS OF METHYLARGININES
Free guanidino-methylated (NG) arginine residues occur endogenously as a result of proteolysis of methylated proteins[6,7]. The L-arginine analogues include NG-methyl-L-arginine (L-NMMA), NG, NG-dimethyl-L-arginine (asymmetric dimethylarginine; ADMA) and NG, N'G-dimethyl-L-arginine (symmetric dimethylarginine; SDMA). ADMA and L-NMMA are competitive inhibitors of the NOS enzymes[8-10]. SDMA, a stereoisomer of ADMA, has no inhibitory effect on NOS, but may interfere with NO synthesis by competing with L-arginine for transport across cell membranes[11,12]. More recent data demonstrate that SDMA, but not ADMA, stimulates reactive oxygen species production of monocytes by acting on Ca2+ entry via store-operated calcium channels[13]. Since plasma concentrations of ADMA are approximately ten times higher than that of L-NMMA, it was postulated that ADMA is the main endogenous regulator of the L-arginine/NO pathway[11].
Protein methylation is a post-translational modification of intracellular proteins involving the addition of a methyl group, provided by S-adenosyl methionine, to arginine residues in the polypeptide chain by the action of protein arginine methyltransferases (PRMTs)[14]. PRMTs catalyze monomethylation, which initially leads to the synthesis of L-NMMA[14] or transfer two methyl groups in either a symmetric (leading to SDMA) or an asymmetric configuration (leading to ADMA)[15,16]. PRMTs are divided in two groups: types I and II. Type I PRMTs produce ADMA and type II produce SDMA. Both types are responsible for the production of L-NMMA[15,17].
Alterations in expression of PRMTs are associated with corresponding changes in ADMA release, thus suggesting that rates of ADMA formation in the vessel wall may be regulated in part through alteration in PRMTs expression[18]. The gene expression of PRMTs is increased in cultured endothelial cells after administration of both native low-density lipoprotein and oxidized low-density lipoprotein[18]. These compounds, similarly to glucose and homocysteine, are also responsible for a higher activity of PRMTs, which results in increased ADMA concentration[16,18-20].
Plasma levels of ADMA in healthy subjects are in the range of 0.3-0.5 μmol/L[11], but in some pathological states increase two- or even ten-fold, contributing to inhibit NO synthesis[21]. It is noteworthy that the concentration of ADMA inside cells is higher than outside. The intracellular levels of ADMA in endothelial cells obtained from rabbit carotid artery is ten times higher than in plasma[22].
Elimination of methylarginines
ADMA is excreted in part by the kidneys, but the main elimination pathway is throught the enzyme dimethylarginine dimethylaminohydrolase (DDAH I and II) to citrulline and dimethylamine[11,23]. DDAH is widely distributed in tissues, including the liver[24-26]. In contrast to ADMA, SDMA is eliminated by renal clearance and cannot be degraded by DDAH[23,27-29]. There has been increasing interest in the studies concerning plasma levels of NO, ADMA and SDMA in patients with liver dysfunction[26,30-34]. In experiments in Wistar rats, Nijveldt et al[26] demonstrated the potential role of the liver in the metabolism of ADMA as evidenced by a high net uptake and a considerable fractional extraction rate. In contrast to ADMA, SDMA was hardly affected by the liver[26]. Further studies showed markedly increased plasma levels of ADMA in multiple organ failure patients[31] and in patients developing hepatic failure after major hepatectomy[35]. Interestingly, Siroen and co-workers have shown that the human liver not only takes up ADMA, but also SDMA from the portal and systemic circulation, and suggested that high plasma levels of SDMA may have hemodynamic consequences similar to those reported by ADMA[36]. This finding is in contrast with the results in the rat in which SDMA was not affected by the liver[26]. This discrepancy between human and rat liver has been ascribed to the presence of other, relatively unknown alternative metabolic pathways for both dimethylarginines[27], which may be more significant in the human liver in comparison with the rat liver[36].
DDAH I appears to be the major isoform responsible for ADMA degradation[37], being the major isoform expressed in the hepatocytes[38]. Loss of DDAH I activity, using specific inhibitors, leads to accumulation of ADMA. Both plasma and tissue levels of ADMA increase in Ddah+/- mice with deletion of the Ddah1 gene. In Ddah+/- mice, some symptoms of endothelial dysfunction, including increased contraction in response to phenylephrine, reduced relaxation in response to acetylcholine or calcium ionophore A23187, and increased relaxation in response to sodium nitroprusside, are observed[39]. Hemodynamic effects such as increased mean arterial blood pressure, decreased cardiac output and heart rate, and elevated right ventricular pressure are also revealed. No increase in the expression of DDAH II in these mice is noted[39].
ROLE OF ADMA IN SOME PATHOPHYSIOLOGICAL STATES
Elevated ADMA plasma levels have been found to be associated with impaired endothelium-dependent vasodilatation[40]. Elevated plasma levels of ADMA were detected in patients with cardiovascular diseases[41-44]. Oxidative stress is also responsible for increased synthesis and/or inhibition of catabolism of ADMA[45] that are observed in patients with hypercholesterolemia, hyperglycemia, hyperhomocysteinemia, diabetes, hypertension, and heart failure[18,43,46,47]. A high level of ADMA independently predicts future cardiovascular risk in patients with coronary artery disease[48] and adverse cardiovascular events in patients undergoing percutaneous coronary intervention[49]. The level of this compound also increases with aging[40]. In critically ill patients with clinical evidence of more than two organ failures, ADMA is a strong and independent risk factor of mortality[31]. Renal failure[11] and liver cirrhosis[30] are further examples of disorders with increased levels of ADMA as both organs are responsible for the elimination of ADMA. Significant correlation was observed between the concentration of ADMA in graft and liver function after transplantation[50].
Several lines of evidence indicate that elevated inflammatory biomarkers are closely associated with endothelial dysfunction and NO synthesis inhibition[51,52]. Systemic inflammation is linked to enhanced ADMA plasma levels and endothelial dysfunction, both in low-grade inflammation, such as atherosclerosis[53,54] and in chronic inflammatory diseases, such as rheumatoid arthritis[55], inflammatory bowel disease[56], and asthma[57].
ALCOHOLIC CIRRHOSIS
Excessive NO production[58] and cGMP plasma levels[59] seem to play a key role in determining the decrease in splanchnic vascular resistance observed in decompensated cirrhosis[58]. Conversely, the levels of NO in hepatic tissue are decreased, and this is probably due to reduced hepatic eNOS activity shown in experimental animals[60,61] and humans[62]. A decrease in NO production by sinusoidal endothelial cells in the cirrhotic liver is an important factor in the development and maintenance of portal hypertension[52,61-64].
Patients with decompensated alcoholic cirrhosis (class B and C according to Pugh classification)[65] exhibit greater plasma levels of ADMA and NO when compared with both patients with compensated alcoholic cirrhosis (class A of Pugh score) and healthy subjects, but SDMA and L-arginine levels are not different between groups[30]. There is a positive correlation between the clinical score of the patients and concentrations of ADMA and NO and a negative correlation between plasma ADMA and NO concentrations in the control group and compensated patients[30]. However, no correlation is observed between ADMA and NO in decompensated cirrhotic patients[30]. Therefore, the increase in ADMA and NO concentrations in decompensated patients may reflect a response to hepatocellular damage[30]. Since SDMA concentrations are not significantly different between groups, a high ratio ADMA/SDMA is observed in the decompensated group of patients, thus suggesting a decreased activity in DDAH[66,67]. It is conceivable that a rise in ADMA in the liver would decrease local production of NO and intrahepatic vascular resistance would increase. Elevated ADMA, attributable to reduced renal excretion, is unlikely because creatinine plasma levels in the three groups of patients were within normal values[30].
The increase in plasma levels of ADMA observed in alcoholic cirrhosis[30] and in acute decompensation of alcoholic liver disease[68] is moderate (twofold elevation in ADMA). The increase in plasma levels of ADMA in individuals with vascular risk factors[69] and in patients with coronary artery disease[70] is also small. Therefore it has been proposed that small changes in the plasma levels of ADMA may be sufficient to alter significantly NO production by endothelial cells[71]. Cellular studies demonstrate that ADMA accumulates inside endothelial cells reaching values 5-10 times higher than outside the cells[22]. Therefore, small changes in plasma levels of ADMA would be expected to have a large effect on the intracellular levels of this NOS inhibitor and cause inhibition of NO formation[22]. However, the intracellular levels of ADMA in endothelial cells under cirrhosis are not known.
In a rat carotid model of balloon injury it was observed that 28 d post injury there was an impairment of endothelium-dependent vascular relaxation that was associated with a significant increase in intracellular levels of methylarginines (ADMA and L-NMMA)[22]. These results demonstrated for the first time that under these pathological conditions intracellular methylarginines reach concentrations sufficient to inhibit NO production and endothelium-dependent relaxation. Whether these observations can be applied to other pathological conditions is still unknown. The course of ADMA concentrations has been investigated in patients undergoing liver transplantation[32]. The results showed that preoperative plasma levels were significantly elevated, and ADMA plasma concentrations decreased on the day after transplantation, thus indicating that the liver graft is quickly capable of clearing ADMA[32]. Furthermore, in patients who experienced acute rejection, ADMA concentrations were higher compared with nonrejectors, indicating a reduced activity of the degrading enzyme DDAH in the liver[32]. A recent report has shown a significant reduction in hepatic DDAH-1 expression in cirrhotic livers that is associated with increased hepatic ADMA, reduced hepatic eNOS activity and elevated portal hypertension[38] (Figure 1).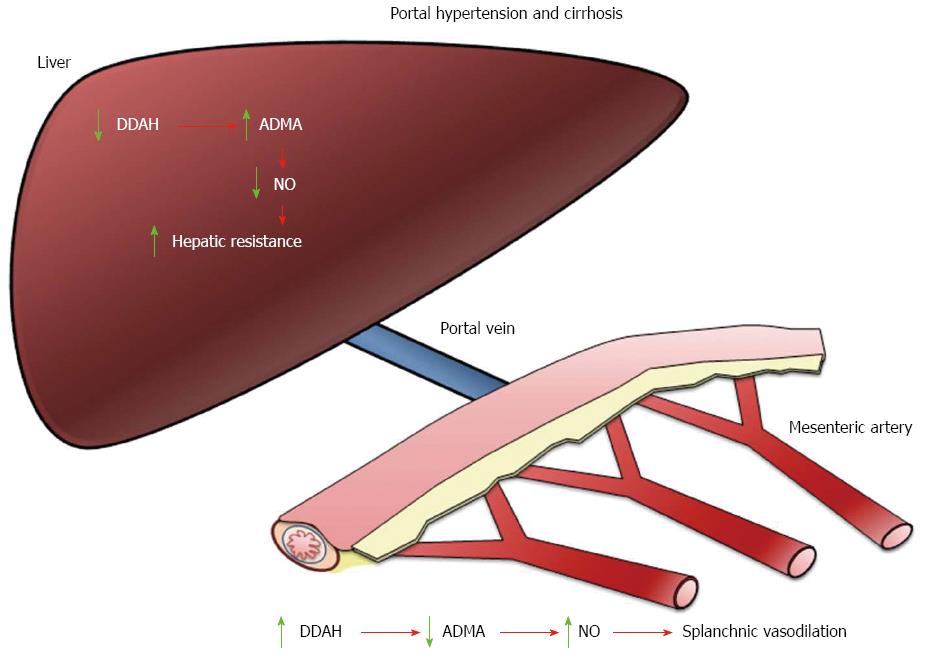 Figure 1 Different asymmetric dimethylarginine metabolism in liver and splanchnic circulation in portal hypertension and cirrhosis.
A simplified scheme of different asymmetric dimethylarginine (ADMA) metabolism showing that dimethylarginine dimethylamohydrolase (DDAH) activity is reduced in the cirrhotic liver leading to accumulation of ADMA and decreased nitric oxide (NO) synthesis producing and increase of hepatic vascular tone. On the other hand, in splanchnic circulation portal hypertension and cirrhosis induce and increased expression and function of DDAHs, reducing ADMA levels and increasing NO bioavailability that could cause splanchnic vasodilation.
A paradoxical situation has been described in the setting of alcoholic cirrhosis where an increased plasma concentration of ADMA, endogenous inhibitor of NOS, is linked to an increase of NO. Interpretation of these results is difficult but some possible explanations have been proposed. It has been demonstrated that DDAH activity is inhibited by high concentrations of NO[72]. This NO-induced DDAH inhibition would lead to accumulation of ADMA[72]. If this DDAH inhibition also occurs in cirrhosis, it may clarify why the enhanced synthesis of NO in cirrhosis can be associated with an inhibition of the DDAH activity and an increase in ADMA levels.
It has been shown that ADMA inhibits the basal release of NO from the endothelium and increases the tone of peripheral vessels[73]. This inhibitory effect on NO synthesis corrects the hyporeactivity to vasoconstrictors demonstrated in experimental models of portal hypertension[74]. Therefore, it is possible that a rise in ADMA plasma levels in cirrhosis might represent a compensatory mechanism to decrease NO overproduction and, accordingly, to counterbalance excessive peripheral vasodilatation[30].
The paradox is extended to the study of hyperdynamic circulation in cirrhosis where the mesenteric vasodilation established during cirrhosis is associated with an increase in systemic ADMA levels[30,68,75,76]. The increase in such levels does not inhibit NOS nor the excess NO in the splanchnic endothelial cells in contrast with the decreased generation of NO in the liver[77]. Most studies have paid attention to NOS activity and NO overproduction in splanchnic vessels disregarding the role of DDAHs in these vessels. In small mesenteric arteries from portal hypertensive and cirrhotic rats the low ability of ADMA to inhibit NOS is related to a higher expression of DDAHs and a larger ADMA degradation[78]. It has been proposed that this greater DDAH expression could be a new mechanism involved in the increased basal release of NO and enhanced mesenteric vasodilation observed in the hyperdynamic circulation[78] (Figure 1).
In patients with acute alcoholic hepatitis ADMA, SDMA and their combined sum, which has been termed dimethylarginine score (DAS = ADMA + SDMA), are increased[68]. The calculated DAS value is significantly higher in nonsurviving patients with acute hepatic decompensation compared to survivors. Therefore the DAS value has been proposed as a clinically relevant predictive indicator when evaluating survival in acute hepatic decompensation[68]. DDAH protein expression is reduced and PRMT-1 increased in alcoholic hepatitis livers, thus indicating that the increase in ADMA may result from both decreased breakdown (decreased hepatic DDAH) and/or increased production (increased PRMT). The increase in SDMA is probably secondary to impairment of the renal circulatory bed. Increased ADMA has been associated with a decrease in renal plasma flow and increased renovascular resistance[79] which would lead to increased renal retention of SDMA.
CHRONIC HEPATITIS C
The role of NO in the pathophysiology of HCV infection still remains controversial. Clinical studies have failed to provide association between the NO plasma levels and chronic hepatitis C[80-82]. Considering data from the literature, patients with chronic hepatitis C have shown NO plasma levels decreased[81] or enhanced[82]. Furthermore, no significant differences were observed between NO, ADMA, and SDMA plasma levels in patients with chronic hepatitis C and in patients with sustained viral response after treatment with interferon (IFN) plus ribavirin[83]. One explanation for the discrepancy may be the grade of hepatocellular damage. Certainly, a previous study performed in our laboratory has demonstrated that in patients with compensated alcoholic cirrhosis (i.e., Child-Pugh score below 7), no significant differences in ADMA, SDMA and NO plasma concentrations were observed as compared to healthy subjects[30]. However, in patients with decompensated alcoholic cirrhosis (i.e., Child-Pugh score equal or above 7) or hepatorenal syndrome, ADMA and NO concentrations were significantly higher when compared to healthy subjects[30,84].
It remains unclear the mechanisms by which IFN mediates its anti-HCV effect in vivo. Mononuclear cells obtained from patients with hepatitis C treated with IFN-α show increased iNOS activity and NO synthesis, pointing out that induced NO may be associated to the antiviral actions of IFN in hepatitis C[85]. Although it has been demonstrated a widespread expression of iNOS in hepatocyte from patients with chronic hepatitis C, this increased expression of the enzyme is not accompanied by increased NO serum concentration[86]. Furthermore, in patients with hepatitis C after treatment with IFN for two weeks the NO serum levels were increased if HCV-RNA was eradicated, but if HCV-RNA was present the NO levels were not different from those in healthy subjects[82]. In another study, NO plasma levels were decreased in four patients treated with pegylated IFN-α-2b or IFN-α-2a plus ribavirin for 48 wk[87]. Consistent with these results, a previous study demonstrated that NO plasma levels in patients with chronic hepatitis C treated with INF-α for 18 mo did not differ from controls[88]. It remains to be clarified whether NO and ADMA levels change throughout the period of treatment of the HCV infection with IFN or another therapy for hepatitis C.
HEPATORENAL SYNDROME
Hepatorenal syndrome (HRS), a major complication of end-stage cirrhosis, is characterized by functional renal failure and severe alterations in the systemic circulation (for review see[89]). Impairment of kidney function is a consequence of marked reduction of renal blood flow probably caused by activation of specific vasoconstrictor systems including sympathetic nerves, renin-angiotensin, and arginine-vasopressin to counteract the vasodilatation of splanchnic circulation[89]. Nijveldt et al[90] hypothesized a causal role for ADMA in the progression of renal failure in advanced cirrhosis. They proposed that accumulation of ADMA, probably caused by impaired hepatic removal, may have detrimental effects on renal function by inhibiting NO synthesis, thereby interfering with renal blood flow and glomerular filtration[90]. ADMA elicits contractile effects on human renal arteries[91] and increased plasma levels of ADMA has been associated with a decrease in renal plasma flow and increase in renovascular resistance in humans[79]. Therefore, it has been proposed that increased ADMA might be involved in the decrease of renal perfusion and the initiation of functional renal failure in advanced cirrhosis[84].
In a previous study we investigated whether plasma levels of SDMA, ADMA and NO are elevated in patients with hepatorenal syndrome, compared with patients with cirrhosis without renal failure[84]. In the group of patients with hepatorenal syndrome, SDMA concentration was about fourfold higher compared to patients with cirrhosis with normal kidney function or healthy subjects. ADMA and NO concentrations were significantly higher in both groups of patients when compared to controls. In patients with hepatorenal syndrome, a significant positive correlation was observed between SDMA and serum creatinine but not between ADMA and creatinine.
SDMA plasma levels remain within normal values in alcoholic cirrhosis with normal renal function[30] and in patients with end-stage liver failure prior to liver transplantation[33]. This strongly suggests that the high levels of SDMA observed in patients with HRS are caused by impairment of renal function. As a consequence, SDMA is not correlated with NO but it is significantly correlated with serum creatinine. A positive correlation between plasma SDMA concentrations and serum creatinine has been previously demonstrated in patients with chronic renal failure due to primary renal disease in the absence of liver dysfunction[11,66,92]. After kidney transplantation, the concentrations of SDMA returned to baseline values[92]. Kielstein et al[93] collected and analyzed data from 18 studies involving 2136 patients; their results showed that SDMA concentration correlated highly with inulin clearance as well as with serum creatinine. These results confirmed previous studies in humans[94-96] and experimental animals[97,98] showing a close relationship between SDMA and renal function. On the other hand, in our study we did not find correlation between plasma levels of ADMA and serum creatinine which indicates that the increase in plasma ADMA in patients with HRS was not due to a decrease in renal clearance of ADMA. In contrast to ADMA, SDMA is eliminated by renal clearance and cannot be degraded by DDAH[23]. The significance of high plasma levels of SDMA in HRS is uncertain because there is no evidence that it may inhibit NOS[11]. However, SDMA at high concentrations may interfere with NO production by blocking cellular L-arginine uptake[11,12,99]. These studies suggest that SDMA could have an inhibitory effect of NO synthesis by limiting arginine availability to NOS[12]. Indeed, in primary chronic renal failure, Fleck and coworkers pointed out the potential importance of SDMA and concluded that not only ADMA but also SDMA levels are likely responsible for hypertension in these patients, possibly by competition for reabsorption between SDMA and arginine in the kidney[92]. Therefore, SDMA is likely to be another factor responsible for the increased intrarenal vascular resistance observed in HRS.
The pathogenesis of renal vasoconstriction in cirrhosis is multifactorial[89]. Several lines of evidence suggest that splanchnic arterial vasodilatation due to an increased synthesis of NO plays a main role in the initiation of reduced renal perfusion. Intravenous administration of NOS inhibitors to cirrhotic patients increases renal blood flow and glomerular filtration rate, probably due to the increase in renal perfusion caused by an increment in systemic arterial pressure in these patients[100]. These findings led to the suggestion that NOS inhibitors might be useful in the treatment of ascites in cirrhosis[101]. However, experiments in cirrhotic rats raise the possibility that NO blockade may have deleterious effects by increasing intrahepatic vascular resistance[60]. Moreover, it is possible that the plasma concentrations of ADMA achieved in cirrhosis could be biologically effective in renal vessels. With regard to this, it has been proposed that increased ADMA in hepatic dysfunction plays an important role in the development of renal failure in patients with cirrhosis[90]. Indeed, ADMA increases renovascular resistance in humans[79] and elicits contractile effects on human renal[91] and cerebral[102] arteries. In addition, NOS inhibitors enhance vascular contractile responses to adrenergic agonists and sympathetic stimulation of human arteries[103-106]. Thus, elevated ADMA levels could promote renal vasoconstriction by blocking NO synthesis in the endothelium of renal vessels as well as potentiating the effects of perivascular sympathetic nerves. This would lead to impairment of renal function and SDMA retention.
CONCLUSION
Several basic and clinical studies have established that the liver is an important organ in the metabolism of ADMA. As ADMA is an endogenous inhibitor of NOS, changes in the liver function could affect ADMA levels and interfere with the NO synthesis. Despite this, there is still a concerning gap in the knowledge, understanding, and general awareness of mechanisms involved in the vascular dysfunction associated to cirrhosis. The regulation of methylarginine metabolism by modulating cellular PRMT or DDAH activity will therefore likely present a potential therapeutic option for the treatment of vascular dysfunction associated to liver diseases.
P- Reviewer: Owczarek D S- Editor: Ma YJ L- Editor: A E- Editor: Zhang DN