Copyright
©The Author(s) 2015.
Published by Baishideng Publishing Group Inc. All rights reserved.
Epigenetic regulation of DNA repair machinery in Helicobacter pylori-induced gastric carcinogenesis
Juliana Carvalho Santos, Marcelo Lima Ribeiro, Sao Francisco University Medical School Clinical Pharmacology and Gastroenterology Unit Laboratory of Microbiology and Molecular Biology, Bragança Paulista, SP 12916900, Brazil
Juliana Carvalho Santos, Marcelo Lima Ribeiro, UNICAMP, Universidade Estadual de Campinas, Genetics and Molecular Biology, Campinas, SP 12916900, Brazil
Author contributions: Santos JC and Ribeiro ML solely contributed to this paper.
Conflict-of-interest statement: None.
Open-Access: This article is an open-access article which was selected by an in-house editor and fully peer-reviewed by external reviewers. It is distributed in accordance with the Creative Commons Attribution Non Commercial (CC BY-NC 4.0) license, which permits others to distribute, remix, adapt, build upon this work non-commercially, and license their derivative works on different terms, provided the original work is properly cited and the use is non-commercial. See: http://creativecommons.org/licenses/by-nc/4.0/
Correspondence to: Marcelo L Ribeiro, Bsc, PhD, Sao Francisco University Medical School Clinical Pharmacology and Gastroenterology Unit Laboratory of Microbiology and Molecular Biology, Bragança Paulista, Av. São Francisco de Assis, 218. Jd. São José, Bragança Paulist, SP 12916900, Brazil. marcelo.ribeiro@usf.edu.br
Telephone: +55-11-24548982 Fax: +55-11-40341825
Received: April 28, 2015
Peer-review started: April 28, 2015
First decision: May 18, 2015
Revised: June 2, 2015
Accepted: July 8, 2015
Article in press: July 8, 2015
Published online: August 14, 2015

Although thousands of DNA damaging events occur in each cell every day, efficient DNA repair pathways have evolved to counteract them. The DNA repair machinery plays a key role in maintaining genomic stability by avoiding the maintenance of mutations. The DNA repair enzymes continuously monitor the chromosomes to correct any damage that is caused by exogenous and endogenous mutagens. If DNA damage in proliferating cells is not repaired because of an inadequate expression of DNA repair genes, it might increase the risk of cancer. In addition to mutations, which can be either inherited or somatically acquired, epigenetic silencing of DNA repair genes has been associated with carcinogenesis. Gastric cancer represents the second highest cause of cancer mortality worldwide. The disease develops from the accumulation of several genetic and epigenetic changes during the lifetime. Among the risk factors, Helicobacter pylori (H. pylori) infection is considered the main driving factor to gastric cancer development. Thus, in this review, we summarize the current knowledge of the role of H. pylori infection on the epigenetic regulation of DNA repair machinery in gastric carcinogenesis.
Core tip: Considering the relevance of DNA repair mechanisms in the maintenance of genome integrity and the role of epigenetics in its regulation on gastric carcinogenesis, in this review, we highlight the effects of Helicobacter pylori infection on the modulation of epigenetics mechanisms regulating DNA repair pathways associated with gastric carcinogenesis.
---
Citation: Santos JC, Ribeiro ML. Epigenetic regulation of DNA repair machinery in Helicobacter pylori-induced gastric carcinogenesis. World J Gastroenterol 2015; 21(30): 9021-9037
---
INTRODUCTION
It is now believed that gastric cancer is a disease that has a primarily epigenetic origin. It has been shown that Helicobacter pylori (H. pylori) infection plays an important role in the development of this disease and elicits a pathological progression in the gastric mucosa that starts with chronic gastritis and progresses to atrophic gastritis, intestinal metaplasia, dysplasia and eventually gastric cancer. The H. pylori infection initiates an activation of immunologic and inflammatory cascades through the host's immune responses. The inflammatory response generated by the bacteria causes both oxidative DNA damage and changes in cell turnover. In addition, it has been shown that the proliferation of gastric cells is associated with the appearance of somatic mutations due to errors in replication and/or inappropriate DNA repair capacity.
In response to the DNA damage , there are four repair systems: (1) base excision repair (BER); (2) nucleotide excision repair (NER); (3) mismatch repair (MMR); and (4) double-strand break repair (DSBR). It is thus believed that repair system failure is an important risk factor in carcinogenesis. Epigenetic changes are important mechanisms that lead to the failure of these repair genes. The most studied epigenetic modification is DNA methylation. In this review, we address the role of H. pylori infection in DNA repair mechanisms, the modulating effect of H. pylori on epigenetic mechanisms (such as DNA methylation and histone modifications) and DNA repair machinery in H. pylori-induced gastric carcinogenesis.
GASTRIC CANCER
Gastric cancer represents the second highest cause of cancer mortality worldwide[1]. Gastric cancer develops from the accumulation of several genetic and epigenetic changes over the lifetime of a patient, which lead to the activation of oncogenes and/or the inactivation of tumor suppressor genes. An unbalance among cell cycle regulators, alterations in growth factors and cytokines, or failures in DNA repair machinery might lead to genetic instability, cell proliferation and apoptosis reduction. All of these factors may be affected by epigenetic mechanisms that could lead to an altered gene expression pattern favoring tumorigenesis[2].
The vast majority of gastric cancers are sporadic and represent approximately 80% of all cases of gastric cancers. According to Lauren's histological classification, these neoplasms can be defined as intestinal (well differentiated) or diffuse (poorly differentiated) types[3]. On the one hand, the more frequent intestinal type is characterized by structures of united malignant cells that resemble functional gastrointestinal glands. Intestinal tumors develop through sequential steps, which begin with gastritis and progress to atrophic gastritis and are followed by intestinal metaplasia and gastric cancer. The tumor grows expansively with high vascularization and frequently occurs in old people; these tumors are strongly influenced by the environment[4]. On the other hand, the less common diffuse type comprises non-adherent cells that have diffusely infiltrated into the gastric stroma with little glandular formation. This type of neoplasia is most frequent in young people, is typically hereditary and has no preceding steps; it comprises more intra- and transmural spread and is thus associated with poor prognosis compared with the intestinal type[4].
Hereditary factors play a strong role in gastric cancer development. The most famous familial case is that of Napoleon Bonaparte. There is documented evidence showing that the Emperor had a malignant ulcer and hemorrhage in his stomach. His father, Charles Bonaparte, died from scirrhous carcinoma of the pylorus, and his grandfather, Joseph Bonaparte, also died of gastric cancer. Both of them died at approximately age 40. Moreover, one brother and one sister died of the same malignancy, which supports the hypothesis that genetic factors can increase risk of developing malignancy in the stomach[5].
Several proto-oncogenes are activated in gastric cancer, depending on the histological type. The c-met gene is amplified in 19% of intestinal type and 39% of diffuse type cancers[6], whereas the k-sam gene is preferentially expressed in advanced diffuse tumors[7]. The overexpression of another proto-oncogene, c-erbB2, is correlated with poorer prognosis and liver metastases[8]. Conversely, it has been demonstrated that tumor suppressor genes are frequently lost in gastric cancer by LOH (loss of heterozygosity), missense mutations, frame shift deletions, promoter methylation and post-translational mechanisms[9-11]. Additionally, it has been shown that genetic alterations in the TP53 gene, such as a high frequency of TP53 mutations, LOH, and overexpression of the p53 protein, may lead to a consequent loss of p53 function, which could be an early event in gastric carcinogenesis[12,13]. Furthermore, the abnormal expression of cell cycle regulators may permit the development of gastric cancer. This can be observed in the frequent overexpression of cyclin E and E2F genes and the down-regulation of p27 that are associated with aggressiveness, metastasis and invasiveness of the tumor[14].
Gastric cancer is also associated with high levels of MSI (Microsatellite instability), which is strongly related to the carcinogenic process primarily because of its association with defective MMR. In gastric cancer, MSI occurs in approximately 15% to 30% of all cases[15]. MSI-positive tumors exhibit many differences in clinical, pathological, and molecular characteristics compared to MSI-negative ones, regardless of their hereditary or sporadic origins. MSI leads to a mutator phenotype because frameshift mutations accumulate in repeated sequences that are located in coding regions of target tumor suppressor genes. The cancer with a high level of MSI often shows aberrant epigenetic alterations, such as promoter hypermethylation of MMR genes, which leads to gene inactivation[16].
Although the etiology of gastric cancer is given mainly by gene-environment interaction, consuming diets that are high in salt and nitrates favors gastric malignancy, whereas consuming diets that contain the natural antioxidants found in fruits and vegetables may prevent tumor emergence[17]. Alcohol and smoking are also risk factors for disease, although the main driving factor behind gastric cancer development is H. pylori infection, which leads to both chronic inflammation and molecular alterations that affect epithelial cell regulation, ROS levels, DNA damage, mutations caused by high MSI landscape and epigenetic deregulation[18]. The strong epidemiological association between H. pylori infection and the development of gastric cancer made the World Health Organization to classify the bacterium as a carcinogen class I, a definite carcinogen, in 1994[19].
H. PYLORI A BRIEF HISTORY
The bacterium known as H. pylori has been the subject of intense research since its first culture from a gastric biopsy in 1982. From the beginning, this microorganism has provoked the interest of many health professionals, including researchers in the area of oncology. The possibility that a bacterium could cause gastritis, peptic ulcer and possibly cancer was a difficult concept to accept. However, researchers had known of evidence for the involvement of a microorganism in the development of ulcers in experimental animals since the previous century. Bizzozero, in 1893, detected the presence of coiled organisms, known as spirochetes, in gastric glands and in the parietal cells from canine stomachs. Subsequently, in the 1940s, spirochetes were identified in human gastric samples, and most of them were present in patients with gastric ulcer. However, the researchers' interest in identifying a bacterium as the causative agent of ulcers was decreased by the reports in the literature that highlighted a probable association between viruses and peptic ulcer. Steer and collaborators renewed interest in the association between the development of ulcers and the presence of bacteria in 1975 but failed to isolate and identify the microorganisms observed[20].
Finally, in 1982, Warren and Marshall reported the presence of a spiral bacterium in patients with peptic ulcer and chronic gastritis. There were similarities in both the morphological and biochemical growing conditions between this organism and the genus Campylobacter; thus, the researchers named it the Campylobacter like organism. Later, the microorganism was named Campylobacter pyloridis and was then grammatically corrected to Campylobacter pylori[21,22]. Further studies, however, showed biochemical and molecular differences between this bacterium and the genus Campylobacter, and in 1989, it was recognized as belonging to a new genus, Helicobacter[21].
The infection caused by H. pylori is considered the most frequent chronic infection in humans. It is believed that approximately half the world's population is infected with H. pylori, which makes infection by this bacterium one of the major pathogens in humans and a serious public health problem[23]. Although there is a high rate of colonization, the presence of bacteria is not always associated with the development of pathologies because 70% of the infected population remains asymptomatic. However, the colonized individuals may develop gastritis, peptic ulcer, gastric cancer and MALT lymphoma[23,24].
The prevalence of infection is higher in developing countries (greater than 80%) and lower in developed countries (less than 50%), with a tendency to decline worldwide due to improvements in sanitation[25,26]. However, because the socioeconomic levels vary among subpopulations within a country, the prevalence in these subgroups may be different[27]. It has been shown that increased prevalence is directly related to lower socioeconomic status, inadequate sanitary conditions, contaminated or untreated water, insufficient hygiene practices, families with large numbers of individuals inhabiting the same household[25,28]. These conditions are usually found in developing countries, where there is indeed a high prevalence of H. pylori infection[29]. In a complementary manner, it was observed that improving the general hygiene conditions decreases the prevalence of infection. This finding suggests the existence of a set of environmental conditions to which children are exposed, particularly in developing areas[30].
It is known that humans ingest many microorganisms daily, but most of these microorganisms cannot colonize the stomach because of its acidic pH, which is one of the most important antibacterial properties that this organ has. Under fasting conditions, the gastric lumen has a pH < 2, which prevents bacterial growth. In the mucus layer, which covers the gastric epithelial cells, is a pH gradient ranging from 2 the luminal surface to 5-6 on the surface of epithelial cells[31]. After entering the stomach, H. pylori enters the gastric mucous layer, which is a less acidic environment[32]. Within the mucosal layer, H. pylori can adhere to the apical surface of gastric epithelial cells and occasionally be internalized[33].
The ability of H. pylori to colonize the human stomach can be attributed to the production of specific bacterial products, which are collectively called colonization factors[34,35]. The bacteria have multiple membrane proteins, such as AlpA, BabA, SabA, and HopZ, that mediate the adherence of the bacteria to the gastric epithelial cells, which results in the inactivation of numerous signaling pathways, and allow toxins and other effector molecules to enter the host cells[36]. Furthermore, the presence of virulence factors enables the bacteria to colonize and remain in the gastric mucosa of the host, thereby provoking an inflammatory response that would lead to a progression of events that can lead to gastric cancer. H. pylori virulence factors play a role in determining the patterns of disease with genetic differences affecting the clinical outcome of infection[37]. The most characterized virulence factor is cag pathogenicity island (cag-PAI), a 40-kb length of chromosomal DNA, which contains approximately 31 genes that encode a type IV secretion system[38]. This system allows CagA (cytotoxin-associated gene A) protein to be injected into the epithelial cell cytosol and then to interact with several intracellular signaling molecules, ultimately causing morphological alterations and inducing higher inflammatory levels[18]. Another virulence factor that is also associated with gastric cancer is the VacA gene, which induces vacuole formation in the host cell, stimulates apoptosis by release of cytochrome c from mitochondria and induces inflammation[39,40]. In addition, lipopolysaccharide (LPS), is recognized as a potent endotoxin capable of increase the proinflammatory cytokine production[41].
MOLECULAR MECHANISMS OF GASTRIC CARCINOGENESIS INDUCED BY H. PYLORI
H. pylori infection plays a critical role in carcinogenesis, in which a long-term interaction between bacterial inflammatory factors and epithelium progenitor and stem cells of the host culminates in the accumulation of mutations and epigenetic modifications that may lead to neoplasia. H. pylori infection is usually acquired during childhood, persists for several decades, and is followed by progressive mucosal damage because of continued interaction of H. pylori with the mucosa and the consequent chronic inflammatory milieu, which leads to mucosal atrophy, intestinal metaplasia, overall resulting in an environment with enhanced risk of developing dysplasia and carcinoma[42,43]. Additionally, this landscape may lead to hypochlorhydria and permit the overgrowth of other bacteria that may increase carcinogenic potential in the stomach[44].
Once infected by H. pylori, the epithelial cells of gastric mucosa undergo activation of immunologic and inflammatory cascades initiated by immune responses[45]. The cellular signaling changes are characterized by release of cytokines into the mucosa lamina propria to activate macrophages, dendritic cells and other inflammatory cells to release inflammatory mediators such as interleukin-1 (IL-1), IL-6, IL-8, tumor necrosis factor (TNF)-α[46]. IL1-β and TNF-α induce the activation of nuclear factor-κB (NF-κB), a key regulator of inflammation and other cellular cascades that underlie carcinogenesis in epithelial cells, which lead to cell proliferation and the suppression of apoptosis[47]. The activation of NF-κB can also regulate the expression of the pro-inflammatory cyclooxygenase (COX-2) enzyme, which induces TNF-α, interferon-γ and IL-1 and contributes to maintenance of cell proliferation, inhibition of apoptosis, and stimulation of angiogenesis in favor of carcinogenesis[48]. It has been demonstrated in vitro that strains harboring cagA induce the activation of extracellular-signal-regulated kinases (ERKs), such as p38, and MAP kinases, such as c-Jun N-terminal kinase (JNK). Additionally, it has been shown that the exposure of gastric epithelial cells to H. pylori induces the activation of the transcription factor activator protein 1 (AP1) and both the c-fos and c-jun protooncogenes[49,50]. These effects might occur through the activation of ERK/MAP kinase pathways, which results in the phosphorylation of Elk-1 and an increase in the transcription of c-fos[49]. Because MAP kinases regulate cell proliferation, differentiation, apoptosis, oxidative stress and inflammatory response, it has been suggested that the activation of this pathway by cagA-positive H. pylori strains seems to be essential to induce gastric inflammation and cancer[51].
This inflammatory-related stress also results in the increased production of ROS and RNS by neutrophils, which causes cell damage by the formation of oxidative DNA lesion products, including 8-oxo-7,8-dihydro-2'-deoxyguanosine (8-oxodG), and an increase in gene mutation. In this sense, it is important to note that one of the factors that contribute to the development of gastric cancer is the generation of oxidative stress. Oxidative damage to DNA due to H. pylori infection has been well documented in gastric biopsies, and it seems to be related to the presence of cagA and vacA virulence factors[52-57]. In vitro experiments have indicated that the exposure of gastric epithelial cells to different H. pylori strains induces the generation of pro-inflammatory cytokines and ROS[58]. Moreover, it has been observed that patients with H. pylori-associated gastritis, have increased levels of inducible nitric oxide synthase (iNOS) and COX-2. Bearing in mind that both products are potentially mutagenic, it is believed they could be related to the mutations detected in patients with chronic gastritis with an increased risk of developing gastric carcinoma[59,60].
The inflammatory response, in addition to inducing oxidative DNA damage, can cause changes in cell turnover[61]. H. pylori infection is also responsible for inducing apoptosis, which stimulates gastric epithelial cell proliferation in response[62,63]. In addition, it has been shown that the proliferation of gastric cells is associated with the appearance of somatic mutations due to errors in replication and/or inappropriate DNA repair capacity[64,65]. Therefore, these changes in cell turnover could accelerate the progression to atrophic gastritis, thereby increasing the risk of developing gastric cancer[64,66]. Additionally, it has been shown that LPS is also able to interfere with the DNA repair machinery of intestinal cells, thus increasing the risk of permanent genotoxic effects[67].
EPIGENETICS, H. PYLORI AND GASTRIC CANCER
The host-pathogen interactions are considered to be among the most plastic and dynamic systems in nature that lead to changes in epigenetic program. "Epigenetics", as introduced by Conrad Waddington in 1946, is defined as a set of interactions between genes and the surrounding environment that determines the phenotype or physical traits in an organism. Currently, epigenetics is defined as heritable changes in gene expression that are not necessarily accompanied by changes in the DNA sequence[68]. To date, the epigenetic role of different gene expression patterns in determining the cellular phenotype has been broadly studied. These processes include DNA methylation, histone modifications that affect the chromatin structure and DNA silencing by noncoding RNAs (ncRNAs)[69-71]; ncRNA is not addressed in this review. The combination of these modifications has been called the "epigenetic code", and because it is reversible, it has recently emerged as a promising area for cancer research. Studying the epigenetic pattern shared by different cancers provides exciting potential for powerful and more specific anticancer therapeutics.
DNA methylation
DNA methylation is one of the most common epigenetic events in the human genome. This modification is heritable and reversible; therefore, it is an important therapeutic target[72]. DNA methylation is a covalent modification of nucleotides, and the most frequently methylated nucleotide in the human genome is a cytosine that is subsequently followed by a guanine in the DNA sequence, which constitutes a CpG dinucleotide. The cytosine is methylated in the C-5 position by a family of DNA methyltransferases (DNMTs) using the universal methyl donor S-adenosyl-L-methionine (SAM). It has been reported that 5-methylcytosines account for approximately 1% of the DNA bases in the human genome and affect 70%-80% of the CpG sites in a human somatic cell[73].
The genome of the cancer cell is globally hypomethylated in comparison with normal tissue. Hypomethylation is related to both chromosomal instability and the activation of proto-oncogenes[74]. Although the biological significance of this cancer-specific DNA hypomethylation has not been fully elucidated, animal studies have confirmed a causal connection between hypomethylation and tumor formation[75]. On the one hand, it has been shown that DNA hypomethylation may reactivate genes that are normally silenced by DNA methylation[76]. On the other hand, the de novo methylation of CpG islands in gene promoters is associated with the loss of expression of several cancer-related pathways, including BRCA1 (breast cancer 1, early onset), CDKN2A (cyclin-dependent kinase inhibitor 2A) and MLH1[72].
Currently, the importance of gene promoter methylation is well known in the development of cancer. Thus, as observed for other tumor tissues, the effects of DNA methylation on gastric carcinogenesis has been extensively studied. To date, aberrant DNA methylation has been described in more than 100 genes[77]. The hypomethylation of oncogenes and cancer-associated genes and the consequent gene activation have been associated with tumorigenesis and with progression and metastasis of gastric cancers[1,77]. In contrast, the hypermethylation of CpG islands, which results the in gene silencing of tumor-suppressor, pro-apoptotic and DNA repair genes, has been observed in relation to gastric carcinogenesis[1,77].
An aberrant methylation pattern was also associated with the presence of H. pylori infection. Maekita et al[78] evaluated the effect of H. pylori infection on the quantity of methylated DNA in noncancerous gastric mucosae and examined its association with gastric cancer risk. Those authors observed bacterial infection potently induces the methylation of multiple CpG islands in noncancerous gastric mucosa associated with the risk of gastric cancer in H. pylori-positive individuals. Kang et al[79] analyzed the methylation profiles of 27 cancer-related genes in samples from patients with gastric cancer and chronic gastritis. In their study, it was observed that the number of methylated genes was significantly higher in samples from patients with gastric cancer than in those from patients with chronic gastritis. It has been shown that the loss of RUNX3 expression was also associated with promoter methylation[80]. Additionally, the methylation of this gene is a risk factor for the carcinogenesis of chronic atrophic gastritis with H. pylori infection[81].
Aside from these examples, more than one hundred papers have been published associating H. pylori infection with an altered DNA methylation pattern and the risk of developing gastric cancer[1,77]. Thus, it is worth emphasizing the important role played by the H. pylori-induced inflammatory process on aberrant methylation[82,83]. It has been shown that IL-1β directly induces the promoter methylation of E-cadherin and is an important mediator of TGF-β1 promoter methylation[84-86]. In addition, it has been shown that the eradication of the bacteria decreases the level of methylation of several genes (CDH1, p16, APC, MLH1, and COX2) that are associated with carcinogenesis[87]. A study conducted in a Mongolian gerbil model indicated that 5-aza-dC treatment prevents the development of H. pylori-induced gastric cancer[88].
Histone modifications
Histone proteins contribute to the maintenance and regulation of the dynamic chromatin structure, affecting the activation or inhibition of genes, accessibility to the DNA repair machinery and many other processes in the cell nucleus. Histones are hydrophilic, basic nuclear proteins that are subunits of the nucleosomes that constitute one of the structural core units of chromatin. Nucleosomes are histone octamers that consist of two copies of each of the four canonical histone isotypes (H2A, H2B, H3 and H4). DNA is wrapped around these octamers, which are located along the DNA with a spacing of 177-207 base pairs, in a pearls-on-a-string manner[89]. The N-terminal tails of histones extend outwards from the nucleosome and are the sites for regulatory covalent modifications, including acetylation, methylation, phosphorylation, ubiquitylation, ADP-ribosylation, crotonylation and glutarylation[90]. The packaging of chromatin defines the gene state: the euchromatin represents open and transcriptionally active regions, whereas the heterochromatin represents condensed regions with high levels of repetitive sequences[91]. Histone modifications directly affect the structure of chromatin and drive gene regulation with distinct functional activities. The architecture of chromatin can create binding sites for the recruitment of chromatin-modifying proteins and alter the stability of the interaction between DNA and histones[92]. However, these modification patterns are not static entities but dynamically changing and complex landscapes that evolve in a cell context-dependent fashion, are frequently misregulated in cancer and thus represent an interesting target for therapeutics.
The covalent histone modifications are controlled by enzymes that are able to add or remove different modifications in specialized domains that other enzymes recognize to activate or repress the gene expression. This is also known as the "histone code", a key factor in the establishment and maintenance of epigenetic cellular memory. The best-characterized covalent histone modification is the acetylation of lysine residues that are regulated by histone acetyltransferases (HATs). This modification results in a neutralization of lysine charges, in turn weakening the interaction between histone and DNA with subsequent activation of transcription[93]. In contrast, histone deacetylases (HDACs) are enzymes that are responsible for erasing this mark and deacetylating the lysine residues, which results in a repressive state of chromatin and may thus directly influence cancer development by silencing tumor suppressor genes[94].
Furthermore, the lysine residues of histones can be methylated, and depending on the methylation level, gene expression is elevated or repressed. This epigenetic mark is catalyzed by a different protein complex, methyltransferase, which is dependent on a specific domain. H3K27me3 is a modification that has been found in many types of cancer and is regulated by Polycomb proteins, which recognize this modification through the chromodomain-containing protein CBX1 (chromobox homolog 1) and induce the compaction of chromatin, resulting in transcriptional repression[95-98]. To maintain a balance between histone methylation patterns, there are other enzymes (called KDMs) that remove the methyl groups from lysine residues and, as in the case of H3K27, upon its demethylation by KDM6A (UTX) and KDM6B (JMJD3), allow for active transcription[99].
The histone modifiers have a key role in the development and progression of gastric cancer. Thus, these post-translational alterations in chromatin are all suggested to be predictors for gastric cancer recurrence and survival[100]. There is evidence that the overexpression of phosphorylated histone H3S10 is an indicator of poor prognosis for gastric cancer[101] and that hypoacetylation of this histone in the p21(WAF1/CIP1) promoter reduces the expression of this gene in gastric cancer specimens[102]. Recent reports have shown that there is an induction of the histone H3K4 demethylase KDM1A (LSD1) in some gastric cancer cells associated with more aggressive behavior of these cells, whereas the HDAC SIRT1 (sirtuin 1), which is downregulated in gastric cancer, plays a tumor-suppressive role in gastric cancer development by inhibiting NF-κB signaling[103,104]. In addition, the H3K9/K36 demethylases KDM4B and JMJD1C, H3K27 methyltransferase EZH2, and histone lysine acetyltransferase KAT5 (TIP60) act as potential markers for the malignancy of gastric cancer because they are correlated with cell proliferation and lymph node metastasis[98,105].
To date, few studies are available concerning the effects of H. pylori infection on histone modifications. It has been shown in vitro that H. pylori causes the upregulation of p21WAF1 expression in both a gastric epithelial cell line and primary gastric cells. The increased p21WAF1 expression is associated with increased HDAC1 recruitment from the p21WAF1 promoter and hyperacetylation of histone H4[106]. In addition, it was demonstrated that H. pylori induces the dephosphorylation and deacetylation of histone H3 in gastric epithelial cells in a cagPAI-dependent manner. Such modifications are associated with changes in host gene expression, including the upregulation of c-Jun and down-regulation of hsp70[107,108].
DNA REPAIR MECHANISMS
The DNA repair machinery plays a key role in maintaining genomic stability by preventing the appearance of mutations. The DNA repair enzymes continuously monitor the chromosomes to correct any damage caused by exogenous and endogenous mutagens. The following DNA repair mechanisms respond to such DNA damage: (1) BER, which is essential for removing oxidized or chemically modified bases; (2) NER, which repairs pyrimidine dimers; (3) DNA MMR, which is required to correct any errors that occur during DNA replication (base-base errors, deletions and insertions); and (4) DSBR, which is vital for every living organism and acts at different stages of the cell cycle[109].
DNA REPAIR, H. PYLORI-INDUCED CARCINOGENESIS AND EPIGENETICS
As previously described, the cellular consequences of H. pylori infection produce a large number of different types of damage, such as 8-oxodG and AP sites, which in turn lead to single- and double-stranded breaks[165], DNA crosslinking and mutation[166-168]. Such alterations are removed predominantly by BER, which is critical for maintaining genome stability during the chronic inflammation that occurs during bacterial infection[169].
Studying BER-deficient cells, Meira et al[169] showed that H. pylori infection enhanced the inflammatory response and, as a consequence, increased the production of ROS and tumor-promoting cytokines. Moreover, the coculture of H. pylori in murine and human cancer cell lines increased the DSB levels[170]. Finally, a study showed that H. pylori infection induces the accumulation of AP sites in DNA that are further processed into DSBs, resulting in genomic instability and cellular transformation[171].
It has been proposed that the ROS generated by H. pylori infection, in either epithelial cell lines or cells isolated from mucosal biopsy samples, increases APE1 protein and mRNA levels, which indicates that the infected cells have a higher capacity to repair oxidative DNA damage[172]. Additionally, Futagami et al[173] observed that APE-1 expression is higher in gastric tissues from H. pylori-infected subjects compared with tissues from uninfected subjects. They also found that APE-1 is mainly localized in epithelial cells within gastric adenoma samples and in mesenchymal cells of gastric cancer tissues. The authors demonstrated that APE-1 expression in gastric cancer tissues with or without H. pylori was significantly reduced compared with that in H. pylori-infected gastric adenomas, whereas evidence of DNA damage did not differ between these neoplastic tissue types. These findings implicated that APE-1 plays a role in H. pylori-mediated human inflammatory and neoplastic gastric diseases. However, Machado et al[174] studied BER genes and detected a significant down-regulation of APE-1 in infected gastric cells, whereas no changes in OGG1 expression were observed. Because in BER AP sites are generated by OGG1 and then repaired by APE1, the authors postulated that an imbalance between the generation and repair of AP sites could be mutagenic though the generation of an excess of AP sites that could be converted into mutations by DNA polymerases or other repair enzymes (Figure 1).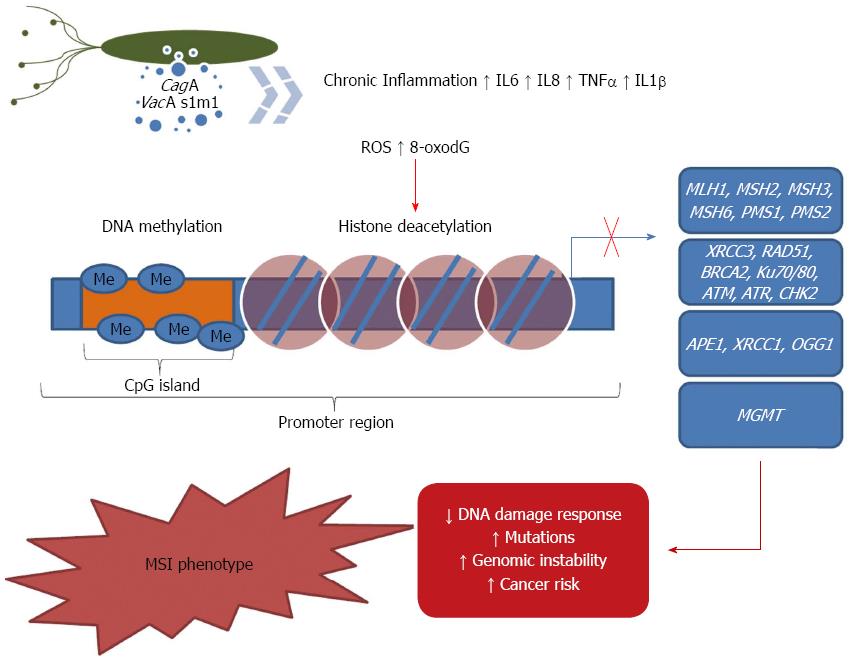 Figure 1 Proposed mechanism by which Helicobacter pylori induced epigenetic alteration affecting DNA repair. The more virulent Helicobacter pylori strains (cagA and vacA s1m1) increase the inflammatory response, 8-oxodG and ROS production on epithelial cells. This landscape may cause the hypermethylation of CpG islands and/or the histone hypoacetylation, which results the in the DNA repair gene silencing. It might increase the mutation rate which may contribute to the genomic instability and gastric cancer development.
XRCC1, another BER member, has been studied in gastric carcinogenesis. Wang et al[175] showed that the XRCC1 mRNA levels were lower in tumor tissues than in the corresponding adjacent non-tumorous tissues. Furthermore, the authors observed that methylation of the XRCC1 promoter was more frequent in tumor tissues, which indicated that methylation might contribute to the regulation of the transcriptional inactivation of XRCC1. Although XRCC1 repression may be involved in gastric carcinogenesis, there are no data available concerning the effects of H. pylori on epigenetic modulation of XRCC1. Similarly, further studies are necessary to understand the role of H. pylori infection on the epigenetic regulation of APE-1 and OGG1 (Figure 1).
MMR is one of the most important DNA repair pathways for maintaining genomic stability. MMR impairment results in the accumulation of mutations and an increased risk of MSI during replication. It has been shown that H. pylori infection is associated with the reduced efficiency of the DNA repair machinery, which favors the accumulation of mutations and genomic instability as well as gastric carcinogenesis[168,174,176,177]. Over the last several decades, there has been a growing body of evidence showing that genomic stability is affected by failures in MMR and that H. pylori is able to down-regulate the expression of several MMR effectors such as MLH1, MSH2, MSH6, PMS1 and PMS2, in vitro and in Big Blue transgenic mice[166,167,174,176]. Additionally, studies conducted in humans demonstrated that the infection reduced the MLH1 levels compared with uninfected individuals[178,179]
MLH1 down-regulation has been attributed to an increase in CpG methylation of its promoter region in vitro[176] and in vivo[87,179,180]. It has been reported that MLH1 promoter methylation occurs late in the progression of gastric carcinoma and that methylation depends partly on the persistence of the H. pylori infection[87,179]. Regarding the effects of other epigenetic mechanisms regulating MLH1 expression, the data from Fahrner et al[181] favor the idea that DNA hypermethylation, not a particular combination of histone modifications, is the dominant epigenetic mechanism involved in maintaining the silencing of MLH1.
Additionally, the presence of MSI in sporadic colorectal carcinomas has been significantly associated with the loss of MLH1 expression[182,183]. This phenomenon was associated with the hypermethylation of the MLH1 promoter, which is the underlying mechanism that causes MSI in gastric adenomas and early gastric cancers[179,184,185]. It is well known that H. pylori infection causes an increased rate of cell turnover in the gastric mucosa and thus overwhelms the DNA repair system. This process might allow for the accumulation of mutations that are consequent to H. pylori infection and other environmental risk factors[186].
The effects of methylation status on other MMR members (MSH2, MSH6 and PMS2) were evaluated previously in diffuse- and intestinal-type gastric cancer samples[187]. The data presented indicated that PMS2 methylation was associated with both diffuse- and intestinal-type cancer. Diffuse-type cancer was also significantly associated with MSH2 methylation, and MSH6 does not seem to be regulated by DNA promoter methylation. Although an association of MSH2 and PMS2 promoter methylation with gastric cancer was shown, the effects of H. pylori infection on their methylation has not been evaluated (Figure 1).
Recently, it was reported that the mRNA levels of MGMT, the gene product of which is required for the repair of O-6-methylguanine, were reduced in the gastric epithelium from patients with gastritis infected by H. pylori[188] and in gastric cancer patients[179,189]. These results were associated with an increased effect of H. pylori infection on MGMT CpG promoter methylation compared with uninfected patients[188]. Additionally, it has been suggested that the methylation of the MGMT promoter in H. pylori-infected patients is related to tumor progression[190,191]. The effects of histone modifications regulating MGMT expression on gastric carcinogenesis were also described. Meng et al[192], after treatment with 5-aza-2'-deoxycytidine and/or Trichostatin A, described histone H3K9 dimethylation, H3K4 dimethylation, H3K9 acetylation and DNA methylation working in combination to silence MGMT. However, the role of H. pylori infection in histone modifications regulating MGMT expression have not yet been evaluated (Figure 1).
The accumulation of DNA damage has been proposed to be a principal mechanism of infection, inflammation and cancer. The damaged DNA can be repaired through DSBR by either NHEJ or HR. ATM and ATR are critical molecules initiating the HR repair process, whereas Ku70/80 initiates the NHEJ DNA repair process. Therefore, the activation of both ATM/ATR and Ku70/80 is important in the DNA repair process[145,147,150].
It has been reported by Toller et al[170] that in vitro, H. pylori infection induces DSBs in a BabA adhesion-dependent manner. The authors also showed that damaged DNA triggers a damage signaling and repair response that involves the sequential ATM-dependent recruitment of 53BP1 and MDC1 and the phosphorylation of histone H2AX, a marker of DSB. In summary, they propose that H. pylori DSB induction contributes to the genetic instability and frequent chromosomal aberrations that are a hallmark of gastric cancer.
Subsequently, the results described by Hanada et al[193] demonstrated that ATM is activated in vivo and that this effect is related to H. pylori. They also showed that activated ATM and γ-H2AX, a marker of DSBs, are both present in H. pylori-infected human gastric epithelium. From these results, the authors concluded that it is likely that the ATM-dependent response occurs in response to H. pylori-induced DSBs to prevent or reduce chromosome aberrations. Accordingly, it has been shown that damaged DNA induces the induction of ATM, ATR, Ku proteins and cell cycle transition as well as the activation of p53 in H. pylori-infected tissues[194]. Studying the DNA-dependent protein kinase (DNA-PK), which is a serine/threonine kinase that consists of a 465-kDa catalytic subunit (DNA-PKcs) and the heterodimeric regulatory complex Ku [composed of a 70-kDa (Ku70) and an 86-kDa (Ku86) polypeptide], Lee et al[195] observed an increased expression in DNA-PKcs in H. pylori-associated gastritis, which may be associated with epithelial hyperproliferation or transcriptional changes. They also found that gastric cancers negative for DNA-PKcs are associated with an advanced stage, MSI phenotype; a high prevalence of lymph node metastasis; and poor patient survival.
A higher number of DSBs have been described in infections from H. pylori strains that are positive for the cagA virulence factor than from strains that are negative for it[193]. Additionally, they found that CagA inactivated RAD51, which suggested that higher levels of DSBs may be related in part to the reduced activity of DSB repair via HR[193]. In a complementary way, Bae et al[194] concluded that H. pylori-induced oxidative stress mediates a DNA damage response through NHEJ and HR repair processes, cell cycle arrest, and apoptosis in gastric mucosa of Mongolian gerbils (Figure 1).
It is well known that a major aspect of cellular response to DSBs occurs through specific interactions with chromatin structure and its modulation, which implicates highly dynamic post-translational modifications of histones that are critical for DNA damage recognition/signaling, repair of the lesion and release of cell cycle arrest. It has been reported that histone modification are disrupted in human cancers, implying that altered chromatin structure in tumor cells may impact DSB repair, increasing genomic instability and contributing to the progression of cancer[157,196]. Concerning the role of histone modifications regulating DSBR on gastric carcinogenesis, at the moment, there are no data available in the literature. Similarly, the putative effect of H. pylori infection in this mechanism has never been studied.
CONCLUSION
Over the last decade, the role of epigenetic alterations in gastric carcinogenesis has received greater attention. As described in this review, the disruption of epigenetic processes can lead to altered gene function and malignant cellular transformation. Considering the data expounded, it is clear that H. pylori plays a role in modulating the expression of BER, MMR and DSBR. Although aberrant epigenetic modifications are now believed to be essential players in DNA repair regulation, the epigenetic modulation of the DNA repair machinery in H. pylori-induced gastric carcinogenesis still requires further study.
P- Reviewer: Li YY, Slomiany BL S- Editor: Ma YJ L- Editor: A E- Editor: Ma S