Copyright
©2014 Baishideng Publishing Group Inc.
All rights reserved.
Endoscopic ultrasound in the diagnosis and treatment of pancreatic disease
Christopher W Teshima, Gurpal S Sandha, Division of Gastroenterology, University of Alberta, Edmonton, Alberta T6G 2X8, Canada
Author contributions: Teshima CW designed the research; Teshima CW and Sandha GS performed the literature review and analyzed the data; Teshima CW and Sandha GS drafted the article, revised it critically, and approved the final version of the manuscript.
Correspondence to: Christopher W Teshima, MD, MSc (Clin Epi), PhD, FRCPC, Assistant Professor, Division of Gastroenterology, University of Alberta, 2-28 Zeidler Ledcor Centre, Edmonton, Alberta T6G 2X8, Canada. teshima@ualberta.ca
Telephone: +1-780-2481673  Fax: +1-780-4929416
Received: November 13, 2013
Revised: February 28, 2014
Accepted: April 21, 2014
Published online: August 7, 2014

Endoscopic ultrasound (EUS) is an important part of modern gastrointestinal endoscopy and now has an integral role in the diagnostic evaluation of pancreatic diseases. Furthermore, as EUS technology has advanced, it has increasingly become a therapeutic procedure, and the prospect of multiple applications of interventional EUS for the pancreas is truly on the near horizon. However, this review focuses on the established diagnostic and therapeutic roles of EUS that are used in current clinical practice. In particular, the diagnostic evaluation of acute pancreatitis, chronic pancreatitis, cystic pancreatic lesions and solid masses of the pancreas are discussed. The newer enhanced imaging modalities of elastography and contrast enhancement are evaluated in this context. The main therapeutic aspects of pancreatic EUS are then considered, namely celiac plexus block and celiac plexus neurolysis for pain control in chronic pancreatitis and pancreas cancer, and EUS-guided drainage of pancreatic fluid collections.
Core tip: This is an invited review paper that provides a comprehensive review of the current diagnostic and therapeutic roles of endoscopic ultrasound in pancreatic disease.
---
Citation: Teshima CW, Sandha GS. Endoscopic ultrasound in the diagnosis and treatment of pancreatic disease. World J Gastroenterol 2014; 20(29): 9976-9989
---
INTRODUCTION
Endoscopic ultrasound (EUS) is an important technology with many established applications that has become a necessary component of any referral center endoscopy unit. In particular, EUS has emerged as an integral component in the evaluation of the pancreas, both from a diagnostic and an increasingly therapeutic perspective. In both respects, innovations continue to expand the capabilities of EUS and push the boundaries of its indications (Table 1). In this review, the current diagnostic and therapeutic aspects of EUS with respect to pancreatic diseases will be explored. Emerging imaging technologies and interventional applications of EUS that remain experimental and not yet ready for clinical practice are beyond the scope of this paper and will not be discussed.
| | | |
| --- | --- | --- |
| Diagnostic | Therapeutic | Applications under investigation |
| Acute biliary pancreatitis | CPB/CPN | Biliary access and drainage |
| Chronic pancreatitis | Pseudocyst drainage | Pancreas duct access |
| Solid masses | Necrosectomy for WON | Cyst ablation |
| Cystic lesions | | Fiducial marking in tumors |
| | | Local tumor injection therapy or ablation |
| | | 3-dimensional EUS |
| | | nCLE |
| | | Pancreatic cystoscopy |
THERAPEUTIC EUS
Celiac plexus block and neurolysis
Chronic abdominal pain arising from locally invasive pancreatic cancer or from chronic pancreatitis has a considerable negative impact on quality of life. A significant proportion of this patient population requires narcotic analgesia, mostly in escalating doses, which may result in systemic consequences and dependency[91,92]. In an effort to decrease the requirement for narcotic analgesics, attempts have been made to interrupt the transmission of pain signals through the celiac plexus. Traditional methods of performing celiac plexus block (CPB) for chronic pancreatitis and/or celiac plexus neurolysis (CPN) for pancreas cancer involved a variety of different percutaneous approaches from the para-spinal region, most of which involved a blind needle puncture guided by CT scan measurements[93,94]. In contrast, CPB/CPN performed under the guidance of EUS can be effectively performed as a safe day procedure. The first report of EUS-guided CPB/CPN was by Wiersema et al[95]. Since then, there have been numerous studies demonstrating the benefit of the EUS-guided approach that have been summarized by two recent meta-analyses[96,97]. The included studies have significant heterogeneity in terms of the definitions of what is considered a positive response to therapy, but in most cases the aim has been a reduction in the daily usage of narcotic analgesia. Most benefit has clearly been observed with CPN for patients with chronic pain from pancreatic malignancy where 73%-85% demonstrated a significant response. CPB has not proven to be as effective for patients with abdominal pain from chronic pancreatitis, where the response rate is only 51%-60%. The reasons for this variation in benefit are unclear but may include different mechanisms of pain causation and characteristics of the underlying patient population itself.
EUS-guided CPB/CPN is performed using a linear echoendoscope via a trans-gastric approach from the proximal stomach. The celiac plexus is a conglomerate of nerve plexi wrapped around the origin of the celiac artery. A local anesthetic (typically bupivacaine) is injected alone for CPB whereas the combination of anesthetic and neurolytic agent (usually 100% ethanol) is injected for CPN using a FNA needle positioned in the angle between the celiac artery and the abdominal aorta. Single midline injection in the angle has been compared with injection to either side of this angle. A superior response was observed using the bilateral injection technique with a mean pain reduction of 70% compared with 46%, respectively (P = 0.002)[98]. Since the outcomes with CPB/CPN have remained less than optimal, there has been a recent shift toward directly targeting the celiac ganglia instead of the celiac plexus. Levy et al[99] first reported the endosonographic visualization of the celiac ganglia in 2006. Since then, other investigators have been successful in visualizing the celiac ganglia in a significant number of their patients. A recent randomized, controlled trial demonstrated a significant improvement in both the partial and complete response rates in patients with pain from abdominal cancer undergoing celiac ganglia neurolysis (CGN) compared with CPN (74% vs 46%, P = 0.026)[100]. It has also been recently suggested that earlier performance of CPN for patients with inoperable pancreas cancer may be preferable by reducing their need for, and mitigate some of the consequences of, increasing narcotic analgesic usage[101]. However, additional studies are required to verify all these recent findings. In summary, EUS-guided CPN and CGN are safe procedures with minimal side effects that provide significant benefit for chronic abdominal pain due to pancreatic cancer, but have more limited benefit in patients with chronic pancreatitis.
Drainage of pancreatic fluid collections
The management of pancreatic fluid collections (PFC), including both pseudocysts and walled-off necrosis (WON), is a complicated topic that has been discussed in detail by recent reviews and guideline statements[102,103], which increasingly falls within the purview of EUS and interventional endoscopy. While the traditional management of PFC was open surgery, consensus has emerged in recent years focusing on a more conservative approach, delaying or avoiding invasive procedures where possible and favoring minimally invasive or endoscopic methods when such interventions are necessary[103]. Furthermore, distinguishing the different types of PFC is now recognized as important since this has an important impact on the therapeutic approach and expected outcomes[104]. In the revised Atlanta classification of acute pancreatitis, PFC are now divided into acute fluid collections and acute necrotic collections when occurring less than 4 wk from an attack of acute interstitial pancreatitis and acute necrotizing pancreatitis respectively, and are considered pseudocysts when more than 4 wk after an episode of interstitial pancreatitis, have an encapsulated wall and no internal debris, and are considered WON when more than 4 wk from an episode of necrotizing pancreatitis, have an encapsulated wall and contain internal debris[105]. Most PFC will resolve on their own, which means that intervention is only required when pseudocysts or WON are symptomatic, typically because of persistent abdominal pain, luminal or biliary compression, or most importantly, infection[106]. Endoscopic strategies for the drainage of PFC have been used for over 2 decades[107] and have evolved from a direct endoscopic approach dependent upon visualization of a large bulge into the lumen created by the PFC, to an EUS-guided approach that appears to be safer and more effective[108-110], and is increasingly considered standard-of-care[103]. There are many variations of the technique, but the principle involves combining endoscopic, EUS, and fluoroscopic imaging to facilitate the creation of a transgastric or transduodenal fistulous tract into the encapsulated PFC, through which stents (plastic pigtail or covered metal) are placed to maintain the patency of the cyst-gastrostomy or cyst-duodenostomy tract to enable ongoing drainage. The basic steps are as follows: (1) Delay intervention for at least 4 wk until PFC has become encapsulated and adherent to the gastric or duodenal wall; (2) Perform recent cross-sectional imaging (CT or MRI) to provide "road map" for drainage procedure and to help differentiate a pseudocyst from WON (however internal debris within the PFC is sometimes only seen on EUS when not previously detected by other imaging modalities). Also helpful for excluding a possible pseudoaneurysm; (3) The procedure should be performed with peri-procedural antibiotics, use of CO2 insufflation to avoid rare risk of air embolism, and endotracheal intubation to avoid aspiration risk; (4) The PFC is carefully examined under EUS to determine the optimal location for cyst puncture and to verify that the PFC is adherent to the luminal wall (i.e., they move synchronously) and is located within reasonably proximity (< 10-20 mm) to the luminal wall (Figure 3A); (5) Doppler imaging is used to verify the absence of intervening vessels (such as varices from splenic vein thrombosis) or a pseudoaneurysm communicating with the PFC; (6) EUS-FNA is performed using a 19 G needle. Fluid is aspirated to give a gross sense of the nature of the PFC (i.e., does it appear as clear liquid consistent with pseudocyst, thick, murky fluid consistent with WON, or purulent fluid suggestive of infection?) and is sent off for cyst fluid analysis to confirm that the PFC is truly secondary to pancreatitis and not a primary cyst neoplasm (Figure 3B); (7) Contrast may be injected via the FNA needle to delineate the dimensions of the PFC. A soft tip guide wire is then inserted under fluoroscopic guidance and should be seen to coil within the PFC, demonstrating adequate guide wire advancement; (8) The fistula tract is then enlarged by advancement of a balloon dilator over the wire and into the PFC. Occasionally it is difficult to advance the balloon catheter through the gastric or duodenal wall, in which case the needle tract needs to first be enlarged by passing a Soehendra stent retriever or by using electrocautery with a needle-knife device or cystotome over the wire. Once this is done, the balloon dilator will pass easily over the wire into the cyst; (9) Balloon dilation and placement of stents: For pseudocysts: balloon dilation to 10 mm, followed by placement of 2 plastic pigtail stents (usually 7 Fr or 8.5 Fr) over a wire across the dilated fistula tract. For WON: progressive balloon dilation to 18-20 mm, followed by placement of 2 plastic pigtail stents (7 or 8.5 Fr and 10 Fr) or a fully-covered, self-expanding metal stent, and then placement of a naso-cystic tube for intermittent flushing of the WON collection. For WON, direct endoscopic necrosectomy is performed by inserting a gastroscope into the collection via the dilated cyst-gastrostomy or cyst-duodenostomy tract, followed by careful debridement of the necrotic contents (Figure 4); and (10) The ideal duration of transluminal stent placement remains unclear and is the source of ongoing debate. At a minimum, the stents should be left in place until repeat imaging demonstrates complete resolution of the PFC, although in some cases the stents should be left for much longer[111].

Figure 3 Pancreatic fluid collection.
A: Internal debris; B: Fine needle aspiration using 19 guage needle.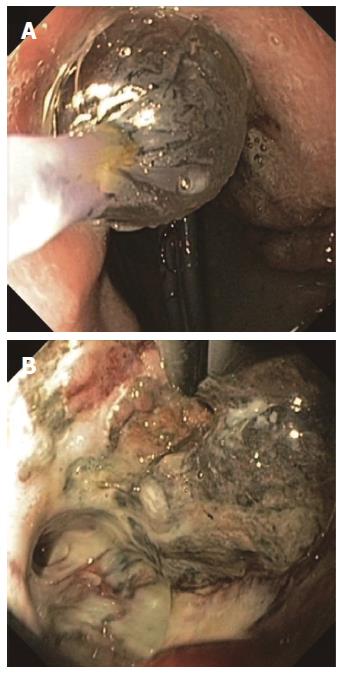 Figure 4 Direct endoscopic necrosectomy.
A: Balloon dilation of fistula tract to 20 mm; B: Necrotic debris apparent within the walled-off necrosis.
Recent innovations continue to modify and improve this basic technique and should result in a more effective and perhaps technically simpler procedure, particularly as dedicated devices for EUS-guided PFC drainage emerge. While these developments are likely unnecessary for pseudocyst drainage, they will probably improve the management of WON. One such innovation is the multiple transluminal gateway technique proposed by Varadarajulu et al[112] whereby 2 or more separate fistulous tracts are made across the gastric wall into one WON collection under EUS guidance, with placement of multiple plastic pigtail stents in each. A nasocystic tube is then used to flush normal saline through one of the fistula tracts, with the expectation that the additional transluminal tracts will enable greater drainage of necrotic debris. In the initial retrospective study, patients with symptomatic WON who underwent the multiple transluminal gateway technique were significantly more likely to have treatment success compared to those who received the conventional single-port drainage technique (92% vs 52%, P = 0.01) and much less likely to ultimately require surgery (0% vs 35%)[112]. However, prospective comparative studies are needed to verify these findings. Another recent innovation is the development of the first fully covered, metal stents specifically designed for EUS-guided drainage of PFC. These include the Nagi stent (Taewoong Medical Co.; Gyeonggi-do, South Korea) and the AXIOS stent (Xlumina Inc., Mountain View, CA). Both stents have a similar design that exhibit flared ends that securely anchor the walls of the cyst and lumen while preventing migration. While the Nagi stent requires balloon dilation of the fistula tract prior to its deployment[113], the AXIOS stent may be deployed as a single-step device over a guide wire, which can be done entirely under EUS and endoscopic guidance without fluoroscopy[114]. Balloon dilation can then be performed inside of the stent to increase the diameter to enable endoscopic necrosectomy for WON if necessary. However, these systems have not yet been studied in prospective clinical trials to determine their merits and to define when they should be used in the treatment of pseudocysts and WON.
Where data do exist is the increasing demonstration of the superior efficacy and safety of endoscopic methods for the treatment of PFC, as well as the benefits of an overall more conservative, step-up approach. A recent randomized, controlled trial of EUS-guided vs surgical cystgastrostomy for pseudocyst drainage demonstrated no differences in treatment success, complications, need for re-intervention or pseudocyst recurrence, but there was significantly shorter hospital length of stay (median 2 d vs 6 d, P < 0.001) and reduced costs in the endoscopic group[115]. Thus, endoscopic approaches clearly seem to be the preferable strategy for uncomplicated pseudocysts since there is no apparent advantage to surgery. Management of WON, particularly when direct endoscopic necrosectomy is required, is more difficult and poses greater risk of complications. In a prospective series from major tertiary centers in the United States, endoscopic necrosectomy was successful in 91% of patients but there was a 14% complication rate[116]. The Japanese and German experiences also demonstrate good treatment success rates (75% and 80% resolution, respectively) but a concerning 33% and 25% rate of complications, including mortality rates of 10% and 7.5%[117,118]. Such a high rate of potential complications should give caution to those who would consider taking on this procedure outside of specialized centers or without adequate training. That said, the experience of the Dutch Pancreatitis Study Group demonstrates that less invasive approaches, including endoscopy, may indeed be safer than surgery for the treatment of WON. In a prospective, randomized trial of primary open necrosectomy vs a step-up approach consisting of percutaneous drainage followed by minimally invasive retroperitoneal necrosectomy when necessary, the primary composite endpoint of major complications, multi-organ failure or death occurred in 69% of the open surgical group compared to 40% of the step-group (P = 0.006)[119]. Furthermore, more than one-third of patients in the step-up group were managed by percutaneous drainage only, suggesting that a more conservative approach is adequate for a significant proportion of patients. The same group then published a small follow-up paper in which patients with infected WON who failed to respond to percutaneous drainage were randomized to either endoscopic necrosectomy or to minimally invasive surgery using video-assisted retroperitoneal debridement[120]. In this study, the composite endpoint of multi-organ failure, intra-abdominal bleeding, fistula formation or death occurred in 20% of the endoscopic group and in 80% of the surgical group (P = 0.03), illustrating a clear advantage for the endoscopic approach. However, the number of patients included in this study was small. Additional insight will become available once this Dutch group completes their ongoing randomized trial that is comparing endoscopic necrosectomy to a conservative, step-up approach. Furthermore, with the development of dedicated metal stents for PFC drainage and innovations such as the multiple transluminal gateway technique, it is possible that the endoscopic approach may become safer by reducing the need for direct endoscopic debridement within the necrotic collection while still achieving successful outcomes. This too remains speculative and will require significant ongoing study.
CONCLUSION
In summary, EUS has a clearly established role in the diagnosis of pancreatic diseases, particularly in the evaluation of acute and chronic pancreatitis, and in the diagnosis and management of cystic and solid pancreatic lesions. Furthermore, established therapeutic applications of EUS include CPB/CPN and management of PFC. In the future, the diagnostic capabilities of EUS will continue to expand while its therapeutic potential should blossom as it increasingly becomes an interventional procedure for local tumor treatments, cyst ablation, as well as access and drainage of the PD and biliary system. The future of pancreatic EUS is exciting indeed.
ACKNOWLEDGMENTS
We would like to thank Dr. Tara Lynn Stewart for her assistance with the figures in this manuscript.
P- Reviewer: Ciccone MM, Gow KW S- Editor: Gou SX L- Editor: A E- Editor: Ma S