Copyright
©2014 Baishideng Publishing Group Inc.
All rights reserved.
Nonalcoholic fatty liver disease and cardiovascular disease
Hong Liu, Hong-Yun Lu, Department of Endocrinology and Metabolism, the Fifth Affiliated Hospital of Sun Yat-sen University, Zhuhai 519000, Guangdong Province, China
Author contributions: Liu H and Lu HY equally contributed to this paper.
Correspondence to: Dr. Hong-Yun Lu, Department of Endocrinology and Metabolism, the Fifth Affiliated Hospital of Sun Yat-sen University, Zhuhai 519000, Guangdong Province, China. luhongyun2013@163.com
Telephone: +86-756-2528741 Fax: +86-756-2528210
Received: October 26, 2013
Revised: January 4, 2014
Accepted: April 8, 2014
Published online: July 14, 2014

Nonalcoholic fatty liver disease (NAFLD) and cardiovascular disease (CVD) are two diseases that are common in the general population. To date, many studies have been conducted and demonstrate a direct link between NAFLD and CVD, but the exact mechanisms for this complex relationship are not well established. A systematic search of the PubMed database revealed that several common mechanisms are involved in many of the local and systemic manifestations of NAFLD and lead to an increased cardiovascular risk. The possible mechanisms linking NAFLD and CVD include inflammation, oxidative stress, insulin resistance, ectopic adipose tissue distribution, dyslipidemia, endothelial dysfunction, and adiponectin, among others. The clinical implication is that patients with NAFLD are at an increased risk of CVD and should undergo periodic cardiovascular risk assessment.
Core tip: The link between nonalcoholic fatty liver disease (NAFLD) and cardiovascular disease (CVD) should be carefully evaluated in future research, which represents an intriguing field of investigation. A better understanding of the role of inflammation, oxidative stress, and insulin resistance, among other mechanisms, may be necessary to clarify the pathogenesis of NAFLD and CVD, and thereby contribute to the development of new therapies.
---
Citation: Liu H, Lu HY. Nonalcoholic fatty liver disease and cardiovascular disease. World J Gastroenterol 2014; 20(26): 8407-8415
---
INTRODUCTION
Nonalcoholic fatty liver disease (NAFLD) is a common liver disease seen in clinical practice. It comprises a wide disease spectrum ranging from simple steatosis to nonalcoholic steatohepatitis (NASH), which can progress to end stage liver disease, cirrhosis and hepatocellular carcinoma[1]. Initially, NAFLD was considered a benign liver disease, but it is now regarded as the liver manifestation of metabolic syndrome (MetS), a highly atherogenic condition. Most patients are overweight or obese with insulin resistance (IR), hypertension, and dyslipidemia. When compared with control subjects who do not have NAFLD, patients with NAFLD have a higher prevalence of atherosclerosis, which is independent of obesity and other established risk factors[2]. The role of NAFLD as a potential independent cardiovascular disease (CVD) risk factor has recently gained considerable prominence. The purpose of this review is to discuss the pathogenesis of NAFLD, the relationship between NAFLD and CVD, the mechanisms that link both conditions, and the clinical implications that may influence NAFLD and risk of CVD.
NAFLD, METS AND DIABETES
In general, NAFLD is diagnosed based on the following criteria: liver biopsy showing steatosis in at least 5% of hepatocytes or imaging study confirmation; exclusion of liver disease of other etiology, including alcohol-induced liver disease (history of excessive alcohol consumption greater than 20 g/d), drug-induced liver disease, autoimmune or viral hepatitis, as well as cholestatic or metabolic/genetic liver disease[3]. A joint interim statement of the International Diabetes Federation defines MetS with three of the five criteria, including elevated waist circumference, elevated triglycerides, reduced high-density lipoprotein (HDL), elevated blood pressure, and elevated fasting-glucose levels[4]. Approximately 90% of patients with NAFLD have at least one of the features of MetS, and approximately 33% meet the complete diagnosis, placing NAFLD as the hepatic representation of MetS[5]. The prevalence of metabolic abnormalities such as diabetes and hypertension were increased up to 15-fold in patients with NASH compared to steatosis independent of age or body mass index (BMI). The relationship between diabetes and NAFLD remains poorly understood; thus, further prospective study of the association and outcomes should be performed. NAFLD predicts the development of type 2 diabetes mellitus (T2 DM) and vice versa, and each condition may serve as a progression factor for the other. In a recent study of T2 DM patients with an average BMI of 36 kg/m2, over 60% of patients who underwent weight reduction surgery (n = 64 of 92) had moderate to severe NAFLD on liver biopsy[6]. A study by Leite et al[7] in patients with T2 DM found that three of the 92 patients had histological evidence of cirrhosis secondary to NAFLD without clinical evidence of liver disease. To approach the relationship between NAFLD and diabetes from another perspective, multiple studies supported by a recent meta-analysis have shown that NAFLD was associated with IR and diabetes and that NAFLD presence predicted the development of diabetes[8]. In a Korean study of 11091 individuals without diabetes at baseline, where fasting insulin levels were also measured and divided into quartiles, the 5-year (crude) OR for developing T2 DM in the presence of ultrasound evidence of fatty liver at baseline was 5.05 (95%CI: 2.08-12.29) for the lowest insulin quartile and was 6.34 (95%CI: 3.58-11.21) for the highest insulin quartile[9]. After multivariate adjustment, including for baseline glucose level, the OR for the highest insulin quartile remained significant at 2.42 (95%CI: 1.23-4.75)[10].
NAFLD AND CARDIOVASCULAR DISEASE PREVALENCE
The clinical manifestations of NAFLD, such as steatosis and inflammation, are additional risk factors of CVD, although the precise mechanisms by which NAFLD contributes to CVD are still the subject of ongoing research. The age of onset of CVD events in NAFLD patients ranged from 45 to 65 years[11]. All had significantly higher estimated CVD risk at 10 years (17% vs 10%) by the Framingham risk score (FRS) than NAFLD patients without new CVD events[12]. The mortality rate among patients with NAFLD followed for 8 years was higher than that in the general population. In another study consisting of biopsy-diagnosed NAFLD patients who were followed for 18 years, CVD was among the common causes of death after all of the cancers combined[13].
Clinical studies
Table 1 summarized several latest clinical studies on the relationship between NAFLD and CVD. Targher et al[9] showed a significant increase of atrial fibrillation (AF) in the presence of NAFLD (retrospective, n = 702, Caucasians). Lu et al[8] suggested that NAFLD was a strong independent predictor of CVD and may play a central role in the cardiovascular risk of MetS. DeFilippis et al[10] showed that CT-diagnosed NAFLD was associated with the atherogenic dyslipidemia phenotype in a dose dependent fashion. These relationships persisted after adjustment for several metabolic risk factors and HOMA-IR, suggesting a possible independent pathophysiologic role between NAFLD and dyslipidemia (prospective, n = 3362, Caucasian, Chinese, African American, Hispanic). Feitosa et al[11] showed that ALT (≥ 40 U/L) was a predictor of prevalent coronary heart disease (CHD) in men but not in women, while CT measured liver fat (FL) was not significant in either sex (prospective, n = 2756, European-American). Akın et al[12] showed that obese children and adolescents with NAFLD are at an risk of early atherosclerotic changes. As liver function tests are not sufficient to identify patients with fatty liver, ultrasonographic evaluation of NAFLD might be considered in all obese children and adolescents (cross-sectional, n = 157, Turkey). Catena et al[14] showed that in essential hypertensive patients without additional cardiovascular risk factors, NAFLD is associated with IR but not with increased arterial stiffness (observational, cross-sectional, n = 68, Italy). Colak et al[15] showed that NAFLD is associated with earlier endothelial dysfunction in patients with atherosclerosis compared to control subjects (observational case-control, n = 51, Turkey). Based on the evidence enumerated above, NAFLD patients have higher incidence of AF, atherosclerotic changes, dyslipidemia and coronary heart disease. Therefore, our primary goal was to systematically evaluate the possible mechanisms linking NAFLD and CVD, their implication in clinical practice and various treatment modalities.
| | | | | |
| --- | --- | --- | --- | --- |
| Ref. | Population sample size | Diagnosis methods | Outcomes | Main results |
| Targher et al[9] | 702 patients with T2 DM | Liver ultrasound | AF | NAFLD is strongly associated with an increased prevalence of persistent and permanent AF in patients with T2 DM |
| Lu et al[8] | 7042 participants | Liver ultrasound and CT | c-IMT and CAD | NAFLD was significantly associated with cardiovascular outcomes independent of conventional risk factors |
| Defilippis et al[10] | 3362 subjects aged 45-84 yr | CT | Atherogenic dyslipidemia | CT-diagnosed NAFLD was associated with atherogenic dyslipidemia even after adjustment for several metabolic risk factors |
| Feitosa et al[11] | 2756 subjects | CT and elevated ALT | CHD | FL and ALT (> 40 U/L) were each individually associated with prevalent CHD. However, when accounting for traditional metabolic risk factors in a multivariate model FL and no predictive value for CHD |
| Akin et al[12] | 157 obese patients | Liver ultrasound | c-IMT | Obese patients with NAFLD had markedly increased c-IMT than those without NAFLD |
| Catena et al[14] | 68 patients with essential hypertension | Liver ultrasound | AASI | In hypertensive patients, AASI and symmetric AASI were higher than in normotensive subjects (P < 0.001), but both indices of vascular stiffness were comparable in patients with and without NAFLD |
| Colak et al[15] | 51 patients in study group and 21 in control group | Liver biopsy | c-IMT | C-IMT was significantly higher in patients with NAFLD group(P < 0.001) |
Classical and new emerging risk factors
The new risk factors for CVD include markers such as inflammation (e.g., C-reactive protein, lipoprotein A), homocystine, and markers of fibrinolytic and homeostatic function [e.g., fibrinogen, tissue plasminogen activator, and plasminogen activator inhibitor-1 (PAI-1)]. These markers are also associated with NAFLD[13]. A case-control study of 35 patients diagnosed with NAFLD by liver biopsy and 45 healthy controls showed that the plasma homocysteine level was higher in NAFLD patients compared to the control group (P = 0.0341)[16]. The classic common risk factors for NAFLD and CVD are age and gender, physical inactivity, T2DM, hyperlipidemia, obesity, and hypertension[16].
POSSIBLE MECHANISMS LINKING NAFLD AND CVD
The association of NAFLD with MetS and diabetes maybe partially explain the increased risk of CVD with NAFLD. Additionally, several studies showed that NAFLD in itself may contribute to the increased risk of CVD[17-19]. However, the exact mechanisms for this complex relationship are not clear. It is likely that several highly interrelated factors contribute to the enhanced risk of diabetes and metabolic syndrome in persons with NAFLD. The following factors are possible explanations of underlying mechanisms of the association between CVD and NAFLD.
CLINICAL IMPLICATIONS
It is evident that patients with NASH are more prone to developing CVD (increased mortality by 86%) than patients with simple steatosis (increased mortality by 55%). We suggest adding a new modality of approaching patients with NAFLD[23]. The primary objective of any NAFLD therapy is to improve steatohepatitis and fibrosis, with the ultimate goal of preventing CVD and liver-related death.
Once the diagnosis of NAFLD is made, the first step will be a lifestyle intervention using a combination of diet, active walking, and behavior modification, with a goal of a 10% weight reduction[10]. Recently, Koskinen et al[63] showed that modest wine drinking (20-30 g/daily) offers protection against suspected NAFLD. Lifestyle modification remains the cornerstone of management. Weight loss and increased physical activity are effective mediators of NAFLD, and their role in CVD risk reduction is well established. However, before initiating any significant increase in exercise level, patients at risk should be evaluated for underlying CVD.
The second step is to assess the risk of hepatic fibrosis. The noninvasive methods for fibrosis evaluation include plasma cytokeratine 18 fragments and Angulo score[9]. The invasive method (liver biopsy) remains the only reliable means to determine prognosis based on the severity of fibrosis.
The third step will include the assessment of cardiovascular risk stratification. We suggest the use of measurements of the carotid arteries (IMT) in non-diabetic NAFLD patients and/or the Framingham score with an effort test, as well as biomarkers of inflammation (C-reactive protein, fibrinogen), oxidative stress, (MDA, Paraoxonase), IR (HOMA), lipotoxicity (TG, HDL, LDL, TC), OGTT, and microalbumin/creatinine ratio[13].
The final step is to initiate appropriate therapy according to the comorbidities and the clinical status of each patient[21] (Figure 1).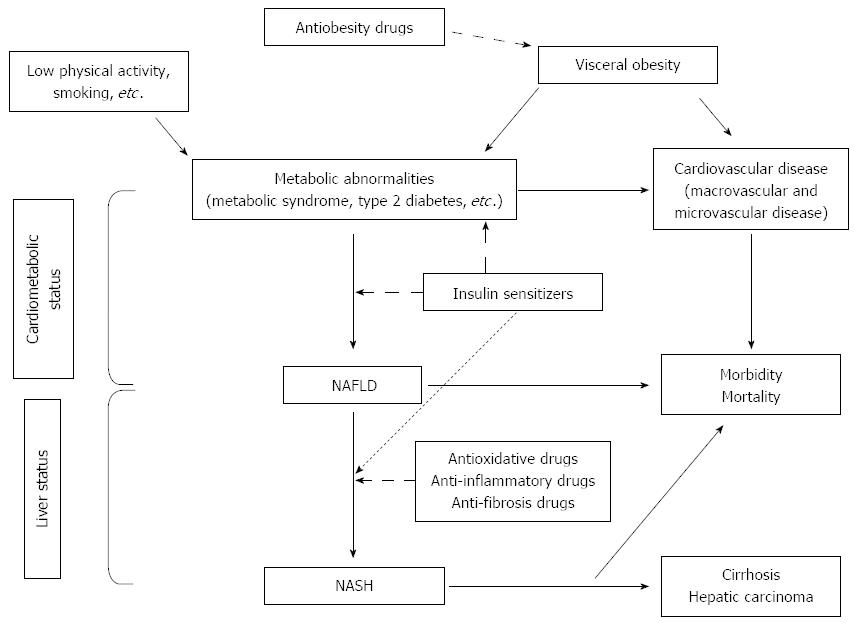 Figure 1 Evaluated treatments for nonalcoholic fatty liver disease.
NAFLD: Nonalcoholic fatty liver disease; NASH: Nonalcoholic steatohepatitis.
Insulin sensitizers
Metformin was associated with improvement in hepatocellular ballooning, but not fibrosis, steatosis, inflammation or NAFLD activity score (NAS). TZDs should be reserved for second-line treatment in the majority of patients. One exception may be patients with T2DM and NAFLD in whom TZDM therapy may rectify both conditions. TZDs improved insulin sensitivity and steatohepatitis in a large, multicenter randomized controlled trial Pioglitazone or Vitamin E for NASH Study (PIVENS). However, we should notice its drawback of lower extremity edema and weight gain (average 2 to 5 kg).
Incretin-based therapies
A direct relationship between the gastrointestinal and endocrine systems has recently been appreciated with the discovery of neuroendocrine hormones known as incretins. The two primary incretins are GLP-1 and glucose-dependent insulinotropic polypeptide (GIP). There is accumulating and convincing pre-clinical evidence that GLP-1 and its analogues have the ability to decrease hepatic steatosis in animal models, suggesting that there is potential for incretin-based medications to reverse or delay progression through the stages of NAFLD to cirrhosis[64]. There is an urgent need for prospective clinical trials designed to scrutinize the potential of these agents for treatment of NAFLD beyond improvements in metabolic parameters, such as weight loss.
Cytoprotective and antioxidant agents
Two randomized trials[65,66] showed that high-dose bile acids are unlikely to provide significant benefit, although their use was routinely advocated.
Two recently published, large, randomized controlled trials, PIVENS and TONIC[67,68], assessed the effect of vitamin E on adult and pediatric NAFLD populations, respectively. Vitamin E treatment resulted in improvements in hepatocellular ballooning and NAS in both trials. These results for vitamin E are quite promising and suggest that patients with biopsy-proven steatohepatitis associated with hepatocellular ballooning (NAS ≥ 4) may benefit from its use.
Antitumour necrosis factor-alpha agents
This type of therapy has been studied in a number of small NAFLD trials, two of which have assessed histological response and demonstrated improvement in steatosis, inflammation and ballooning[69,70].
Lipid-lowering agents
One recently published large study[71] provided compelling evidence that lipid-lowering agents, such as statins, are safe and efficacious in patients with NAFLD/NASH and that the agents can induce a reduction in the extent of the hepatic steatosis.
Phlebotomy
One prospective phase II study[72,73] of phlebotomy with paired liver biopsies that evaluated phlebotomy therapy in NAFLD patients suggested that iron reduction may improve liver histology.
Surgical intervention and anti-obesity drugs
Bariatric surgery is an increasingly popular therapeutic option among morbidly obese patients. One recently published study[71] reported that surgery should complement treatment of obesity-related comorbidity, but not replace established therapy.
Theoretically, improving NAFLD via weight loss is an ideal approach in obese or overweight people because other complications are simultaneously ameliorated with weight loss. Of several commonly used antiobesity medications, orlistat and sibutramine are available for long-term prescription. Harrison[74] reported that subjects who lost ≥ 5% of their body weight over 9 mo experienced improvements in IR and steatosis, while subjects who lost ≥ 9% of their body weight also experienced improvements in hepatic histology[75,76]. Both orlistat and sibutramine have been shown to have beneficial effects on body weight, lipid profiles, glucose metabolism, and inflammatory markers in several trials[77]. However, insufficient safety data are available regarding the long-term outcomes of antiobesity therapy. Indeed, sibutramine was reported to increase blood pressure and heart rate, which may limit its use in clinical practice[76].
CONCLUSION
NAFLD is regarded as the hepatic component of metabolic syndrome and is associated with a high risk of developing CVD. Oxidative stress, inflammation dyslipidemia, IR, visceral fat, low adiponectin, ectopic adipose tissue distribution, endothelial dysfunction and postprandial dyslipidemia are the main factors that lead to and further aggravate the course of NAFLD, as well as accelerate the progress of atherosclerosis and development of CVD. NAFLD patients should be considered candidates not only for aggressive treatment of their liver disease but also for careful monitoring and potential treatment of underlying CVD risk factors because many patients with NAFLD will have major CVD events and die prior to the development of advanced liver disease.
P- Reviewers: Kim SH, Xu Y S- Editor: Ma YJ L- Editor: Wang TQ E- Editor: Ma S