Copyright
©2014 Baishideng Publishing Group Inc.
All rights reserved.
Epidemiological transition of colorectal cancer in developing countries: Environmental factors, molecular pathways, and opportunities for prevention
Faraz Bishehsari, Division of Gastroenterology, Robert H Lurie Comprehensive Cancer Center, Department of Medicine, Northwestern University, Feinberg School of Medicine, Chicago, IL 60611, United States
Mahboobeh Mahdavinia, Division of Allergy-Immunology, Department of Medicine, Northwestern University, Feinberg School of Medicine, Chicago, IL 60611, United States
Michele Vacca, Medical Research Council-Human Nutrition Research, MRC-HNR, Cambridge CB1 9NL, United Kingdom
Michele Vacca, Institute of the Metabolic Science IMS, Cambridge CB2 0QQ, United Kingdom
Reza Malekzadeh, Digestive Oncology Research Center, Digestive Disease Research Institute, Tehran University of Medical Sciences, Shariati Hospital, Tehran 1411713135, Iran
Renato Mariani-Costantini, Unit of General Pathology, Aging Research Center, G. d'Annunzio University Foundation, 66100 Chieti, Italy
Renato Mariani-Costantini, Department of Medical, Oral and Biotechnological Sciences, G. d'Annunzio University, 66100 Chieti, Italy
Author contributions: Bishehsari F designed the outline, searched and reviewed the literature, and prepared the manuscript; Mahdavinia M and Vacca M helped in conducting the search and drafting the manuscript; Malekzadeh R reviewed and edited the final draft; Mariani-Costantini R reviewed, and revised the final draft.
Supported by Institutional NRSA, clinical oncology research training program, No. T32 CA079447 (Bishehsari F); the Associazione Italiana per la Ricerca sul Cancro (AIRC), Milan to Mariani-Costantini R; the Office for Internationalization, G. d'Annunzio University, Chieti; the Carichieti Foundation, Chieti; Ministero dell'Istruzione, dell'Università e della Ricerca (MIUR), Rome, Italy; the Fondazione Umberto Veronesi, Milan, Italy and the MRC (5PT57) to Vacca M
Correspondence to: Faraz Bishehsari, MD, PhD, Division of Gastroenterology, Robert H Lurie Comprehensive Cancer Center, Northwestern University, 303 E Superior Street, Lurie 3-250, Chicago, IL 60611, United States. faraz-bishehsari@fsm.northwestern.edu
Telephone: +1-312-5031837 Fax: +1-312-5032576
Received: September 29, 2013
Revised: February 20, 2014
Accepted: April 15, 2014
Published online: May 28, 2014

Colorectal cancer (CRC) is one of the leading causes of cancer and cancer-related mortality worldwide. The disease has been traditionally a major health problem in industrial countries, however the CRC rates are increasing in the developing countries that are undergoing economic growth. Several environmental risk factors, mainly changes in diet and life style, have been suggested to underlie the rise of CRC in these populations. Diet and lifestyle impinge on nuclear receptors, on the intestinal microbiota and on crucial molecular pathways that are implicated in intestinal carcinogenesis. In this respect, the epidemiological transition in several regions of the world offers a unique opportunity to better understand CRC carcinogenesis by studying the disease phenotypes and their environmental and molecular associations in different populations. The data from these studies may have important implications for the global prevention and treatment of CRC.
Core tip: This highlight addresses the rise of colorectal cancer (CRC) in the developing countries. We review the epidemiological data on the growing CRC burden in these countries, discuss the role of changing environmental risk factors, and examine preventive strategies that could contribute to control the spread of CRC. The molecular pathways of CRC and the roles of nuclear receptors and of the intestinal microbiota are discussed in the light of the current epidemiological transition.
---
Citation: Bishehsari F, Mahdavinia M, Vacca M, Malekzadeh R, Mariani-Costantini R. Epidemiological transition of colorectal cancer in developing countries: Environmental factors, molecular pathways, and opportunities for prevention. World J Gastroenterol 2014; 20(20): 6055-6072
---
INTRODUCTION
Colorectal cancer (CRC) is among the top three most commonly diagnosed cancers in the world, accounting for 8% of all cancer-related deaths annually[1]. CRC still is a major health problem in the more industrialized and developed countries, where the annual age-standardized incidence rates exceed 40, compared to rates below 4 observed in several less-developed countries. The over 10-fold variation in the global CRC rates, along with the rapid rise of CRC risk in the same generation that immigrated from low to high-risk areas, have suggested a strong environmental influence on CRC pathogenesis[2,3]. In the developing countries that are witnessing an economic advancement, the adoption of a Western life style and of dietary habits characterized by higher intake of meat, fat and total calories, along with increasing life expectancy and population growth, herald a remarkable increase in the burden of CRC[4]. This review addresses the global epidemiological characteristics of CRC, with a focus on its trend in the developing countries and on the implications for the epidemiology and the molecular pathogenesis of the disease, as well as for preventive strategies. We also discuss the emerging roles of nuclear receptors and of the gut microbiota as mediators between the environment and CRC tumorigenesis. All this can have potential for designing novel preventive and therapeutic strategies.
The designation of the "developing countries" in this manuscript is based on the United Nation's definition and encompasses any country that is not part of the more developed countries, i.e., all of Europe plus Northern America, Australia/New Zealand and Japan [World Health Organization (WHO) Databank Statistical Information System. Geneva: World Health Organization; Year. Available at: http://www.who.int/whosis. 2010. Last accessed 2/16/2010]. This grouping is only for the purpose of epidemiological comparisons and does not express any judgment about the stage reached by a particular region or country in the development process.
BURDEN OF CRC
CRC is the third most commonly diagnosed cancer in males, the second in females, and is the third cause of cancer-related mortality in both sexes worldwide[1]. In 2008, more than 1.2 million new CRC cases and 608700 deaths have occurred. The CRC rate varies among different regions; the rates were traditionally higher in the developed and industrial countries, whereas the less-developed countries had lower rates. Nevertheless, CRC incidence is dramatically increasing in many developing countries. The rates in the former Eastern European Communist Bloc, that recently underwent a major economic transition, have already reached or exceeded those of the industrial countries of the former Western bloc[5]. Likewise, reports from Eastern Asian regions, such as Hong Kong, Taiwan, urban China, Singapore, and Thailand, indicate a rapid rise in CRC incidence, close to the rates reported in Western populations[6,7].
A rise in CRC incidence has also been observed in Western Asian countries that were historically considered to have very low rates of the disease. For instance, epidemiological studies in Iran have shown that the CRC rate, although still relatively low, has increased significantly over the past three decades[8]. Similar trends have been reported in other populations in the region, including Saudi Arabia, Jordan, Yemen and Egypt[9-11].
Notwithstanding the rise of CRC in almost all developing countries, the acceleration rates may differ among populations. For example, in India, where an increase in the rates of CRC over the past decades has been reported, the steep is steadier and less rapid compared to other developing countries in East Asia[12].
The increase in CRC incidence in developing countries, that are often equipped with fewer resources, are paralleled by an increase in the mortality rates, as indicated by studies from South America and Eastern Europe[4].
The uptrend in CRC rates is not explainable by the effect of screening programs, as such programs are either limited or only newly implemented in these regions[5,13]. In addition, the rise in CRC is usually more prominent in the younger populations, who are not subjected to screening programs. In fact, a high proportion of early-onset CRCs has been reported from countries with new epidemiological transition[14,15]. For example, almost 20% of the CRC cases recorded in Iran occur at or below age 40, in comparison to 2%-8% reported in the developed countries for the same age subset[16]. The higher proportions of CRC in young patients can be related not only to the age-structure of these populations, but, more importantly, to the relatively lower rates of the disease in the older individuals. In other words, in these historically low-risk regions for CRC, where the rates in the older population sectors has remained low, CRC incidence has increased significantly in the newer generations. As the young population with an accelerated rate of CRC becomes older, the incidence of the disease is expected to grow further also in the older subset[8,16]. Hence, it is predicted that the incidence of CRC will dramatically increase over the next decade, nearing a doubling of the current rates, with most of the new cases occurring in developing countries[12,17].
ENVIRONMENT AND CRC
The rise of CRC in developing countries is attributed to environmental changes, prompted by the economic transition[5,18]. Environmental factors, such as dietary patterns, obesity, smoking and heavy alcohol consumption, are considered to affect CRC risk[19].
The effect of dietary habit and lifestyle on CRC has been highlighted by migration studies, that demonstrate a rise in CRC rates in originally low-risk ethnic groups when migrated to high-risk areas[2,20,21]. Sedentary lifestyle and a "Western" diet, rich in fat and meat and usually poor in unrefined cereals and fiber, are suggested to increase the incidence of CRC[22-24]. A decrease in physical activity and a trend towards consumption of a more Westernized diet have been ubiquitously reported in countries of Central-West Asia and North Africa[8,25]. A similar shift in lifestyle and dietary patterns occurred in the Eastern European countries during the transition from planned to open market economies, which led to increased availability of food, consumption of refined products, and increased obesity[5]. Likewise, in the East Asian countries, dietary changes and obesity have preceded and paralleled the increase in CRC incidence[26-28].
Obesity, and the metabolic syndrome, characterized by glucose intolerance, and dyslipidemia, have been shown to be associated with higher risk of both colonic adenoma and CRC[29-32]. Rising rates of obesity and metabolic syndrome are increasingly reported from developing countries, with the improvement in economic status and the rapid urbanization[33-36].
A prominent role of the environment/diet on the risk of CRC is also suggested by the age-structure of the disease in the countries under epidemiological transition. As discussed above, these countries typically witness a higher proportion of young CRC cases, while the rates are still relatively low in the older individuals. The higher CRC incidence in the younger subgroups of these populations suggests a recent change in the environmental risk factors, that affected individuals who shared these exposures during childhood and younger adulthood[16]. The proposed association of dietary profile and CRC is outlined in Figure 1, that compares the pattern of regional food consumption in the world, as reported by the WHO, with the global spread of CRC, based on the data from Globocan 2008[37]. There is a concordance in most regions of the world between the dietary pattern, mainly categorized by the fraction of meat and animal fat in the consumed food, and the CRC rate.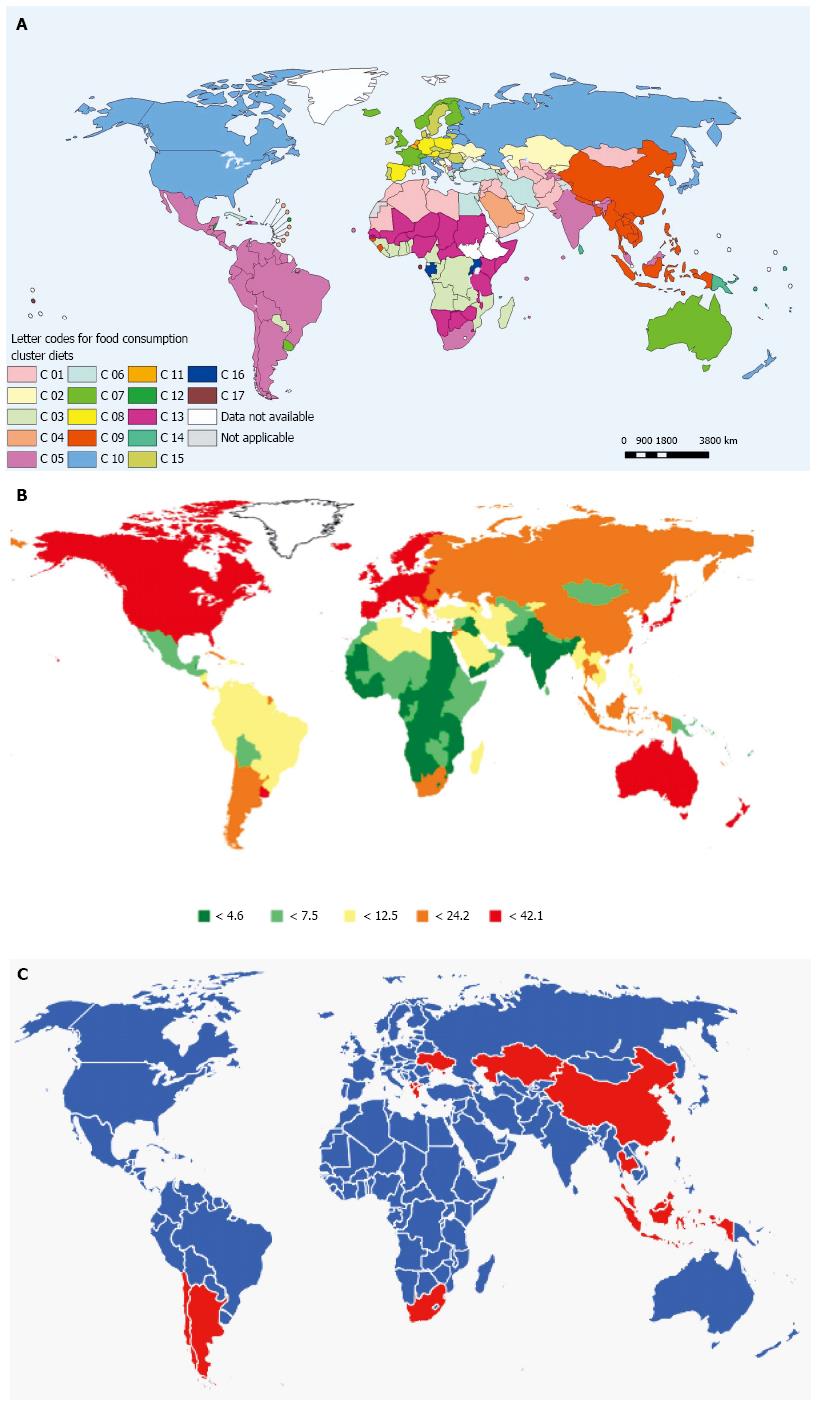 Figure 1 Comparison of the regional food consumption in the world, and the global spread of colorectal cancer, based on the data from Globocan 2008.
A: Global cluster analysis based on 62 marker foods from 2002-2007 food supply data, reproduced with permission from World Health Organization GEMS/Food cluster diets analysis 2012 (details at http://www.who.int/foodsafety/chem/gems/en/index1.html). The analysis defined 17 diet clusters representing 179 countries for which food supply data were available. Here we highlight two major food clusters based on consumption of meat and fat, the major dietary colorectal cancer (CRC) risk factors. Clusters G7, 8, 10, 11 and 15 are in the high-meat-fat group, characterized by predominance of mammalian meat consumption (all > 108 g/d) and high total fat intake (all > 73 g/d). The low meat-fat group consists of clusters with lower mammalian meat consumption (all < 80 g/d) and lower overall fat intake (all < 51 g/d). Interestingly other high-risk dietary factors for CRC, such as overall high total food intake (> 2000 g/d) and total alcohol intake (> 200 g/d) are also associated with the meat-fat based diet group. The low-meat-fat group generally has lower total intake (except cluster G2) and lower total alcohol consumption (except cluster G16). The dietary profile in the low-meat-fat group is more heterogeneous, with variable intakes of other foods, such as fruit, vegetable, and cereal; B: CRC age-standardized incidence rates (ASR) per 100000 individuals per geographic region, as extracted from Globocan 2008[37]. Here we define regions with ASR of ≥ 24.2 as high-rate (red and orange), and regions with ASR < 24.2 (light green, dark green and yellow) as low-rate; C: Visual matching of the global regional CRC rates and dietary patterns, based on the groups defined above. Matching occurs when a region with high-meat-fat diet is high-rate for CRC, or when a region with low-meat-fat diet is low-rate for CRC. The regions where the CRC rates matched dietary pattern are in blue, those where it did not match in red (i.e., high-rate CRC regions with low-meat-fat diet or low-rate CRC regions with high-meat-fat diet).
Most CRC cases are considered sporadic, and only a small proportion is due to known genetic syndromes. This points to a strong role of the environment in CRC development[38]. However genetic factors may modify the effects of the environment in the predisposition to the disease. This is suggested by the unequal CRC risk in different ethnic groups in the same region. For example, although the incidence of CRC is increasing in all ethnic groups in Singapore and Malay, the rates are higher in Chinese vs Malay individuals[4,39]. Disparities in the CRC rates are also seen between the Jewish and the Arab population in Israel[40]. In addition to still unknown genetic factors, ethnicity-related environmental exposures could contribute to differences in the CRC rates between distinct ethnic groups within the same geographic region or country.
Despite the overall correlation between CRC and diet highlighted by the epidemiological evidence, the results of case-control and cohort studies have been controversial[19]. Numerous reviews and meta-analyses have been conducted to test the association of single dietary compounds and CRC risk. The World Cancer Research Fund concluded that, in addition to obesity and lack of exercise, there is convincing evidence for high meat consumption to affect CRC risk[23]. The evidence for the effect of red meat on CRC risk was also considered convincing in a recent review by an expert panel[41]. Disparities among dietary studies may partly reflect the fact that the effect of each dietary component is confounded by other components in the food[42]. In this respect, associations between dietary patterns and disease could be achieved by applying a global analytical approach, such as cluster and factor analyses, to classify individuals in clusters with a global similarity in dietary habits[43,44]. By applying this approach to a large prospective cohort, Kesse et al[45] found an increased risk of adenomas and of high-risk adenomas with the Western diet, high in fats, animal products and snacks and low in foods of vegetable origin. The highest CRC risk was observed in the group with high consumption of meat. Similar findings have been reported by other researchers[46]. Direct or indirect effects of dietary factors on colonic and intestinal tumorigenesis were also demonstrated in laboratory and animal investigations[47]. Overall, these studies support the strong influence of the environment, including diet, on CRC predisposition.
GENETIC AND EPIGENETIC ALTERATIONS
The molecular alterations underlying CRC development have been extensively studied over the past two decades. Our current understanding of the molecular landscape of CRC mainly originates from studies conducted on tumors from Western populations. The tumors from developing countries have not been analyzed as extensively, but the available data show that the major molecular pathways correspond to those involved in "Western" CRC. Nevertheless the mutational spectra appear to be often distinctive, reflecting different environmental and/or genetic factors[48]. Our group showed that CRCs from Iran, as those from high-risk areas, harbor genetic alterations in major genes such as K-RAS and p53, however the spectra of the mutations are quite distinct and could be related to different environmental exposures[49]. Similar findings have been reported from other countries that are in epidemiological transition, but still have relatively low CRC incidence[50,51]. As reviewed above, several lines of evidence support the role of environmental factors, such as diet, on CRC, however, the relationships between dietary risk factors and genetic alterations is as yet incompletely understood.
Furthermore, epigenetic alterations that are central to the process of genomic imprinting, such as histone modifications and DNA methylation, as well as changes in non-coding RNAs, mainly involved in post-transcriptional regulation, can affect the gene expression patterns independent of or in combination with inherited or somatic changes in the DNA sequence.
DNA methylation, i.e., conversion of cytosine to 5-methylcytosine, normally occurs at isolated CpG dinucleotides, while the regions enriched in CpGs, so called CpG islands, mainly situated at or near gene promoters, are generally hypomethylated[52]. Abnormal methylation of CpG islands may turn off gene expression and can lead to inactivation of tumor-suppressor genes in the process of carcinogenesis[52]. For example, hypermethylation of MLH1 (a major mismatch repair gene), accounts for more than 60% of non-hereditary microsatellite unstable CRCs, and can be found in more than one fifth of all CRC cases[53-55]. Methylation of other genes involved in CRC, such as APC, MGMT, GATA-4 and GATA-5, and FXR have also been described[56,57].
On the other end, genetic instability could also be caused by global genomic hypomethylation[58]. Studies have identified number of different genes hypomethylated in CRC, such as CARD 14, CCDC116, TIAM1, and MAEL, that can have a variety of effects on signaling, e.g., by nuclear factor-kappa B (NF-κB), or other cellular functions relevant to CRC carcinogenesis including, but not limited to, cell adhesion, cell cycle control, cell migration and differentiation[59].
These epigenetic alterations can be strongly affected by dietary habits, because several dietary components can alter the methylation profile of the genome. Polyphenols, abundant in green tea, promote demethylation, and may reactivate tumor suppressor genes that were inactivated by promoter methylation[60]. Effects on methylation pattern have similarly been reported for other potentially protective natural compounds, such as quercetin, folate, and selenium[61-63]. For example, a selenium-low diet altered the methylation pattern of colonic DNA in rat models, causing activation of tumor suppressor gene, such as the rat homolog of VHL, while a selenium-rich diet reversed the abnormal methylation profile[64].
Hypermethylation can also affect the expression of microRNAs (miRNAs). MiRNAs are short non-coding RNAs of about 19-28 nucleotides that affect gene expression and/or mRNA translation by binding the untranslated regions of target genes[65]. Numerous miRNAs targeting tumor-suppressive and oncogenic pathways have been found to be altered in CRC (reviewed in[66]) and it has been found that their expression can be affected by diet[67,68]. High-risk diets seem to cause downregulation of tumor suppressive miRNAs, and progression of CRC[67]. Decrease in the tumorigenesis process upon use of dietary factors that are generally thought to lower the risk of CRC, was associated with normalization of the deregulated miRNA pattern[68,69]. For example, the level of the let-7 miRNA family was found to increase with dietary vegetable consumption in rat colon tumors induced by a heterocyclic amine from cooked meat, leading to the normalization of cancer-related proteins, such as c-myc and p53[68].
Histones modification is another mode of epigenetic alteration that affects gene expression by regulating chromatin structure and activity[70]. Acetylation and methylation of histones, among other modifications, modulate the gene expression pattern during cell differentiation and can result in activation of oncogenes and inactivation of tumor suppressor genes in CRC[70]. In-vitro and in-vivo experiments have proposed histone modification, e.g., histone deacetylases inhibition and histone hyperacetylation, as a mechanism implicated in the anti-carcinogenic effect of some dietary components, such as short-chained fatty acids, garlic, vegetable metabolites and other organic compounds[62,71-73]. Some of these dietary components act via nuclear receptors, that can be a target of therapeutic or preventive strategies for CRC (see below). Epigenetic alterations can be the target of other environmental risk factors as well[74].
Other mechanisms suggested to mediate the effect of diet on CRC include cytotoxic and mutagenic effects of food metabolites or their by-products on colorectal epithelium. Moreover, food metabolites can contribute to CRC carcinogenesis through oxidative stress, immune regulation, and alterations in the mucosal inflammatory milieu[75-80].
The responsiveness to the environment, particularly diet, and the potential reversibility, has made epigenetics a promising target for dietary interventions in the chemoprevention of CRC[59,81]. In order to achieve this goal, the epigenetic aberrations that occur early in the disease and that are modifiable by dietary agents need to be better characterized[82]. Furthermore, it is predicted that a major contribution to the chemoprevention of CRC will derive from pharmacological interventions targeting nuclear receptors that control the metabolic pathways involved in normal enterocyte proliferation and differentiation and in CRC tumorigenesis.
NUCLEAR RECEPTORS
Nuclear receptors (NRs) are transcription factors (48 in humans, 49 in rodents) able to transduce extracellular signals into fast and coherent changes in gene expression[83]. These transcription factors are thus key players in the coordination of organism physiology[83]. Some NRs bind extracellular lipophilic molecules (e.g., hormones, vitamins, dietary lipids, bile acids, etc.)[83]. In the absence of ligand, NRs are bound to transcriptional co-repressor complexes that cause chromatin condensation and gene silencing. After ligand binding, a change in the three-dimensional conformation of the NR results in the recruitment of tissue-specific co-regulators that activate the gene transcription machinery[83]. For some NRs, called "orphans", the endogenous ligands are still unknown, while other NRs, designated "true orphans", are ligand-independent[83].
Previous studies have provided evidence that lipid-sensing NRs modulate enterocyte physiology (metabolism, proliferation, differentiation, and death) and that their localization pattern along the crypt-villus axis predicts the modulation of their expression in tumors[84,85]. For example, the vitamin D receptor, the farnesoid X receptor α (FXRα, bile acid -BA- sensor), the liver X receptor α (LXRα, the oxysterol sensor), and the retinoid X receptor α (RXRα), that are expressed mainly in the differentiated compartment of the intestinal mucosa (villus/epitelium), are suppressed in neoplasms[57,85-88].
FXRα is the master transcriptional regulator in bile acids (BA) metabolism. BA play an important role in intestinal homeostasis, and may have a dual function of either promoting or inhibiting cell differentiation and death, depending on the bile acids composition[89] and gut microbiota[57], that are modifiable by diet. One of the main functions of FXR is to promote the detoxification of the enterocytes from hydrophobic BA[90], thus reducing BA-induced oxidative DNA damage and inflammation in the colorectal epithelium[91]. In fact, when FXR is absent in the intestine, there is a promotion of Wnt signaling, with expansion of the basal proliferative compartment, and a concomitant reduction in the apical differentiated apoptosis-competent compartment[92]. The role of FXR in protecting from CRC is confirmed by the observation that the loss of FXR in the ApcMin/+ and in the chronic colitis mouse models results in increased intestinal tumorigenesis and tumor progression via promotion of Wnt signaling and up-regulation of Cyclin D1. On the other hand, the activation of FXR triggers proapoptotic programs in both normal and transformed colonocytes[92,93]. Additionally, FXR displays anti-inflammatory properties by interacting with NF-κB signaling[93-95], and loss of FXR function results in enhanced infiltration and production of interleukin 6 and tumor necrosis factor alpha[92,93]. Thus FXR agonists could be effective in preventing CRC and strategies aimed at reactivating FXR expression might be useful in CRC treatment.
Proliferating cells need excess cholesterol, and several studies have shown that LXR activation affects cell proliferation and promotes apoptosis[96-98]. In fact, cholesterol acts as a regulator of cell cycle progression, and cholesterol starvation results in cell cycle arrest in the G2-phase; this effect is reverted by supplying cholesterol[99,100]. The need of coordinate cholesterol metabolism tuning during membrane synthesis, cellular differentiation and proliferation thus candidates LXRs as important in cell proliferation[96,98]. LXRα and LXRβ, acting as obligate heterodimers with RXR, are central actors in lipid homeostasis and respond to physiological concentrations of the cholesterol derivatives oxysterols. In proliferating cells, reduced intracellular concentrations of oxysterols are associated with increased cholesterol synthesis and down regulation of LXR target genes involved in cholesterol catabolism and transport[101]. In the enterocytes, LXRs control the intracellular flow, catabolism, and efflux of cholesterol[102], but also have many other effects, including inhibition of NF-κB signaling[103]. This anti-inflammatory action of LXRs leads to reduced inflammatory processes in chronic gut diseases[104,105]. LXR overexpression in the ApcMin/+ and chronic colitis mouse models results in decreased intestinal tumorigenesis and tumor progression. Additionally, pharmacological activation as well as adenoviral overexpression of LXR blocks the G1 phase, increases caspase-dependent apoptosis, and slows the growth of tumor xenografts in mice by affecting lipid metabolic networks and by increasing cholesterol efflux in the intestine[96,106]. Therefore LXR agonists might become novel therapeutic agents in CRC treatment, applicable to the control of the CRC epidemics in the developing world.
OBESITY AND LIFESTYLE
As discussed earlier, obesity and a sedentary lifestyle are associated with increased risk of CRC. Several molecular pathways have been linked to the effects of obesity and physical inactivity on CRC. Hyperinsulinemia, a consequence of an increased calorie intake, induces insulin-like growth factor (IGF)-I, which can promote cell growth and inhibit apoptosis[107]. The insulin pathway promotes proliferation in preneoplastic lesions of ApcMin/+ mice, is upregulated in human CRC tissue, and is associated with aggressive tumor behavior and metastasis[108-110]. Insulin can also induce steroid hormones that are involved in cellular proliferation, and apoptosis[111].
Polypeptide growth factors and cytokines released from adipose tissues, known as adipokines, have abnormal levels in obesity, as a result of systemic upregulation of insulin/IGF-I signaling, steroid hormones and inflammatory mediators[112-115]. High level of leptin and low level of adiponectin have been associated with CRC in mouse models[116-118]. In the physiologic state, the proliferative, survival, and pro-invasive actions of leptin, via pathways such as PI3-kinase/AKT and JAK-STAT, are balanced by the antiproliferative and antiangiogenic effects of adiponectin[119-122]. Moreover, obesity is associated with chronic low-grade inflammation[123]. A growing body of literature is supporting the role of chronic inflammation in promoting CRC[124,125]. The pro-inflammatory state in obesity is characterized by dysregulated release of pro-tumorigenic inflammatory cytokines, such as IL-6, and IL-17, from adipocytes and associated macrophages, as well as by altered mucosal immune composition[126,127].
Other lifestyle factors, such as chronic cigarette smoking and alcohol consumption, contribute to pro-carcinogenic inflammation[74,128,129]. Smoking, in addition to the induction of inflammation and of epigenetic and genetic alterations, can affect other pathways leading to CRC. Smoking-related oxidative stress, a result of increased reactive oxygen species (ROS) levels, and smoke metabolites such as nitrosamines, through effects on the nicotine signaling receptors, can lead to upregulation of MAPK signaling, activation of COX2 and of the matrix metalloproteinase (MMP) pathways. Furthermore accelerated DNA-adduct formation activates base excision repair (BER)[129-132].
Also excessive chronic alcohol consumption can accelerate CRC initiation and progression through multiple cellular mechanisms, including inflammation and epigenetics, as discussed earlier. Moreover, increased ROS generation and NADPH oxidase, combined with alcoholism-related vitamin deficiencies (Bs and A) can affect apoptotic (e.g., PI3K/AKT), proliferative (e.g., ERK1/2) and metastatic (e.g., VEGF, and MMPs) pathways[128,133,134].
ASSOCIATION OF ENVIRONMENTAL FACTORS WITH MOLECULAR ALTERATIONS
Several association studies, at both individual and population level[135-139], have explored the relations between modifiable environmental factors, such as life style and diet, and CRC-related molecular pathways.
Upon discovery of obesity as a risk factor for CRC, many investigators tested the effect of obesity on CRC in relation to obesity-related pathways[114]. An inverse association between adiponectin level and CRC, mainly in men, is supported by several studies, reviewed in a recent meta-analysis[139]. The levels of leptin or soluble leptin receptor have been found to be associated with increased risk of CRC in some studies[140,141].
The association between inflammatory markers and risk of CRC is not consistent. An increased level of IL-6, and soluble tumor necrosis factor receptor 2 in CRC patients, suggested by retrospective studies, has not been confirmed in prospective series[142,143]. This association could depend on specific molecular features of the tumor. For example, in rectal cancer, IL-6 was suggested to modify the effect of dietary components depending on p53 mutation status[144]. Similarly, the role of positive energy status, as defined by higher BMI and physical inactivity, can vary according to the molecular make-up of CRC. Obesity was reported to be associated with higher CRC risk in patients with tumors negative for beta-catenin activation or fatty acid synthase expression[145,146]. These patients showed lower CRC recurrence rates if exercised after diagnosis[147]. The risk of rectal tumors harboring P53 and K-RAS mutations was lower in individuals with high levels of physical activity[136]. In other studies, the mortality for CRC increased with higher BMI, depending on the expression status of anti-proliferative nuclear proteins, such as P21 and P53[148,149].
Other life style-related risk factors, such as cigarette smoking and alcohol intake, have been also studied in relation to molecular subtypes of CRC. Cigarette smoking was found to increase the risk of microsatellite unstable, CIMP-positive, and BRAF mutated CRC[150], while smoking cessation was protective against CIMP-high CRC[151]. These data are in line with the involvement of epigenetic modifications in smoking-related colorectal carcinogenesis. Although one might expect epigenetic fingerprints also from alcoholism, most studies could not find associations between specific molecular subtypes of CRC and alcohol intake[152,153]. The effects of alcohol, however, can vary among individuals depending on genetic polymorphisms in the alcohol metabolism pathways, and this could modify CRC risk[154].
The association between dietary components and CRC-related molecular pathways has been tested in population-based series. The variation among studies could be partly due to heterogeneity among series with regard to tumor location, sex, and other known and unknown potential confounders[155,156].
Earlier studies found differential associations between dietary factors and the P53 pathway in CRC, depending on whether protein expression or mutational analysis was used. Fat-intake was associated with P53-negative CRC using immunohistochemistry[157]. In subsequent larger studies, the Western-style diet, characterized by high consumption of red meat and increased glycemic load, was associated with P53 mutations in CRC[158].
With regard to the K-RAS pathway, cruciferous vegetables were found to be associated with lower chance of occurrence of K-RAS mutations, and monounsaturated fats with likelihood of G->T K-RAS mutation[159].
In rectal cancer, Omega-3 fatty acids were associated with the CpG island methylator phenotype (CIMP+), and refined grains with P53 mutations. Reduced risks of mutations in P53 and/or K-RAS were seen in groups with higher intakes of vegetables and whole grains[136]. Omega-3 fatty acids are agonists of the NRs peroxisome proliferator activated receptors (PPARs), that have been implicated in CRC. PPARγ activation has been shown to inhibit CRC cell proliferation[84] by promotion of cell maturation and inhibition of genes involved in inflammation and in cell growth[84]. Omega-3 fatty acids and other PPARγ agonists could thus serve as new anti-inflammatory and anti-cancer agents. In line with this, also the peroxisome proliferator-activated receptor gamma coactivator 1 alpha (PGC1α), a coactivator of the PPARs, has been shown to modulate intestinal epithelial cell fate and to inhibit CRC development and growth[160]. Being PGC1α a downstream effector of the AMPK/SIRT pathway[161], the protective role of PGC1α on CRC could account for some of the mechanisms by which physical exercise[162], metformin[163,164], and resveratrol[165,166] protect against CRC.
Overall, despite significant advances in the field of molecular epidemiology, the attributable effects of diet on CRC molecular subtype are not yet clear. Almost all the existing association studies for diet and molecular markers of CRC have been conducted in regions with high rates of CRC, mainly located in Western countries[136,157,167-169]. Nevertheless, the relatively restricted divergence of the Western dietary profiles and the similar epidemiological features of CRC in Western populations may limit the chances of finding associations between dietary factors and molecular pathways[170]. Comparative studies involving populations more dissimilar in dietary pattern and disease epidemiology might help to fill our knowledge gap on how diet influences CRC.
In a study that analyzed the molecular features of CRC, including CpG island methylator phenotype, microsatellite instability, and K-RAS and P53 gene status, in Egypt, Jordan, and Turkey, differences in gene methylation patterns and mutational status were found between CRCs from these countries and Western CRC series. Interestingly the molecular features of the CRCs from Turkey, the country with most rapid rise of CRC rate among the three studied, were most similar to those reported for Western series[171].
Our group, by applying a mathematical approach to the investigation of geographic correlations between p53 mutation patterns, based on the International Agency for Research on Cancer (IARC) P53 database, and food factors, derived from the dataset of the Food and Agriculture Organization of the United Nations (FAO), found relationships between P53 mutation type and site and higher availability of meat, sweeteners and animal fats, i.e., the energy-dense foods that characterize the "Western" diet and that are also linked to overweight and obesity[171]. This P53 mutational "fingerprint" could be explained by differential exposure to nitrosative DNA damage, due to foods that promote metabolic stress and chronic inflammation. However direct evidence for the molecular fingerprint of diet may not be easily achievable, due to complex interactions among dietary factors in the gastrointestinal lumen and in colonic epithelium that could be affected by host genetic susceptibilities as well. In addition, a rapidly growing body of evidence suggests that the gut microbial community modulates the effect of the diet on CRC risk[172].
INTESTINAL MICROBIOTA
The number of bacteria in our body exceeds by 10 times that of human cells[173]. A comprehensive analysis of the human intestinal microbiota is now possible thanks to the availability of high-throughput sequencing techniques. The human colon is highly populated with a microbial community reaching as many as 10(13)-10(14) microorganisms. Chronic inflammation can contribute to CRC carcinogenesis[125]. The gastrointestinal (GI) microbiota plays an important role in maintaining the mucosal immune functions and in balancing pro and anti-inflammatory signals[174,175]. The composition of the GI microbiota is affected by environmental factors, such as diet[176]. The "Western diet, exemplified by high intake of animal products and low in unrefined carbohydrates, promotes a pro-inflammatory microbiota that can predispose susceptible individuals to CRC[177]. Therefore, it is prudent to hypothesize that the effect of diet on adenoma and CRC development may be mediated by shifts in the balance between detrimental and non-pathogenic commensal microbiota[178]. Moreover, the microbial community can modify the production of diet-related by-products implicated in CRC carcinogenesis, such as ROS and hydrogen sulfide (H2S), among several others[178]. Other CRC risk factors, such as obesity, can be influenced by the GI microbiota, hence reinforcing the link with CRC development[179]. This is supported by a number of case-control studies that have shown different GI microbial compositions in normal subjects versus adenoma- and CRC-affected patients[180-182]. Some bacterial taxa, such as Bacteroides, Eubacterium, and Bifidobacterium, were shown to be associated with higher risk of CRC, whereas Lactobacillus was associated with low CRC risk[179,182]. Therefore, it is conceivable to propose an association between compositions of the GI microbiota and CRC epidemiology. In other words, the GI microbial communities of the populations with lower risk of CRC could differ from those of the populations with higher risk, and this could reflect or mediate the effects of protective environmental/dietary profiles. In this regard, Nava et al[183] compared stool samples of native Africans to those of African Americans, that have overall CRC rates about 60 times higher than native Africans. Interestingly, a more diverse and numerous population of 7-dehydroxylating colonic bacteria was found in native African stools, reflecting a diet enriched in resistant starch and low in animal products, compared to stools of African Americans, who consume a "Western" diet.
In a more recent study, the same group found higher total bacteria and butyrate-producing groups, along with higher levels of antineoplastic short-chain fatty acids, in the stool samples of native Africans, whereas in the stools of African Americans the genus Bacteroides and microbial genes encoding for carcinogenic secondary bile acid production were more abundant[184]. The protective or detrimental effect of certain dietary components on the colonic mucosa, in conjunction with altered GI microbiota, has been confirmed in animal studies[185,186].
Manipulations of the GI microbiota with probiotics, prebiotics and oral vaccines are currently under intensive research for the primary and secondary prevention of CRC[178].
PREVENTIVE STRATEGIES
It is estimated that over the next two decades the number of CRC cases will increase dramatically, from 1.2 to 2.2 million worldwide, with most of the increase (62%) in the developing countries[12]. This estimate is mainly based on the population growth and increased life expectancy in these regions. However, as it was discussed earlier, these countries are experiencing a rise in their age-adjusted rates of CRC, due to the adoption a more Westernized lifestyle. As a result, the number of CRC cases in the developing countries could outgrow the current estimates[12,187].
This upcoming burden of CRC will bring about a large demand for patient care in areas of CRC detection, staging, and therapeutic interventions, such as surgery, radiation and chemotherapy. Yet, the resources may not grow in parallel to meet the demand (Figure 2). Therefore, it is crucial to implement preventive strategies to control CRC in populations where incidence rates are still low, rather than wait for the impact of the disease burden in the near future.

Figure 2 Factors contributing to the uptrend of colorectal cancer incidence and mortality in developing countries.
Population-based screening aims at the early detection of colorectal neoplasms, amenable for curative treatment, and is shown to be an efficient and cost-effective method to lower the disease mortality in developed countries with high CRC incidence[188]. The screening methods, recommended by multiple guidelines, include stool-based testing to detect early stage CRCs, and endoscopic-based testings, such as flexible sigmoidoscopy and colonoscopy, that allow to detect and remove pre-cancerous lesions/polyps. Screening by any of these methods on a regular basis can effectively reduce CRC risk[189].
The Council of the European Union and the ad-hoc United States task force recommend starting population screening at age 50[190,191]. However, the age for offering screening cannot be absolutely generalized from one population to another. Rather, the age of screening initiation needs to be determined based on local epidemiological data, and on the life expectancy of the population.
Population-based screening is a secondary prevention method and warrants availability of the necessary resources, including nation-wide endoscopic units and gastroenterologists that are limited in many developing countries. This, coupled with a lower incidence of CRC in many of these regions, argues against the cost-effectiveness of nation-wide screening in such countries. Alternatively, the CRC screening could be individualized based on genetic or environmental risk factors. For example, more intense screening could be considered in family members of patients with CRC, or in those with environmental risk factors, such as obesity or smoking, that have higher CRC risk than the general population[192].
In contrast to secondary prevention, which is offered after exposure to CRC-causing factors, primary prevention focuses on the reduction of carcinogenic exposures to avert CRC development. Changes in environmental factors, including consumption of a "Western" diet, is assumed to be responsible for the increasing disease incidence in developing countries[188].
It has been proposed that consumption of unrefined grains, legumes, and fruits as sources of carbohydrate, and of poultry, fish, and legumes as sources of protein, could lower CRC risk[193]. These were main staple foods in the populations of the less developed countries, where the adoption of a "Western" diet is only a recent event. The modification of the dietary habits of these populations towards their traditional diet could be more achievable than in the Western societies, that embraced the Western diet since the industrial revolution and the development of the food processing industry[194].
Promoting a more "healthy" diet, characterized by consumption of less fat and less red meat and more vegetable food, could be a good strategy for primary CRC prevention[81]. However, the dietary adjustments should be complemented by modifications in other lifestyle habits associated with increased CRC risk. As discussed earlier, obesity, sedentary life, excessive alcohol intake, and smoking are all suggested to increase the risk. Thus, controlling these factors at the population level should be essential in primary CRC prevention (Figure 3).
It is noteworthy that several of the aforementioned environmental factors are also known risk factors for other cancers and chronic diseases that are on the rise in developing countries[195]. Therefore the allocation of appropriate resources towards primary prevention programs targeting the young generations would be an invaluable investment to control the burden of chronic diseases and cancer in the developing world[196]. At first glance, interventions directed to primary prevention seem to be extremely challenging endeavors, as they require well-designed and strong educational support, based on community programs and media, to achieve behavioral changes evident only over extended periods of time. Nevertheless, long-term efforts to implement educational and awareness programs starting at early ages, through schools or other public health programs, have been shown to be both accomplishable and effective, as exemplified by the very significant drop of smokers among United States adults over the past 6 decades[188].
Several studies have shown a decreased risk of CRC in patients taking certain medications, most notably non-steroidal anti-inflammatory agents (NSAIDs); hence this led to a growing interest in the chemoprevention of CRC. NSAIDs, such as aspirin and celecoxib, can reduce risks of adenoma and CRC[197,198]. However their utility as a primary prevention tool for CRC is questionable in the general population, given the possible gastrointestinal, cardiovascular and renal side effects associated with these drugs at high doses in the long-term[199]. The effect of statins on the overall CRC risk, despite the biologically plausible protective mechanisms, may not be as substantial as initially thought[200,201].
Nevertheless, the chemoprevention of CRC is an option that must be carefully considered after balancing the risk and benefits of each drug at the individual level[202]. This would be relevant for CRC prevention also in low-income countries, where simple drugs such as aspirin are readily available and could be prescribed to individuals that have concurrent indications for treatment, such as cardiovascular disease.
As more focus is placed on minimizing the potential toxicity of CRC chemoprophylaxis by combination therapy, this strategy may become even more justifiable, particularly in groups at higher risk because of environmental factors, hereditary predisposition or previous history of colonic adenomas and/or CRC[198,199,203-205].
CONCLUSION
CRC, historically a cancer typical of the industrial countries, is now among the common newly diagnosed cancers and causes of cancer death globally. The evidence that the disease is significantly increasing in most developing countries heralds an even more remarkable disease burden in the near future. Environmental factors, such as changes in life style and diet, are proposed to play major roles in the current transition of CRC epidemiology. The molecular mechanisms mediating the effects of the environment on CRC pathogenesis are complex and need to be fully characterized, but new targets for therapeutic and preventive interventions, such as nuclear receptors and the intestinal microbiota, are emerging. Candidate pathways, elucidated by in vitro and in vivo studies, and their weight on CRC risk, are yet to be validated in population-based cohorts. Studying populations in transition could help to identify environmental risk factors, affected pathways and possible mediators such as gut microbiota. The data obtained from these studies could have an impact in allowing better detection of at risk individuals, implementation of non-invasive strategies to lower the burden of the disease, and optimization of treatment.
P- Reviewers: Lin SR, Maric I S- Editor: Zhai HH L- Editor: A E- Editor: Ma S