Copyright
©2014 Baishideng Publishing Group Inc.
All rights reserved.
Role of antispasmodics in the treatment of irritable bowel syndrome
Anita Annaházi, Richárd Róka, András Rosztóczy, Tibor Wittmann, First Department of Medicine, University of Szeged, 6720 Szeged, Hungary
Author contributions: All of the authors drafted and revised the article and revised and approved the final version.
Correspondence to: Tibor Wittmann, MD, PhD, Professor, First Department of Medicine, University of Szeged, Korányi fasor 8-10, 6720 Szeged, Hungary. wittmann.tibor@med.u-szeged.hu
Telephone: +36-62-545189 Fax: +36-62-545185
Received: September 28, 2013
Revised: January 8, 2014
Accepted: April 1, 2014
Published online: May 28, 2014

Irritable bowel syndrome (IBS) is a long-lasting, relapsing disorder characterized by abdominal pain/discomfort and altered bowel habits. Intestinal motility impairment and visceral hypersensitivity are the key factors among its multifactorial pathogenesis, both of which require effective treatment. Voltage-gated calcium channels mediate smooth muscle contraction and endocrine secretion and play important roles in neuronal transmission. Antispasmodics are a group of drugs that have been used in the treatment of IBS for decades. Alverine citrate, a spasmolytic, decreases the sensitivity of smooth muscle contractile proteins to calcium, and it is a selective 5-HT1A receptor antagonist. Alverine, in combination with simethicone, has been demonstrated to effectively reduce abdominal pain and discomfort in a large placebo-controlled trial. Mebeverine is a musculotropic agent that potently blocks intestinal peristalsis. Non-placebo-controlled trials have shown positive effects of mebeverine in IBS regarding symptom control; nevertheless, in recent placebo-controlled studies, mebeverine did not exhibit superiority over placebo. Otilonium bromide is poorly absorbed from the GI tract, where it acts locally as an L-type calcium channel blocker, an antimuscarinic and a tachykinin NK2 receptor antagonist. Otilonium has effectively reduced pain and improved defecation alterations in placebo-controlled trials in IBS patients. Pinaverium bromide is also an L-type calcium channel blocker that acts locally in the GI tract. Pinaverium improves motility disorders and consequently reduces stool problems in IBS patients. Phloroglucinol and trimethylphloroglucinol are non-specific antispasmodics that reduced pain in IBS patients in a placebo-controlled trial. Antispasmodics have excellent safety profiles. T-type calcium channel blockers can abolish visceral hypersensitivity in animal models, which makes them potential candidates for the development of novel therapeutic agents in the treatment of IBS.
Core tip: Treatment of irritable bowel syndrome (IBS) must target intestinal motility alterations and visceral hypersensitivity. Antispasmodics have been used in the treatment of IBS for decades, and large placebo-controlled trials have recently been conducted on their efficacy. Alverine citrate, in combination with simethicone, effectively reduced abdominal pain and discomfort; while otilonium bromide also improved defecation problems. Pinaverium bromide regulated impaired motility and reduced stool complaints. Phloroglucinol and trimethylphloroglucinol reduced pain in IBS patients. Mebeverine was recently found to be effective only in non-placebo-controlled trials. Antispasmodics are considered safe. T-type calcium channel blockers could represent a future therapeutic option in IBS treatment.
---
Citation: Annaházi A, Róka R, Rosztóczy A, Wittmann T. Role of antispasmodics in the treatment of irritable bowel syndrome. World J Gastroenterol 2014; 20(20): 6031-6043
---
INTRODUCTION
Irritable bowel syndrome (IBS) is a chronic gastrointestinal (GI) disorder affecting a significant proportion of the global population, with a calculated prevalence of approximately 11.2%[1]. IBS has a large impact on health-related quality of life, resulting in reduced work productivity, elevated absenteeism and increased health care use and costs[2,3]. IBS can also seriously impair the patient-doctor relationship[4], because ineffective symptom control can diminish clinicians' credibility and prompt the patient to seek further opinions[5]. IBS has a long course and high relapse rates, with more than half of IBS patients reporting the same symptom profile after 1 and 7 years and a further 25% having persistent minor IBS symptoms[6]. Regarding the long term persistence of IBS, effective long-term therapies are of great economic importance in both Eastern and Western countries; however, drug trials have revealed an extremely high relapse rate in this disease[7]. Despite intensive research aiming to find new therapeutic pathways, the present possibilities have mostly focused on symptom suppression, and only a few drugs have been found to be more effective than placebo over the long term.
A heterogeneous group of drugs called "antispasmodics" or "spasmolytics" such as direct smooth muscle relaxants (e.g., papaverine, mebeverine, peppermint oil), anticholinergic agents (e.g., butylscopolamine, hyoscine, cimetropium bromide, pirenzepine) and calcium channel blockers (e.g., alverine citrate, otilonium bromide, pinaverium bromide), have been used in therapy for IBS for decades. The aim of these drugs is to reduce defecation symptoms by increasing colonic transit time, improving stool consistency and reducing stool frequency. The pharmacological action of these agents is not always clear, and the mechanisms are often mixed. Nevertheless, meta-analyses performed on studies comparing antispasmodics to placebo or other treatments have uniformly confirmed the positive effects of these drugs, and their side effect profiles have been excellent[8]. Recent adverse reactions, such as severe constipation, ischemic colitis and possible deaths[9], have led to the transient withdrawal of alosetron, a 5-HT3 receptor antagonist, and fatal ventricular arrhythmias caused the retraction of the mixed 5-HT3 antagonist/5-HT4 agonist cisapride in many countries, thus highlighting antispasmodics as attractive and reliable therapeutic options.
The accurate diagnosis of IBS has been a major pitfall in designing clinical trials in the past because a precise definition has been lacking. After the proposal of previous diagnostic criteria by Manning et al[10] and later by Drossmann et al[11], the Rome criteria were developed, emphasizing the importance of a positive diagnosis based on symptoms. Currently, the diagnostic criteria for IBS based on the Rome III system are recurrent abdominal pain or discomfort for at least 3 d per month over the previous 3 mo, associated with two or more of the following: improvement with defecation; and onset associated with a change in frequency of stool; and onset associated with a change in form (appearance) of stool[12]. These criteria must be fulfilled for the previous 3 mo, with symptom onset at least 6 mo prior to diagnosis. Depending on the predominant bowel symptom, IBS can be classified as IBS with constipation (IBS-C, 20%-30% of patients), IBS with diarrhea (IBS-D, 20%-30% of patients) or IBS with "mixed" constipation and diarrhea (IBS-M, up to 45% of patients)[13].
In this review, we aimed to collect and summarize the available data on the efficacy and safety of modern antispasmodics in the treatment of IBS, focusing on placebo-controlled clinical trials using valid patient selection criteria.
PATHOPHYSIOLOGY OF IBS
Profound research over the last few decades has revealed a multifactorial pathogenesis. Preceding enteric infections, altered colonic or small intestinal bacterial flora, increased gut permeability and immune activation may play a role in the development of the disease[14-16]. Signals from the GI tract are processed in the brain, which in turn can influence GI motility, secretion and immune function[17]. This brain-gut axis is essential for the healthy regulation of the GI system, and its structural or functional alteration can lead to the development of disorders such as IBS[18]. Therefore, psychological factors and chronic stress can also be involved in triggering symptoms[19], in association with alterations in the activity of specific brain regions[20,21]. Nevertheless, abnormal intestinal motility and visceral hypersensitivity remain key factors in the pathogenesis of the disease[22]. The origin of visceral hypersensitivity seems to be complex. Intraluminal factors, such as serine-proteases, can increase colonic permeability in IBS-D patients by activating protease-activated receptor-2, resulting in visceral hypersensitivity[23]. Increased colonic permeability in IBS-D patients has been correlated with stool frequency, which also suggests a role in symptom generation[24]. Luminal cysteine-proteases have been shown to increase colonic permeability through the degradation of tight junction proteins, resulting in visceral hypersensitivity in IBS-C patients, possibly through local microinflammation[25]. Colonic mucosal immune activation, which is characterized by mast cell, intraepithelial lymphocyte and lamina propria lymphocyte counts, was found to be significantly higher in IBS-D than in healthy controls[26]. This immune activation was similar to inactive inflammatory bowel disease. Mast cells have been implicated in the development of IBS: the number of degranulating mast cells in colonic mucosa and their spontaneous release of trypsin and histamine were markedly increased in IBS patients compared with controls[27]. Furthermore, mast cells in close proximity to nerve endings have been significantly correlated with the severity and frequency of abdominal pain/discomfort in IBS patients. Enterochromaffin cells can also play important roles in the development of visceral hypersensitivity by producing and releasing serotonin, which activates 5-HT3 receptors located on afferent sensory neurons[28]. Furthermore, the activation of 5-HT4 receptors on sensory afferent neurons triggers the peristaltic reflex, whereas 5-HT4 receptors on colonic smooth muscle mediate relaxation[29,30]. Motility disturbances in IBS patients have been well known for decades. Baseline muscular tone was found to be higher in IBS-D and IBS-M but not in IBS-C compared with healthy individuals[31]. Further abnormalities in colonic motility patterns are characterized by hyperreactivity - namely, a prolonged increase in colonic motor activity after meals, an exaggerated increase in motor activity in response to stressors or cholecystokinin (CCK) and increased motor activity in response to balloon distention[32]. Stress alone can be an important factor in the pathogenesis of motility disturbances, as suggested by long-duration restraint in rats having been shown to induce rapid, dramatic changes in small bowel motility, with gradually increasing differences in colonic motility as measured by electromyography[33]. Colonic motility changes were still present 60 h after such restraint stress, suggesting that these persistent alterations could form the basis of the development of functional disorders. In a study measuring electromyographic activity in the left colon with an intraluminal probe, a large increase in short-spike bursts was induced by stress (via the cold pressor test) in IBS-C patients but not in controls or in chronically constipated patients, and this difference remained significant for 2 h after the stress episode (Figure 1)[34]. Ingestion of a standard meal has provoked the increase of aboral migrating long spike bursts in control subjects, but this propulsive motor effect was largely depressed in IBS-C patients[35]. In a subsequent study, repetitive distention of the distal sigmoid colon below the sensory threshold in IBS patients induced exaggerated colonic motility[36]. Small bowel motility was also impaired, as the repetitive distention inhibited motility of the small intestine in healthy subjects, whereas no such effect was observed in IBS patients[36]. Specific patterns of small bowel motor activity have also been described in IBS patients, such as ileal propulsive waves and clusters of jejunal pressure activity, which have usually been associated with abdominal cramping and pain[37]. Visceral hypersensitivity by itself is not painful, but it can lead to abdominal pain in IBS patients by the effect of an intense stimulus, such as an exaggerated colonic contraction[38]. However, a clear connection between visceral hypersensitivity and motility disturbances could not been established, and these two factors have usually been considered independent, both requiring effective treatment[31].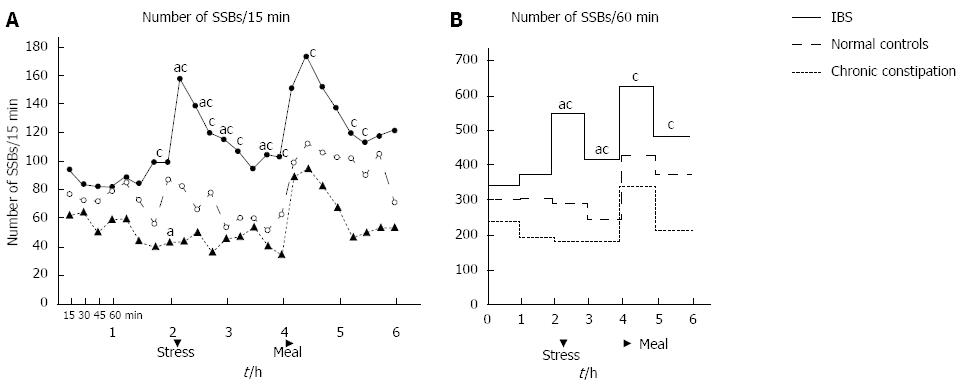 Figure 1 The number of short spike bursts measured by colonic intraluminal electromyography[34].
The values were calculated over the period of 15 (A) and 60 min (B). Each group included 8 patients. The 6-h screening session consisted of three 2-h periods: a control period; a period of stress (during which a cold pressor test was performed for 15 min); and a post-prandial period (patients ingested a 800 kcal meal). SSBs: Short spike bursts. aP < 0.05 vs normal controls; cP < 0.05 vs chronic constipation patients.
VOLTAGE-GATED CALCIUM CHANNELS
Voltage-gated calcium channels are ion channels mediating calcium influx in response to membrane depolarization, and they regulate intracellular processes, such as contraction, secretion, neurotransmission and gene expression, in a variety of cells[39]. Calcium-channels are traditionally classified by their current properties and pharmacology[40]. The L (long-lasting)-type calcium channel is a large-conductance channel that produces long-lasting current at strong depolarizations, and it is generally inhibited by dihydropyridine (DHP) derivatives[41]. L-type currents are most important for muscle and endocrine cells, in which they mediate contraction and secretion[39]. In neurons and cardiac pacemaker cells, L-type currents can also be found to activate at lower voltages. N (neuronal)-type currents are also long-lasting, but they require strongly negative potentials for the complete removal of inactivation and strong depolarizations for activation, and they are not blocked by DHP[41]. In Purkinje cells, three further channels have been identified. P-type currents are blocked by low concentrations of ω-agatoxin, whereas the Q-type is only responsive to high concentrations. Residual currents, which were resistant to all known calcium-blockers at the time of their discovery, were called R (resistant)-type. The last group of voltage-gated calcium channels, the T (transient)-type, is characterized by a small and transient conductance activated upon weak depolarizations[41]. These currents are responsible for modulation of the action potential and for the performance of pacemaker activities.
The medical use of calcium antagonists started in the 1980s with DHP-type antagonists, which block L-type channels, in the treatment of hypertension by exploiting their properties as vasodilators[40]. Because a Ca2+ increase in smooth muscle is required for contraction, calcium antagonists induce relaxation of blood vessels, followed by a consequent reduction in blood pressure. Further, relaxation of the coronary arteries increases coronary flow, acting against angina pectoris. Calcium antagonists have no effect on skeletal muscles; however, they slightly influence cardiac muscle by decreasing pacemaker activity and conduction. Based on the well-known gastrointestinal motility impairments in IBS, calcium antagonists used for cardiovascular conditions appeared to be potential options for relieving symptoms by relaxing the colonic smooth muscles. Therefore, in the late 1980s, nicardipine was proposed for the treatment of irritable bowel syndrome, based on its spasmolytic properties[42]. Nonetheless, cardiovascular side effects have seriously limited the application of such calcium antagonists, thereby inspiring researchers to identify substances that act selectively on the gastrointestinal tract.
MODERN ANTISPASMODICS WITHOUT CARDIOVASCULAR SIDE EFFECTS
FUTURE PERSPECTIVES: T-TYPE CALCIUM CHANNELS
The low-voltage-activated or T-type Ca2+ channels (T-channels) are a subclass of voltage-gated Ca2+ channels named after their characteristic of being activated by small depolarizations of the plasma membrane[101,102]. They can also generate neuronal spontaneous firing and pacemaker activities, and they generally control excitability[101,102]. In mammals, T-channels are encoded by three pore-forming calcium-channel α1 subunit genes: CaV3.1, CaV3.2 and CaV3.3. The CaV3.2 subtype is expressed in the cell bodies and nerve endings of somatic afferent fibers, where it plays a role in regulating neuronal excitability and modifying pain perception[103,104]. Knockout of the CaV3.2 gene results in decreased mechanical, thermal and chemical sensitivity in mice, compared to their wild-type littermates[105], whereas systemic injections of mibefradil, a T-channel antagonist, induces mechanical and thermal antinociception in rats without affecting their sensorimotor abilities[106]. Interestingly, ethosuximide, an anti-epileptic and relatively selective T-channel blocker, elicits near-complete reversal of mechanical allodynia/hyperalgesia in a rat model of painful peripheral neuropathy induced by the chemotherapeutic agent paclitaxel, whereas opiates and the NMDA receptor antagonist MK-801 are only slightly or not effective in this model[107]. Despite the importance of T-channels in somatic pain perception, their roles in visceral perception and gastrointestinal pathologies have not been well established. Recently, an interesting study demonstrated the possible role of T-channels in the pathophysiology of IBS[108]. IBS was modeled in rats using intracolonic sodium butyrate injections, a method that induces colonic hypersensitivity by reproducing the elevated colonic butyrate concentrations found in a subset of IBS patients resulting from butyrogenic enteric flora[109]. CaV3.2 knockdown treatment prevented butyrate-induced hypersensitivity without modifying colonic sensitivity in control rats, suggesting that CaV3.2 channels do not significantly participate in colonic sensitivity under healthy conditions[108]. Further, the T-channel blocker mibefradil reversed butyrate-mediated colonic hypersensitivity by both intrathecal and topical routes. Similarly, intraperitoneal administration of other T-channel antagonists, ethosuximide and NP078585, produced robust antihyperalgesic effects[108]. T-channels were up-regulated in the dorsal root ganglions (DRGs) of butyrate-treated animals, and neuronal T-type current density was also increased, emphasizing the participation of T-channels in the mechanism of colonic hypersensitivity[108]. Based on these results, the antinociceptive effects of TTA-A2, a state-dependent CaV3 blocker, were tested recently in vitro in cell cultures and in mice DRGs, showing that TTA-A2 potently inhibited recombinant and native T-currents in sensory neurons expressing CaV3.2-like T-type channels, consequently decreasing their excitability[110]. Moreover, in the previously described rat IBS model, systemic administration of TTA-A2 robustly abolished butyrate-induced hypersensitivity and induced a statistically significant dose-dependent antihyperalgesic effect[110]. These results demonstrate that T-channel blockers are promising candidates for further research into novel analgesics that could be potentially useful for treating the characteristic symptoms of IBS, such as visceral pain and discomfort.
CONCLUSION
In conclusion, antispasmodics without cardiovascular actions, such as alverine citrate, mebeverine, otilonium bromide, pinaverium bromide and phloroglucinol, are widely used in therapy for IBS. Their effects are mostly based on their spasmolytic properties via the inhibition of calcium influx into smooth muscle cells. Further, otilonium could have direct inhibitory effects on primary sensory afferents, thus reducing hypersensitivity, which is a common feature in IBS. Otilonium and pinaverium are quaternary ammonium derivatives that are poorly absorbed from the GI tract, therefore mainly acting locally. Clinical trials with antispasmodics in IBS have sometimes been controversial, which can be explained by the marked placebo effect in many cases. Nevertheless, the overall results have generally been positive, showing that antispasmodics are able to regulate GI motility disturbances, defecation alterations and abdominal pain/discomfort, with excellent safety profiles. A new generation of calcium-channel blockers acting on T-type calcium channels could represent a novel therapeutic pathway in the future for the management of IBS.
P- Reviewers: Bonaz BL, Izzo AA S- Editor: Gou SX L- Editor: A E- Editor: Ma S