Copyright
©2013 Baishideng Publishing Group Co.
, Limited. All rights reserved.
Therapeutic potential of curcumin in digestive diseases
Pietro Dulbecco, Vincenzo Savarino, Department of Internal Medicine and Medical Specialties, University of Genoa, 16132 Genoa, Italy
Author contributions: Both authors contributed to the search and analysis of literature and to the writing of the paper.
Correspondence to: Pietro Dulbecco, MD, Professor, Department of Internal Medicine and Medical Specialties, University of Genoa, Viale Benedetto XV6, 16132 Genoa, Italy. pdulbecco@unige.it
Telephone: +39-10-3538956 Fax: +39-10-3538956
Received: July 26, 2013
Revised: September 10, 2013
Accepted: September 15, 2013
Published online: December 28, 2013

Curcumin is a low-molecular-weight hydrophobic polyphenol that is extracted from turmeric, which possesses a wide range of biological properties including anti-inflammatory, anti-oxidant, anti-proliferative and anti-microbial activities. Despite its diverse targets and substantial safety, clinical applications of this molecule for digestive disorders have been largely limited to case series or small clinical trials. The poor bioavailability of curcumin is likely the major hurdle for its more widespread use in humans. However, complexation of curcumin into phytosomes has recently helped to bypass this problem, as it has been demonstrated that this new lecithin formulation enables increased absorption to a level 29-fold higher than that of traditional curcuminoid products. This allows us to achieve much greater tissue substance delivery using significantly lower doses of curcumin than have been used in past clinical studies. As curcumin has already been shown to provide good therapeutic results in some small studies of both inflammatory and neoplastic bowel disorders, it is reasonable to anticipate an even greater efficacy with the advent of this new technology, which remarkably improves its bioavailability. These features are very promising and may represent a novel and effective therapeutic approach to both functional and organic digestive diseases.
Core tip: Curcumin is a well-established molecule with multiple pharmacological activities, mainly anti-inflammatory and anti-proliferative. The major hurdle for a widespread clinical use has been represented by its poor bioavailability, which has been recently overcome by the development of a new formulation combining curcumin with phospholipids (curcumin-phytosome). This compound permits to improve markedly intestinal absorption of curcumin and guarantees a greater tissue delivery than the traditional curcuminoid mixtures. So, curcumin-phythosome has the potential to be exploited in many gastrointestinal diseases, both functional and organic.
---
Citation: Dulbecco P, Savarino V. Therapeutic potential of curcumin in digestive diseases. World J Gastroenterol 2013; 19(48): 9256-9270
---
INTRODUCTION
In recent years, we have witnessed a shortage of certain types of drugs synthesized from chemical laboratories and a growing interest in therapeutic substances derived from natural plants. Curcumin represents one of these compounds, and this nutraceutical has already undergone many experimental and clinical studies to assess its use in the treatment of various human diseases.
This polyphenol has been shown to possess anti-inflammatory, anti-oxidant, immuno-modulatory, wound-healing, anti-proliferative and antimicrobial activities. These diverse properties, together with the fact that curcumin is innocuous, inexpensive and easily available, have sparked interest in its therapeutic application for several digestive disorders. Moreover, recent progress in the formulation of curcumin complexes with other substances, in particular with phospholipids, has remarkably increased the bioavailability of this compound, leading to greater absorption and a higher concentration in human tissues. This allows us to use lower dosages of curcumin than have been used in the past, which greatly reduces the number of tablets taken during the day while maintaining no adverse side effects.
Finally, distribution studies of curcumin in human tissues have shown that it preferentially accumulates in the intestine, colon and liver. This finding might be one major reason for the anticipation and observation of its most promising in vivo effects in gastrointestinal diseases when compared with other organ systems.
This review presents current knowledge of the physical and molecular properties of curcumin, its pharmacokinetics and metabolism, its mechanism of action and results of the few published clinical trials, as well as the potential therapeutic perspectives in patients with various digestive disorders.
Literature searches were performed in PubMed, Ovid, EMBASE and the Cochrane Library databases in accordance with published recommendations. We critically analyzed all full-text papers and reviews written in the English language and searched them using the terms curcumin, turmeric, colorectal cancer (CRC), inflammatory bowel diseases (IBD), functional digestive disorders, irritable bowel syndrome and liver diseases. Both animal and human studies were reviewed.
PHYSICAL AND MOLECULAR PROPERTIES OF CURCUMIN
Turmeric (the common name for Curcuma longa) is an Indian spice derived from the rhizomes of the plant and has a long history of use in Ayurvedic medicine as a treatment for inflammatory conditions[1].
The primary active constituent of turmeric, which is responsible for its vibrant yellow color, is curcumin, which was first identified in 1910 by Lampe and Milobedzka[2]. Curcumin exists as a bright yellow powder that provides the pigmentation of turmeric, which is used in the dye industry. Turmeric is composed of volatile oils (tumerone, atlantone, and zingiberone), sugars, proteins, resins and a group of the following three curcuminoids: about 75% curcumin (diferuloylmethane), about 16% demethoxycurcumin (DMC), about 8% bisdemethoxycurcumin (bDMC). DMC and bDMC possess similar molecular and biological properties. It is proposed that within natural pathways (Figure 1), bDMC is converted to DMC, which is then converted to curcumin[3].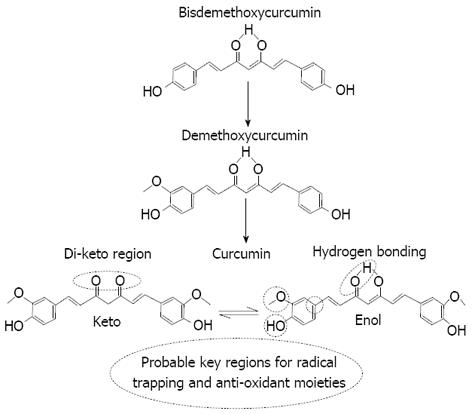 Figure 1 Proposed molecular pathway for the conversion of bisdemethoxycurcumin to demethoxycurcumin and finally to curcumin and the co-existence of keto and enol isomers of curcumin.
Curcumin (or diferuloylmethane) is a poly-phenolic molecule that exhibits keto-enol tautomerism and has a predominant keto form in acidic and neutral solutions and a stable enol form in alkaline medium[4]. The molecule is lipophilic and consists of two aromatic rings connected by two unsaturated carbonyl groups; therefore, it has poor solubility in water. The molecule is stabilized by hydrogen-bonding associated with the central OH group. This may be one of the important functional sites that is responsible for the array of molecular biological activities[5]. Curcumin is photosensitive, and precautions should be taken to avoid exposure and subsequent degradation.
PHARMACOKINETICS AND METABOLISM OF CURCUMIN
METHODS TO OVERCOME THE TRADITIONAL LOW BIOAVAILABILITY OF CURCUMIN
Because of the above-mentioned poor bioavailability, which limits the therapeutic usefulness of curcumin, many attempts have been made to improve oral absorption of the compound[23]. Among them, the complexation of curcumin with phospholipids using so-called phytosome technology has emerged as one of the most documented approaches from a preclinical and clinical standpoint.
Phytosome technology was developed in 1989 (Figure 2). Water-soluble phytosomes can be converted into a lipid-compatible molecular complex. Phytosomes are more available than uncomplexed products due to their enhanced capacity to cross the lipid biomembranes and to reach the systemic circulation[24].
It is inferred that, at the intestinal level, the water-miscible phosphatidylcholine (PC) molecules enhance the dispersion of the poorly water-soluble polyphenol molecules into the water-soluble environment of the gastrointestinal lumen. PC further enhances transfer from the lumen into the lipid-soluble environment of the outer cell membrane of the epithelial absorptive cells (enterocytes). The enterocyte outer membrane has a lipid molecular bilayer that consists largely of PC. It is feasible that the PC in the phytosome merges into this PC domain of the enterocyte membrane, and by carrying the polyphenol with it, the PC "ushers" the polyphenol into the cell.
The bioavailability of the curcumin phytosome (CP) preparation (Meriva®, Indena Spa, Milan, Italy) has been tested against an equivalent non-phytosome curcumin extract by Marczylo et al[25]. These authors administered equivalent dosages (340 mg of curcumin) of curcumin or curcumin phytosome preparation to rats and reported a dramatic increase in the bioavailability among the animals that received the curcumin phytosome preparation (Figure 3). Peak plasma levels of curcumin were approximately 5-fold higher for CP than for traditional curcumin. Plasma levels of curcumin sulfate and curcumin glucuronide observed after the administration of CP were 3- to 20-fold higher, respectively, than those observed after the administration of uncomplexed curcumin. In the same study, significant amounts of curcumin were also measured at the tissue level and were found to have particular relevance for the liver and intestine.
More recently, Cuomo et al[26] reported the results of a comparative pharmacokinetic study of healthy volunteers. In this randomized, double-blind, cross-over study, subjects received curcumin and the CP formulation at 2 dosage levels (209 and 376 total curcuminoids). The average dose-related absorption of curcumin following the 2 doses of CP was approximately 18-fold higher than the absorption of the reference curcumin. Moreover, the absorption of total curcuminoids was approximately 29-fold higher for CP in comparison with the unformulated reference, as the plasma concentration of demethoxycurcumin and bis-demethoxycurcumin from the former compound was approximately 50- to 60-fold higher than the concentration from the unformulated curcumin (Table 1).
CP is a powder that contains 20% curcumin, 40% microcrystalline cellulose and 40% phospholipids. It is utilized as an active ingredient in several food supplements in different markets. The product is available in various formulations including hard gel capsules and tablets. In Italy, for example, the product has been developed as 500-mg tablets that combine CP with some dissolving substances (Curcusol) under the name Norflo® (Eyepharm, Genoa, Italy). These tablets dissolve very rapidly in the first part of the intestine, favoring the formation of an emulsion with bile acids (Figure 4), which permits almost complete absorption of phospholipids (unpublished data). The use of this formulation overcomes the risk that undissolved tablets may pass through the entire intestine and be eliminated in the feces either intact or only partially dissolved.
CP has been widely documented in several health settings, but few studies have focused on gastrointestinal disorders, which, nevertheless, seem to be a very promising therapeutic area. From this perspective, a colon-targeted delivery preparation could further optimize the clinical effects.
TOXICITY AND TOLERABILITY OF CURCUMIN
Curcumin has been reported to be safe in many human studies, and only minimal toxicity has been associated with this polyphenol[27]. In a dose escalation study among 34 healthy volunteers, in whom the doses of curcumin ranged from 500 to 12000 mg, safety was assessed after 72 h. Only 7 subjects complained of disturbances, which were mild and included headache, skin rash, diarrhea and yellow stool[9]. In another investigation lasting for 1-4 mo, escalating doses of curcumin from 0.45 to 3.6 g/d found rare instances of nausea and diarrhea, as well as an increase in alkaline phosphatase and LDH[10]. Some patients treated with doses as high as 8 g/d for 2 wk reported abdominal pain and complained about the bulky volume of the tablets[28]. As curcumin is particularly concentrated in the human liver, the risk of hepatotoxicity has been closely evaluated, but liver function tests have been shown to be unaffected with doses as high as 2-4 g/d[29]. As one of the most documented bioavailable curcumin formulations, the CP formulation has been widely employed in the clinical setting with a daily dosage ranging between 1 and 2 g, and this preparation has shown good tolerability and compliance, even in medium-term trials. However, we must stress that studies of more than 6 mo of treatment are lacking, and it is not possible to draw any firm conclusions regarding the long-term safety profile of this compound.
MECHANISMS OF ACTION AGAINST INFLAMMATORY AND NEOPLASTIC CONDITIONS
CLINICAL TRIALS EXPLORING THE THERAPEUTIC POTENTIAL OF CURCUMIN IN GASTROINTESTINAL DISEASES
Because of its higher bioavailability in the gastrointestinal tract than in other organs, the therapeutic potential of curcumin has been investigated in several studies of digestive diseases including IBD, CRC and hepatic fibrosis.
CONCLUSION
In summary, curcumin is a well-known molecule with multiple pharmacological activities that have the potential to be used to treat many gastrointestinal diseases, both functional and organic. It appears to be a very promising therapeutic compound on the basis of thousands of pre-clinical studies, but its poor bioavailability has greatly hampered more widespread clinical use. However, the new formulation of curcumin with phospholipids has allowed us to overcome this problem by markedly improving intestinal absorption compared with the traditional unformulated curcuminoid mixtures. If curcumin is truly beneficial, as has been suggested by prior clinical trials using curcumin with limited bioavailability, we can expect to see greater therapeutic effectiveness from phospholipid-complexed curcumin, which enables increased absorption and appropriate tissue delivery. These improved pharmacokinetic and pharmacodynamic properties are also able to significantly reduce the required dosages of curcumin and to increase the compliance of the product. Overall, these features make curcumin a very promising new therapeutic option for the treatment of gastrointestinal and hepatic diseases for which present therapies are largely unsatisfactory.
P- Reviewers: Han X, Koch TR S- Editor: Qi Y L- Editor: A E- Editor: Wang CH