Copyright
©2013 Baishideng Publishing Group Co.
, Limited. All rights reserved.
Ultrasonography in diagnosing chronic pancreatitis: New aspects
Georg Dimcevski, Roald Havre, Odd Helge Gilja, Section of Gastroenterology, Department of Medical Gastroenterology, Haukeland University Hospital, 5021 Bergen, Norway
Georg Dimcevski, Friedemann G Erchinger, Odd Helge Gilja, Department of Clinical Medicine, University of Bergen, 5006 Bergen, Norway
Friedemann G Erchinger, Department of Medicine, Voss Hospital, 5700 Voss, Norway
Roald Havre, Odd Helge Gilja, National Centre for Ultrasound in Gastroenterology, Haukeland University Hospital, 5021 Bergen, Norway
Author contributions: All authors contributed to this work.
Correspondence to: Georg Dimcevski, MD, PhD, Associate Professor, Section Head of Gastroenterology, Department of Medical Gastroenterology, Haukeland University Hospital, Jonas Liesvei 65, 5021 Bergen, Norway. georg.dimcevski@helse-bergen.no
Telephone: +47-41-523556 Fax: +47-55-972950
Received: June 19, 2013
Revised: September 6, 2013
Accepted: September 16, 2013
Published online: November 14, 2013

The course and outcome is poor for most patients with pancreatic diseases. Advances in pancreatic imaging are important in the detection of pancreatic diseases at early stages. Ultrasonography as a diagnostic tool has made, virtually speaking a technical revolution in medical imaging in the new millennium. It has not only become the preferred method for first line imaging, but also, increasingly to clarify the interpretation of other imaging modalities to obtain efficient clinical decision. We review ultrasonography modalities, focusing on advanced pancreatic imaging and its potential to substantially improve diagnosis of pancreatic diseases at earlier stages. In the first section, we describe scanning techniques and examination protocols. Their consequences for image quality and the ability to obtain complete and detailed visualization of the pancreas are discussed. In the second section we outline ultrasonographic characteristics of pancreatic diseases with emphasis on chronic pancreatitis. Finally, new developments in ultrasonography of the pancreas such as contrast enhanced ultrasound and elastography are enlightened.
Core tip: Pancreatic diseases include acute and chronic inflammatory diseases and neoplastic tumors. It is a clinical challenge to diagnose these patients at an early stage because biochemical and imaging signs may be unspecific and are only evident at an advanced stage of the disease. Advances in pancreatic imaging are important for early detection of pancreatic diseases. Ultrasonography, as a diagnostic tool, has undergone major technical improvements over the last decade. It still is the preferred method for first line imaging, as well as it is increasingly used to clarify findings by others imaging modalities to support decision making.
---
Citation: Dimcevski G, Erchinger FG, Havre R, Gilja OH. Ultrasonography in diagnosing chronic pancreatitis: New aspects. World J Gastroenterol 2013; 19(42): 7247-7257
---
INTRODUCTION
Transabdominal ultrasonography still is the most used first line imaging modality in the diagnostic workup of abdominal diseases. Ultrasonography is, noninvasive, widely available, inexpensive, without side effects and easy to perform on a daily basis, if needed. As a "real-time" imaging modality, transabdominal ultrasonography gives first a broad overview and then can localize the "region of interest" to perform detailed evaluation and eventually determine the cause of the disease. It can also reduce the use of computed tomography, magnetic resonance pancreatography, endoscopic ultrasonography or other diagnostic methods, which are personnel-intensive and thereby costly[1,2].
Ultrasonography (US) of the pancreas is challenging, given its retroperitoneal location with overlying structures and relatively small size. The quality and thereby the clinical usefulness of the pancreatic ultrasound imaging has rapidly advanced along with the technological progress. Early works in the seventies and eighteens describe evidence of pancreatic structural changes seen by transabdominal ultrasonography of approximately two-thirds in the diagnosed chronic pancreatitis (CP) cases[3-7]. Concerning pancreatic malignancy, most early works describe, somewhat surprisingly, pathological findings in the majority of the cases, but the distinction between malignancy and chronic pancreatitis could not be achieved[3-7]. With modern, high-end scanners, experienced physicians could achieve complete imaging of the pancreas in 90% in the nineties[6]. The current sensitivity and specificity of transabdominal ultrasonography in the diagnosis of pancreatic diseases, the ability to differentiate between acute and chronic inflammation and premalignant or malignant lesions is not yet determined. Today we have real-time, high-resolution imaging, where the spatial resolution is in line with the best image quality computed tomography (CT) or magnet resonance imaging (MRI) can offer. Furthermore, the temporal resolution far exceeds that of CT, positron emission tomography and MRI, which is particularly relevant for contrast-enhanced ultrasonography (CEUS). Moreover, the image quality and especially the amount of information are evolving along with the technological progression and introduction of new modalities such as of CEUS and elastography[8,9].
Figure 1 shows a standard B-mode image of the pancreas, liver and surrounding vessels with a 1-5 and 12-15 MHz transducer. A clear overview of the gland and surrounding structures can be obtained and by changing the frequencies for any depth, focus on a smaller area of interest can be achieved.

Figure 1 Pancreas and the surrounding anatomical landmarks.
A: B-mode image (1-5 MHz); B: B-mode image with a 12-15 MHz transducer. Details shown with high resolution. MR: Musculus rectus abdominis; RLL: Right liver lobe; Cap: Caput pancreatis; Cor: Corpus pancreatis; Cau: Cauda pancreatis; Msa: Superior mesenteric artery; Duo: Duodenum; Ao: Aorta.
We shortly review the current and forthcoming technical modalities and methods in transabdominal ultrasonography and endoscopic ultrasonography (EUS) of the pancreas with emphasis on CP. In our opinion, transabdominal ultrasonography has an important place in imaging of the pancreas, alongside CT, MRI and EUS.
ULTRASOUND EXAMINATION
Ultrasonographic imaging of the pancreas can be difficult given its retroperitoneal location, variety in appearance among individuals and body habitus. Overlying bowel gas and obesity are the most frequent limitations in trans-cutaneous scanning of the pancreas[10-12].
Due to the food related production of intestinal gas reflecting the ultrasound beams, every examination should be performed fasting. US examination of the pancreas includes transverse, longitudinal and angled oblique scans. Successful visualization can often be achieved by manipulations with the transducer and is directly linked to the skill and persistence of the examiner. By applying graded compression by the transducer, bowel gas can be moved away, and all the portions of the pancreatic gland; head, neck, body and tail can often be visualized. Further improvement can also be obtained by drinking two glasses of water/juice, thereby using the fluid-filled stomach as an acoustic window. Other manipulations such as; changing the patient's position to stand or sit; let the patient turn from the supine position to oblique position or change/stop the breathing circle; let the patient "blow up the belly", can also improve visualization of the pancreas[13].
The pancreatic tail can sometimes be difficult to access in transversal scan. Figure 2 shows trans-splenic access, where the tail of the pancreas (cauda pancreatis) is scanned from the left lateral side using the spleen as acoustic window.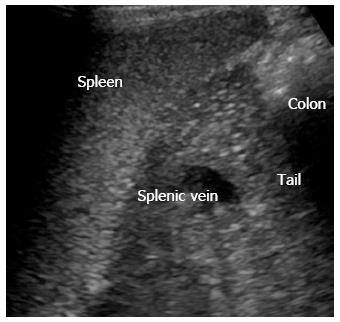 Figure 2 Left lateral side scan shows the pancreatic tail (cauda) using the spleen as acoustic window.
In a US examination of the pancreas the echotexture, the size of the gland including the main pancreatic duct (MPD), and anatomical landmarks of the pancreas should be evaluated. The echotexture in a normal pancreas is isoechogenic or hyperechogenic compared to the healthy liver[14]. Frequently, the echogenicity of pancreas is increasing with age. Orientational antero-posterior dimensions of the pancreas are: the head (2.5 cm), body (1.5 cm), tail (3.5 cm) and the pancreatic duct (< 2.5 mm). Fatty replacement (lipomatosis) of the pancreatic gland and decrease in size is common with increasing age but can also be found in patients with cystic fibrosis, CP, some types of diabetes and other diseases[15-17].
The surrounding vascular, ductal and abdominal organ landmarks are the portal vein, splenic vein, confluens with the mesenteric vein, vena cava, aorta, superior mesenteric artery, common hepatic artery, splenic artery, common bile duct, duodenum, stomach and the liver.
MODALITIES IN ULTRASONOGRAPHY
Grayscale B-mode ultrasound
Grayscale B-mode ultrasound of the pancreas is the most used imaging modality. Complete evaluation of organ size, borders, echo structure, surrounding vessels, and pancreatic ducts can be obtained swiftly. These parameters are often sufficient to diagnose many diseases of the pancreas and patients can be managed accordingly.
Tissue harmonic imaging
Tissue harmonic imaging (THI) or second harmonic imaging overcomes several of the B-mode limits. By receiving harmonic overtones instead of the emitted US-frequencies, the lateral delineation is sharpened and reverberation artifacts are reduced[18]. The image quality is improved by better discrimination between liquid and solid structures increasing the spatial and contrast resolution, making millimeter sized structures detectable. Thus, ultrasonography with THI may have better resolution than CT and MRI, in the absence of extreme obesity or a large amount of intestinal gas, which may temporarily mask the pancreas[19-21]. There are only a few disadvantages of THI; reduction of frame rate, reduced penetration depth, motion artifacts and only marginal improvement of image quality in the near sound field. This modality is normally used with CEUS, which is probably the most important application of this modality[22,23].
Doppler imaging
The Doppler effect in ultrasound is the change in US frequency of reflected wave from an object moving relative to the ultrasound probe, adding the option to show and record blood flow direction and velocity from vessels in ultrasound imaging.
Several modalities in conventional Doppler ultrasonography exist[24]. Combining B-mode gray scale and color-Doppler ultrasonography, overall accuracy rises substantially. By international convention, Doppler color is coded in such a way that red color expresses flow towards the ultrasound transducer, while blue color expresses flow away from the transducer. The recent technological progress, in particular increased color-Doppler sensitivity is contributing to diagnosing and staging of pancreatic diseases. Doppler interrogation of the gland may show the outlines of the organ more precisely, since the pancreas is surrounded by vessels. The normal intrapancreatic vessels are small and difficult to show in conventional Doppler imaging. Color-Doppler shows flows in normal surrounding vessels and abnormal vascularity, such as in tumors with high vessel infiltration or tumor infiltration in vessels[25]. This method can also discriminate between cystic avascular processes without blood flow and aneurisms. Very small pancreatic calcifications which can be hard to distinguish in the irregular parenchymal pancreatic tissue in CP can be identified by the presence of twinkling artifacts. Modern high- end scanners can distinguish between inflammation (high flow) and infarction without flow[26].
METHODS IN ULTRASONOGRAPHY
Panoramic imaging
In a conventional ultrasound field of view, only parts of the pancreas are visible in one image. With the panorama technique, based on real time image reconstruction the whole pancreas can be displayed in one image, allowing the creation of images similar to those in CT and MRI. However, the usefulness of these computed images regarding the evaluation of pancreatic disorders is not well documented.
Compound imaging
Compound imaging obtains multiple coplanar images from different angles using computed beam steering. Multiple views are integrated into a single compound image with improved tissue definition, where signals from real structures are intensified and the artifacts are suppressed[14,18,19]. Organs appear smoother with clear contours. The MPD and vessels are clearly accentuated. As these images are generated from several angles, classical signs in transabdominal ultrasonography such as cast shadows behind pancreatic calcifications or ultrasound enhancement behind pancreatic cysts are attenuated[27].
Contrast-enhanced ultrasonography
The development of microbubble contrast agents enables the display of the vasculature, down to parenchymal microvasculature. With this technique enhancement patterns of lesions can be studied in real time in a similar way as contrast-enhanced CT or contrast-enhanced MRI, under full control of the operator[28-31]. Ultrasound contrast agents are confined to the blood pool where CT or MRI contrast agents are rapidly cleared into the extravascular space. As the contrast bubbles, approximately the size of a red blood cell, are gas-filled, they create strong acoustic reflectors within the fluid filled blood pool. An advantage of CEUS is the ability to study the dynamics of lesions in real time. The excellent tolerance and safety profiles allow repeated administrations in the same session if needed. The elimination of the contrast agent is by breathing, independent of liver and kidney function. Today, CEUS is increasingly incorporated in clinical use, alongside with traditional US, in liver lesions, which is by the far the most common use, but also in the kidneys, in vesico-ureteric reflux, in trauma and in the cerebral circulation[28].
Transabdominal ultrasonography with CEUS in the pancreas has probably near the same potential, and has in some few centers been established in diagnostic routine[14,31]. The most common application is to define pancreatic lesions, in most cases already known lesions, previously seen on CT/MRI or seen in the initial US examination. Several studies show that transabdominal CEUS can be used to differentiate malignancy and CP[32-36]. The time window in a pancreatic CEUS examination is notably shorter than in the well-known liver CEUS study. This is due to the entirely arterial blood supply of the pancreas. The enhancement of the pancreas begins almost simultaneously with the aortic enhancement and reaches its peak between 15 and 20 s after injection of the ultrasound contrast agent. After a noticeable parenchymal enhancement in the arterial early phase, there is a washout of contrast medium with gradual loss of echogenicity during the late phase for approximately 120 s[36,37].
New technologies may be able to discriminate between normal pancreatic perfusion and pathological in parenchymal pancreatic diseases or different tumor perfusion patterns that can be visualized using the small microbubbles of ultrasound contrast agents[38]. Time-intensity curves expressing arrival time of the microbubbles, time to peak or other parameters have so far not been able to show significant difference in focal masses in patients with CP and carcinomas[34]. The first generation analyzing software did not incorporate motion correction and that can be one of the reasons for the insensitivity of this method, since the pancreas moves in both planes, thereby moving the region of interest out of plane. New versions of more sophisticated analyzing software are under development. Figure 3 shows an example of a CEUS examination of the pancreas with a motion tracked area of interest.

Figure 3 Perfusion analysis of the pancreas.
A: Dual view of contrast-enhanced ultrasonography examination of the pancreas in a healthy volunteer. 1.5 mL bolus of Sonovue was given as a bolus and after approximately 45 s the area of interest was exposed to high MI ultrasound bursting the bubbles in the imaging plane; B: A motion correcting analyzing software was used (DCE-US, http://www.isibrno.cz/perfusion/ ). A region of interest have been drawn including the head and body of the pancreas (unpublished data).
In the near future, microbubbles may be an important part of the therapeutic armaments[39]. Studies have been undertaken to investigate the ability and efficacy of sonoporation in a clinical setting to increase the overall survival in patients with pancreatic adenocarcinoma. In a pilot study, numbers of treatment cycles with gemcitabine were increased from an average of 9 to 16 cycles. In two out of five patients treated, the maximum tumor diameter was temporally decreased to 80% ± 5% and permanently to 70% ± 5% of their original size, whilst the other patients showed reduced growth. This study demonstrated that it is possible to combine ultrasound, microbubbles, and chemotherapy in a clinical setting prolonging the quality of life in patients with pancreatic adenocarcinoma when comparing to chemotherapy alone. Figure 4 shows an experimental microbubble sonoporation therapy setup targeting a pancreatic adenocarcinoma, using a clinical ultrasound scanner[39].
ENDOSCOPIC ULTRASONOGRAPHY IN THE WORKUP OF CP
Even if transcutaneous US may image the pancreas in many cases, the limitations of obesity, reverberations and bowel gas may not always be eliminated. EUS has the advantage over trans-cutaneous US examinations that the US probe can be placed close to the organ of interest allowing the use of high frequency ultrasound (5-12.5 MHz). This may allow the imaging of small alterations in the pancreatic duct and parenchyma. The findings are usually grouped as ductal changes or parenchymal changes. The classic features include: ductal calcifications, hyperechoic duct walls, duct-caliber dilatation, visible side ducts. Parenchymal changes include: lobulation with or without honeycombing, parenchymal hyperecohic areas with or without shadowing, echogenic strands and cysts. The problem is that some of these features also are found in healthy subjects, and increasing with age. A study compared EUS and an endoscopic pancreatic function test (ePFT) sampling the peak bicarbonate concentration after secretin stimulation. EUS showed a good correlation with fibrosis. The sensitivity of EUS and ePFT had similar sensitivity for diagnosing CP (0.84%-0.86%), but EUS was more specific (100% vs 67%). By combining the two methods, however, the sensitivity reached 100%[40]. The Rosemont classification is a set of EUS-based criteria for the diagnosis of CP. These criteria are based on detailed evaluation on pancreatic parenchymal and ducts. Both parenchymal and ductal features are divided in major and minor criteria[41]. Major criteria for CP are; hyperechoic foci with shadowing, lobularity with honeycombing and MPD calculi. Minor criteria for CP; cysts, dilated ducts ≥ 3.5 mm, irregular pancreatic duct contour, dilated side branches ≥ 1 mm, hyperechoic duct wall, strands, non shadowing hyperechoic foci, and lobularity with noncontiguous lobules. The Rosemont criteria, using a combination of major and/or minor criteria, categorize the patient into four groups: consistent, suggestive, indeterminate of CP or normal.
NEW IMAGING METHODS FOR EUS IN CP-EUS ELASTOGRAPHY
Elasticity imaging of pancreatic tissue may help the examiner distinguish between harder and softer tissue. Elasticity imaging is currently an option in ultrasonography. Two main methodologies are commercially available. Strain imaging provides a qualitative strain map, frequently in a colored pattern superimposed on a B-mode echogram, visualizing the local strain as a result of endogeneous movements or by an acoustic pulse. Alternatively, a shear wave method is used, providing quantitative elasticity information based on the travelling speed of shear waves. The energy for these shear waves is deposited in the tissue by an acoustic pulse. In some systems both deformation based images and local shear-wave quantification are combined.
Up to now, only strain based imaging systems have been available in combination with flexible echo-endoscopes. In Figure 5 an EUS image of a pancreas with CP is imaged with Real-Time Elastography. In Figure 6 a reactive hilar lymph node in a patient with CP is imaged as green in the strain map indicating intermediate hardness.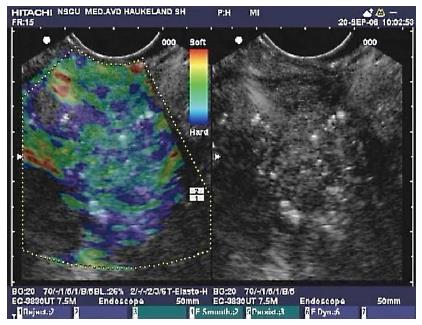 Figure 5 Endoscopic ultrasound with elastography of chronic pancreatitis.
Endoscopic ultrasonography B-mode sonogram (right) and an elastogram superimposed a sonogram (left). In this image of the pancreatic head, hyperechoic foci and strands are seen in the parenchyma, as well as inhomogeneous echogenecity, which are signs of chronic pancreatitis. The elastogram shows predominantly a blue, indicating harder tissue, and green representing intermediate hardness in a honeycomb pattern over the pancreatic tissue.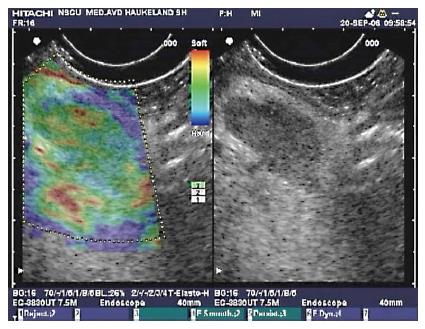 Figure 6 Endoscopic ultrasonography B-mode sonogram and elastogram of lymph node in chronic pancreatitis.
The sonogram (right) shows a lymph node as a hypoechoic oval shape surrounded by more echogenic tissue in the liver hilum. This lymph node approximately 18 mm × 10 mm, appeared in the liver hilum of a patient with chronic pancreatitis. On the left, the lymph node is not harder than the surrounding tissue as the predominant color hue is green. This finding is frequent in reactive lymph nodes, and may be a sign of benign etiology.
Several studies including two meta-analyses conclude that EUS elastography may help characterize focal pancreatic lesions as benign or malignant based on their imaged strain with an high accuracy[42-44]. In CP, the pathology is sometimes more diffusely distributed, and tissue hardness may not be limited to hypoechoic areas. Fibrosis and calcifications, if present, also increase tissue hardness in addition to local edema. In a transcutaneous shear wave study of acute pancreatitis Mateen et al[42] found that pancreatic tissue undergoes a cycle of increasing tissue hardness, resulting in low strain, in the acute phase of inflammation which subsequently turned softer as the inflammatory reaction resolved. In a study on focal pancreatic lesions we found that hypoechoic lesions that turned out to be inflammatory in origin were significantly softer than the malignant lesions. However, these lesions were imaged at a median of 8 mo after the last inflammatory attack (range: 1.2-12 mo). It is our experience that inflammatory lesions in the pancreas may present with a wide range of tissue strain. If a high-strain area (indicating soft tissue) is found, corresponding to a hypoechoic area in a sonogram, the chance of finding malignancy is however low (abstract Havre, UEGW 2011).
INFLAMMATORY DISEASES OF THE PANCREAS
In the following morphological and sonographic characteristics of pancreatic diseases with emphasis on CP will be outlined. Pancreatic neoplasms are also shortly described as an important differential diagnosis.
CONCLUSION
Today's modern high end ultrasound scanners are still the first line modality in abdominal and pancreatic imaging. Ultrasonography is highly available, relative cheap and can be repeated on a daily basis, if needed. Ultrasound technology is developing towards smaller and really mobile scanners, implying that ultrasonography can be present in the pockets of the doctors supporting the clinical examination. With the rapid technical development, different modalities and methods, which demands computer processed images can be combined. This means highly improved image quality and diagnostic accuracy. Under good scanning conditions, ultrasonography has higher spatial resolution than CT or MRI. Furthermore, CEUS with its ability to show macro- and micro vascularity is also used as a second line modality to clarify small lesions, previously detected on CT or MRI.
Regarding transabdominal ultrasound of the pancreas, we predict that the resolution and thereby the ability to detect small morphological changes will be approaching the performance of EUS. Elastography in pancreatic imaging is now well known in EUS and studies' regarding the usefulness of this method in transabdominal ultrasonography is warranted. The ability of CEUS to visualize and quantify perfusion and thereby to characterize a given lesion or to differentiate between vascular (solid) and avascular (liquid/necrotic) components of the lesion is one of the most important progresses in pancreatic imaging today. Furthermore, the development of three-dimensional technology offers new clinical possibilities for real-time 3D volume images of the pancreas in the future.
P- Reviewers: Lee SW, Neri V S- Editor: Wen LL L- Editor: A E- Editor: Zhang DN