Copyright
©2009 The WJG Press and Baishideng.
All rights reserved.
World J Gastroenterol.
May 7, 2009;
15(17): 2049-2066
Published online May 7, 2009. doi: 10.3748/wjg.15.2049
Intrahepatic cholestasis of pregnancy
Victoria Geenes, Catherine Williamson, Maternal and Fetal Disease Group, Institute of Reproductive and Developmental Biology, Imperial College London, London W12 0NN, United Kingdom
Author contributions: Both authors contributed equally; Geenes V and Williamson C planned the study; Geenes V wrote the first draft of the manuscript which was subsequently modified by both authors.
Correspondence to: Catherine Williamson, Professor, Maternal and Fetal Disease Group, Institute of Reproductive and Developmental Biology, Division of Surgery, Oncology, Reproductive Biology and Anaesthetics, Faculty of Medicine, Imperial College London, Hammersmith Campus, Du Cane Road, London W12 0NN, United Kingdom. catherine.williamson@imperial.ac.uk
Telephone: +44-20-75942197
Fax: +44-20-75942184
Received: January 7, 2009
Revised: March 30, 2009
Accepted: April 6, 2009
Published online: May 7, 2009

Intrahepatic cholestasis of pregnancy (ICP) is a pregnancy-specific liver disorder characterized by maternal pruritus in the third trimester, raised serum bile acids and increased rates of adverse fetal outcomes. The etiology of ICP is complex and not fully understood, but it is likely to result from the cholestatic effects of reproductive hormones and their metabolites in genetically susceptible women. Equally unclear are the mechanisms by which the fetal complications occur. This article reviews the epidemiology, clinical features, diagnosis, etiology and management of ICP.
---
Citation: Geenes V, Williamson C. Intrahepatic cholestasis of pregnancy. World J Gastroenterol 2009; 15(17): 2049-2066
---
INTRODUCTION
Intrahepatic cholestasis of pregnancy (ICP), which is also known as obstetric cholestasis, is a liver disease of pregnancy associated with raised serum bile acids and increased rates of adverse fetal outcomes.
ICP was originally described in 1883 by Ahlfeld as recurrent jaundice in pregnancy that resolved following delivery. Pruritus was not mentioned in this report, but in subsequent case reports published in the 1950s, severe pruritus with or without jaundice was reported in conjunction with the condition, in addition to complete resolution following delivery and high recurrence rates in subsequent pregnancies[12].
Over the years, ICP has also been described as jaundice in pregnancy, recurrent jaundice in pregnancy, idiopathic jaundice of pregnancy, obstetric hepatosis, hepatosis gestationalis or obstetric cholestasis.
Most authors now agree that ICP should be defined as pruritus with onset in pregnancy, which is associated with abnormal liver function in the absence of other liver disease and which resolves following delivery.
EPIDEMIOLOGY
The incidence of ICP varies widely with geographical location and ethnicity (Table 1)[3–27]. It is most common in South America, particularly in Chile, where early reports described an overall incidence of 10%, with higher rates seen in women of Araucanian Indian descent[6]. More recently, this has fallen to approximately 1.5%-4%[28]. The reasons for this decline are unclear but do not appear to reflect changing diagnostic criteria which have become more inclusive in recent studies; while early reports commonly used jaundice to diagnose ICP, more recently, any abnormality in liver function has been used. Instead, it has been proposed that the decline is due to changes in environmental factors, which will be discussed in more detail later in this article. The incidence of ICP is lower in Europe (approximately 1%) and has been stable for many years.
Country
Prevalence (%)
Year of study
Diagnostic criteria
References
Australia
0.2
1964-1966
P, J, LFT, PR1
[5]
Australia
1.5
1968-1970
P, J, LFT, R
[8]
Australia
0.2
1975-1984
P, J, LFT, PR; SBA (from 1982)
[3]
Bolivia
9.2
1976
P, J, B, LD
[7]
Aimaras
13.8
Quechas
4.3
Caucasians
7.8
Mixed Indian
7.3
Canada
0.07
1963-1976
J, P, LFT, LD, R
[4]
Chile
1974-1975
P, J, B, LD
[6]
Aimaras
11.8
Araucanian
27.6
Caucasian
15.1
Chile
4.7
NA
P, SBA (10 &mgr;mol/L), B, LFT
[10]
Chile
6.5
1988-1990
P, LD2
[18]
China
0.32
1981-1983
J, LFT, B, SBA, LD, R3
[12]
Chongqing
China
0.05
2003-2005
LFT, SBA (11 &mgr;mol/L), B, LD
[14]
Hong Kong
Finland
1.1
1971-1972
P, LFT
[13]
Finland
0.54
1990-1996
P, LFT, SBA (8 &mgr;mol/L), LD
[11]
Finland
0.54
1994-1998
P, LFT, SBA (8 &mgr;mol/L), LD
[9]
France
0.2
1953-1961
P, J, LFT, PR, R
[16]
France
0.53
1988-1989
LFT, B, SBA (6 &mgr;mol/L)
[19]
India
0.08
2002-2004
P, LD, LFT
[17]
Italy
0.96
1996-1999
P, LFT, SBA4
[15]
Italy
1
1989-1997
P, PR, LFT ± SBA
[20]
Poland
1.5
NA
P, LFT, B, LD
[21]
Portugal
1
NA
P, SBA, LFT, B, LD5
[24]
Sweden
1.5
1971-1974
P, LFT, LD
[23]
1
1980-1982
Sweden
1.5
1999-2002
P, SBA (10 &mgr;mol/L), LFT, LD
[25]
USA
0.32
1997-1999
P, SBA or LFT, PR6
[26]
USA
5.6
1997-1998
P, SBA (20 &mgr;mol/L)
[27]
Latina
UK
0.7
1995-1997
P, SBA (14 &mgr;mol/L), LFT, LD
[22]
Caucasian
0.62
Indian
1.24
Pakistani
1.46
ICP is more common in the winter months in Finland, Sweden, Chile and Portugal[2324]. A higher incidence is seen in twin pregnancies (20%-22%)[1018] and following in vitro fertilization treatment (2.7% vs 0.7%)[29]. One study has suggested that it is more common in women over the age of 35 years[11]. There is a higher incidence of gallstones in both affected women and their families[3031]. Hepatitis C seropositivity has been reported to be a risk factor for ICP, and may be associated with early onset of the condition[1532]. It has also been suggested that women with ICP have more severe and prolonged emesis, and higher rates of drug sensitivities[33].
CLINICAL FEATURES
Maternal disease
The most common presenting symptom of ICP is pruritus that usually presents in the third trimester. This becomes progressively more severe as the pregnancy advances and typically resolves within 48 h of delivery. Pruritus is defined as an unpleasant sensation that evokes the desire to scratch. It most frequently affects the palms of the hands and soles of the feet but it can be generalized or affect other areas of the body. There are no associated dermatological features other than excoriation marks, which may be severe. Many women report that their pruritus worsens at night and may become so extreme that it causes insomnia.
Approximately 80% of affected women present after 30 wk of gestation[3034], but ICP has been reported as early as 8 wk[23].
The relationship between onset of pruritus and development of deranged liver function is not clear. It has been reported that itch may be present either prior to or after abnormal liver function is detected[35], and this may reflect the heterogeneous nature of the condition.
Clinical jaundice is rare, affecting approximately 10%-15% of pregnant women with ICP, and if it does occur, it tends to be mild with bilirubin levels rarely exceeding 100 &mgr;mol/L. Unlike the pruritus, it does not typically deteriorate with advancing gestation[36].
Constitutional symptoms of cholestasis may also be present, including anorexia, malaise and abdominal pain. Pale stools and dark urine have been reported and steatorrhea may occur[37]. Theoretically steatorrhea is associated with an increased risk of post-partum haemorrhage as a result of malabsorption of vitamin K, although there are only a small number of reports of this complication in the literature[38]. Steatorrhea may respond to treatment with pancreatic enzymes.
There have been some reports of the co-existence of ICP with other pregnancy-related disorders including pre-eclampsia[1439–41], acute fatty liver of pregnancy[3042], and gestational diabetes[39]. This reflects the etiological heterogeneity of the condition and thus it is important to exclude other causes of hepatic impairment in women who present with cholestasis in pregnancy.
ICP is not typically associated with ongoing hepatic impairment after pregnancy and the biochemical abnormalities normally resolve within 2-8 wk of delivery. There are a few case reports of a more prolonged course with biochemical abnormalities lasting up to 34, 45 and 82 wk postpartum[4344]. In women with continued liver dysfunction it is important to exclude alternative underlying diagnoses. In the majority of women, ICP recurs in subsequent pregnancies, but disease severity cannot be predicted by the course in previous pregnancies.
Fetal disease
There is considerable debate in the literature about the extent of the ICP-associated fetal risk. There are consistent reports of adverse fetal outcomes in association with the condition[4546], although most studies are not sufficiently large to allow accurate quantification of the frequency of the complications. Many studies have tried to correlate maternal serum biochemistry with fetal outcomes and one series reported higher rates of fetal complications in women with jaundice compared to those with pruritus alone[38]. Bile acids have been repeatedly implicated in the etiology of the fetal disease, and the sensitivity of bile acids as a predictive marker of fetal risk has been examined in several studies involving small numbers of cases[18394748]. A recent, more definitive study from Sweden reported that there was a 1%-2% increase in risk of spontaneous preterm labour, asphyxial events (defined as operative delivery due to asphyxia, Apgar score < 7 at 5 min or arterial cord pH < 7.05) or meconium staining of the amniotic fluid and/or placenta and membranes for every additional µmol/L of maternal serum bile acids[25]. This study also reported no increase in adverse outcomes if the maternal fasting serum bile acids were below 40 &mgr;mol/L, leading the authors to suggest there is no increased risk to the fetus with mild ICP according to this definition. This result was generally consistent with the findings of other smaller studies in Finnish and American Latina populations[47–49] (Figure 1), although the magnitude of the effect varied in different studies, possibly relating to variations in management strategy, maternal ethnicity and study design. The reported incidence of each adverse fetal outcome is shown in Table 2.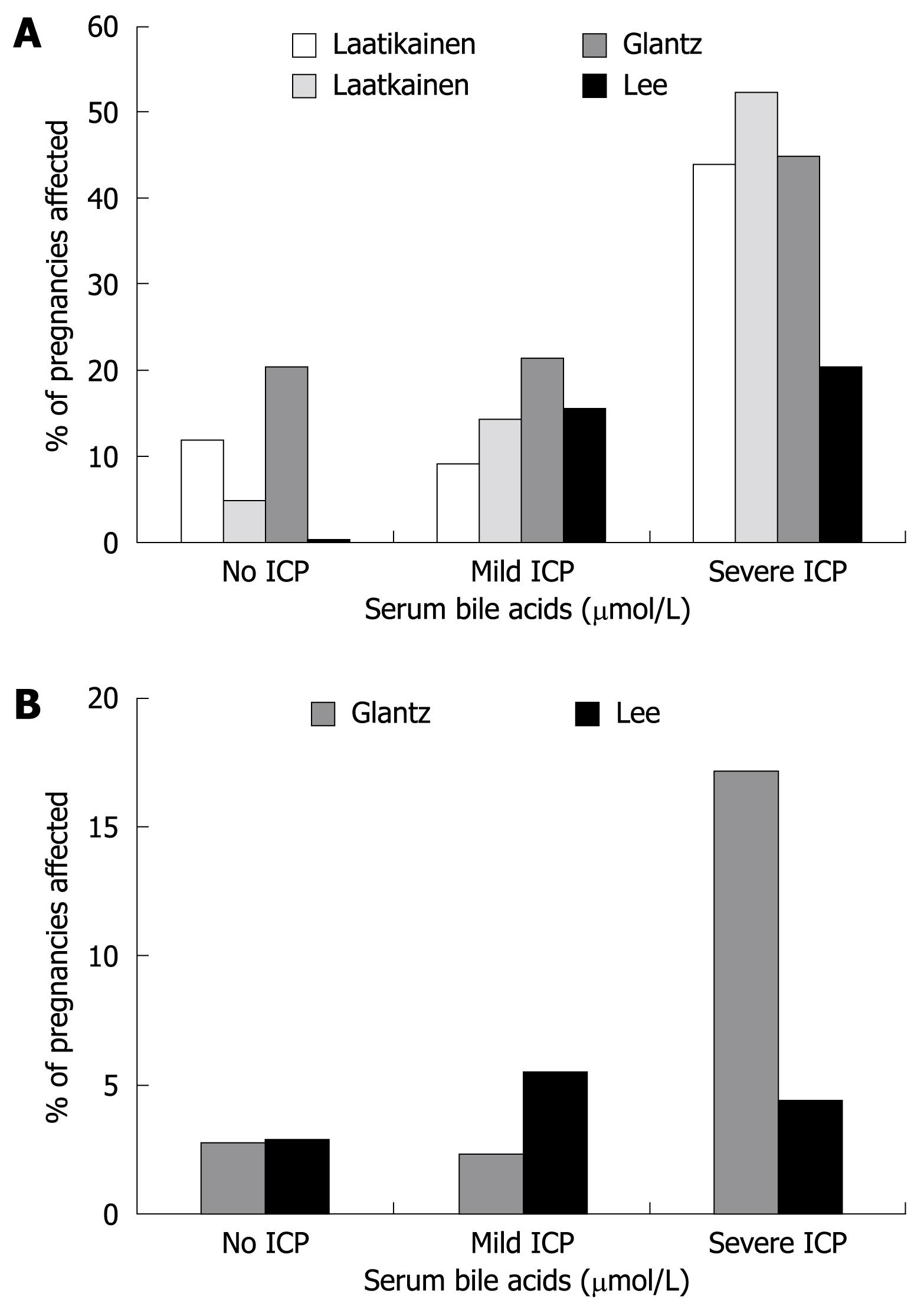 Figure 1 Graphs showing the incidence of meconium staining of the amniotic fluid (A) and preterm labour (B) in studies of the relationship between the maternal serum bile acid level and adverse fetal outcomes[2547–49].
The total maternal serum bile acid level was used in all studies except Laatikainen et al[47] (represented by the white bar), where cholic acid only was used (normal range < 5 &mgr;mol/L). Serum bile acid level has been categorized as no ICP (< 10 &mgr;mol/L), mild ICP (10-40 &mgr;mol/L) or severe ICP (> 40 &mgr;mol/L) by the authors. One study[25] used fasting maternal bile acids and compared fetal outcomes with the single highest bile acid reading available. The other studies did not specify whether the mothers were fasted. One study[48] compared fetal outcomes to the serum bile acid level from the week before delivery, and the other studies did not specify which serum bile acid level was used.
Study period
Number of cases (controls)
Preterm delivery (< 37 wk)
Abnormal CTG (timing)
Apgar score ≤7 (min)
Meconium staining of amniotic fluid
PPH (> 500 mL)
References
1951-1983
100 (156)
38%
-
-
-
7%
[12]
38% U
1963-1976
42 (42)
39%
-
-
-
19%
[4]
39% S
1965-1974
56
36%
14% (NS)
-
27%
9%
[38]
36% S
8 B
NS
1971-1972
116 (116)
-
19% (labour)
7% (1)
28%
-
[13]
3% LD
3% (5)
7% < 37 wk
16% B or T
21% > 37 wk
1971-1974
100 (100)
-
-
10% (1)
12%
-
[23]
8% (5)
NS
1975-1984
83
44%
-
-
45%
-
[46]
44% S
10% < 37 wk
35% > 37 wk
1979-1981
18
-
-
-
58.30%
22%
[39]
NS
1980–1981
117
-
14% (antepartum)
10% (NS)
16.20%
-
[48]
4% (labour)
NS
1988-1990
320 (320)
19%
12.8% (NS)
8% (1)
38%
-
[18]
12% S
2% (5)
13% < 37 wk
7% I
25% > 37 wk
1988-1995
79 (792)
14%
2% (NS)
None
44%
-
[57]
14% S
2% B
NS
1989-1995
50
60%
-
-
-
2%
[56]
60% U
1989-1997
206
27%
-
1% (5)
21%
-
[20]
4% S
5% < 37 wk
23% I
16% > 37 wk
1990-1996
91 (16, 818)
14%
20% (labour)
8% (1)
15%
-
[11]
14% U
2% (5)
NS
1999-2001
70
17%
-
-
14%
17%
[30]
6% S
4% < 37 wk
11% I
10% > 37 wk
1999-2002
690 (44, 792)
12%
7%3
7%3
25%
-
[25]
12% U
1999-20031
352
38%
-
-
-
-
[31]
16% S
22% I
2000-2007
122
4%
-
8% (1)
13%
7%
[49]
4% S
2% (5)
2003-2005
8
50%
-
-
62%
-
[14]
50% U
NS
Meconium staining of the amniotic fluid: The incidence of meconium staining of amniotic fluid (MSAF) in normal term pregnancies is approximately 15% and is considered to be a sign of fetal distress. In ICP, MSAF has been reported in 16%-58%[3839] of all cases and up to 100% of cases affected by intrauterine death (IUD)[45]. The group in which the incidence of MSAF is particularly striking is women who had amnioscopy or amniocentesis at approximately 37 wk of gestation, as the rates are significantly higher than in controls at this time[20]. The frequency of MSAF is greater in pregnancies with higher reported levels of maternal serum bile acids[2547–49] (Figure 1).
Cardiotocography (CTG) abnormalities: Both ante- and intrapartum CTG abnormalities have been reported in association with ICP, including reduced fetal heart rate variability, tachycardia and bradycardia (< 100 bpm)[13384850]. More recently, a case report has described fetal tachyarrhythmia (220-230 bpm) leading to atrial flutter during labour at 37 wk gestation[51].
Preterm labour: There is an increased risk of spontaneous preterm labour, which has been seen in as many as 60% of deliveries in some studies[4], but most studies report rates of 30%-40% in ICP cases without active management. Reid et al[38] found an overall incidence of 36%, but interestingly this rose to 48% in women with raised bilirubin. Two studies have related the maternal serum bile acid level to the rate of spontaneous preterm delivery[2549]. The rate of this complication was significantly higher in ICP pregnancies with maternal fasting serum bile acids > 40 &mgr;mol/L in the larger study of Swedish ICP cases[25]. However it was not higher in pregnancies with mildly raised (< 20 &mgr;mol/L) or more markedly raised maternal serum bile acids in a study of American Latina cases[49].
In more recent studies, the majority of preterm deliveries are iatrogenic (Table 2), which reflects the relatively frequent practice of electively delivering ICP cases at around 37 wk, with the aim of reducing the risk of fetal complications. There have been concerns raised over whether this in itself carries an increased risk of neonatal morbidity for the fetus. Studies have shown that there is an increased risk of respiratory distress syndrome (RDS) with either induction of labour or elective cesarean section at this stage of gestation[52]. It should be noted that the risk of neonatal respiratory distress is considerably higher with elective cesarean section, and it should be borne in mind that labour is induced in the majority of women with ICP. Also, there are some data to suggest that neonatal respiratory distress following ICP may be a consequence of the disease process. A recent series reported unexpected respiratory distress in association with maternal cholestasis in three infants delivered between 36 and 37 wk gestation with good indices of lung maturity in the amniotic fluid and negative blood, urine and cerebrospinal fluid cultures[53]. The authors therefore proposed that the development of RDS was as a direct consequence of ICP. In follow-up studies, RDS was found to affect 28.6% of newborns from cholestatic pregnancies and high levels of bile acids were found in the bronchoalveolar fluid of 10 infants with RDS[5455].
Sudden IUD: Older studies using biochemical abnormalities to diagnose ICP have reported a perinatal mortality rate of 10%-15%[1338]. This has been reduced to 3.5% or less in more recent studies employing policies of active management[11131820253039464856]. The term active management may encompass many different clinical practices, including increased fetal monitoring, frequent biochemical testing, pharmacotherapy with ursodeoxycholic acid (UDCA) or delivery at 37-38 wk gestation. These management protocols are based on evidence showing that stillbirths in ICP tend to cluster around 37-39 wk (Figure 2)[13182325313845–4856–58]. However, there have been reports of stillbirths at less than 37 wk; in one series a fetus died at 32 wk[45] and in another one, twin fetuses died at 31 wk[31].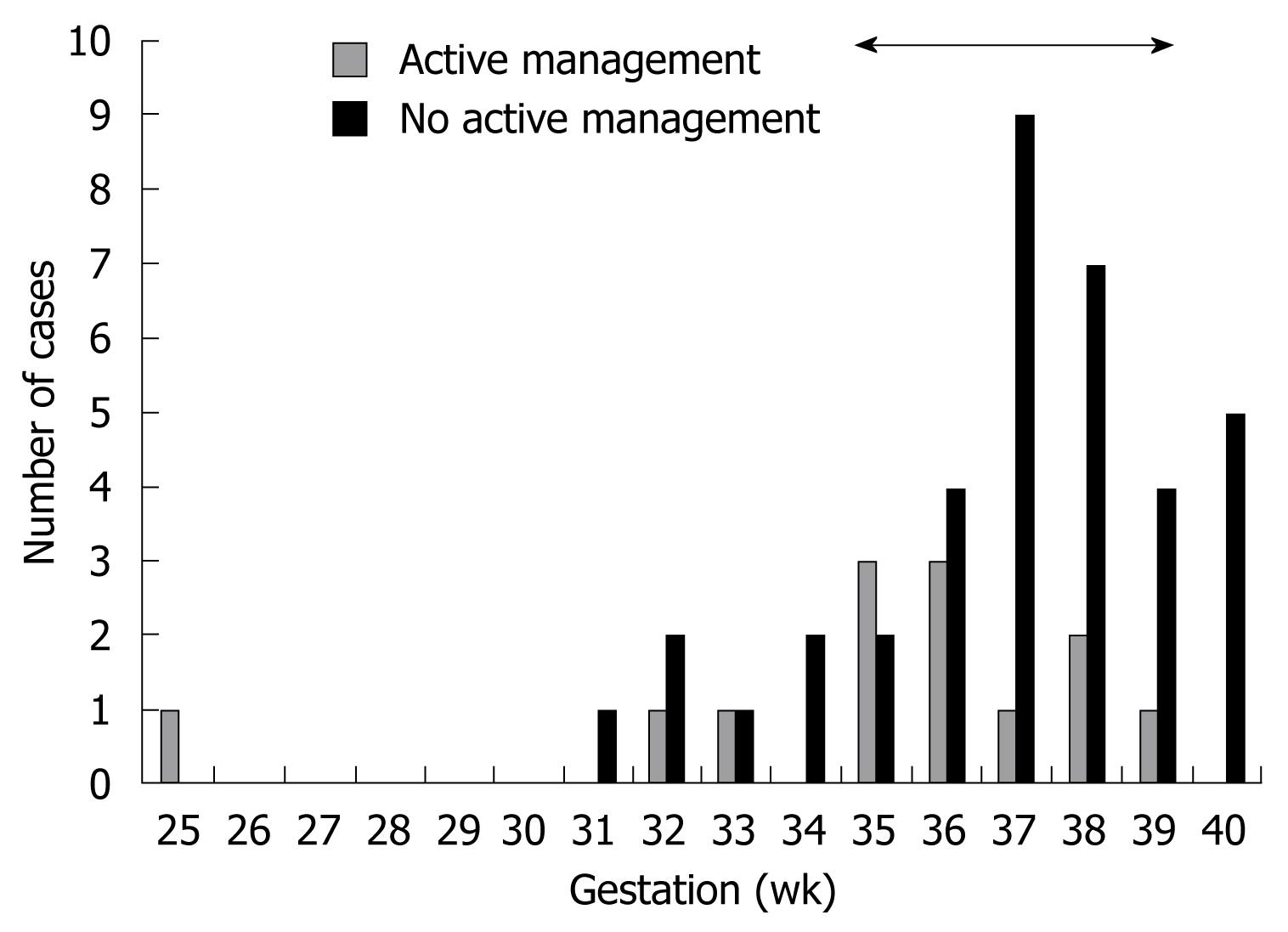 The risk of adverse fetal outcomes is thought to relate to the maternal serum bile acid level, and a recent study has shown that there is a 1%-2% increased risk for every &mgr;mol/L of bile acid above 40 &mgr;mol/L[25]. It is therefore likely that the risk of IUD is higher in ICP pregnancies with more severe hypercholanemia. However, the same study reported a stillbirth with maternal serum bile acid levels of 27 &mgr;mol/L and there are additional case reports of stillbirths at 39 wk with bile acids of 15 and 21 &mgr;mol/L[4858]. It is not clear how close to the fetal death these blood specimens were taken, and maternal serum bile acid level is high in the majority of IUDs reported in the literature[2547], but these observations illustrate the difficulty encountered by clinicians in using biochemical measurements to dictate delivery strategies for ICP cases.
Other findings: Several studies have shown that there is no increase in the number of small for gestational age infants born to women with ICP[1859]. However, lower mean birth weight has been noted in three studies[41138], although this does not appear to be due to intrauterine growth restriction. One study reported an increased placental/fetal mass, i.e. larger placentas in ICP[11].
INVESTIGATIONS
The diagnosis of ICP is one of exclusion and alternative causes of hepatic impairment or pruritus should be considered before the diagnosis is made.
ETIOLOGY OF MATERNAL DISEASE
The etiology of ICP is complex and not fully understood. Evidence from ICP pedigrees suggests that there is a genetic component to the disease[110], and the relative risk for parous sisters of affected women is 12[9111]. Insights into the genetic etiology come from studies of the familial cholestasis syndromes progressive familial cholestasis (PFIC) and benign recurrent cholestasis (BRIC). These autosomal recessive syndromes are caused by homozygous mutations in the genes encoding biliary transport proteins, and case reports have described ICP in the heterozygous mothers of affected children.
Candidate genes
The most extensively studied candidate gene in ICP is ABCB4, which encodes the multidrug resistance protein 3, a floppase that transports phosphatidylcholine from the inner to the outer leaflet of the hepatocyte canalicular membrane[112–114]. Homozygous mutations result in a spectrum of phenotypes that include PFIC type 3[115] and cholelithiasis[116]. ICP-associated variants were first described in a case report published in 1999, in which the mother of a child with PFIC type 3 was found to have a heterozygous single nucleotide deletion (1712delT). She and five of her female relatives had a history of ICP[117]. However, a second study screening 57 Finnish cases for this mutation concluded that it does not play a significant role in the etiology of ICP in this population[118]. Subsequent to this, there have been 12 different genetic variants and four splicing mutations in ABCB4 reported in ICP cases[119–126]. The first ABCB4 mutations were described in patients with elevated serum GGT levels, a biochemical phenotype that is also found in PFIC type 3, and not in types 1 and 2. However, some recent studies have described ABCB4 variants in ICP patients with normal GGT[120126]. A recent study has also described an ABCB4 haplotype which is associated with the "severe" phenotype of serum bile acids > 40 &mgr;mol/L[127].
Homozygous mutations in the familial intrahepatic cholestasis one gene (FIC1, ATP8B1) cause PFIC type 1 and BRIC. The function of the FIC1 protein is disputed, but it is hypothesized to be an aminophospholipid translocase which transports phosphatidylserine from the canaliculus into the hepatocyte, thus maintaining membrane asymmetry and the function of the other biliary transporters embedded within the membrane. Variation in FIC1 occurs in a small number of ICP cases, although the functional consequences are currently not known[128129].
Genetic variation in the bile salt export pump (BSEP), encoded by ABCB11 has also been reported in ICP. BSEP is located exclusively in the hepatocyte canalicular membrane and is the primary export pump for bile acids. Homozygous mutations in ABCB11 are associated with PFIC type 2. Two studies investigated the role of ABCB11 variation in Finnish ICP cases. One study reported that single nucleotide polymorphisms in exons 28 and 19 were susceptibility loci for ICP[130]. However, a subsequent study in a larger number of cases with a more diverse ethnic background failed to confirm these findings, suggesting that ICP is a genetically heterogeneous disease[131]. Further evidence for genetic heterogeneity was provided by a study of 16 individuals from two affected Finnish families. Segregation of haplotypes and multipoint linkage analysis of microsatellite markers in ABCB11, ABCB4 and ATP8B1 excluded genetic variation in these genes from playing a role in the etiology of ICP[132]. Other BSEP variants reported to be associated with ICP include N591S and the V444A polymorphism[123126133]. The latter of these variants is particularly interesting as it is also reported to be a susceptibility factor for estrogen-induced cholestasis[133]. A recent UK study demonstrated that two common PFIC2-associated mutations (E279G and D482G) and N591S are present as heterozygous variants in a small proportion of ICP cases. This study of 491 Caucasian ICP cases and 261 controls also demonstrated that the V444A allele is a significant risk locus for ICP in this population[134].
Genetic variation has also been reported in another biliary transporter, ABCC2, which encodes the multidrug resistance related protein 2 (MRP2). MRP2 exports organic anions including bilirubin into the bile. A study from South America has suggested that a polymorphism in exon 28 is associated with ICP[135].
The farnesoid X receptor encoded by NR1H4 is the principal bile acid receptor and is responsible for the regulation of bile acid synthesis and transport within the liver. A recent study has described four heterozygous variants within FXR that are associated with ICP, three of which were shown to have functional effects[136].
A variety of other genetic loci have been investigated in ICP cases and the reader is referred to a recent review for full details of all studies to date[111].
Influence of hormones
Several studies provide evidence that reproductive hormones play a role in the etiology of ICP. The disease is more common in multiple than singleton pregnancies (20.9% vs 4.7% in one study)[10], and the symptoms may recur in a subgroup of affected women when taking the combined oral contraceptive pill[31]. In addition, most women present with symptoms of ICP in the third trimester when estrogen and progesterone levels are highest.
Most studies have focussed on estrogen rather than progesterone. In clinical studies, administration of ethinylestradiol to both men and women results in a decreased clearance of sulfobromophthalein, and this is further reduced in women with a personal history of ICP and their male relatives[137]. Furthermore, administration of the depot estrogen, ethinylestradiol propanolsulphonate to 20 healthy women significantly increased the total serum bile acid concentration, and in particular, the proportion of taurine conjugates[138]. In vitro studies have demonstrated that the cholestatic estrogen metabolite, 17-β-estradiol glucuronide, transinhibits the BSEP following excretion into the bile canaliculus by MRP2[139]. Supporting this hypothesis, administration of 17-β-estradiol glucuronide to rats causes endocytic internalization of BSEP in an MRP2 (Mrp2; Abcc2)-dependent manner[140]. Estrogen also impairs the expression and/or function of, BSEP and MRP2 in rodent studies[141–143].
However, progesterone may play an even greater role in the pathogenesis of ICP. Bacq et al[144] observed that administration of natural progestin to women with threatened preterm labour resulted in ICP in 11 of the 12 women treated. This finding was confirmed by two subsequent studies[56145]. Although total progesterone does not rise in comparison to normal pregnancies, the profile of metabolites is considerably different. An excess of monosulfated and disulfated (in particular 3α and 5α) isomers has been reported in the serum and urine of women with ICP, and this may reflect impaired excretion of these metabolites at the canalicular membrane, or abnormal synthesis[146147]. Studies of umbilical cord serum have also shown that disulfated progesterone metabolites are increased in the fetal compartment of affected pregnancies compared with normal pregnancies. Moreover, the level of steroid sulfates synthesized by the fetus, e.g. 16α-hydroxydeh-ydroepiandrosterone sulfate are decreased, suggesting that maternal cholestasis is associated with impaired fetal steroid synthesis[148].
There are few in vitro studies that have investigated the mechanism of progesterone metabolite induced cholestasis. One study has shown that sulfated progesterone metabolites, but not progesterone itself, cause reduced bile flow in the rat[149]. The same authors demonstrated that these metabolites inhibit BSEP-mediated bile acid efflux in Xenopus oocytes.
Environmental factors
Selenium: Serum levels of selenium usually decrease with advancing gestation, but normal serum levels are maintained if dietary intake is adequate[96]. Dietary selenium intake is lower in Finland and Chile, and serum levels have been shown to be reduced in women with ICP compared to pregnant controls in both countries[9096]. Glutathione peroxidase is a powerful antioxidant that is dependent on selenium. Estrogens and bile acids cause oxidative stress, and it has been proposed that reduced serum selenium levels may contribute to the etiology of ICP and may also provide an explanation for the geographic variation in the prevalence of the condition.
Seasonal variation: The incidence of ICP peaks in the winter months in Scandinavia and Chile, suggesting a possible association with an environmental trigger. Interestingly, serum selenium levels have also been reported to be significantly higher in the summer than winter[96].
Infection: There is an increased incidence of hepatitis C infection in women with ICP, and one study has reported that affected women develop cholestasis at earlier gestations[32]. There have also been reports of an increased incidence of urinary tract infection and pyelonephritis in the early stages of pregnancy than in controls[13].
Drug cholestasis: Johnston et al[4] reported higher rates of drug sensitivities among the ICP population, especially to antibiotics. There may be overlapping etiological factors that influence susceptibility to ICP and drug-induced cholestasis. For example, the V444A allele of BSEP that confers increased risk for ICP is also found more commonly in individuals with drug-induced cholestasis[150].
Leaky gut: Increased gut permeability as measured by the urinary lactulose/mannitol ratio (L/M) has been reported in a subgroup of ICP patients (five of the 20 women in the study), and the authors postulate that this may participate in the pathogenesis of the condition by enhancing the absorption of bacterial endotoxins[151]. However, levels of anti-lipopolysaccharide antibodies and pro-inflammatory cytokines [tumor necrosis factor-α, interleukin (IL)-1β, IL-6 and IL-10] were measured and no significant differences were shown, suggesting that this may not be the case. It should also be noted that the abnormal excretion of lactulose and mannitol persisted for up to 2 years in four of the five women identified, and thus it is possible that a leaky gut is a permanent abnormality in these women rather than a result of ICP.
Pruritus: The itch associated with ICP is often the most troubling symptom for affected women. It has been speculated that it is due to accumulation of bile acids in the interstitial fluid of the skin. However, serum bile acid levels do not correlate well with maternal symptoms and, while application of bile acids to blister bases or intradermal injection of bile acids results in pruritus[152153], absolute concentrations of bile acids in the skin do not correlate well with the sensation of itch[154]. Furthermore, some studies have reported pruritus before the onset of biochemical abnormalities[35]. These findings suggest that an alternative compound acts as a pruritogen in this and possibly other forms of cholestatic liver disease. Candidates include reproductive hormone metabolites, and a recent study has reported that serum sulfated progesterone metabolites were reduced following treatment with UDCA, concurrently with a reduction of pruritus[155]. Interestingly, a 5-hydroxytrytamine 3 receptor agonist has been reported to rapidly reduce pruritus in both ICP and other liver diseases, raising the possibility that serotonin is involved in the etiology of pruritus[156157].
ETIOLOGY OF FETAL COMPLICATIONS
The etiology of the fetal complications associated with ICP is poorly understood, but is thought to relate to an increased flux of bile acids into the fetal circulation, as indicated by elevated levels in amniotic fluid, cord serum and meconium. In vitro studies of isolated placental vesicles have shown that vectorial transfer of bile acids from fetus to mother is impaired in ICP, and that this is specifically the result of decreased efficiency of ATP-independent transport[158159]. Taken together, these findings suggest that bile acids accumulate in the fetal compartment and thus are likely to exacerbate fetal risk. Furthermore, a recent study of fetal outcomes in ICP has shown that the risk of adverse fetal outcomes increases with increasing levels of maternal serum bile acids[25].
MANAGEMENT OPTIONS
The aims of management are to reduce symptoms and biochemical abnormalities in the mother and to reduce the risk of fetal distress, preterm delivery and sudden fetal death.
Fetal monitoring
There are several case reports of normal CTG and/or normal fetal movements in the hours preceding fetal loss[1848177178]. Thus, the general consensus is that these forms of fetal surveillance do not prevent IUD. However, they may be reassuring to women with ICP and the clinicians responsible for their care at the time they are performed. One study reported good fetal and neonatal outcomes with a policy of routine amnioscopy at 36 wk to assess amniotic fluid color in addition to standard monitoring for fetal wellbeing[20]. However, this approach may be considered overly invasive by many obstetricians.
Elective delivery
Some studies have reported good outcomes with a policy of induction of labour at 37 or 38 wk gestation[2046]. Many clinicians in the UK have adopted this practice as the IUDs appear to cluster at later gestations (Figure 2). However there have been very few reports of the gestational week at which the IUD occurs, nor have there been any large prospective studies of whether drug treatment or early delivery prevents adverse fetal outcomes.
Drugs
UDCA: UDCA is a naturally occurring hydrophilic bile acid that constitutes < 3% of the physiological bile acid pool in humans. It has been used with positive effects in the management of primary biliary cirrhosis and other cholestatic disorders for several years, and is gaining popularity as a treatment for ICP. There is evidence that UDCA stimulates biliary secretion by post-transcriptional regulation of BSEP and the alternative exporters MRP4 and MRP3. In addition, it has antiapoptotic effects and has been shown to reduce the mitochondrial membrane permeability to ions and cytochrome c expression[179180]. Finally, UDCA lowers serum levels of ethinyl-estradiol 17β-glucuronide, a major cholestatic metabolite of estrogen.
The first reported use of UDCA in ICP was by Palma et al[181] in 1992. In an uncontrolled series of eight cases, UDCA was prescribed at a dose of 1 g/d either continuously for 20 d or for two 20-d periods interrupted by a 14-d drug-free period. Both groups had a significant improvement in serum biochemistry and symptoms after 20 d treatment, but relapse was seen after the first week of the drug-free period in the latter group. Subsequently, UDCA was used to treat three patients with recurrent ICP, all of whom had rapid symptomatic and biochemical improvements with no adverse fetal outcomes[45]. This was followed by three small randomized, controlled trials (maximum of eight patients in each arm), the first of which showed that 20 d of UDCA treatment (600 mg/d) resulted in a significant reduction of pruritus and LFTs, including bile acids, compared to baseline[182]. One other study failed to show any reduction in pruritus compared with placebo, and the final one showed a reduction that did not reach statistical significance because of the small numbers of women treated[183184]. In both studies, UDCA caused a significant reduction in serum transaminases and bilirubin compared to placebo. One study also showed a significant reduction in serum bile acids[183]. There have been several additional case series demonstrating that UDCA treatment results in clinical and biochemical improvement in ICP[26185–188].
More recently, a randomized placebo-controlled trial comparing the efficacy of UDCA and dexamethasone therapy in ICP reported that UDCA, but not dexamethasone, significantly reduced ALT and bilirubin in all women treated. Furthermore, there was a significant reduction of pruritus and bile acids in women with serum bile acid levels exceeding 40 &mgr;mol/L at inclusion[189].
Studies examining the bile acid pool composition have shown that, in addition to a reduction in the serum bile acid concentration, treatment with UDCA results in a normalization of the CA:CDCA and glycine:taurine ratios[190], and a reduction in urinary excretion of sulfated progesterone metabolites, which the authors propose is associated with a concurrent reduction in pruritus[155].
There have been no reports of fetal morbidity or mortality resulting from UDCA treatment, although no study has had sufficiently large numbers to allow this to be fully evaluated. However, UDCA treatment has been shown to reduce the bile acid level in cord blood[187], amniotic fluid[187191192] and colostrum[193], and it reduced cord blood bilirubin levels in one study[194]. As previously discussed, the level of bile acids in meconium is considerably elevated in ICP, and this is not influenced by treatment with UDCA[175]. However, this may be because bile acids had already accumulated in the meconium prior to UDCA treatment. It is likely that, if UDCA reduces the maternal serum bile acid level, and thus placental transfer of bile acids, then there should be a corresponding reduction in the level in meconium from the time of treatment.
Finally, UDCA has been shown to correct the impaired bile acid transfer kinetics observed in ICP placentas[159] and to reverse the morphological changes seen in the placentas of a rodent model of ICP[195]. In addition, placental MRP2 protein and mRNA expression were significantly increased in patients treated with UDCA compared to controls[194]. UDCA also protects cardiomyocytes from bile acid-induced arrhythmias in an in vitro model[196].
There are very few side effects reported with UDCA treatment. At higher doses women may complain of gastrointestinal upset and diarrhea, but this is rare.
Dexamethasone: Dexamethasone inhibits placental estrogen synthesis by reducing secretion of the precursor, dehydroepiandrosterone sulfate, from the fetal adrenal glands[197198]. An early observational study of 10 affected women from Finland suggested a beneficial effect with reduced serum estriol and estradiol levels and symptomatic improvement in all cases. In addition liver biochemistry, including the serum bile acid level, was improved and symptoms did not recur on cessation of treatment[199]. However, this was not supported by subsequent studies[189200201].
In addition to the conflicting reports of efficacy, there are concerns over safety. Dexamethasone has been widely used to promote fetal lung maturity and is reported to be safe in this context. However, it crosses the placenta easily, and animal and human data suggest that repeated high doses are associated with decreased birth weight[202] and abnormal neuronal development[203].
Rifampicin: Although there are no published studies reporting the use of rifampicin in ICP, it has been used with good results in several other liver diseases, including gallstones and primary biliary cirrhosis[204–206]. In these studies treatment with rifampicin resulted in significant decreases in serum levels of transaminases and total bile acids, as well as an improvement in pruritus, suggesting that it might also be useful in the treatment of ICP. A recent study investigating the molecular mechanism by which rifampicin works has shown that it enhances bile acid detoxification, an effect that is complementary to the up-regulation of bile acid export induced by UDCA, suggesting that the two drugs used in combination may be more effective than monotherapy[204]. The authors are aware of several ICP cases that have not responded to monotherapy with UDCA, but have responded to combined treatment with rifampicin and UDCA.
Vitamin K: ICP is associated with a risk of malabsorption of fat soluble vitamins due to reduced enterohepatic circulation of bile acids and subsequent reduction of uptake in the terminal ileum. Therefore many clinicians opt to treat women with oral vitamin K to guard against the theoretical risk of fetal antepartum and maternal intra- or postpartum hemorrhage. However, there have been no studies to support or refute this practice.
Others: S-Adenosyl-L-methionine (SAMe) is the principal methyl group donor involved in the synthesis of phosphatidylcholine, and therefore, it influences the composition and fluidity of hepatic membranes and hence biliary excretion of hormone metabolites[207]. It reverses estrogen-induced impairment of bile flow in rats[208–210]. Furthermore, in a human study of estrogen-induced cholestasis in women with a history of ICP, SAMe was shown to prevent ethinylestradiol-induced elevations in AST/ALT, bile acids and bilirubin[211]. Early studies of SAMe in the treatment of ICP reported that it improved both symptoms and biochemistry[212213], and these findings were confirmed by a subsequent placebo controlled study in which 15 women were treated with high dose SAMe (800 mg/d iv)[214]. However, a double-blind, placebo-controlled trial showed no improvement in symptoms or biochemistry following treatment with SAMe[215]. Finally, the efficacy of SAMe has been compared to that of UDCA, combination therapy with UDCA and SAMe, and placebo in one study[183]. Women treated with SAMe had a larger reduction in pruritus score and biochemical parameters than women in the placebo group, but this was not as large in the UDCA group. Furthermore, treatment with a combination of UDCA and SAMe was more effective than SAMe alone in reducing bile acid levels. Some patients have reported problems with peripheral veins following prolonged intravenous administration[215]. No other adverse maternal or fetal effects have been reported and SAMe seems to be well tolerated.
Cholestyramine is an anion exchange resin which acts by binding bile acids in the gut, thereby inhibiting the enterohepatic circulation and increasing fecal excretion of bile acids. There have been several studies suggesting that cholestyramine is effective at reducing pruritus in ICP[216217]. However, it has no effect on serum bile acid levels or other biochemical markers of cholestasis[216]. Furthermore, it may reduce the intestinal absorption of fat-soluble vitamins, thus depleting the levels of vitamin K and increasing the risk of hemorrhage for the mother and fetus[218]. Cholestyramine is therefore no longer considered a first-line therapy for ICP.
Guar gum is a dietary fiber that acts in a similar manner to cholestyramine. One small study has reported the use of guar gum in the treatment of ICP and reported no effect on serum bile acids or bilirubin and only a minimal reduction in pruritus score[219]. Subsequently, a randomized controlled trial has shown that guar gum is no more effective than placebo in improving pruritus or reducing serum bile acids[220].
Peroral activated charcoal has been shown to reduce serum bile acids in seven of nine women treated in one study. However, there was no improvement in symptoms[221].
Topical treatment with aqueous cream with 2% menthol is of value in the relief of pruritus, but does not improve biochemical abnormalities.
PROGNOSIS
Most women have no lasting hepatic damage, but ICP recurs in the majority of cases, with variations in intensity in subsequent pregnancies[10222]. Recurrence is less likely following multiple pregnancy. Women with a history of ICP may also develop symptoms if taking the combined oral contraceptive pill or in the second half of the menstrual cycle[31]. Long-term follow-up studies have shown an increased risk of gallstones, non-alcoholic cirrhosis and pancreatitis, hepatitis C and autoimmune hepatitis[223224].
CONCLUSION
ICP is a relatively common cause of hepatic impairment in pregnancy. It has a complex etiology with genetic, endocrine and environmental components. ICP causes maternal pruritus with impaired liver function and raised serum bile acids. The maternal cholestasis is transient with postnatal resolution, although affected women have increased rates of hepatobiliary disorders in later life. ICP is associated with adverse fetal outcomes. The risk of meconium-stained liquor, fetal asphyxia and spontaneous preterm delivery is greater in pregnancies with more marked elevations in maternal serum bile acid levels. The condition is also associated with IUD. The most effective pharmacological therapy for improvement of maternal symptoms and biochemical abnormalities is UDCA, and this has also been shown to reduce placental abnormalities and to improve placental bile acid transport in in vitro studies. Fetal outcomes are improved with a variety of strategies of active management, although the most effective intervention has not currently been established. A common practice is induction of labour at 37-38 wk of gestation with the aim of reducing the risk of IUD as many deaths occur at later gestations. Large therapeutic trials are required to establish which specific drug treatments or management strategies are effective at reducing the rates of adverse fetal outcomes.
Peer reviewer: Andreas Geier, MD, Division of Gastroenterology & Hepatology, Zürich University Hospital, Raemistrasse 100, CH-8901 Zürich, Switzerland