Copyright
©2007 Baishideng Publishing Group Co.
, Limited. All rights reserved.
Hepatic venous outflow obstruction: Three similar syndromes
Ulas Darda Bayraktar, Department of Internal Medicine, Interfaith Medical Center, Brooklyn, NY 11230, United States
Soley Seren, Department of Internal Medicine, Wayne State University, Detroit, MI, United States
Yusuf Bayraktar, Division of Gastroenterology, Hacettepe University School of Medicine, Ankara, Turkey
Author contributions: All authors contributed equally to the work.
Correspondence to: Ulas Darda Bayraktar, MD, Department of Internal Medicine, Interfaith Medical Center, 229 Parkville Ave Apt# 4B, Brooklyn, NY 11230, United States. bayraktarulas@yahoo.com
Telephone: +1-718- 4314657
Received: October 11, 2006
Revised: November 2, 2006
Accepted: November 14, 2007
Published online: April 7, 2007

Our goal is to provide a detailed review of veno-occlusive disease (VOD), Budd-Chiari syndrome (BCS), and congestive hepatopathy (CH), all of which results in hepatic venous outflow obstruction. This is the first article in which all three syndromes have been reviewed, enabling the reader to compare the characteristics of these disorders. The histological findings in VOD, BCS, and CH are almost identical: sinusoidal congestion and cell necrosis mostly in perivenular areas of hepatic acini which eventually leads to bridging fibrosis between adjacent central veins. Tender hepatomegaly with jaundice and ascites is common to all three conditions. However, the clinical presentation depends mostly on the extent and rapidity of the outflow obstruction. Although the etiology and treatment are completely different in VOD, BCS, and CH; the similarities in clinical manifestations and liver histology may suggest a common mechanism of hepatic injury and adaptation in response to increased sinusoidal pressure.
---
Citation: Bayraktar UD, Seren S, Bayraktar Y. Hepatic venous outflow obstruction: Three similar syndromes. World J Gastroenterol 2007; 13(13): 1912-1927
---
INTRODUCTION
Although the liver makes up < 3% of the total body weight, it receives one-quarter of the total cardiac output through the hepatic artery and portal vein[1]. Blood is drained from the hepatic acini via central veins into sublobular veins and then into the right, left, and middle hepatic veins, the inferior vena cava and the right atrium[2]. An obstruction to the blood flow out of the liver can result in a spectrum of clinical abnormalities ranging from acute hepatic failure to passive hepatic congestion, depending on the acuity and level of obstruction.
Hepatic venous outflow obstruction (HVOO) can be divided into three categories according to the level of obstruction: (1) Veno-occlusive disease (VOD): at the level of sinusoids and terminal venules, (2) Budd-Chiari syndrome (BCS): from hepatic veins to the superior end of inferior vena cava, and (3) Venous obstruction at the level of heart referred to as congestive hepatopathy (CH) (Figure 1).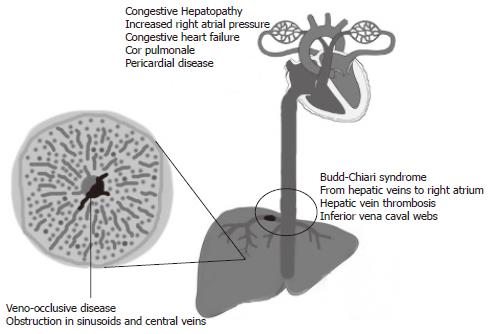 Figure 1 Site of venous obstruction in veno-occlusive disease, Budd-Chiari syndrome, and congestive hepatopathy.
The etiology of VOD, BCS, and CH are entirely different (Table 1). It should be noted that VOD develops within three weeks of an acute insult to the sinusoidal endothelial cells while BCS and CH may develop within a few days or may take several years of venous thrombosis and heart failure, respectively. The variations in the 'acuteness' of venous obstruction leads to subtle differences in the clinical presentations of VOD, BCS, and CH. Although patients with HVOO generally present with abdominal pain due to hepatomegaly, and jaundice and ascites due to portal hypertension; chronic BCS patients may first present with cirrhosis and its complications. BCS patients with inferior vena cava obstruction may also have leg edema and venous collaterals over the trunk. Additionally, signs and symptoms of heart failure such as jugular venous distention, leg edema, and dyspnea may be seen in patients with CH. Nonetheless, the histological findings in all three syndromes are almost identical and include sinusoidal congestion and hepatocyte necrosis predominating in perivenular areas of hepatic acini which eventually leads to bridging fibrosis between adjacent central veins (Table 1)[1,3,4].
VOD
BCS
CH
Site of venous obstruction
Hepatic sinusoids and terminal venules
From hepatic veins to the superior end of IVC
Heart
Etiology
Sinusoidal endothelial injury due to HSCT, chemotherapy, abdominal radiotherapy, and pyrrolizidine alkaloids
Hepatic vein thrombosis, IVC webs, compression of hepatic veins or IVC by tumor, cyst, or abscess
Increased right atrial pressure due to CHF (CAD, cardiomyopathies, valve abnormalities), cor pulmonale (COPD, ILD, pulmonary HTN), and pericardial disease (constrictive pericarditis, pericardial tamponade)
Histology
Changes predominantly in perivenular areas
Predominantly in perivenular areas except in presence of concomitant PVT.
Predominantly in perivenular areas Sinusoidal congestion and hepatocellular necrosis
Gaps in SEC barrier leading to subendothelial edema
Sinusoidal congestion followed by ischemic cell necrosis and bridging fibrosis between central veins
Bridging fibrosis between central veins leading to cardiac fibrosis in chronic cases
Narrowing of central veins and sinusoids with sinusoidal congestion and hepatocellular necrosis
Caudate lobe hypertrophy, with fibrosis and atrophy in the rest of liver
Collagen accumulation in sinusoids and veins leading to bridging fibrosis between central veins
The laboratory findings in VOD, BCS, and CH are also very similar. Hyperbilirubinemia is universal in HVOO except in patients with constrictive pericarditis[5], and is believed to be due to hepatocellular dysfunction, hemolysis, and biliary canalicular obstruction secondary to distended hepatic veins[6]. Serum aminotransferase levels may be mildly elevated except in fulminant BCS and CH with severe cardiac output impairment causing hepatic ischemia when the levels may exceed 1000 U/L. Alkaline phosphatase levels may also be mildly elevated. New markers for diagnosis of VOD such as plasminogen activator inhibitor-1 are under investigation.
The gold standard for the diagnosis of VOD is liver biopsy. However, because of the risks of liver biopsy in thrombocytopenic patients, the diagnosis is primarily based on clinical criteria. CH is usually diagnosed by routine laboratory tests in patients with symptomatic heart failure. However, physicians may miss the diagnosis of CH in patients with constrictive pericarditis who do not have overt symptoms. Echocardiogram and invasive cardiac hemodynamic evaluation may be necessary in patients with a strong suspicion of CH. Diagnosis of BCS, unlike VOD and CH, is greatly dependant on radiological studies, although a careful history and physical examination is crucial in order not to overlook this protean syndrome. Doppler sonogram followed by venogram are the first line tests in patients with suspected BCS (Table 2).
VOD
BCS
CH
Radiological findings
Ultrasonography to rule out other liver disorders
Doppler: Abnormal flow in a hepatic vein; large intrahepatic collateral vessels; e nlarged, stenotic, or tortuous hepatic veins
Dilatation of all three hepatic veins on sonogram
Doppler may show reverse blood flow in the portal vein
MRI: Large intrahepatic comma shaped c ollaterals. Hepatic venography: Spider web venous network pattern
ECHO: Increased pulmonary artery pressure, dilatation of right side of heart, TR, abnormal diastolic ventricular filling due to pericardial disease
Treatment
(1) Prevention: UDCA, heparin, LMWH, and defibrotide
(1) Prevention of thrombus extension: Anticoagulation with heparin and warfarin
Treatment of the underlying heart disease
(2) Treatment: Symptomatic care, defibrotide, tPA, AT-III concentrate
(2) Restoration of blood flow: Thrombolytic therapy, percutaneous, angioplasty, TIPS, or shunt surgery
Pericardiectomy in constrictive pericarditis
(3)TIPS and liver transplantation in selected cases
(3) Liver transplantation
Prognosis
Mortality rate between 9% to 98% depending on the severity
Five-year survival rate 42% to 89% in hepatic vein thrombosis and 25% in IVC obstruction
Liver disease rarely contributes to mortality in these patients
The treatment and prognosis of VOD, BCS, and CH are summarized in Table 2. It should be noted that despite new promising therapies, prevention is still the mainstay of VOD management because of its high mortality and the limited efficacy of current therapeutic modalities. Treatment of BCS depends on the site and extent of the obstruction, and varies from sole anticoagulation to TIPS and liver transplantation. Treatment of the underlying heart disease is the basis of the management of CH.
Following are the detailed reviews of VOD, BCS, and CH.
HEPATIC VENO-OCCLUSIVE DISEASE (SINUSOIDAL OBSTRUCTION SYNDROME)
Hepatic VOD is characterized by tender hepatomegaly, fluid retention, weight gain, and jaundice. This condition is seen typically after hematopoietic stem cell transplantation (HSCT)[7], high dose abdominal radiation therapy[8], use of certain chemotherapeutic agents[9], ingestion of pyrrolizidine alkaloids[10,11], and liver transplantation[12]. In 1954, Bras et al[13] first described veno-occlusive disease in Jamaican children who developed occlusion of the tributaries of the hepatic vein with subsequent centrilobular or non-portal fibrosis, associated with poisoning with Senecio type alkaloids. The term, sinusoidal obstruction syndrome was introduced in 2002 by deLeve et al[14] to replace VOD based on their studies identifying the primary site of injury as the sinusoidal endothelial cells, which results in fibrosis and obstruction of hepatic venous outflow. VOD after HSCT will be the focus of our review since it is the most common and studied form of VOD.
BUDD-CHIARI SYNDROME
Budd-Chiari Syndrome (BCS) is an uncommon but potentially life-threatening disorder caused by obstruction of the hepatic venous outflow at any level from the small hepatic veins to the junction of the inferior vena cava (IVC) with the right atrium[91].
CONGESTIVE HEPATOPATHY
Congestive hepatopathy refers to hepatic manifestations attributable to passive hepatic congestion resulting from right-sided heart failure of any cause including and not limited to constrictive pericarditis (CP), tricuspid regurgitation, cor pulmonale, and cardiomyopathies. Development of hepatic ischemia and infarction secondary to left-sided heart failure which usually coincides with congestive hepatopathy will not be discussed here. However, it should be kept in mind that the clinical picture in congestive hepatopathy varies greatly depending on both the degree and acuity of congestion, and presence or absence of hepatic ischemia and infarction[2].
CONSTRICTIVE PERICARDITIS (CP)
CP deserves mention because its diagnosis can be easily missed and its clinical manifestations are different from those seen in congestive hepatopathy due to other causes. CP is the result of scarring and loss of elasticity of the pericardial sac which restricts cardiac filling. Tuberculosis, cardiac surgery, radiation therapy, and connective tissue disorders are among common causes, however most of the cases are idiopathic or viral[179-181].
Patients with CP may present with symptoms of fluid overload such as edema and ascites, or symptoms of diminished cardiac output like exertional dyspnea and fatigue. Hepatomegaly, massive ascites, and peripheral edema are common findings. For reasons that are unclear, patients with CP typically do not develop jaundice[5] and very rarely may develop chylous ascites[182-183]. Because its manifestations are protean, it is easy to mistake CP for BCS and liver cirrhosis[184]. Jugular venous distention which was noted in 93% patients in a large series is a critical finding in the diagnosis of CP[180]. Although rarely observed, Kussmaul's sign, pericardial knock, and pulsus paradoxus may offer additional clues to the diagnosis.
EKG may show a low voltage and nonspecific ST and T wave changes. Chest X-ray may demonstrate pericardial calcification. Echocardiography is essential in the diagnosis of CP, but right and left heart catheterization with hemodynamic evaluation may be required to confirm the diagnosis[185-187].
Cardiac fibrosis develops more frequently and rapidly in CP than in other causes of right-sided heart failure, perhaps due to higher hepatic venous pressures leading to severe zone 3 congestion and necrosis[2]. Pericardiectomy is the standard of treatment and curative if performed early.
CONCLUSION
The clinical manifestations and liver histology in VOD, BCS, and congestive hepatopathy are similar because of the common underlying mechanism of hepatic injury and adaptation in response to increased sinusoidal pressure. Further animal and in-vitro studies are needed to better understand the pathways involved in sinusoidal injury in response to increased venous pressure. The severity of clinical picture depends mostly on the rapidity and extent of the obstructive process. Physicians should consider congestive hepatopathy and BCS in all patients with tender hepatomegaly and ascites. Presence of jugular venous distention is an invaluable clue to differentiate congestive hepatopathy from BCS and other primary liver diseases. Veno-occlusive disease should be kept in mind in patients who rapidly develop jaundice and ascites with hepatomegaly after HSCT. The advent of interventional radiology and new medical therapies has improved survival in patients with hepatic venous outflow obstruction, although prevention is still mainstay in the management of VOD.
S- Editor Wang J L- Editor Anand BS E- Editor Che YB