Copyright
©2006 Baishideng Publishing Group Co.
, Limited. All rights reserved.
Animal models of portal hypertension
Juan G Abraldes, Marcos Pasarín, Juan Carlos García-Pagán, Hepatic Hemodynamic Laboratory, Liver Unit, ICMDiM, Hospital Clinic, IDIBAPS, University of Barcelona, Spain
Supported by Fondo de Investigación Sanitaria (CM04/00031 and PI050519), Ministerio de Educación y Ciencia, No.SAF 04/04783; Instituto de Salud Carlos III, No. C03/02
Correspondence to: Juan G Abraldes, MD, Liver Unit, Hospital Clínic, Villarroel 170, Barcelona 08036, Spain. jgon@clinic.ub.es
Telephone: +34-93-2279856
Received: July 27, 2006
Revised: August 3, 2006
Accepted: August 11, 2006
Published online: November 7, 2006

Animal models have allowed detailed study of hemodynamic alterations typical of portal hypertension and the molecular mechanisms involved in abnormalities in splanchnic and systemic circulation associated with this syndrome. Models of prehepatic portal hypertension can be used to study alterations in the splanchnic circulation and the pathophysiology of the hyperdynamic circulation. Models of cirrhosis allow study of the alterations in intrahepatic microcirculation that lead to increased resistance to portal flow. This review summarizes the currently available literature on animal models of portal hypertension and analyzes their relative utility. The criteria for choosing a particular model, depending on the specific objectives of the study, are also discussed.
---
Citation: Abraldes JG, Pasarín M, García-Pagán JC. Animal models of portal hypertension. World J Gastroenterol 2006; 12(41): 6577-6584
---
INTRODUCTION
As for all pathologic conditions, the use of animal models is of enormous importance for the study of pathophysiological disturbances of portal hypertension, since they allow comprehensive study of questions that cannot be addressed in human studies. The historical evolution of the knowledge of portal hypertension clearly illustrates this. The concept that portal hypertension is not only the consequence of an increased resistance to portal blood flow, but also of an increase in portal inflow could not be definitely demonstrated until the development of an adequate methodology to conduct detailed hemodynamic studies in experimental animals[1,2]. Later, the isolation and ex vivo study of the two vascular beds implicated in the syndrome, the mesenteric bed and the liver vasculature, allowed the physiological characterization of the vasoactive mediators involved in mesenteric vasodilation and in the increased vascular tone of the cirrhotic liver. The next step was the introduction of introduction of molecular biology tools to molecular biology to identify the alterations in the signaling pathways responsible for the dysregulation of these mediators[3]. This allowed the development and validation of therapeutic targets that have been ultimately tested in patients with cirrhosis and portal hypertension.
This review will cover the most commonly used animal models of portal hypertension and their relative utility for the study of different aspects of this syndrome. In the selection of an animal model for the study of portal hypertension some general concepts, which apply to every animal model, must be considered[4] (Table 1). The final choice will largely depend on the specific alteration of the pathophysiology of portal hypertension to be studied, because not all models express all disturbances characteristic of the portal hypertension syndrome. The first step is species choice. Rat and rabbit are the species used most often. More recently, the methodology for hemodynamic studies in rat and rabbit have been implemented to mice[5-7]. This advance has enormously widened the research possibilities due to the availability of knock out and transgenic mice. The use of animals like dogs or pigs[8] offers an advantage for the instrumentation and dissection of vascular structures due to their size, but this practice has been abandoned due to high cost. This review will focus on commonly used models at present.
Reproducibility: % of animals reaching the desired state. Consistent time frame to attain desired state.
Specificity: The model should have the desired abnormality without other complicating problems.
Costs: Consider not only the direct costs, but also indirect costs such as animal housing (and, therefore, the time to achieve the desired state). An expensive but reliable model could be cheaper than a cheap but inconsistent model.
Safety: Animal and induction method should not be a risk for the personal.
Size: Blood volume sample requirements or need for vascular access may determine the size of the animal. The size also determines drug spending.
Ethics: Different ethics committees can have different opinions about the acceptability of one model.
Feasibility: Whether the laboratory has the expertise, manpower facilities, etc, to generate or handle the model.
MODELS OF PORTAL HYPERTENSION
The portal pressure gradient is the result of the interaction between portal blood flow and the vascular resistance that opposes that flow. This relationship is defined by Ohm's law in the equation: ∆P = Q × R where ∆P is the portal pressure gradient (the difference between portal pressure and inferior vena cava pressure), Q is blood flow within the entire portal venous system (which in portal hypertension includes also the portal-systemic collaterals), and R is the vascular resistance of the entire portal venous system. It follows that portal pressure may increase because of an increase in portal blood flow, an increase in vascular resistance, or by a combination of both[3]. It is well established that the primary factor leading to portal hypertension is an increased resistance to portal blood flow[9-11]. This increased resistance can be prehepatic (portal vein thrombosis), intrahepatic (liver cirrhosis) or posthepatic (Budd-Chiari syndrome). Independently of the cause, portal hypertension is associated with severe disturbances in the systemic and splanchnic circulation, characterized by vasodilation, hypotension, activation of vasoactive systems, plasma volume expansion and increased cardiac output[12]. This is known as the hyperdynamic circulatory syndrome, and it leads to an increase in portal blood inflow that contributes to maintain or worsen portal hypertension despite the development of portal-systemic collaterals (Figure 1). This means that for the study of hyperdynamic circulation both models of pre-hepatic and intra-hepatic portal hypertension are useful. For the study of the intrahepatic circulation specific models of disease are needed.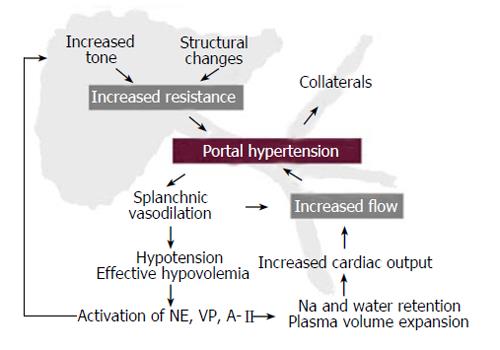 Figure 1 Summary of the pathophysiology of portal hypertension.
The increase in hepatic resistance leads to an increase in portal pressure. This leads to a cascade of disturbances in the splanchnic and systemic circulation characterized by vasodilation, sodium and water retention and plasma volume expansion, that are major players in the pathogenesis of ascites and hepato-renal syndrome. Additionally, these alterations lead to an increase in portal blood inflow that contributes to maintain and aggravates portal hypertension. Another characteristic feature is the development of porto-systemic collaterals that are resposible for complications such as variceal bleeding and hepatic encephalopathy.
Models of pre-hepatic portal hypertension
Partial portal vein ligation: Partial portal vein ligation model (PVL) has been widely used in the study of the pathophysiology of portal hypertension. This model has been developed in rats[1,13,14], mice[6,7] and rabbits[15]. The portal vein is freed from surrounding tissue after a midline abdominal incision. A ligature (silk 3-0) is placed around a blunt-tipped needle lying along the portal vein. Subsequent removal of the needle yields a calibrated stenosis of the portal vein that has the diameter of the needle. In the conventional rat PVL model a 20G needle is used (0.889 mm diameter)[1,13,14]. By using needles of greater caliber, less severe stenosis and thus less severe degrees of portal hypertension are induced[16,17]. The diameters of the needles and resulting levels of stenosis are as follows: 16G: 1.651mm, 18G: 1.270 mm, 20G: 0.889 mm. The conventional needles for mice and rabbits are 27G[6,7] and 18G[15], respectively. Surgery must be conducted in aseptic conditions. Numerous websites provide information on surgical techniques and pre- and post-operative care of the animals, including information on anesthesia, analgesia and antibiotic prophylaxis (http://info.med.yale.edu/yarc/vcs/). For portal vein ligation no antibiotic prophylaxis is needed.
PVL model has been extensively used because the procedures are easy to perform, inexpensive, reproducible and portal hypertension develops very fast. One week after portal vein ligation rats develop the complete portal hypertensive syndrome, with hyperdynamic circulation and portal-systemic shunting. Portal-systemic shunting is already detectable at two days. The percentage of portal-systemic shunting; i.e. the amount of portal blood inflow diverted to collaterals, approaches 100% after the 7th day[10]. Mesenteric vasodilation and increased cardiac output are detectable at 4 d[10,13]. The main drawback of the model is that portal hypertension developes acutely. Thus, contrary to the majority of situations found in clinical practice, the degree of portal hypertension is maximal at 24 h, and decreases afterwards due to the development of portal-systemic collaterals[10].
Models of intrahepatic portal hypertension
Intrahepatic portal hypertension can be classified as presinusoidal, sinusoidal and postsinusoidal. Models of cirrhosis, the most common cause of portal hypertension in western countries, have a double component, which are the pre- and post-sinusoidal components, but for practical purposes they will be discussed with the models of sinusoidal portal hypertension.
Presinusoidal intrahepatic portal hypertension: (1)Schistosomiasis Experimental infection with Schistosoma mansoni has been characterized in mice and hamsters. This model is achieved by injecting cercariae of the parasite in the abdominal wall. Portal hypertension develops 5 to 7 wk after inoculation[18,19]. An important feature of this model is that portal hypertension develops progressively. In the hamster Schistosoma infection does not induce the development of portal-systemic shunting despite the presence of portal hypertension[20]. On the contrary, mice infected with Schistosoma mansoni develop portal hypertension with portal-systemic shunting. Shunting is detectable from wk 9 and reaches 15% at wk 11[18,19]. Currently this model is seldom used, and no studies have been published in the last decade.
Sinusoidal portal hypertension: A number of models of cirrhosis have been described. We will limit our discussion to those that have been used for the study of portal hypertension.
(1) Common bile duct ligation (CBDL) CBDL is a model of secondary biliary cirrhosis. It has been mainly developed in rats[21], which are especially appropriate due to the lack of a gallbladder, but it has also been developed in rabbits[22] and mice[23]. Mice, however, develop a marked dilation of the gallbladder after bile duct ligation, which may lead to perforation and choleperitoneum. The intervention consists of the isolation of the common bile duct followed by a double ligature. The first ligature is made below the junction of the hepatic ducts. The second is made above the entrance of the pancreatic ducts. The portion of the bile duct between the two ligatures is resected to avoid repermeabilization. Mortality is high after the 5th wk (20%). The use of prophylactic antibiotics (Ampicilin 100 mg/Kg s.c. or similars) before surgery and weekly administration of vit K (50 mcg s.c.)[24] notably improve the survival of CBDL rats. One of the drawbacks of this model is the potential formation of a biliary cyst, which may compress the portal vein at the hilum. This problem can be solved by gently injecting 10% formalin (120 μL/100 g) through a P10 catheter in the bile duct before ligation[14,25]. Other authors have prevented cyst formation by injecting Ethibloc®[26], a substance developed for vessel embolization, or by ligating the biliary duct of each lobule[27,28].
This model develops biliary fibrosis-cirrhosis in 4-6 wk. Histology shows marked cholangiolar proliferation and expansive portal fibrosis (Figure 2A), but the architectural disturbances typical of cirrhosis are seldom found[29]. At 2 wk rats develop mild portal hypertension[30] and at 4 wk severe portal hypertension, hyperdynamic circulation and portal-systemic shunting of 30%-60%[21,31,32]. Approximately, 60% of the rats develop ascites. Portal hypertension in this model has a presinusoidal component[30]. A major drawback of this model is that it is not adequate for pharmacological studies with drugs that are eliminated through the biliary route.

Figure 2 A comparison of microscopic aspect of a liver 6 wk after CBDL (A) and 12 wk after TAA (B) administration.
(2) Carbon tetrachloride induced cirrhosis (CCl4) Acute administration of carbon tetrachloride induces acute hepatitis of primary perivenular localization. Continuous administration induces chronic liver injury that leads to cirrhosis. This methodology to induce cirrhosis has been used in rats[33,34], mice[35] and rabbits[22]. Route of administration varies among laboratories, but the most effective are oral[36,37], intraperitoneal[38,39] or inhalatory[34,40,41]. Subcutaneous route is not recommended due to its low yield of cirrhosis. The use of different administration schedules, even using the same route of administration, could explain the variability in the yield and time to cirrhosis in different laboratories. In our unit, Phenobarbital (0.3 g/L) is added to drinking water to increase the yield of cirrhosis, starting one week before first CCl4 administration. Hemodynamic studies are performed 5-7 d after stopping CCl4 and Phenobarbital.
Twelve to 15 wk after CCl4 administration the rats develop micronodular cirrhosis (Figure 3A), portal hypertension, portal-systemic shunting (30%-60%) and hyperdynamic circulation[2]. If maintained for 12 to 20 wk, most rats develop ascites. A major complexity of this model is the different sensitivity of the rats to CCl4, which makes it difficult to obtain a homogeneous group of cirrhotic rats. Proctor et al[36] proposed a solution that consists of the individualization of the dose according to weight gain/loss of the animal in response to the previous dose.
(3) Cirrhosis induced by thioacetamide (TAA) This is another widely used model of toxic cirrhosis. The toxin affects both perivenular and periportal areas. It has been used in rats[42] and mice[43]. TAA can be administered in drinking water[42] or by i.p. injection[44,45]. I.p. injection offers much more consistent results[45].
This model develops macronodular cirrhosis with portal hypertension in 12 wk (Figures 2B and 3B)[42,45,46]. Longer periods of induction might be required for the instauration of overt hyperdynamic circulation[46]. Approximately 40% develop ascites[42]. One particular feature of this model is that, contrary to what occurs with the CCl4 model, fibrosis remains stable for weeks after TAA withdrawal[45]. After 18 wk of TAA administration the rats might develop cholangiocarcinoma[47].
(4) Dimethylnitrosamine induced cirrhosis (DMNA) DMNA is another hepatotoxin that induces hepatocellular necrosis. After continuous administration (generally i.p.) the rats develop fibrosis with portal hypertension, already present at 5 wk, but at this time the animals do not have cirrhosis nor features of hyperdynamic circulation[48]. Overt cirrhosis with ascites develops in 13 wk[49,50]. This model has been seldom used for the study of the pathophysiology of portal hypertension, probably due to restrictions in the use of DMNA due to its high carcinogenetic potential.
(5) Diet induced cirrhosis A diet deficient in choline and methionin, or a diet with low protein and choline and enriched with fat, induces liver steatosis associated with marked oxidative stress that induces inflammation and fibrosis[49,51]. Cirrhosis is developed after 12-24 wk. These models have not been well-characterized from the hemodynamic point of view and have not been used for the study of portal hypertension.
Postsinusoidal portal hypertension: Recently, a model that reproduces the pathological and clinical characteristics of veno-occlusive disease has been developed[52]. This is achieved by the administration of monocrotalin by oral gavage. Rats develop hyperbilirrubinemia, hepatomegaly and ascites at 4-5 d. This model is useful for the study of the pathophysiology of veno-occlusive disease, but has not been characterized from the hemodynamic point of view.
Posthepatic portal hypertension
The aim of these models is to reproduce the features of the Budd-Chiari syndrome; i.e. liver injury derived from hepatic venous outflow obstruction. This has been achieved by placing an ameroid, which is a stainless steel device that allows slow expansion inside upon contact with the wet tissue, in the hepatic veins inducing a progressive occlusion of hepatic venous outflow. This model has been developed in dogs[53]. However, in the rat it is almost impossible to dissect the hepatic veins, so hepatic venous outflow occlusion has been induced by occluding the inferior vena cava cranially to the hepatic veins[54]. This is not a pure model of Budd-Chiari. These models have been very seldom used, and therefore it is uncertain whether they have any utility in the study of the hemodynamics of Budd-Chiari syndrome.
SELECTION OF A MODEL FOR THE STUDY OF THE PATHOPHYSIOLOGY OF PORTAL HYPERTENSION AND ITS COMPLICATIONS (TABLE 2)
S- Editor Liu Y L- Editor Luzte M E- Editor Bi L