Copyright
©2006 Baishideng Publishing Group Co.
, Limited. All rights reserved.
Huge primitive neuroectodermal tumor of the pancreas: Report of a case and review of the literature
Thilo Welsch, Sascha A Mueller, Markus W Buechler, Jan Schmidt, Peter Kienle, Deptartment of Surgery, University of Heidelberg, INF 110, D-69120 Heidelberg, Germany
Gunhild Mechtersheimer, Sebastian Aulmann, Deptartment of Pathology, University of Heidelberg, INF 220, D-69120 Heidelberg, Germany
Correspondence to: Thilo Welsch, MD, Deptartment of Surgery, University of Heidelberg, Im Neuenheimer Feld 110, D-69120 Heidelberg, Germany. thilo.welsch@med.uni-heidelberg.de
Telephone: +49-6221-5639470 Fax: +49-6221-565781
Received: April 22, 2006
Revised: May 12, 2006
Accepted: June 16, 2006
Published online: October 7, 2006

Primitive neuroectodermal tumor (PNET) of the pancreas is an extremely rare tumor that usually occurs in children or young adults. We report a case of a 33-year-old male patient with an 18 cm × 18 cm × 16 cm mass arising from the pancreatic body and tail with a one-day history of abdominal pain. Initial CT scan showed no signs of metastatic tumor spread. The tumor caused intrabdominal bleeding and the patient underwent primary tumor resection including partial gastrectomy, left pancreatic resection and splenectomy. Diagnosis of PNET was confirmed by histology, immunohistochemistry and FISH analysis. All neoplastic cells were stained positive for MIC2-protein (CD99). Approximately one month after surgery, several liver metastases were observed and the patient underwent chemotherapy according to the Euro-Ewing protocol. Subsequent relaparotomy excluded any residual hepatic or extrahepatic abdominal metastases. Although PNET in the pancreas is an extremely rare entity, it should be considered in the diffential diagnosis of pancreatic masses, especially in young patients. This alarming case particularly illustrates that PNET in the pancreas although in an advanced stage can present with only a short history of mild symptoms.
---
Citation: Welsch T, Mechtersheimer G, Aulmann S, Mueller SA, Buechler MW, Schmidt J, Kienle P. Huge primitive neuroectodermal tumor of the pancreas: Report of a case and review of the literature. World J Gastroenterol 2006; 12(37): 6070-6073
---
INTRODUCTION
Primitive neuroectodermal tumors (PNETs) are small round cell tumors arising from soft tissue belonging to the Ewing's sarcoma family. These neoplasms all exhibit a neural phenotype, express the MIC2-protein (CD99) and display the same chromosomal translocation t (11; 22) (q24; q12) in about 85% of the cases[1]. While Ewing sarcoma is a primary bone tumor and follows osteosarcoma as the second most common malignant bone tumor in children, PNETs occur most often in soft tissue of the thoracopulmonary region, pelvis and lower extremities of children and young adults. Most of these tumors are diagnosed before the age of 35 years with a slight predominance in male patients[1]. Although PNETs can occur in numerous solid organs such as the kidney, ovary, vagina, testis, uterus, cervix uteri, urinary bladder, parotid gland, heart, lung, rectum and pancreas, it is an extremely rare tumor entity[2]. According to the literature there are currently 11 reported cases of PNET originating from the pancreas (Table 1)[2-6].
| | | | | | | |
| --- | --- | --- | --- | --- | --- | --- |
| Reference | Age (yr) | Gender | Tumor origin | Tumor size (cm) | Therapy | Survival (cause) |
| Lüttges et al[5] 1997 | 13 | Female | Pancreatic body/tail | 22 × 8 × 10 | Resection, chemotherapy | NR |
| | 31 | Male | Pancreatic body | - | Chemotherapy, resection | NR |
| Bulchmann et al[3] 2000 | 6 | Female | Pancreatic head | 4.0 × 5.4 × 3.0 | Whipple resection with colon segmentectomy | 6 mo (RD) |
| Movahedi-Lankarani et al[2] 2002 | 6-25 (mean 18) | 4 male, 3 female | Pancreatic head | 3.5 to 9.0 | Whipple resection in 4 cases (2 VDC), biopsy in 3 cases (1 VDC) | Up to 48 mo |
| Perek et al[6] 2003 | 31 | Male | Pancreatic head and body | 10 × 12 | 1 Whipple resection (radiochemotheray denied), 2 Local resection + chemotherapy, 3 Resection of lung metastasis + chemotherapy | 50 mo (RD) |
| Present case | 33 | Male | Pancreatic body | 18 × 18 × 16 | Resection, 6 cycles VIDE, VAI, AST | Alive at 1 year after diagnosis |
Here we report another case of PNET in the pancreas in an otherwise healthy 33-year old man.
CASE REPORT
A 33-year old man presented to the Emergency Depart-ment of our hospital with acute abdominal pain which started one day ago. The patient reported one episode of vomiting but no history of diarrhea, peptic ulcer disease or pancreatitis. Laboratory data on admission showed leucocytosis, elevated C-reactive protein, amylase and lipase.
CT-scan of the abdomen revealed a 13.7 cm × 15.0 cm mass arising from the pancreatic tail compressing the stomach and spleen (Figure 1). The mass had solid and cystic characteristics with an inhomogenous contrast enhancement. Furthermore, blood was noted in the subhepatic area and pelvis indicating rupture of the tumor. Numorous mesenteric lymph nodes were enlarged up to 11 mm, while the liver showed no lesions suspicious of metastasis. Until surgery, a significant decline in hematocrit due to tumor bleeding was observed. At laparotomy the tumor was found to be adherent to the stomach and the pancreatic body and tail. The capsule was partially ruptured. An enbloc-resection of the tumor was accomplished by partial gastric resection (Billroth-II), left pancreatic resection and splenectomy. The continuity was restored with gastrojejunostomy and Roux-Y-jejunojejunostomy. The postoperative course was uneventful.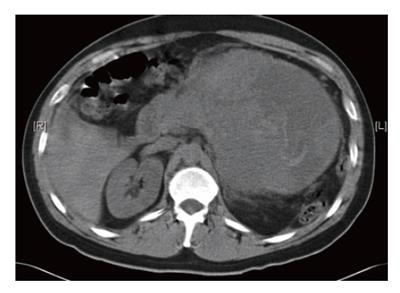 Figure 1 CT-scan showing a huge intra-abdominal mass with solid and cystic areas originating from the pancreas.
Grossly, the tumor measuring 18 cm × 18 cm × 16 cm was surrounded by an edematous capsule and appeared as cystic with alternating necrotic areas. The tumor was adhered to the pancreatic tail and stomach adjacent to the minor curvature where two small non-neoplastic ulcers were noted.
On microscopic examination, the solid tumor parts were composed of nests of medium-sized round or oval tumor cells with enlarged round or oval nuclei and scant cytoplasm surrounded by fibrovascular septae (Figure 2A). Focally, Homer-Wright rosettes were observed (Figure 2A). Immunohistochemically, the tumor showed a consistent and strong membraneous expression of CD99 (Figure 2B) and a strong cytoplasmic staining for vimentin (Figure 2C). NSE-positive and negative neoplastic cells were found in about equal proportions, and smaller neoplastic subsets were positive for cytokeratin (KL-1; Figure 2D), cytokeratin 18, EMA, synaptophysin, CD56 (Figure 2E) and CD117. The neoplastic cells lacked any detectable cytokeratins (7, 8 and 19), CEA, α1-fetoprotein (AFP), α1-antichymotrypsin (α1ACT), protein S100, melan A and HMB-45. The Ki67 (MIB-1) labeling index was about 20%-30% (Figure 2F). Fluorescence in situ-hybridization was performed with a dual-colour DNA probe flanking the EWS gene on chromosome 22q12 (Vysis/Abbott, Wiesbaden, Germany) according to the manufacturer's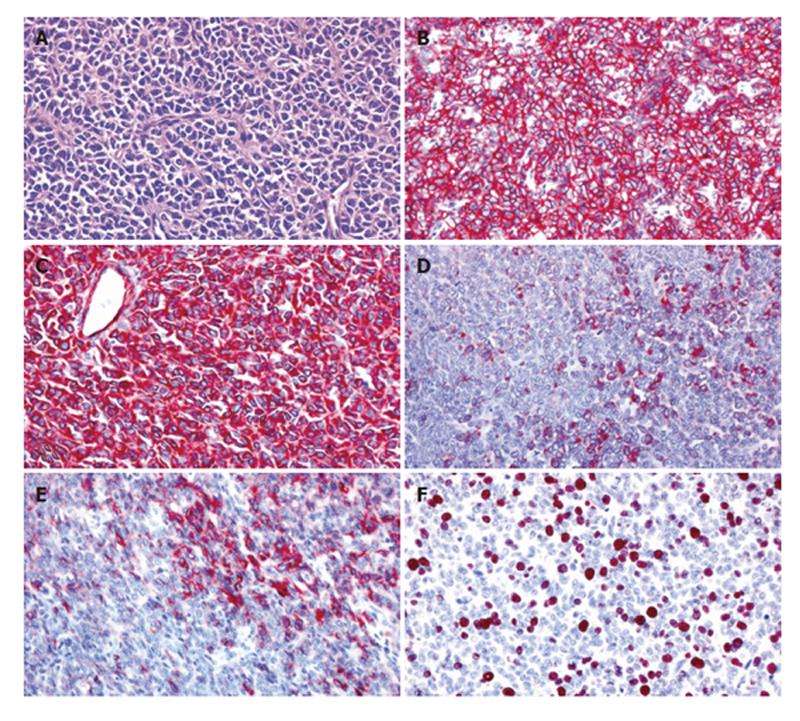 Figure 2 Histomorphological characteristics and immuno-labeling of PNET.
A: Solid tumor cell sheets separated by a delicate fibrovascular stroma; B: Strong membranous expression of CD99 (MIC-2) in the entire tumor cell population; C: Vimentin-positive neoplastic cells; D: Expression of cytokeratins (KL-1) in a minor tumor cell subset; E: Partial CD56-positive neoplastic population; F: Nuclear staining for the Ki67 proliferation antigen (MIB-1) in about 20%-30% of tumor cells.
instructions. Tumour cell nuclei showed one fused signal and one dislocated hybridization signal indicative of a chromosomal translocation involving the EWS gene. Overall, the microscopic findings led to the diagnosis of PNET.
Following primary hospitalization and surgery the patient was scheduled for staging examinations prior to chemotherapy. Thirty-five days after laparotomy, CT and MRI revealed at least two liver metastases in segments 6 and 7 up to 1.5 cm in size that were biopsied and confirmed immunohistochemically. There were no metastases in the lung, bone marrow or in the skeletal system according to staging by CT, bone marrow biopsy and scintigraphy. The patient underwent 6 cycles of induction VIDE chemotherapy (vincristin, ifosfamide, doxorubicin and etoposide), 1 cycle of VAI chemotherapy (vincristin, actinomycin D, ifosfamide) followed by high dose chemotherapy with melphalan and etoposide and autologous stem cell transplantation. During chemotherapy, devitalization and shrinking of the liver metastases were documented. Because CT visualized a residual lesion in segment 6 of the liver, the patient underwent explorative laparotomy with intraoperative ultrasound which did not show any metastasis or residual tumor. One year after diagnosis, there was no evidence of tumor recurrence.
DISCUSSION
Ewing sarcoma (EWS) and PNET belong to a tumor family (Ewing family of tumors) that is characterized by typical chromosomal translocations with subsequent functional fusion of the EWS gene with transcription factor genes thus forming a chimeric protein. Peripheral PNET (pPNET) was first described by Stout[7] as a tumor of the ulnar nerve with the gross features of a sarcoma but composed of small round cells focally arranged as rosettes in 1918. pPNET makes up approximately 1% of all sarcomas[2]. EWS and PNET form a subset of the "small-round-cell tumors" in childhood that comprise lymphomas, neuroblastoma and soft tissue sarcomas including rhabdomyosarcomas as well, which at least in undifferentiated forms, are indistinguishable by conventional light microscopy. When PNET is found in the pancreas, the differential diagnosis includes undifferentiated small cell carcinoma, pancreatoblastoma and pancreatic endocrine tumors. Thus the diagnosis of PNET necessitates histopathologic, immunohistochemical and if possible, also genetic analysis. EWS and PNET show a high expression of the cell surface glycoprotein MIC2 (also named CD99 or p30/32MIC2) which is considered to be important in cell adhesion[1]. However, other neoplasms as well as normal tissue including pancreatic endocrine tumors and pancreatic islet cells express the MIC2 protein, thus limiting specificity of the test.
Cytogenetic and molecular analysis of translocations has been established as a powerful adjunct for sarcoma classification. EWS/PNET show typical chromosomal translocations involving the EWS gene on chromosome 22 and a member of the ETS family of genes which code for DNA-binding transcription factors. The most common translocation t (11; 22) (q24; q12) resulting in the fusion product EWS-FLI1 occurs in 85%-95 %, while the second most common translocation t (21; 22) (q22; q12) is seen in 5%-10%[1].
Once PNET is diagnosed, the standard treatment is a systemic multi-agent chemotherapy combined with surgery and/or radiotherapy. Tumor dissemination at the time of diagnosis is associated with a poorer outcome compared to localized disease[8]. However, a retrospective study on 24 patients younger than 16 years old with extraskeletal EWS reported that age and surgical treatment, but not size of tumor and metastatic disease at the time of diagnosis are significant prognostic factors[9]. In this study the overall 5-year survival rate was 61% and the disease free survival rate was 54%. In various series including patients with extraskeletal EWS, the 5-year survival rate ranges from 61% to 77%[8]. Intensive preoperative multi-agent chemotherapy may further improve the prognosis of EWS family tumors[10]. There are only few data focusing on the prognosis of patients with PNET in the pancreas. Movahedi-Lankarani et al[2] reported 2 patients with chemotherapy after primary Whipple procedure. One was alive at 33 mo with no evidence of disease, while the other died of disease 4 years after diagnosis.
In conclusion, PNET of the pancreas is an extremely rare pancreatic tumor and mainly affects children or young adults. To our knowledge, this is the 12th-reported case so far. Although uncommon, PNET has to be considered in the differential diagnosis of atypical pancreatic tumors in young patients.
S- Editor Wang J L- Editor Wang XL E- Editor Ma WH
| | |
| --- | --- |
| 1. | de Alava E, Gerald WL. Molecular biology of the Ewing's sarcoma/primitive neuroectodermal tumor family. J Clin Oncol. 2000;18:204-213. [PubMed] |
| | |
| --- | --- |
| 2. | Movahedi-Lankarani S, Hruban RH, Westra WH, Klimstra DS. Primitive neuroectodermal tumors of the pancreas: a report of seven cases of a rare neoplasm. Am J Surg Pathol. 2002;26:1040-1047. [PubMed] [DOI] |
| | |
| --- | --- |
| 3. | Bülchmann G, Schuster T, Haas RJ, Joppich I. Primitive neuroectodermal tumor of the pancreas. An extremely rare tumor. Case report and review of the literature. Klin Padiatr. 2000;212:185-188. [PubMed] [DOI] |
| | |
| --- | --- |
| 4. | Danner DB, Hruban RH, Pitt HA, Hayashi R, Griffin CA, Perlman EJ. Primitive neuroectodermal tumor arising in the pancreas. Mod Pathol. 1994;7:200-204. [PubMed] |
| | |
| --- | --- |
| 5. | Lüttges J, Pierré E, Zamboni G, Weh G, Lietz H, Kussmann J, Klöppel G. [Malignant non-epithelial tumors of the pancreas]. Pathologe. 1997;18:233-237. [PubMed] |
| | |
| --- | --- |
| 6. | Perek S, Perek A, Sarman K, Tuzun H, Buyukunal E. Primitive neuroectodermal tumor of the pancreas. A case report of an extremely rare tumor. Pancreatology. 2003;3:352-356. [PubMed] [DOI] |
| | |
| --- | --- |
| 7. | Stout AP. A tumor of the ulnar nerve. Proc NY Pathol Soc. 1918;12:2-12. |
| | |
| --- | --- |
| 8. | Eralp Y, Bavbek S, Basaran M, Kaytan E, Yaman F, Bilgic B, Darendeliler E, Onat H. Prognostic factors and survival in late adolescent and adult patients with small round cell tumors. Am J Clin Oncol. 2002;25:418-424. [PubMed] [DOI] |
| | |
| --- | --- |
| 9. | Ahmad R, Mayol BR, Davis M, Rougraff BT. Extraskeletal Ewing's sarcoma. Cancer. 1999;85:725-731. [PubMed] [DOI] |