Copyright
©2006 Baishideng Publishing Group Co.
, Limited. All rights reserved.
Malignant phyllode tumor metastatic to the duodenum
Oktar Asoglu, Hasan Karanlik, Umut Barbaros, Hakan Yanar, Yersu Kapran, Mustafa Kecer, Mesut Parlak, Departments of Surgery, and Pathology, Istanbul Medical School, Istanbul University, Istanbul, Turkey Hasan Karanlik, Department of Surgery, Corlu Millet Hospital, Tekirdag, Turkey
Author contributions: All authors contributed equally to the work.
Correspondence to: Dr. Oktar Asoglu, Mesrutiyet M, Elhan S, Meric Konak Ap 50/18, 80220 Nisantasi Istanbul, Turkey. oktarasoglu@yahoo.com
Telephone: +90-532-4116522
Received: September 13, 2005
Revised: October 3, 2005
Accepted: October 26, 2005
Published online: March 14, 2006

Phyllode tumor (PT) is extremely rare tumor of the breast. Distant metastasis occurs in 10-20% of patients with malignant phyllode tumor. The most common sites of metastases are the lungs and bones. Although theoretically any organ may have metastasis, an isolated duodenum metastasis has not been documented as yet in the English-language literature. We report herein a case with a isolated duodenal metastasis from PT of breast in a 31 year-old-woman who underwent right mastectomy 4 years before because of the recurrent malignant PT. She presented to our hospital with massive upper gastrointestinal bleeding. Clinical evaluation revealed a huge mass originated from duodenum. Urgent laparotomy and pancreaticoduodenectomy were carried out in order to remove the bleeding duodenal mass. The pathologic examination of the resected specimen showed a malignant spindle cell tumor consistent with metastatic malignant PT. Our case of gastrointestinal bleeding due to an isolated duodenal metastasis as a result of hematogenous spread from malignant phyllode tumor of breast is unique in the English literature and pancreaticoduodenectomy is a curative treatment for patients with isolated duodenal involvement.
---
Citation: Asoglu O, Karanlik H, Barbaros U, Yanar H, Kapran Y, Kecer M, Parlak M. Malignant phyllode tumor metastatic to the duodenum. World J Gastroenterol 2006; 12(10): 1649-1651
---
INTRODUCTION
Duodenal metastases of malignant tumors are rare. Lung cancer, renal cell carcinoma, breast carcinoma, and malignant melanoma are the most common primary tumors that metastasize to the pancreaticoduodenal region[1]. The proportion of duodenal metastases from breast carcinoma has been reported in autopsy series as occuring in more than 15% patients, generally associated with extensive systemic spread, and clinical presentations from such metastases have been described in less than 1% of cases[2]. Lobular infiltrating carcinoma of the breast is the histological type that most frequently metastasizes to the duodenum[2]. Infiltrating ductal carcinoma of the breast has also been reported to metastasize to the duodenum[2,3]. However, gastrointestinal metastases from phyllode tumor of breast have rarely been reported in the literature[3,4]. To our knowledge, this report is the first case in the English literature of isolated duodenal metastases of phyllode tumor.
CASE REPORT
A 31-year-old female presented to the surgical clinic with severe upper gastrointestinal bleeding (hematemesis and melena). She was diagnosed of right breast phyllode tumor for which an excision of 4 cm mass was performed 6 years ago. Two years later she had a recurrence, and the excisional biopsy revealed malignant phyllode tumor, and hence she underwent a right mastectomy. She refused postoperative radiation therapy for malignant PT.
At the time she presented to our hospital, she was hypotensive with a blood pressure of 80/60 mm/Hg, and had temperature 36.2°C (97.1°F ), pulse 106 bpm, and respiratory rate 18 breaths/min. She appeared pale, weak, and in distress, with a dry oral mucosa. A huge firm mass was palpable on epigastrium and upper right side on physical examination. Results of laboratory testing on admission showed 8g/dL hemoglobin, 23.6% hematocrit, 38 mg/dL blood urea nitrogen, and 1.8 g/dL albumin level. The results of coagulation tests (prothrombin time and partial thromboplastin time) were within normal limits.
Upper gastrointestinal endoscopic examination revealed clotted blood in the stomach and an ulcerated duodenal tumor without active bleeding. Computed tomography scan showed that the huge mass (10 cm ×15 cm in dimension) originated from duodenum, and compressedthe liver, pancreas, kidney, inferior vena cava, and superior mesenteric vein (Figure 1). Throughout testing, the patient remained hemodynamically unstable. A central line was placed, and she received 8 units of packed erythrocytes. Since it was impossible to stop bleeding by embolisation of the huge mass, an urgent laparotomy and standard pancreaticoduodenectomy were carried out with the suspicion of primary duodenal tumor.
Gross examination of the resected specimen revealed a highly necrotic mass 15 cm×10 cm×10 cm in size within the wall of duodenum and pancreas with tumor-free resection margins (Figure 2). Histopathologically, tumor consisted of spindle cells with prominent nuclear pleomorphism and high mitotic index. Neoplastic cells showed invasion of all layers of duodenum, including mucosa (Figures 3A and 3B). Patient's mastectomy slides were obtained and compared to the duodenal tumor. Both tumors had the similar histopathological findings; atypical spindle cells showing an irregular cellular pattern without having an epithelial component (Figure 3C). Immunohistochemical analysis revealed only vimentin positivity in both tumors. The expressions of pan-cytokeratin, CD-117, smooth muscle actin, S-100, desmin and CD-34, CD-31 and CD-68 were all negative. Thus, a diagnosis of malignant spindle cell tumor consistent with metastatic malignant phyllode tumor was made.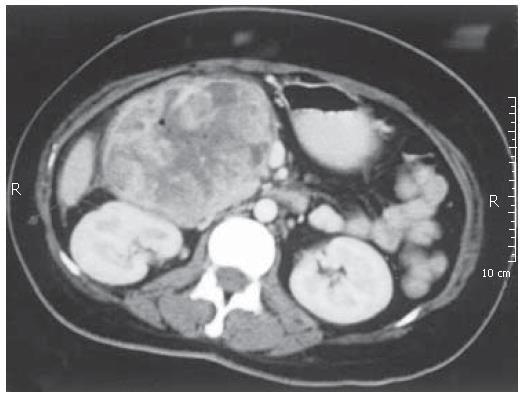 Figure 2 Computed tomography showing a 10 cm x 15 cm oval, mildly hypoechoic tumor with smooth margins.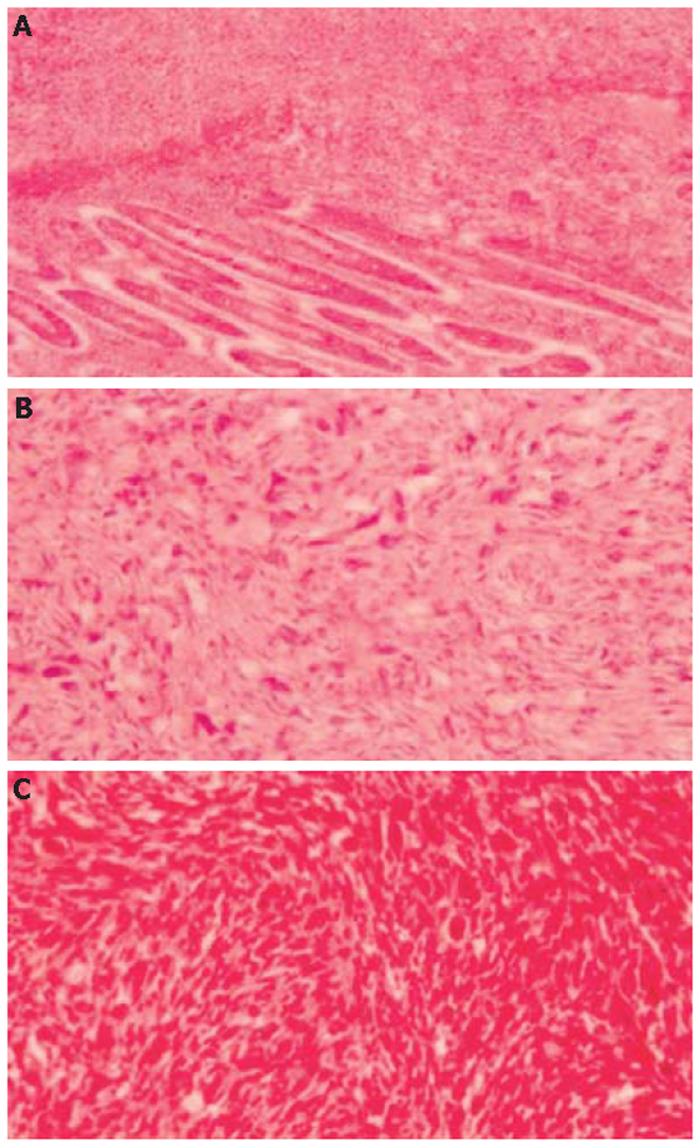 Figure 3 Neoplastic cells showing invasion of duodenal mucosa and submucosa (A) (H&E x 100); duodenal tumor consisted of haphazardly arranged pleomorphic spindle cells (B) (H&E x 200); breast tumor showing the similar histopathological findings with the duodenal tumor (C) (H&E x 200).
The patient recovered uneventfully, and was discharged on the 10th postoperative day. The patient was alive and in good health 12 mo after surgery, with no evidence of disease at the moment.
DISCUSSION
Phyllode tumor is an uncommon fibroepithelial breast neoplasm that accounts for 0.5-1.0% of female breast tumor cases[5,6]. Phyllode tumors are generally classified into benign, borderline, and malignant tumors[5]. Malignant forms comprise nearly 25% of cases[7]. The rates of local recurrence and distant metastasis in patients with malignant PT range between 20-32% and 25-40%, respectively[5,6]. Positive or close surgical margin and large tumor size are important factors responsible for developing local recurrence[5,8]. They usually metastasize to the lung, pleura, bone, and liver but discrete localizations of metastases such as heart and central nervous system have also been reported[9,11]. The most reliable predictors for development of distant metastasis are stromal overgrowth, nuclear pleomorphism and high mitotic activity[6,7]. Mixed mesenchymal components (osteosarcomatosis, chondrosarcom etc.) have also been reported to be associated with worse prognosis[7]. Whether both local recurrence and tumor size contribute to the development of distant metastasis is still controversial[5,7,8]. In our case, the tumor size was 4 cm and the patient had a local recurrence 4 years ago.
Distant metastases of PT usually develop within 3 years of initial therapy, they may occur as soon as synchronous presentation or as long as more than ten years[7]. Because lungs are the most common site of metastasis for malignant phyllode tumors, all patients diagnosed with either a borderline or malignant lesion should undergo CT scanning of the chest prior to definitive surgery. This scan should include the liver, although liver metastases are less common. The primary goal for treatment of localized phyllode tumor is to achive wide, negative margin excision, this is generally agreed to include margins of 1 cm or greater.
We would like to stress that the preoperative diagnosis of a secondary gastrointestinal tumor begins with suspicion based on the history of a previously known non-gastrointestinal tumor[12,13]. In the presence of gastrointestinal mass in patients with a history of previous malignant PT, the physician should be aware of the possibility of gastrointestinal metastasis. The second primary tumor is known to be more common than isolated gastrointestinal metastasis. It is crucial to distinguish a metastatic gastrointestinal tumor from a primary one because of the therapeutic and prognostic implications[1,13]. Gastrointestinal metastasis can occur anywhere in the gut and can cause gastrointestinal symptoms, such as intestinal obstruction or bleeding. Radiological and endoscopic evaluations are usually nonspecific. Moreover, even histopathologically it is sometimes very difficult to distinguish a primary gastrointestinal stromal sarcoma or other sarcomas from a metastatic PT. In our case, we applied immunohistochemically a panel of antibodies to both duodenal and breast tumors. Results were not in concordance with other primary tumors. The histopathological findings were very similar to malignant PT, although we could not find any epithelial component, but it is a very well phenomenon that the metastases are commonly of stromal elements only in malignant PT[5].
To our best of knowledge, this is the first report of a PT metastasis to the duodenum. Currently, there are no clinical trials available to assess the best treatment regimen for metastatic PT. Experience with systemic therapy for metastatic PT is anecdotal. Chemotherapy may occasionally afford some palliation[14,15]. Ifosfamide is thought to be the most active agent. There is no demonstrated role for hormonal therapy. Given this limited experience, adjuvant systemic therapy cannot be recommended even for poor prognosis tumors. However, surgical treatment may become an ultimate option for patients who develop complication such as bleeding from the metastatic tumor, as seen in our case. Because of the therapeutic and prognostic implications, it is important to distinguish a metastatic gastrointestinal tumor from a primary one.
S- Editor Wang J L- Editor Kumar M E- Editor Bai SH
| | |
| --- | --- |
| 1. | Medina-Franco H, Halpern NB, Aldrete JS. Pancreaticoduodenectomy for metastatic tumors to the periampullary region. J Gastrointest Surg. 1999;3:119-122. [DOI] |
| | |
| --- | --- |
| 2. | Reiman T, Butts CA. Upper gastrointestinal bleeding as a metastatic manifestation of breast cancer: a case report and review of the literature. Can J Gastroenterol. 2001;15:67-71. [PubMed] |
| | |
| --- | --- |
| 3. | Wolfson P, Rybak BJ, Kim U. Cystosarcoma phyllodes metastatic to the pancreas. Am J Gastroenterol. 1978;70:184-187. [PubMed] |
| | |
| --- | --- |
| 4. | Yu PC, Lin YC, Chen HM, Chen MF. Malignant phyllodes tumor of the breast metastasizing to the pancreas: case report. Chang Gung Med J. 2000;23:503-507. [PubMed] |
| | |
| --- | --- |
| 5. | Asoglu O, Ugurlu MM, Blanchard K, Grant CS, Reynolds C, Cha SS, Donohue JH. Risk factors for recurrence and death after primary surgical treatment of malignant phyllodes tumors. Ann Surg Oncol. 2004;11:1011-1017. [PubMed] [DOI] |
| | |
| --- | --- |
| 6. | Chaney AW, Pollack A, McNeese MD, Zagars GK, Pisters PW, Pollock RE, Hunt KK. Primary treatment of cystosarcoma phyllodes of the breast. Cancer. 2000;89:1502-1511. [DOI] |
| | |
| --- | --- |
| 7. | Kapiris I, Nasiri N, A'Hern R, Healy V, Gui GP. Outcome and predictive factors of local recurrence and distant metastases following primary surgical treatment of high-grade malignant phyllodes tumours of the breast. Eur J Surg Oncol. 2001;27:723-730. [PubMed] [DOI] |
| | |
| --- | --- |
| 9. | Soumarová R, Seneklová Z, Horová H, Vojkovská H, Horová I, Budíková M, Růzicková J, Jezková B. Retrospective analysis of 25 women with malignant cystosarcoma phyllodes--treatment results. Arch Gynecol Obstet. 2004;269:278-281. [PubMed] [DOI] |
| | |
| --- | --- |
| 10. | Myojin K, Murakami T, Ishii K, Kunihara T. [An emergent operation for metastatic cardiac tumor of malignant cystosarcoma phyllodes]. Jpn J Thorac Cardiovasc Surg. 1998;46:202-206. [PubMed] [DOI] |
| | |
| --- | --- |
| 11. | Hlavin ML, Kaminski HJ, Cohen M, Abdul-Karim FW, Ganz E. Central nervous system complications of cystosarcoma phyllodes. Cancer. 1993;72:126-130. [DOI] |
| | |
| --- | --- |
| 12. | Crippa S, Bonardi C, Bovo G, Mussi C, Angelini C, Uggeri F. Pancreaticoduodenectomy for pancreatic metastases from breast carcinoma. JOP. 2004;5:377-383. [PubMed] |
| | |
| --- | --- |
| 13. | Sperti C, Pasquali C, Liessi G, Pinciroli L, Decet G, Pedrazzoli S. Pancreatic resection for metastatic tumors to the pancreas. J Surg Oncol. 2003;83:161-166; discussion 166. [PubMed] [DOI] |
| | |
| --- | --- |
| 14. | August DA, Kearney T. Cystosarcoma phyllodes: mastectomy, lumpectomy, or lumpectomy plus irradiation. Surg Oncol. 2000;9:49-52 doi: 10.1016/S0960-7404(00)00022-0. |
| | |
| --- | --- |
| 15. | Burton GV, Hart LL, Leight GS Jr, Iglehart JD, McCarty KS Jr, Cox EB. Cystosarcoma phyllodes. Effective therapy with cisplatin and etoposide chemotherapy. Cancer. 1989;63:2088-2092. [DOI] |