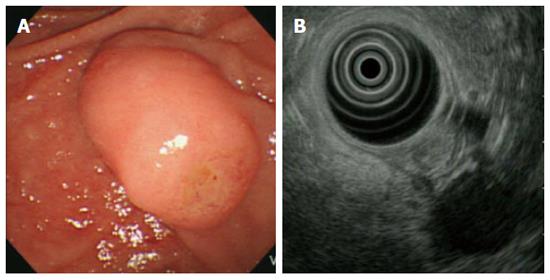 Figure 1 A duodenoscopic image showed an enlarged major papilla with central umbilication and fine nodularity on ampullary orifice (A), endoscopic ultrasonography at the major ampulla revealed a 1.
1 × 0.9-cm, slightly hypoechoic round ampullary mass confined to the submucosa without definite wall disruption or adjacent invasion (B).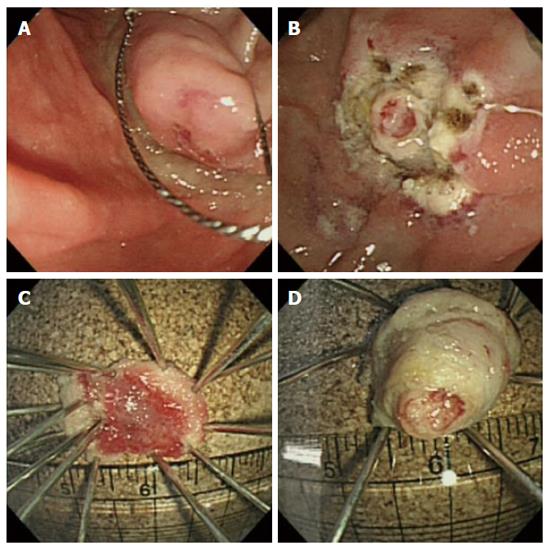 Figure 2 Endoscopic papillectomy.
Following submucosal injection of 1:10000 diluted epinephrine, snaring papillectomy was performed (A), finally papillectomy induced ulceration is noted without complications (B), following the first papillectomy, a resected papillary roof is noted (C), A whitish and round mass-like lesion was resected by a subsequent second papillectomy (D).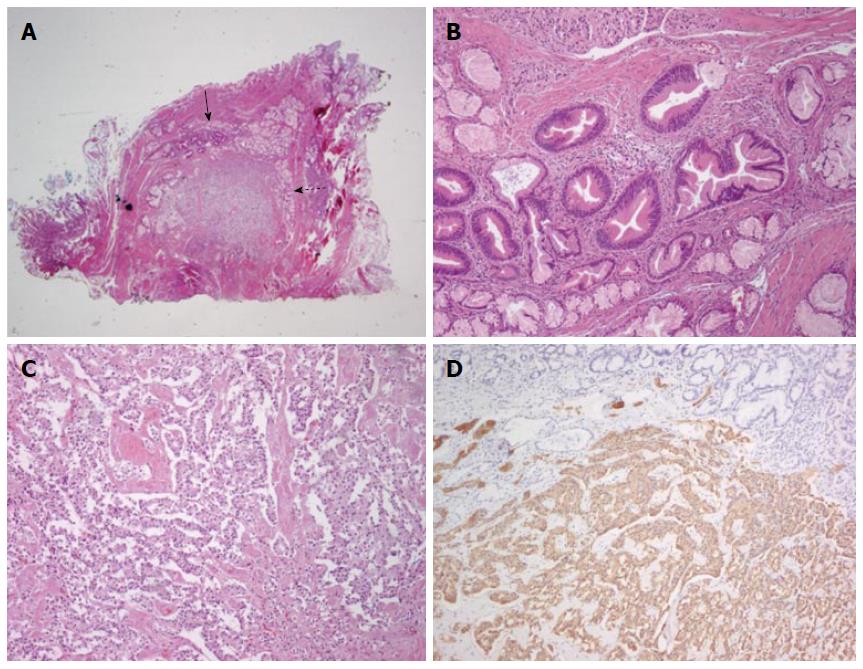 Figure 3 The protruding whitish mass lesion (second papillectomy tissue, Figure 2D) was composed of two lesions that differed in their histological characteristics.
Tubular adenoma (solid arrow) and NET [Dotted arrow, hematoxylin-eosin (HE) staining, magnification × 4; A]. The tubular adenoma lesion exhibited round-to-oval enlarged glands with stratified epithelial cells (HE staining, magnification × 100; B). The NET showed cord-like arrangement of monotonous tumor cells (HE staining, magnification × 100; C). Immunohistochemistry showed that the tumor cells were positive for synaptophysin (magnification × 100; D).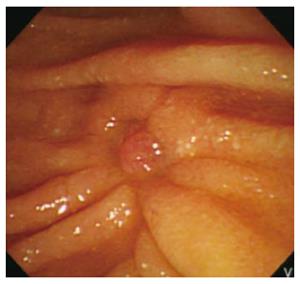 Figure 4 Follow-up endoscopic biopsy of the papillectomy site three month later dose not show remnant tumor.
---
Citation: Lee SH, Lee TH, Jang SH, Choi CY, Lee WM, Min JH, Cho HD, Park SH. Ampullary neuroendocrine tumor diagnosed by endoscopic papillectomy in previously confirmed ampullary adenoma. World J Gastroenterol 2016; 22(13): 3687-3692
---