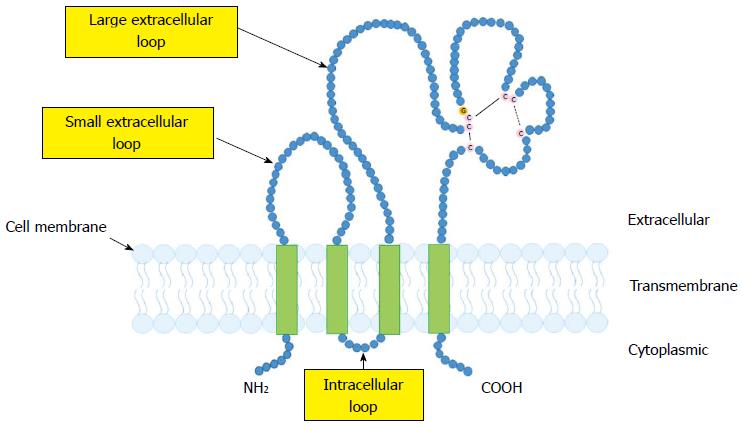 Figure 1 Structural features of CD9.
CD9 has four putative transmembrane domains, which provide the short N- and C-terminal cytoplasmic domains, a small intracellular loop, and two extracellular loops. C: Cysteine; G: Glycine.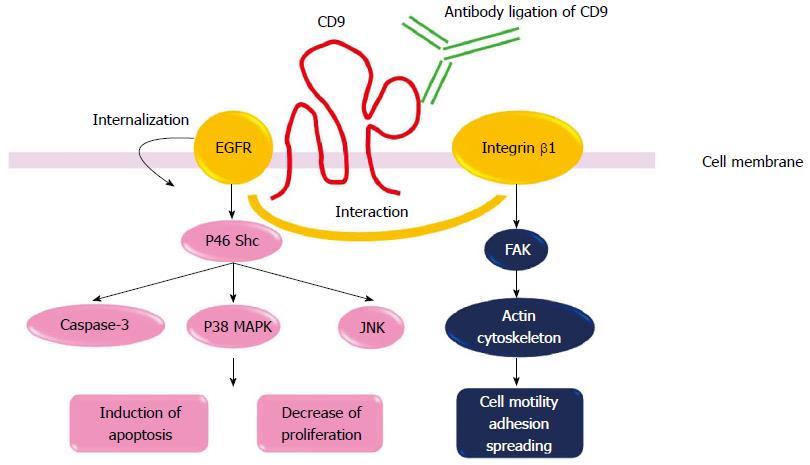 Figure 2 CD9 signaling.
CD9-EGFR and CD9-β1 integrin co-localize on the cell surface. CD9 enhances the internalization of EGFR and reduces EGF-EGFR-induced signals[11]. CD9 ligation induced apoptosis via the selective activation of JNK and p38 MAPK pathway as well as caspase-3 and the p46 Shc isoform[26]. CD9 modulates integrin-dependent cell motility, cell migration, adhesion strengthening, and spreading[5,11]. EGFR: Epidermal growth factor receptor; p38 MAPK: p38 mitogen-activated-protein kinase; JNK: c-Jun NH2-terminal kinase; FAK: Focal adhesion kinase.
---
Citation: Murayama Y, Oritani K, Tsutsui S. Novel CD9-targeted therapies in gastric cancer. World J Gastroenterol 2015; 21(11): 3206-3213
---