Copyright
©2014 Baishideng Publishing Group Co.
World J Gastroenterol.
Jan 21, 2014;
20(3): 706-713
Published online Jan 21, 2014. doi: 10.3748/wjg.v20.i3.706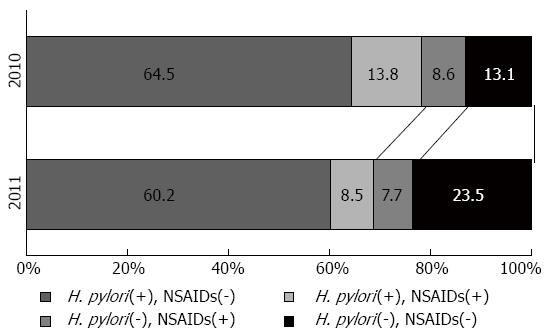 Figure 1 Changing pattern of the etiology of peptic ulcers before (2010) and after (2011) the Great East Japan earthquake.
In the analysis of etiologic factors of the ulcers, cases from each year were classified into four groups according to the Helicobacter pylori (H. pylori) status and non-steroidal anti-inflammatory drugs (NSAIDs) intake. The proportion of H. pylori-negative non-NSAIDs takers among PU patients after the earthquake (2011) was significantly higher than in the previous year (13% in 2010 vs 24% in 2011, P < 0.05). The date available from reference[67].
---
Citation: Iijima K, Kanno T, Koike T, Shimosegawa T. Helicobacter pylori-negative, non-steroidal anti-inflammatory drug: Negative idiopathic ulcers in Asia. World J Gastroenterol 2014; 20(3): 706-713
---