World J Gastroenterol.
Mar 25, 1996;
2(1): 41-43
Published online Mar 25, 1996. doi: 10.3748/wjg.v2.i1.41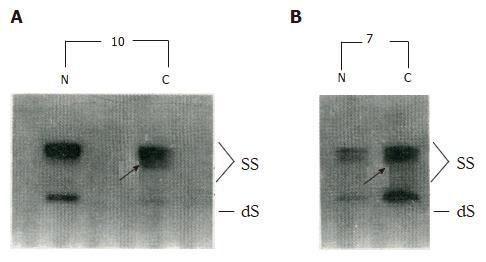 Figure 1 Polymerase Chain Reaction-Single Strand Conformation Polymorphism analysis of DNA from gastric cancers. A: Exons; B: Exon 5-6 of the p53 gene. Arrows, mutations. N: Normal tissues; C: Cancer tissues; SS: Single strand; dS: Double strand. Aneuploid 619 (66.7).
---
Citation: Li ZX, Liu PY, Xu WX, Cong B, Ma ZX, Li Y. p53 gene mutations in primary gastric cancer. World J Gastroenterol 1996; 2(1): 41-43
---