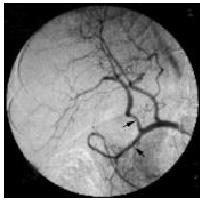 Figure 1 The gastroduodenal artery is the end of the branch of the common hepatic artery.
The proper hepatic artery was absent. Gastroduodenal artery (white arrow), right hepatic artery (black arrow).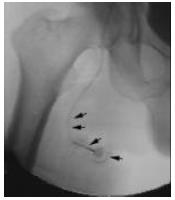 Figure 3 Fluoroscopic image depicts a catheter-port system in the right side of the groin in a 36-year-old male patient with hepatic carcinoma catheter (arrowheads), stem (large open arrow), and port reservoir (thin black arrow).
---
Citation: Zhu AL, Liu LX, Piao DX, Lin YX, Zhao JP, Jiang HC. Liver regional continuous chemotherapy: Use of femoral or subclavian artery for percutaneous implantation of catheter-port systems. World J Gastroenterol 2004; 10(11): 1659-1662
---