Copyright
©The Author(s) 2021.
Published by Baishideng Publishing Group Inc. All rights reserved.
Connecting inorganic mercury and lead measurements in blood to dietary sources of exposure that may impact child development
Renee J Dufault, H M Skip Kingston, Steven G Gilbert, Food Ingredient and Health Research Institute, Naalehu, HI 96772, United States
Renee J Dufault, College of Graduate Health Studies, A.T. Still University, Kirksville, MO 63501, United States
Mesay M Wolle, H M Skip Kingston, Department of Chemistry and Biochemistry, Duquesne University, Pittsburgh, PA 15282, United States
Steven G Gilbert, Institute of Neurotoxicology and Neurological Disorders, Seattle, WA 98105, United States
Joseph A Murray, Division of Gastroenterology and Hepatology, Mayo Clinic, Rochester, MN 55905, United States
Author contributions: Dufault RJ wrote all but one section of the manuscript and created the figure, and supplementary material; Wolle MM wrote the analytical methods section and created the table; Kingston HMS, Gilbert SG, and Murray JA contributed to the format design and revision of the manuscript.
Conflict-of-interest statement: The authors declare no conflict of interests.
Open-Access
: This article is an open-access article that was selected by an in-house editor and fully peer-reviewed by external reviewers. It is distributed in accordance with the Creative Commons Attribution NonCommercial (CC BY-NC 4.0) license, which permits others to distribute, remix, adapt, build upon this work non-commercially, and license their derivative works on different terms, provided the original work is properly cited and the use is non-commercial. See:
http://creativecommons.org/Licenses/by-nc/4.0/
Corresponding author: Renee J Dufault, PhD, Doctor, Food Ingredient and Health Research Institute, Ocean View, Naalehu, HI 96772, United States. rdufault@foodingredient.info
Received: January 28, 2021
Peer-review started: January 28, 2021
First decision: May 14, 2021
Revised: May 27, 2021
Accepted: June 16, 2021
Article in press: June 16, 2021
Published online: July 20, 2021

Pre-natal and post-natal chemical exposures and co-exposures from a variety of sources including contaminated air, water, soil, and food are common and associated with poorer birth and child health outcomes. Poor diet is a contributing factor in the development of child behavioral disorders. Child behavior and learning can be adversely impacted when gene expression is altered by dietary transcription factors such as zinc insufficiency or deficiency or by exposure to toxic substances permitted in our food supply such as mercury, lead, or organophosphate pesticide residue. Children with autism spectrum disorder and attention deficit hyperactivity disorders exhibit decreased or impaired PON1 gene activity which is needed by the body to metabolize and excrete neurotoxic organophosphate pesticides. In this current review we present an updated macroepigenetic model that explains how dietary inorganic mercury and lead exposures from unhealthy diet may lead to elevated blood mercury and/or lead levels and the development of symptoms associated with the autism and attention deficit-hyperactivity disorders. PON1 gene activity may be suppressed by inadequate dietary calcium, selenium, and fatty acid intake or exposures to lead or mercury. The model may assist clinicians in diagnosing and treating the symptoms associated with these childhood neurodevelopmental disorders. Recommendations for future research are provided based on the updated model and review of recently published literature.
Core Tip: Connecting inorganic mercury and lead measurements in blood to dietary sources of exposure that may impact child development is a challenge. Autism spectrum disorder (ASD) and attention deficit hyperactivity disorder (ADHD) diagnoses and treatment efficacy may include the collection of the biomarker measurements of selenium, mercury, and lead levels in red blood cells and behavioral checklist data before and after healthy dietary interventions. We discuss the analytical measurement methods for determining mercury and lead levels in blood and how these biomarkers have been used in ASD and ADHD studies with and without dietary intervention.
---
Citation: Dufault RJ, Wolle MM, Kingston HMS, Gilbert SG, Murray JA. Connecting inorganic mercury and lead measurements in blood to dietary sources of exposure that may impact child development. World J Methodol 2021; 11(4): 144-159
---
INTRODUCTION
Autism spectrum disorder (ASD) and attention deficit hyperactivity disorder (ADHD) are neurodevelopmental disorders that are diagnosed according to behavior descriptions outlined in the Diagnostic and Statistical Manual of Mental Disorders (DSM) published by the American Psychiatric Association (APA). The conditions are similar in that children with either diagnosis have difficulty functioning in a social environment[1]. While a child with ASD may find it difficult to verbally hold a reciprocal conversation with a peer, a child with ADHD may talk excessively or interrupt his classmate during a discussion[1]. Children with either diagnosis often have difficulty in school settings where there are established rules for acceptable behaviors in and out of the classroom. While a child with ASD may become distressed when it is time to transition to another school activity, a child with ADHD may have difficulty standing still in the recess lines[1]. Children with either diagnosis often fail to develop and maintain appropriate peer relationships and have difficulty learning in the general education school environment. In the United States (U.S.), children with ASD or ADHD are eligible to receive special education and related services under federal law to help them achieve their learning goals[2].
Although the causes of ASD and ADHD remain unknown, there is strong evidence to suggest mercury and lead exposures are significant factors in their etiology. Regarding ADHD, He et al[3] found seven case-control studies in a literature review of the effects of blood lead levels in children with ADHD symptoms. The case groups showed significant increases in ADHD symptoms with blood lead measurements and, in some cases, at levels < 3 μg/dL[3]. This finding is alarming given the fact the United States Centers for Disease Control and Prevention (CDC) only uses a 5 μg/dL reference value for blood lead levels to identify children who have been exposed to lead[4]. In a separate review of seventeen studies published in the last five years, Donzelli et al[5] determined there is a positive association between lead exposure and ADHD and even low levels of blood lead are of concern. Regarding ASD, Saghazadeh and Rezaei[6] identified 48 studies in a review of the literature for use in assessing the role of heavy metals in the etiology of ASD. They found children with ASD had higher erythrocyte levels of lead and mercury and significantly higher blood lead levels compared to controls[6]. Jafari et al[7] focused their review and analysis exclusively on mercury measurements reported in 44 studies. They found mercury levels in whole blood and red blood cells were significantly higher in patients with autism compared to healthy subjects[7]. Jafari et al[7] concluded that their results revealed mercury to be an important causal factor in ASD with its accumulation in blood tissue likely due to impaired mercury detoxification and excretory mechanisms. The United States CDC currently has no reference value for blood mercury levels to identify children at risk of autism.
A mercury toxicity model introduced previously in 2009 by Dufault et al[8] provides a macroepigenetic explanation of how child neurodevelopment can be adversely impacted when dietary transcription factors such as zinc deficiency or exposures to heavy metals interfere with the expression of the zinc dependent metallothionein (MT) gene. The MT gene produces the metal binding protein metallothionein that makes it possible for the body to excrete the neurotoxicants mercury and lead[9]. The mercury toxicity model was revised and re-introduced by Dufault et al[10] in 2012 to show how lead levels may accumulate in the body with the consumption of high fructose corn syrup (HFCS) and the accompanying calcium losses that may occur when dietary magnesium intake is low.
United States Department of Agriculture (USDA) scientists warned long ago that when dietary magnesium intake is low, HFCS consumption may adversely affect micromineral homeostasis in humans by lowering calcium, zinc, and phosphorus balances[11]. Mahaffey et al[12] previously reported a significant and independent inverse relationship exists between blood lead levels and dietary calcium (Ca) intake. In addition to these homeostatic relationships, the revised model published in 2012 shows that with inadequate dietary Ca intake or Ca losses, PON1 gene activity may decrease[10]. The PON1 gene is responsible for producing the Ca dependent paraoxonase-1 enzyme that breaks down and detoxifies the organophosphate (OP) pesticides[13] used widely by United States farmers[14]. United States CDC researchers found diet to be the primary source of OP exposure in children[15]. They warned children have significantly higher OP exposures compared to adults and are at greater risk of neurotoxic harm[15]. In addition to fructose[16], mercury and lead are potent inhibitors of PON1 gene expression[17]. When PON1 gene expression is inhibited, the body is unable to detoxify OP pesticide residues. This triggers the mechanism of oxidative stress in the brain which impacts a child's ability to learn[8,10].
Mercury (Hg) and lead (Pb) accumulation in the body may also create these same conditions of oxidative stress[18] which impact child behavior and learning especially when MT is unable to perform its antioxidant role[19] due to dietary zinc (Zn) deficiency or homeostatic mechanisms that lead to Zn losses and copper (Cu) gains. Figure 1 below show the updated macroepigenetic model for Hg and Pb toxicity resulting from this review of the literature. The new model shows selenium (Se) deficit resulting from unhealthy diet is a key factor in decreasing PON1 activity levels.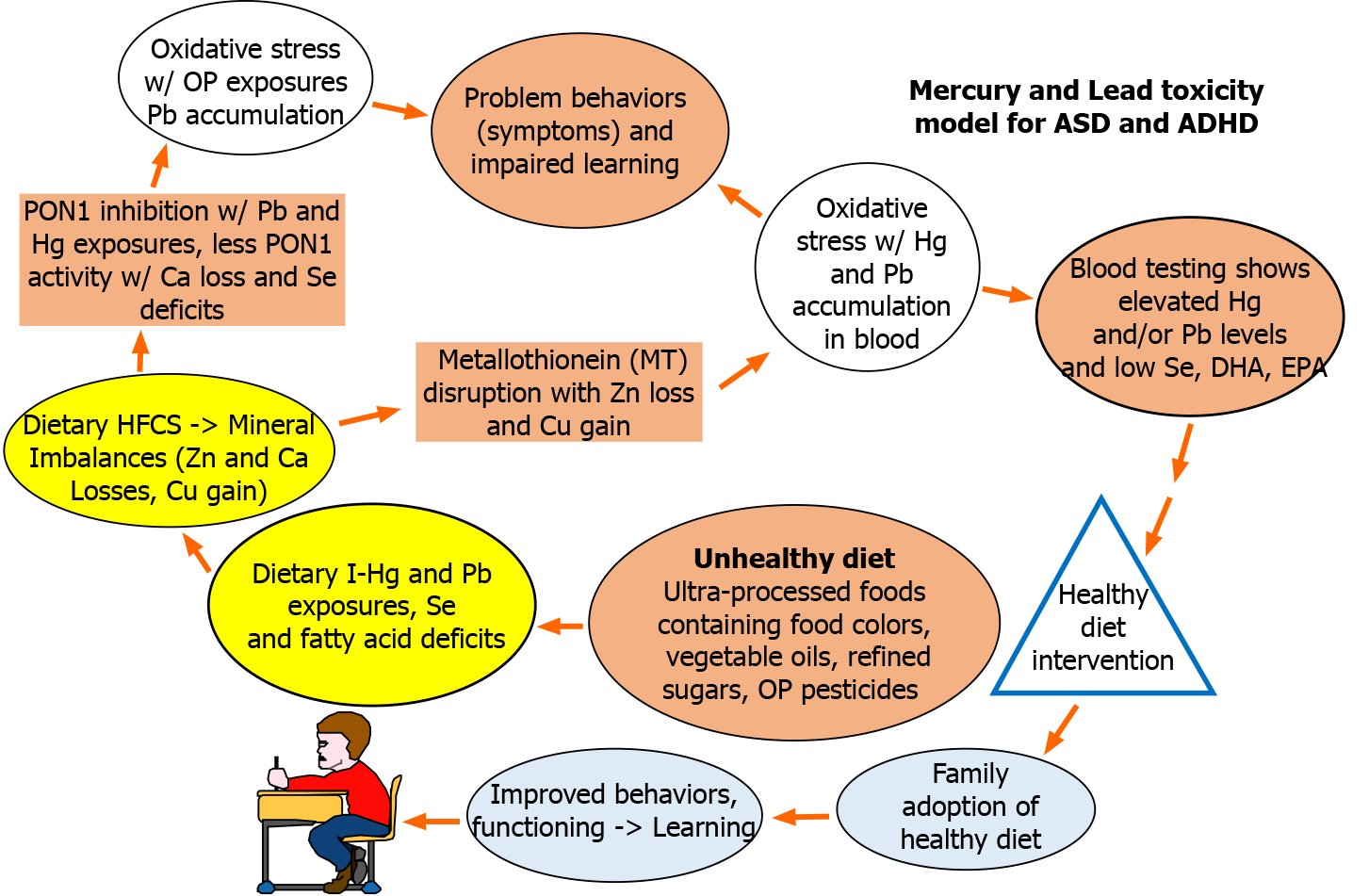 Figure 1 Macroepigenetic model for role of unhealthy diet in mercury and lead toxicity.
ASD: Autism spectrum disorder; ADHD: Attention deficit hyperactivity disorder.
The literature indicates unhealthy diet remains a significant factor in the development of symptoms associated with ASD[20] and ADHD[21-23]. Evidence suggests ultra-processed food consumption may be a source of heavy metal exposure not often considered, especially in the case of inorganic mercury and lead[24-28]. Both elements are neurotoxic. In a recent review, Dórea[29] reported low-level exposures to lead concurrent with other neurotoxic substances such as mercury and arsenic, show a measurable impact on child neurodevelopment. In addition, children with ASD and ADHD continue to show elevated levels of Hg and/or Pb in their blood[30-39]. Hg and Pb exposures can be identified through blood analyses and should be determined by the clinician when a patient presents with symptoms of ASD or ADHD. If blood testing shows elevated Hg or Pb levels, the physician could refer the patient for dietary assessment and healthy diet instruction.
The following section provides a review of the availability of Pb and Hg analyses and current practices in the laboratory and clinical settings.
ANALYTICAL METHODS FOR BLOOD HG AND PB MEASUREMENT IN CLINICAL STUDIES
Despite the difference in toxicity related to Hg species, total Hg is often measured for exposure studies. As can be seen from Table 1, cold vapor atomic absorption spectrometry (CV-AAS) is commonly used to evaluate the association between blood Hg levels and autistic symptoms[34,40-42]. Other studies couple CV-AAS to atomic fluorescence spectrometry (CV-AFS) for better sensitivity and selectivity[31,43]. Current methodologies mainly rely on inductively coupled plasma mass spectrometry (ICP-MS) due to its unique advantages of high sensitivity, wide dynamic range, and multi-isotopic analysis capabilities. ICP-MS can be used to analyze blood with less sample preparation mainly involving matrix solubilization with acidic or alkaline solutions, which can be accelerated by microwave irradiation[44]. Table 1 Lists a few studies on measurement of Hg in blood by ICP-MS[30,32,34,45]. The United States CDC uses this technique to measure blood Hg after solubilizing the matrix with a solution of tetramethylammonium hydroxide[46].
Analyte

---

Sample and sample size

---

Method

---

Limit of detection

---

Ref.

---

Hg
Blood (20-30 mL)
CV-AAS
NA
[34]
Red blood cells1
NA
[40]
Blood (3-5 mL)
NA
[41]
Red blood cells (0.4 mL), plasma (0.5 mL)
0.09 ng/mL
[42]
Hg
Blood1
CV-AFS
0.09 μg/L2
[31]
Blood (0.5 g)
0.001 μg/L
[43]
Hg
Blood (20 mL)
DMA
0.01 μg/L
[47,48]
Pb
Blood (3-5 mL)
AAS
NA
[35]
Blood (3 mL)
25.01 µg/L
[38]
Blood (3-5 mL)
NA
[41]
Blood (3-5 mL)
0.03 μg/dL
[55]
Pb
Blood1
GF-AAS
2.85 μg/dL2
[31]
Blood (20-30 mL)
NA
[34]
Blood (50 µL)
0.042 μg/dL
[36]
Blood (20 mL)
0.01 μg/dL
[47]
Blood1, hair (1 g)
NA
[56]
Blood (0.5-2 mL)
25 μg/L
[57]
Pb
Bone1
X-ray fluorescence
2 µg/g
[38]
Hg, Pb
Blood (1 mL), hair (5-10 mg)
ICP-MS
NA
[30]
Blood (2-3 mL)
0.25 μg/L (Hg)
[32]
Blood (2-3 mL)
0.25 μg/dL (Pb)
[32]
Blood (20-30 mL)
0.1 μg/L (Hg)
[34]
Blood (20-30 mL)
0.002 μg/dL (Pb)
[34]
Blood1
1.3 μg/dL (Pb)
[37]
Blood1
0.24 μg/L (Hg)
[45]
Blood (20 mL)
0.3 μg/dL (Pb)
[59]
Hg, Pb
Blood (46 µL)
DBS with ICP-MS
0.65 μg/L (Hg)
[60]
Blood (46 µL)
0.27 μg/dL (Pb)
[60]
Blood (30 µL)
NA
[61]
Blood (50 µL)
0.13 ppb2 (Hg)
[62]
Blood (50 µL)
2.38 ppb2 (Pb)
[62]
Blood (6.2 µL)
0.7 μg/L (Hg)
[63]
Methylmercury
Blood (0.5 g)
GC-CV-AFS
0.0001 μg/L
[43]
Dental amalgam1
NA
[50]
Blood (0.5 mL)
0.1 pg/L
[51]
I-Hg, methylmercury
Blood (0.5 g)
GC-ICP-MS with SIDMS
NA
[26]
I-Hg, methylmercury
Blood (35-50 µL)
DBS with GC-CV-AFS
0.3 μg/L (methylmercury)
[64]
Blood (40-60 µL)
1.9 μg/L (I-Hg)
[65]
Blood (40-60 µL)
[65]
Direct mercury analysis (DMA) enables direct Hg measurement without any sample preparation. This high throughput and cost-effective method minimize analytical errors associated with sample preparation and reduces hazardous waste generation. Chinese researchers used DMA to measure blood Hg levels to evaluate the association between Hg exposure and child neurobehavioral development and the influence of sex and dietary intake on these relationships[47,48]. DMA has the constraint that its detection limit is not comparable with those of CV-AAS, CV-AFS and ICP-MS.
Although exposure studies often focus on total Hg determination, the health effects of Hg depend on its chemical forms. Hence, there are now analytical methods to determine its distinct species. The CDC used a non-chromatographic method to speciate blood Hg based on selective determination of inorganic and total Hg by CV-AAS with their difference accounting for organic Hg[49]. Halbach and Welzl[42] predicted the levels of inorganic and organic Hg from total blood Hg based on the difference in partition of the two forms of Hg between erythrocytes and plasma. Advanced methods of Hg speciation analysis use a chromatographic system coupled to element specific and sensitive detector such as CV-AFS and ICP-MS. Several clinical studies used gas chromatography (GC) coupled to CV-AFS to determine Hg species in blood[43,50,51]. Liquid chromatography (LC) can be used to separate Hg species without derivatization, thus reducing potential risk of contamination or loss of unstable analytes. Its main setback is higher detection limit which can be improved by using micro- or nano-HPLC systems or preconcentration of analytes.
Despite the advances in instrumentation and methodology, speciation analysis is complicated by potential transformation of analytes during sample collection, storage, preparation, and analysis that may lead to erroneous results. Hg species may undergo alkylation, dealkylation, oxidation and/or reduction depending on the matrix composition and analytical processes[52]. Such species transformations cannot be identified using conventional methods involving external calibration or standard additions. Speciated isotope dilution mass spectrometry (SIDMS), EPA Method 6800[53], is uniquely capable to track and correct for in-situ transformation of species, thereby enabling accurate and precise determination of analytes. The U.S. CDC applies this methodology to determine Hg species in blood by GC-ICP-MS after preconcentration on a solid phase microextraction fiber[54]. Dufault et al[26] used this method to study the association between blood inorganic mercury (I-Hg) with glucose levels in the human population and its link to processed food intake.
Several methods are available for blood Pb measurement. Studies evaluated the association between Pb exposure and autistic behaviors by measuring Pb in blood using AAS[35,38,41,55]. Graphite furnace AAS (GF-AAS) enables analysis of small volume of sample with minimum preparation[31,34,36,47,56,57]. The introduction of ICP-MS has made it possible for laboratories to achieve lower detection limits and make accurate and precise blood Pb measurement. A method by the U.S. CDC measures Pb in whole blood using ICP-MS after simple dilution[58]. The use of ICP-MS has also been widely reported to evaluate the relationship between blood Pb levels and ASD, see Table 1[30,32,34,37,45,59]. Portable and easy-to-operate devices using anodic stripping voltammetry technology are also available to measure Pb at point of care on a small amount of blood.
Clinical studies are emerging on measurement of Hg and Pb on dried blood spot (DBS). Here, a small volume of blood is blotted and dried on a filter encased in a paper card via a simple prick. DBS allows easy and less invasive blood collection, small volume sampling as well as simple transport and storage. The use of DBS is growing through the introduction of advanced analytical techniques, that have expanded testing options and improved throughput. A pilot study in 2008 used DBS for measurement of Hg and Pb where samples from newborns were analyzed by ICP-MS[60]. Subsequent studies using DBS evaluated children's exposures to heavy metals including Hg and Pb by ICP-MS[61-63]. Recent studies investigated the feasibility of DBS for the measurement of Hg species by GC-CV-AFS[64,65].
It was difficult to summarize the lowest and highest concentrations of analytes found in the studies discussed in this section because the data presentation lacks uniformity; some studies reported mean or median concentrations while others compared the levels of the elements before and after treatment. Therefore, the detection limits of the techniques are summarized in Table 1. In cases where detection limits were not available, the lowest reported concentrations were provided in Table 1.
LACK OF UNIFORMITY AMONG MEASUREMENT RESULTS AND IMPACT ON SYMPTOM-BASED DIAGNOSIS
The analytical method used to determine Hg or Pb levels in blood during clinical trials yields varied results lacking in uniformity; this measurement problem continues to be a barrier in identifying toxic exposures. An exposure to Pb or Hg becomes toxic when the child exhibits symptoms of behavioral duress. Children presenting symptoms of ADHD or ASD can be diagnosed using the appropriate behavioral checklist in conjunction with blood testing. The amount of blood sample required to measure mercury or lead using any of the methods listed in Table 1 vary depending on the analyst or laboratory conducting the blood test. Clinical laboratories should be consulted before a phlebotomy is performed to obtain the blood sample. The sample size needed by the laboratory will be based on the instrument to be used, its limit of detection for the analyte to be measured and the method of analysis.
In choosing an appropriate behavior checklist, the Conners rating scales or symptom checklists are used widely by physicians to diagnose ADHD when children present with problem behaviors[66]. In a brief review of the diagnostic accuracy of tests used to diagnose ADHD in children, Gaba et al[67] recommend using the Conners Abbreviated Symptom Questionnaire because of its brevity and high diagnostic accuracy. In the case of ASD diagnosis, the most widely used behavior rating scale is the childhood autism rating scale, otherwise known as CARS[68]. Whether diagnosing a case of ADHD or ASD, appropriate behavioral checklists are available for use and can be used in conjunction with blood testing. Several studies show these diagnostic tools to be effective when used together.
In a study of five hundred seventy-eight children with ADHD, Huang et al[37] measured blood Pb levels using ICP-MS and found children with low exposure (≤ 5 μg/dL) exhibited hyperactive and impulsive behaviors but not inattentiveness. In conjunction with the blood testing, Huang et al[37] administered the Conners' Rating Scale-Revised (CRS-R) checklist to the mothers to assess their children's behavior. In a study of one thousand seven hundred and seventy-eight children with no current ADHD diagnosis, Ha et al[41] measured blood Pb levels using AAS in conjunction with administering a Conner's rating ADHD scale to the parents to determine symptoms and trouble behaviors in their children. The blood Pb levels were positively associated (P < 0.0001) with the Conners' ADHD score[41]. As blood lead levels increased so did the children's symptoms associated with ADHD[41].
Alabdali et al[69] measured both Pb and I-Hg in the red blood cells of fifty-two male children diagnosed with ASD and thirty age and sex matched healthy controls. Measurement of the severity of symptoms associated with ASD was accomplished using the CARS questionnaire[69]. Compared to the control group of children, the ASD group had significantly higher I-Hg (P < 0.001) and Pb (P < 0.001) levels in their red blood cells (RBCs)[69]. A flameless AAS method developed by Magos[70] was used to measure mercury species and the GF-AAS method was used to measure lead[69] in the RBCs. Hassan et al[71] measured several biomarkers (e.g., serum cholesterol, Helicobacter pylori in stool, heavy metals in blood) in a cohort of one hundred and forty-six children comprised of seventy-three males with ASD and seventy-three healthy age- and sex-matched controls. Behavioral assessments were conducted on the children with ASD using the CARS questionnaire[71]. The biomarker study showed Hg, Pb and aluminum levels in whole blood were significantly higher (P < 0.5) among the children with ASD vs the control group[71]. The blood samples were collected and preserved in vials of EDTA and the metals were measured using AAS[71]. The CARS questionnaire data did not reveal any differences in autism severity associated with the different metals[71]. Mostafa et al[72] measured blood Hg levels using CV-AAS in eighty-four children with ASD and eighty-four healthy-matched controls. The blood samples were collected in a heparinized syringe and analyzed promptly[72]. The Hg levels were significantly higher (P < 0.001) in the children with ASD compared to the controls[72]. The CARS questionnaire was used to evaluate the severity of symptoms in the children with ASD; the data showed a significant (P < 0.0001) and positive linear relationship between blood Hg levels and CARS autism behavior severity scores[72].
From this review, it appears the behaviors seen in children diagnosed with ADHD and autism are influenced by the Hg and Pb levels found in their blood. Regardless of why these bioaccumulations are occurring in these children, a key goal in their care should be to reduce their exposures to Hg and Pb. Figure 1 show unhealthy diet may be a significant source of I-Hg and Pb exposure in these afflicted children.
UNHEALTHY WESTERN DIET IS A SOURCE OF I-HG AND PB EXPOSURE
Unhealthy dietary factors that may link to the development of symptoms associated with ASD and ADHD include exposures to I-Hg, Pb and/or pesticide residues[8,10,73] found in highly processed food[74-76]. In the United States, certified food color consumption in processed foods increased five-fold between 1950 and 2012 from 12 mg/capita per day to 68 mg/capita per day[76]. These food colors may contain residues of I-Hg, Pb, and arsenic[75]. Allowable heavy metal residues in certified food colors are regulated by the United States Food and Drug Administration through the batch certification process[77]. Stevens et al[78] studied the amounts of certified food colors found in the United States processed food supply (i.e., beverages, food, and sweets) and concluded that many children are consuming far more food colors than previously thought. Stevens et al[78] recommended that parents avoid serving food or beverages containing certified food colors and limit their children's consumption of added sugars to improve child behavior and health outcomes.
The most common added sugars found in processed food are the corn sweeteners which are at risk of Hg contamination due to their manufacturing process. I-Hg mercury can enter the corn sweetener product line in one of two ways: (1) With the use of Hg cell chlor-alkali chemicals in the manufacturing process[79] and (2) With the intentional addition of mercuric chloride to the corn starch mix at the front end of the manufacturing process to inhibit naturally occurring degrading enzymes produced by bacteria[80]. Rideout et al[81] and Wallinga et al[82] both reported finding low levels of mercury in samples of corn syrup or products containing corn syrup or high fructose corn syrup.
In addition to food colors and added sugars, numerous other food ingredients found in the typical western diet may contain mercury or lead residues[83]. The western diet is characterized by the high intake of ultra-processed food products containing numerous ingredients including refined added sugars, fats, vegetable oils and grains with allowable organophosphate (OP) pesticide residues and the inadequate intake of whole foods, especially pesticide-free fruits, vegetables, nuts, healthy fats (e.g., cold pressed) and organically grown grains[83]. In the cases of ADHD and ASD, several recent diet studies show children afflicted with these neurodevelopmental disorders are typically eating unhealthy diets as shown in Figure 1.
RECENT STUDIES SHOW CHILDREN DIAGNOSED WITH ADHD AND ASD ARE EATING UNHEALTHY DIETS
In a review of the literature to determine the role of diet in reducing symptoms in children diagnosed with ADHD, Millichat et al[21] found diets to reduce symptoms include those that restrict the intake of sugars or eliminate additives including preservatives. Recommendations in the use of diet as a treatment option for ADHD were made in cases of parental or patient preference, iron deficiency, medication failure or when a change from a western diet to an ADHD-free healthy diet was warranted[21]. Millichat et al[21] concluded that greater attention needs to be paid to the education of parents and their children on what constitutes a healthy dietary pattern with a focus on removing ingredients shown to exacerbate symptoms. Shareghfarid et al[22] conducted a pooled meta-analysis of dietary pattern studies that included eight thousand and sixteen children diagnosed with ADHD and found a healthy dietary pattern decreased the risk of ADHD while a western dietary pattern increased symptoms. In their conclusion, Shareghfarid et al[22] determined a "healthy" dietary pattern consisting of vegetables, fruits, legumes, and fish decreased the odds of ADHD while a "Western" dietary pattern consisting of red meat, refined grains, processed meats and hydrogenated fats and oils increased ADHD. In another recent literature review, Farsad-Naeimi et al[23] conducted a pooled meta-analysis of fourteen studies that included twenty-five thousand nine hundred and forty-five subjects to determine whether there is a relationship between the consumption of sugar and sugar sweetened beverages and symptoms of ADHD. The results of the pooled data analyses indicate a strong positive relationship (P = 0.01) exists between sugar and sugar-sweetened beverage consumption and symptoms of ADHD[23].
Sugar-sweetened beverages often contain food color ingredients (e.g., yellow #5/tartrazine/E-102, red #40/allura red/E-129, and yellow #6/sunset yellow/E110) that require certification in the United States[77] to determine if heavy metal levels exceed allowable concentrations. Products containing these same food color ingredients must carry the following warning label in the European Union and United Kingdom: "May have an adverse effect on activity and attention in children"[84]. The warning label requirement is a result of the findings of a study commissioned by the United Kingdom government[84]. The study was led by McCann and involved two cohorts including one comprised of one hundred fifty-three 3-year-old children and another comprised of one hundred forty-four 8/9-year-old children from the general population[85]. Children in both age groups were divided into three different groups[85]. One group received a placebo juice containing no food colors, another group received a juice mix (Mix A) containing yellow #5, yellow #6, and sodium benzoate and the final group received a juice mix (Mix B) containing yellow #6, sodium benzoate, and red #40[85]. Sodium benzoate is a common preservative with allowable levels of lead up to 2 ppm[86]. Behavior checklists were administered to parents and teachers during the study[85]. The children in the 3-year-old group that received Mix A exhibited a significant adverse effect in behavior (P = 0.044) compared to the children in the placebo and Mix B groups[85]. The children in the 8/9-year-old group exhibited a significant adverse effect in behavior in both the Mix A (P = 0.023) and Mix B (P = 0.001) groups compared to the placebo group[85]. From their data analyses, McCann et al[85] determined the food colors or sodium benzoate or both exposures result in increased hyperactivity in the general population of children falling into the 3-year and 8/9-year-old age groups.
In a review of dietary impacts on children diagnosed with ASD, Peretti et al[20] found diet is a key factor in the worsening of symptoms and is a modifiable risk factor in the treatment of ASD. Many parents of children with ASD have placed their children on a gluten and casein free diet without realizing the gluten free foods are highly processed and may lead to the accumulation of Hg, Pb, and cadmium in their children's blood over time. Raehsler et al[87] analyzed data collected by the United States CDC from the National Health and Nutrition Examination Survey to determine whether a gluten free diet was associated with increases in heavy metal accumulation. The data was collected from adult participants 18 years of age and older between 2009 and 2012[87]. The United States CDC analyzed participant whole blood samples for heavy metals using the ICP-MS method[87]. Raehsler et al[87] used univariate statistical analysis to compare the dietary intake of participants following a gluten free diet with those not following a gluten free diet. After controlling for age, smoking, sex, race, and fish and shellfish consumption, blood Hg levels were significantly higher (P = 0.04) in people following a gluten free diet compared to those who did not[87]. Raehsler et al[87] found blood Pb levels were statistically significantly higher (P = 0.001) in women following a gluten free diet but not in men.
In a review of studies conducted to determine the effectiveness of placing children with autism on a gluten free and casein free (GFCF) diet, Piwowarczyk et al[88] found there is little evidence that such a diet is beneficial in reducing symptoms. Parents of children with autism that suffer from intestinal abnormalities need more information as to whether gluten intolerance or sensitivity is the cause of their child's symptoms and should thus consult a physician before placing their child on a GFCF diet. Organophosphate pesticide (OP) exposures from grain consumption may also create gastrointestinal disturbance and other symptoms observed with gluten intolerance[83]. Since children with autism lack the bioavailability and catalytic activity of the PON1 gene[89] and PON1 activity is significantly decreased in children with ADHD[90,91], they are more susceptible to the toxicity and resulting symptoms associated with organophosphate pesticide exposures. More research is needed to determine if the consumption of gluten-free food products contribute to heavy metal or OP pesticide exposures in children with autism and ADHD and if their consumption may be safely included in a healthy diet.
HEALTHY DIET INCLUDES WHOLE FOODS AND MAY INCLUDE SUPPLEMENTS WHEN WARRANTED
One recent promising study led by Adams incorporated aspects of a (GFCF) diet in a supplement intervention with promising results[92]. In a randomized, controlled trial design, thirty-seven children and adults with ASD diagnoses participated in the treatment group which received the intervention, thirty children and adults with ASD served in the non-treatment group, while 50 neurotypical people of similar age and gender served as controls[92]. The treatment intervention involved a 12-mo regime which included supplementation with a variety of vitamins and minerals beginning on Day 0, with additional supplements added on Day 30, Day 90, and Day 180 until finally on Day 210 the Healthy Gluten Free Casein Free (HGFCF) diet was introduced to the protocol[92]. The researchers administered a variety of behavior checklists prior to beginning, and after completing, the 12-month treatment intervention[92]. The most significant reductions in symptoms of ASD (P = 0.0002) seemed to occur in the children with pervasive developmental delay (PDD). Biomarkers were also analyzed before and after the intervention period[92], presumably before Day 0 and at Day 365. The most significant biomarker findings for supplementation involved vitamin B2 (riboflavin), docosahexaenoic acid (DHA), and eicosapentaenoic acid (EPA), in which there were large and significant increases in the treatment group compared to the non-treatment group with corresponding P values: P = 0.00000001, P = 0.000000001, P = 0.000000001)[92]. The fish oil supplements introduced on Day 30 of the intervention could explain the significant increases in DHA and EPA levels. The healthy diet component of the intervention included adequate intake of leafy greens, whole fruit, and protein while eliminating food colors and preservatives and reducing junk foods[92]. The diet also included the adoption of gluten free, casein-free, and soy-free foods[92]. Heavy metal biomarkers were not collected and analyzed by the research team[92]. Selenium (Se) supplementation was introduced on Day 0 of the treatment protocol; there was a significant increase in Se levels (P = 0.001) in the treatment group compared to the non-treatment group[92] while other mineral supplements made no difference. Se binds to Hg in a 1:1 ratio[8]. The supplementation in the treatment group could have provided enough excess Se to mitigate any Hg exposures occurring from the consumption of highly processed gluten-free, casein-free foods. After analyzing their data, Adams et al[92] concluded a comprehensive nutritional and dietary intervention is effective in reducing symptoms in most individuals with ASD. Although the results of the Adams et al[92] study are encouraging, the impact of eating a whole food healthy diet and/or supplements on reducing symptoms of autism remains unclear.
Supplementation in diet should be done cautiously because supplements have the potential to be toxic and are poorly regulated with respect to their efficacy and composition[93]. Fish oil supplementation may be warranted in children who refuse to eat salmon or other low mercury fish and shellfish. DHA and EPA are important for healthy brain development and function. The 2015-2020 Dietary Guidelines for Americans recommend eating low Hg fish as part of a healthy dietary pattern due to their DHA and EPA content[94]. In addition, fish provide more vitamin B-12 and vitamin D than many other foods[94]. Se and Hg tend to bind in fish tissue. When Se is present in excess of Hg in fish, there is no public health concern about Hg exposure from eating fish[95,96].
Se is a key mineral in reducing oxidative stress in children with ASD and ADHD who may have elevated blood Hg levels. Se supplementation could be avoided by the consumption of Brazil nuts in moderation by eating one Brazil nut each day or, if children are amenable, drinking a daily fruit/vegetable smoothie that contains one Brazil nut per child. Brazil nuts are known to be the richest source of Se and provide magnesium and Zn which are important micronutrients in preventing the adverse neurodevelopmental outcomes presented in Figure 1 that result from eating the western diet[8,10]. Cardoso et al[97] conducted a review of clinical trials using Brazil nuts as an alternative to selenium supplementation. Although Cardoso et al[97] did not focus their review specifically on children with developmental disorders, they found many positive outcomes such as improvements in lipid serum profiles, anti-inflammatory response, and cognitive impairment in the various trial participants. Se measurements in blood should be a part of any protocol used in future healthy diet intervention studies conducted to reduce symptoms of ASD or ADHD.
FUTURE HEALTHY DIET INTERVENTION STUDIES
The results of this review indicate there is a need for future intervention studies to conclusively connect I-Hg and Pb measurements in blood to dietary sources of exposure in children with ASD and ADHD. Khan et al[98] confirmed dietary heavy metal intake correlates significantly with the heavy metal levels in the blood of children and adults. Dietary exposures to Hg and Pb can be measured through blood analyses using the methods discussed in the previous sections with careful consideration as to which component of blood (e.g., RBCs, Plasma, Whole Blood) is best for measuring elements of interest in children diagnosed with ASD or ADHD. In children with ASD, Alibadi et al[69] measured levels of I-Hg and Pb in the RBCs. Adams et al[92] measured Se levels in the RBCs of the children with ASD during their diet intervention study. In the case of autism, RBCs may be the best biomarker for measuring Hg, Pb and Se levels. In the case of ADHD, Pb levels are generally measured in whole blood rather than plasma or serum. However, because Pb is found within the blood cells, consideration should be given to testing Pb, along with Se, levels in the RBCs of children diagnosed with ADHD. In addition to mitigating Hg exposure, blood Se levels are important to measure in both ASD and ADHD because PON1 gene expression may be regulated by dietary Se status[99]. As can be seen in Figure 1, increasing PON1 gene activity may be key to reducing the oxidative stress in the brain that impacts a child's ability to learn.
In addition to collecting and measuring biomarker levels in future diet intervention studies, it is important to collect information on processed food consumption so that the link between Hg/Pb exposures and diet can be established definitively. Processed food consumption data can be gathered using a diet survey that focuses on pre- and post-intervention eating patterns. Dufault et al[26] developed such a survey for use in determining the link between processed food consumption and blood I-Hg levels. Supplementary Tables 2 accompanying this manuscript provides a list of the survey questions in checklist format along with scoring instructions. The questions were also used during a clinical trial to educate parents of children with ASD and ADHD on the benefits of healthy diet[100]. In administering the survey pre and post-intervention, diet scores can be compared to determine changes in processed food consumption patterns.
HEALTHY DIET CONSIDERATIONS FOR CHILDREN WITH AUTISM AND ADHD
In devising a healthy diet for children with autism and ADHD it is important to consider elements needed to boost PON1 gene activity. Xotlanihua-Gervacio et al[101] determined the dietary factors that promote increased PON1 gene activity include selenium, cholesterol, and overall lipid intake. The majority of PON1 activity occurs on the high-density lipoprotein (HDL) in humans[102]. HDL is known as "good cholesterol" and its promotion can be accomplished by the adoption of a healthy Mediterranean type of diet which is characterized by the consumption of fruits, vegetables, whole grains, fish and shellfish, nuts, olive oil, and poultry. In the case of children with autism or ADHD, this literature review indicates a healthy type organic (pesticide free) Mediterranean diet includes leafy greens (e.g., spinach, kale, collards), nuts (e.g., Brazil), seeds, legumes, whole grains, fish (e.g., salmon) and shellfish, and excludes the consumption of conventionally grown vegetables and fruits with allowable pesticide residues, products containing ingredients with allowable mercury and lead residues (e.g., food colors, preservatives), hydrogenated fats, sugar sweetened beverages (e.g., corn sweeteners), most vegetable oils, processed meats, and refined grains.
CONCLUSION
This review has resulted in the novel finding of the role dietary selenium may play in supporting PON1 activity in children with ASD or ADHD. Unhealthy diet resulting in the bioaccumulation of Hg or Pb may jeopardize the body's ability to regulate the expression of PON1 resulting in decreased or impaired PON1 activity. An updated Mercury and Lead Toxicity Model for ASD and ADHD is presented to assist clinicians in diagnosing and treating the symptoms associated with ASD and ADHD. The model can also be used as a guide in the design of future intervention studies to determine the role of dietary factors in creating conditions for the development of autism and ADHD.
Manuscript source: Invited manuscript
Specialty type: Public, environmental and occupational health
Country/Territory of origin: United States
Peer-review report's scientific quality classification
Grade A (Excellent): 0
Grade B (Very good): 0
Grade C (Good): C
Grade D (Fair): 0
Grade E (Poor): 0
P-Reviewer: Yen TH S-Editor: Ma YJ L-Editor: A P-Editor: Yuan YY