Copyright
©2014 Baishideng Publishing Group Inc.
All rights reserved.
Inhibitors of glucose transport and glycolysis as novel anticancer therapeutics
Yanrong Qian, Xiaozhuo Chen, Department of Chemistry and Biochemistry, Edison Biotechnology Institute, Molecular and Cellular Biology Program, Athens, OH 45701, United States
Xuan Wang, Xiaozhuo Chen, Department of Biological Sciences, Edison Biotechnology Institute, Molecular and Cellular Biology Program, Athens, OH 45701, United States
Xiaozhuo Chen, Department of Biomedical Sciences, Edison Biotechnology Institute, 109 Konneker Research Laboratories, Ohio University, Athens, OH 45701, United States
Author contributions: Qian Y screened glucose transport inhibitory compounds and wrote sections for glycolysis, glycolysis inhibitors and glucose transporters of the manuscript; Wang X assisted in compound screening and wrote the section of glucose transporter inhibitors of the manuscript; Chen X supervised compound screening and wrote summary, introduction, the Warburg effect, and future direction of the manuscript and finalized the manuscript.
Supported by Research Awards to Chen X from Heritage College of Osteopathic Medicine of Ohio University; by the Edison Program of State of Ohio; and by Student Enhancement Award, Graduate Student Senate Original Work Grant, the Donald Clippinger Graduate Fellowship to Qian Y from Ohio University
Correspondence to: Xiaozhuo Chen, PhD, Department of Biomedical Sciences, Edison Biotechnology Institute, 109 Konneker Research Laboratories, Ohio University, The Ridges, 172 Watertower Drive, Athens, OH 45701, United States. chenx@ohio.edu
Telephone: +1-740-5939699 Fax: +1-740-5934795
Received: January 29, 2014
Revised: March 25, 2014
Accepted: May 28, 2014
Published online: August 12, 2014

Metabolic reprogramming and altered energetics have become an emerging hallmark of cancer and an active area of basic, translational, and clinical cancer research in the recent decade. Development of effective anticancer therapeutics may depend on improved understanding of the altered cancer metabolism compared to that of normal cells. Changes in glucose transport and glycolysis, which are drastically upregulated in most cancers and termed the Warburg effect, are one of major focuses of this new research area. By taking advantage of the new knowledge and understanding of cancer's mechanisms, numerous therapeutic agents have been developed to target proteins and enzymes involved in glucose transport and metabolism, with promising results in cancer cells, animal tumor models and even clinical trials. It has also been hypothesized that targeting a pathway or a process, such as glucose transport or glucose metabolism, rather than a specific protein or enzyme in a signaling pathway may be more effective. This is based on the observation that cancer somehow can always bypass the inhibition of a target drug by switching to a redundant or compensatory pathway. In addition, cancer cells have higher dependence on glucose. This review will provide background information on glucose transport and metabolism in cancer, and summarize new therapeutic developments in basic and translational research in these areas, with a focus on glucose transporter inhibitors and glycolysis inhibitors. The daunting challenges facing both basic and clinical researchers of the field are also presented and discussed.
Core tip: Reprogramming of metabolism has been recognized at the beginning of 21st century as an emerging hallmark of cancer. The Warburg effect is one of the major focuses in the reprogramming. We cannot fully understand or more effectively treat cancer without a better understanding of cancer metabolism. Targeting cancer metabolism, particularly glucose transport and glycolysis, has been shown to be effective in inhibiting cancer growth. This review summarizes recent progresses in developments of therapeutics inhibiting glucose transporters and glycolytic enzymes, provides key information associated with each inhibitor, discusses their promises and problems as well as future challenges and directions of the basic and translational research of the field.
---
Citation: Qian Y, Wang X, Chen X. Inhibitors of glucose transport and glycolysis as novel anticancer therapeutics. World J Transl Med 2014; 3(2): 37-57
---
INTRODUCTION
Cancer has long been considered a group of diseases caused by genetic mutations and genetic mutations only. However, in recent decades, extensive biochemical and biological studies have convincingly demonstrated that cancers exhibit significantly reprogrammed metabolism, which plays important roles in tumorigenesis[1-6]. In some cases, altered metabolism may be not only the consequence of genetic mutations, but also a contributing factor or cause of tumorigenesis[7-9]. Cancer metabolic reprogramming and altered energetics have been recognized now as a hallmark of cancer[10].
The importance of metabolism in cancer was actually recognized long time ago. In the 1920s, the German biochemist Otto Warburg, studied glucose metabolism in cancer tissues. He found that, unlike in normal tissue, incubated cancer samples always switched from mitochondrial oxidative phosphorylation (OXPHOS) to cytosolic glycolysis even when oxygen was abundant[11]. This phenomenon of so-called aerobic glycolysis has been known as the Warburg effect[12-15]. Warburg went so far as to claim that the altered glucose metabolism was the cause of cancer. This hypothesis is called the Warburg theory of cancer. He speculated that due to some mitochondrial dysfunctions, mitochondria could not synthesize ATP and thus cells must switch to cytosolic glycolysis, leading to cancer formation[14,16]. Biological studies in recent decades have found that Warburg's view on the cause of the switch was largely incorrect: many cancers switch to glycolysis even without any mitochondrial defects. New biological and biochemical studies in the past decades revealed that the switch from OXPHOS to glycolysis is not just for ATP synthesis but also for biomass synthesis[15,17], production of NADPH[15,18], a reducing agent needed to remove reactive oxygen species (ROS) generated by cancer cells' accelerated metabolism, as well as synthesis of amino acids[15,19]. The Warburg effect appears to be a strategic move made by cancer cells to deal with multiple requirements for growth, survival, and proliferation in a microenvironment with numerous constraints.
Altered cancer metabolism has also been recognized as a potential target for cancer therapeutics. Glucose transport and glucose metabolism are significantly upregulated in cancer as revealed by the PET scan and other detection methods[20-24]. The reliance of cancer cells on glucose indicates that they are addicted to the Warburg effect or glucose[25-27]. As a result, cancer cells are more sensitive than normal cells to changes in glucose concentration and will die before normal cells[25-28]. The recognition of this vulnerability in cancer cells has led to targeting glucose transport and metabolism as a new anticancer strategy. Furthermore, although targeted anticancer drugs inhibit one or more proteins or enzymes, cancers demonstrate the ability to escape inhibition using redundant signaling pathway(s). It has been proposed that targeting a signaling pathway or a metabolic process, rather than a protein in a pathway, may be more effective in preventing drug resistance and prolonging treatment effectiveness[29,30]. Potential targets for this proposed new approach include glucose transport and glycolysis, the predominant glucose metabolic changes found in cancer cells.
It should be emphasized that targeting cancer metabolism is not an entirely novel strategy. Some of the earliest chemotherapy drugs, such as methotrexate, also target metabolism and show significant efficacy[31-33]. As we have accumulated more knowledge about cancer metabolism, we should be able to develop more successful anti-cancer-metabolism drugs. In the following sections, recently developed glucose transport and glycolysis inhibitors will be described.
GLUCOSE TRANSPORT AND GLUCOSE METABOLISM IN CANCER CELLS–THE WARBURG EFFECT
In normal cells under aerobic conditions, OXPHOS is used to make ATP, the universal energy currency in all living organisms[34]. OXPHOS is used because it is the most efficient way for making ATP. For each molecule of glucose, approximately 34 molecules of ATP can be produced by OXPHOS[34]. However, OXPHOS can proceed only when oxygen is present and abundant, a condition called normoxia. When oxygen is lacking, a condition called hypoxia, cells are forced to shift to anaerobic glycolysis to maintain ATP synthesis and energy metabolism[35]. Due to rapid growth and proliferation, a large proportion of the cancer cells in a tumor are in a hypoxic condition and thus use glycolysis to make ATP and other essential biomass molecules such as ribonucleotides. The phenomenon of OXPHOS-to-glycolysis shift in cancer cells is called the Warburg effect[12-16]. Although the Warburg effect was observed more than 80 years ago, its interpretation is still controversial and evolving. Warburg thought that the effect was caused by mitochondrial dysfunctions and the effect is a forced alternative strategy for ATP synthesis. However, research in recent decades largely disagrees with this interpretation. Recently, it has been found that the switch in cancer cells is primarily for the synthesis of biomass (e.g., of RNA precursor and others)[17], the reducing agent NADPH[18], which is needed for clearing ROS, and the amino acid serine[19]. ATP synthesis seems not to be a rate-limiting factor. This conclusion is very different from Warburg's and is based on the observation that although cancer cells upregulate all glycolytic enzymes, they switch pyruvate kinase (PK), the last enzyme in the glycolytic pathway, from a form with higher higher activity (PKM1) to that with lower activity, PKM2[36-39]. This change suggests that cancer cells do not want all the glucose obtained from the upregulated glucose transport to be converted to pyruvate, but rather diverts some glucose metabolic intermediates to other connected metabolic pathways, such as pentose phosphate pathway (PPP) for synthesis of biomass and reducing agents[17-19,40]. This also suggests that ATP synthesis is not the top priority of the upregulation of glucose transport and metabolism. On the other hand, since glycolysis is about 18 times less efficient compared to OXPHOS, cancer cells must drastically upregulate glycolysis to compensate for the low ATP production.
ANTICANCER THERAPEUTICS TARGETING GLYCOLYSIS AND ITS CONNECTED PATHWAYS
Currently, the Warburg effect is a very active cancer research area[13]. Targeting glucose metabolism and transport, has been proposed as an effective anticancer strategy[1,3]. Glycolysis, the key process of increased glucose metabolism in cancer cells, has been targeted both in vitro and in vivo[3,41,42]. Glycolysis genes are overexpressed in various cancers[35]. In addition to higher potentials for invasiveness and metastasis[43], the glycolytic switch in cancer also increases cancer's sensitivity to external interference because of their higher dependence on aerobic glycolysis[25-28].
Glucose deprivation, a method traditionally used to reduce glucose concentration in cultured cells for metabolic studies, has been used frequently in cancer research[44-47]. Glucose deprivation limits glucose supply, forcing cancer cells to slow down proliferation or undergo apoptosis[48-50]. Blocking glucose transport or glycolysis is similar to glucose deprivation, suggesting the possibility of restricting glucose supply with glucose transport or glycolysis inhibitors as an anticancer strategy.
Various inhibitors of glycolytic enzymes have shown significant anticancer efficacy. Most of the reported glycolysis inhibitors are summarized (Table 1 and Figure 1). The enzymes targeted include hexokinase (HK), phosphofructokinase (PFK), pyruvate kinase (PK), lactate dehydrogenase (LDH), and pyruvate dehydrogenase kinase (PDK). Related studies revealed that these inhibitors induced apoptosis in cancer cells[51,52]. Moreover, inhibition of glycolysis has been shown to overcome drug resistance in multiple cancer cells associated with mitochondrial respiratory defect and hypoxia[53]. Although numerous attempts to block glycolysis by using various inhibitors in cancer cells and in animal models have been made, developing clinically effective and safe glucose metabolism-targeting therapeutics is still a challenging task.
| | | | |
| --- | --- | --- | --- |
| Compound name | Target protein | Status | Ref. |
| 2-DG | Inhibits HK | Phase I-completed (Jul 2008) Phase I/II-terminated (Mar 2011) | NCT00096707 NCT00633087 |
| 3-BP | Inhibits HK | Pre-clinical | [66-74] |
| Lonidamine | Inhibits mitochondrial HK2 | Phase II/III-terminated (Aug/Dec 2006) | NCT00237536 NCT00435448 |
| 3PO | Inhibits PFK2 | Pre-clinical | [90] |
| N4A, YZ9 | Inhibits PFK2 | Pre-clinical | [91] |
| PGMI-004A | Inhibits PGAM1 | Pre-clinical | [96] |
| MJE3 | Inhibits PGAM1 | Pre-clinical | [98] |
| TT-232 | Inhibits PKM2 | Phase II-completed (Mar 2008) Phase II-terminated (Oct 2010) | NCT00422786 NCT00735332 |
| Shikonin/alkannin | Inhibits PKM2 | Pre-clinical | [108] |
| ML265 (TEPP-46) | Activates PKM2 | Pre-clinical | [116,117] |
| FX11 | Inhibits LDHA | Pre-clinical | [126] |
| Quinoline 3-sulfonamides | Inhibit LDHA | Pre-clinical | [141] |
| DCA | Inhibits PDK | Phase I-ongoing Phase I-ongoing Phase II-completed (Aug 2009) | NCT00566410 NCT01111097 NCT00540176 |
| 6-AN | Inhibits G6PD | Pre-clinical | [159-161] |
| Oxythiamine | Inhibits TKTL1 | Pre-clinical | [170-173] |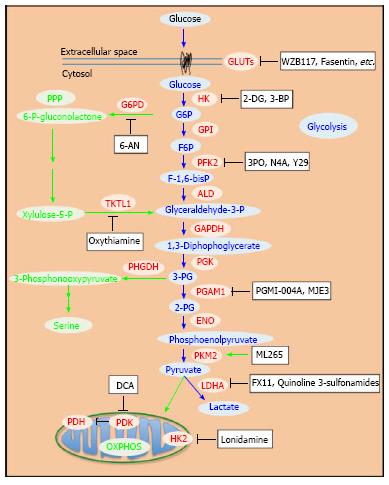 Figure 1 Glycolysis and inhibitors/activators of glycolysis as potential anti-cancer therapeutics.
Glucose transporters and enzymes are shown in red and glycolytic intermediates are shown in blue. Inhibitors/activators are in black squares. PPP: Pentose phosphate pathway; OXPHOS: Oxidative phosphorylation; shown in green. GLUTs: Glucose transporters; HK: Hexokinase; GPI: Glucose-6-phosphate isomerase; PFK: Phosphofructokinase; ALD: Aldolase; GAPDH: Glyceraldehyde-3-phosphate dehydrogenase; PGK: Phosphoglycerate kinase; PGAM1: Phosphoglycerate mutase 1; ENO: Elonase; PKM2: Pyruvate kinase M2; LDH: Lactate dehydrogenase; PDK: Pyruvate dehydrogenase kinase; PDH: Pyruvate dehydrogenase; G6PD: Glucose-6-phosphate dehydrogenase; TKTL1: Transketolase-like enzyme 1; PHGDH: Phosphoglycerate dehydrogenase; G6P: Glucose 6-phosphate; F6P: Fructose 6-phosphate; F-1,6-bisP: Fructose 1,6-bisphosphate; 3-PG: 3-phosphoglycerate; 2-PG: 2-phosphoglycerate; 6-P-gluconolactone: 6-phosphogluconolactone; Xylulose-5-P: D-xylulose-5-phosphate; 2-DG: 2-deoxyglucose; 3-BP: 3-bromopyruvate; 3PO: 3-(3-pyridinyl)-1-(4-pyridinyl)-2-propen-1-one; DCA: Dichloroacetate; 6-AN: 6-aminonicotinamide.
Hexokinase (HK) as the first enzyme in glycolysis phosphorylates glucose to glucose-6-phophate (G6P) irreversibly, which is a rate-limiting step. In cancer cells, type II HK (HK2) is bound to mitochondria, facilitating a high glycolytic flux rate and preventing cancer cell from apoptosis[54]. HK2 is required for cancer initiation and maintenance and the systemic deletion of HK2 is therapeutic in mice bearing tumors[55]. Thus, targeting HK2 may be an effective anti-cancer strategy.
2-deoxy-D-glucose (2-DG) is one of the most widely studied HK inhibitors. 2-DG is a glucose analog with a hydrogen group instead of a hydroxyl group in position 2 of glucose. Due to its structural similarity, 2-DG competes with glucose and inhibits HK with a Ki of 0.25 mmol/L[56]. The product 2-deoxy-D-glucose-6-phosphate made from 2-DG cannot be processed in the following glycolytic steps and therefore blocks glycolysis, leading to ATP depletion, cell cycle arrest and cell death[57,58]. Synergistic studies combining 2-DG and other anti-cancer drugs, such as adriamycin and paclitaxel, indicated that 2-DG is effective in vivo in combination with other drugs[59]. 2-DG sensitizes glioblastoma cells to other anti-cancer treatments and radiation[60-63]. Though effective, 2-DG is relatively toxic with side effects when administered to patients[61,64]. This is at least in part because 2-DG has to be used at high concentrations, around and higher than 5 mmol/L, in order to compete with blood glucose[65].
3-bromopyruvate (3-BP) is another HK inhibitor which has been shown to inhibit the progression of tumors in vivo[66-68]. 3-BP also increases the total ROS in tumor cells[69,70]. A recent study demonstrated that 3-BP inactivates ABC transporters, restoring drug sensitivity in cancer cells[71]. 3-BP has also been studied in combination with various anti-cancer drugs for synergistic effects, and it has been found to be effective in vitro[72] and in vivo[73], although with some hepatotoxicity[74]. However, 3-BP inhibits other enzymes, such as GAPDH, as well[75]. Up to now, no clinical trials have been reported for 3-BP. This may be attributed to its low target specificity and relatively high toxicity.
Lonidamine specifically inhibits mitochondria-bound HK2, which is present mostly in cancer cells but not in normal cells[76]. It effectively inhibits the cell growth, decreasing lactate and ATP generation, in cancer cells[77,78]. Meanwhile, the combination of lonidamine with other anti-cancer agents reverts drug resistance and is effective in the treatment of various cancer cells in both pre-clinical and phase II/III studies[78-80]. However, the combination of lonidamine and epirubicine resulted in no improvement in patients' survival[81]. Though lonidamine has been widely studied, its hepatotoxicity resulted in the termination of several clinical trials[82,83]. These studies of the HK2 inhibitors suggest that, although HK2 is a potential target, being the first and the rate-limiting step of glycolysis, inhibition of HK2 may result in severe side effects. However, the combination of HK2 inhibitors and other anti-cancer drugs may still be an alternative approach for HK2-overexpressing tumors.
Phosphofructokinase (PFK) has two isoforms. PFK1 promotes the chemical reaction of fructose-6-phosphate (F6P) to fructose-1,6-bisphosphate (F-1,6-bisP), while PFK2 catalyzes the synthesis of fructose-2,6-bisphosphte (F-2,6-biP) and reverses it back to F6P[84]. In tumor cells, PFK2 is ubiquitously and constitutively active to produce F-2,6-biP[85-87]. PFK2 is also inducible by hypoxia in vivo[86,88], which is known as a microenvironment for tumor cell[89]. Thus, targeting PFK may be a good anti-cancer strategy.
3-(3-pyridinyl)-1-(4-pyridinyl)-2-propen-1-one (3PO) is the most specific known PFK2 inhibitor with a Ki of 25 μmol/L[82,90]. 3PO suppresses glucose uptake and glycolytic flux in multiple cancer cell lines, with IC50 values ranging from 1.4 to 24 μmol/L[90]. Animal studies show that 3PO inhibits tumor growth in vivo[90]. In addition, a chromene derivative, N4A, mimics F6P and is a competitive inhibitor of PFK2, with a Ki of 1.29 μmol/L[91]. Its derivative, YZ9, has a Ki as low as 0.094 μmol/L[91]. These inhibitors were shown to inhibit the proliferation of Hela cells (human cervical cancer cells) and T47D cells (human adenocarcinoma cells) in vitro[91]. Using high-throughput screening and structure activity relationship (SAR) studies, Brooke et al[92] identified derivatives of 5-triazolo-2-arylpyridazinone as a novel group of inhibitors of PFK2, with the lowest IC50 of 2.6 μmol/L. Although these inhibitors with extremely low IC50s are potent and promising in vitro, in vivo studies are required to assess their toxicity in animals.
3-phosphoglycerate dehydrogenase (PHGDH) catalyzes the first step of the serine biosynthesis pathway (Figure 1). The increased serine synthesis flux attributed to PHGDH is essential to the viability of a subset of cancer cells in which the enzyme is overexpressed[19,93,94]. Through negative-selection RNAi screening using a human breast cancer xenograft model, Possemato et al[93] showed that PHGDH is required for tumorigenesis in vivo. Meanwhile, using a metabolomics approach with isotope labeling, Locasale et al[19] showed that glycolytic flux is diverted into amino acid (serine and glycine) metabolism in cancer cells. This suggests that cancer cells use this specific pathway to promote oncogenesis. The PHGDH gene was found to be amplified recurrently in both breast cancers and melanoma[19,93,95]. In addition, the protein levels of PHGDH are upregulated in 70% of estrogen receptor (ER)-negative breast cancers[93]. Suppression of PHGDH in cancer cell lines with overexpressed PHGDH, but not in these without, causes a reduction in serine synthesis as well as cell proliferation[19,93]. So far, no PHGDH inhibitors have been reported, although it appears to be a good target.
Phosphoglycerate mutase 1 (PGAM1) catalyzes 3-phosphoglycerate (3-PG) to 2-phosphoglycerate (2-PG). In human cancer cells, loss of TP53 leads to upregulation of PGAM1[96]. In addition, Tyr26 phosphorylation of PGAM1 stabilizes the active conformation of the enzyme[97]. These regulations of PGAM1 contribute to the increased glycolysis and the rapid biosynthesis in cancer cells[96,97].
Inhibition of PGAM1 by shRNA increased 3-PG and decreased 2-PG levels and inhibited the proliferation of cancer cells[96]. Through in situ proteome reactivity profiling, PGAM1 inhibitor MJE3 was identified[98]. MJE3 inhibits PGAM1 activity with an IC50 of 33 μmol/L and reduces the proliferation of breast cancer cells in vitro[98]. PGMI-004A, an alizarin derivative, is another inhibitor of PGAM1 with an IC50 of 13 μmol/L, and it leads to significantly decreased glycolysis, pentose phosphate pathway (PPP) flux and biosynthesis, resulting in attenuated cancer cell proliferation and tumor growth in vivo[96].
Pyruvate kinase (PK) irreversibly catalyzes the conversion of phosphoenolpyruvate (PEP) to pyruvate coupled with the generation of ATP. PKM2 is the isoform highly expressed in embryonic cells and cancer cells during fast proliferation[99]. The switch of PKM2 to PKM1 was able to inhibit tumor growth in vivo[36]. PKM2 is inactive as a dimer and highly active as a tetramer. Regulation of the transition between the dimer and the tetramer forms depends on the F-1,6 bisP level[100] or the phosphorylation of tyrosine residue 105 of PKM2, which is induced by oncogenic signals in cancer cells[38]. Meanwhile, PKM2 activity is further influenced by serine and succinylaminoimidazolecarboxamide ribose-5'-phosphate (SAICAR), which adds additional complexity to the regulation of PKM2 in cells and suggests that the modulation of PKM2 activity enables cancer cells to adapt their unique metabolic patterns to their specific pathological conditions[38,101].
In tumor cells, the lower activity of PKM2 results in accumulation of upstream glycolytic metabolites for biosynthesis through PPP[37,102]. In addition, the presence of histidine-phosphorylated PGAM1 has been found to correlate with the expression of PKM2 in both cancer cell lines and tumors[103]. In fact, cancer cells with low PKM2 activity allow PEP to transfer its phosphate group to the histidine of PGAM1 and generate pyruvate. This alternate glycolytic pathway bypasses the activity of PKM2 and decouples ATP production from pyruvate generation, facilitating the high rate of glycolysis to support the biosynthesis observed in many proliferating cancer cells[103]. This decoupled ATP production also suggests that ATP may not be the limiting factor for fast proliferation in cancer cells because cancer cells have access to increased interstitial ATP[104-106].
Recently, Israelsen et al[107] demonstrated that PKM2 is not necessary for the proliferation of tumor cells and variable PKM2 expression was found in human tumors. These results suggest that varied PKM2 activity supports the different metabolic requirements of various cancer cells, each with unique metabolic conditions[107]. Though the role of varied expression of the PKM2 isoform in cancer cells is still controversial, ongoing studies focus on both inhibitors and activators of PKM2 to inhibit cancer cell growth both in vitro and in vivo.
Shikonin and alkannin are potent PKM2 inhibitors. Both compounds lower PKM2 activity and decrease glycolysis in MCF-7 human breast cancer cells and A549 human lung cancer cells[108]. TT-232, a synthetic heptapeptide, interferes with the cellular location of PKM2 in tumor cells and induces apoptosis[109]. However, the selectivity of these inhibitors is not very high for PKM2 and side effects were observed[110,111].
In fact, PKM2 was found to be less active than PKM1[36], indicating that cancer cells prefer to use a less active PK to regulate glycolysis and balance their metabolic needs. Thus, in order to inhibit cancer cell growth more effectively, activators, not inhibitors of PKM2, should be used.
Activators of PKM2, such as N, N'-diarylsulfonamides, thieno-pyrrole-pyridazinones and tetrahydroquinoline-6-sulfonamides, have been identified and studied through high throughput screening and SAR exploration[112-114]. These compounds showed potent PKM2 activation activity with a highest AC50 of 38 nmol/L[112]. Kung et al[115] reported a series of quinolone sulfonamides with a unique allosteric binding mode, which activate PKM2 in A549 lung carcinoma cells. The activation of PKM2 reduces carbon flow to serine biosynthesis, which has been known to promote oncogenesis[19,115]. This study suggests that targeting PKM2 confers metabolic stress to cancer cells and attenuates the unique metabolic pattern of cancer cells. Among these compounds, ML265 (or TEPP-46), a potent activator of PKM2 with an AC50 of 92 nmol/L, was found to activate PKM2 by inducing the tetramerization of PKM2[116,117]. ML265 has been shown to reduce tumor size, weight, and occurrence in animal models[116,117]. Recently, Xu et al[118] described a structurally novel series of small molecule 3-(trifluoromethyl)-1H-pyrazole-5-carboxamides as potent PKM2 activators in vitro. Moreover, Guo et al[119] identified 2-((1H-benzo[d]imidazol-1-yl)methyl)-4H-pyrido (1,2-a) pyrimidin-4-ones as novel activators of PKM2 with a unique binding mode. However, their results also suggested that activation of PKM2 alone was insufficient to significantly alter the cancer metabolism[119]. Although the complex roles of PKM2 in tumorigenesis remain to be elucidated, potent and selective activators of PKM2 may be valuable tools for solving the puzzle of PKM2 and combating cancer.
Lactate dehydrogenase (LDH) catalyzes the chemical conversions of pyruvate to lactate and NADH to NAD+ simultaneously. Upregulation of LDHA under c-Myc control promotes aerobic glycolysis and the growth of tumor cells[120]. Increased expression of LDHA was identified in clinical samples of multiple tumor types[121,122]. Inhibition of LDHA expression in fumarate hydratase deficient cells by RNA interference inhibited cell proliferation and tumorigenesis in vivo[42,123]. Thus, LDHA is a potential anti-cancer target with multiple inhibitors already developed[124].
Oxamate competes with pyruvate for LDHA binding with a Ki of 136 μmol/L[125]. However, oxamate also works as an inhibitor of aspartate aminotransferase with an even lower Ki of 28 μmol/L[125]. Thus, oxamate is a non-specific inhibitor of LDHA. FX-11,3-dihydroxy-6-methyl-7-(phenylmethyl)-4-propylnaphthalene-1-carboxylic acid, competing with NADH as a selective inhibitor of LDHA, inhibited the growth of xenograft tumors[126].
Galloflavin, a new LDHA inhibitor, reduced ATP generation, lactate production, and inhibited growth of human breast cancer cells. However, other mechanisms in addition to inhibition of LDHA were involved in cell death induced by galloflavin[127]. Moorhouse et al[128] used a fragment-based click-chemistry-supported approach to synthesize a series of bifunctional inhibitors of LDHA. In this approach, the structures of both natural substrates pyruvate and NADH were mimicked and linked together in a bifunctional inhibitor. The lead compound has an IC50 of 14.8 μmol/L. ARIAD Pharmaceuticals and Genentech recently have identified numerous LDHA inhibitors[129-132], and Ward et al[133] have identified plant-derived human LDHA inhibitors through high-throughput screening. However, these inhibitors need to be tested in vitro and in vivo in due course. Ward et al[134] used fragment-based lead generation as well as X-ray crystallography to develop very potent inhibitors of LDHA. The lead compound has a remarkable IC50 of 0.27 μmol/L. However, these potent LDHA inhibitors still need to be tested both in vitro and in vivo to demonstrate their potentials as anti-cancer therapeutics.
Granchi et al[135] designed and synthesized a series of N-hydroxyindole (NHI)-based compounds as competitive human LDHA inhibitors. Some representative compounds were tested and shown to possess anti-proliferation activity in multiple human cancer cell lines[136-138]. NHI-1, one of these inhibitors, working with gemcitabine is active against pancreatic cancer cells synergistically[139]. Interestingly, glycosylation of these NHI-based LDHA inhibitors increased potencies and improved cell permeability in cancer cells[140]. Linking the glucose and the LDHA inhibitor facilitates the dual-targeting strategy.
Recently, Billiard et al[141] showed that quinoline 3-sulfonamides inhibit LDHA and reverse the Warburg effect (aerobic glycolysis) in multiple cancer cell lines. Interestingly, compound 1, an LDHA inhibitor in this study, also activates PKM2, if not directly, then at least in part due to the accumulation of F-1,6-bisP caused by LDHA inhibition. Unfortunately, because of low in vivo clearance rates and low oral bioavailability, the quinolone 3-sulfonamides are unsuitable for in vivo use[141]. In sum, though several LDHA inhibitors have been identified, further efforts are needed to test their anti-cancer effects in vivo as well as in clinical trials.
Pyruvate dehydrogenase kinase (PDK) favors glycolysis over mitochondrial oxidative phosphorylation (OXPHOS) by blocking the activity of pyruvate dehydrogenase (PDH) by phosphorylating it[142]. Under normal oxygen pressures, pyruvate goes to mitochondria and is converted to acetyl-CoA in a step catalyzed by PDH. Acetyl-CoA is an important metabolite involved in the citric acid cycle and OXPHOS. In studies in cancer cells, PDK1 expression was induced by HIF-1 in hypoxic conditions and shown to lead to increased glycolysis and suppressed OXPHOS[143,144]. The expression of PDK1 is associated with poor prognosis in head-and-neck squamous cancer[145]. Also, the upregulation of PDK in cancer was associated with a more aggressive phenotype[146]. For these reasons, PDK has been considered an attractive and promising anti-cancer target.
Dichloroacetate (DCA), an analog of pyruvate, has been identified as a PDK inhibitor and widely studied for its ability to inhibit lactate production and cancer growth[147-151]. DCA decreases lactate production by shifting the pyruvate metabolism from glycolytic fermentation towards mitochondrial OXPHOS, and restores mitochondrial function, thus potentially restoring apoptosis-induction, allowing cancer cells to undergo programmed cell death and shrink the tumor[53]. DCA's research and clinical trials were based on the belief that cancer cells' mitochondrial function is abnormal and therefore cancer cell growth will be reduced by upregulating and normalizing their OXPHOS. DCA was shown to be effective in suppressing the growth of cancer cells both in vitro and in vivo[152-155]. Several human clinical trials of DCA started after the successful cell and animal studies and still on-going. A phase II clinical trial for malignant glioblastoma has been completed and shows that DCA can be used safely in patients with glioblastoma, suggesting that DCA is a promising anti-cancer agent and inhibiting glycolysis is a potent and effective anti-cancer strategy[156] (Table 1). In addition, several clinical trials combining DCA and other anti-cancer drugs or therapies are in progress. On the other hand, human studies indicate that DCA's anticancer effects, if any, may be cancer type-related. More basic biomedical studies need to be conducted on the compound before DCA's anticancer activity can be better evaluated.
Pentose phosphate pathway (PPP), a metabolic pathway branched off from glycolysis, provides metabolic intermediates for biosynthesis and NADPH for clearing ROS in cells. At the first step of PPP, glucose-6-phosphate dehydrogenase (G6PD) catalyzes the conversion of G6P to 6-phophogluconolactone, coupled with generation of NADPH. G6PD has been shown to be overexpressed in cancer cells[157,158]. Therefore, inhibition of G6PH is an attractive strategy to alter cancer metabolism and attenuate cancer growth. 6-aminonicotinamide (6-AN) is an inhibitor of G6PD that induces oxidative stress and sensitizes cancer cells to drugs[159-161]. Recently, Preuss et al[162] used high-throughput screening to identify several hit compounds as novel inhibitors of G6PD with IC50s of < 4 μmol/L. These G6PD inhibitors reduced the viability of MCF10-AT1 mammary carcinoma cells with an IC50 of approximately 25 μmol/L compared to approximately 50 μmol/L for MCF10-A non-carcinoma cells[162]. However, its in vivo efficacy remains to be investigated.
The enzyme transketolase (TKTL) is critical for both PPP and glycolysis[157,163]. Transketolase-like enzyme 1 (TKTL1) has been shown to be increased in tumor cells[164-166]. Down-regulation of TKTL1 inhibited cancer cell proliferation, tumor growth and metastasis[167-169]. Thus, inhibiting TKTL1 is a potential anti-cancer strategy. Oxythiamine inhibits TKTL and the growth of cancer cells both in vitro and in vivo[170,171]. Also, oxythiamine interrupted signaling dynamics in pancreatic cancer cells[172], and attenuated tumor cell metastasis[173]. Further studies on oxythiamine are of interest.
GLUCOSE TRANSPORTERS AND UPREGULATION OF GLUCOSE TRANSPORTERS IN CANCER
Up to 90% of cancers demonstrate a phenotype of increased glucose uptake, as revealed by PET scan and other detection methods[21,23,174,175]. Cancer cells also show an increased dependence on glucose as a source of energy and biosynthesis precursor for cell growth, while normal cells utilize lipids, amino acids and glucose in a more balanced fashion[25,43]. Increased glucose uptake in cancer is achieved primarily by upregulation of glucose transporters (GLUTs)[176-179] although the recent finding that animal cells transformed with a mutated (oncogenic) KRas gene exhibit macropinocytosis[105] raises the possibility that macropinocytosis and other endocytosis may contribute significantly to glucose uptake in cancer cells. Current research finds that upregulation of GLUTs can be attributed to oncogenic alterations in cancer cells[180].
GLUTs (SLC2A) are plasma membrane-associated transporters that facilitate glucose transport across the cell membrane down the glucose concentration gradients[181]. Up to now, at least 14 different isoforms of GLUTs have been identified in human cells (Table 2)[182]. All GLUTs share a common and highly conserved (97%) transmembrane domain composed of twelve membrane-spanning helices with less conserved and asymmetric extracellular and cytoplasmic domains[183-185]. Different isoforms of GLUTs are structurally and functionally related proteins and divided into 3 classes according to the similarity of their amino acid sequences[182]. They are expressed in various cell types based on cells' unique physiological requirements for glucose (Table 2)[176]. This differential need and thus transport of glucose is achieved by varied affinities of the GLUTs for glucose[176,186].
Protein
Class
Expression
Affinity to glucose
Major features
Expression in cancer
GLUT1
I
Ubiquitous (abundant in brain and erythrocytes)[207]
High[201,208,211]
Constitutive basal glucose uptake[207]
Over-expressed[176,203]
GLUT2
I
Liver, retina, pancreatic islet cells[176,198]
Low[201,211]
Glucose sensing, fructose transport[176,200]
Abnormal[176,202

-

204]
GLUT3
I
Brain[196]
High[201,211]
Supplements GLUT1 in brain[176,196]
Over-expressed[176,205]
GLUT4
I
Muscle, fat, heart[210]
High[208,209,211]
Insulin responsive[210]
Abnormal[188]
GLUT5
II
Intestine, testis, kidney, erythrocytes[213,214]
Very low[212]
Fructose transport[212]
Abnormal[176,203]
GLUT6
III
Spleen, leukocytes, brain[215]
Low[215]
Sub-cellular redistribution[216]
UD[203]
GLUT7
II
Liver, intestine, colon, testis, prostate[216,217]
High[217]
Glucose and fructose transport[217]
ND
GLUT8
III
Testis, brain[219]
High[219]
Sub-cellular redistribution, multisubstrates[216]
Over-expressed[218]
GLUT9
II
Liver, kidney, pancreatic cells[220,222]
High[221]
Multisubstrates[216]
UD[203]
GLUT10
III
Liver, pancreas[223]
High[224]
Glucose transport[224]
ND
GLUT11
II
Heart, muscle[225]
Low[225]
Inhibited by fructose[225]
ND
GLUT12
III
Heart, prostate, muscle, fat, intestine[226]
High[227]
Insulin-reponsive[226]
Abnormal[206]
HMIT
III
Brain[228]
No
H+/myo-inositol transport[228]
ND
GLUT14
I
Testis[229]
ND
ND
ND
GLUTs that are most relevant to cancer are GLUT1 and GLUT3[176,187,188]. GLUT1 is a basal glucose transporter expressed in almost all cell types[189] and is upregulated in almost all cancer types examined[176-179]. PET scans and other analytical methods have revealed membranous overexpression of GLUT1 and increase in glucose uptake by cancer cells[175]. GLUT1 expression level is correlated with the grade, proliferative activity, differentiation, and known prognostic markers in various cancers[175,190-192]. Clinical studies also have shown that high levels of GLUT1 expression correlates with poor prognosis and survival[192-195]. Normally, GLUT3 is expressed primarily in the tissues with high energy demand to supplement GLUT1[176,196]. GLUT3 is over-expressed in various cancers compared with their non-cancerous tissues[176,187,188,197]. GLUT2 is expressed in the liver, pancreatic islet cells, and retina cells[176,198]. GLUT2 has low affinity and high capacity for glucose[199,200]. GLUT2 also has high affinity for fructose[201]. Abnormal levels of GLUT2 expression were detected in gastric, breast, and pancreatic cancers[202-204]. In addition, GLUT4, GLUT5 and GLUT12 have been found to be abnormally expressed in various cancers[187,188,203,205,206].
Transport of glucose from the extracellular space into the cytoplasm is the first rate-limiting step for glycolysis. Glucose metabolism is drastically upregulated in cancer. Thus, inhibition of aerobic glycolysis by blocking glucose uptake may be more efficient than inhibiting glycolytic enzymes in cells. Therefore, GLUTs are potential targets for anti-cancer therapies. All known glucose transporters and their major characteristics are summarized in Table 2.
ANTICANCER THERAPEUTICS TARGETING GLUCOSE TRANSPORTERS
The rapid growth and proliferation of cancer cells require a large amount of fuel, primarily and preferentially glucose. Numerous clinical and basic science studies have shown that glucose transport is upregulated in various cancers, by overexpressing GLUTs[195,203,230-233]. Studies have identified GLUT1 and GLUT2 as the main glucose transporters in hundreds of tumors[203]. GLUT1 expression was the most widely distributed, while GLUT2 was mainly expressed in breast, colon, and liver carcinomas[203]. Upregulated GLUT3 protein expression was also detected in endometrial, breast and thyroid cancers[233,234]. Recently, constitutive cell membrane localization of GLUT4 was found in myeloma cells[235,236]. Because GLUTs increase glucose transport and enhance cancer cell growth, survival and drug resistance, they are good targets for cancer therapeutic intervention.
GLUT1 INHIBITORS
GLUT1 is the most widely expressed glucose transporter in different types of cancers[189,194,237,238]. However, GLUT1 was not targeted therapeutically until recently. This is not because GLUT1 is not a good target but because of the lack of specific and potent inhibitors. Anti-GLUT1 antibody was shown to be effective in reducing cancer cell growth in vitro, and the antibody treatment also resulted in cell cycle arrest of the cancer cells[239]. Before and after the report of the GLUT1 antibody, several small molecule GLUT1 inhibitors have been reported. They will be described individually below.
GLUT2 INHIBITORS
Phloretin
Phloretin, a natural compound found in fruits such as apples and pears, is reported to be a GLUT2 inhibitor[258-260]. Phloretin has been shown to retard tumor growth both in vitro and in vivo and induce apoptosis in leukemia, melanoma, and colon cancer cells[261-263]. Results from human hepatocellular carcinoma HepG2 cells, which express high levels of GLUT2, suggest that phloretin-induced apoptosis involves inhibition of GLUT2-mediated glucose transport[258]. Additional studies showed that the inhibitory properties of phloretin on GLUT2 sensitize cancer cells to paclitaxel, illustrating the potential use of phloretin in cancer therapy[264].
Quercetin
Quercetin is a flavonoid compound in fruits, vegetables and grains. It was found to be an effective non-competitive GLUT2 inhibitor in Xenopus oocytes with a Ki of 22.8 μmol/L[265]. In rats administered glucose, quercetin inhibits glucose absorption through GLUT2[265]. Quercetin was also suggested to reduce the risk of lung cancer and other types of cancer[266-268]. Quercetin aglycone was shown to affect some receptors associated with cancer development and modulate some signaling pathways involved in inflammation and carcinogenesis[266], although no direct evidence links between inhibition of GLUT2 and cancer prevention. More studies are needed to explore the connection. Quercetin is likely to be a non-specific GLUT2 inhibitor since its anticancer activity cannot be completely explained by its GLUT2 inhibitory activity.
GLUT3 INHIBITORS
DNA-damaging anticancer agents
Some DNA-damaging anticancer agents including adriamycin, camptothecin and etoposide were reported to induce cancer cell death by reducing GLUT3 expression in HeLa cells[269]. Real-time PCR results in Hela cells and a tumorigenic HeLa cell hybrid showed that only the expression of GLUT3, rather than GLUT1, was suppressed by these medicines[269]. Mechanism studies suggested that the suppression of GLUT3 expression induced by DNA-damaging agents was through the MEK-ERK pathway in a p53-independent manner[269].
GSK-3 inhibitors
Recently, certain glycogen synthase kinase-3 (GSK-3) inhibitors were identified as inhibitors of GLUT3 expression in GLUT3-overexpressing tumorigenic HeLa hybride cells as compared with non-tumorigenic counterparts that express GLUT1 alone[270]. These inhibitors decreased GLUT3 expression at the transcriptional level through NF-κB signaling in a p53-independent fashion, leading to apoptotic cell death[270]. Thus, GSK-3 inhibitors do not interact with GLUT3 protein directly but reduce GLUT3 expression levels. No small molecule inhibitors of GLUT3 protein have been reported.
GLUT4 INHIBITORS
Ritonavir
Several HIV protease inhibitors were reported to exhibit inhibitory effects on GLUT4: the most potent is ritonavir[235,271,272]. The effects of ritonavir against myeloma cells were investigated in vitro[235]. It was demonstrated that the inhibitory effects of ritonavir were achieved by suppressing the glucose consumption mediated by GLUT4 in myeloma cells, which overexpress GLUT4, as well as localize it to the basal cell surface[235]. The specificity of ritonavir for GLUT4 was confirmed by artificially introducing GLUT1-mediated glucose uptake, which resulted in resistance to prolonged ritonavir treatment[235]. Half of the cell death induced by ritonavir was seen at a concentration of 20 μmol/L[235]. These and other study results highlight the therapeutic potential of ritonavir in mediating GLUT4 inhibition in myeloma treatment[235,272]. Ritonavir has also been investigated for treatment of other types of cancer[273-275] and undergone clinical trials (ClinicalTrials.gov Identifier: NCT01009437, NCT01095094).
Silibinin
Silibinin, also known as silybin, is a natural flavonoid recently shown to be a GLUT4 inhibitor[276,277]. Kinetic analysis revealed that silybin is a competitive inhibitor of GLUT4, modulating glucose transport in CHO cells with a Ki of 60 μmol/L[276]. Inhibitory effects of silibinin on cancer growth have been demonstrated in preclinical models[278,279] and tested in clinical Phase I[280,281] and Phase II trials (ClinicalTrials.gov Identifier: NCT00487721) for prostate cancer, indicating the relative safety of this anticancer agent. Because of its relatively weak GLUT4 inhibitory activity, silibinin's anticancer effects are likely to be elicited from multiple mechanisms.
From the studies cited above, it can be concluded that GLUTs are rate-limiting for glycolysis in specific tumor contexts. The identification and targeting of upregulated GLUTs in different tumors provide a promising approach to block glucose-regulated cancer metabolism and thus inhibit cancer growth. Key information for all the GLUT inhibitors described above is summarized in Table 3.
| | | | |
| --- | --- | --- | --- |
| Inhibitor | Target GLUT | Status | Ref. |
| WZB117 | GLUT1 | Animal study | Liu et al[28], 2012 |
| STF-31 | GLUT1 | Animal study | Chan et al[240], 2011 |
| Fasentin | GLUT1 | In vitro | Wood et al[242], 2008 |
| Apigenin | GLUT1 | Phase II | NCT00609310 |
| Genistein | GLUT1 | Phase II/III | NCT00118040; NCT00584532 |
| Oxime-based GLUT1 inhibitors | GLUT1 | Animal study | Tuccinardi et al[255], 2013 |
| Pyrrolidinone derived GLUT1 inhibitors | GLUT1 | In vitro | Ulanovskaya et al[257], 2011 |
| Phloretin | GLUT2 | Animal study | Wu et al[258], 2009 |
| Quercetin | GLUT2 | Phase I | NCT01912820 |
| DNA-damaging anticancer agents | GLUT3 | In vitro | Watanabe et al[269], 2010 |
| GSK-3 inhibitors | GLUT3 | In vitro | Watanabe et al[270], 2012 |
| Ritonavir | GLUT4 | Phase I/II | NCT01009437; NCT01095094 |
| Silibinin | GLUT4 | Phase I/II | Flaig et al[280], 2007; NCT00487721 |
FUTURE DIRECTIONS AND CHALLENGES
From numerous examples cited in this review, it can be concluded that targeting glucose transport and metabolism offers several advantages: (1) It targets a protein, enzyme or process that is significantly altered or upregulated in cancer compared to those in normal cells. The differences between cancer and normal cells potentially provides a therapeutic window by which cancer cells can be effectively inhibited without harming patients' normal cells; (2) Targeting GLUTs is equivalent to inhibiting the entire process of glycolysis, leaving cancer cells fewer options for production of sufficient amount of ATP, NADPH, serine, etc. It may also be harder for cancer cells to bypass GLUT inhibition, leading to stronger and longer-lasting inhibition. To compensate for the shortage of glucose, cancer cells will have to use either other glucose transport mechanisms or other energy molecules, such as glutamine for biosynthesis and energy. Although this is possible, it is more difficult than merely bypassing the inhibition of a single enzyme in the middle of a signaling pathway; and (3) Cancer cells are addicted to glucose[25,27], and thus more sensitive to glucose concentration changes triggered by GLUT inhibition than are normal cells. Cancer cells more readily enter cell cycle arrest or apoptose from glucose shortage[28].
However, there are also some weaknesses associated with the strategy of glucose transport inhibition. These include: (1) GLUTs are expressed by both cancer and normal cells. Inhibiting cancer cells' GLUTs inevitably inhibits normal cells that also use GLUTs for their functions. The identification of a therapeutic window is absolutely essential for the success of this anticancer strategy. Fortunately, key organs in the body such as the brain and heart can use ketone bodies as a substitute for glucose[282,283]. Therefore, GLUT inhibition should not result in significant energy shortage for these vital organs; and (2) Cancer cells' reliance on glucose is not absolute. Some cancer cells use glutamine[284,285] and others can shift from glucose metabolism to glutamine metabolism[286,287], bypassing glucose transport inhibition. Drugs targeting other metabolic pathways such as glutamine transport/metabolism or targeting cancer cell growth signaling may be used together with GLUT inhibitors to shut down cancer cells' energy metabolism and cell growth more effectively, leading to cancer cell death. These approaches need to be tested in cancer cells first and then in animal tumor models.
Recently, we have observed that our GLUT1 inhibitor WZB-117[28] more effectively inhibits cancer cell lines that express the wild type KRas gene (KRaswt cells) than KRasmut cancer cell lines (unpublished observations). Although the reason for the difference is unclear, we speculate this may be associated with the "leakiness" of cancer cells to extracellular glucose and ATP. We base this on a recent finding published in a 2013 Nature paper that KRasmut genotype is associated with a phenotype of macropinocytosis[105], a type of endocytosis that non-specifically takes up extracellular molecules as large as proteins[288]. In theory, KRasmut-induced macropinocytosis should be able to take up glucose or ATP as well. Thus, to further enhance cancer treatment efficacy by GLUT inhibitors, it is imperative to ascertain not only which GLUT is upregulated in the targeted cancer, but also the genotype (such as KRas status) of the cancer. We also observed that WZB-117 was less effective in cancer cell lines with higher glycogen content (unpublished observation). It is possible that higher intracellular glycogen content confers some degree of resistance to glucose transport inhibitors. In theory, a longer duration of GLUT inhibition should be able to exhaust intracellular glycogen storage and change GLUT1 inhibitor-insensitive cells into sensitive ones. These new findings may enhance GLUT inhibitors' success in treating specific cancer types.
In summary, glucose transport and glycolysis inhibitors have been shown to be promising anti-cancer agents that warrant further basic science and clinical investigation. Improvement in inhibitor's efficacy (IC50), selectivity of the target, and identification of therapeutic windows while taking cancers' specific genotype and phenotype into account, are needed for such inhibitors to become effective anti-cancer therapeutics.
ACKNOWLEDGMENTS
We thank Dr. Athena Chen for critical review of the manuscript.
P- Reviewer: Kang CM, Ishiguro T S- Editor: Ji FF L- Editor: A E- Editor: Lu YJ