Copyright
©2014 Baishideng Publishing Group Inc.
All rights reserved.
Nephropathy in dietary hyperoxaluria: A potentially preventable acute or chronic kidney disease
Robert H Glew, Department of Surgery, University of New Mexico School of Medicine, Albuquerque, NM 87131, United States
Yijuan Sun, Antonios H Tzamaloukas, Renal Section, Raymond G Murphy Veterans Affairs (VA) Medical Center and Department of Medicine, University of New Mexico School of Medicine, Albuquerque, NM 87108, United States
Bruce L Horowitz, Division of Nephrology, Department of Medicine, University of New Mexico School of Medicine, Albuquerque, NM 87131, United States
Konstantin N Konstantinov, Rheumatology Section, Raymond G Murphy VA Medical Center and Department of Medicine, University of New Mexico School of Medicine, Albuquerque, NM 87108, United States
Marc Barry, Department of Pathology, University of New Mexico School of Medicine, Albuquerque, NM 87131, United States
Joanna R Fair, Radiology Service, Raymond G Murphy VA Medical Center and Department of Radiology, University of New Mexico School of Medicine, Albuquerque, NM 87108, United States
Larry Massie, Pathology Section, Raymond G Murphy VA Medical Center and Department of Pathology, University of New Mexico School of Medicine, Albuquerque, NM 87108, United States
Author contributions: Glew RH contributed the section on biochemistry, endogenous production and excretion of oxalate, including the bibliographic search of these sections and made repeatedly extensive and critical revisions of the manuscript; Sun Y and Horowitz BL assisted in the conception of the work, including the bibliographic search and made critical revisions of the manuscript; Konstantinov KN was responsible for the section on pathophysiology including the bibliographic search; Barry M and Massie L are responsible for the section on Pathology; Fair JR is responsible for the section on imaging; Tzamaloukas AH conceived this work, wrote parts of the report, provided a substantial part of references and revised critically the report.
Correspondence to: Antonios H Tzamaloukas, MD, Renal Section, Raymond G Murphy VA Medical Center and Department of Medicine, University of New Mexico School of Medicine, 1501 San Pedro SE, Albuquerque, NM 87108, United States. antonios.tzamaloukas@va.gov
Telephone: +1-505-2651711 Fax: +1-505-2566443
Received: April 26, 2014
Revised: June 12, 2014
Accepted: August 27, 2014
Published online: November 6, 2014

Hyperoxaluria can cause not only nephrolithiasis and nephrocalcinosis, but also renal parenchymal disease histologically characterized by deposition of calcium oxalate crystals throughout the renal parenchyma, profound tubular damage and interstitial inflammation and fibrosis. Hyperoxaluric nephropathy presents clinically as acute or chronic renal failure that may progress to end-stage renal disease (ESRD). This sequence of events, well recognized in the past in primary and enteric hyperoxalurias, has also been documented in a few cases of dietary hyperoxaluria. Estimates of oxalate intake in patients with chronic dietary hyperoxaluria who developed chronic kidney disease or ESRD were comparable to the reported average oxalate content of the diets of certain populations worldwide, thus raising the question whether dietary hyperoxaluria is a primary cause of ESRD in these regions. Studies addressing this question have the potential of improving population health and should be undertaken, alongside ongoing studies which are yielding fresh insights into the mechanisms of intestinal absorption and renal excretion of oxalate, and into the mechanisms of development of oxalate-induced renal parenchymal disease. Novel preventive and therapeutic strategies for treating all types of hyperoxaluria are expected to develop from these studies.
Core tip: Chronic nephropathy secondary to dietary hyperoxaluria has been reported in a limited number of patients. Dietary oxalate intake in these patients was lower than the average intake in certain parts of the world. This raises the question whether dietary hyperoxaluria has been a neglected cause of chronic kidney disease. This question along with recent findings elucidating the pathogenesis of oxalate nephropathy calls for further research in epidemiology, prevention and treatment of hyperoxaluria.
---
Citation: Glew RH, Sun Y, Horowitz BL, Konstantinov KN, Barry M, Fair JR, Massie L, Tzamaloukas AH. Nephropathy in dietary hyperoxaluria: A potentially preventable acute or chronic kidney disease. World J Nephrol 2014; 3(4): 122-142
---
INTRODUCTION
Oxaluria has been extensively studied in the context of nephrolithiasis[1-15]. While hyperoxaluria from various causes represents a definitive risk for calcium oxalate nephrolithiasis[1,2], lacking is convincing epidemiological evidence that oxaluria is a risk factor for idiopathic renal stone formation[9,10]. In addition to nephrolithiasis, hyperoxaluria can also cause nephrocalcinosis involving the renal cortex, the renal medulla, or both[16-21], acute kidney injury (AKI) and chronic kidney disease (CKD). Oxaluria has two sources: oxalate formed endogenously from metabolism of its precursors and oxalate absorbed from the gastrointestinal tract. Increased rate of formation or increased rate of absorption of oxalate can lead to hyperoxaluria. The principal aim of this review is to address various aspects of hyperoxaluric AKI and CKD with emphasis on nephropathy secondary to high dietary intake of oxalate. This topic was selected because of its potential epidemiologic importance. In addition, interest to the topic is enhanced by important recent developments in the pathogenesis of hyperoxaluric CKD and the relative paucity of published information on renal parenchymal disease from dietary hyperoxaluria.
This review will analyze in sequence the biochemistry of oxalate and oxalate stones, the pathways of hepatic synthesis of oxalate, the gastrointestinal absorption and renal excretion of oxalate, the various types of hyperoxaluria with emphasis on the dietary variety, and the histologic types of oxalate nephropathy and their pathogenesis. The final section focuses on future research avenues that may illuminate the topic of dietary hyperoxaluria. The potential benefit from this research could be a reduction of the incidence of end-stage renal disease (ESRD)[22].
CHEMISTRY AND PROPERTIES OF OXALIC ACID AND OXALATE STONES
Oxalic acid is a two-carbon dicarboxylic acid (HOOC-COOH). For a long time it was thought that oxalate stones were comprised of mono- and di-hydrates of calcium oxalate, with some contribution from trihydrates. However, recent studies have led to a picture in which some non-oxalate preformed particle such as a crystal of uric acid, phosphate salts, drugs or drug metabolite act as the heterogeneous nucleus for formation of the oxalate calculus[23].
Oxalic acid is a moderately strong acid with pKa values of 1.23 and 4.19. In its full ionic form it is called oxalate. Whereas oxalic acid is relatively soluble in water (8700 mg/dL; pH 7, 20 °C), calcium oxalate is three to four orders of magnitude less soluble (0.67 mg/dL; pH 7.0, 20 °C) and crystallizes readily. By way of comparison, calcium urate is about 400-fold more soluble than calcium oxalate[24]. Oxalate also forms crystals with other polyvalent ions, including magnesium, ferrous iron and zinc. The water solubility (expressed as mg/dL) of these complexes at 18 °C to 20 °C is as follows: magnesium oxalate 70.0, ferrous oxalate 22.0 and zinc oxalate 0.79, respectively. The solubility of calcium oxalate increases slightly with increasing pH; however, hydrogen ion changes in the physiological range have only a small effect on calcium oxalate solubility.
Oxalic acid is a toxic substance. It is not known whether oxalic acid and oxalate are themselves toxic before they react with calcium to form calcium oxalate. Under normal circumstances the concentration of oxalate in the blood and urine depends on the content of oxalic acid in foods and on metabolic conversion of endogenous oxalate precursors largely by oxidative reactions. Furthermore, dietary factors and substances other than oxalic acid per se can influence the tendency for oxalate crystals to form; these factors include: the amino acids 4-hydroxyproline, serine and glycine, calcium, and possibly ascorbic acid and fructose.
EXOGENOUS SOURCES OF OXALIC ACID
In Nature oxalic acid occurs in the free form but more commonly as the salt of sodium, potassium, calcium, magnesium or iron. The oxalate content of dietary items consumed by several populations has been analyzed[6,25-31]. Widely consumed foods that are rich in preformed oxalic acid include vegetables, nuts, cocoa, tea, and fruits high in vitamin C. Red meats, fish, poultry, eggs and dairy products contain relatively small amounts of oxalic acid. Items in Western diets that significantly increase urinary oxalate excretion include spinach, rhubarb, beets, nuts, chocolate, tea, wheat bran, and strawberries[6]. The bioavailability of ingested oxalate is influenced by other ingested items[32]. Oxalate content of various diets, its relation to nephrolithiasis, and guidelines for oxalate intake have been reported[13-15,33-37]. One set of guidelines for prevention of nephrolithiasis proposed a maximal daily oxalate intake of 200 mg daily[33]. We found no epidemiological reports relating dietary oxalate intake to oxalate nephropathy and no guidelines for prevention of this nephropathy.
Table 1 shows estimates of dietary oxalate intake in six countries[13,35,36,38-42]. Oxalate intake varies greatly between countries and regions of the same country. For example, daily oxalate intake in Western diets ranges between 44 and 930 mg[13]. The seasonal variation of oxalate intake in a rural population in India is extreme (Table 1). Very high consumption of oxalate in the context of dietary intake can be comparable to some reported lethal doses of the compound. Although the average lethal dose (LD50) of oxalate was estimated at 375 mg/kg[43], or 26.3 g for a 70 kg person, much lower doses of oxalate can be lethal. An intravenous dose of 1.2 g of sodium oxalate, which is equivalent to 0.8 g of oxalate, was lethal in one reported case[44]. Of note also is that most studies cited in Table 1[13,35,36,39,40,42] as well as other large epidemiological studies[45] analyzed dietary oxalate intake to evaluate the risk of nephrolithiasis and no study addressed the risk of CKD from dietary hyperoxaluria.
Country-region
Subjects
Subject number
Oxalate intake (mg/24-h)
Ref.
Brazil, Sao Paolo
+Stones
70 (M:42, F:28)
98 ± 1373
[13]
Healthy controls
41 (M:14, F:27)
108 ± 1333
England
Hospital diet
Not reported
118
[38]
Germany
+Stones, ↑oxaluria
93 (M:73, F:20)
130 ± 1813
[39]
+Stones, →oxaluria
93 (M:73, F:20)
101 ± 1453
India, Rajasthan
Rural "common" diet
Not reported
78
[40]
Rural rainy season
Not reported
2045
Urban, upper income
Not reported
606
Urban, lower income
Not reported
169
Hospital diet
Not reported
139
India, Pune
Boys, upper income
100
193 (116-309)4
[41]
Boys, lower income
100
169 (102-354)4
Girls, upper income
100
168 (115-209)4
Girls, lower income
100
133 (87-209)4
Italy
Normal subjects1
12 (M:8, F:4)
335
[42]
Normal subjects2
12 (M:8, F:4)
18
United States, South
F, 50-79 yr, +Stones
1.179
330 ± 1613
[35]
F, 50-79 yr. –Stones
1.179
345 ± 1663
United States
M, +Stones
1.627
214 ± 1173
[36]
M, -Stones
44.358
214 ± 1213
F, older, +Stones
1.414
184 ± 1093
F, older, -Stones
91.358
185 ± 1123
F, younger, +Stones
1.564
179 ± 1213
F, younger, -Stones
100.260
183 ± 1213
SOURCES OF OXALIC ACID IN THE BODY
The body burden of oxalic acid has two sources, endogenous production in the liver and absorption from the gastrointestinal tract. The pathways of hepatic production and gastrointestinal absorption of oxalic acid are discussed below.
Hepatic production of oxalic acid
Oxalate is synthesized in the liver but is not metabolized further in humans. Oxalic acid produced by catabolism of ingested oxalate precursors by means of normal metabolic pathways contributes significantly to the body's burden of oxalate. Earlier reports estimated that only 10% of the urinary oxalate was derived from dietary oxalate, while the remaining 90% was derived equally from metabolism of other oxalate precursors, including ascorbic acid[46].
Figure 1 shows the metabolism of oxalate, with emphasis on the pathways of primary hyperoxaluria and of metabolism of ethylene glycol, which is a major cause of acute oxalate intoxication. The major precursors of oxalate under normal circumstances appear to be the amino acids hydroxyproline, glycine and serine (Figure 1). Glycine and serine are present in all food proteins. Oxalate is also the end-product of the metabolism of ingested ethylene glycol, the main component of antifreeze, which is encountered usually in the setting of attempted suicide. In order to facilitate understanding of the these endogenous pathways, it may be helpful to consult Figure 1 which relates the major two-and three-carbon compounds that are relevant to this discussion. The key player in this story is glyoxylate: it is the nexus of pathways that lead to and away from oxalate.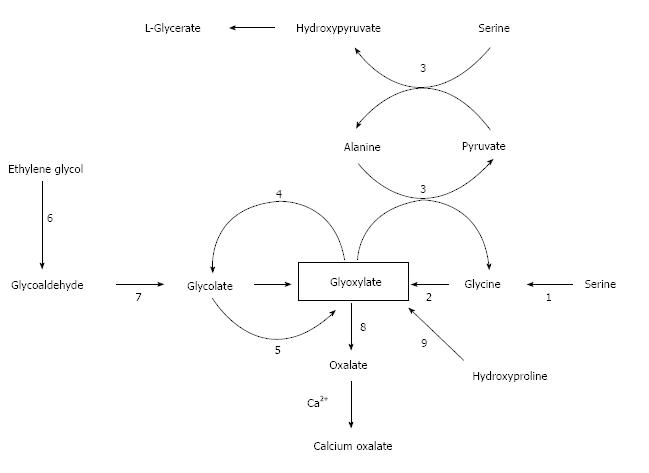 Figure 1 Biosynthesis of calcium oxalate.
Glyoxylate is the main precursor of oxalate which combines spontaneously with calcium ions to form calcium oxalate. Names of enzymes: 1, serine hydroxymethyltransferase; 2, D-amino acid oxidase; 3, alanine:glyoxylate aminotransferase (AGT); 4, glyoxylate reductase-hydroxypyruvate reductase (GRHPR); 5, glycolate oxidase; 6, alcohol dehydrogenase; 7, aldehyde dehydrogenase; 8, lactate dehydrogenase; and 9, five enzyme-catalyzed reactions. PH1 results from mutations in AGT which is a hepatic peroxisomal enzyme. PH2 results from mutations in GRHPR which is a cytosolic enzyme found in several tissues, but primarily the liver. PH3 results from defects in the hepatic mitochondrial enzyme 4-hydroxy-2-oxoglutarate (HOG) aldolase which converts HOG and glyoxylate to pyruvate (reaction not shown), the last step in hydroxyproline catabolism. The reason why a deficiency of HOG aldolase activity increases oxalate production is obscure.
Hydroxyproline is one of the most abundant amino acids in collagen. It is present in collagen-containing meat products, including gelatin, and is one of the most abundant proteins in the human body. In fact, collagen accounts for about 30% of total animal proteins and contains about 13% hydroxyproline[47]. Glyoxylate is the two-carbon end-product of hydroxyproline catabolism (pyruvate is the other product). The conversion of glyoxylate to oxalate is catalyzed by lactate dehydrogenase. Each day the human body turns over 2-3 g of collagen. In the process 240-420 mg of hydroxyproline are released with the concomitant production of 140-240 mg of glyoxylate[48].
Knight et al[48] demonstrated using healthy volunteers that daily ingestion of 30 g of collagen for three days increased glycolate and oxalate excretion by 43% and 5.3-fold, respectively. Glycolate is produced when glyoxylate is acted on by glyoxylate reductase which in the literature is also identified as hydroxypyruvate reductase and D-glycerate dehydrogenase. However, only 5% of the ingested hydroxyproline was recovered as glyoxylate plus oxalate, thereby indicating that most of the glyoxylate resulting from hydroxyproline catabolism was probably diverted to glycine synthesis in the reaction catalyzed by alanine:glyoxylate aminotransferase (AGT). The means of directing glyoxylate away from oxalate synthesis is the glyoxylate reductase reaction that converts glyoxylate into glycolate. Since oxalate is not oxidized to carbon dioxide and water or otherwise metabolized by humans, its only route of disposal is urinary excretion. Quantitatively, transamination of glycine and oxidation of glycine by D-amino acid oxidase are much less important than catabolism of hydroxyproline as sources of oxalate.
Since the metabolism of serine and glycine are so intimately linked in humans and because they are interconvertible, it is reasonable to expect that if one of these amino acids is metabolized to glyoxylate, the other too should be a precursor of glyoxylate, and that both should be sources of oxalate. Such is the case. The enzyme that catalyzes the serine-glycine interconversion is folate-dependent serine hydroxymethyl transferase. Another enzyme, namely D- amino acid oxidase, also converts glycine to glyoxylate.
Although the underlying metabolic link between ascorbic acid and oxalic acid is obscure, there is evidence that a high oral or intravenous intake of ascorbic acid can result in a moderate increase in urinary oxalic acid[8,39,49,50]. With regard to parenteral feeding, Robitaille et al[51] found that, on average, 80 mg of a 105 g infused dose of ascorbic acid was recovered as urinary oxalic acid in elderly adults with normal kidney function. Furthermore, intravenous ascorbic acid administration increased urinary oxalic acid excretion in a dose-dependent manner. These authors cautioned against high-dose infusions of ascorbic acid for individuals already at high risk of oxalate stones.
Epidemiologic studies that have addressed the relation between fructose intake and increased risk for oxalate stones have yielded conflicting results: however, a large epidemiological study found a significant association between high consumption of fructose and risk of kidney stones[52]. On the other hand, studies of urinary oxalate excretion in humans administered high amounts of fructose orally[53] or intravenously[54] have produced equivalent results. A 2010 investigation of the relationship between fructose consumption and urinary oxalate in healthy subjects found that urinary excretion of oxalate and glyoxylate, which is a marker of oxalate synthesis, did not change when the fructose content of the diet was raised as high as 21% of calories[55]. A possible effect of fructose on the absorption of dietary oxalate or calcium excretion was not assessed in that study. Furthermore, lacking is evidence that humans metabolize fructose to oxalate. However, fructose could affect the serum oxalate level indirectly by affecting events in the gastrointestinal tract. For example, hyperabsorption of oxalate caused by a low intake of calcium for complexation with oxalate in the GI tract can exacerbate hyperoxaluria[39].
Gastrointestinal absorption of oxalate
The contribution of oxalate absorbed from the gastrointestinal tract to the total body burden of oxalate depends on the oxalate content of the diet. Recently, in a study of normal volunteers consuming diets with varying oxalate content, Holmes and associates[56] showed that oxalate excretion in urine depends significantly on the dietary oxalate intake. Dietary oxalate intake accounted for 24.4% of the urinary oxalate excretion when the diet contained 10 mg of oxalate per 2500 kcal. Urinary oxalate excretion and the percent of urinary oxalate derived from dietary oxalate increased progressively with progressive rises in dietary oxalate content, reached a value of 41.5% of the urine oxalate when the diet contained 250 mg of oxalate per 2500 kcal, and increased further to 52.6% of the urine oxalate when the diet contained both 250 mg of oxalate per 2500 kcal and a low calcium intake. In the same study, although urinary excretion of oxalate increased substantially with increasing oxalate intake, estimated fractional absorption of oxalate from the gastrointestinal tract decreased from 55.4% at the lowest oxalate intake to 5.8% at the highest intake and then increased to 9.7% at the highest oxalate intake combined with low calcium intake[56]. These findings are important in the context of dietary hyperoxaluria.
The functions involved in the disposition of dietary oxalate are exclusively absorption from the intestines and renal excretion[57]. In the intestines, oxalate is absorbed passively by means of a paracellular pathway. Whereas unbound oxalate is absorbable, oxalate salts of divalent cations such as calcium and magnesium are insoluble in water and therefore not absorbable. Oxalate transporters in the enteric[58,59] and renal epithelial cells have been identified and are discussed in some detail in the following subsection.
The magnitude of oxalate absorption is affected by various dietary substances and the gastrointestinal milieu. Dietary oxalate content is an important determinant of oxalate absorption that is particularly relevant to this review. The fact that urinary oxalate is derived from two sources, absorption of dietary oxalate and endogenously produced oxalate, complicates the study of oxalate absorption in the gastrointestinal tract. A reliable method for estimating oxalate absorption is by labelling oxalate with a stable carbon isotope (13C), ingesting a known quantity of labelled oxalate, and measuring the fractional (or percent) excretion of the labelled oxalate in the urine[60,61]. The method assumes that absorbed oxalate is excreted exclusively in the urine. In one study conducted in normal subjects, oxalate absorption was evaluated by this method when total dietary intake of oxalate was low (63 mg daily) and high (600 mg daily). Mean daily urine oxalate was 25 mg at the low oxalate intake and 43 mg at the high intake, while the percent absorption of ingested oxalate increased from 7.9% at the lower intake to 14.7% at the higher oxalate intake[62].
The dietary content of certain divalent cations has clinically important effects on oxalate absorption. High dietary contents of calcium[63-65] and magnesium[66] inhibit oxalate absorption. The mechanism of this inhibition is formation of insoluble and poorly absorbable oxalate salts of these two divalent cations when they are in abundance in the enteric lumen. Fatty acids have an opposite effect from divalent cations on oxalate absorption. High intake of the 20-carbon polyunsaturated fatty acid arachidonic acid was shown to be associated with increased urinary excretion of oxalate[67]. Fatty acids bind bivalent cations, thereby decreasing the latter's availability for binding oxalate in the intestinal lumen. This effect of fatty acids on oxalate absorption also has clinical implications (see below).
Several anaerobic bacteria, including Oxalobacter formigenes, Eubacterium lentum, Enterococcus faecalis and Lactobacillus acidofilus, metabolize oxalate in the gut[68]. Administration of probiotics containing one or more of these bacteria to healthy subjects and, particularly, subjects with high baseline levels of oxalate absorption, decreases oxalate absorption[68,69]. Conditions that are known to affect oxalate absorption include the pH of the intestinal fluids and intestinal transit time[62]. Whether these conditions have clinical significance or not is unclear.
RENAL EXCRETION OF OXALATE
Oxalate is eliminated almost exclusively by the kidneys. In two studies involving subjects with normal renal function, more than 90% of injected radiolabelled oxalate was recovered in the urine[70,71]. Circulating oxalate is almost 100% ultrafilterable and it is filtered in the glomeruli[72] and excreted in the proximal tubules[73,74]. The basolateral membrane of proximal tubular cells contains a transporter, SLC26A1 that exchanges oxalate for bicarbonate or sulfate[75]. Exchangers of the SLC26 family, including SLC26A6, SLC26A7, SLC26A8, and SLC26A9, have been identified on the plasma membrane of cells that transport oxalate[76,77]. The SLC26A6 transporter has also been localized to the brush border of proximal tubular cells[78]. Holmes and Assimos hypothesized that increases in plasma concentration of oxalate activate the basolateral SLC26A1 transporter which facilitates entry of oxalate into proximal tubular cells, which is then followed by oxalate efflux into the tubular lumen[79]. Tubular secretion of oxalate may have clinical significance. One study found enhanced tubular secretion of oxalate in hyperoxaluric patients compared to controls with normal oxalate excretion[4].
Oxalate transfer in the enteric epithelial cells gut is similar to that in the renal tubular cells. Oxalate transfer through the enteric tight junction is driven by a lumen-to blood concentration gradient and by water absorption. Soluble oxalate is secreted back into the enteric lumen through SLC26A1 and SLC26A6. SLC26A1 is located in the basolateral membrane and transfers oxalate from the paracellular space to the intracellular compartment. SLC26A6 is located in the apical membrane and returns oxalate to the enteric lumen. The transfer of oxalate through the anion transporters back into the enteric lumen modulates the absorption of this toxic compound[59].
In renal failure, oxalate excretion decreases roughly in proportion to the decrease in renal function and serum oxalate concentration increases[80]. As a compensatory mechanism, elimination of oxalate through the gastrointestinal tract is increased in renal failure[81,82]. A study by Hatch and colleagues provided evidence that the increased intestinal excretion of oxalate in renal failure is mediated, at least in part, by angiotensin II[83]. Renal failure, therefore, is one condition in which oxalate is not eliminated in its entirety by the kidneys. Diuresis and body size are two factors that affect urinary oxalate excretion. In normal subjects, oxalate elimination in the urine increases in parallel to urinary flow rate[84,85]. The clinical significance of this finding is obscure because urinary oxalate concentration decreases in parallel as urinary flow increases[85]. Large body size is associated with a high urinary oxalate excretion rate[86,87]. This finding is clinically relevant because obesity is a risk factor for nephrolithiasis[88]. Finally, urinary oxalate excretion shows seasonal variations[89] that can have clinical importance.
CLINICAL TYPES OF HYPEROXALURIA
Hyperoxaluria can result from excessive endogenous production of oxalate, excessive absorption of dietary oxalate, excessive dietary or parenteral intake of oxalate, or a combination of these processes. Four main categories of hyperoxaluria are recognized: primary hyperoxaluria, absorptive or intestinal hyperoxaluria, idiopathic mild hyperoxaluria and dietary hyperoxaluria.
RENAL PATHOLOGY AND PATHOPHYSIOLOGY IN HYPEROXALURIA
The chronic histologic lesions in the kidneys are indistinguishable between all categories of hyperoxaluria. Histologic lesions are also indistinguishable between AKI cases of enteric hyperoxaluria[115,121,125,126] and AKI cases of hyperoxaluria that have dietary, toxic or pharmacologic causes. Hyperoxaluric renal parenchymal disease is classified as a crystalline nephropathy[207], because it is widely acknowledged that oxalate injury to renal tissues begins with the deposition of abundant calcium oxalate crystals[208] in the lumen of renal tubules, the renal interstitium, and the walls of the renal vessels in all categories of hyperoxaluria[90,209-211].
Although finding calcium oxalate crystals in kidney biopsy specimens is necessary for the diagnosis of oxalate nephropathy, it is not a specific finding. Oxalate crystals are found in the kidneys in all conditions that elevate the plasma oxalate level. Principal among these conditions are all types of acute and chronic renal failure[212].
Extensive tubular damage with epithelial necrosis and tubular dilatation is the second cardinal characteristic of both acute and chronic oxalate nephropathy, while the involvement of glomeruli is inconsistent. The histologic features of renal tubules in hyperoxaluric AKI have the characteristics of acute tubular necrosis[115,121,151,153,158,159,164,171,174,195,213]. Changes in the renal interstitium are the other histologic characteristic of oxalate nephropathy. Profound interstitial fibrosis is present in chronic cases of oxalate nephropathy[90]. Tubulointerstitial nephritis with interstitial collection of mononuclear cells is a prominent characteristic of both chronic[90] and acute[175] cases of oxalate nephropathy. In some instances, interstitial nephritis takes the form of granuloma[150,214]. Oxalate-induced AKI may[157,164] or may not[153,155] exhibit interstitial nephritis in addition to acute tubular necrosis. Features of acute tubular injury, namely tubular simplification, flattening of tubular epithelial cells and dilatation of the tubular lumen are the earliest histological changes observed in kidneys of animals with experimental dietary acute oxalate nephropathy[165]. In addition to the kidneys, calcium oxalate crystals can be found in bone, skin, vessels and joints in patients with oxalosis[215]. Radiological and histologic features of nephropathy in a patient with dietary hyperoxaluria are shown in Figures 2 and 3 respectively.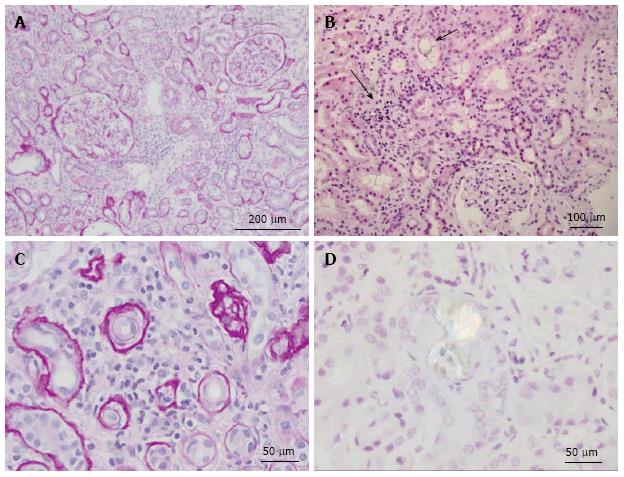 Figure 3 Renal histology in the patient depicted in Figure 2.
A: Low power view of kidney showing two complete glomeruli and expansion of the interstitium by lymphocytes and edema. Periodic acid-Schiff (PAS) stain highlights the basement membranes of the tubules and Bowman's capsule. PAS stain; B: Low power view of renal parenchyma showing tubulointerstitial nephritis (solid arrow) and oxalate crystal within tubule (open arrow). H and E stain; C: High power view showing interstitium expanded by lymphocytic infiltrates and tubular atrophy. PAS stain; D: High power view of calcium oxalate crystal under polarized light. H and E stain.
The initial event in the development of oxalate nephropathy is the formation of calcium oxalate crystals in the lumen of proximal tubules[219]. Details of the mechanism of crystal formation, which have been reviewed extensively in the literature on stone formation, are outside the scope of this report. Randall's plaque (apatite collections in the interstitium of the papillae) was noticed in abundance in several hyperoxaluric states and may play a role in stone formation[220].
Adhesion of calcium oxalate crystals to the surface of tubular epithelial cells follows formation of the crystals. The mechanisms of adhesion have been extensively studied recently[221-227]. Coating with urine proteins, facilitated by low urinary pH, was shown to reduce the attachment of calcium oxalate crystals to renal inner medullary epithelial cells[221]. Calcium oxalate binding proteins that promote oxalate nephropathy have also been identified. Calcium oxalate monohydrate binding protein, one of these promoters, was shown to be upregulated by oxalate-induced oxidative stress[223]. A dual role was suggested for osteopontin, which inhibits calcium oxalate crystal formation and tubular retention[222], but also increases adhesion of these crystals to carboxylate ions that would promote oxalate-induced renal disease[225]. Prostaglandin E2 inhibits binding of calcium oxalate crystals to renal epithelial cells[224,226]. In a recent report, 26 oxalate-binding proteins were identified the kidney[227]. Further studies are needed to clarify the role of each of these proteins in oxalate-induced renal disease.
Evidence of the direct toxicity of supraphysiologic concentrations of oxalate to renal tubular cells was found in studies using cultured cells[228]. Both inhibition of cell proliferation and apoptosis have been identified as mechanisms of this nephrotoxicity. Studies in epithelial, endothelial and interstitial renal cell cultures found that exposure to sodium oxalate leads to reduced cell survival through inhibition of cell proliferation[229]. Evidence of oxalate-induced toxicity to renal cells was provided by finding increased levels of protein and mRNA of kidney injury molecule-1 in both human cell cultures and experimental animals[230]. In experimental animals hyperoxaluria increased production of TNF-α, FAS and FAS ligand, and apoptosis[231].
Research involving the mechanisms of innate immunity has shed considerable light on the molecular mediators and histologic features of oxalate nephropathy[232-243]. A role for toll-like receptors, NOD-like receptors and inflammasomes in AKI secondary to ischemia and sepsis has been documented[232]. A growing body of evidence has given inflammasomes a central place in our understanding of complex diseases (e.g., metabolic syndromes, carcinogenesis) and physiological processes (e.g., regulation of intestinal microbiome) and has identified them as important players of the intracellular surveillance system. Recent emphasis was also placed on the role of inflammasomes in various renal disease categories, including crystalline nephropathies[233].
Inflammasomes are part of the innate immune system. As their name suggests, inflammasomes represent large multimolecular cytosolic complexes that assemble into a platform for the activation of pro-inflammatory caspase 1[234-236]. Inflammasomes are important mediators of apoptosis, interstitial inflammation and fibrosis in various types of renal disease[237,238]. Of great importance in the context of oxalate nephropathy is the nucleotide-binding domain, leucine-rich repeat inflammasome (NALP3 or NLRP3). When activated, NALP3 proteins oligomerize and form a protein complex with caspase-1. This process activates caspase 1 which cleaves the inactive precursors of IL-1β and IL-18 to generate active cytokines that promote inflammation. The NALP3 inflammasome has been implicated in the molecular mechanism of nephropathy caused by urate crystals[239]. More recent studies detail the functional significance of the inflammasome and the IL-1β/IL-18 axis as an important factor in interstitial inflammation and fibrosis, as well as progression of renal failure, in oxalate nephropathy[240-242] and other kidney diseases[243]. In experimental models, genetic deletions of antagonists of the NALP3 inflammasome pathway have decreased the severity of oxalate nephropathy[240-242].
MANAGEMENT OF NEPHROPATHY IN ACQUIRED HYPEROXALURIAS
The general principles of management of oxalate-related nephropathies are the same in all categories of acquired hyperoxaluric nephropathy and include a diet low in oxalate and relatively high in calcium, fluid intake exceeding 1.5 L per m2 body surface area per day, treatment with probiotics containing oxalate degrading bacteria, and medications to increase urinary solubility of crystals (e.g., potassium citrate)[244]. Studies on the effect of probiotics on oxaluria have produced conflicting results. Intake of probiotics led to significant reduction of oxaluria in some studies[245,246], but had no effect on oxaluria in several other studies[247-249].
Specific measures targeted to the mechanism of hypercalciuria can be effective in patients with enteric hypercalciuria[244,250]. It is possible that probiotics may be useful in certain categories of patients with enteric hyperoxaluria, in particular, those who have altered enteric flora because of protracted courses of antibiotics, but this will require further study. A study by Toblli et al[251] reported that the angiotensin-converting enzyme inhibitor enalapril had a protective effect on the formation of tubulointerstitial lesions in rats fed ethylene glycol. Studies in humans with hyperoxaluria are needed to determine the effectiveness of this drug. Further studies are also needed to objectively assess the effectiveness of traditional herbal medications used for prevention or treatment of renal stones[252,253].
FUTURE RESEARCH
Our main reason for undertaking this review was to underscore the need for epidemiologic, biochemical and histologic studies of the effects of dietary hyperoxaluria on the development of CKD and end-stage renal disease (ESRD) across the globe. Occasional intake of nutritional foods high in oxalate has been advocated[254]. While doing so may have merit, neither the highest "safe" dose of oxalate nor whether this dose differs between individuals has been determined. However, the main concern is not with brief ingestion of a relatively high dose of oxalate, but instead with the effects of chronic ingestion of high doses of oxalate on renal function, which is common in several parts of the world (Table 1). Interestingly, several patients with documented CKD due to chronic dietary hyperoxaluria had ingested amounts of oxalate comparable to or even lower than the average values reported in certain parts of the world (Tables 1 and 3). Difficulties and delays with the recognition of hyperoxaluria as the cause of CKD and ESRD have been documented, even for the primary hyperoxalurias[101,103,105,255], where early appearance of symptoms and renal failure, oxalosis and a family history of recurrent nephrolithiasis, renal failure and oxalosis should lead one to the diagnosis. That retention of oxalate in patients with CKD from any etiology may result in renal deposition of calcium oxalate, secondary deterioration of the renal function and systemic toxicities has been recognized[256]. However, in a recent comprehensive review excessive dietary oxalate intake was not listed among the primary risk factors for CKD[257]. Appropriate studies in populations with high dietary oxalate intake have the potential to reduce the rates of CKD and ESRD by simple dietetic interventions (e.g., fluid intake, leaching of oxalate by soaking). Such studies should be encouraged.
Related to the need of studying the effects of oxalate intake on the development of CKD in various areas of the globe is the need to continue performing studies on genetic influences on oxalate absorption and excretion. Clinical and epidemiologic studies suggested that genetic influences can affect oxalate absorption and excretion[254,258-261]. Ongoing studies of genetic differences in intestinal and renal oxalate transporters[262-266] and of factors related to calcium metabolism[267] have the potential of leading to novel preventive and therapeutic modalities.
Future research should also include enzymologic and protein-structure studies aimed at identifying potential drugs that would either promote reductive metabolism of glyoxylate, the immediate precursor of oxalate, or inhibit oxidative enzyme-catalyzed reactions that increase oxalate production, for example the LDH reaction. Inhibiting LDH activity would reduce oxalate production and increase the levels of calcium glyoxylate and calcium glycolate which are 3 to 4 orders of magnitude more soluble in water than calcium oxalate. This approach is analogous to the treatment of gout where allopurinol inhibits xanthine oxidase activity, thereby reducing uric acid production and increasing the levels of much more water soluble xanthine oxidase substrates (e.g., hypoxanthine). The inflammasome NLP3 is an emerging potential target for new drug development NLP3[268].
CONCLUSION
Hyperoxaluria, regardless of its mechanism, can cause not only nephrolithiasis and nephrocalcinosis, but also AKI, CKD and ESRD. Research to verify or reject the hypothesis that chronic dietary hyperoxaluria is underrecognized as a cause of CKD and ESRD, particularly in global areas with high dietary oxalate consumption, has the potential of improving health, well-being and economy in these areas. This research should be combined with research on the genetics of oxalate transport, oxalate-induced mechanisms of disease and development of medications affecting these processes.
P- Reviewer: Lehtonen SH, Sakhaee K S- Editor: Wen LL L- Editor: A E- Editor: Lu YJ