Copyright
©The Author(s) 2022.
Published by Baishideng Publishing Group Inc. All rights reserved.
Hidden risks associated with conventional short intermittent hemodialysis: A call for action to mitigate cardiovascular risk and morbidity
Bernard Canaud, Allan Collins, Global Medical Office, Fresenius Medical Care, Bad Homburg 61352, Germany
Bernard Canaud, Department of Nephrology, Montpellier University, Montpellier 34000, France
Jeroen P Kooman, Department of Internal Medicine, Maastricht University, Maastricht 6229 HX, Netherlands
Nicholas M Selby, Maarten Taal, Centre for Kidney Research and Innovation, Academic Unit for Translational Medical Sciences, School of Medicine, University of Nottingham, Derby DE22 3DT, United Kingdom
Andreas Maierhofer, Pascal Kopperschmidt, Global Research Development, Fresenius Medical Care, Schweinfurt 97424, Germany
Susan Francis, Sir Peter Mansfield Imaging Centre, University of Nottingham, Nottingham NG7 2RD, United Kingdom
Peter Kotanko, Renal Research Institute, Icahn School of Medicine at Mount Sinai, New York, NY 10065, United States
Author contributions: All authors contributed equally to concept, writing, and revising of the manuscript.
Conflict-of-interest statement: Canaud B is acting as scientist consultant for FMC. No conflict of interest exists for other authors.
Open-Access
: This article is an open-access article that was selected by an in-house editor and fully peer-reviewed by external reviewers. It is distributed in accordance with the Creative Commons Attribution NonCommercial (CC BY-NC 4.0) license, which permits others to distribute, remix, adapt, build upon this work non-commercially, and license their derivative works on different terms, provided the original work is properly cited and the use is non-commercial. See:
https://creativecommons.org/Licenses/by-nc/4.0/
Corresponding author: Bernard Canaud, MD, PhD, Emeritus Professor, Global Medical Office, Fresenius Medical Care, 1 Else Kroner Str, DE-61352, Bad Homburg 61352, Germany. bernard.canaud@fmc-ag.com
Received: March 26, 2021
Peer-review started: March 26, 2021
First decision: October 17, 2021
Revised: October 30, 2021
Accepted: March 23, 2022
Article in press: March 23, 2022
Published online: March 25, 2022

The development of maintenance hemodialysis (HD) for end stage kidney disease patients is a success story that continues to save many lives. Nevertheless, intermittent renal replacement therapy is also a source of recurrent stress for patients. Conventional thrice weekly short HD is an imperfect treatment that only partially corrects uremic abnormalities, increases cardiovascular risk, and exacerbates disease burden. Altering cycles of fluid loading associated with cardiac stretching (interdialytic phase) and then fluid unloading (intradialytic phase) likely contribute to cardiac and vascular damage. This unphysiologic treatment profile combined with cyclic disturbances including osmotic and electrolytic shifts may contribute to morbidity in dialysis patients and augment the health burden of treatment. As such, HD patients are exposed to multiple stressors including cardiocirculatory, inflammatory, biologic, hypoxemic, and nutritional. This cascade of events can be termed the dialysis stress storm and sickness syndrome. Mitigating cardiovascular risk and morbidity associated with conventional intermittent HD appears to be a priority for improving patient experience and reducing disease burden. In this in-depth review, we summarize the hidden effects of intermittent HD therapy, and call for action to improve delivered HD and develop treatment schedules that are better tolerated and associated with fewer adverse effects.
Core Tip: In this in-depth review, we summarize the hidden effects of intermittent hemodialysis (HD) therapy, namely, dialysis sickness and dialysis related morbidity. We call for action to improve delivered HD and develop treatment schedules that are better tolerated and associated with fewer adverse effects. The final aim is to reduce cardiovascular burden and improve patient outcomes.
---
Citation: Canaud B, Kooman JP, Selby NM, Taal M, Maierhofer A, Kopperschmidt P, Francis S, Collins A, Kotanko P. Hidden risks associated with conventional short intermittent hemodialysis: A call for action to mitigate cardiovascular risk and morbidity. World J Nephrol 2022; 11(2): 39-57
---
INTRODUCTION
Conventional hemodialysis (HD) is a mature treatment that sustains life in almost 3 million patients with end stage kidney disease (ESKD) worldwide and provides a valuable bridging solution to kidney transplant[1-4]. However, by nature intermittent HD is an imperfect treatment that only partially corrects uremic abnormalities, increases cardiovascular risk, and is associated with a high disease burden[5-11]. The high treatment costs of renal replacement therapy represent in addition a significant health economic burden[12-14].
Recent evidence indicates that conventional high efficiency thrice-weekly intermittent HD schedules may be harmful to patients by provoking alternating cycles of fluid loading associated with cardiac stretching during the interdialytic period and fluid unloading that contribute to cardiac and vascular damage. This unphysiologic loading and unloading phenomenon combined with cyclical disturbances including osmotic and electrolytic shifts may contribute to dialytic morbidity and augment the health burden associated with the treatment of uremia[15-17].
Over past few years, several studies have emphasized the importance of ensuring optimal fluid volume and arterial pressure control, as well as adequately dosed and better tolerated dialysis therapy to improve patient outcomes[18]. The benefits of a dry weight first policy approach has been reinforced by interventional studies[19-21]. Fluid volume guidance has also been facilitated by means of supportive tools[22-24]. On the other hand, prospective clinical studies not only have documented that intermittent treatment might cause significant circulatory stress depending on treatment time and schedule[10,25-27], but have also shown that guided interdialytic and/or specific dialysis-based interventions might be able to reduce this risk[10,28,29].
However, few reports have focused on all aspects of dialysis patient management in a comprehensive way[30-32]. In this in-depth review, we summarize potential harmful effects of intermittent HD and propose solutions for achieving more cardioprotective and tolerable treatment.
INTERMITTENT EXTRACORPOREAL RENAL REPLACEMENT THERAPY IS THE SOURCE OF PERMANENT STRESS IN MAINTENANCE HD PATIENTS
CALL FOR DESIGNING AND APPLYING A MORE CARDIOVASCULAR PROTECTIVE HD TREATMENT
Optimizing hemodynamic management
The inevitable sodium and fluid accumulation that occurs during the interdialytic phase in anuric HD patients is responsible for chronic extracellular fluid overload with its adverse effects[153,154]. Hypertension is part of this constellation of disorders being recognized as the leading cause of cardiac and vascular disease in HD patients[19,20]. Management of fluid volume has been identified as a specific cardiovascular risk factor: On one hand, persistence of chronic fluid overload is independently associated with increased cardiovascular risk[155]; on the other hand, overly-rapid fluid volume reduction (i.e., ultrafiltration rate) and hypovolemia are also associated with an increased risk of cardiovascular mortality[10,156] (Figure 3).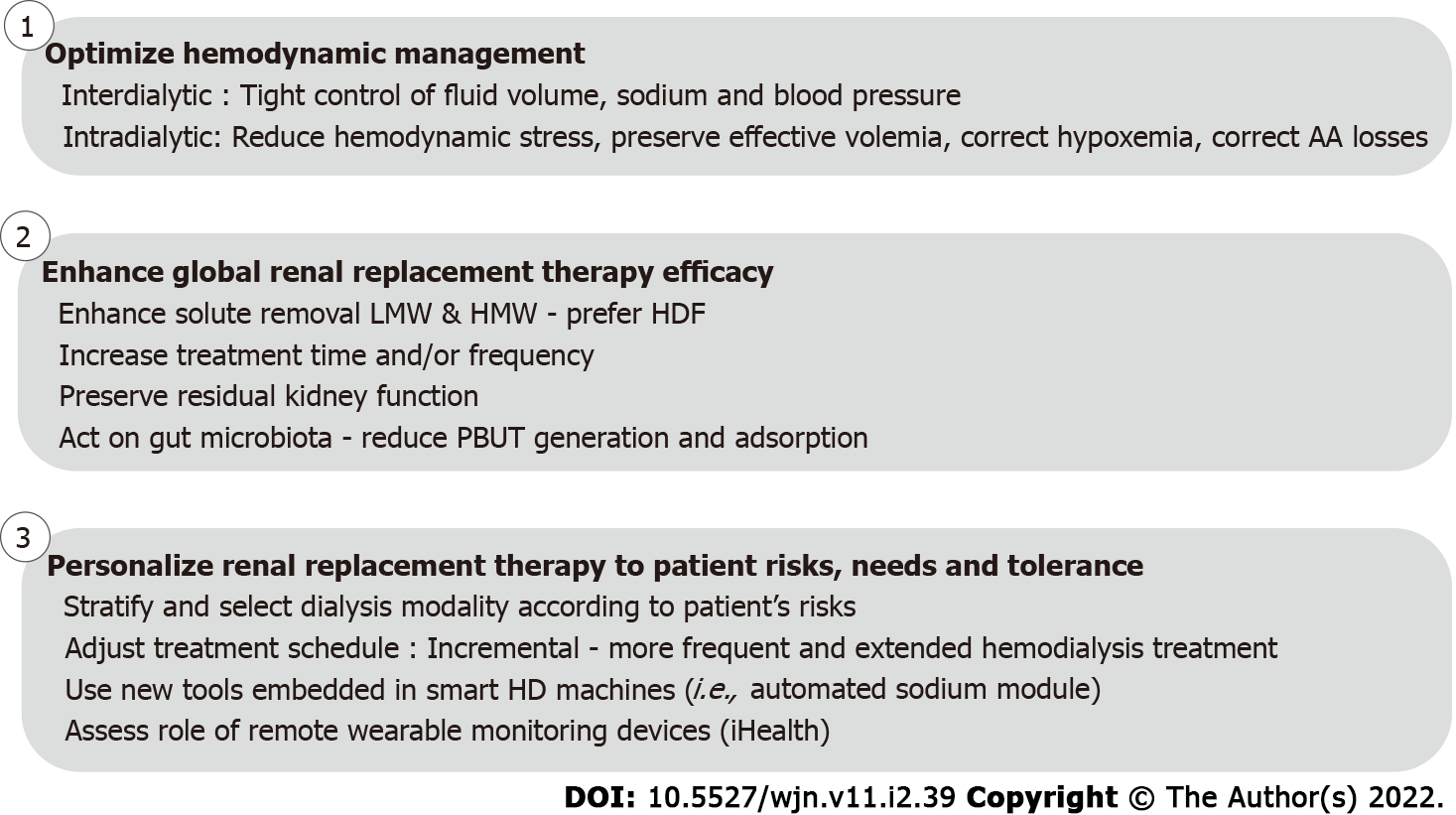 Figure 3 Action plan to design and implement a more cardioprotective renal replacement treatment in order to improve patient outcomes.
HD: Hemodialysis; PBUT: Protein bound uremic toxins; LMW: Low-molecular-weight; HMW: High-molecular-weight; HDF: On-line hemodiafiltration.
In other words, sodium and fluid volume homeostasis and blood pressure need to be managed more precisely during the interdialytic phase to achieve suitable targets. Additionally, hemodynamic stress secondary to volume contraction should be mitigated during dialysis by the use of appropriate tools and adjustment of the treatment schedule. Better monitoring of blood pressure and hemodynamics that are applicable to the clinical setting are also needed. This is a fundamental challenge of intermittent HD (Figure 3).
Improving sodium, fluid volume, and pressure management during the interdialytic phase: Salt and fluid management of the dialysis patient represents a major challenge for clinicians. A combined approach is needed that includes clinical management (a dry weight probing policy, e.g., ultrafiltration, dialysate sodium prescription, and diet education) supported by assessment tools (e.g., multifrequency bioimpedance and lung ultrasound)[157], cardiac biomarkers [e.g., B-type natriuretic peptide (BNP) and NTproBNP], HD technical options (e.g., sodium control module), and algorithms (e.g., artificial intelligence) using advanced analytics in the future[38,158] (Figure 3).
Reducing hemodynamic stress induced by HD: Intradialytic morbidity (i.e., fatigue, headache, cramps, hypotension, and alteration of cognitive function) is largely dependent on fluid removal (i.e., ultrafiltration) and dialysis efficiency (i.e., osmotic and solute concentration changes, and electrolytes shifts). The intensity and frequency of these symptoms also depend on patient characteristics (e.g., age, gender, and anthropometrics), metabolism, and body composition, and on the HD treatment schedule (e.g., treatment time and frequency). It is well recognized that longer and more frequent dialysis treatment schedules are better tolerated with reduced circulatory stress and slower osmotic and electrolytic changes, as compared to short and less frequent dialysis schedules[159,160]. In that respect, ultrafiltration rate, reflecting fluid volume removed per time unit, is a well-recognized cardiac risk factor in dialysis patients that also associates with mortality risk[40]. In addition, it reflects the fact that biochemical gradients and solute fluxes are reduced per time unit, as well as osmotic changes and water shifts occurring within the central nervous system (Figure 3).
In a stepwise approach, increasing treatment time and/or dialysis frequency should ideally represent the first and most rational step to reduce risks associated with ultrafiltration rate and osmotic changes in non-compliant or fragile patients[161]. As a next step, modulating patients' hemodynamic responses through various tools embedded in the HD machine is another appealing option[162]. Monitoring blood volume during dialysis sessions is useful to identify critical volemia, to estimate remaining fluid in the interstitium, or to quantify vascular refilling capacity[163], but it is not sufficient to manage patient hemodynamic response[164]. Instead, surveillance of central venous oxygen saturation (ScvO2) in patients with central venous catheters may indicate critical changes in organ perfusion before they result in clinical symptomatology. Interestingly, the decline in ScvO2 during dialysis has been correlated to ultrafiltration volume[165,166]. With arterio-venous fistula, near infrared spectroscopy, a non-invasive method, could be of interest to estimate tissue oxygenation[167]. Feedback controlled ultrafiltration system relying on blood volume changes has improved hemodynamic stability in selected studies, but so far has not improved patient outcomes and intradialytic morbidity[168,169]. Some studies have shown that using dialysate sodium and ultrafiltration profiling, with or without blood volume monitoring, may preserve intradialytic hemodynamic status but at the expense of an increased risk of subclinical salt loading, thirst, high interdialytic weight gain, and chronic fluid overload[170]. Adjusting dialysis thermal balance to preserve peripheral vascular resistance and cardiac output is also a simple strategy to improve hemodynamic tolerance that has been proven effective in several studies[171]. The main objective is to deliver isothermic or better, hypothermic dialysis, to prevent thermal gain during a dialysis session which is associated with an inappropriate hemodynamic response (vasodilation, tachycardia, and drop in ejection fraction)[172]. Hypothermic HD could be manually achieved by setting dialysate temperature 0.5-1 °C below the patient's core temperature. Automated thermal control of dialysis sessions requires the use of an online blood temperature monitor that can control precisely the thermal balance of patients to a preset target[173]. Both approaches reduce hypotension incidence (Figure 3).
Another important component of intradialytic morbidity relates to biochemical stress as reflected by the magnitude of dialysate-plasma solute gradient, a major determinant of solute fluxes[170,174-176]. Reducing instantaneous solute fluxes while keeping solute mass removal constant during dialysis session may be an interesting approach to reduce intradialytic morbidity. This issue could be easily addressed by reducing blood flow and increasing treatment time and/or frequency to slow instantaneous solute fluxes. This is a usual practice in Japan but it is not the most popular nor the most appealing in Western countries[177]. Another approach within the current short dialysis treatment schedule would be to continuously adjust flow parameters to reduce instantaneous solute fluxes while keeping solute mass transfer constant. Advanced technology will facilitate such an approach in the future, relying on microsensors positioned on dialysate side, feeding specific algorithms, and then providing feedback control to the HD monitor to adjust relative flows and gradients (Figure 3).
In summary, one should consider that fluid volume removal and solute fluxes (dependent in part on blood-dialysate concentration gradients) are potentially modifiable factors of the dialysis prescription (Figure 3).
Enhancing renal care efficacy
The limited efficiency of contemporary HD in restoring the internal milieu composition and in controlling circulating levels of middle and large molecular sized uremic toxins, has stimulated use of convective-based therapies (e.g., hemodiafiltration) and more porous membranes (i.e., high cut-off)[36]. Therefore, the so-called 'residual syndrome', reflecting incomplete removal of uremic toxins, is another potential contributor to patient morbidity and mortality[178,179] (Figure 3).
Enhancing treatment efficiency by combining high efficiency hemodiafiltration and extended treatment time has been shown in recent studies to be able to address most remaining issues in adults. In brief, extended on-line hemodiafiltration (HDF) treatment has been associated with tight control of fluid volume and blood pressure without antihypertensive medications, normalization of phosphate levels while phosphate binders were stopped, correction of anemia while erythropoietic stimulating agent consumption was reduced by 50%, and a significant improvement of nutritional status and physical activity[180,181]. Interestingly, in a pediatric population, extended HDF has been also shown to improve intermediary outcomes (i.e., fluid volume, blood pressure, inflammation, phosphate, and nutrition), to reduce cardiovascular disease progression, and to promote catch-up growth[182-184] (Figure 3).
Preserving residual kidney function is an important feature in dialysis patients since it is associated with a reduced disease and treatment burden and mortality[185-187]. Fluid volume and blood pressure control are usually better achieved with less dietary restriction[188]. Circulating levels of uremic toxins are significantly reduced, particularly for middle and large molecular weight substances but also for protein-bound uremic toxins[189]. In brief, all dialysis conditions, but particularly those ensuring a better hemodynamic stability, should be considered to prevent the repetitive ischemic kidney insults during HD[190] (Figure 3).
Acting on the gut to reduce protein-bound uremic toxin production has been recently suggested as a potential way of reducing circulating levels of protein bound uremic toxins (PBUT) such as indoxyl sulfate and paracresyl sulfate[191]. A few studies have confirmed positive effects of this option using either probiotics or adsorbers (AST120) administered orally in reducing plasma PBUT concentrations[192,193]. Unfortunately, published interventional studies have not confirmed potential long-term clinical benefits on patient outcomes[194] but further studies with better design and greater statistical power are warranted (Figure 3).
Personalizing renal replacement treatment schedule
Treatment schedule adaptation: A 'one–size–fits-all' approach is unlikely to work, and this should be kept in mind for optimizing renal replacement therapies in the future. Accordingly, dialysis prescription including treatment schedule (time and frequency), modality, dose, and efficiency[134,195,196], and electrolyte prescription should be tailored to patient profile, needs, and tolerance[197,198]. Furthermore, treatment prescription should be adapted over time to an individual patient's results in a personalized way to follow patient metabolic changes, treatment tolerance, and symptoms. Dialysis prescription should return to physiologic principles; it should not be the patient who must adapt to a fixed treatment, but the treatment should fit to the patient needs and tolerance instead.
In this context, the treatment schedules offered to patients should be expanded and become more flexible. It is not our intent to develop this concept further but to highlight recent interesting findings (Figure 3).
Incremental dialysis is an interesting concept that deserves more attention in particular in incident ESKD patients and in emerging countries[199]. It relies on the fact that HD acts as a complement to residual kidney function. In other words, the number of dialysis sessions and/or treatment time per week is inversely related to the glomerular filtration rate. Recent comprehensive reviews have addressed this issue to which we refer the interested reader for more details on clinical benefits and implementation[200]. In brief, incremental dialysis has the capacity to facilitate treatment implementation in new patients by reducing treatment burden, but also potentially to mitigate a shortage of renal replacement therapy resources in low and middle income countries (Figure 3).
Extended HD schedules (i.e., long and nocturnal dialysis, alternate day dialysis, and daily HD) appear particularly attractive in terms of improving outcomes[181]. Extended treatment schedules must be viewed from two aspects: On one hand, outcomes are favorable including with kidney transplant[195,201-204]; on the other hand, they increase treatment burden and cost, except if home HD is chosen[205]. In this context, to solve both logisitical and cost issues, it is therefore proposed to develop extended treatment schedules at home or in self-care facilities[206] (Figure 3).
Use of new tools for monitoring and adapting treatment prescription: A whole body bioimpedance cardiography (BIC) non-invasive device has been assessed in HD patients. BIC has interesting features to measure the hemodynamic response to fluid removal (e.g., cardiac output and total peripheral vascular resistance) during dialysis. Based on these findings, it has been suggested that dialysis patients might be clustered into various categories defined as low or high cardiac output, low or high total peripheral vascular resistance, or normal hemodynamics[207,208]. BIC has the potential to support physicians to individualize dialysis treatment, although this would need to be tested in interventional studies[208]. Approaches using BIC warrant further studies to validate measurements and explore impact on patient outcomes[209] (Figure 3).
More recently, lung ultrasononography (LUS) has been proposed as a point-of-care tool to complete physical examination[24,210,211]. Lung ultrasound is a noninvasive method to estimate extravascular lung water easily mastered by nephrologists that help to quantify lung congestion by counting B-lines per lung area unit (Comet line scoring). The "Lung water by ultrasound guided treatment to prevent death and cardiovascular complications in high risk ESRD patients with cardiomyopathy" study has shown the clinical value of LUS in the management of HD patients at high cardiovascular risk[212,213] (Figure 3).
A further tool to reduce intradialytic hemodynamic stress is the development of wearable non-pervasive methods for continuous blood pressure monitoring. This would allow detection of subtle changes in blood pressure to prompt interventions such as reduction of ultrafiltration rate to prevent hypotension. Recent work using additional pressure sensors placed on dialysis lines to derive blood pressure without the need for additional equipment attached to the patient, shows promise in this regard[214,215]. Considering the high cardiac mortality risk of HD patients (10 to 100 times greater than the general population)[216], it appears of utmost importance to pay closer attention to cardiovascular monitoring to ensure early and appropriate intervention for improving outcomes[49]. Interestingly, new remote technologies or so-called connected iHealth devices offer convenient new tools for monitoring high risk HD patients during the interdialytic period in a fully automated and ambulatory mode[217]. Detection of clinical significant arrhythmias would be one important functionality, as shown in recent studies[146,218] (Figure 3).
FUTURE DEVELOPMENT OF HD AND RENAL REPLACEMENT THERAPY
In order to reduce dialysis associated morbidity and to improve patient experience, three main approaches should be proposed and explored.
Designing and adapting HD treatment schedule to individual patient needs, tolerance, and risks
Aside from the introduction of more flexible treatment schedules, recent studies have also shown the potential interest of stratifying patients according to their risks at short or medium term outcomes[219,220]. A better understanding of patient risks could help physicians to prescribe more appropriate and individualized therapy. Also, scoring systems could be tested as supports to alter specific treatment prescription features in an attempt to reduce early mortality of ESKD patients transitioning to dialysis.
Using automated systems embedded in intelligent dialysis machines
The technology relies on the combination of patient biologic sensors coupled to a feedback control loop and governed by adaptive algorithms embedded in the dialysis machine. The first example is the sodium control module that has been assessed and validated in clinical trials[72,221]. Using continuous conductivity cell measurements on inlet and outlet dialysate flow, an embedded algorithm controls plasma sodium concentration changes (i.e., tonicity) and allows precise monitoring of plasma sodium concentration and sodium mass removal occurring within dialysis session. Interestingly, sodium mass transfer and plasma tonicity rely on an automated and self-adapting function that follows medical prescription setting. Further outcome based studies are needed to establish clinical benefits to patients and the device's clinical added value[222].
Combined use of connected iHealth devices, advanced analytics, and artificial intelligence will be able to support medical decision making and to predict future outcome
Personalized medicine relying on iHealth trackers, advanced analytics, and artificial intelligence (artificial neuronal networks and machine learning) may allow identification of patients at increased risk. In this respect, the use of such tools will be able to support physician decision-making for individual patients to select the most appropriate treatment modality or suitable technical approach (i.e., ultrafiltration rate and dialysate sodium) to reduce cardiovascular burden[223,224]. Furthermore, iHealth trackers and machine learning support may also be applied to continuous vital signs monitoring and other intra-dialytic hemodynamic variables. The ultimate goal is to detect or predict the occurrence of future clinical events with sufficient precision and time to intervene. Such iHealth trackers seem particularly attractive to monitor arrythmias and maybe to help prevent sudden cardiac death[217]. In brief, the paradigm of precision medicine appears particularly relevant to renal replacement therapy for designing a personalized, more effective, better tolerated, and more acceptable HD treatment[225].
CONCLUSION
In this in-depth review, we have summarized factors that are implicated in the cardiovascular and multi-organ morbidity associated with conventional short intermittent HD treatment schedules. Hidden risks result mainly from the conjunction of two main phenomena: First, the intermittent nature of the treatment that is responsible for an unphysiologic profile (illustrated by peaks and troughs reflecting fluctuation of internal milieu composition) and a multifactorial systemic stress; second, the incomplete correction of uremic metabolic abnormalities that may be summarized as "residual syndrome". Such systemic stress induced by HD treatment is likely implicated in the poor dialysis tolerance and end-organ injury contributing to the DS syndrome. We summarize this cascade of events as the dialysis stress storm and sickness syndrome (D4S) and propose that D4S may act as a negative disease modifier of patient outcome.
Mitigating cardiovascular burden in HD requires further concerted actions to change the treatment paradigm. Such an approach will have multiple targets that should ideally include optimizing hemodynamic management both during the inter- and intra-dialytic phase, enhancing renal replacement therapy efficacy, and personalizing treatment schedule with use of new monitoring tools.
Provenance and peer review: Invited article; Externally peer reviewed.
Peer-review model: Single blind
Corresponding Author's Membership in Professional Societies: Francophone Society of Nephrology, Dialysis and Transplant; ERA - EDTA; ISN; American Society of Nephrology.
Specialty type: Urology and nephrology
Country/Territory of origin: Germany
Peer-review report's scientific quality classification
Grade A (Excellent): A
Grade B (Very good): 0
Grade C (Good): 0
Grade D (Fair): 0
Grade E (Poor): 0
P-Reviewer: Patoulias D, Greece S-Editor: Wang JJ L-Editor: Wang TQ P-Editor: Wang JJ