Copyright
©The Author(s) 2016.
Published by Baishideng Publishing Group Inc. All rights reserved.
Twenty years of human immunodeficiency virus care at the Mayo Clinic: Past, present and future
Nathan W Cummins, Andrew D Badley, Mary J Kasten, Rahul Sampath, Zelalem Temesgen, Jennifer A Whitaker, John W Wilson, Joseph D Yao, John Zeuli, Stacey A Rizza, Division of Infectious Diseases, Mayo Clinic, Rochester, MN 55905, United States
Author contributions: Cummins NW and Rizza SA designed the research; Cummins NW, Sampath R and Yao JD performed the research and analyzed the data; all authors contributed to writing the manuscript.
Supported by CTSA (in part) from the National Center for Advancing Translational Sciences (NCATS), No. UL1 TR000135; a component of the National Institutes of Health (NIH), as well as NIH, No. 1R01AI110173-01; its contents are solely the responsibility of the authors and do not necessarily represent the official view of NIH.
Conflict-of-interest statement: The authors declare no conflicts of interest.
Open-Access: This article is an open-access article which was selected by an in-house editor and fully peer-reviewed by external reviewers. It is distributed in accordance with the Creative Commons Attribution Non Commercial (CC BY-NC 4.0) license, which permits others to distribute, remix, adapt, build upon this work non-commercially, and license their derivative works on different terms, provided the original work is properly cited and the use is non-commercial. See: http://creativecommons.org/licenses/by-nc/4.0/
Correspondence to: Nathan W Cummins, MD, Division of Infectious Diseases, Mayo Clinic, 200 1st Street SW, Rochester, MN 55905, United States. cummins.nathan@mayo.edu
Telephone: +1-507-2843747
Received: January 8, 2016
Peer-review started: January 12, 2016
First decision: March 1, 2016
Revised: March 5, 2016
Accepted: March 24, 2016
Article in press: March 25, 2016
Published online: May 12, 2016

The Mayo human immunodeficiency virus (HIV) Clinic has been providing patient centered care for persons living with HIV in Minnesota and beyond for the past 20 years. Through multidisciplinary engagement, vital clinical outcomes such as retention in care, initiation of antiretroviral therapy and virologic suppression are maximized. In this commentary, we describe the history of the Mayo HIV Clinic and its best practices, providing a "Mayo Model" of HIV care that exceeds national outcomes and may be applicable in other settings.
Core tip: In this minireview, we describe the Mayo Clinic model of human immunodeficiency virus (HIV) care that has evolved over 20 years of caring for persons living with HIV. Multidisciplinary, team-based engagement at each clinic visit is essential to providing optimal longitudinal care of these patients.
---
Citation: Cummins NW, Badley AD, Kasten MJ, Sampath R, Temesgen Z, Whitaker JA, Wilson JW, Yao JD, Zeuli J, Rizza SA. Twenty years of human immunodeficiency virus care at the Mayo Clinic: Past, present and future. World J Virol 2016; 5(2): 63-67
---
HUMAN IMMUNODEFICIENCY VIRUS IN MINNESOTA
Minnesota (MN) has a low prevalence of human immunodeficiency virus (HIV) infection when compared to most other US States. However, new HIV diagnoses in MN occurred at a rate of 7.2 per 100000 persons in 2011, the highest rate in the upper mid-west states (North Dakota, South Dakota, Iowa and Wisconsin) (http://www.cdc.gov/hiv/pdf/statistics_2011_HIV_Surveillance_Report_vol_23.pdf#Page=68 accessed 6/10/15). Male to male sex remains the most common risk factor for HIV in MN; however, heterosexual transmission is the most common risk factor for women. Women are increasing in the HIV positive population in the US and MN, with 24% of persons living with HIV (PLHIV) in MN being female (http://www.health.state.mn.us/divs/idepc/diseases/hiv/hivstatistics.html accessed 3/26/2015). Nearly 20% of newly HIV-diagnosed persons are immigrants to the United States. Women of color (non-Caucasian) represent 17% of the female population in MN but comprise 73% of new HIV diagnoses among women. African born women are diagnosed with HIV at the highest rate of any ethnic group and accounted for one third of new diagnosis among women in 2013 (http://www.health.state.mn.us/divs/idepc/diseases/hiv/epiprofile/women.html accessed 6/10/15). MN and the nation have made great strides in preventing perinatal infection and each year an increasing number of HIV positive women are delivering uninfected babies. The rate of perinatal infection of babies born to HIV positive women in MN between 2010 and 2012 was 1.7% (http://www.health.state.mn.us/divs/idepc/diseases/hiv/hivstatistics.html accessed 3/26/2015), usually resulting from a lack of prenatal care or appropriate treatment of mothers prior to delivery.
Although deaths have significantly decreased from acquired immune deficiency syndrome (AIDS), the incidence of new AIDS diagnosis has remained stable. One third of all new HIV infection cases diagnosed in MN have AIDS or progress to AIDS within one year of diagnosis. Health disparities exist, with African born individuals and Hispanics being much more likely to be diagnosed later than Whites, and African Americans (http://www.health.state.mn.us/divs/idepc/diseases/hiv/hivstatistics.html accessed 3/26/2015). The lack of routine HIV screening upon immigration since 2010 has likely contributed to late diagnosis among African born individuals[1].
HISTORY OF THE MAYO HIV CLINIC
The evolution of HIV care at Mayo Clinic is comparable to other referral centers in the United States. Early cases of AIDS were seen, and the focus was on identifying their immune deficiency-related infections and conditions. There was fear of contagion by the public and medical professionals alike. There was no diagnostic test to identify the condition and the risk of transmission in the medical care setting was not defined in the early 1980s.
HIV was identified as the cause of AIDS in 1983, and the first HIV antibody test was licensed by the United States Food and Drug Administration in March 1985. Early in the epidemic, PLHIV seen at Mayo Clinic were primarily men who have sex with men. They had the typical opportunistic infections associated with HIV: Pneumocystis pneumonia, disseminated Mycobacterium avium complex disease, histoplasmosis, cytomegalovirus, and central nervous system toxoplasmosis. Patients were managed in the in-patient setting with the assistance of the infectious diseases consulting service. The management of their illness was restricted to treating the opportunistic infections, as there was no anti-retroviral therapy available at that time. Mortality was high; most PLHIV died within 6-12 mo of presenting to a medical center.
As the epidemic progressed, so did the knowledge about the virus that causes it, how it is transmitted, and how it causes diseases. The broad impact of the HIV epidemic on other risk groups, including persons with hemophilia, injection drug users, and those who acquire infection through heterosexual transmission was recognized. With the availability of diagnostic testing, more patients were identified at an earlier stage than in the prior years. Outpatient care began to expand. Until the establishment of the Mayo HIV Clinic formally in 1996, HIV care was provided by a handful of infectious diseases physicians, primary care physicians and hematologists. Among the first groups to be involved with HIV care at Mayo was the Infection Prevention and Control group, which formed an AIDS Committee, worked on infection precaution measures related to patients suspected with HIV, educated healthcare workers about HIV, and formulated a blood and body fluid exposure policy. The first multidisciplinary team approach to HIV care was established in the hemophilia clinic. When the HIV test became available, hemophiliac patients were tested for HIV, allowing for detection of HIV at an earlier stage. The HIV care team for these patients consisted of a hematologist, an infectious diseases physician, and a social worker.
The development of the first antiretroviral drugs brought much-needed hope to PLHIV. However, these early drugs were not as effective as current therapies and introduced additional complexity to HIV care-management of often severe adverse drug effects as well as increasing antiviral resistance. Potent antiretroviral drugs and the ability to monitor viral loads in the clinic setting became available in the mid-1990s. With the recognition that combination antiretroviral therapy (cART) is the right approach to treat HIV infection, the tide of the HIV epidemic began to turn. The recognition that the number of people infected and affected by HIV was large and expanding, and that HIV infection is a highly complex disease that requires a focused and multidisciplinary approach, led to the establishment of a formal and dedicated HIV clinic at Mayo Clinic in 1996.
CURRENT STRUCTURE AND ORGANIZATION
Population and demographics
Since the inception of the Mayo HIV Clinic, it has cared for over 1400 PLHIV. Now, more than 400 individuals receive regular care at the Mayo HIV Clinic. The majority of the patients live in Central or Southern MN; however, a number of patients come from around the nation or the world. In addition to providing regular HIV care, the Mayo HIV Clinic also provides consultative care for PLHIV while they are at Mayo for treatment of other medical conditions.
Structure and organization of the Mayo HIV Clinic
The Mayo HIV Clinic is run by a multi-disciplinary team, which provides minimally disruptive care[2] to cater to each patient's needs. Each patient is assigned to an infectious disease fellow as his or her primary HIV provider. Seven consultant physicians who specialize in HIV treatment supervise fellows. As HIV has transformed into a chronic medical condition with which patients live for decades, they often require subspecialty medical care. Therefore, formal relationships have been established with providers in Obstetrics and Gynecology, Endocrinology, Nephrology and Colorectal Surgery who are knowledgeable in HIV and provide informed subspecialty care.
Medical evaluations of the patient at the first visit and subsequent visits generally follow United States national guidelines (https://aidsinfo.nih.gov/guidelines). On average, a patient who is doing well will be seen in the HIV Clinic every three months for laboratory testing, a physician visit with their fellow, and visits with other members of the multi-disciplinary team (discussed below). These additional services are supported through United States federal Ryan White Medical HIV Care Management and Ryan White Transportation grants administered through the Minnesota Department of Human Services.
Additional services provided by the Mayo HIV Clinic
When a person has been potentially exposed to the HIV virus, providing HIV post-exposure prophylaxis using combination antiretroviral therapy can significantly reduce the risk of transmission. Since HIV providers are facile with the risks of HIV transmission and HIV medications, any person potentially exposed to HIV as a result of a health care related blood or body fluid exposure or a sexual assault is provided an appointment in the HIV clinic within one business day of exposure for an evaluation, education and medications if needed as well as follow up testing. In addition, the Mayo HIV Clinic has a pre-exposure prophylaxis program, through which persons who are at high risk for acquiring HIV through sexual transmission or injection drug use are evaluated for starting anti-retroviral medicines to prevent HIV acquisition.
MULTIDISCIPLINARY ENGAGEMENT
The Mayo HIV Clinic relies on multi-disciplinary engagement from a team of providers including infectious disease fellows and consultants, a dedicated nurse, three social workers with expertise in HIV-case management, and a specialty pharmacist. Mental health care is available in the HIV clinic by a dedicated psychiatrist. This model of in-house mental health care facilitates the uptake of mental health care in our patients and communication between providers.
Many HIV clinics have such a team who are involved in the care of their patients. However, one of the unique features that the Mayo model utilizes is team-based multidisciplinary rounds for each patient. Patients have a visit with a nurse, a physician, a pharmacist, and a social worker. Cases are discussed at a round-table meeting that includes each of these providers. Insights and suggestions for optimizing patient care are shared, including factors affecting medication adherence, virologic suppression, and retention in care. Additionally, this model offers a system of "checks and balances" whereby each member of the team helps to improve quality of care and optimize patient outcomes (Figure 1). Privacy and confidentiality are very important parts of the multidisciplinary care provided by the clinic. To ensure confidentiality, only a limited number of individuals have access to protected health information, and these multidisciplinary interactions occur in a private work room in the clinic separate from the examination rooms.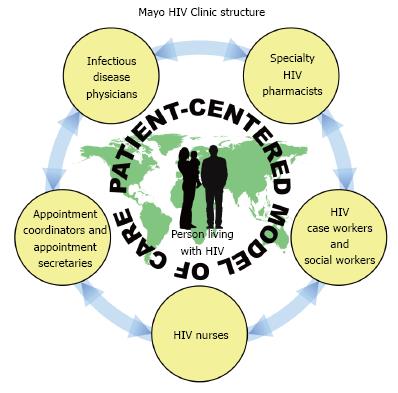 Figure 1 The Mayo human immunodeficiency virus Clinic structure.
The Mayo human immunodeficiency virus (HIV) Clinic provides a model of multidisciplinary, patient-centered care.
The nurse assists providers with preventive health tasks, including immunizations which are administered in clinic, phone triage, and patient education. The social workers screen each new patient to the clinic. The social workers address mental health needs, education needs, support for families and significant others, financial needs, intimate partner violence, risk reduction counseling, legal issues, disclosing HIV-infection status to others, issues related to stigma, and assist the patient with identifying and accessing community resources. Patients who are at < 300% of the United States federally defined-poverty level and who have mental health, chemical dependency, financial needs, or other barriers to care qualify for intensive HIV case management through the Minnesota Department of Health. Patients who do not meet these criteria can still receive less intensive social work services based on individual needs.
The role of the pharmacist is critical to optimize adherence, maximize virologic suppression in our HIV population, and ultimately improve HIV patient outcomes. Within our care model, the pharmacist visits with every patient in conjunction with his or her physician appointment for routine HIV care. The pharmacist verifies the pharmacies where patients fill their HIV and non-HIV medications; performs medication reconciliation; screens for and identifies medication/supplement interactions; and verifies appropriate administration of cART. The pharmacist assesses adherence and identifies concerns that could affect routine adherence. Finally, the pharmacist provides adherence appropriate interventions and assistance with tools to enhance, optimize, or correct adherence problems. The pharmacist also provides a follow-up phone call one week after initiating or changing medication therapy to patients. The pharmacist aids the HIV care team by assisting with clinical and administrative tasks, including institutional formulary review of HIV medications upon request, selection of appropriate ART for salvage therapy, collaborates with the care team to assist with drug therapy decisions for our patients, and provides drug therapy information/education for staff, residents, and fellows.
COLLABORATION WITH PRIMARY CARE PROVIDERS AND INTEGRATION ACROSS THE MIDWEST PRACTICE
The Mayo HIV Clinic provides both HIV management and some primary care services for patients within Central and Southeast MN. For patients not living within that region, our clinic delivers HIV care through developing co-management partnerships with patients' local primary care providers (PCPs). These local PCPs typically manage primary care and more emergent medical assessments. Most PCPs, however, are not equipped to provide specialty care to PLHIV. The Mayo HIV Clinic fulfills this role while informing the local PCP of the HIV management-care plans. The result is bidirectional and functional open lines of communication. Patients maintain a central role in reinforcing and supplementing the provider-to-provider communication strategies. Many patients cherish the relationships and trust they have developed with their local health providers; a diagnosis of HIV infection should not compromise this. The dialogue established between Mayo Clinic and local PCPs enables their inclusion into an expanded Mayo HIV "care team" for continued and optimized care of their patients.
In addition to its Rochester campus, Mayo Clinic also operates hospitals and outpatient clinics within the Mayo Clinic Health System, located in over 60 communities across the upper Midwest, and supports the Mayo Clinic Care Network, involving institutional partnerships with 30 other medical centers across the United States, including Puerto Rico and Mexico. Successful HIV care delivery within medical centers requires a close HIV team-collaboration among local PCPs and their continued vital roles in the care for their patients. Supplemental opportunities for PCPs in any location within the Mayo Clinic Health System and Mayo Clinic Care Network to connect with the Mayo HIV Clinic team include formal electronic consultations (eConsults), access to the web-based AskMayoExpert and through telemedicine consultations in select locations.
OUTCOMES AND THE HIV CARE CASCADE
cART saves lives, but unfortunately only approximately one quarter of PLHIV in the United States are successfully treated with cART and benefit from this lifesaving therapy. There are a number of biopsychosocial barriers to achieving this goal along the "HIV Care Cascade", which is defined as the critical steps in the identification and treatment of PLHIV. The elements of the Care Cascade include: (1) Diagnosis of HIV infection; (2) Referral to a specialist, or "Linkage to care"; (3) Regular engagement in clinical care; (4) Initiating cART; and (5) Virologic suppression, or therapeutic control of viral replication with effective cART. CDC statistics from 2011, the most recent year data was available and analyzed, revealed that 86% of PLHIV in the United States were aware of their diagnosis; 40% were engaged in care; 37% were prescribed ART; and 30% achieved viral suppression[3].
To define the Mayo HIV Clinic Cascade of Care, we conducted a retrospective review of incident HIV diagnoses based on first time positive HIV Western Blot or fourth generation enzyme-linked immunosorbent assay testing, or first time positive HIV nucleic acid testing, collected at Mayo Health System sites in Olmsted and the surrounding counties of Goodhue, Wabasha, Dodge, Winona, Mower, Fillmore and Houston, and performed at Mayo Medical Laboratories from 1/1/10-10/31/14. The study was approved by the Mayo Clinic Institutional Review Board (IRB# 14-006660), and medical records were reviewed (only if research authorization was not refused) according to institutional and state requirements. During the study time period, 50 new diagnoses of HIV infection were made in the local region. Forty-two (84%) were linked to care, as defined by referral for HIV specialty care and at least one clinic visit within 3 mo of diagnosis. Thirty-six (72%) were engaged in care, as defined by at least 2 clinic visits at least three months apart within the first year after diagnosis. Thirty-six (72%) were prescribed cART, and 30 (60%) achieved a plasma HIV RNA viral load < 50 copies/mL, i.e., were virologically suppressed, within 6 mo of initiating therapy. Despite some variation in the absolute definitions of the steps along the Cascade of Care making direct comparisons challenging, these numbers far surpassed United States national levels noted above. Therefore, it is evident that the Mayo HIV Clinic excels in clinical outcomes for PLHIV through improved engagement in care and penetrance of effective cART.
RESEARCH PARTICIPATION
The Mayo HIV Clinic regularly engages in both investigator and sponsor initiated research studies. These research studies range from biomedical discovery using patient-derived biologic samples to site participation in large multinational randomized clinical trials[4,5]. The Mayo HIV Clinic is a clinical site for several past and present International Network for Strategic Initiatives in Global HIV Trials clinical trials and prospective cohort studies. In general, the patients of the Mayo HIV Clinic are highly motivated, engaged and enthusiastic participants in research studies.
CONCLUSION
Over its twenty-year history, the Mayo HIV Clinic has developed a unique model of patient-centered care for PLHIV in Central and Southeast MN and elsewhere through multi-disciplinary engagement with patients and PCPs. While this multidisciplinary approach may be unique to the Mayo HIV Clinic, it is likely that adoption of a similar model, or portions thereof, by HIV providers in other locations may improve the health and quality of life for PLHIV outside of MN.
ACKNOWLEDGMENTS
We would like to thank the nurses, case workers, appointment coordinators and appointment secretaries for their hard work and dedication to the patients of the Mayo HIV Clinic.
P- Reviewer: Borkow G, Gokul S, Louboutin JP S- Editor: Ji FF L- Editor: A E- Editor: Lu YJ