Copyright
©The Author(s) 2023.
Published by Baishideng Publishing Group Inc. All rights reserved.
Immune-mediated liver injury following COVID-19 vaccination
Georgios Schinas, Department of Medicine, University of Patras, Patras 26504, Greece
Eleni Polyzou, Vasiliki Dimakopoulou, Stamatia Tsoupra, Charalambos Gogos, Karolina Akinosoglou, Department of Internal Medicine, University of Patras, Patras 26504, Greece
Author contributions: Akinosoglou K and Gogos C conceived the idea; Schinas G performed the literature search, reviewed data, and wrote the manuscript; Polyzou E, Dimakopoulou V, and Tsoupra S performed the literature search and reviewed data; Akinosoglou K and Gogos C critically corrected the manuscript; Akinosoglou K revised the manuscript
Conflict-of-interest statement: All the authors report no relevant conflicts of interest for this article.
Open-Access
: This article is an open-access article that was selected by an in-house editor and fully peer-reviewed by external reviewers. It is distributed in accordance with the Creative Commons Attribution NonCommercial (CC BY-NC 4.0) license, which permits others to distribute, remix, adapt, build upon this work non-commercially, and license their derivative works on different terms, provided the original work is properly cited and the use is non-commercial. See:
https://creativecommons.org/Licenses/by-nc/4.0/
Corresponding author: Karolina Akinosoglou, MD, PhD, Associate Professor, Department of Internal Medicine, University of Patras, 5th floor, University General Hospital of Patras, Patras 26504, Greece. akin@upatras.gr
Received: October 11, 2022
Peer-review started: October 11, 2022
First decision: November 15, 2022
Revised: November 23, 2022
Accepted: January 23, 2023
Article in press: January 23, 2023
Published online: March 25, 2023

Liver injury secondary to vaccination is a rare adverse event that has recently come under attention thanks to the continuous pharmacovigilance following the widespread implementation of coronavirus disease 2019 (COVID-19) vaccination protocols. All three most widely distributed severe acute respiratory syndrome coronavirus 2 vaccine formulations, e.g., BNT162b2, mRNA-1273, and ChAdOx1-S, can induce liver injury that may involve immune-mediated pathways and result in autoimmune hepatitis-like presentation that may require therapeutic intervention in the form of corticosteroid administration. Various mechanisms have been proposed in an attempt to highlight immune checkpoint inhibition and thus establish causality with vaccination. The autoimmune features of such a reaction also prompt an in-depth investigation of the newly employed vaccine technologies. Novel vaccine delivery platforms, e.g., mRNA-containing lipid nanoparticles and adenoviral vectors, contribute to the inflammatory background that leads to an exaggerated immune response, while patterns of molecular mimicry between the spike (S) protein and prominent liver antigens may account for the autoimmune presentation. Immune mediators triggered by vaccination or vaccine ingredients per se, including autoreactive antibodies, cytokines, and cytotoxic T-cell populations, may inflict hepatocellular damage through well-established pathways. We aim to review available data associated with immune-mediated liver injury associated with COVID-19 vaccination and elucidate potential mechanisms underlying its pathogenesis.
Core Tip: Following the worldwide implementation of severe acute respiratory syndrome coronavirus 2 (SARS-CoV-2) vaccination protocols, several reports suggest an increase in the occurrence of autoimmune phenomena involving the liver. Studies on vaccine-induced liver injury point to a specific pattern of hepatocellular injury that involves immune-mediated pathways. This minireview explores the underlying pathophysiology of immune-mediated liver injury following SARS-CoV-2 vaccination and examines the most widely distributed vaccine formulations' autoimmune and hepatotoxic potential.
---
Citation: Schinas G, Polyzou E, Dimakopoulou V, Tsoupra S, Gogos C, Akinosoglou K. Immune-mediated liver injury following COVID-19 vaccination. World J Virol 2023; 12(2): 100-108
---
INTRODUCTION
As of August 4, 2022, approximately 5.3 billion people around the world have received at least one dose of the severe acute respiratory syndrome coronavirus 2 (SARS-CoV-2) vaccine. Widespread implementation of vaccination protocols has successfully contained the spread of the pandemic and has reduced the disease burden for patients and health systems alike[1]. Newly employed vaccination platforms, e.g., mRNA- and adenovirus (AdV)- based formulations, have achieved high efficacy rates combined with a good safety profile[2]. SARS-CoV-2 vaccines have undergone the most intensive safety monitoring in the history of mankind. Both active and passive monitoring systems have been employed in order to timely detect and properly identify adverse events related to vaccination[3,4]. This worldwide vigilance has proved fruitful for epidemiological purposes and has been instrumental in ensuring public support for vaccination. Most frequently reported adverse events have been mild in nature and local in character. They primarily concern injection site-related reactions, e.g., topical pain and redness or generalized systemic symptoms, like fever and fatigue[5,6]. As far as serious, organ-specific adverse events are concerned, a very low risk of myocarditis mainly in younger individuals has been linked to vaccination with an mRNA vaccine, whereas adenoviral vector vaccines have been associated with incidents of thrombosis accompanied by thrombocytopenia and possibly Guillain–Barré Syndrome (GBS) cases. A rather rare side effect that has recently come under attention is that of liver injury following vaccination with a SARS-CoV-2 vaccine.
Drug-induced liver injury (DILI), under the umbrella of which such a clinical syndrome would initially be examined, is characterized by new-onset, profound increases in liver function enzyme levels. According to the latest expert panel update, this is defined as a ≥ 5 × upper limit of normal (ULN) elevation of alanine (ALT) or aspartate aminotransferase (AST) and/or ≥2× ULN increase in alkaline phosphatase (ALP) levels or ALT/AST ≥ 3 × UNL and bilirubin ≥ 2 × ULN[7]. Upon removal of the offending agent, most cases of DILI are usually self-contained; corticosteroids are sometimes added to the therapeutic regimen if autoimmune features are demonstrated. In fact, most of the reported cases' clinical and histological features closely resemble those encountered in autoimmune hepatitis (AIH)[8,9], steering the focus of the causality investigation onto the immune-mediated background of the reaction. However, it remains unclear whether the reported association of AIH with vaccination is coincidental, represents unique SARS-CoV-2-induced antigen-specific immune activation or is associated with transient drug-induced liver injury. In this study, we aim to review underlying mechanisms driving immune-mediated liver injury following COVID-19 vaccination and discuss potential implications
METHODS
We carried out broad searches of PubMed, Scopus, and Embase between 1 January 2021 and 1 September 2022 to identify literature describing immune-mediated liver injury or autoimmune hepatitis following COVID-19 vaccination. Relevant publications were identified based on the titles and abstracts. No restriction on the type of paper or language was set, even though the main focus was put on underlying mechanisms. Two reviewers independently screened all titles/abstracts and hand-searched references of retrieved articles. Data were assessed for their quality based on overall judgement and not aggregate scores. Disagreements were discussed and resolved and duplicates were removed.
VACCINE-INDUCED AUTOIMMUNITY
Throughout the vaccine rollout period, there have been reported cases of presumed AIH that were attributed to COVID-19 vaccination because they were observed shortly after either the first or second dose of the vaccine, with the initial case described as early as January 2021[10]. AIH is part of a diverse group of chronic inflammatory liver conditions that include primary biliary cholangitis and primary sclerosing cholangitis, and its complex pathophysiology involves underlying genetic predisposition and interactions with environmental triggers[11]. Viral infections, drug exposure, and vaccinations have been implicated in the pathogenesis of AIH[12]. AIH had fallen under the radar during the phase 3 clinical trials of all vaccines, and like every other rare adverse event, much debate has ensued over its association with the vaccination. New onset autoimmune reactions following vaccination have previously been described in the literature[13]. Both Hepatitis A and Hepatitis B vaccines have been linked to the development of AIH-like conditions[14]. Human papillomavirus, Hepatitis B, and Influenza vaccines have been held accountable for autoimmune reactions[15,16]. Molecular mimicry theory has been the platform upon which causality with vaccination has been determined[17]. It has been hypothesized that individuals with a genetic predisposition to autoimmunity undergo vaccination, and similarly to other environmental inputs, e.g., smoking and nutrition, their immune tolerance becomes compromised. Reportedly, susceptible groups include those with systemic lupus erythematosus, GBS, multiple sclerosis, and narcolepsy. Concerning SARS-CoV-2 vaccination, immune-based phenomena such as GBS, IgA nephropathy, immune thrombotic thrombocytopenia, and myocarditis have been linked to both novel vaccine platforms, i.e., mRNA- and AdV-based formulations[18].
VACCINE-INDUCED LIVER INJURY
As of early 2021, case reports of documented AIH following COVID-19 vaccination have begun to emerge[19-21]. We estimate that AIH related to COVID-19 is almost 1 in 14 million, even though we do acknowledge that many cases remain undocumented[19]. Data mostly deriving from comprehensive case-series reporting liver injury following vaccination with SARS-CoV-2 vaccines, point to the fact that most cases are in fact, immune-related, with 57% of all patients displaying both autoantibody presence and IgG hyperglobulinemia. They mostly affected elderly females, with most of the reports originating from European countries, followed by the United States[20]. The mean time of symptom onset is close to three weeks following the first vaccination, with some individuals presenting as early as 3 d after and others coming in as late as a month later, suggesting some heterogeneity in the underlying response mechanism. The mean duration between receiving the first or second vaccine dose and subsequent onset of liver injury was 17.3 (11.2–23.4) days and was mostly associated with mRNA vaccines, possibly to their stronger immunogenic potency[20]. The presence of underlying autoimmune diseases (e.g, Hashimoto thyroiditis, primary sclerosing cholangitis) is evident in approximately 25% of patients and could explain temporal and spatial differences in manifestations and prevalence, respectively, according to genetic predispositions[22]. Antinuclear antibody (ANA) was by far the most prevalent autoantibody, followed by spinal muscular atrophy and anti-myocardial antibody (AMA), resembling a type 1 AIH pattern. Biopsy findings were also consistent with AIH in most individuals. Around 1/3 of those who did not undergo the diagnostic procedures fit the clinical profile of AIH. Icteric manifestations, including jaundice, choluria, and pruritus, account for around 2/3 of all presentations. Outcomes were similar in all three vaccine products, i.e., BNT162b2, mRNA-1273 and ChAdOx1 nCoV-19. Although recovery time varied greatly among study populations, the mean time for transaminase normalization was calculated at 46 d[21]. Corticosteroid treatment proved safe and effective for all those who were prescribed. No relapse was noted in the subgroup of patients whose immunosuppressant treatment was discontinued and remission was maintained in all those who spontaneously recovered.
CAUSALITY OR CASUALITY
Establishing causality is by definition, a difficult task, while the mechanism of action of such a reaction remains elusive. Several theories have been proposed in an attempt to link clinical manifestations of hepatocellular injury to patterns of immune mediation involving vaccine ingredients and products. Molecular mimicry-based reactivity and pro-inflammatory interactions involving the SARS-CoV-2 spike protein have been explored (Figure 1)[23]. The vaccine adjuvants have also come under scrutiny. The BNT162b2 and mRNA-1273 vaccines employ lipid nanoparticle (LNP) coated mRNA technology, whereas the ChAdOx1 nCoV-19 vaccine is deoxyribonucleic acid based and utilizes AdV vectors. Both AdV and mRNA vaccine platforms are newly licensed; hence, many rare in vivo interactions are to be explored and clarified. A deeper look into the active ingredients of the vaccines may provide us with a plausible mechanism. The mRNA itself has been carefully designed and tested as to its immunogenic properties[24,25]; however, prior to translation, it may still be recognized by cytosolic and endosomal toll-like receptors. The encoded S-spike protein elicits a strong immune reaction that involves the activation of the innate inflammatory cascade, as well as that of the adaptive humoral response. Regarding the former, SARS-CoV-2 vaccines employ the type I interferon pathway in particular, in order to maintain an adequate and effective immune response, that in turn, may increase the probability of an autoimmune occurrence in certain individuals[26]. Concerning the latter, reactivity between anti-S protein antibodies and human tissue antigens has been confirmed by a recent report[27]. The systemic distribution of the spike protein has also been postulated as a mechanism to explain adverse events by mRNA-based vaccines as well. Its interaction with soluble Angiotensin-converting enzyme 2 (ACE-2) and ACE-2-ligands may point to an organ-specific pattern of insult[28]. The presentation and/or production of the spike protein by the hepatocytes may induce the activation of cytotoxic T-cell subsets. Under this scope, the formation of immune complexes cannot be excluded. Their subsequent deposition on the liver may cause inflammation or exacerbation of the underlying autoimmune disease. Matyushkina et al[27] have identified the susceptibility of human leukocyte antigen (HLA) B15:01 and HLA B39:01 allele carriers to autoimmunity following COVID-19. HLA B15 has been strongly associated with the development of infliximab-induced liver injury[29], while HLA B39 has been recorded as one of the most prevalent alleles in AIH patients in Pakistan[30]. In the same report, although most autoreactive antibodies were associated with nuclear products, cross-reactivity with cytokeratin 18 (CK18), a prominent liver disease biomarker, was noted. Elevated anti-CK18 antibody titers have been described in AIH patients[31], and their relationship to the soluble liver antigen (SLA) has been established in the literature. CK18's immunoreactivity has even been proposed but disproved as a potential diagnostic marker for the SLA subgroup of AIH patients[32]. The presence of SLA antibodies has been reported twice following vaccination with the mRNA-1273 vaccine, a fact that prompted investigators to conduct a genomic sequence analysis study which revealed, however, no homology between the SARS-CoV-2 spike protein and soluble liver antigen[33].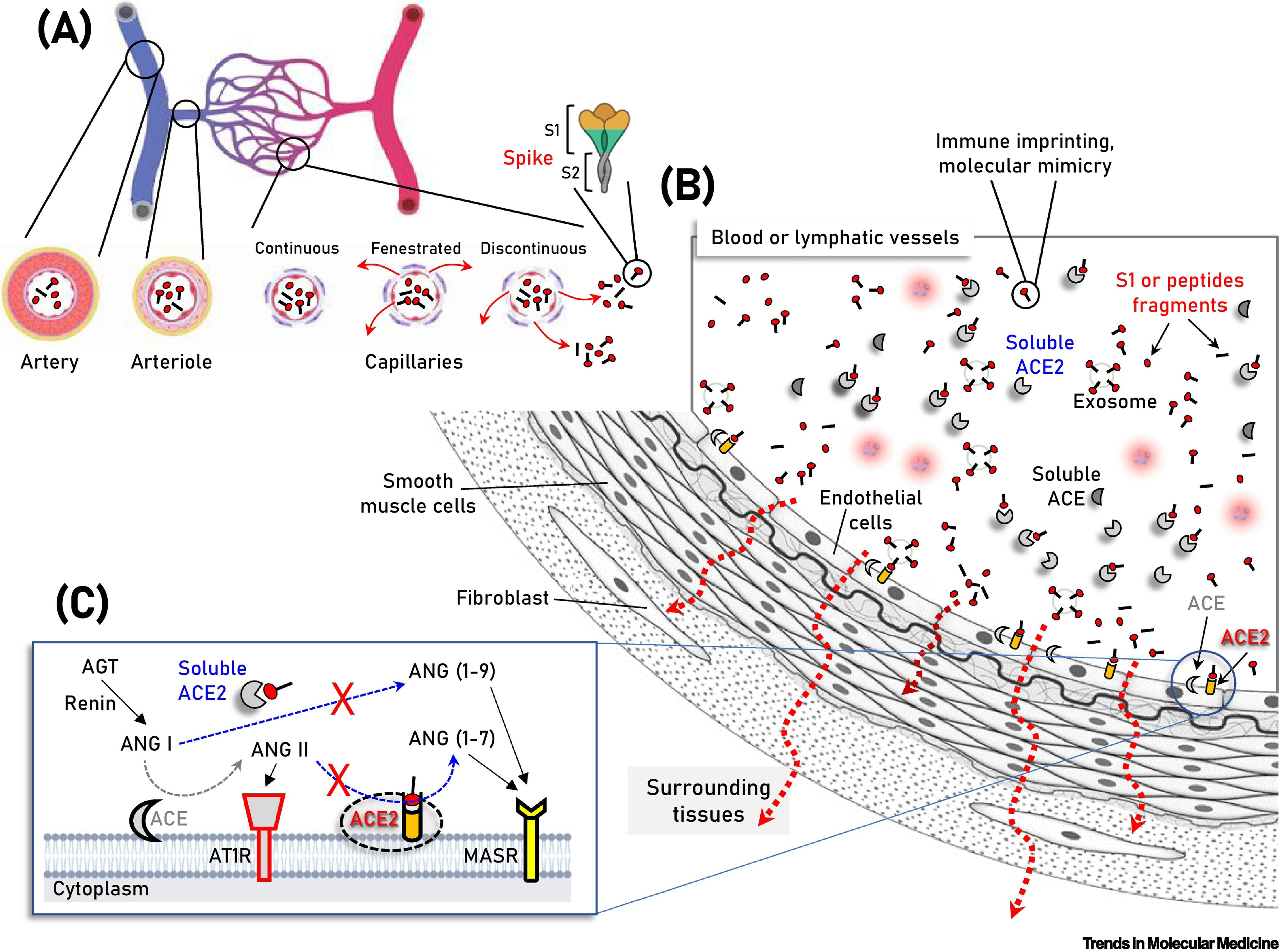 Figure 1 Schematic of the vasculature components showing vaccination-produced S protein/subunits/peptide fragments in the circulation, as well as soluble or endothelial cell membrane-attached angiotensin-converting enzyme 2. A: Parallel to immune system activation, circulating S protein/subunits/peptide fragments; B: Binding to angiotensin-converting enzyme 2 (ACE2) may occur not only to ACE2-expressing endothelial cells, but also in multiple cell types of the vasculature and surrounding tissues due to antigen diffusion (e.g., in fenestrated or discontinuous capillary beds) (A, red arrows). These series of molecular events are unlikely for any severe acute respiratory syndrome coronavirus 2 (SARS-CoV-2)-related antigen in the absence of severe coronavirus disease 2019, where SARS-CoV-2 is contained in the respiratory system; C: In the two counteracting pathways of the renin–angiotensin system (RAS), namely the 'conventional' arm, that involves ACE which generates angiotensin II (ANG II) from angiotensin I (ANG I), and the ACE2 arm which hydrolyzes ANG II to generate angiotensin (1–7) [ANG (1–7)] or ANG I to generate angiotensin (1–9) [ANG (1–9)] are depicted. ANG II binding and activation of the ANG II type 1 receptor (AT1R) promotes inflammation, fibrotic remodeling, and vasoconstriction, whereas the ANG (1–7) and ANG (1–9) peptides binding to MAS receptor (MASR) activate antifibrotic, anti-inflammatory pathways and vasodilation. Additional modules of the RAS (i.e., renin and angiotensinogen, AGT) are also shown. AT1R: Angiotensin II type 1 receptor. Citation: Trougakos IP, Terpos E, Alexopoulos H, Politou M, Paraskevis D, Scorilas A, Kastritis E, Andreakos E, Dimopoulos MA. Adverse effects of COVID-19 mRNA vaccines: the spike hypothesis. Trends Mol Med 2022; 28: 542-554. Copyright ©The Author(s) 2022. Published by Elsevier.
As far as AdV vectors are concerned, their clinical application as potential gene therapy delivery particles has been hindered by their hepatotoxic properties since the start of the century[34]. Recent reports have attributed this to their inherent liver tropism[34]. It should also be noted that the recombinant ChAdOx1-S AdV used in Vaxzervria formulations is likely hepatotropic since it is derived from a subset of non-human, Y25-coded adenoviruses that have been linked to viral hepatitis outbreaks in chimpanzees in the past[34]. In the same report, the authors build a case for a post-transcriptional modification taking place inside the nucleus of AdV-transduced host cells, resulting in alternate gene splicing and subsequent truncation of produced S-protein proteins that may in turn, be released in circulation. In addition to that, they demonstrated that in ChAdOx1-S-transduced hepatocytes, the truncated S-protein is the main splicing product, thereby providing us with another plausible mechanism to explain liver injury by AdV-based formulations. Of note, the spike protein produced by Vaxzervria has comparable receptor binding selection and affinity to its original counterpart[35]. Regarding common vaccine adjuvants, CpG 1018 and Aluminum, although widely used for immune response enhancement purposes and deemed safe by clinical trials[36] and regulatory authorities alike, have the potential to induce liver injury[37] and likely precipitate the development of auto-immune disease in a small percentage of the population[38]. Reportedly, none of the vaccines discussed in this review contain the aforementioned adjuvants, but future formulations may include them. Furthermore, we need to consider other vaccine formulation specificities, like the active ingredient's delivery system. The immunogenicity of the mRNA-containing LNPs has recently come under question, despite the fact that prior to their use in COVID-19 vaccines, they were being hailed as a potential genetic treatment platform for inherited liver disease[39]. The mRNA delivery particles have been linked to the development of allergic reactions[40], suggesting a plausible, if not definite, role as immune mediators. The LNP platform mounts a strong immune response, which relies on the medium's pro-inflammatory properties for its efficacy. Such an immune response-provoking environment could potentiate a loss in self-tolerance. LNPs have been known to act as adjuvants to vaccine-induced immune reactions[41,42]. In particular, LNPs seem to trigger the NLRP3 inflammasome pathway that has been implicated in the pathogenesis of other autoimmune phenomena, like pericarditis, rheumatoid arthritis and AIH[43-46]. The intense immunogenic character of LNPs has been demonstrated both histochemically and graphically in animal models through multiple route administration of its purified form, e.g., intramuscularly and intranasally.
The hepatocellular type of injury that is predominantly associated with post-vaccination liver injury can also be attributed to the direct action of cytotoxic T-lymphocytes, as rapid and sustained activation of this cell subset has been confirmed in the context of SARS-CoV-2 vaccination[47]. In a recent report, vaccination with the BNT162b2 vaccine resulted in a CD8+ rich lymphocytic infiltrate in the liver of a patient that presented with probable AIH. The clonal expansion and peripheral activation state of this particular subset of lymphocytes correlated closely with the clinical course of hepatitis in this individual, suggesting T-cells' involvement in the development and resolution of the disease[48]. It has also been demonstrated, in animal models, that cytokine-activated, "bystander" CD8+ lymphocytes may cause hepatocellular injury even in the absence of a direct antigen[49]. Accumulation of cytotoxic infiltrates in the liver has been reported in the literature following acute infection in influenza pneumonia[50]. All the plausible mechanisms resulting in immune-mediated liver injury discussed above are presented concisely in Table 1.
Mechanism of injury

---

Liver antigens

---

Immune mediators

---

Molecular mimicry
SLA
Autoreactive antibodies
CK-18
Cytotoxicity/Humoral response
S protein (membrane expression)
Activated CD8 + clone/protective anti-S antibodies
Humoral response
ACE-2 transmembrane receptor
Protective anti-S antibodies
Immune complex deposition
S protein (soluble)
Soluble ACE-2/ACE-2 ligand + S protein
"Bystander" toxicity
Activated CD8 + clone
Loss of self-tolerance/Fibrosis
Type I IFN
NLRP3 inflammasome activation
LNPs
TLR-mediated innate immune response
mRNA
DIAGNOSIS
The immune-mediated mechanism of a clinical syndrome involving hepatocellular injury would most likely be highlighted by an elevation in ANA and/or AMA titers in a similar fashion to AIH. A report from early on in the pandemic noted the presence of elevated autoimmunity markers, including ANA and AMA, in SARS-CoV-2 antibody-rich plasma, thereby suggesting their self-reactive potential[51]. However, otherwise typical AIH auto-antibodies may be present in the acute phase of liver injury by multiple causes[52]. In order to distinguish between them, a biopsy is the preferred option, with fibrosis being the prime differentiating factor[53]. Features of widespread fibrosis would be evident in an AIH-stricken liver[54], whereas evidence of acute or chronic inflammation with eosinophilic infiltration between or within the portal triads is to be expected in the case of direct liver toxicity, i.e., DILI[55]. It is important to note that centrilobular necrosis is not a pathognomonic clue and should not be interpreted as such[56]. All in all, a definitive diagnosis of AIH may be challenging to make, as it relies on a constellation of clinical, serological and histological findings. Response to treatment with immunosuppressants is the only way to confirm a diagnosis[57]. AIH is a chronic condition with a high relapse rate if immunosuppression is withdrawn, whereas causes closely resembling AIH do not usually relapse[58].
CONCLUSION
Immune-mediated liver injury remains an elusive but rare entity following COVID-19 vaccination. It is the responsibility of investigators and scientists worldwide to maintain a vigilant eye and continue reporting rare incidents related to vaccination with a high index of suspicion. However, adverse events as such, are significantly less frequent than potentially serious complications of COVID-19 disease[59] and should by no means discourage vaccination programs worldwide.
Provenance and peer review: Invited article; Externally peer reviewed.
Peer-review model: Single blind
Specialty type: Immunology
Country/Territory of origin: Greece
Peer-review report's scientific quality classification
Grade A (Excellent): 0
Grade B (Very good): 0
Grade C (Good): C
Grade D (Fair): D
Grade E (Poor): 0
P-Reviewer: Li Y, China; Rekabi A, Egypt S-Editor: Xing YX L-Editor: A P-Editor: Xing YX