Copyright
©2014 Baishideng Publishing Group Inc.
All rights reserved.
World J Transplant.
Jun 24, 2014;
4(2): 111-121
Published online Jun 24, 2014. doi: 10.5500/wjt.v4.i2.111
Human amniotic membrane transplantation: Different modalities of its use in ophthalmology
Chintan Malhotra, Arun K Jain, Advanced Eye Centre, Post Graduate Institute of Medical Education and Research, Chandigarh 160012, India
Author contributions: Malhotra C and Jain AK solely contributed to this paper in terms of the research for this review and the drafting of the article as well as revising it critically for important intellectual content.
Correspondence to: Arun K Jain, MD, DNB, Advanced Eye Centre, Post Graduate Institute of Medical Education and Research, Sector12, Room No 110, Chandigarh 160012, India. aronkjain@yahoo.com
Telephone: +91-931-6131944  Fax: +91-172-2744401
Received: November 23, 2013
Revised: March 1, 2014
Accepted: May 8, 2014
Published online: June 24, 2014

The amniotic membrane (AM) is the inner layer of the fetal membranes and consist of 3 different layers: the epithelium, basement membrane and stroma which further consists of three contiguous but distinct layers: the inner compact layer, middle fibroblast layer and the outermost spongy layer. The AM has been shown to have anti-inflammatory, anti-fibrotic, anti-angiogenic as well as anti-microbial properties. Also because of its transparent structure, lack of immunogenicity and the ability to provide an excellent substrate for growth, migration and adhesion of epithelial corneal and conjunctival cells, it is being used increasingly for ocular surface reconstruction in a variety of ocular pathologies including corneal disorders associated with limbal stem cell deficiency, surgeries for conjunctival reconstruction, as a carrier for ex vivo expansion of limbal epithelial cells, glaucoma surgeries and sceral melts and perforations. However indiscriminate use of human AM needs to be discouraged as complications though infrequent can occur. These include risk of transmission of bacterial, viral or fungal infections to the recipient if the donors are not adequately screened for communicable diseases, if the membrane is not processed under sterile conditions or if storage is improper. Optimal outcomes can be achieved only with meticulous case selection. This review explores the ever expanding ophthalmological indications for the use of human AM.
Core tip: Amniotic membrane transplantation is a very useful armamentarium in the hands of the ophthalmic surgeons for treating a variety of ocular surface disorders. Because of its transparent structure, anti- inflammatory, anti-fibrotic and anti-angiogenic properties and ability to provide a substrate for growth of corneal and conjunctival epithelial cells, it forms an ideal material for ocular surface reconstruction.
---
Citation: Malhotra C, Jain AK. Human amniotic membrane transplantation: Different modalities of its use in ophthalmology. World J Transplant 2014; 4(2): 111-121
---
INTRODUCTION
The ocular surface is an extremely sensitive and dynamic structure, the health of which is crucial for the optimal functioning of the eye. Any mechanical or chemical insult to it either from exogenous sources, i.e., chemical injuries by substances like acids and alkalis, or from endogenous factors, i.e., change in the amount and composition of the tear film due to severe dry eye states associated with conditions like Stevens Johnson syndrome (SJS), rheumatoid arthritis and other collagen vascular diseases ,can result in anatomic, physiologic and optical dysfunction of the eye as a whole.
Various biological tissues have been attempted to be used as donor tissue to repair and reconstruct the ocular surface or to decrease the inflammation in instances where the conjunctiva and cornea get significantly damaged. These include among others oral, labial and vaginal mucous membranes and rabbit peritoneum. Amniotic membrane (AM) was first used therapeutically by Davis for skin transplantation in 1910[1]. De Roth however is the first person credited with having used fetal membranes in ophthalmic surgery in an attempt to reconstruct the ocular surface in patients with symblepharon[2]. The initial enthusiasm for use of this tissue however disappeared from documented ophthalmic literature, till the early nineties, when Batlle et al[3] used it to repair conjunctival defects and reconstruct the fornices.
STRUCTURE OF THE FETAL MEMBRANES
The fetal membranes consist of two layers: the outer chorion which is vascular and in contact with the uterine wall, and the amnion which is avascular, lies inner to the chorion and is in contact with amniotic fluid. The AM is 0.02-0.05 mm thick and is classically considered to be composed of three layers (Figure 1).

Figure 1 Line diagram showing layers of cryopreserved human amniotic membrane, oriented with the stromal side in contact with the nitrocellulose filter paper and epithelial side facing up.
Epithelium
Which is a monolayer of metabolically active cuboidal cells with microvilli present on its apical surface.
Basement membrane
Made up of type IV, V and VII collagen(also found in conjunctival and corneal basement membranes) in addition to fibronectin and laminin[4], It is one of the thickest membranes in the human body and can withstand current cryopreservation techniques.
Stroma
This is further divided into three contiguous but distinct layers: the inner compact layer which is in contact with the basement membrane and contributes to the tensile strength of the membrane, middle fibroblast layer which is thick and made up of a loose fibroblast network and the outermost spongy layer.
MECHANISM OF ACTION
Several mechanisms of action are attributed to the AM's ability to help in healing and reconstruction of the ocular surface.
PROCURING, PROCESSING AND PRESERVING THE AM
AM is retrieved under strict aseptic conditions from donors undergoing elective cesarean section and who have been previously screened serologically for potentially communicable diseases including human immunodeficiency virus, hepatitis B and C viruses and syphilis. Placenta obtained after vaginal delivery are not used for this purpose because of the potential for contamination with bacteria from the vagina. It is recommended that the maternal donor should undergo repeat serological screening after 6 mo (to cover the window period for transmission of communicable diseases) before the AM is released for use[30]. Tissue is used for transplantation only when both the samples are negative.
Antibiotics covering both gram positive and gram negative bacteria as well as fungi (50 μg/mL penicillin, 50 μg/mL streptomycin, 100 μg/mL of neomycin, 2.5 μg/mL of amphotericin B) are used to wash the placenta under sterile conditions. Blunt dissection is then used to separate the amnion from the chorion. The AM may be preserved by means of cryopreservation (cryopreserved human amniotic membrane, CHAM) or in a dry deepithelialized form (dry human amniotic membrane, DHAM). To prepare CHAM Kim et al[31,32] and Lee et al[33] recommended using 50% glycerol in Dulbecco's modified Eagle Medium (DMEM) in a ratio of 1:1 to store the membrane. The membrane is cut into multiple pieces and placed on nitrocellulose paper strips with epithelial side up. It is then placed in vials containing the glycerol/DMEM storage medium and cryopreserved at -80 °C. Just prior to use the membrane should be taken out and warmed to room temperature for 10 min. CHAM stored in glycerol may be safely and effectively used for over a year with the added advantage of antiviral and antibacterial properties of glycerol[34]. One drawback with using CHAM is the need of a -80 °C refrigerator. This precludes its use outside big institutions.
DHAM does not require to be attached to nitrocellulose paper and is free standing. DHAM is prepared by subjecting the amniotic membrane to sterilization using low energy electron beam radiation and then preserving it using low heat and air vaccum .DHAM can be stored at room temperature for upto 2-5 years and is rehydrated prior to use. It is usually 35-40 microns thick but a third generation, 110-μm-thick, freeze dried, and freestanding human AM allograft (Ambio 5; IOP Inc, Costa Mesa, California) is commercially available. This has an additional thick layer of retained collagen from the chorionic membrane, which makes it thicker and confers greater tectonic function.
Both fresh and preserved AM have been found to be equally effective when transplanted onto the ocular surface[35]. Use of freshly acquired AM however is associated with certain disadvantages including the risk of transmission of communicable diseases as the donor cannot undergo repeat serological testing, and wastage of unused tissue ( with preserved AM, up to 30 grafts can be prepared with one placenta). Preservation of the AM by any means has been shown to adversely affect the viability and proliferative capacity of its epithelial cells[36,37]. Kruse et al[36] proposed that AM grafts function primarily as a matrix and not by virtue of transplanted functional cells. Other literature on the subject also supports the view that viability of cellular components of the AM is not essential for its biological effectiveness[38].
SURGICAL PRINCIPLES AND METHODS OF IMPLANTATION
Rationale for determining orientation of AM on ocular surface
This is important as the indication for which the AM is being used and the endpoint desired determines the preferred orientation with which it is used on the ocular surface. Histopathological analysis has revealed that after application of AM the re-epithelialization of the ocular surface by the host epithelium (i.e., by the host corneal or conjunctival epithelium) occurs preferentially on the basement membrane side of the epithelium[39], though Seitz et al[40] have also demonstrated that corneal epithelial cells do possess the ability to grow on the stromal side of the membrane. Hence where the membrane is used with the aim of providing conjunctival or corneal cells a substrate to grow on, the AM is used epithelial/basement side up. The stromal matrix of the AM on the other hand has the ability to trap inflammatory cells and induce their apoptosis, thus down regulating the inflammatory response[38]. Thus in the presence of acute inflammation, the membrane may be used to protect the ocular surface from the deleterious effects of the pro inflammatory cells and mediators- here it is used epithelial side down, so that the stromal side faces the palpebral aperture.
Determining the orientation of the AM
The AM supplied on the nitrocellulose filter paper is usually oriented epithelial side up, with the stromal side in direct contact with the paper. The stromal surface can be identified by the presence of vitreous-like strands that can be raised with a sponge or a fine forceps. This may need to be performed at a few points for confirmation.
Depending on the indication for which it is used there are three surgical techniques by which the AM can be used over the ocular surface.
Graft or inlay technique: In this technique the AM is intended to act as a substrate or scaffold for epithelial cells to grow. The AM is placed epithelial/basement membrane side up and is trimmed to fit the size of the underlying epithelial or stromal defect. It is usually sutured to the cornea using non absorbale 10-0 nylon sutures and to the episclera and conjunctiva using 9-0 or 10-0 vicryl (Figure 2). It is preferred to keep the epithelial/basement membrane side up in this technique because the basement membrane of the amnion acts as an excellent substrate for growth of the progenitor epithelial cells by prolonging their lifespan, maintaining clonigenecity and preventing apoptosis[41]. The surrounding 1-2 mm of the host corneal epithelium is debrided. This ensures that the regenerating epithelium grows over the basement membrane of the AM, and consequently the AM stroma gets incorporated into the host tissue ("graft"). Depending on the depth of the underlying defect this technique may be used as a single layer graft inlay where a single layer of AM is used, or multilayer graft inlay where multiple layers of the AM are placed into the ground of the ulcer, which is filled without sutures before a superficial graft is sutured to the periphery of the ulcer, again after depithelialization of a ring-shaped area around the cornea ulcer. The epithelium is expected to grow over the uppermost layer of this multilayer graft[40]. This is also referred to as the layered or fill in technique. The layering may be done either by cutting the AM into multiple pieces and placing them one on top of one another or by using a larger piece of AM which is repeatedly folded (blanket fold) upon itself.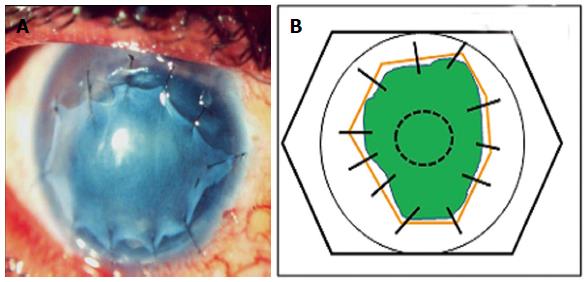 Figure 2 (A) Amniotic membrane used as an inlay graft (B) line diagram showing amniotic membrane (solid orange lines) used as an Inlay graft for a non-healing epithelial defect (green).
The membrane is trimmed to fit the size of the underlying defect and sutured to the cornea using interrupted 10-0 nylon monofilament sutures.
Patch or overlay technique: Here the AM is sutured to the ocular surface keeping it larger than the underlying defect so that host epithelium is present below the membrane. The membrane is sutured to the surrounding conjunctiva or episclera using 9-0 vicryl suture. An additional 10-0 nylon suture may be applied to the peripheral cornea in a purse string manner to ensure prolonged retention (Figure 3). The AM may be used epithelial side up or stromal side up as the host epithelium is expected to grow under the membrane which basically acts only as a "biological bandage contact lens" to protect the fragile new epithelium from the frictional forces generated due to eyelid movements. In this situation the AM is expected to fall off or be removed after a certain time.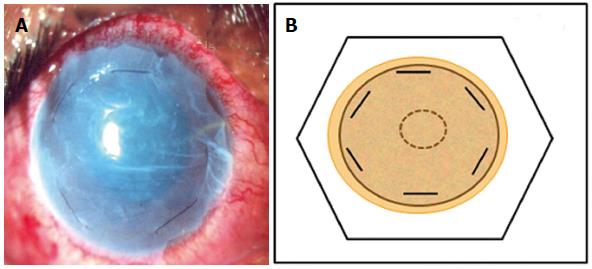 Figure 3 Amniotic membrane used as an overlay patch.
A: Clinical photograph; B: Line diagram. The amniotic membrane is trimmed to cover the whole of the corneal surface and fixed by 10-0 nylon monofilamemt sutures at the corneal periphery parallel to the limbus.
Combined (inlay and overlay) technique: Two or more layers of AM are used in this technique, with the inner smaller layer/layers acting as a graft and the outer larger layer acting as a patch. Also known as the "sandwich technique" a single-layer( Figure 4A) or multilayer inlay (Figure 4B) is combined with an onlay[40]. The epithelium is expected to grow under the patch but over the uppermost inlay graft.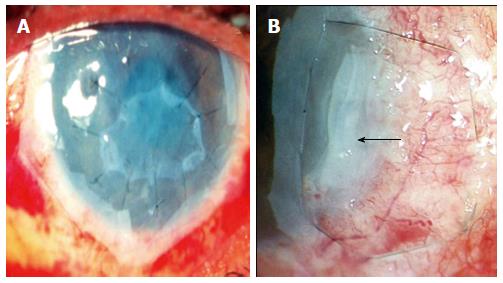 Figure 4 Single layer inlay covered by a larger "patch" or "onlay" (A), multi-layer inlay ( amniotic membrane folded upon itself in form of a blanket fold- black arrow) covered by a larger "patch" which is fixed to underlying episclera by a purse string suture in a case of deep, non-resolving peripheral ulcerative keratitis (B).
The availability of fibrin glue for ophthalmic use has in many cases supplanted the use of sutures, and the AM may be adhered to the ocular surface using the recombitant fibrin glue. This reduces the surgical time and also increases patient comfort.
OPHTHALMOLOGICAL INDICATIONS FOR USE OF AM
The list of indications for which AM is used in ophthalmology is expanding with each passing year. Broadly its use can be classified into (1) corneal surface disorders, without limbal stem cell deficiency (LSCD); (2) corneal surface disorders with associated LSCD; (3) conjunctival surface reconstruction, e.g., pterygium removal, after removal of large lesions other than pterygium, after symblepharon lysis; (4) as a carrier for ex vivo expansion of corneal epithelial cells; (5) glaucoma; (6) treatment of sclera melts and perforations; and (7) other miscellaneous indications.
CONCLUSION
The AM is proving to be a very versatile tool in the hands of the ophthalmologist, and the indications for its use are rapidly expanding as there is a better understanding of its properties. However a judicious use and appropriate patient selection is important for achieving optimal outcomes.
P- Reviewers: Fisher RA, Kita K, Mathis AS S- Editor: Qi Y L- Editor: A E- Editor: Wu HL