Copyright
©2012 Baishideng.
All rights reserved.
World J Transplant.
Oct 24, 2012;
2(5): 74-83
Published online Oct 24, 2012. doi: 10.5500/wjt.v2.i5.74
Antineoplastic effects of mammalian target of rapamycine inhibitors
Maurizio Salvadori, Renal Unit, Careggi University Hospital, Viale Pieraccini 18, Florence 50139, Italy
Author contributions: Salvadori M solely contributed to this paper.
Correspondence to: Maurizio Salvadori, MD, Professor, Renal Unit, Careggi University Hospital, Viale Pieraccini 18, Florence 50139, Italy. maurizio.salvadori1@gmail.com
Telephone: +39-55-7949269 Fax: +39-55-435878
Received: July 14, 2011
Revised: August 8, 2012
Accepted: October 20, 2012
Published online: October 24, 2012

Cancer after transplantation is the third cause of death and one of the more relevant comorbidities. Aim of this review is to verify the role of different pathogenetic mechanisms in cancer development in transplant patients and in general population as well. In particular has been outlined the different role exerted by two different families of drug as calcineurin inhibitor and mammalian target of rapamycin (mTOR) inhibitor. The role of mTOR pathways in cell homeostasis is complex but enough clear. As a consequence the mTOR pathway deregulation is involved in the genesis of several cancers. Hence the relevant role of mTOR inhibitors. The authors review the complex mechanism of action of mTOR inhibitors, not only for what concerns the immune system but also other cells as endothelial, smooth muscle and epithelial cells. The mechanism of action is still now not completely defined and understood. It implies the inhibition of mTOR pathway at different levels, but mainly at level of the phosphorylation of several intracellular kinases that contribute to activate mTOR complex. Many prospective and retrospective studies in transplant patients document the antineoplastic role of mTOR inhibition. More recently mTOR inhibitors proven to be effective in the treatment of some cancers also in general population. Kidney cancers, neuroendocrine tumors and liver cancers seem to be the most sensitive to these drugs. Best results are obtained with a combination treatment, targeting the mTOR pathway at different levels.
---
Citation: Salvadori M. Antineoplastic effects of mammalian target of rapamycine inhibitors. World J Transplant 2012; 2(5): 74-83
---
EPIDEMIOLOGY
Cancer after renal transplantation is one of the main morbidity and is the third cause of death after cardiovascular diseases and infections. Cancers account for 7.5% of deaths of patients with a functioning graft and overall for 15% of deaths after renal transplantation, including patients with non functioning graft.
According to different registries, the prevalence of cancer after renal transplantation with respect to general population is mainly higher for non melanoma skin cancer, bladder, kidney, vulvovaginal cancer and non Hodgkin's lymphoma[1]. The relative risk of cancer after renal transplantation comparing patients on waiting list is 2.55 for skin cancer, 1.12 for bladder, 1.39 for kidney, 2.19 for vulvovaginal and 3.29 for non Hodgkin lymphoma. The Australian and New Zealand registry comparing the ratio of observed vs expected incidence reports a standardized incidence ratio (excluding nonmelanocytic skin cancer) of 435.6 for vulva, 36.7 for vagina, 26.44 for Kaposi's sarcoma, 10.16 for lymphomas[2]. Besides conventional risk factors such as advanced age and cigarette smoking, peculiar factors of transplant patients seem to be length of dialysis, chronic viral infections, genetic and immunosuppression[3]. Table 1 shows the cancers with an incidence after renal transplantation 5-fold higher with respect to general population, compared with cancers that do not show any significant increase. Table 2 shows that the vast majority of malignancies occurring in transplant patients is linked to chronic viral infections also independently from the type of immunosuppressive therapy.
| | |
| --- | --- |
| Increased≥5 fold | Little/no increase |
| Skin | Breast |
| Vulvovaginal | Prostate |
| Cervix/uterus | Testicular |
| Lymphoma | Ovarian |
| Liver | Lung |
| Kidney/Bladder | Colon |
| | |
| --- | --- |
| Virus | Malignancy |
| EBV | Lymphoma (PTLD) |
| HHV-8 | Kaposi's sarcoma |
| HPV | Cervical, vulvar cancer |
| HPV-58 | Bowen disease |
| HPV 8, 19 | Non melanoma skin cancer |
| HPV 16, 20 | Skin and tonsillar carcinoma |
| HCV, HBV | Hepatocellular carcinoma |
PATHOGENESIS OF MALIGNANCIES IN RENAL TRANSPLANT PATIENTS
Role of different factors in cancer development in transplant patients
The early demonstration of immunological rejection of donor transmitted malignancies after discontinuation of immunosuppressive therapy was the first indication of the role of immunosuppressive therapy in transplant related malignancies. The cancer enhancing role of drugs was further supported by Starzl's report of the regression of lymphomas and lymphoproliferative lesions after the reduction or discontinuation of immunosuppressive drug therapy [4]. The role of immunosuppression was further amplified by the work of Dantal that prospectively compared the cancer incidence with a low cyclosporine (CsA) regimen with that of a standard dose CsA regimen[5]. The normal dose group had a significantly higher incidence of any cancer (P < 0.034) and of skin cancer (P < 0.05). Malignancy-inducing effects of immunosuppressive drugs initially thought to result from drug-induced T-lymphocyte dysfunction i.e., immune surveillance[6]. As in that period calcineurin inhibitors (CNIs) and in particular CsA represented the cornerstone of immunosuppressive therapy, cancer incidence in transplant patients was thought to be related to immunosuppression and CsA in particular. Later on has been documented that the malignancy-inducing effects may primarily result from direct pro-cancer effects independent of host immune system. These factors include the autonomous proliferation, lack of response to antiproliferative signals, evasion of apoptosis, angiogenesis, tissue invasion and metastasis, replicative immortality. These characteristics may be due to activation of oncogenes or inactivation of cancer suppressor genes that modify regulatory "check points" in cell growth[7]. Indeed the relationship between immunosuppressive drugs and malignancies is more complex than thought in the past and immune impairment is only one factor, probably not the most relevant in cancer development. Infections, DNA repair, cancer cellular growth and angiogenesis seem to have a relevant role in cancer development in immunosuppressed patients[8].
Comparison of CNI vs mammalian target of rapamycin inhibitors in cancer development
As a proof that immunosuppressive agents play only a role, probably not the most important, in cancer development after transplantation is the fact that not all immunosuppressive agents have the same oncogenic activity.
Indeed while in the past the risk of cancer morbidity and mortality has largely been attributed to long-term immunosuppressive drug therapy, which remains necessary to prevent organ allograft rejection, recent studies challenge the premise that all immunosuppressive drugs necessarily promote cancer. A particular class of immunosuppressants referred to as mammalian target of rapamycin (mTOR) inhibitors (mTORIs), has been shown to have potent anti-cancer effects that are now being tested in clinical studies[9].
The aforementioned Dantal paper documented the pro-oncogenic activity of CNIs as cyclosporine. CNIs may possibly generate cancer growth via reduction of lymphocyte response, but more probably by interleukin 6 (IL-6) increase, transforming growth factor β (TGF-β) increase and vascular endothelial growth factor (VEGF) increase (Figure 1).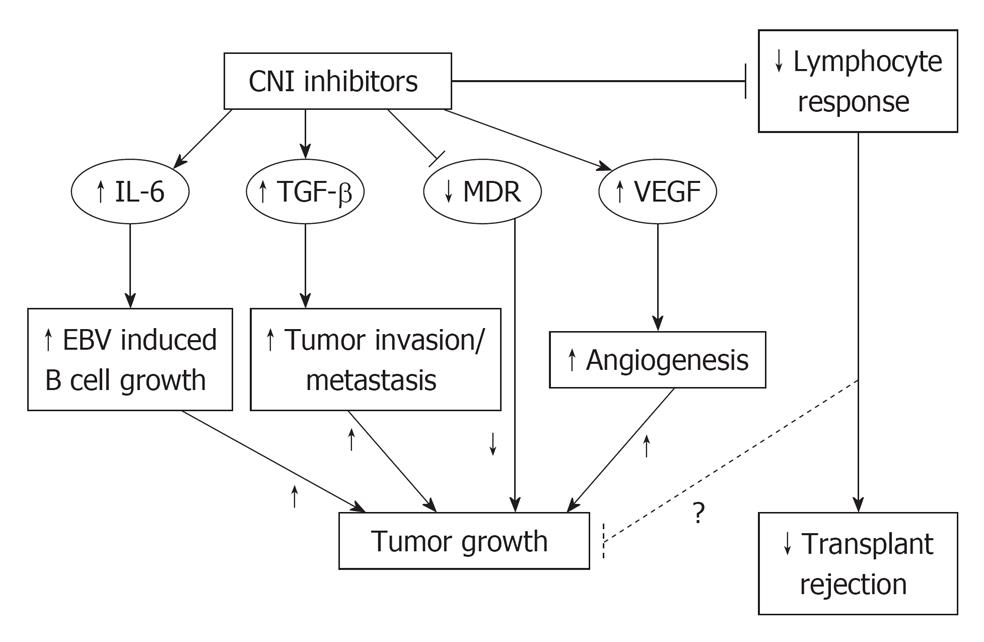 Figure 1 Calcineurin inhibitor and malignancies.
CNI: Calcineurin inhibitor; IL: Interleukin; TGF: Transforming growth factor; VEGF: Vascular endothelial growth factor; EBV: Epstein-Barr virus.
IL-6 promotes B-cell activation, growth and possibly immortalization. This fact could favour post-transplant lymphoproliferative disorders development.
TGF-β increase mediates phenotypic changes by a cell autonomous mechanism, including invasiveness of nontransformed cells[10].
CNIs also increase the production of VEGF that is a powerful agent of angiogenesis, strictly linked to cancer cell development and cancer increase[11]. Indeed CNIs effect on the expression of VEGF leads to an angiogenic milieu that favors cancer growth[12].
The mTORI besides their antirejection effect, seem to have a different profile with respect to malignancies when compared with CNIs.
mTORIs are immunosuppressive agents, widely used in transplantation. They form a complex with the FK binding protein complex (FKBP-12). This complex binds with high affinity to mTOR. Rapamycin and derivatives, including CCI-779 and RAD001, inhibit mTOR, down-regulating p70S6 kinase activity and subsequent translation of specific mRNAs required for cell-cycle progression from the G1 to S phase. In transplantation, everolimus (EVL) and or sirolimus (SRL) demonstrate immunosuppressive properties and has been used to prevent acute rejection in cardiac[13], liver[14], lung and renal transplant recipients. It appears that this agent may be potent enough to allow for the minimization or removal of calcineurin inhibitors in the long term of renal transplant recipients.
Due to their action on different kind of cells, besides the action on lymphocytes these drugs have also other effects. Because the action on endothelial and vascular smooth muscle cells in cardiology, EVL is available as a drug-coated stent and is used in percutaneous coronary interventions for prevention of restenosis[15,16]. Because of the antiproliferative action on fibroblast, rapamycins can cause delay in wound healing and lymphoceles. The same action on fibroblast has also positive effects in liver transplantation, attenuating liver fibrosis[17,18].
mTORIs could have a protective action against malignancies at least by four different pathways (Figure 2): (1) The increase of E-cadherin levels favors cellular adhesion and blocks neoplastic cells migration[19]; (2) The increase of p-27kip-1 kinase inhibits cyclins, needed for cell cycle[20]; (3) The reduction of IL-10 inhibits cellular Janus kinase- Signal transducer and activator of transcription (Jak-Stat) transcription and cell growth[21]; and (4) The inhibition of the serine-threonine kinase mTOR reduces proliferation of different kind of cells, as (a) Endothelial and smooth muscle cells (angiogenesis); (b) T lymphocytes (antirejection activity); and (c) Neoplastic cells.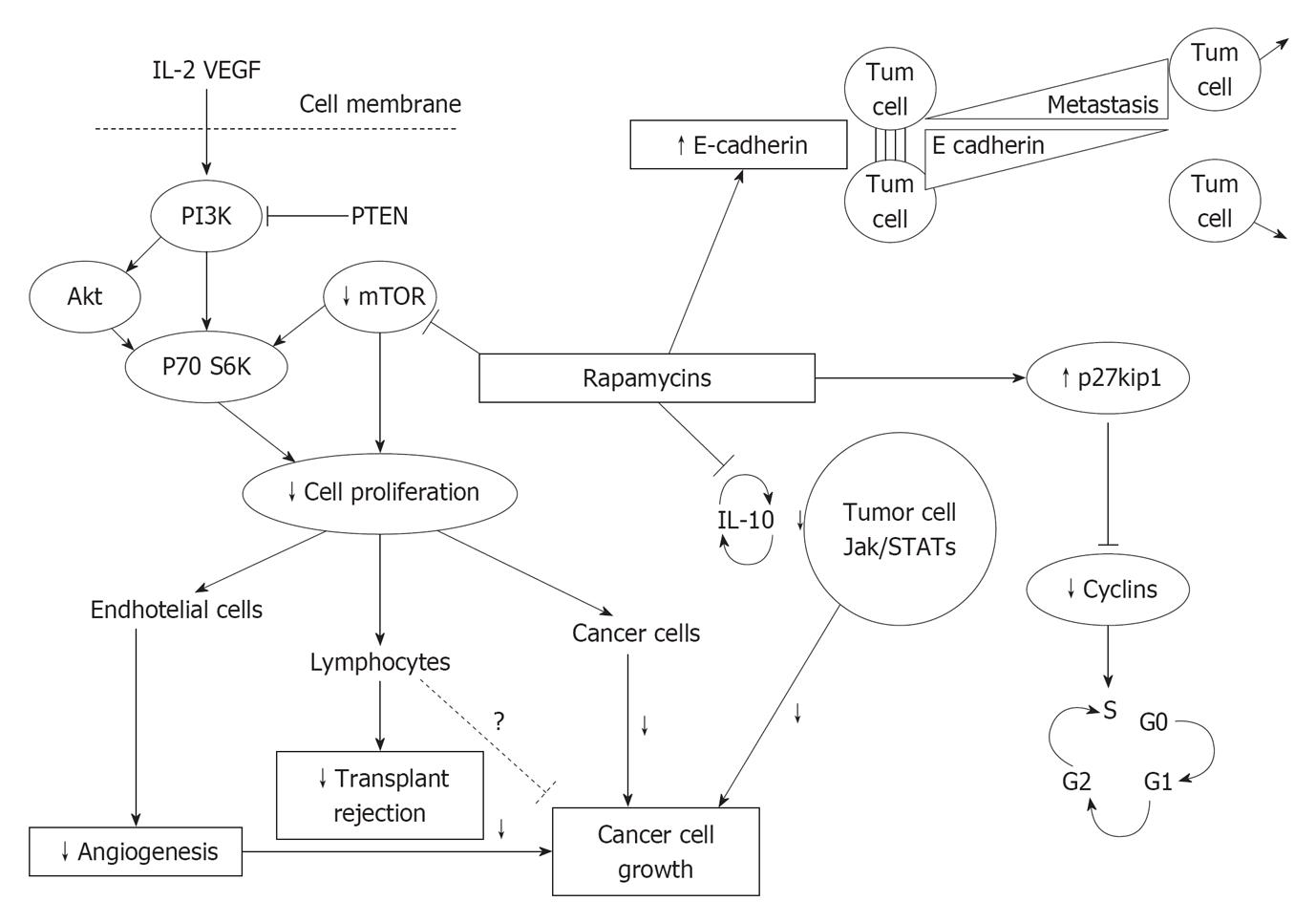 Figure 2 Rapamycins and malignancies.
PI3K: Phosphoinositide 3-kinase; mTOR: Mammalian target of rapamycin; IL: Interleukin; VEGF: Vascular endothelial growth factor.
Such biological insights on the protective effect of mTORIs on new malignancies after renal transplantation are confirmed by several retrospective and prospective studies[22].
The vast majority of these studies compare, as maintenance immunosuppressive therapy, therapies mainly based on CNIs with therapy based on mTORIs without CNIs or with CNIs minimization.
In a randomized prospective trial, patients who received rapamycin-based, calcineurin inhibitor-free therapy after CsA withdrawal at month 3 had a reduced incidence of both skin and non-skin malignancies at 5 years after renal transplantation compared with those who received rapamycin therapy combined with CsA[23]. In the CONVERT study renal transplant patients were randomized after transplantation either to receive rapamycin or to continue CsA therapy. About 10.2% patients on CNI had malignancies vs 3.4% patients converted to rapamycin (P < 0.001). The effect was similar for skin cancers (6.9% vs 1.8%, P < 0.001) and non skin cancers (4.4% vs 1.1%; P = 0.004)[24]. In a systematic review and meta-analysis of randomized trials, 33 studies were included (27 trials of SRL, 5 of EVL and 1 head-to-head). The relative risk to have malignancy was lower in any kind of comparison and in favor of mTORIs[25].
A retrospective study of the OPTN/UNOS database on 33 249 deceased donor kidney transplants revealed that 504 patients received either SRL or EVL without a calcineurin inhibitor, 2321 received either SRL or EVL in combination with a calcineurin inhibitor, and 30 424 received a calcineurin inhibitor without a mTOR inhibitor. Data were censored at 963 d to allow comparable follow up among the treatment groups. The incidence of any malignancy was 0.60% for both SRL/EVL alone and SRL/EVL plus a calcineurin inhibitor and was 1.81% for calcineurin inhibitors (P < 0.00001). The incidence rates for de novo solid malignancies were 0% for SRL/EVL alone, 0.47% for SRL/EVL plus calcineurin inhibitor, and 1.0% for calcineurin inhibitors. Multivariate analysis indicated that mTOR inhibitor maintenance immunosuppression was associated with a 60% reduced risk of any post-transplant malignancy and a 55% reduced risk of solid malignancy[26].
mTOR PATHWAY AND CANCER
As aforementioned, rapamycins (a group of parental compounds), block an intracellular serine-threonine kinase called mTOR.
Extracellular signal regulated kinase pathway, c-Jun terminal kinase pathway, p38 pathway and mTOR pathway regulate cell survival, proliferation, apoptosis resistance, angiogenesis and metastasis diffusion[27]. Therefore is not surprising that such protein deregulation could be involved in cancer development representing a target in the treatment of solid tumors.
TARGETING mTOR PATHWAY IN CANCER: FROM TRANSPLANT PATIENTS TO GENERAL POPULATION
Targeting deregulated pathways
Targeting deregulated pathways has been a successful clinical strategy in cancer and a combination therapy targeting mTOR and deregulated pathways may provide enhanced anticancer activity [56,58].
As already outlined and as a consequence of the aforementioned pathogenesis, a two hits therapy or a combination therapy targeting both upstream signaling and mTORC1 is a highly promising strategy[31,77].
Overall four groups of agents have been developed for targeting solid cancers, alone or in combination: (1) Agents targeting EGFR; (2) Agents targeting IGF-1R; (3) Agents targeting VEGF/VEGFR; and (4) Agents targeting multi-kinase, among which the mTORIs have a prevalent role[71,83].
Targeting deregulated pathways in cancer after transplantation
The beneficial effect of mTORIs on cancer prevention in transplant patients has been documented in the aforementioned clinical trials.
Recently a beneficial effect of rapamycin for Kaposi's sarcoma in renal-transplant recipients has been reported in 15 patients[84].
In a different study a switch from CNIs to mTORIs has been performed in 53 renal transplant recipients developing non melanoma skin cancer after transplantation. A remission was observed in 37 patients with minimal adverse events reported[85].
EVL has been used in liver transplant patients with de novo hepatocellular carcinoma after liver transplantation. The probability of survival in 10 patients of the EVL group was significantly greater than the observed in a historical cohort of 14 similar patients who did not receive EVL (HR = 4.6, P = 0.008)[86].
Targeting deregulated pathways in cancers in general population
Thinking with the old concept that reduction in immune surveillance is the main factor in cancer genesis, could seem paradoxical the use of immunosuppressive agents like mTORIs in the treatment of cancer in patients not needing immunosuppressive therapy. It is not so if we look to the proven involvement of mTOR pathways in cancer development. The block of abnormal mTOR pathways united with other antineoplastic agents seems now the best therapeutic approach.
Indeed mTORIs and EVL in particular have proven be effective in targeting cancer also in general population, independently from transplantation.
Many hematological malignancies have aberrant activation of the mTOR and related signaling pathways. Accordingly mTOR inhibitors, a class of signal transduction inhibitors, originally developed as immunosuppressive agents, are being investigated in preclinical models and clinical trials for a number of hematological malignancies[50,87,88].
Several data indicate that pharmacological agents that target PI3K, AKT, or FRAP in prostate cancer cells, inhibit HIF-1α expression and that such inhibition may contribute to therapeutic efficacy[89,90].
Recently FDA approved EVL in metastatic renal cell carcinoma after a trial documenting in 272 patients affected by such carcinoma the efficacy of EVL with respect to standard therapy[91].
In a recent study (RADIANT-3) 410 patients with low grade or intermediate grade pancreatic neuroendocrine tumors were randomized to receive EVL or placebo. EVL significantly prolonged progression-free survival and was associated with a low rate of severe adverse events[92].
In the BOLERO-2 trial mTOR inhibitor EVL, added to endocrine therapy showed antitumor activity. In such patients indeed the resistance to endocrine therapy in breast cancer is associated with activation of the mTOR intracellular signaling pathway[93].
Recently a synergistic effect of mTOR inhibitor and chemotherapy in a rat model of hepatocellular carcinoma has been found[94]. Many clinical trials now at their final or preliminary publication, are planned or are actively recruiting patients for treatment of liver carcinoma with mTOR inhibitors.
CONCLUSION
mTOR inhibitors are a group of parent drugs with a well defined immunosuppressive property and are widely used as immunosuppressant drugs in kidney, liver, lung and heart transplantation. Thanks to their mechanism of action, favouring apoptosis and inhibiting proliferation of both immune and non immune cells, such drugs have a documented antineoplastic action in transplant patients. Some of them as SRL (rapamycine), EVL (afinitor/certican), temSRL (torisel) and deforolimus are either launched or in advanced development stage in cancer therapy also outside transplantation.
As aforementioned their mechanism of action is still now not fully understood and most probably this group of drugs will prove to be effective in controlling some types of cancer, and other not. The complexity of the mTOR pathway, mainly considering the negative feedback loops that exist, suggests that only properly designed clinical trials will provide the final answer. Nonetheless, our present knowledge of the mTOR pathway supports such trials.
Peer reviewers: Andrea De Gottardi, MD, PhD, Assistant Professor, Clinic of Visceral Surgery and Medicine, Hepatology, Freiburgstrasse, CH-3010 Berne, Inselspital, Switzerland; Caigan Du, PhD, Assistant Professor, Department of Urologic Sciences, University of British Columbia, Jack Bell Research Centre, 2660 Oak Street, Vancouver, BC V6H 3Z6, Canada
S- Editor Wang JL L- Editor A E- Editor Zheng XM