Copyright
©The Author(s) 2015.
Published by Baishideng Publishing Group Inc. All rights reserved.
Pyoderma gangrenosum: An important dermatologic condition occasionally associated with rheumatic diseases
Toshiyuki Yamamoto, Department of Dermatology, Fukushima Medical University, Fukushima 960-1295, Japan
Author contributions: Yamamoto T solely contributed to this work.
Conflict-of-interest statement: None declared.
Open-Access: This article is an open-access article which was selected by an in-house editor and fully peer-reviewed by external reviewers. It is distributed in accordance with the Creative Commons Attribution Non Commercial (CC BY-NC 4.0) license, which permits others to distribute, remix, adapt, build upon this work non-commercially, and license their derivative works on different terms, provided the original work is properly cited and the use is non-commercial. See: http://creativecommons.org/licenses/by-nc/4.0/
Correspondence to: Toshiyuki Yamamoto, MD, PhD, Department of Dermatology, Fukushima Medical University, Hikarigaoka 1, Fukushima 960-1295, Japan. toyamade@fmu.ac.jp
Telephone: +81-24-5471307 Fax: +81-24-5471307
Received: November 26, 2014
Peer-review started: November 26, 2014
First decision: January 20, 2015
Revised: March 13, 2015
Accepted: April 27, 2015
Article in press: April 29, 2015
Published online: July 12, 2015

Pyoderma gangrenosum (PG) presents with refractory, sterile, deep ulcers most often on the lower legs. Clinically, PG exhibits four types, i.e., ulcerative, bullous, pustular, and vegetative types. PG may be triggered by surgical operation or even by minor iatrogenic procedures such as needle prick or catheter insertion, which is well-known as pathergy. PG is sometimes seen in association with several systemic diseases including rheumatoid arthritis (RA), inflammatory bowel disease, hematologic malignancy, and Takayasu's arteritis. In particular, various cutaneous manifestations are induced in association with RA by virtue of the activation of inflammatory cells (neutrophils, lymphocytes, macrophages), vasculopathy, vasculitis, drugs, and so on. Clinical appearances of ulcerative PG mimic rheumatoid vasculitis or leg ulcers due to impaired circulation in patients with RA. In addition, patients with PG sometimes develop joint manifestations as well. Therefore, it is necessary for not only dermatologists but also rheumatologists to understand PG.
Core tip: Pyoderma gangrenosum (PG) is occasionally seen in patients with systemic diseases such as rheumatoid arthritis (RA), inflammatory bowel disease, hematologic malignancy, and Takayasu's arteritis. PG is sometimes precipitated by minor trauma or triggered by surgical operation or even by iatrogenic procedures such as needle prick or catheter insertion, which play a role as pathergy. Clinical appearances of ulcerative pyoderma gangrenosum mimic rheumatoid vasculitis or leg ulcers caused by impaired circulation in patients with RA. It is necessary for rheumatologists as well to understand pyoderma gangrenosum.
---
Citation: Yamamoto T. Pyoderma gangrenosum: An important dermatologic condition occasionally associated with rheumatic diseases. World J Rheumatol 2015; 5(2): 101-107
---
INTRODUCTION
Pyoderma gangrenosum (PG) is a refractory disease characterized by deep ulcers, predominantly in the lower extremities[1-4]. PG usually occurs in young to middle-aged, but sometimes involves elderly patients, with a slight predilection for females. The general incidence has been estimated to be 3 to 10 per million per year[5]. More recent studies have shown that the overall incidence was 6.3 (95%CI: 5.7-7.1) per million person-years in the United Kingdom[6]. PG is often triggered by iatrogenic or surgical procedures such as injection, needle prick, and catheter insertion, in patients with rheumatoid arthritis (RA), inflammatory bowel disease (IBD), acute myeloid leukemia, and Takayasu's arteritis (TA) through the therapies for primary diseases. RA presents with various cutaneous conditions, either specific or non-specific findings[7]. Among them, PG is the representative neutrophilic condition caused by activated neutrophil infiltration into the dermis. It is important for rheumatologists to know PG, because PG is sometimes misdiagnosed as rheumatoid vasculitis or leg ulcers due to impaired circulation, based on similar clinical appearances. This review provides current updates of the pathophysiology to better understand PG for especially rheumatologists.
CLINICAL FEATURES
PG is clinically classified into 4 types, i.e., ulcerative, bullous, pustular and vegetative types. Ulcerative type PG is most common, which rapidly enlarges with central deep ulceration and undermined borders. The ulcerations are surrounded by raised edematous borders on the pretibial areas (Figure 1A). Initially, a small sterile follicular pustule arises, and rapidly forms abscess, ulcerated and spread outerwards. The surface is covered with necrotic tissues.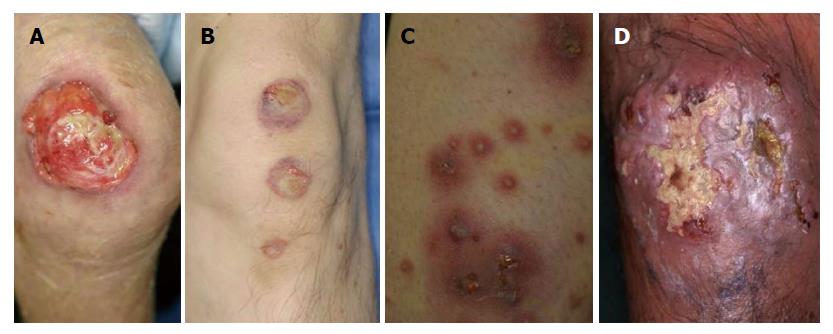 Figure 1 Clinical features of pyoderma gangrenosum involving lower legs.
Ulcerative type (A), bullous type (B), pustular type (C), and vegetative type (D).
Bullous PG is relatively rare, and more than 30 cases of bullous PG have been so far reported[8]. This type is characterized by rapid development of vesicles and enlarging bullae with central necrosis and shallow erosions (Figure 1B). Previous reports indicate that extremities are the most frequently involved, and hematological malignancies, i.e., preleukemic conditions and leukemia, are mostly associated. In the majority of cases, development of bullous PG was related with the activity of gastrointestinal or hematological conditions.
Pustular PG is a rare type, and occasionally appears in association with other types. According to the frequent involvement of the lower extremities, pustules are often seen along with ulcerative lesion (Figure 1C). Additionally, pustules can be seen on the back, or scalp, as well.
Vegetative PG is a superficial, non-aggressive form with verrucous appearance (Figure 1D). Although several different clinical and histological features are proposed between PG and superficial granuloma pyoderma[9], vegetative type PG is nowadays considered to be the same as superficial granulomatous pyoderma[2]. Malignant pyoderma is a rare pyodermatous condition, which rapidly progresses and ulcerates, predominantly affecting the head and neck in young patients without associated systemic disorders[10]. Some of the reported cases present with similar clinical features to PG, whereas others not.
The most frequently involved site of PG is the lower legs, however, any other sites such as the face, trunk, and genital regions can also be involved. Genital PG is relatively few, with a male predominance[11]. It is important not to misdiagnose as decubitus. Rarely, PG occurs on the face, and also involves peripheral sites such as digits, ears and scalp[12] (Figure 2). Those cases may be considered to be peripheral PG. Periauricular PG is also rare, and several cases of auricular PG have been reported[13-15]. Peripheral PG involving fingers/toes, ears, and genital areas, should be widely recognized.
Other than the skin, several symptoms are occasionally seen associated with PG. Arthritis is the most common[16], followed by eye lesion and multiple organ involvement. Aseptic neutrophilic abscess is occasionally seen in the lung, kidney, liver, heart, central nervous system, and musculo-skeletal system, which disappear along with systemic steroid therapy.
ATYPICAL SUBSETS
Peristomal PG
Peristomal PG (PPG) is sometimes seen, mainly in patients with Crohn's disease. PPG begins with painful tender or pustular lesions which form fistulous tracts or ulcerations spreading outward, occasionally without involvement of the mucocutaneous junction. Continual irritation, infection, increased pressure of stoma, or allergic reaction, as well as predisposition of parastomal skin of patients are suggested to induce PPG[17].
Superficial granulomatous PG
Superficial granulomatous pyoderma is a mild subtype of PG, which is slowly progressive and presents with superficial ulcers. Histologically, superficial granulomatous pyoderma shows a three-layered granuloma, such as inner neutrophils and necrosis surrounded by histiocytes and giant cells, with an outer layer of inflammatory cells. Apart from PG, superficial PG does not accompany other systemic disorders. Although superficial ulcers may respond to topical agents, some cases need systemic corticosteroids or disease modifying anti-rheumatic drugs. Those refractory cases are sometimes called superficial granulomatous PG. This condition is considered to be similar to vegetative PG and also malignant pyoderma[2].
Drug-induced PG
PG is rarely induced by drugs, i.e., iodide, bromide, isotretinoin, granulocyte colony-stimulating factor, and granulocyte-macrophage colony-stimulating factor. A few cases of propylthiouracil-induced PG have been reported in patients with positive ANCA[18-20]. By contrast, PR3-ANCA is extremely rare.
Pyodermatitis-pyostomatitis vegetans
Pyodermatitis-pyostomatitis vegetans involves the oral cavity and skin, especially in patients with UC. This form may be a variant of pustular PG.
ASSOCIATED DISEASES
PG is sometimes associated with systemic diseases such as IBD, RA, TA, and hematologic disorders. Between rheumatic disease-associated and non-rheumatic disease-associated PG, there are no differences in the aspects of clinical features, pathogenesis, and response to therapy. Because PG is a relatively rare disease, case reports are the main and there are so far very few reports analyzing a significant number of cases. Neutrophils play an important role in the onset and perpetuation of RA, and activated neutrophils are recruited to the skin and induce various neutrophilic dermatosis such as PG, Sweet's disease and erythema elevatum diutinum. PG is occasionally seen in relation with the severity and activity of RA. Very recently, a cohort study has been published which analyzed a large database of IBD[21]. The ratio of PG was 1.9% among patients with IBD, and more than half of the patients had active bowel disease in relation with the episodes of PG. TA is characterized by stenosis or occlusion affecting mainly the aorta and its branches in young women. Several kinds of cutaneous manifestations are occasionally seen in association with TA, with representative lesions such as erythema nodosum and PG. To date, the association of PG and TA has not been frequently reported[22]. PG occurring in patients with TA usually involves the upper limbs, followed by the scalp, face, neck, trunk, buttocks, and pubic region, in addition to the lower limbs[23]. Inflammatory cytokines, such as tumor necrosis factor - α (TNF-α), are considered to play an important role in the pathogenesis of TA. Recent studies have shown that TNF-α targeted therapies are effective for both TA[24] and PG[25], suggesting possible pathogenic similarities between these disorders. In addition, hematologic malignancies such as malignant lymphoma and leukemia, systemic lupus erythematosus, chronic hepatitis, and primary biliary cirrhosis are associated.
AUTOINFLAMMATORY DISEASES
Autoinflammatory disease is characterized by hyperreactvation of the innate immune system, some of which show skin, joint, and eye manifestations. PG may be included in idiopathic febrile syndromes of autoinflammatory diseases, along with fever, systemic symptoms (i.e., anemia, aseptic arthritis, liver dysfunction, lymphoadenopathy), and increased levels of acute-phase protein. Not all of the cases of PG mean autoiinflammatory diseases, however, cases accompanied with other symptoms may be considered to represent autoinflammatory disorders. pyoderma gangrenosum, acne, pyogenic arthritis syndrome is caused by mutations in the PSTPIP1 gene on chromosome 15. pyoderma gangrenosum, acne, suppurative hidradenitis syndrome lacks pyogenic arthritis, and genetic analysis revealed frequent CCTG repeat in the PSTPIP1 promoter[26]. Very recently, pyoderma gangrenosum, acne conglobate, supprative hidradenitis, axial spondylarthritis syndrome and pyoderma gangrenosum, acne, psoriasis, arthritis, suppurative hidradenitis (PAPASH) syndrome have been proposed[27,28].
ASSOCIATION WITH OTHER NEUTROPHILIC DISORDERS
Hidradenitis suppurativa
Hidradenitis suppurativa (HS) is caused by follicular occlusion by infundibular hyperkeratinization and dilatation. HS is occasionally associated with IBD and more recently developed as one of the major skin manifestations of autoinflammatory syndrome. Recent advances in the pathogenesis of HS suggest the significant role of IL-23/Th17 signaling pathway, reduced innate defense antimicrobial peptides, and elevated levels of TNF-α[29,30].
Psoriasis
Psoriasis is immunologically mediated by aberrant, skin-directed T cells belonging to Th1/Th17 subset. In a large review of more than 100 patients with PG, 11 (11%) patients had psoriasis[31]. Fewer number of cases of PG associated with psoriatic arthritis have also been reported[32,33].
Palmoplantar pustulosis
Palmoplantar pustulosis (PPP) presents with sterile pustules on the palms and soles, with a predilection for females. PPP is a disease close to psoriasis, and the IL-23/IL-17 inflammatory pathway has recently been suggested to be important also in PPP. IL-23 expression is enhanced in the lesional skin[34], and IL-17 is detected close to or in the acrosyringium[35]. IL-8 has been considered to play a key role in the neutrophil accumulation in the epidermis, but recent findings suggest that IL-17 may also play an important role, because IL-17 promotes neutrophil migration via the release of CXC chemokines[36]. IL-17 and IL-22 are increased in the peripheral blood of patients with PPP[37]. Although the simultaneous co-existence of PPP and PG in a single patient is rare, several cases have been reported[38], which suggest an etiological link between those disorders.
HISTOPATHOLOGY
Histological features are not pathognomonic, and dense neutrophil and lymphocyte infiltration is seen in the whole dermis. In the upper edematous dermis, a number of neutrophils and lymphocytes infiltrate, and neutrophilic abscess was located in the mid- to lower dermis with the basophilic collagen bundles accompanied by histiocytes as well as plasma cells. There are no features of vasculitis. Histological features of bullous PG show subepidermal edema with numerous neutrophil infiltration. Histological features of pustular type shows dense neutrophil infiltration in the upper to mid-dermis. Because the diagnosis of PG is made clinically, exclusion of other disorders presenting ulcers is necessary.
PATHOGENESIS
Although PG is a neutrophilic disorder, not only neutrophils but also a number of CD3-positive T cells infiltrate in the lesional skin[39], which suggests that T cells play an important role in the induction of PG, via T cell-derived cytokines and chemokines. Histological features of PG have shown that neutrophil recruitment was predominant in the ulcerative wound bed, whereas in the wound edge, activated T cells and macrophages were abundant and play a role as effector cells to ulcer formation[40]. IL-8 has been implicated to play an important role in neutrophil recruitment in the lesional skin. TNF-α induces IL-8 production by peripheral mononuclear cells[41]. Also, therapies targeting TNF-α result in beneficial effects on refractory PG[42,43], suggesting a crucial role of TNF-α in the pathogenesis of PG. TNF-α enhances vascular permeability in endothelial cells[44] as well as endothelial barrier dysfunction, which may be relevant to bullous formation of PG. TNF-α plays an important role in IBD, whereas role of TNF-α in hematological malignancy is unclear. The etiology of bullous PG in hematological conditions needs further studies.
In addition, Th17 cells promote neutrophil-mediated inflammation. IL-17 activates the endothelium to lead to neutrophil infiltration in a p38 mitogen-activated protein kinase-dependent manner[45]. In addition, IL-17 and TNF-α enhance endothelial expression of neutrophil chemokines, i.e., CXCL1, CXCL2 and CXCL5, leading to leukocyte migration[46]. Recently, increased expression of IL-23 was found in the lesional skin of PG, and targeting therapy of IL-12/IL-23 p40 was effective[47], suggesting that IL-23 may play a pathogenic role in PG.
PATHERGY
It is well-known that surgical operation and minor trauma precipitate PG. There are many reports of PG occurring at percutaneous surgical sites, such as breast surgery, pacemaker implantation, splenectomy, hysterectomy, endoscopic tube insertion, cholecystectomy, and cesarean delivery[22,48]. Similar cases have been reported which were triggered even by less invasive iatrogenic procedures such as injection, needle prick, and catheter insertion, in patients with underlying systemic diseases. Such phenomena are called pathergy, which means hyper-reactivity of the skin in response to even minor trauma. Because the majority of patients with PG have systemic disorders, PG should be correctly and widely recognized, not misdiagnosed as infectious conditions, by the doctors belonging to other departments than dermatology. These results suggest that pathergy reaction is implicated as a triggering role in PG in susceptible patients, even without systemic diseases. Pathergy can be seen in about 20% of cases of PG[2]. The etiology of pathergy is still unknown, however, activated neutrophils recruited to the injured skin, via an aberrant immune response to minor trauma, defective cell-mediated immunity, aberrant integrin oscillations on neutrophils and abnormal neutrophil tracking, have been speculated.
DIFFERENTIAL DIAGNOSIS
Skin diseases exhibiting refractory ulcers, due to infection, vascular insufficiency, vasculitis, and malignancy should be differentiated. Especially in cases affecting patients with RA, rheumatoid vasculitis or leg ulcers due to impaired circulation should be carefully differentiated.
Cutaneous manifestations of granulomatosis with polyangiitis (Wegener's granulomatosis) present with purpura, ulcer, hemorrhagic bullae, livedo reticularis, and subcutaneous nodules. Histologically, specific skin lesions show granulomatous vasculitis. Sometimes, PG-like ulcerative lesions occur in patients with granulomatosis with polyangiitis[49-51], which are sometimes reported as malignant pyoderma.
Cutaneous cryptococcosis presents with various features such as papules, pustules, nodules, granulomas, abscesses, subcutaneous swelling, cellulitis-like erythema, erysipelas, and ulcers. A few cases with clinical features mimicking PG have been reported[52,53].
THERAPY
Occasionally, PG is improved only by topical immunotherapies, such as corticosteroids, tacrolimus, and pimecrolimus[47,54], however, the first line for the therapy of PG is systemic corticosteroids. For steroid-resistant cases, other immunosuppressive and immunomodulatory drugs, such as cyclosporine, thalidomide, tacrolimus, azathioprine, mycophenolate mofetil, and recently biologics are also used[25,55]. In particular, anti-TNF-α therapies result in beneficial effects on refractory PG. A randomized, double-blind, placebo-controlled trial have demonstrated a superior effect of infliximab for PG[56]. Also, a number of case reports have demonstrated that biologics targeting TNF-α and IL-12/23 p40 are effective for PG[47,57-59]. Surgical therapy is also adopted at the last step, with the aid of prednisolone use (Figure 3). In contrast to dramatic effect of biologics, PG is paradoxically induced by biologics, in rare cases[60-62].
CONCLUSION
To diagnose PG properly, it is important to lay stress on clinical features and to exclude other disorders exhibiting ulcers, because the histologic features are not diagnostic. At present, there are no diagnostic criteria. However, several proposals have recently been shown[4,63], which are expected to be of great help for correct diagnosis. Furthermore, although there are many single case reports, very few cohort studies or comparative studies among underlying systemic diseases have been done. To perform those studies, collaboration of different departments is necessary in the future project.
P- Reviewer: Agarwal V, Cavallasca JA, Rothschild BM S- Editor: Tian YL L- Editor: Wang TQ E- Editor: Jiao XK