Copyright
©The Author(s) 2015.
Published by Baishideng Publishing Group Inc. All rights reserved.
Role of the Wnt/β-catenin pathway in gastric cancer: An in-depth literature review
Miguel Angel Chiurillo, Laboratorio de Genética Molecular "Dr. Yunis-Turbay", Decanato de Ciencias de la Salud, Universidad Centroccidental Lisandro Alvarado, Barquisimeto 3001, Estado Lara, Venezuela
Miguel Angel Chiurillo, Departamento de Patologia Clínica, Universidade Estadual de Campinas, Campinas 13083, São Paulo, Brasil
Author contributions: Chiurillo MA solely contributed to this paper.
Conflict-of-interest: The author has no conflict of interest to declare.
Open-Access: This article is an open-access article which was selected by an in-house editor and fully peer-reviewed by external reviewers. It is distributed in accordance with the Creative Commons Attribution Non Commercial (CC BY-NC 4.0) license, which permits others to distribute, remix, adapt, build upon this work non-commercially, and license their derivative works on different terms, provided the original work is properly cited and the use is non-commercial. See: http://creativecommons.org/licenses/by-nc/4.0/
Correspondence to: Miguel Angel Chiurillo, MD, PhD, Laboratorio de Genética Molecular "Dr. Yunis-Turbay", Decanato de Ciencias de la Salud, Universidad Centroccidental Lisandro Alvarado, Barquisimeto 3001, Estado Lara, Venezuela. mchiurillo@ucla.edu.ve
Telephone: +58-251-2591985 Fax: +58-251-2591886
Received: October 4, 2014
Peer-review started: October 5, 2014
First decision: November 14, 2014
Revised: February 7, 2015
Accepted: March 18, 2015
Article in press: March 20, 2015
Published online: May 20, 2015

Gastric cancer remains one of the most common cancers worldwide and one of the leading cause for cancer-related deaths. Gastric adenocarcinoma is a multifactorial disease that is genetically, cytologically and architecturally more heterogeneous than other gastrointestinal carcinomas. The aberrant activation of the Wnt/β-catenin signaling pathway is involved in the development and progression of a significant proportion of gastric cancer cases. This review focuses on the participation of the Wnt/β-catenin pathway in gastric cancer by offering an analysis of the relevant literature published in this field. Indeed, it is discussed the role of key factors in Wnt/β-catenin signaling and their downstream effectors regulating processes involved in tumor initiation, tumor growth, metastasis and resistance to therapy. Available data indicate that constitutive Wnt signalling resulting from Helicobacter pylori infection and inactivation of Wnt inhibitors (mainly by inactivating mutations and promoter hypermethylation) play an important role in gastric cancer. Moreover, a number of recent studies confirmed CTNNB1 and APC as driver genes in gastric cancer. The identification of specific membrane, intracellular, and extracellular components of the Wnt pathway has revealed potential targets for gastric cancer therapy. High-throughput "omics" approaches will help in the search for Wnt pathway antagonist in the near future.
Core tip: Available data indicate that Wnt signaling substantially impacts gastric tumorigenesis, prognosis, and resistance to therapy. Loss of Wnt signaling inhibitors (such as APC) by promoter hypermethylation, allelic loss or other mechanisms appear to be particularly important in activating Wnt/β-catenin signaling. Gastric cancer is an entity characterized by its heterogeneity in various aspects, and much remains to be learned about the molecular aspects that determine the process of cancer development in this organ. The role that plays the canonical Wnt pathway in gastric carcinogenesis is reviewed.
---
Citation: Chiurillo MA. Role of the Wnt/β-catenin pathway in gastric cancer: An in-depth literature review. World J Exp Med 2015; 5(2): 84-102
---
INTRODUCTION
Gastric cancer incidence and mortality have been declining over the past 50 years in most Western countries, but remains the fifth most common cancer and the third leading cause of cancer-related death in both sexes worldwide after lung and breast cancer (723000 deaths, 8.8% of the total in 2012)[1,2]. Gastric cancer incidence varies substantially worldwide, being the highest (more than two-thirds) observed in East Asia, Eastern Europe, and the Andean region of South America, while North America, Northern Europe and North and East Africa show the lowest recorded rates[1]. More than 70% of cases in 2012 (677000 cases) occur in developing countries, and half of worldwide cases occur in Eastern Asia (mainly in China)[3]. The highest estimated mortality rates are in Eastern Asia (24 per 100000 in men, 9.8 per 100000 in women), the lowest in Northern America (2.8 and 1.5, respectively)[3]. Latin American countries and nations from Central and Eastern Europe display some of the highest mortality rates in both sexes worldwide[3].
Diagnosis is usually made after the disease reaches an advanced stage because early gastric cancer produces few symptoms. Therefore, most gastric cancer patients are diagnosed in advanced-stage disease with a poor prognosis. The main treatment option is the gastrectomy combined with chemotherapy and radiation therapy protocols. The poor understanding of the pathogenic mechanisms of gastric cancer and etiological factors, and the lack of effective treatment are reflected in the late diagnosis and high mortality of this disease.
Gastric cancer is a multifactorial disease resulting from the interaction between genetic and environmental factors at the stomach mucosa level. These complex interplays can promote gastric cancer development as result of the deregulation of a number of potentially cell oncogenic signaling pathways, leading to acquisition of malignant phenotypes, including increased cell proliferation, evasion of apoptosis and enhanced invasiveness[4].
The most common histologic variant of gastric adenocarcinoma is the intestinal type. A multistep cascade model for the development of intestinal-type gastric adenocarcinoma consists of a progression from chronic superficial (non atrophic) gastritis, to chronic atrophic gastritis to intestinal metaplasia, followed by dysplasia and finally, gastric adenocarcinoma[5]. This model assumes the sequence of precancerous lesions as a dynamic process from an initial superficial inflammation caused by Helicobacter pylori (H. pylori) infection to a fully malignant neoplasm of the stomach. Thus, the chronic infection of the gastric mucosa by the H. pylori, which colonize approximately 50% of the human population, is considered the strongest known risk factor for the development of gastric cancer[6,7].
Ooi et al[8] identified three signaling pathways (nuclear factor-κB, Wnt/β-catenin, and proliferation/stem cell) that were deregulated in more than 70% of the patients diagnosed with gastric cancer, resulting in increased inflammatory cytokine production, abnormal apoptosis, undesirable epithelial cell proliferation/differentiation, and epithelial cell transformation. However, a complete knowledge of the relative importance, temporal activation and crosstalking between these signaling pathways is not well understood yet. Particularly, activation of the Wnt/β-catenin signaling is found in about 30% to 50% of gastric cancer tissues and in many kinds of gastric cancer cell lines[8-10]. In this review, the involvement of the Wnt/β-catenin signaling pathway and its biological significance in gastric carcinogenesis will be discussed.
CANONICAL WNT PATHWAY
The Wnt signaling pathways, named for its ligands Drosophila wingless (wg) and the mouse homolog Int-1 (Wnt-1)[11], are a group of signal transduction pathways which play a fundamental role in the cell fate specification during early embryonic development, proliferation, body axis patterning, survival, apoptosis, and in tissue homeostasis in adults[12].
Wnt signaling pathways can be activated upon binding of Wnt ligands (19 known members in humans) to their cell surface receptor complex, which includes 10 different members of the Frizzled (Fz) family of atypical heptahelical G-protein-coupled receptors[13-15]. Moreover, selective recruitment and participation of other single-pass transmembrane proteins function as co-receptors influencing the Wnt signaling, such as lipoprotein receptor-related protein (LRP)5/6, receptor-like tyrosine kinase (Ryk) and receptor tyrosine kinase-like orphan receptor (ROR)-1/2[16-18].
Up to date, the three best characterized Wnt signaling pathways are the canonical Wnt pathway or β-catenin dependent which involves the stabilization of the proto-oncogene β-catenin (armadillo in Drosophila), the planar cell polarity (PCP) pathway, involved in ciliogenesis, and the Wnt/Ca2+ pathway, which stimulates the intracellular release of Ca2+ and activates Ca2+-dependent mediators involved in the control of cell movement and behavior[19-21]. These two last pathways are collectively named as "non-canonical" or "β-catenin-independent" pathways, that also include a steadily increasing number of complex signaling routes: Wnt/cAMP, Wnt/Ror, Wnt/Rap, Wnt/Rac and Wnt/Rho pathways[19,22].
The Wnt/β-catenin intracellular signaling pathway is highly conserved among metazoan species[20,23]. β-catenin is a multifunctional protein that was found as a E-cadherin-binding protein involved in the regulation of cell to cell adhesion, and as a transcriptional regulator in the Wnt signaling pathway[17]. It is assumed that the disruption of cadherin/catenin complexes is involved in the malignant progression of epithelial tumors.
In the absence of Wnt ligands, cytoplasmic β-catenin is bound by the destruction complex composed of the scaffolding proteins Axin, adenomatous polyposis coli (APC), and the serine/threonine kinases, Casein kinase 1 alpha (CK1α) and glycogen synthase kinase 3β (GSK3β)[24]. Phosphorylated β-catenin is targeted to proteosomal degradation after recognition by the E3 ubiquitin ligase β-TrCP resulting in low cytosolic levels of β-catenin[25]. As a consequence, the transcription factor T-cell factor (TCF)/lymphoid enhancer-binding factor (LEF) binds to transcriptional inhibitors of the Groucho family, that recruit histone deacetylase to mediate transcriptional repression through chromatin compaction[26,27].
In contrast, when the secreted Wnt ligands bind to their Fz/LRP receptor complex, the dissociation of the destruction complex occurs by recruiting Dishevelled (Dvl) to the cytoplasmic domain of Fz. This association results in LRP phosphorylation and the delocalization of cytoplasmic Axin by its recruitment to the receptors. These events prevent phosphorylation and subsequent degradation of β-catenin, which accumulates in the cytoplasma and translocates to the nucleus. For its nuclear action, β-catenin behaves as transcriptional co-regulator by interacting with TCF/LEF complex, displaces Groucho, and activates Wnt target gene expression, such as CCND1 (encoding cyclin D1 protein), gastrin and c-myc[27,28].
Even in the presence of Wnt ligand, the Wnt/β-catenin pathway can be inhibited through the binding of soluble Dickkopf (Dkk1-4) to LRP5/6, or by Wnt-inhibitory factor (WIF-1) and the family of secreted Fzd receptor proteins (sFRP1-5) that can interact with Wnt ligands preventing them from binding to receptors[29-31].
Activity of the canonical Wnt signaling pathway is dependent on controlling the accumulation of β-catenin in the cytoplasmic and nuclear compartments (Figure 1)[20,32,33]. β-catenin is normally constitutively transcribed and translated. It has been suggested that β-catenin is regulated by its cytoplasmic retention by both cadherins and Axin that sequester β-catenin in the plasma membrane and cytoplasm, respectively[34]. Upon receptor activation a signal-induced block in proteolysis leads to rapid rise in cytosolic β-catenin protein levels that subsequently also accumulates in the nucleus. Moreover, β-catenin does not contain any recognizable nuclear localization signal or export signal, and its nuclear entry is independent of classic import factors. Finally, it has been proposed that the nuclear build-up of β-catenin results from a combination of anchoring for β-catenin in the nucleus by nuclear proteins (TCF, LEF-1, Pygopus, and BCL9) and the nuclear export, in which Axin, APC, and RanBP3 have been implicated[35-41].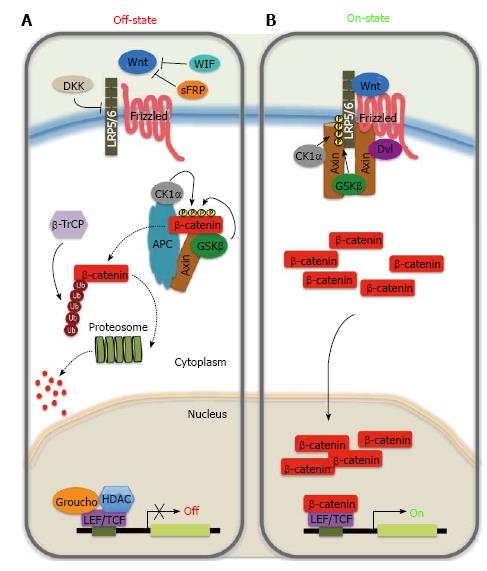 Figure 1 Wnt/β-catenin signalling pathway.
A: In the absence of Wnt ligands, cytoplasmic β-catenin binds to the ''destruction'' complex composed by Axin, adenomatous polyposis coli (APC), the glycogen synthase kinase 3β (GSK3β) and casein kinase 1α (CK1α). β-catenin is phosphorylated by the kinases of the complex on a set of conserved Ser and Thr residues in its amino terminus. The phosphorylated form of β-catenin is recognized by an E3 ubiquitin ligase (β-TrCP) and then targeted to proteosomal degradation, resulting in low cytosolic levels. In the absence of nuclear β-catenin, T cell-specific factors (TCF)/lymphoid enhancer-binding factor (LEF) proteins repress target genes expression through a direct association with transcriptional inhibitors of the Groucho family and histone deacetylases (HDACs); B: In the presence of Wnt ligand, secreted Wnt binds to their receptor complex, consisting of Frizzled and one member of the low-density lipoprotein receptor family (LRP5/6). This binding disrupts the ''destruction complex'' by recruiting Dishevelled (Dvl) to the cytoplasmic domain of Frizzled, which induces the delocalization of cytoplasmic Axin to the cytoplasmic tail of LRP and phosphorylation by CK1α and GSK3β of the latter. The disruption of the ''destruction'' complex prevents phosphorylation/degradation of β-catenin, leading to accumulation of β-catenin in the cytoplasm. Active ß-catenin translocates to the nucleus, where it acts as a transcriptional co-activator with TCFLEF to activate Wnt-responsive target genes. Extracellular Wnt signaling can be inhibited by binding of members of the secreted frizzled related protein (sFRP) and Wnt inhibitory factor (WIF) families to Wnt ligands, or by the interaction of soluble Dickkopf (DKK) with LRP.
WNT/β-CATENIN PATHWAY IN GASTRIC CARCINOGENESIS
Homeostasis of the gastrointestinal epithelium is strongly dependent on the balance existing between cell proliferation, cell cycle arrest, and cell migration. The canonical Wnt signaling pathway, in addition to its role in early embryogenesis, plays a crucial role in regulating proliferation, stem cell maintenance and homeostasis in normal gastric mucosa[42-44]. On the other hand, it is recognized that dysregulation of the Wnt pathway plays a critical role in the development of human cancer, with more than 30% of gastric cancer in which activated Wnt/β-catenin signaling can be found. Furthermore, the essential role of Wnt/β-catenin signaling in the self-renewal of gastric cancer stem cells (GCSC) has been demonstrated[45-47]. Several components of the Wnt pathway (Figure 1) may be overexpressed or their function increased by other mechanisms in gastric cancer (Table 1). Moreover, the loss of Wnt inhibitors may play an important role in gastric carcinogenesis (Table 1).
Upregulation or function increase in gastric cancer
Wnt-1, Wnt-2, Wnt-2B, Wnt-5a, Wnt-6, Wnt-10A[47,69

-

75,232]
Fzd-3[78]
CTNNB1[9,88

-

93,96,97]
LRP6[228]
TCF7L2[98

-

100]
PPN[79]
CDH17[80]
EZH2[81]
HMGA1, HMGA2[210,211]
YY1[86]
TC1 (C8orf4)[201,202]
miR-17-92[161]
mir-10a[168]
has-miR-335[166]
hsa-miR-375[163]
Downregulation or function inhibition in gastric cancer
Downregulation by hypermethylation
Inactivation by miRNAs
APC[145,146]
APC[175]
sFRP1, sFRP2, sFRP4, sFRP5[78,96,149]
AXIN2[159]
WIF-1[144,149]
EZF1[78]
Dkk-1, Dkk-2, Dkk-3[59,144,148,149]
HIPK1[161]
NKD1[149]
HSulf-1[168]
Sox10, Sox17[106,107,112,149]
RUNX2[159]
HSulf-1[108]
Inactivation by phosphorylation
RUNX3[147]
GSK3β[105]
PRDM5[152,153]
Inactivation by overexpression of EZH2
RASSF10[154]
CXXC4[81]
OSR1[111,112]
Other or undefined mechanisms
Inactivation by protein mislocalization
Sox7[113]
RUNX3[147]
RACK1[109]
Inactivation by H. pylori virulence factor
ZNRF3[110]
RNF138[226,227]
CHD8[131]
Deletion or mutation
PLA2G2A[205]
APC[92,104,133

-

137]
has-miR-148a[165]
GSK3β[104]
miR-193b[163]
β-TrCP[142]
miR-200a[176,177]
AXIN1, AXIN2[90,91]
Large-scale sequencing studies conducted in many tumor types have identified co-occurrence of mutations in positive and negative regulators of the Wnt pathway. However, the prevalence of these mutations seems to be cell-type specific[48,49]. Moreover, a number of recently published studies exploring gene mutations in gastric cancer using high-throughput methodologies (Next-generation sequencing and genotyping array) have confirmed CTNNB1 (the gene that encodes β-catenin protein) and APC as driver genes. Although with variations in prevalence, these studies revealed somatic mutations in both genes that might be relevant in gastric carcinogenesis[50-55].
In addition to multiple genetic alterations, the initiation and progression of gastric cancer are also associated to epigenetic changes[56,57]. Histone modification and promoter CpG methylation alter cancer-related gene expression and are frequently involved in carcinogenesis[58]. So far, downregulation of Wnt antagonist genes associated to promoter hypermethylation have been identified in a variety of malignancies, such as renal, bladder, lung, breast, colorectal, gastric and neuroblastoma[59-65].
Furthermore, the Wnt/β-catenin pathway genes are found among those affected by dysregulation of microRNAs (miRNAs) in many kinds of cancers, and particularly, expression profiling has shown that certain miRNAs are associated with gastric cancer development, progression and response to therapy[66-68].
Gain of Wnt activator function in gastric cancer
Members of the Wnt family protein, such as Wnt-1, Wnt-2 and Wnt-2B have been found upregulated in gastric cancer[47,69-71]. The overexpression of Wnt-2 was associated with cytoplasmic/nuclear β-catenin accumulation both in intestinal- and diffuse-type gastric carcinoma, and positively associated with increased metastatic potential[70]. Furthermore, the upregulation of Wnt-1 ligand was found playing an important role either in cellular proliferation of GCSC and in advanced gastric cancer[47,71]. In this regard, in transgenic mouse models, Oshima et al observed that Wnt-1 expression together with activation of PGE2 pathway result in invasive gastric adenocarcinoma formation by 1 year[72].
Wnt-5a, which is upregulated in gastric cancer regardless of their histological phenotype, has an increased expression in advanced stages of gastric cancer and it is correlated with poor prognosis[73,74]. Furthermore, Yuan et al[75] demonstrated that caveolin-1 (Cav1) and Wnt-6 positively cooperate in promoting chemoresistance of gastric cancer cells to DNA-damaging anthracycline drugs through activation of the canonical Wnt/β-catenin pathway. Caveolin is an integrated plasma membrane protein and is involved in lipid transport, membrane trafficking, gene regulation and signal transduction[76]. Certain cancer cells that express caveolins are more aggressive and metastatic, as well as drug-resistant[77].
The upregulation of Fzd-3, Wnt palmitoyltransferase porcupine (PPN), and CDH17 has been found to be critical for cell proliferation and activation of the Wnt/β-catenin signaling pathway in gastric cancer[78-80]. Moreover, Lu et al[81] have provided evidence indicating that EZH2 (histone methyl-transferase, enhancer of zeste homolog 2) activates Wnt signaling in gastric cancer mainly by downregulating the expression of CXXC4 (CXXC finger protein 4) without involving DNA methylation. It was also confirmed that overexpression of CXXC4 disrupts the association of Dvl with Axin-GSK3β by directly interacting with Dvl, thus functioning as a tumor suppressor[81].
Upregulation of Actin-binding protein anillin (ANLN), a protein involved in the cytokinesis and known to be dysregulated in many cancers, was found responding to the activity of Wnt/β-catenin pathway in gastric cancer[82]. Moreover, elevated expression of ANLN was identified as a molecular predictor of intestinal and proliferative type gastric cancer[82]. Similarly, cyclin-dependent kinase 8 expression and the delocalization of β-catenin expression have shown a significant positive correlation with carcinogenesis and tumor progression, especially lymph node metastasis[83].
On the other hand, the ubiquitously distributed transcription factor Yin Yang 1 (YY1) can act either as a tumor suppressor gene or as an oncogene depending on the type of tumor. This dual behavior might be determined by cell context, oncogenic stimulation or the regulation of its upstream pathways[84,85]. YY1 was found to promote the Wnt signaling pathway in gastric cancer, probably by suppressing Wnt antagonists[86]. YY1 expression is involved in the carcinogenesis of diffuse-type gastric carcinoma, and it was correlated with poor prognosis in patients with early stage gastric cancer[86].
It has been suggested the existence of an interplay between the Wnt signaling cascade and Notch1 signaling pathway in gastric cancer cells, in which the aberrant activation of Wnt/β-catenin signaling overcomes the pro-apoptotic role of Notch in gastric cancer cells[87]. Furthermore, Li et al[87] observed that when the two signaling pathways were simultaneously activated, there was a combined effect of promoting the proliferation of gastric cancer BGC-823 cells by upregulating the expression of c-Myc, cyclin D1, cyclin E and CDK2.
Genomic alterations: In contrast to the colorectal cancer, mutations driving gastric cancer are much less defined. Mutations in CTNNB1 have been frequently detected (approximately 30%) in intestinal- and diffuse-type gastric carcinomas displaying nuclear accumulation of β-catenin[9,88-92]. These mutations occur mainly in exon 3, that encodes for the GSK3β phosphorylation consensus region of the β-catenin gene, resulting in mutants refractory to regulation by the destruction complex, and thus in accumulation of this protein and constitutive activation of the Wnt pathway. In contrast, there are studies examining the incidence of CTNNB1 mutations that report their infrequency, either in intestinal and diffuse-type gastric cancer[93-96].
Wang et al[97] performed a genetic association study (944 patients and 848 cancer-free controls) to analyze the correlation between five tagged single nucleotide polymorphisms (SNP) spanning the CTNNB1 gene (rs4135385, rs1798808, rs1880481, rs11564465 and rs2293303) and gastric cancer risk and prognosis. Their results showed that the SNPs rs1880481, rs4135385, rs11564475 and rs2293303 were significantly associated with gastric cancer susceptibility. In addition, the rs4135385 AG/AA genotypes were associated with a 0.74-fold reduced adjusted hazard ratio for favorable overall 5-year survival of non-cardia gastric cancer.
In the nucleus, free β-catenin binds members of the TCF/LEF family of transcription factors, including TCF7L2 (TCF4), thereby modulating gene transcription[27,28]. Somatic frameshift mutations of TCF7L2 in the repeat sequence A9 have been frequently detected in gastric cancers with microsatellite instability (MSI)[98,99]. On the contrary, no MSI mutations in TCF7L2 were detected in Japanese patients with sporadic gastric tumors[100]. In this sense, about 15% to 50% of gastric carcinomas are categorized into MSI–positive cancers[101].
Considering post-transcriptional modifications, the splicing pattern of numerous genes is altered as cells progress in the tumorigenesis process. It is hypothesized that alternative spliced exons can originate functional protein–protein interactions and establish tissue-specific proteome signatures[102]. The participation of Wnt/β-catenin pathway in alternative splicing in colorectal, lung and gastric cancer was identified by a mechanism involving the up-regulation of the serine/threonine-protein kinase SRPK1 and the splicing factor SRSF1[103]. Furthermore, identification of TCF4 binding sites both in the promoter regions of SRPK1 and SRSF1 makes these two genes apparent Wnt-targets.
Loss of Wnt repressor function in gastric cancer
Several studies have demonstrated that loss of Wnt inhibitors may play a major role in gastric cancer (Table 1). In mouse models, deletion of APC or GSK3β leads to rapid nuclear β-catenin accumulation and Wnt target gene expression that result in formation of benign lesions, such as intestinal-type adenomas and fundic gland polyps but not tumorigenesis[104]. These molecular changes seem to be required to drive early carcinogenesis events in the stomach, a hypothesis that is supported by studies showing that GSK3β phosphorylation and inactivation is associated with cancer progression in gastric cancer[105]. Different studies have shown downregulation-in occasion by unspecified mechanisms-of various negative regulators of the Wnt/β-catenin signaling involved in proliferation and invasion in gastric cancer, including sFRP, Sox7, Sox10, Sox17, HSulf-1, RACK1, ZNRF3 and OSR1[78,106-113].
Some Wnt-target genes, such as Dkk-1, Axin, Nemo kinase, etc., have shown to cause inhibition of Wnt signaling itself[114,115]. These Wnt-antagonists are initially upregulated in response to Wnt signaling activation, initiating a negative feedback loop[116]. However, in certain tumor cells, the epigenetic silencing of Dkk-1 by promoter hypermethylation or loss of heterozygosity, produces an imbalance of Wnt/Dkk negative feedback, therefore contributing to persistent activation of Wnt/β-catenin signaling[117,118]. Moreover, recently it was reported that Polycomb group protein BMI1, which is transcriptionally regulated by the Wnt-target gene c-Myc, act as an activator of the Wnt pathway by repressing Dkk protein family (particularly Dkk-1) as part of positive feedback loop[119].
Conversely, as despite Dkk-1 being a Wnt pathway inhibitor, this protein has been found upregulated in several human cancers, such as lung, esophageal, breast, myeloma multiple and gastric cancer[120-123], indicating that Dkk-1 could has a potential oncogenic role in these tumors rather than acting as a tumor suppressor by antagonizing Wnt signaling. That elevation of Dkk-1 expression is likely to be caused by some epigenetic alterations including the loss of promoter methylation of the Dkk-1 gene[123,124]. Moreover, the oncogenic activities of Dkk-1 could be mediated, at least in part, by non-canonical Jun-mediated Wnt pathways activation.
RUNX3 suppresses the canonical Wnt signaling pathway by forming a ternary complex of RUNX3, TCF4 and β-catenin, that inhibits the binding of the complex to the Wnt target gene promoter, thereby suppressing Wnt signaling[125]. This transcription factor has been originally identified as a tumor suppressor, and RUNX3 loss is seen as an early event in gastric cancer development due to aberrant Wnt signaling, causing spontaneous epithelial-mesenchymal transition (EMT) and producing a tumorigenic stem cell-like subpopulation[126-128]. Furthermore, recent evidence suggests that RUNX3 can either suppress or activate Wnt signaling activity in gastric cancer by binding to the TCF4⁄β-catenin complex, depending of (or regulated by) cell context-dependent mechanisms[129]. Similarly, sFRP1, which is classically considered as an inhibitor of Wnt/β-catenin signaling, has been observed playing in promoting gastric tumourigenesis. This double-edged role seems depend on the strong link between sFRP1 expression and TGFβ signalling activation. In gastric cancer cells high sFRP1 levels are correlated with the activation of TGFβ signaling[130].
A recent study demonstrated that loss of CHD8 expression, commonly observed in gastric cancer, represents an indicator for the biological aggressiveness of gastric cancer[131]. Nishiyama et al[132] suggested that CHD8 (chromodomain helicase DNA-binding) negatively regulates β-catenin function by recruiting histone H1 to the promoters of Wnt target genes, thereby functioning as a tumor suppressor.
Genomic alterations:APC mutations have been detected in both precancerous and malignant gastric lesions with up to 25% of gastric adenomas exhibiting somatic mutations in this gene[133,134]. Moreover, deletions of APC at the chromosome locus 5q21-22 have also been found in 20%-60% of gastric cancer[135-137]. Ogasawara et al[92] observed that gastric tumors had mutations of the APC gene comparable to the frequency of CTNNB1 mutation. They suggested that such APC mutations explain the abnormal β-catenin localization and accumulation that could cause activation of Wnt/β-catenin signaling in some cases. Furthermore, in a murine model heterozygous for E-cadherin gene deletion, loss of heterozygosity of APC synergistically enhanced gastric tumor initiation[138]. The fact that APC gene deletions were mainly observed in advanced tumors suggests that it might occur in the progression but not in the initiation of gastric cancers[137]. In addition, loss of the mesenchymal transcription factor Foxl1 leads to an earlier tumor initiation due to accelerated loss of heterozygosity at the APC locus in colon and stomach[139].
Axin1 and Axin2 proteins negatively regulate the Wnt signaling pathway based in their roles as scaffolding proteins involved in the assembly of the β-catenin destruction complex. Therefore, mutations in their genes have been proposed as critical defects in some cancers[140]. Moreover, Axin2 is a transcriptional target of the LEF/TCF-β-catenin transcription factor complex[141]. A highly mutable G mononucleotide repeats present in exon 7 of Axin2 frequently has a frameshift mutation (1 bp deletion) in gastric cancer with MSI and nuclear β-catenin expression[90,98]. Pan et al[90] also identified in their study in gastric cancer five SNPs (334 C>T, 874 C>T, 1396 G>A, 1690 C>T and 1942 T>G) and frameshift mutations in Axin1.
Missense mutations in β-TrCP, a component of the ubiquitin ligase complex targeting β-catenin for proteasomal degradation, also has been suggested to contribute to the development of gastric cancer through β-catenin stabilization[142]. Finally, somatic mutations in Wilms' tumor gene on the X chromosome (WTX), which is also considered a negative regulator of Wnt/β-catenin signaling, have been only detected in colorectal cancer, but not in gastric carcinomas[143].
Epigenetic modifications: Hypermethylation of Wnt-antagonist and tumor suppressor genes may be one of the key mechanisms for the translocation of β-catenin to nucleus and subsequent aberrant activation of canonical Wnt/β-catenin pathway involved in the pathogenesis of gastric cancer[144,145]. Indeed, APC is one of the genes commonly hypermethylated in gastric cancer[145,146]. Moreover, hypermethylation of APC promoter contributing to moderate activation of Wnt signaling was associated to the development and progression of gastric adenomas, which are considered as premalignant lesions of gastric adenocarcinoma[145]. This process seems to be accelerated by infection with H. pylori[145].
Several other tumor suppressor genes that function through modulating Wnt/β-catenin signaling were found silenced in gastric cancer, such as members of the sFRP and Dkk gene families. CpG methylation-depending silencing of sFRP1, sFRP2, sFRP4, sFRP5, HSulf-1, WIF-1, RUNX3 as well as, Dkk-1, Dkk-2 and Dkk-3 has been frequently observed among gastric cancer cells lines and primary specimens[59,96,108,144,147,148]. In addition, Yu et al[148] showed by multivariate analysis that Dkk-3 methylation was associated significantly and independently with poor disease survival in gastric cancer, but not in colorectal cancer. Recently, DNA methylation status in 49 gastric cancer samples was analyzed by a bead array with 485512 probes[149]. This study revealed that the Wnt pathway was potentially activated by aberrant methylation of its negative regulators, such as Dkk-3, NKD1, Sox17, WIF-1 and sFRP1. Moreover, DNA methylation and extensive mutation analyses in gastric cancers revealed an association between the CpG island methylator phenotype and oncogenic mutations in CTNNB1, ERBB2, KRAS and PIK3CA[150].
Downregulation of Sox10 by promoter methylation has also been detected in gastric cancer tissues[112]. Sox (SRY-related-HMG-box) familiy members are transcription factors that regulate canonical Wnt signaling through different mechanisms, including protein-protein interactions and binding to Wnt-target gene promoters[151]. Sox10 is an important DNA binding transcription factor that recruits β-catenin to repress Wnt/β-catenin signaling in cancer progression[112].
PRDM5, an epigenetic modifier gene, was found inactivated by promoter methylation in 76% of gastric cancer[152,153]. While knockdown of PRDM5 expression induced cell proliferation, ectopic PRDM5 expression significantly inhibited tumor cell clonogenicity, accompanied by the downregulation of TCF/β-catenin-dependent transcription of CDK4, TWIST1 and MDM2 oncogenes[153].
Moreover, silencing of RASSF10, a member of the Ras association domain family proteins that are considered as tumor suppressor genes, was recently found associated with promoter hypermethylation in gastric cancer cell lines[154]. This study also demonstrated that RASSF10 over-expression inhibited the Wnt/β-catenin signaling pathway in gastric cancer cells.
Odd-skipped related 1 (OSR1), a gene encoding a zinc-finger transcription factor, was found preferentially methylated in gastric cancer by genome-wide methylation screening[111]. The tumor suppressive activity of OSR1 in gastric cancer is in part due to inhibition on the expression of LRP6, CTNNB1, TCF-1, LEF1, and Axin2 in the Wnt/β-catenin signaling pathway. In this work, OSR1 methylation was also considered as an independent predictor of poor survival of patients at early stage of gastric cancer[111].
Role of microRNAs in Wnt/β-catenin signaling in the gastric cancer
MiRNAs are short noncoding RNA molecules of 19-25 nt that regulate gene expression at the post-translational level leading to mRNA degradation or the inhibition of translation[155]. MicroRNAs are involved in the regulation of different biological processes, including apoptosis, proliferation, metabolism, and as modulators of development they can promote either self-renewal or differentiation in stem cells to determine their fates[155,156]. Moreover, miRNA expression profiling in many kind of cancers has shown that certain miRNAs can function as oncogenes or tumor suppressors, and their misexpression and dysregulation contribute to the tumorigenic process[157].
A miRNA expression profile in normal gastric tissues have been described[158]. Moreover, an increasing number of studies have shown dysregulation of miRNAs in gastric cancer tissues and their potential use as biomarker for this disease[66-68]. Although with some controversies, these studies have resulted in the identification of hundreds of differentially expressed miRNAs, some of them involved in regulation of the Wnt/β-catenin signaling[159,160].
Wu et al[161] reported that members of the miR-17-92 cluster (miR-19b, miR-20a and miR-92a) act regulating the self-renewal of GCSC by targeting E2F1 and HIPK1, that are known to suppress Wnt/β-catenin signaling. As a consequence, miR-17-92 subsequently activates Wnt/β-catenin signaling[161]. Other genes involved in Wnt pathway were revealed as potential target of miR-30a (Runx2, CDH1, Wnt5A) and miR-103 (Axin2) in expression profiling studies in gastric cancer[160]. Moreover, hsa-miR-375 upregulation and hsa-miR-142-5p downregulation have been indicated as predictor for recurrence risk in gastric cancer patients following surgical resection, probably by regulating several Wnt/β-catenin target genes[162].
In Chinese patients with gastric cancer other miRNA genes that regulate Wnt/β-catenin target genes, such as miR-144, hsa‐miR‐148a and miR-193b were found downregulated[163-165]. While miR-193b can inhibit tumor invasion and metastasis[163], hsa-miR-148a has been suggested as biomarker for early gastric cancer[165]. Moreover, also in Chinese patients, the survival analyses results showed that patients with high expression levels of hsa-miR-335 had reduced overall survival rate and high recurrence risk of gastric cancer[166]. Among hsa-miR-335 targeted genes is Fzd-3, a member of the FZD receptor family, upregulated in several cancers[167].
Metastatic potential of gastric cancer cells have been associated with changes in the expression profile of miRNAs involved in regulating Wnt signaling pathway. MiR-10a upregulation and miR-516a-3p decreased expression were proven to play a pivotal role in tumor invasion and metastasis from primary gastric cancer to lymph nodes or peritoneum, respectively[168,169]. Using proteomics approaches, Takey et al[169] showed that miR-516a-3p targets extracellular sulfatase 1 (HSulf-1). HSulf-1 removes 6-O sulfates from heparan sulfate proteo-glycans chains to liberate Wnt ligands, and thus, enable them for binding to Frizzled receptors and subsequently activate the Wnt canonical pathway[170]. However, as it was mentioned above, loss or downregulation of HSulf-1 is associated with carcinogenesis in several tissues.
Tang et al[171] identified a novel role for GSK3β in the regulation of miRNAs biogenesis in gastric cancer cells. They showed that GSK3β inhibits the expression of miR-96, miR-182 and miR-183 through the β-catenin/TCF/LEF-1 pathway. GSK3β protein levels are decreased in human gastric cancer tissue compared with surrounding normal gastric tissue, coinciding with increased levels of β-catenin and miR-96, miR-182, miR-183. In addition, overexpression of β-catenin enhances the expression of miR-96, miR-182 and miR-183 in human gastric cancer cells[171].
A recent study identified the overexpression of miR-200b and miR-22 as the mechanism related to the anti-tumor effects of Diallyl disulfide in gastric cancer cells[172]. Furthermore, Wnt-1 was identified as a target of both miR-200b and miR-22. Moreover, MAPRE1, which acts as an activator of the Wnt/β-catenin pathway may be a direct and functional target of miRNA-10b in gastric cancers[173,174].
MiR-27 has been identified as modulator of Wnt signaling by interacting with APC and also promoting human gastric cancer cell metastasis by inducing EMT[175]. Finally, it was recently revealed that the upregulation of miR-200a increases E-cadherin and suppresses the Wnt/β-catenin pathway by targeting CTNNB1, ZEB1 and ZEB2 in gastric cancer[176,177].
Wnt/β-catenin signaling in the gastric cancer stem cells
Cancer stem cells (CSCs) are a group of heterogeneous cells representing a fraction of certain tumors that share many properties with somatic stem cells, such as the capacity for self-renewal and multipotent differentiation potential[178]. CSCs are involved in tumor development, and form the basis for tumor proliferation and metastasis[179-181]. Researchers proved the existence of CSCs in many solid tumors, including in various gastrointestinal neoplasms such as colon, gastric pancreas, liver and gastroesophageal tumors[181-184]. Moreover, CSCs are thought to be responsible for tumor recurrence, which is one of the biggest problems in cancer therapy.
Although the mechanism by which CSCs develop remains unclear several studies have investigated the role of dysregulation of the Wnt/β-catenin, transformation growth factor-β (TGF-β) and Hedgehog pathways in generation of CSC[185-187]. Abnormal activation of Wnt/β-catenin signaling pathway strongly correlates with tumorigenesis and progression through maintaining CSCs[188]. In this regard, Zhu et al[189] identified that Dkk-1 secreted by mesenchymal stem cells was able to inhibit proliferation of human carcinoma cell lines through the canonical Wnt signaling pathway. Moreover, knockdown of β-catenin resulted in inhibition of CSC in lung cancer[190].
The development of gastric cancer is closely associated with GCSC. Clinicopathological analysis in gastric cancer has demonstrated that the expression of stem cell markers CD44 and CD133 is highly associated with the degree of malignancy and tumor grading[191-193]. A few studies have explored the role of Wnt/β-catenin signaling in GCSC self-renewal, proliferation and sensibility to treatment.
The squamo-columnar junction (SCJ) region of the normal mouse stomach contains a gland consisting of CD44+ cells, of which a few are quiescent or slow-cycling stem cell-like gastric cells[45]. These CD44+ cells in the SCJ region can be expanded by the cooperative effect of PGE2-mediated inflammatory signaling and Wnt signaling, suggesting a mechanism to development of gastric tumors in mice[45]. Moreover, Mao et al[47] observed that stem-related genes Wnt-1 and CD44 are overexpressed in gastric cancer specimens. They found that the proliferation rate of GCSC was dramatically inhibited by knockdown of Wnt-1. Also, Salinomycin, an antibiotic thought to suppress Wnt/β-catenin signal transduction can inhibit GCSC[47,194]. Finally, the importance of the Wnt/β-catenin pathway for the self-renewal of CSCs in human gastric cancer have also been suggested by proving that stimulation with Dkk-1 could decrease the self-renewal ability of cancer stem-like cells[46].
Wnt/β-catenin signaling and metastatic potential in gastric cancer cells
A distinctive feature of gastric cancer is early invasiveness into adjacent tissues and the peritoneal cavity. It has been hypothesized that Wnt/β-catenin signaling could contribute to tumor progression by enhancing the proliferation and invasiveness of gastric cancer cells. Furthermore, it is thought that the Wnt/β-catenin pathway is one of the major signaling pathways involved in EMT and therefore, playing a critical role in metastasis[195]. Indeed, disruption of Wnt/β-catenin pathway has shown anti-metastatic activity in gastric cancer cells[196].
In this regard, an important player is Wnt-5a that stimulates cell migration and invasion of gastric cancer cells through regulation of focal adhesion complexes by activating focal adhesion kinase and small GTP-binding protein Rac[74]. Wnt-5a also contributes to gastric cancer progression by inducing expression of laminin γ2, thus increasing metastatic potential[197].
On the other hand, nuclear β-catenin is correlated with an invasive phenotype in intestinal-type tumors[198]. This increase in tumor invasion is likely mediated by the upregulation of Wnt transcriptional targets, such as EphA2 (erythropoietin-producing hepatocellular) and membrane type 3 matrix metalloproteinase (MT3-MMP) genes[199,200]. Furthermore, evidence provided by Kim et al[201,202] suggests that TC1 (C8orf4), which is upregulated in high-grade gastric cancers, coordinates the upregulation of Wnt/β-catenin target genes involved in the aggressive biological behavior and poor clinical outcome observed in advanced gastric cancer[202,203]. TC1 enhances the signaling pathway by relieving the antagonistic regulation of Chibby (Cby) on β-catenin-mediated transcription[203]. Cby was first identified as an interactor with β-catenin in humans, which suggested it could be a tumor suppressor gene[204].
Silencing of PLA2G2A (phospholipase A2) enhances the invasive ability of gastric cancer cells[205]. Surprisingly, PLA2G2A, which is an independent predictor of favorable outcome for patients with gastric cancer[206,207], is also a direct Wnt target gene and it has been found upregulated in early stages of gastric cancer. Ganesan et al[205] have proposed that in late-stage tumors, Wnt signaling is still active driving expression of proto-oncogenes; however, PLA2G2A expression is decreased possibly by epigenetic inactivation and/or genomic deletions, resulting tumors with a highly aggressive clinical phenotype. Moreover, the overexpression of the Wnt signalling regulator sFRP1 has been correlated with activation of TGFβ signalling pathway, thereby it may induce cell proliferation, EMT and invasion[130].
HMGA (high mobility group protein) proteins contain DNA binding domains that mediate binding to AT-rich regions of chromatin, having the ability to modulate transcription of their target genes by altering the chromatin structure at the promoter and/or enhancers[208]. Members of HMGA family, HMGA1 and HMGA2, are highly expressed during embryonic development and are linked to malignant transformation and progression in human cancers, including gastric cancer[208,209]. HMGA1, is induced by the Wnt/β-catenin pathway and maintains proliferation of gastric cancer cells[210]. Moreover, HMGA2 activates the Wnt/β-catenin pathway and causes EMT in gastric cancer cells by suppressing the expression of Axin1, thereby protecting β-catenin from phosphorylation degradation[211]. HMGA2 also promotes β-catenin translocation by increasing expression of TWIST1, which can repress E-cadherin expression[211].
Role of infections in enhancing Wnt/β-catenin pathway signaling in gastric cancer
H. pylori virulence factors contributing to gastric cancer development include cytotoxin-associated gene product (cagA), vacuolating cytotoxin A (vacA), blood group antigen binding adhesion 2 (BabA), outer inflammatory protein (oipA) and induced by contact with epithelium (iceA)[212].
Infection with cagA-positive H. pylori strains increases the risk of peptic ulcers and gastric carcinoma[213]. CagA protein is translocated by a type IV secretion system into gastric epithelial cells where forms a physical complex with the Src homology 2 domain-containing tyrosine phosphatase in a phosphorylation dependent manner[214]. These changes trigger a complex set of alterations in signal transduction that affects various cellular processes[215]. Another H. pylori constituent linked to the development of gastric cancer is the secreted VacA toxin. VacA can cause a wide assortment of alterations in gastric epithelial cells, including cell vacuolation, gastric epithelial cell autophagy and apoptosis[216,217]. VacA can also interfere with T cell activation, which suppresses local immune response[218].
H. pylori infection could cause cancer tumorigenesis and malignant transformation of host cells through the activation of oncogenic pathways[219]. In this sense, evidence has raised the possibility that Wnt/β-catenin pathway plays a role in the pathogenesis of H. pylori infection, including the promotion of pathological changes seen in gastric cancer. Indeed, in vitro H. pylori infection of cells promotes an increase in nuclear levels of β-catenin and TCF/LEF transactivation, with upregulation of the β-catenin target gene cyclin D1 in a CagA-independent manner[220,221].
Among the pleiotropic effects of the vacuolating cytotoxin VacA, Nakayama et al[222] reported that this H. pylori virulence factor induces the Wnt/β-catenin pathway through the activation of the PI3K/Akt signaling pathway. This triggers the phosphorylation and inhibition of GSK3β, and β-catenin translocation to the nucleus after dissociation of GSK3β/β-catenin complex, with subsequent activation of the CCND1 promoter[222].
β-catenin activation by CagA-dependent manner has also been associated with gastric carcinogenesis. H. pylori CagA plays an important role in the development of intestinal metaplasia, a premalignant lesion of gastric epithelial cells from which intestinal-type gastric adenocarcinoma arises[220]. Moreover, CagA deregulates the Wnt/β-catenin pathway in a phosphorylation-independent manner by the interaction with E-cadherin and the destruction of the complex between E-cadherin and β-catenin, which causes cytoplasmic and nuclear accumulation of β-catenin. CagA-deregulated β-catenin then trans-activates cdx1 and p21 genes that are involved in intestinal differentiation of gastric epithelial cells[220]. Additionally, another study has suggested that non-phosphorylated CagA may induce Wnt signaling in a met proto-oncogene (c-Met)-dependent manner[223].
The relationship between H. pylori-induced inflammation and oncogenic mechanisms has been recently assessed by the transgenic expression of CagA in a novel in vivo model of intestinal hyperplasia in zebrafish[224]. This study reported significant CagA-dependent up-regulation of the Wnt target genes CCND1, Axin2 and the zebrafish c-myc ortholog myca. Moreover, CagA infection can lead to advanced gastric carcinoma through the upregulation of cyclin D1[225]. It is thought that CagA promotes the phosphorylation of MUC1, which is a glycoprotein expressed on the apical borders of secretory epithelial cells, thereby facilitating its interaction with β-catenin, and the subsequent transcriptional activation of cyclin D1[225]. In addition, gene expression profile analyzed in H. pylori-infected and uninfected patients undergoing chronic superficial gastritis showed that the E3 ubiquitin-protein ligase RNF138, which is involved in the ubiquitination and degradation of TCF/LEF, was downregulated by H. pylori[226,227].
Among the multiple ways in which H. pylori can induce Wnt signaling, the bacteria also induces phosphorylation of the Wnt co-receptor LRP6 in a T4SS-dependent manner and involving Dvl-2 and Dvl-3 proteins[228].
In gastric tumor mouse models, the cooperation between the canonical Wnt signaling and H. pylori-induced COX-2/PGE2 pathway has been established in promoting gastric carcinogenesis via the metaplasia-carcinoma sequence[72,229]. In addition, the Wnt signaling pathway plays a role in the transcriptional induction of COX2 in gastric cancer cells through a β-catenin/TCF dependent mechanism[230,231]. Furthermore, TNF-α treatment and H. pylori infection might play roles in human gastric cancer cell line MKN45 through upregulation of Wnt-10A[232].
Finally, it is important to mention the correlation between Epstein-Barr virus (EBV) and gastric cancer. In this regard, Kim et al[233] found that p21 and APC loss was positively correlated with EPV positive gastric carcinomas. EBV is accepted as a causative microorganism for gastric carcinoma, accounting for nearly 10% of gastric cancer cases worldwide[234].
TARGETING THE WNT/β-CATENIN PATHWAY AS POTENTIAL THERAPY IN GASTRIC CANCER
The Wnt/β-catenin pathway plays a key role in gastric cancer pathogenesis; therefore, chemotherapeutic approaches for targeting this pathway should be a major effort. However, several factors have hampered progress in this field, such as the number and variety of Wnt ligands, receptors and co-receptors involved in Wnt signaling[14,18]. Furthermore, this complex pathway regulates a broad range of developmental processes, its components have redundancy in other cellular functions, and the transcriptional output of β-catenin is highly context dependent[235,236]. Finally, crosstalk from various non-Wnt factors also intervenes to regulate nuclear β-catenin accumulation.
Wnt inhibitors are the focus of intense investigation in pharmaceutical and academic research, and as a consequence of this effort; potential anticancer agents have emerged that target components of this signaling pathway[235,237-239]. There are currently several therapeutic approaches to modulate the Wnt signaling cascade at various stages of development, as well as natural compounds that have been proved, or are being tested, in different systems[235,240]. Several studies in which potential targets and strategies were tested for gastric cancer treatment targeting Wnt/β-catenin signaling pathway are reviewed below.
The antibacterial potassium ionophore Salinomycin was first described as a selective inhibitor of breast cancer[241]. Thereafter, Salinomycin was found to inhibit Wnt/β-catenin signaling by inducing the degradation of Wnt co-receptor LRP6 in chronic lymphocytic leukemia[242]. Recently, it was also confirmed that Salinomycin inhibits tumor growth by targeting preferably gastric CSCs, at least partially, via suppression of Wnt1 and β-catenin expression[47].
Zhang et al[243] examined the effects of acetyl-11-keto-beta-boswellic acid (AKBA) and its underlying molecular mechanisms on human gastric carcinoma. AKBA is an active component of the Boswellia serrata gum resin[243,244]. In this study, AKBA significantly inhibited human gastric cancer growth without toxicity. This effect was attributed, among other mechanisms, to induction of apoptosis and modulation of the Wnt/β-catenin signaling pathway.
Natural products involving downregulation of the Wnt/β-catenin signaling pathway have also shown antitumor effects against gastric cancer, such as γ-tocotrienol, flavanone, Capsosiphon fulvescens glycoprotein (Cf-GP) and diphyllin[245-248]. Diphyllin is a cytostatic lignan isolated from Cleistanthus collinus that potently inhibits V-ATPases involved in Wnt/β-catenin signaling[245,249]. Shen et al[245] observed in gastric carcinoma treated with diphyllin a decrease in phospho-LRP6, but not in LRP6, accompanied by reduction of β-catenin levels and the expression of its target genes associated with the inhibition of V-ATPase. LRP6 phosphorylation is accompanied by receptor internalization in caveolin-containing vesicles and endocytosis, which is essential for Wnt/β-catenin signaling[250].
Yao et al[251] observed that the combined treatment with the ERK1/2 inhibitor PD98059 and the γ-secretase inhibitor DAPT in gastric cancer originated induction of apoptosis and regulation of β-catenin, c-Myc, and cyclin D1. Although this combined treatment results in a dramatically increased cytotoxicity compared to that observed with any of the drugs alone, the exact mechanism by which these two agents act together to downregulate Wnt/β-catenin signaling pathway remains unknown.
Anti-metastatic activity resulting from disruption of Wnt/β-catenin pathway was recently reported in gastric cancer cells by Hanaki et al[196] using anti-Wnt-5a polyclonal antibody. They suggested that the anti-Wnt5a antibody was capable of suppressing Wnt-5a-dependent internalization of receptors, thus leading to disruption of Wnt/β-catenin pathway. Further investigation with anti-Wnt-5a monoclonal antibody could be useful for the clinical management of cancers with overexpression of Wnt-5a. In this sense, monoclonal antibodies against Wnt-1 and Wnt-2 can induce apoptosis in some human cancers that overexpress these ligands[252,253].
Interestingly, two different approaches targeting the secreted inhibitor of the Wnt/β-catenin pathway Dkk-1 have been reported as potential treatment for gastric cancer[121,254]. As mentioned above, the role of Dkk-1 in cancer appears to be diverse, because it can act as tumor suppressor or metastasis promoter[255]. Thus, Dkk-1 appears to be critical to determining the tumor microenvironment and could has a cancer type and/or patient specific role[255]. Sato et al[121] reported a strategy based on Dkk-1-neutralizing antibodies indicating the direct antitumor effect in cancer cells lines that overexpressed Dkk-1, such as pancreatic, bile duct, breast, cervical and gastric cancer, and hepatocellular carcinoma. Alternatively, Wang et al[254] used a chimeric 5/35 adenovirus-mediated Dkk-1 overexpression strategy to suppress the endogenous Wnt/β-catenin signaling aberrantly activated in GCSC. This study demonstrated that adenoviral expression of Dkk-1 was efficient in modulating activation of Wnt signaling and also proved that CSC-targeting gene therapy could be effective in gastric cancer.
Recently, Zhang et al[256] reported that the proton pump inhibitor pantoprazole treatment inhibited the hyper-activated Wnt/β-catenin signaling and reduced cell invasiveness of chemotherapy-resistant gastric cancer cells and epithelial-mesenchymal transition. This work, besides giving evidence that the enhanced aggressive phenotype appeared to be mediated by activation of the canonical Wnt/β-catenin signaling pathway, it also showed that it is possible to reduce the aggressiveness of gastric cancer with a proton pump inhibitor[256].
CONCLUSION
Recent studies have identified new components and regulators, as well as confirmed other already known players, of the canonical Wnt/β-catenin pathway involved in the development, progression and metastasis of gastric cancer. These studies have also provided new approaches to therapeutically target Wnt/β-catenin signaling pathway in primary and metastatic gastric cancer. The complexity of the Wnt/β-catenin pathway and the potential influence of the context imply a critical need for understanding the interaction between Wnt regulators and with different oncogenic signaling pathways, to completely elucidate this pathway.
In this regard, the contribution of high throughput methods for functional genomics, epigenomics and for the screening of potential therapeutic molecules certainly will help in the near future. These "new generation" methods could also address the additional challenge that represents the intratumoral and intertumoral (between patients) heterogeneity for effective treatment of gastric tumors.
ACKNOWLEDGMENTS
To N Lander, PhD, for revising the English of the manuscript.
P- Reviewer: Ditzel M, Dalay N, Huerta-Franco MR, Singh SR, Wiemer EAC S- Editor: Song XX L- Editor: A E- Editor: Lu YJ