Copyright
©The Author(s) 2023.
Published by Baishideng Publishing Group Inc. All rights reserved.
Acute exacerbation of interstitial lung disease in the intensive care unit: Principles of diagnostic evaluation and management
Muhammad K Hayat Syed, Or Bruck, Anupam Kumar, Pulmonary and Critical Care Medicine, Baylor College of Medicine, Houston, TX 77030, United States
Salim Surani, Department of Medicine and Pharmacology, Texas A&M University, College Station, TX 77843, United States
Author contributions: Hayat Syed MK contributed to idea origination, literature review, write-up, and revision; Bruck O and Kumar A contributed to the literature review and write-up; Surani S contributed to idea origination, review, revision, and supervision.
Conflict-of-interest statement: All the authors report having no relevant conflicts of interest for this article.
Open-Access
: This article is an open-access article that was selected by an in-house editor and fully peer-reviewed by external reviewers. It is distributed in accordance with the Creative Commons Attribution NonCommercial (CC BY-NC 4.0) license, which permits others to distribute, remix, adapt, build upon this work non-commercially, and license their derivative works on different terms, provided the original work is properly cited and the use is non-commercial. See:
https://creativecommons.org/Licenses/by-nc/4.0/
Corresponding author: Salim Surani, FCCP, MD, MHSc, Academic Editor, Professor, Department of Medicine and Pharmacology, Texas A&M University, 400 BIZZELL ST, College Station, TX 77843, United States. srsurani@hotmail.com
Received: February 27, 2023
Peer-review started: February 27, 2023
First decision: March 28, 2023
Revised: April 18, 2023
Accepted: May 17, 2023
Article in press: May 17, 2023
Published online: June 9, 2023

Interstitial lung disease (ILD) is typically managed on an outpatient basis. Critical care physicians manage patients with ILD in the setting of an acute exacerbation (ILD flare) causing severe hypoxia. The principles of management of acute exacerbation of ILD are different from those used to manage patients with acute respiratory distress syndrome from sepsis, etc. Selected patients may be candidates for aggressive measures like extracorporeal membrane oxygenation and lung transplantation, while almost all patients will benefit from early palliative care. This review focused on the types of ILD, diagnosis, and management pathways for this challenging condition.
Core Tip: Interstitial lung disease (ILD) refers to a heterogeneous group of parenchymal lung disorders. Most patients with ILD receive management in outpatient clinics. Patients with acute exacerbation of ILD may experience significant respiratory distress, requiring urgent management in an intensive care unit. Timely diagnosis and management of these patients using a multimodality team approach may improve both morbidity and mortality. When acute exacerbation of ILD progresses to irreversible end-stage respiratory failure, lung transplantation and/or palliative care may be appropriate treatment options depending on the individual patient's clinical presentation.
---
Citation: Hayat Syed MK, Bruck O, Kumar A, Surani S. Acute exacerbation of interstitial lung disease in the intensive care unit: Principles of diagnostic evaluation and management. World J Crit Care Med 2023; 12(3): 153-164
---
INTRODUCTION
Interstitial lung disease (ILD) is a heterogeneous group of approximately 200 disorders affecting lung parenchyma. The classification schema of this group of diseases has changed over time, with the most current iteration agreed upon in 2013 in a consensus statement from the American Thoracic Society and European Respiratory Society[1]. This classification system will be the basis for the nomenclature used in this review (Figure 1).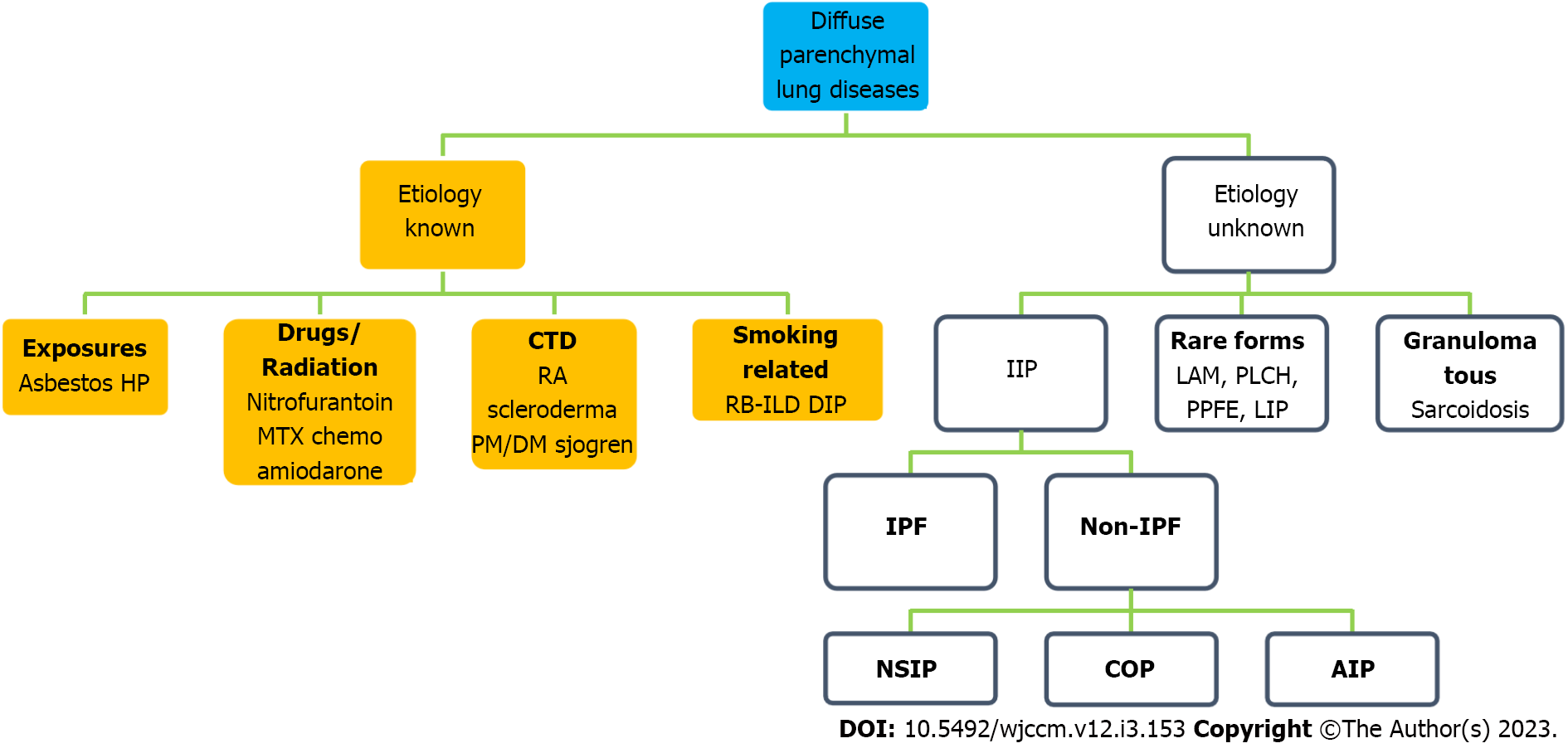 Figure 1 Classification of interstitial lung disease/diffuse parenchymal lung disease.
AIP: Acute interstitial pneumonia; COP: Cryptogenic organizing pneumonia; CTD: Connective tissue disease; DIP: Desquamative interstitial pneumonia; DM: Dermatomyositis; HP: Hypersensitivity pneumonitis; IIP: Idiopathic interstitial pneumonias; IPF: Idiopathic pulmonary fibrosis; LAM: Lymphangioleiomyomatosis; LIP: Lymphoid interstitial pneumonia; MTX: Methotrexate; NSIP: Non-specific interstitial pneumonia; PLCH: Pulmonary Langerhans cell histiocytosis; PM: Polymyositis; PPFE: Pleuroparenchymal fibroelastosis; RA: Rheumatoid arthritis; RB-ILD: Respiratory bronchiolitis-ILD.
ILD can be more broadly categorized into those with a known cause and those without an identifiable etiology, also known as "idiopathic." Those ILDs with known causes can be due to drugs and toxins, rheumatic disease, granulomatous diseases such as sarcoidosis, and other forms such as lymphangioleiomyomatosis, eosinophilic pneumonia, or pulmonary Langerhans cell histiocytosis. The major idiopathic ILDs can be distributed into three categories: Chronic fibrosing [idiopathic pulmonary fibrosis (IPF), non-specific interstitial pneumonia (NSIP)], acute/subacute fibrosing [cryptogenic organizing pneumonia, acute interstitial pneumonia (AIP)], and lastly smoking-related (delta sleep-inducing peptide, respiratory bronchiolitis-ILD)[1]. Notably, not all ILDs have the propensity to present as an acute exacerbation (AE). Moreover, common conditions like pulmonary edema, pneumonia, pulmonary embolism, and aspiration should be considered in the differential diagnosis of acute worsening. Furthermore, patients may present to the intensive care unit (ICU) with no known history of ILD.
An abnormal chest radiograph may be the initial finding in these patients[2]. Much attention is paid to the specific patterns noted on chest computed tomography (CT) that, when coupled with clinical history, can sometimes obviate the need for tissue sampling[3]. It is important to note that the lung has a limited and predictable response to injury; thus, a variety of disease processes may produce similar imaging findings[4]. Patients will almost universally present in a similar fashion, with dyspnea and acute hypoxemic respiratory failure. CT becomes an essential tool in the differentiation of the diagnosis.
ANTIFIBROTIC THERAPY
Currently, there are two medications available on the market, nintedanib and pirfenidone, which are classified as antifibrotics that are approved for the treatment of IPF. Nintedanib is a tyrosine kinase inhibitor that blocks the processes that propagate fibrosis. In the clinical trial, which ultimately led to its approval, it was shown to reduce the decline of lung function and thus slow disease progression[36]. Pirfenidone works by inhibiting transforming growth factor beta, which plays a role in collagen-directed fibroblast formation. While there is no reversal of disease, this medication has also shown the ability to slow the progression of lung decline. Both medications have been shown to reduce the rate of exacerbations[3]. Many patients with IPF will be on these medications at the time of hospitalization. Polke et al[33] looked at the management practices of AE-IPF in specialized and non-specialized ILD centers worldwide. They found that 80% of physicians in specialized centers continue antifibrotics during hospitalization, and 66% initiate therapy during the AE[33]. These therapies have not been investigated specifically for use in the setting of AE-IPF or other ILDs, for that matter. There is, however, a growing body of evidence for the use of these drugs in other fibrosing lung diseases other than IPF[37].
Antibiotics
Antimicrobial agents are used routinely in patients with AE-ILD in conjunction with a thorough infectious workup. Antimicrobial coverage should be tailored to the specific pathogens and sensitivities at each respective institution. Azithromycin is a familiar drug, and its use in the management of AEs of chronic obstructive lung disease is well documented. Azithromycin is postulated to exert its benefits through anti-inflammatory and immunomodulatory effects in the lung[38,39]. Evidence does exist that there may be a benefit to macrolide use in patients with AE-IPF. However, these studies are small and confounded by other therapies the patients received[40,41]. Other patient-specific considerations, such as recent hospitalization, prior culture data, and immunosuppression, should also play a role in determining the most appropriate therapy. In a Chinese cohort of patients with idiopathic inflammatory myopathy-related ILD, they found that roughly one-third of patients admitted with clinical worsening (mainly respiratory) had what they deemed to be concomitant infection and exacerbation of the idiopathic inflammatory myopathy. Nearly half of those patients with documented infections had a fungal infection with either Aspergillus or Pneumocystis[42]. This highlights the importance of considering opportunistic infections in patients with ILD who are admitted to the ICU.
Antacids
It is postulated that microaspiration might play a role in the incitement of lung fibrosis. Studies have frequently demonstrated a higher prevalence of gastroesophageal reflux disease in ILD patients; however, this association cannot be interpreted as causation[43,44]. The role of acid-reducing therapy in AE has not been formally investigated. However, many physicians will continue antacids during hospitalization, and at the very least, the patients will qualify for alimentary prophylaxis based on mechanical ventilation and corticosteroid administration.
HIGH-FLOW NASAL CANNULA
The coronavirus disease 2019 pandemic has changed the way non-invasive ventilation (NIV) is viewed and utilized. With the popularization of high-flow nasal cannula (HFNC), the oxygen demands of severely hypoxemic patients can be met without the need for endotracheal intubation. IMV has a dismal prognosis for patients with AE-ILD[45], and a trial of HFNC is warranted. The benefit and feasibility of using HFNC for acute hypoxemic respiratory failure has been shown. However, patients with chronic hypoxemic respiratory failure were excluded from this study. While the patients that were randomized to HFNC vs continuous positive airway pressure (CPAP) or bi-level positive airway pressure devices did not result in a decreased need for intubation, there was a reduction in mortality at 90 d in the HFNC group. HFNC can deliver a fraction of inspired oxygen up to 100% with high flow rates that can match the patients' respiratory demands. Given the high flow rates, there is also a degree of dead-space washout that results in decreased work breathing. There is limited high-quality evidence regarding the matter, but it has been shown in several retrospective studies that it is a safe and well-tolerated modality with comparable outcomes to CPAP and bi-level positive airway pressure[46,47]. HFNC has been shown to have salutatory effects in IPF patients without an AE, specifically decreased minute ventilation and respiratory rate, and capillary carbon dioxide was seen. The minor increase in positive end-expiratory pressure seen with it is also considered beneficial[48,49]. Finally, there is the added advantage of the patient being able to eat and communicate with HFNC vs IMV.
NIV
NIV is often applied in patients with acute hypoxemic respiratory failure in the hopes of staving off endotracheal intubation. There is robust evidence for the utility of its use in respiratory failure secondary to chronic obstructive lung disease and congestive heart failure. However, the benefit is less certain in AE-ILD. Yokoyama et al[50] demonstrated that NIV might have potential benefits in patients with acute hypoxemic respiratory failure secondary to AE-ILD. Eleven patients received CPAP therapy. Of those patients, 6 failed and required IMV but did not survive. The remaining 5 patients survived and were alive at the 3-mo follow-up. Similar results were shown in another study that also used NIV for patients with IPF[51,52]. These studies are not without limitations, given small sample sizes and retrospective natures that may not be representative of the general AE-ILD population. Further, it may reflect a selection bias that patients who benefitted from the use of NIV may have had less severe diseases. Nonetheless, it is proof of concept that perhaps for a subset of AE-ILD patients, a trial of NIV is a potential alternative to an otherwise morbid intervention that in some cohorts see a mortality rate of up to 90% for ICU patients[51].
MECHANICAL VENTILATION
The outcomes for ILD patients that require IMV are so poor that outside of transplant candidates, some experts have advised against endotracheal intubation for these patients apart from those patients that have clearly reversible causes for respiratory decompensation[53]. The lungs of ILD patients are plagued by two detrimental factors: Significant V/Q mismatch and poor compliance. No specific guidelines dictate the optimal way to provide IMV to this subset of patients. The intrinsic substrate properties of ILD lungs make them especially prone to ventilator-induced lung injury with decreased compliance making the lung more prone to both barotraumas as well as atelecatrauma[54,55]. Therefore, it is reasonable to utilize strategies from the ARDSNET group for the management of patients with acute lung injury and acute respiratory distress syndrome (ARDS)[56]. Some authors use this fact as a caution against absolute denial of IMV for ILD patients, given that some of the data were collected before the publication of the landmark trial in 2000, which demonstrated the mortality benefit of low tidal volume ventilation[13].
There have been studies that looked at the lung mechanics of stable ILD patients and found that based on both static and dynamic lung compliance, the lung is less distensible than normal. Furthermore, it was demonstrated that the elastance of the mechanically ventilated IPF patient was four times higher than even those patients with ARDS[57]. This is further corroborated by retrospective studies that have shown that higher levels of positive end-expiratory pressure have been associated with higher mortality in AE-ILD patients[54].
In conclusion, the outcomes of ILD patients requiring IMV are extremely poor, with cohorts that report up to 100% mortality[58]. As such, the decision to proceed with endotracheal intubation should not be made lightly and should only occur after thoughtful discussion with the patient and family members. In the case of transplant candidates, IMV can be seen as a bridge therapy. Otherwise, early involvement in palliative services are advised.
EXTRACORPOREAL MEMBRANE OXYGENATION
Veno-venous extracorporeal membrane oxygenation (VV ECMO) is presently viewed as a salvage tool in the management of patients with refractory hypoxemic respiratory failure. When the known strategies, such as low-tidal volume ventilation, prone positioning, and neuromuscular blockade, all fail to improve oxygenation and/or refractory acidemia due to impossible ventilation in the capable centers, VV ECMO is often employed. ECMO helps to diminish ventilator-induced lung injury in these patients. There is no consensus recommendation on the use of VV ECMO for ARDS, and the data supporting its use leaves most intensivists with a great deal of uncertainty regarding the degree of and who will benefit[59,60].
There is even less certainty regarding its use in AE-ILD patients. Trudzinski et al[61] showed that ECMO is a viable option for patients who are suitable for a lung transplant. However, it should not be offered to those who are not, given that it does not reverse the otherwise poor prognosis faced by patients who are not transplant candidates. In an international poll, roughly 50% of physicians at specialized centers offered ECMO as a bridge to patients who were suitable for transplantation[33]. To summarize, ECMO should be considered for patients with AE-ILD with a clear reversible cause (e.g., infection or pulmonary embolism) or as a bridging therapy for patients appropriate for lung transplant.
LUNG TRANSPLANTATION
ILD, particularly IPF, is now the most common indication for lung transplantation worldwide[62]. The median post-transplant survival for patients with idiopathic interstitial pneumonia, which includes IPF, is 5.2 years and 6.7 years for all other ILDs transplanted between 1992 and 2017[63]. Current guidelines recommend that transplant only be offered to those patients with a > 80% likelihood of 5-year post-transplant survival[64]. There are several relative contraindications to transplant, such as severe psychosocial problems or life-threatening extrapulmonary organ dysfunction. The latter may frequently be encountered in AE-ILD patients who require ICU admission. The need for IMV and/or ECMO for respiratory failure before the transplantation are associated with adverse post-transplant outcomes, which may prevent some of the sickest patients from undergoing transplantation[64]. For those patients who were already listed for transplantation and who experienced an AE, ECMO as a bridge to transplantation could be considered on a case-by-case basis. The emphasis in these patients is to avoid the development of critical illness myopathy and extrapulmonary organ damage. For de novo patients, performing invasive tests like heart catheterization and screening colonoscopies can be perilous. Ultimately, candidacy for an organ transplant will be a decision made in a multidisciplinary fashion incorporating the values of the patient and family, transplant surgeons, and transplant pulmonologists.
PALLIATIVE CARE
Palliative care (PC) medicine specialists are dedicated to improving patient quality of life during serious illnesses. In a recent survey, it was shown that the majority of ILD providers use PC and are comfortable discussing PC with their patients[65]. Given the poor prognosis that ILD patients face when they are admitted to the ICU, it warrants early involvement of PC services. Furthermore, the median life expectancy for all patients with IPF is between 2-7 years, which hastens in the AE setting. The American Thoracic Society/European Respiratory Society guidelines recommend that advanced directives and end-of-life issues be addressed in the ambulatory setting in all patients with IPF[3]. A subset of patients will require ICU level of care due to AE-ILD that was not previously diagnosed and will require more nuanced discussions given the emotional burden of a new, life-limiting diagnosis. In one IPF cohort, it was found that the hospital was the place of death for 80% of the patients, and most of these patients (93%) were hospitalized for an average of 30 d during the last 6 mo of their life. More striking was the statistic that 42% had a do not resuscitate order that was decided upon ≤ 3 d prior to their death[66]. This further confirms the importance of early and thoughtful communication with these patients and their families to ease the emotional and physical suffering they may endure at the end of their lives.
CONCLUSION
Flares or AEs of ILD have feared complications, owing both to their poor prognosis and uncertain management. The mainstay of therapy is supportive care and early recognition of a potentially reversible cause. Immunosuppression plays a role in a subset of patients; however, the optimal dosage and duration have not yet been defined. It behooves the intensivist to trial NIV forms on respiratory support to avoid the highly morbid effects of mechanical ventilation in these patients. The most aggressive therapies, such as IMV and ECMO, should be reserved for those patients who are potential transplant candidates. Early involvement in PC will assist in managing complex discussions and minimize suffering for patients with a high propensity for mortality.
Provenance and peer review: Invited article; Externally peer reviewed.
Peer-review model: Single blind
Corresponding Author's Membership in Professional Societies: American College of CHEST Physician; Society of Critical Care Medicine.
Specialty type: Critical care medicine
Country/Territory of origin: United States
Peer-review report's scientific quality classification
Grade A (Excellent): 0
Grade B (Very good): 0
Grade C (Good): C, C
Grade D (Fair): D
Grade E (Poor): 0
P-Reviewer: Juneja D, India; Wu J, China S-Editor: Fan JR L-Editor: Filipodia P-Editor: Fan JR