Copyright
©The Author(s) 2016.
Published by Baishideng Publishing Group Inc. All rights reserved.
Essential vitamins for an effective T cell response
Ritobrata Goswami, Institute of Life Sciences, Ahmedabad University, Ahmedabad 380009, Gujarat, India
Mark H Kaplan, Department of Pediatrics, Wells Center for Pediatric Research, Indiana University, Indianapolis, IN 46224, United States
Author contributions: Goswami R and Kaplan MH wrote the paper.
Conflict-of-interest statement: Authors declare no conflict of interest for this article.
Open-Access: This article is an open-access article which was selected by an in-house editor and fully peer-reviewed by external reviewers. It is distributed in accordance with the Creative Commons Attribution Non Commercial (CC BY-NC 4.0) license, which permits others to distribute, remix, adapt, build upon this work non-commercially, and license their derivative works on different terms, provided the original work is properly cited and the use is non-commercial. See: http://creativecommons.org/licenses/by-nc/4.0/
Correspondence to: Ritobrata Goswami, PhD, Institute of Life Sciences, Ahmedabad University, University Road, Navrangpura, Ahmedabad 380009, Gujarat, India. ritobrata.goswami@ahduni.edu.in
Telephone: +91-79-26302414-18106 Fax: +91-79-26302419
Received: July 8, 2015
Peer-review started: July 14, 2015
First decision: September 22, 2015
Revised: October 24, 2015
Accepted: November 23, 2015
Article in press: November 25, 2015
Published online: March 27, 2016

Effective adaptive immune responses rely upon appropriate activation of T cells by antigenic peptide-major histocompatibility complex on the surface of antigen presenting cells (APCs). Activation relies on additional signals including co-stimulatory molecules on the surface of the APCs that promote T cell expansion. The immune response is further sculpted by the cytokine environment. However, T cells also respond to other environmental signals including hormones, neurotransmitters, and vitamins. In this review, we summarize the mechanisms through which vitamins A and D impact immune responses, particularly in the context of T cell responses.
Core tip: Vitamins are organic compounds that are required in small quantities as nutrients. When used as dietary supplements, vitamins can be used to treat diseases and maintain physiological processes including bone and skin health. Vitamins also play important roles in immune system including lymphocyte activation, and T helper cell differentiation. Among all the vitamins, vitamin A and D have garnered more interest in clinical setting. In this review we have focused on how vitamin A and D regulate adaptive immunity especially how both the vitamins modulate T cell responses. We have highlighted the mechanisms how these vitamins affect T helper cell differentiation. How these vitamins affect inflammatory disorders including allergy and autoimmune diseases have also been described in this review. The purpose of this review is to suggest the potential of dietary supplements such as vitamin A and D can be used to treat inflammatory disorders.
---
Citation: Goswami R, Kaplan MH. Essential vitamins for an effective T cell response. World J Immunol 2016; 6(1): 39-59
---
INTRODUCTION
Vitamins are organic compounds required in small amounts in the human body. As humans cannot synthesize vitamins in sufficient quantity, essential vitamins are provided by diet or dietary supplements. In recent years vitamins have generated considerable clinical interest as they promote pivotal activities in the immune system. Vitamins modulate a wide range of immune responses including lymphocyte activation, homing, and T helper cell differentiation. An association of vitamin B6-deficiency and poor immune parameters has been observed, and a separate study has observed that vitamin B6 is important for normal T-cell function in vivo[1,2]. Systemic administration of vitamin B2 is used to treat septic shock[3]. Food supplementation of vitamin E is used for hepatitis B treatment[4]. The maintenance of healthy bones in inflammatory bowel disease might be enhanced by vitamin K[5]. Vitamins A and D modulate the immune system in very specific ways influencing both the adaptive and innate immune system. The bioactive metabolites of these vitamins have hormone-like properties, making them distinct from other vitamins. Vitamin D deficiency is recognized as a worldwide problem with health consequences including increased incidence of food allergy, while vitamin A deficiency has been acknowledged as a public health problem[6,7]. This review is aimed at highlighting the mechanisms of vitamin A- and D-dependent regulation of an optimal T cell response.
VITAMIN D SYNTHESIS
The term vitamin D refers to both vitamin D3 (cholecalciferol) and vitamin D2 (ergocalciferol) (Figure 1A)[8]. Vitamin D is acquired either from diet or from conversion of 7-dehydrocholesterol in the sebaceous gland of animal skin upon exposure to sunlight, though levels generally decrease with aging[8,9]. To become biologically active, vitamin D undergoes several modification steps (Figure 2A). The enzymes CYP27A1, CYP2R1 among others are required for the formation of 1, 25-hydroxyvitamin D3 (1, 25D3), also known as calcitriol, the biologically active form of vitamin D[8]. CYP27B1 (one of many cytochrome P450 vitamin D hydroxylases) converts 25-hydroxyvitamin D (25-D) to 1, 25-dihydroxy vitamin D3 by 1α-hydroxylation[8,10]. CYP27B1 is found in placenta, monocytes and macrophages[11]. 1, 25D3 is released into circulation from kidney, an important organ of 1α-hydroxylation reaction[8,12]. Transport of vitamin D in blood is aided by vitamin D binding protein[11]. This protein does not affect the amount of 1, 25D3 entering cells or the synthesis of vitamin D target proteins[13]. Cultured alveolar macrophages can secrete 1, 25D3[14]. The level of circulating 25-hydroxyvitamin D is the defining parameter of vitamin D sufficiency or insufficiency. There is considerable debate though as to what should be considered as the cut-off level of required vitamin D in the healthy body. Even though some studies recommend concentrations of 20-30 ng/mL of 25-hydroxyvitamin D as an indicator of vitamin insufficiency, one study has argued that 20-50 ng/mL of 25-hydroxyvitamin D is normal[15,16]. Toxicity induced by high concentrations (> 150 ng/mL) of vitamin D is rare[17,18].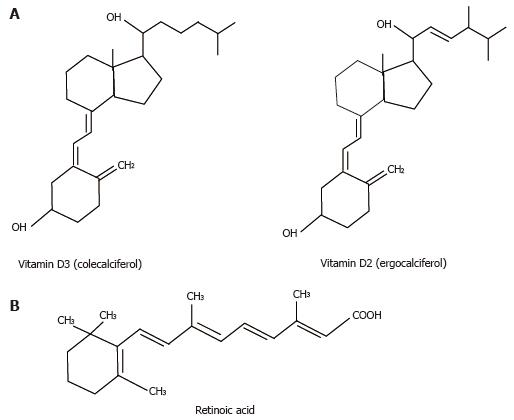 Figure 1 Structure of vitamin D and retinoic acid.
A: The chemical structure of vitamin D3 and vitamin D2 are indicated by line diagrams; B: The chemical structure of retinoic acid is indicated by line diagrams.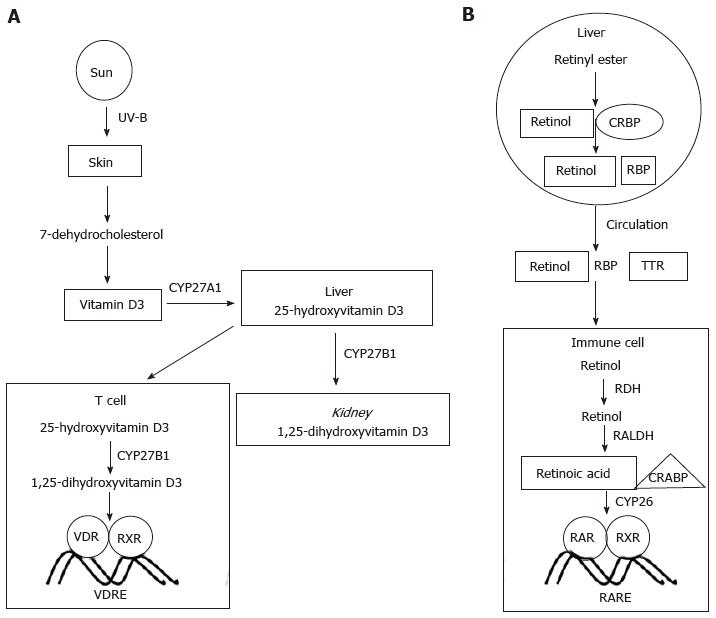 Figure 2 Vitamin D and retinoic acid biosynthesis and activity.
A: Vitamin D biosynthetic pathways are indicated, showing critical enzymes in particular tissues. Binding of VDR to DNA with RXR is indicated in a T cell; B: Retinoic acid biosynthetic pathways are indicated. Binding of RAR to DNA with RXR is indicated in an immune cell. RXR: Retinoid X receptor; VDR: Vitamin D receptor; RAR: Retinoic acid receptor; CRBP: Cellular retinol-binding proteins; RDH: Retinol dehydrogenases; VDRE: Vitamin D response element; RARE: Retinoic acid response element; CRABP: Cellular retinoic acid binding proteins.
VITAMIN A SYNTHESIS
Metabolites of vitamin A include 11-cis-retinaldehyde and all-trans retinoic acid (atRA); also known as retinoic acid (RA) (Figure 1B)[19].The abundance of RA is regulated by retinol dehydrogenases and retinal dehydrogenases (RALDH), while degradation is controlled by CYP26[20]. Though Rdh5-deficient mice are viable, Rdh10 mutants exhibit characteristics similar to RA deficiency[21]. Carotenoids and retinoids are converted to RA in the intestine, liver and finally in target cells[22]. Proteins including cellular retinol-binding proteins (CRBP), cellular retinoic acid binding proteins (CRABP) and retinol-binding proteins play important role in the biochemical conversion of retinoic acid[23]. The key retinoid in circulation binds to retinol-binding protein 4 (RBP4)[24]. STRA6, a retinoic acid inducible gene, facilitates the uptake of RBP4 in tissues[25]. Retinol can be obtained from animal retinyl esters by hydrolysis. Unesterified retinol gets converted to retinyl ester by lecithin-retinol acyltransferase enzyme[22]. Free retinol binds to retinol-binding protein while in plasma it binds to transthyretin[26]. Inside the target cell retinol binds to CRBP to give rise to retinal which subsequently gets converted to RA by RALDH[27]. When RA binds to CRABP, RA translocates to nucleus where it can bind to different nuclear receptors. The synthesis of vitamin A is shown in Figure 2B.
VITAMIN D SIGNALING
1, 25D3, responsible for most of the biological actions of vitamin D binds to the vitamin D receptor (VDR), a member of the superfamily of the nuclear receptors[28]. While expressed at low to moderate levels in most human tissues and cell-types, the highest expression of VDR is found in kidney, bone and intestine[29]. The presence of a structurally conserved α-helical ligand-binding domain (LBD) and a DNA-binding domain are the hallmarks of the nuclear receptor superfamily[30,31]. A molecule having roughly the size of cholesterol and at nanomolar concentrations can activate VDR[32]. The LBD of ligand-binding receptors have a 400-1400 Å3 ligand binding pocket[33]. VDR forms a heterodimer with retinoid X receptor (RXR) in the presence of vitamin D[8]. This heterodimer is required for the recognition of a vitamin D response element (VDRE) that lies in the regulatory region of vitamin D target genes. The VDRE is found both in proximal promoter regions and in regions located far away from the promoter[34,35]. VDRE is composed of direct repeats (DRs) of PuG(G/T)TCA motifs that are separated by a 3 bp (DR3) or 6 bp or 8 bp separation of everted repeats (ER6 or ER8)[36-38]. The 3 bp spacing of DR3 allows a proper platform for VDR/RXR heterodimer formation that has been confirmed by genome-wide analyses for VDR binding sites[39]. However, VDR binding to DR3 covers approximately one third of all genomic binding sites suggesting additional mechanisms for VDR to associate with the genomic loci. These mechanisms include binding with unrecognized proteins and tying up to other transcription factors[39]. Therefore VDR would possibly recruit co-activators and co-repressors to gain access to its target genes. In addition to transactivation, VDR/RXR heterodimers can cause transrepression at their target genes[40,41].
Chromatin immunoprecipitation (ChIP) has been used extensively to analyze genome-wide binding of VDR[42]. The regulatory regions of VDR target genes including CYP24A1, CYP27B1 and CCNC were analyzed for VDR binding by ChIP[43-45]. More than 2500 genomic VDR-binding sites were observed when human lymphoblastoid cells were treated with vitamin D[46]. Similarly when human monocytes were stimulated with vitamin D, approximately 1200 VDR peaks were observed[47]. After 3 h stimulation with vitamin D, human colorectal cells show 1674 VDR-binding sites that co-localize with RXR[48]. ChIP-seq studies also confirm VDR-binding sites on vitamin D target gene including VDR and MYC[49,50]. When different cell lines and differences in ligand stimulation time were taken into account it was observed that roughly 20% of the genomic sites are identical in assessing VDR-binding sites[39]. It has been suggested that VDR may not bind regulatory genomic regions to open the gene loci as a "pioneer factor", but rather VDR would act as an "accessory factor", binding already accessible regions of a gene[39].
VDR and other nuclear receptor interactions with chromatin have been well described[51,52]. Recruitment of RNA pol II and chromatin modifying enzymes has been observed with VDR on human genes including CYP24A1 and MYC[43,50]. VDR-dependent changes in the transcriptome have been assessed by both mRNA and miRNA microarrays as well as by ChIP-seq[39,53]. ChIP-seq data suggested that VDR either has a very promiscuous DNA binding specificity, or that VDR interacts with other DNA-binding transcription factors that alter the DNA binding site[39].
VITAMIN A SIGNALING
The biologically active form of vitamin A, atRA binds to RXR and retinoic acid receptor (RAR). Both RAR and RXR have three subtypes: α, β, and γ; each encoded by separate gene[54]. Each subunit of the receptor has multiple isoforms[55]. RAR and RXR both belong to the retinoid receptor family. RARα, RXRα and RXRβ are constitutively expressed in mouse embryos[19]. Functional redundancy is observed between RAR and RXR isotypes[20]. The functional domains of retinoid receptor include the N-terminal DNA binding domain (DBD) and a C-terminal LBD separated by a central hinge region[55]. The DBD, a highly conserved domain, contains two zinc finger modules while the activation function-2 (AF-2) domain is part of the LBD[22]. RAR can be activated by atRA, while RXR is activated by 9-cis RA[22]. Ligand binding to LBD causes a conformational change in the receptor complex[22]. AF-2 also plays an important role in the conformational change[22]. RAR-RXR heterodimer binds to the DNA region known as retinoic acid response elements (RAREs) located in the enhancer regions of RA target genes[19]. Even though RA functions by binding to RAR, RA can also signal by binding to PPAR-β/γ, an orphan nuclear receptor[56].
The availability of retinoic acid is governed in a spatiotemporal and tissue-specific fashion[57]. Transcriptional regulation mediated by RA involves many co-activator and co-repressor proteins[19]. In the absence of ligand, the RAR/RXR heterodimer binds to a co-repressor complex containing nuclear receptor co-repressor (NCoR) 1 and 2 (known as SMRT), polycomb repressive complex 2, and proteins having histone deacetylase activity[19,58]. NCoR/SMRT contains two conserved consensus sequences[54]. Once ligand binding occurs (such as RA), the RAR/RXR heterodimer interaction with the co-regulatory protein is altered with increased binding towards co-activator proteins and reduced interactions with the co-repressor proteins. Co-activator proteins have multiple LXXLL motifs that interact with ligand-activated RAR/RXR heterodimers. Proteins including SRC complexes and histone acetyltransferase such as p300 can interact with RAR/RXR heterodimers[54,59]. In the presence of appropriate ligand, co-activators preferentially bind to RAR but not RXR. Functional RARE sites consist of hexameric direct repeats-(A/G)G(T/G)TCA with spacing of either 2 bp (DR2) or 5 bp (DR5)[19]. AGTTCA is the most efficient hexamer for RAR binding[60]. In vitro studies have suggested a role of DR1 as a RARE; however, the in vivo significance is not completely understood[61]. Protein poly (ADP-ribose) polymerase 1 (PARP-1), present on RAR-inducible promoters in cells, can bind directly to RAR and other mediators[62]. The events that determine whether a specific RARE will have activation or repression function are also not well understood.
VITAMIN A AND D RECEPTOR POLYMORPHISMS
VDR is located at chromosome 12q13.1 in human and its locus covers more than 100 kb[63]. The locus contains eight introns and nine exons[63]. In the VDR gene four restriction enzyme polymorphisms have been identified: ApaI (rs7975232), BsmI (rs1544410), FokI (rs10735810), and TaqI (rs731236)[63]. FokI is located in exon 2, ApaI and BsmI are located in intron between exon 8 and 9 and TaqI is located in exon 9[63]. There is no structural change in the VDR protein because of the ApaI, BsmI and TaqI single nucleotide polymorphisms[64]. The FokI polymorphism, however, results in a second protein variant[65]. Additionally, the FokI polymorphism has been associated with serum 1, 25D3 concentration in twins with multiple sclerosis[66]. In systemic lupus erythematosus (SLE) patients, an association between serum 1, 25D3 level and FokI polymorphism has been observed[67]. In contrast to vitamin D serum concentrations, there is no association between the FokI polymorphism and the clinical spectrum in SLE and multiple sclerosis (MS) patients[67,68]. However, the BsmI and TaqI polymorphisms are associated with risk of autoimmune diseases including MS, SLE[63]. VDR polymorphisms have also been associated with increased susceptibility to infections including human immunodeficiency virus-1, tuberculosis and hepatitis B virus[69]. Single nucleotide polymorphism (SNPs) in vitamin A and D receptor genes in healthy Caucasian children and adults correlate with the efficacy of vaccine-mediated immunity[70].
Vitamin A receptor allelic variations and haplotypes affect immune responses to measles vaccine[69]. A specific RARB haplotype (resulting from SNPs rs6550978 and rs6777544) was associated with variations in measles antibody titers and measles-specific IL-2 and IFN-γ secretion, while the RARB AAC haplotype was concurrently associated with variations in measles antibody titers, and IL-10, IFN-α, and TNF-α secretion in Caucasians[69]. Using ChIP-seq new RAR-binding loci has been identified along with diverse spacing and topology of DNA[71,72].
VITAMIN D AND RETINOIC ACID: SIGNALING IN T CELLS
Nutrient status and metabolism affect CD4+ T cell development[73]. Both vitamin A and D control the expression of key players of innate and adaptive immune responses[74,75]. T cells are directly regulated by vitamin D via various mechanisms[76]. VDR expressed in T cells has high affinity for 1, 25D3, and the concentration of free 25-hydroxyvitamin D to antigen presenting cells regulates the balance between inflammatory and regulatory T cell responses[77,78]. Inhibitory responses has been observed in vitro on adaptive immune cells in the presence of vitamin D[79]. Activated T cells have increased VDR expression compared to naïve T cells[80]. Both increased and decreased VDR-dependent Foxp3 expression in murine model has been reported[81]. Murine Th1, Th2, and Th17 cells express significant Vdr transcripts, and the defined functions of VDR in these Th subsets is summarized below[81]. In the following sections we highlight the specific of vitamin D activity on each Th subset. The function of vitamin D in peripheral CD4+ T cells is summarized in Figure 3A.

Figure 3 Effects of vitamin D and retinoic acid on T helper cell differentiation.
A: The effects of vitamin D on each of the T helper subsets are indicated, detailing changes in expression of cytokines and transcription factors; B: The effects of retinoic acid on each of the T helper subsets is indicated, detailing changes in expression of cytokines and transcription factors. IL: Interleukin; TGF: Transforming growth factor; Treg: Regulatory T cell.
Th1 cells
Th1 cells are characterized by the production of IFN-γ following differentiation stimulated by IL-12. IFN-γ activates and enhances the microbicidal activity of macrophages, and as such Th1 cells provide immunity against intracellular bacteria, fungi and protozoa[82,83]. T-bet is a master regulator of Th1 cell development[84]. In addition, both STAT4 and STAT1, the signaling and transcription factors downstream of IL-12 and IFN-γ, respectively, promote Th1 cell differentiation[85,86]. IL-12 signaling also induces the transcription factor IRF-1, required for Th1 cell differentiation[87].
Several reports have demonstrated the effect of vitamin D in peripheral T cell responses. 1, 25D3 leads to an inhibitory effect on adaptive immune cells[79]. Cell proliferation is inhibited and the expression of IL-2, a T cell growth factor is attenuated in the presence of 1, 25D3[88,89]. Memory T cells that have abundant expression of VDR show profound inhibitory effect of 1, 25D3[90]. Vitamin D suppresses the development of Th1 cells while promoting Th2 cell differentiation[91]. 1, 25D3 directly inhibits IFN-γ production in vitro[92,93]. In vivo Th1 cell development is impaired in the presence of vitamin D that correlates with protection from inflammatory bowel disease[94]. Even though VDR-deficient animals have normal CD4+, and CD8+ cells; IFN-γ production by CD4+ T cells is significantly increased[95]. Vitamin D attenuates the production of IL-12 and IFN-γ from human leukocytes infected with Mycobacteria[96]. Mice lacking VDR augment IFN-γ responses and increase clearance rates of L. major in vivo[97]. The effects of the vitamin D response on host response to Candida infections is not completely understood though vitamin D deficiency results in enhanced replication of M. bovis, while addition of vitamin D suppresses tuberculosis replication[96,98,99]. In summary, vitamin D decreases IFN-γ production and IL-12 by DCs thereby attenuating Th1 responses.
Th2 cells
Naïve T cells activated by antigen in the presence of IL-4 differentiate into Th2 cells that secrete IL-4, IL-5 and IL-13. Th2 cells provide immunity against extracellular parasites[100]. IL-4 acts as a positive feedback loop for Th2 differentiation, while IL-5 is eosinophil recruitment and development cytokine[101,102]. IL-13 plays a key role against parasite infections[103]. GATA3 acts as the master regulator of Th2 cells, while c-Maf expressed in Th2 cells is a potent transactivator of IL-4[104,105]. IL-4-induced STAT6 is also required for the development of Th2 cells[106,107].
In Th2 cells 1, 25D3 enhances the production of IL-4[93]. When injected subcutaneously in mice in an allergic asthma model, vitamin D increases allergen-induced T-cell proliferation, IL-4 and IL-13 and IgE production[108]. Surprisingly airway eosinophilia is attenuated following vitamin D administration[108]. 1, 25D3 polarizes human T cells and murine T cells to a Th2 phenotype[109]. With increased concentrations of vitamin D, STAT6 expression is up regulated in human PBMCs, and STAT6 is required for the therapeutic effects of 1, 25D3 in EAE[109]. When pregnant rats are supplemented with high dose of vitamin D, the offspring develop allergic responses due to altered Th1/Th2 ratios[110]. Patients with allergic bronchopulmonary aspergillosis have attenuated Aspergillosis-induced Th2 responses in the presence of vitamin D[111]. However, when vitamin D-deficient healthy females when undergo vitamin D supplementation there is significant difference in the expression of IL-4, IFN-γ, GATA-3, T-bet, STAT6 and STAT4[112]. Overall, vitamin D augments Th2 differentiation by increasing the secretion of IL-4, IL-5, IL-10 and Th2-specific transcription factors.
Th17 cells
In the presence of TGF-β, IL-6 and IL-21, naïve CD4+ T cells differentiate into Th17 cells that produce IL-17, IL-21 and IL-22[113-115]. Th17 cells provide immunity to several extracellular pathogens including defense against infections from Candida, Citrobacter and Klebsiella[116,117]. The transcription factor RORγt is required for Th17 differentiation[118]. IRF4, an inducer of GATA3 in Th2 cells is also required for Th17 development[119].
Vitamin D suppresses Th17 cell responses partly by inhibiting IL-6 and IL-23 production, cytokines required for Th17 cell differentiation and commitment[120-123]. One report suggested that vitamin D can prevent experimental autoimmune uveitis owing in part to direct suppression of Th17 cells[124]. In vitro 1, 25D3 inhibits Th17 cytokine production via VDR but does not suppress Th17 gene transcription[125]. Mechanistically, 1, 25D3 induces the expression of C/EBP homologous protein that suppresses the production of Th17 cytokines[125]. The inhibitory effect of 1, 25D3 on IL-17A transcription has been attributed to competition with NFAT at the level of DNA binding, recruitment of histone deacetylase to the IL17A promoter and sequestration of Runx1 by 1, 25D3[126]. The same study has also demonstrated that 1, 25D3 represses mIl17a transcription by attenuating recruitment of the transcription factor Runx1 to the Il17a promoter[126]. 1, 25D3 also inhibits Th17 differentiation in both young asthmatic patients and healthy controls through a dendritic cell-dependent mechanism, inhibiting the expression of IL-17, IL-23R, RORC, and CCR6[127]. Overall, studies suggest Th17 cell polarization is attenuated by vitamin D.
Treg cells
Regulatory T cells (Tregs) control pro-inflammatory responses of effector Th cells and promote self-tolerance[128]. Naïve CD4+ T cells exposed to TGF-β develop into inducible Tregs in the periphery, and these cells have similar properties to natural Tregs, derived from the thymus including having suppressive functions[129,130]. The transcription factor Foxp3 has been identified as a reliable marker for Treg cells in both human and mice[131,132]. IL-10 signaling in Tregs maintains the expression of Foxp3 for immune regulation[133].
1, 25D3 induces the differentiation and expansion of Foxp3+ Treg cells through several mechanisms[122,134,135]. Immunoglobulin-like transcript 3, (a surface molecule expressed on DCs and macrophages) up-regulation by 1, 25D3 in DCs could induce the production of Treg cells, though this is likely dispensable for Treg induction[134]. When applied topically, vitamin D augments the suppressive capacity of CD4+CD25+ cells and CD4+ T cells from skin draining lymph nodes have reduced ability to proliferate in vitro[135]. With the help of IL-2, 1, 25D3 increases the frequency of activation-induced human Foxp3+ T cells[136]. There is increased number of CD4+CD25+Foxp3+ Treg cells and increased CTLA4 expression when CD4+CD25-T cells are cultured in the presence of vitamin D in vitro[136,137]. Vitamin D supplementation is associated with increased percentage of circulating CD4+ Treg cells in healthy individuals[138]. When administered orally, calcitriol induces Tregs and immature DCs via intestinal exposure while decreasing atherosclerosis in mice[139]. There is an in vivo correlation between vitamin D status and Treg suppressive function in relapsing-remitting multiple sclerosis patients[140]. However, there is a negative correlation between the Th1/Th2 ratio and 25-D level[140]. A VDRE is present in the human FOXP3 conserved non-coding sequence (CNS) that is homologous to the enhancer 1 region of the mouse Foxp3 gene and there is enhanced FOXP3 promoter activity in the presence of 1, 25D3[141]. Vitamin D also induces the development of IL-10-producing Treg cells; although, vitamin D does not affect IL-10R expression[142-144]. Monocyte-derived DCs pretreated with 1, 25D3 up-regulate the expression of PD-L1 and when co-cultured these DCs convert CD4+ T cells to IL-10-secreting Treg cells[145]. 1, 25D3 in the presence of dexamethasone induces the population of IL-10-secreting Treg cells in both murine and human CD4+ T cells[146]. Overall, Treg cell development is augmented in the presence of vitamin D.
Th9 cells
Naïve CD4+ T cells in the presence of TGF-β and IL-4 differentiate into Th9 cells producing IL-9[147,148]. The transcription factors PU.1 and IRF4 are required for the development of Th9 cells[149,150]. The effect of vitamin D has also been ascertained in IL-9-secreting Th9 cells. 1, 25D3 inhibits the development of Th9 cells in mice concomitant with increased IL-10[151]. Vitamin D attenuates the production of IL-9 in purified memory T cells from healthy controls and patients with asthma[152]. However, vitamin D-mediated inhibition of IL-9 production by Th9 cells is not possible with anti-IL-10 treatment[152].
Additional mechanisms
Vitamin D might regulate Th cell development and function through additional mechanisms that include direct regulation of gene expression by vitamin receptors, regulation of miRNAs, and by altering epigenetic regulatory mechanisms. miRNAs control effector T cell differentiation and function[153]. Vitamin D-mediated regulation of T helper cells via modulating miRNA has not been studied in great detail. Vitamin D induces the expression of miR-22 in colon cancer cells that can potentially be therapeutic[154]. In addition, vitamin D-mediated regulation of miRNA has been established in bone[155]. T helper cell differentiation is also regulated by epigenetic modifications[156]. Vitamin D-mediated signaling via VDR entails both histone acetyltransferase and histone deacetylase (HDAC)[157]. Histone and DNA methylation are also regulated by vitamin D[158]. Vitamin D prevents the migration of T helper cells into CNS thereby attenuating experimental autoimmune encephalomyelitis (EAE)[159].
Retinoic acid and peripheral T cell responses
Retinoic acid affects specific adaptive immune responses and elicits effector CD4+ T cell responses[79,160,161]. Retinoic acid augments T-cell proliferation by inducing IL-2 secretion[162]. RA induces gut-homing receptors on T cells[163]. Depleting vitamin A significantly attenuates the number of IgA-secreting cells in rat ileum[164]. Vitamin A-deficient mice demonstrate defective Th-cell activity[165]. Retinoic acid augments the expression of gut-homing molecules α4β7 and CCR9 on CD4+ T cells maintaining intestinal homeostasis[166]. In the following sections we highlight the specific of retinoic acid on each Th subset. The function of retinoic acid on T helper cells is summarized in Figure 3B.
Th1 cells: Vitamin A deficiency leads to enhanced production of IFN-γ-secreting Th1 cells[167]. Retinoic acid inhibits Th1 cell development by attenuating IFN-γ production directly via RAR but not RXR[168]. In RA-treated immunized mice there is reduced expression of Th1-specific transcription factors T-bet and IRF-1[169]. RA also attenuates the expression of STAT4 and T-bet in a mouse model of autoimmune insulitis[170]. Whether atRA can regulate Th1/Th2 balance in a strong Th1 environment has been assessed[171]. In Gata3-deficient CD4+ T cells, atRA induces the expression of IL-4 while reducing the secretion of IFN-γ[171]. atRA abrogates the induction of Th1 cells in spleen and lymph nodes in vivo[172]. In RARα-transfected Jurkat cells, atRA significantly down-regulates Ifng promoter activity[173]. However, a report published this year argues RA is important for Th1 cell stability while preventing a switch to Th17 cells[174]. RA is required for STAT4-dependent T-bet expression in Th1 cells[174]. At Th1 lineage associated loci, RA-RARα regulates enhancer activity[174]. Overall, retinoic acid inhibits the production of Th1 cytokines both in vitro and in vivo.
Th2 cells: Vitamin A-deficient mice demonstrate poor antibody responses owing to significant decreases in Th2-cell frequency[165]. In the absence of exogenous cytokines, atRA significantly attenuates IFN-γ production but does not change IL-4 production[175]. When Th2-polarizing cytokines are present, atRA significantly enhances IL-4 secretion in the presence of antigen-presenting cells[175]. atRA enhances the transcription of Th2-associated genes including Gata-3, c-Maf and IL-4Rα in murine CD4+ T cells[168]. atRA has also been shown to have a similar Th2-promoting effect on human MBP-specific T cell lines in vitro[176]. A recent report suggested that in vitamin A-deficient mice, mesenteric lymph node DCs induce a Th subset producing high IL-13 and TNF-α[177]. Induction of this specific subset was mediated by B220-CD8α-CD103-CD11b+ DCs and was dependent on IL-6 and OX40L but inhibited by RA[177]. Both atRA and 9-cis RA are equally potent in promoting human Th2 cell development[178]. The role of specific retinoic acid receptors in either Th1 or Th2-mediated disease pathology has remained unclear. RARα induces human Th2 cytokine production that correlates with the expression of CD38 and CD69[179]. Similarly, RAR agonists, Am80 and Tp80 mimic the effect of RA[168]. However, one study reported that Am80 did not have any effect on IFN-γ production by Th1 clones[180]. atRA enhances the percentage of IL-5+ Th2 cells while RARα antagonist Ro415253 reduces the percentage of IL-5+ Th2 cells from house dust mite specific short-term cell lines[181]. Therefore, the studies indicate that retinoic acid promotes Th2 differentiation and maintains Th1-Th2 balance.
Th17 cells: atRA and RARα suppress the formation of Th17 cells and induce the production of Foxp3+ Treg cells[182,183]. The atRA-mediated inhibition of Th17 cells is independent of IL-2, STAT3 and STAT5 to overcome the effect of IL-6; however some initial IL-2 signaling may be required for the regulatory function of atRA[182,183]. In Th17 cells, RA attenuates the expression of TGF-β-induced IL-6Rα and the transcription factor IRF4[184]. RA also suppresses Th17 cell development from Th1 precursors[174]. In the absence of RA signaling there is increased expression of Th17-specific genes including Rorc, Il23r, Il22, Il21[174]. Overall, retinoic acid blocks the development of Th17 cells by down-regulating RORγt expression.
Treg cells: atRA plays an important role in immune tolerance via induction of Treg cells. In the presence of RA there is an induction of Foxp3+ Treg cells in murine CD4+ T cells[184]. 1, 25D3 augments dexamethasone-induced expression of IL-10 by Tregs[185]. There is increased expression and phosphorylation of the TGF-β-induced molecule Smad3 but not Smad2 in the presence of RA[184]. RA can override the negative effect of co-stimulatory molecules and specific secreted cytokines in enhancing the conversion of naïve T cells to Treg cells[186]. Even though there is RA-mediated induction of Smad3, enhanced Treg conversion is Smad3-independent[186]. The same study demonstrated that RARα, but not RARα1 deficiency blocks Treg cell conversion[186]. TGF-β also induces ERK1/2-signaling pathway and Smad3 and ERK1/2 have complex interaction that is cell type-specific[187]. In human Tregs generated from cord blood ERK1/2 signaling is impaired, while in relapsing-remitting multiple sclerosis patients the activity of ERK1/2 is altered[188,189]. In contrast, ERK1/2 signaling is activated by atRA leading to enhanced Foxp3 expression[190]. atRA induces CTLA-4, part of the T-cell co-stimulatory signal that differentially regulates ERK signaling pathway and is required by TGF-β to generate CD4+CD25+ Tregs[191-193]. For the development of human inducible Tregs (iTregs), the addition of atRA is required, even though atRA does not affect proliferation or survival of human CD4+ T cells[194,195]. After atRA treatment, human natural Tregs (nTregs) become resistant to conversion to Th1 and Th17 cells with sustained expression of Foxp3[191]. atRA induces the expression of Foxp3+Tregs from naïve CD4+ T cells but not from memory CD4+ T cells[195]. Maintenance of Foxp3 expression during nTreg expansion is mediated by atRA[196]. Even in the presence of inflammatory cytokines, atRA-pretreated Tregs maintain their suppressive capabilities[191]. Mechanistically atRA increases histone acetylation and methylation of Foxp3 promoter as well as conserved non-coding sites at the gene promoter[190]. In nTregs, atRA can inhibit methylation of Foxp3 in the presence of inflammatory cytokines[191]. In contrast to Th17 cells, retinoic acid induces the development of Foxp3+ Tregs indicating the reciprocal regulation between Th17 and Treg cells. Overall, the potential role of retinoic acid in peripheral T cells is described in Figure 3.
Retinoic acid has been shown to mediate epigenetic changes in embryonic stem cells[197]. Retinoic acid induces the expression of specific microRNAs and their precursors in human AML and in neuroblastoma cells[198,199]. miR-10a, which can act as tumor suppressor in breast cancer is also induced by retinoic acid and TGF-β altering the plasticity of T helper cells in process[200,201].
Therefore, both vitamin D and retinoic acid could potentially regulate T helper cell differentiation via epigenetic modification and miRNA.
ROLES OF VITAMINS IN ALLERGY AND AUTOIMMUNE DISEASES
Both vitamin D and retinoic acid have been implicated in allergy and autoimmune diseases[81,202]. This section highlights the role of both vitamins in allergy and autoimmune diseases such as EAE and type 1 diabetes (T1D).
Allergy
As both the prevalence of asthma and vitamin D deficiency has been increased it has been hypothesized that both of these parameters might be linked[203,204]. A cross-sectional study from the Third National Health and Nutrition Examination Survey suggests that serum vitamin D level is positively associated with FEV-1, the maximum amount of air to be expelled during the first second of forced expiration[205]. In Chinese adults with asthma, vitamin D deficiency has been associated with reduced lung function[206]. Low vitamin D levels have also been associated with markers of allergy and asthma severity[207]. Corticosteroids that are used to treat asthma patients function better in the presence of vitamin D, suggesting that low vitamin D concentrations might also impair therapy[208]. Serum 25-D level of less than 30 ng/mL has been associated with impaired lung function, airway hyper responsiveness and increased asthma exacerbations[209]. Vitamin D deficiency in children with asthma being treated with inhaled corticosteroids is associated with reduced lung function[209]. However, one study did not find any correlation between the level of vitamin D and airway inflammation in a group of asthmatic children[210]. However, vitamin D supplementation has not been suggested as a therapeutic in patients with symptomatic asthma[211]. A case control study performed in asthmatic children observed a possible association of vitamin D sufficiency status and VDR gene polymorphism[212]. Impaired maternal 1, 25D3 level during pregnancy impairs the production of Treg cells[213]. Even though most cohort studies have suggested that there is inverse correlation between maternal vitamin D level and early childhood risk of allergic sensitization, this is not consistent in all studies[214-216]. A recent study argued that neither serum 25-D level nor dietary intake of calcitriol is associated with allergy[217].
Retinoic acid-treated rabbit tracheal epithelial cells lead to enhanced mucin gene expression suggesting the potential role of retinoic acid in asthma[218]. Normal bone marrow cultures treated with atRA suppress eosinophil and basophil differentiation[219]. Furthermore, human bronchial epithelial cell line BEAS-2B treated with RA, abrogates IL-4-induced production of eotaxin, an eosinophil chemoattractant[220]. The transrepression of eotaxin is not due to altered STAT6 binding or AP-1 activity[220]. atRA reduces total cell counts and inflammatory cells in BAL fluid in asthmatic rats which could be due to reduced expression of NF-κB and ICAM1[221]. RA also inhibits human bronchial smooth muscle cell migration by modulating PI3K/Akt pathway and is associated with inhibition of platelet- derived growth factor-induced actin migration[222]. In order to prevent atRA catabolism and clearance, liposome encapsulated atRA has been developed. When liposome-encapsulated atRA is administered intraperitoneally, OVA-induced IgE production and accumulation of IL-5 is increased[223]. However, when administered intranasally those parameters were not affected[223]. When inhaled atRA is given to a patient suffering from severe emphysema, inflammation and lung destruction are reduced[224]. In mouse models of allergic inflammation, atRA attenuates the asthmatic phenotype by inhibiting both Th2 and Th17 responses[225,226]. In contrast, the expression of Foxp3 is not altered after atRA treatment in the spleen of the asthmatic mice[226]. In an allergic asthma model when mice are treated with RAR inhibitor to block RA signaling the number of Foxp3+ cells were reduced in vivo[227]. A study has shown that atRA upregulates the expression of ORMDL3, a childhood asthma onset candidate gene via PKC/CREB pathway[227].
Autoimmune diseases: The function of vitamin D and retinoic acid have been studied in EAE (mouse model of multiple sclerosis) and T1D[228].
EAE: When naïve T cells with a TCR specific for myelin basic protein are transferred to recipient mice that are immunized later with MBP, recipients do not have EAE symptoms when they are treated with 1, 25D3[229]. This effect is mediated via VDR in T cells[230,231]. Peripheral CD4+ T cell priming and myelin-specific T cell trafficking remain unchanged after vitamin D treatment owing to an anergic T cell phenotype in vitamin D-treated groups[229,230]. A reduced number of Th1 cells in the periphery could also contribute to the therapeutic effect of vitamin D in treating EAE[232]. Vitamin D administered to rodents correlated with fewer CD4+ T cells in CNS, attenuated CNS pathology and reduced IFN-γ-production[81]. In healthy volunteers, vitamin D decreases the percentage of Th1 cells in circulation[233]. In contrast, it has been reported that vitamin D deficiency actually delays the onset of EAE[234]. Oral vitamin D treatment in healthy volunteers and in MS patients does not have a significant effect on the level of circulating IFN-γ[235,236].
Apart from Th1 cells, development of Th17 cells is affected by vitamin D in EAE. In EAE, there are reduced numbers of Th17 cells in the CNS after vitamin D treatment[237]. There are fewer Th17 cells in spleen in vitamin D-treated mice compared to placebo controls[125,238]. Vitamin D can either inhibit Th17 cytokine production or can suppress Il17 gene transcription in EAE[125,126]. When human CD4+ T cells are treated with vitamin D, the frequency of Th17 cells are attenuated, whereas increased doses of vitamin D reduce the proportion of Th17 cells in peripheral blood[137,233]. However, vitamin D supplementation may not affect Th17 cells in MS patients[239]. Th2 cells might also play a role in EAE[240]. Disruption of IL-4 slightly reduces the protective function of vitamin D in EAE, and there are increased IL-4 transcripts in the lymph nodes when vitamin D is administered before EAE induction[241,242].
In autoimmune diseases including MS there are defects in CD4+Foxp3+ Treg cells in peripheral blood cells and thymus[243-245]. There is correlation between percentage of Tregs and 25-D level as well as correlation of suppressive capacity of CD4+CD25+ Treg cells with serum 25-D level[239,246]. Seasonal increases in 25-D and 1, 25D3 in healthy volunteers correlate with enhanced Foxp3+ Treg expression[247].
Retinoic acid suppresses EAE in rodents[176,248]. Production of IL-4 is correlated with better disease outcome when retinoic acid is used to treat EAE, while the level of IFN-γ, TNF-α, and IL-2 mRNA is attenuated[249]. Intraperitoneal injection of high dose of atRA protects animals from developing EAE and is associated with reduced IFN-γ and IL-17 production[184]. When synthetic retinoid AM80 is administered orally, early development of EAE is ameliorated concomitant with reduced Th17 cell differentiation[250]. The amelioration of EAE is mediated by down-regulation of MHC II molecules, CD80 and CD86 on the surface of DCs that results in altered polarization of both Th1 and Th17 cells[172]. As an additional potential mechanism, one report has suggested AM80 induces MDSCs thereby increasing the severity of EAE[251]. When atRA is combined with atorvastatin, a synergistic effect is observed in ameliorating EAE[252]. Tributylin, which activates RXR delays the onset of EAE[253]. Ligands for PPARγ and RXR generate additive anti-inflammatory effects on EAE[254]. The decrease of pro-inflammatory cytokine production following helminth infection in multiple sclerosis patients is dependent on RA[255].
T1D: T1D is an autoimmune disorder where the immune system attacks the insulin-producing beta cells in the pancreas. The relationship between T1D and vitamin D is still not completely understood as most of the studies have been observational. Studies have observed that vitamin D supplementation may improve insulin sensitivity whereas, vitamin D deficiency has been suggested to affect the risk of T1D[256]. People diagnosed with T1D have a reduced level of vitamin D[257]. Approximately 15%-90% prevalence of vitamin D deficiency in patients with T1D has been reported[258-260]. A steady dose of vitamin D could reduce the risk of T1D[261,262]. Lower serum vitamin D level and insufficient supplementation during infancy may enhance the risk of T1D[263]. In addition, genetic association of VDR and age of onset of T1D has been assessed[264-266]. One progressive study observed no association between diabetes progression and vitamin D level[267]. Vitamin D deficiency during pregnancy may increase the incidence of T1D[268]. However, whether vitamin D intake during pregnancy would prevent children from developing T1D is not clear due to contradictory results[269]. A reduced level of vitamin D has been observed in children with T1D and multiple islet autoantibodies[270]. Both 1, 25D3 and its analog TX527 suppress effector cytokine production and induce the production of IL-10-secreting CD4+CD25hiCD127lo T cells with regulatory function[271]. In NOD mice 1, 25D3 establishes tolerogenic DCs which are responsible for Treg expansion and IL-10 production[272]. In the presence of vitamin D there is increased frequency of Tregs in the pancreatic lymph node in NOD mice[273]. Overall these results suggest that vitamin D deficiency correlates with increased risk of T1D. Thus vitamin D could help in managing some spectrum of the disease.
RA has been shown to attenuate inflammation in diabetic rat kidney and reduced proteinuria in diabetic rats[274]. In NOD mice with insulitis, atRA treatment suppresses diabetes associated with reduced IFN-γ-producing T cells[170]. However, the percentages of IL-17- or IL-4-secreting cells are not affected. When CD8+ T cells from 8.3-NOD splenocytes are cultured in the presence of atRA and TGF-β, an induction of Foxp3+ CD8+ T cells is observed that suppress diabetogenic T cells both in vitro and in vivo[275]. atRA and exendin-4 (which increases beta-cell mass and function) treatment before the onset of T1D prevents and reverses the disease; however, after the onset of the disease reversal of hyperglycemia or improved survival is not observed[276]. The suppression of T1D by retinoids is dependent on the presence of Tregs[277].
CLINICAL APPLICATIONS
As vitamin D deficiency is endemic and associated with various diseases, it is no surprise that vitamin D has its uses in the clinical practice. As previously mentioned, vitamin D aids in the suppression of allergic inflammation and autoimmune diseases including T1D and multiple sclerosis. A meta-analysis of 18 randomized controlled trials have suggested that even at a low dose vitamin D significantly reduces mortality[278]. Subsequent studies have indicated that the statin class of drug could attenuate mortality rate by enhancing the level of 25-D[279]. A 30% increase in the baseline dose of 25-D reduces internal cancer by 60%, while the level of serum 25-D is an independent predictor of cancer risk[280]. Vitamin D attenuates the incidence of respiratory infections in children[281]. Vitamin D supplementation in food has been suggested to decrease the risk of autism[282]. Deficiency of vitamin D has been associated with increased risk of multiple chronic disorders[283,284]. Vitamin D is recommended to treat osteoporosis[285]. Seasonal deficiency of antimicrobial peptide (AMP) is secondary to vitamin D seasonal deficiency and could be linked, to flu epidemics[281]. Interestingly though vitamin D-sensitive AMPs inhibit HIV virus but vitamin D has been suggested play a role in the pathogenesis of HIV[286]. Vitamin D could provide respite against invasive bacterial diseases including meningococci and pneumococci. A therapeutic effect of vitamin D is also seen in non-small-cell lung cancer patients[287]. Consistent with its anti-inflammatory property, vitamin D enhances the life span in mouse model of SLE and inhibits contact hypersensitivity[288,289]. Vitamin D has also been successfully used to treat psoriasis[290]. It has also been suggested that vitamin D can potentially be used during transplantation. In rat model of renal transplantation vitamin D and its analogue prevents chronic allograft rejection while vitamin D delayed chronic allograft rejection in mouse model of aortic transplantation[291,292]. Intriguingly, VDR polymorphisms are associated with increased GVHD in bone-marrow transplantation patients[293]. It has been noted that the vitamin D analogue may be safer alternative to vitamin D-mediated immune modulation owing to its adverse effect in bone resorption and hypercalcemia[91].
Retinoic acid also has multiple clinical applications. A correlation between vitamin A supplementation and reduced diarrhea and mortality in HIV-infected children has been reported[294,295]. Retinoic acid has been suggested to induce terminal cellular differentiation in tumor cells[296]. Vitamin A has been demonstrated to maintain natural killer cell numbers that play important role in anti-tumor immunity[297]. atRA treatment doubles the survival rate of acute promyelocytic leukemia (APL) patients[298]. In the presence of HDAC inhibitor sodium phenylbutyrate, atRA induces remission in APL patient[299]. In addition, atRA along with trichostatin A, another HDAC inhibitor demonstrated significant inhibition of tumor growth associated with increased level of RARβ2 level[300]. RARα proteins play crucial role in the attenuating APL[54]. RA also initiates growth arrest of leukemia-initiating cells in APL mouse model[301]. Retinoids have been suggested to induce irreversible differentiation of cancer stem cells[54]. Apart from cancer treatment, retinoic acid has also been suggested to treat autoimmune inflammation including EAE, adjuvant arthritis and experimental nephritis[180,249,302]. Retinoic acid has also been used for treating atopic dermatitis and psoriasis[303,304].
CONCLUSION
There is a paucity of data on the role of vitamin C, E, and K on adaptive immune system including the function in Th cell development. We have highlighted the role of vitamin D and retinoic acid on CD4+ T cells and their role in inflammatory disorders, but other vitamins likely also impact many of the responses we have described. Vitamin D-mediated paracrine signaling to CD4+ T cells affects its immunoregulatory mechanisms. The sources of vitamin D and the signals required to induce and inhibit vitamin D in vivo is crucial to the understanding of its role in health issues. Because of the use of common receptor RXR, vitamin D and retinoic acid could potentially oppose each other's contribution in the development of T helper cells and modulation of inflammatory responses.
A better understanding of the role of vitamin D in controlling effector CD4+ T cells could be achieved using animals that have T-cell-specific deletion of VDR. A study has demonstrated that vitamin D in combination with IL-2 induce the production of CTLA-4-expressing Treg cells[136]. CTLA-4 regulates the spectrum of T cell responses and CTLA-4 deficiency increases follicular T helper cells (Tfh cell) numbers[305]. Vitamin D also up-regulates the expression of Helios and CD200, other markers of Tfh cells[81,306]. Whether vitamin D plays a role in the differentiation of Tfh cells has not been ascertained. Consumption of foods enriched with specific vitamins could alter the microbiota in our body leading to better immune responses.
There is ample indication that both vitamin D and retinoic acid could be used as future therapeutics to treat inflammatory diseases. Vitamin D and oral mycophenolate mofetil lead to tolerance and acceptance of fully mismatched mouse islet isograft associated with increased frequency of CD4+CD25+CD152+ Tregs in a transplant model[307]. Mucosal vaccination might be aided by retinoic acid while vitamin D could be applied in transplant patients[308]. The role of vitamin D in cardiovascular disease remains unclear. The function of retinoic acid is also not explored in other inflammatory disease pathologies. However, the challenge remains in translating promising animal model results into humans. Once established, purchasing vitamins over the counter could be a safe and efficient approach to modifying immune responses.
KEY POINTS
Dietary supplementation of vitamin D and retinoic acid can be used to treat certain diseases; Skin, bone, dental health, cognitive function, and other physiological processes are maintained by vitamin D and retinoic acid; both vitamins A and D regulate immune system by affecting CD4+ T helper cell differentiation and lymphocyte activation; allergy and autoimmune diseases such as type I diabetes and EAE can be modulated indirectly by vitamin D and retinoic acid; Both vitamin D and retinoic acid have clinical implications for treating various inflammatory disorders.
P- Reviewer: Martinez-Lostao L, Webb TJ S- Editor: Ji FF L- Editor: A E- Editor: Wu HL