Copyright
©2014 Baishideng Publishing Group Inc.
World J Otorhinolaryngol.
Nov 28, 2014;
4(4): 17-22
Published online Nov 28, 2014. doi: 10.5319/wjo.v4.i4.17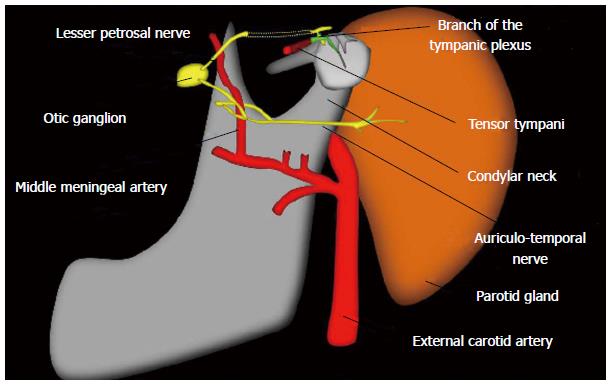 Figure 4 Illustration depicting the link between the tympanic plexus (formed by the tympanic nerve) and the parasympathetic supply to the parotid via the lesser petrosal nerve and the otic ganglion.
(Used with permission from Dr. José M. García Santos, MD, PhD, Head of the Radiology Department, University Hospital Morales Meseguer, Murcia, Spain).
---
Citation: Kanzara T, Hall A, Virk JS, Leung B, Singh A. Clinical anatomy of the tympanic nerve: A review. World J Otorhinolaryngol 2014; 4(4): 17-22
---