Copyright
©2014 Baishideng Publishing Group Co.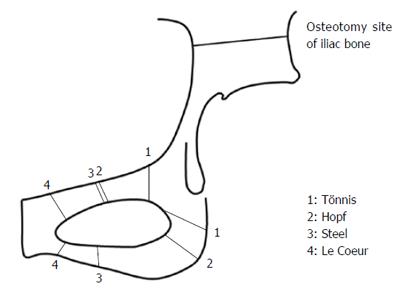 Figure 3 Several major modifications of triple osteotomy have been presented, and osteotomy line of the Bernese osteotomy and rotational acetabular osteotomy was also presented.
In Steel's triple osteotomy, the pubic ramus and ischium in front of the tuberosity are osteotomized. The site of the ischial and pubic osteotomy in the method of Tönnis is closer to the acetabulum compared with Steel's osteotomy. In a Hopf triple osteotomy, the ischial tuberosity is osteotomized closer to the center of the hip joint than in Steel's procedure. In a Le Coeur osteotomy, the pubis and ischial ramus are osteotomized closer to the pubic symphysis as compared with Steel's procedure.
---
Citation: Mimura T, Mori K, Kawasaki T, Imai S, Matsusue Y. Triple pelvic osteotomy: Report of our mid-term results and review of literature. World J Orthop 2014; 5(1): 14-22
---