Copyright
©2013 Baishideng Publishing Group Co.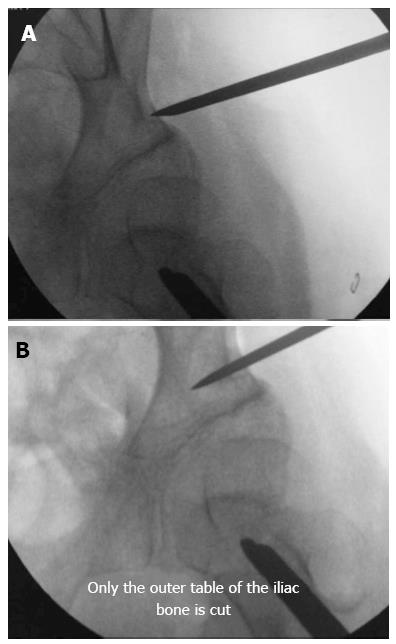 Figure 1 Percutaneous osteotomy.
A: The skin incision is wide enough to allow the osteotome to perform the osteotomy. The osteotome can be displaced upwards and downwards towards the anterior iliac spine and the sciatic notch, respectively. The osteotomy should be performed between 5 and 10 mm proximally to the acetabular roof; B: The pelvic osteotomy must be performed under an image intensifier, and the osteotome should appear as a straight line during the entire procedure, meaning that it is perpendicular to the bone and parallel to the source of radiation. Only the outer table is cut.
---
Citation: Canavese F, Rousset M, Samba A, Coulon G. Percutaneous pelvic osteotomy in cerebral palsy patients: Surgical technique and indications. World J Orthop 2013; 4(4): 279-286
---