Copyright
©The Author(s) 2022.
Published by Baishideng Publishing Group Inc. All rights reserved.
Immunotherapy for advanced hepatocellular carcinoma: From clinical trials to real-world data and future advances
Kathrine S Rallis, Barts and The London School of Medicine and Dentistry, Queen Mary University of London, London E1 2AD, United Kingdom
Kathrine S Rallis, Dimitrios Makrakis, Ioannis A Ziogas, Surgery Working Group, Society of Junior Doctors, Athens 15123, Greece
Dimitrios Makrakis, Division of Oncology, University of Washington School of Medicine, Seattle, WA 98195, United States
Ioannis A Ziogas, Department of Surgery, Division of Hepatobiliary Surgery and Liver Transplantation, Vanderbilt University Medical Center, Nashville, Tennessee 37232, United States
Georgios Tsoulfas, Department of Transplantation Surgery, Aristotle University School of Medicine, Thessaloniki 54622, Greece
Author contributions: Rallis KS and Makrakis D contributed equally to the writing, reviewing, and designing of the manuscript and are equal joint first authors; Ziogas IA and Tsoulfas G lead the initial conceptualization, designing, reviewing, and supervision of the work in this manuscript; all authors have read and approved the final manuscript.
Conflict-of-interest statement: All the authors declare that they have no conflict of interest.
Open-Access
: This article is an open-access article that was selected by an in-house editor and fully peer-reviewed by external reviewers. It is distributed in accordance with the Creative Commons Attribution NonCommercial (CC BY-NC 4.0) license, which permits others to distribute, remix, adapt, build upon this work non-commercially, and license their derivative works on different terms, provided the original work is properly cited and the use is non-commercial. See:
https://creativecommons.org/Licenses/by-nc/4.0/
Corresponding author: Georgios Tsoulfas, FACS, FICS, MD, PhD, Professor, Department of Transplantation Surgery, Aristotle University School of Medicine, 66 Tsimiski Street, Thessaloniki 54622, Greece. tsoulfasg@gmail.com
Received: January 31, 2022
Peer-review started: January 31, 2022
First decision: April 13, 2022
Revised: April 27, 2022
Accepted: May 28, 2022
Article in press: May 28, 2022
Published online: June 24, 2022

Hepatocellular carcinoma (HCC) is a leading cause of cancer-associated mortality worldwide. HCC is an inflammation-associated immunogenic cancer that frequently arises in chronically inflamed livers. Advanced HCC is managed with systemic therapies; the tyrosine kinase inhibitor (TKI) sorafenib has been used in 1st-line setting since 2007. Immunotherapies have emerged as promising treatments across solid tumors including HCC for which immune checkpoint inhibitors (ICIs) are licensed in 1st- and 2nd-line treatment setting. The treatment field of advanced HCC is continuously evolving. Several clinical trials are investigating novel ICI candidates as well as new ICI regimens in combination with other therapeutic modalities including systemic agents, such as other ICIs, TKIs, and anti-angiogenics. Novel immunotherapies including adoptive cell transfer, vaccine-based approaches, and virotherapy are also being brought to the fore. Yet, despite advances, several challenges persist. Lack of real-world data on the use of immunotherapy for advanced HCC in patients outside of clinical trials constitutes a main limitation hindering the breadth of application and generalizability of data to this larger and more diverse patient cohort. Consequently, issues encountered in real-world practice include patient ineligibly for immunotherapy because of contraindications, comorbidities, or poor performance status; lack of response, efficacy, and safety data; and cost-effectiveness. Further real-world data from high-quality large prospective cohort studies of immunotherapy in patients with advanced HCC is mandated to aid evidence-based clinical decision-making. This review provides a critical and comprehensive overview of clinical trials and real-world data of immunotherapy for HCC, with a focus on ICIs, as well as novel immunotherapy strategies underway.
Core Tip: In the last five years, immune checkpoint inhibitors (ICIs) have entered the treatment landscape of hepatocellular carcinoma (HCC) in the 1st and 2nd line setting. However, due to restrictions in clinical trial inclusion and exclusion criteria, there remains a need for further real-world data on the efficacy, toxicity, and cost-effectiveness of ICIs in a broader cohort of HCC patients. New trials are underway investigating further ICI regimens, including combination therapy strategies, while novel immunotherapies are also being brought to the fore. This review discusses key clinical trials, real-world data, and future advances of immunotherapy for HCC, with a focus on ICIs.
---
Citation: Rallis KS, Makrakis D, Ziogas IA, Tsoulfas G. Immunotherapy for advanced hepatocellular carcinoma: From clinical trials to real-world data and future advances. World J Clin Oncol 2022; 13(6): 448-472
---
INTRODUCTION
Liver cancer is the third leading cause of cancer-related mortality worldwide and sixth in terms of incidence accounting for 830180 deaths and 905677 cases in 2020[1]. Hepatocellular carcinoma (HCC) is the leading type of primary liver cancer representing 85%-90% of cases[2]. The incidence of HCC is expected to continue to increase in countries, including the United States, until 2030. Asia and Africa feature the highest incidence of disease due to the endemic prevalence of hepatitis B or C virus (HBV or HCV) which, when untreated, lead to chronic liver disease and subsequent development of HCC. Global vaccination efforts against HBV and HCV are expected to lower the incidence of HCC, with effects becoming apparent after a latency period of 20-30 years correlating to the time required from liver damage to cancer development[3]. Second to viral hepatitis, alcohol abuse is another main cause of HCC development[4]. Diabetes, aflatoxin-B1 exposure, obesity, nonalcoholic steatohepatitis (NASH), nonalcoholic fatty liver disease, and metabolic syndrome represent other leading contributors to HCC development[5]. NASH typically develops in patients with obesity, type 2 diabetes, dyslipidemia, and hypertension, therefore being a leading risk factor for HCC in rich developed countries such as the United States[3]. Both incidence and mortality of liver cancer are expected to double in the next two decades[6]. With a 5-year survival rate of less than 20%, liver cancer carries one of the worst cancer prognoses after pancreatic cancer[7]. Although this figure represents a significant improvement compared to the 3% 5-year survival observed in the 1970s[7], further research is warranted to improve treatments, especially for individuals with distant and regional metastatic disease which feature a 3% and 12% 5-year survival, respectively[8].
The current treatment landscape of HCC depends on disease stage (Figure 1). Surgical resection, liver transplantation (LT), and locoregional ablation therapies (2nd-line) are used with curative intent in early and intermediate disease. Yet, recurrence rates are high, while only 30%-40% of patients qualify for the above treatments[9,10]. Advanced HCC (aHCC) is managed with systemic therapies. Historically, systemic chemotherapies have largely been ineffective in HCC due to high rates of chemoresistance and liver impairment with associated susceptibility to toxicities[9]. Starting with the Food and Drug Administration (FDA) approval of sorafenib, a multiple tyrosine kinase inhibitor (TKI) with antiangiogenic and antiproliferative action, as a frontline systemic therapy for HCC in 2007, systemic therapies for HCC have evolved remarkably[11]. In 2018, following several randomized controlled trials exploring systemic therapies, which failed to surpass sorafenib, the multikinase inhibitor, lenvatinib, gained FDA approval as another 1st-line therapy in HCC following results of a phase III non-inferiority trial[12]. Subsequently, the TKIs regorafenib[13], cabozantinib[14], and ramucirumab[15] received approval in refractory HCC.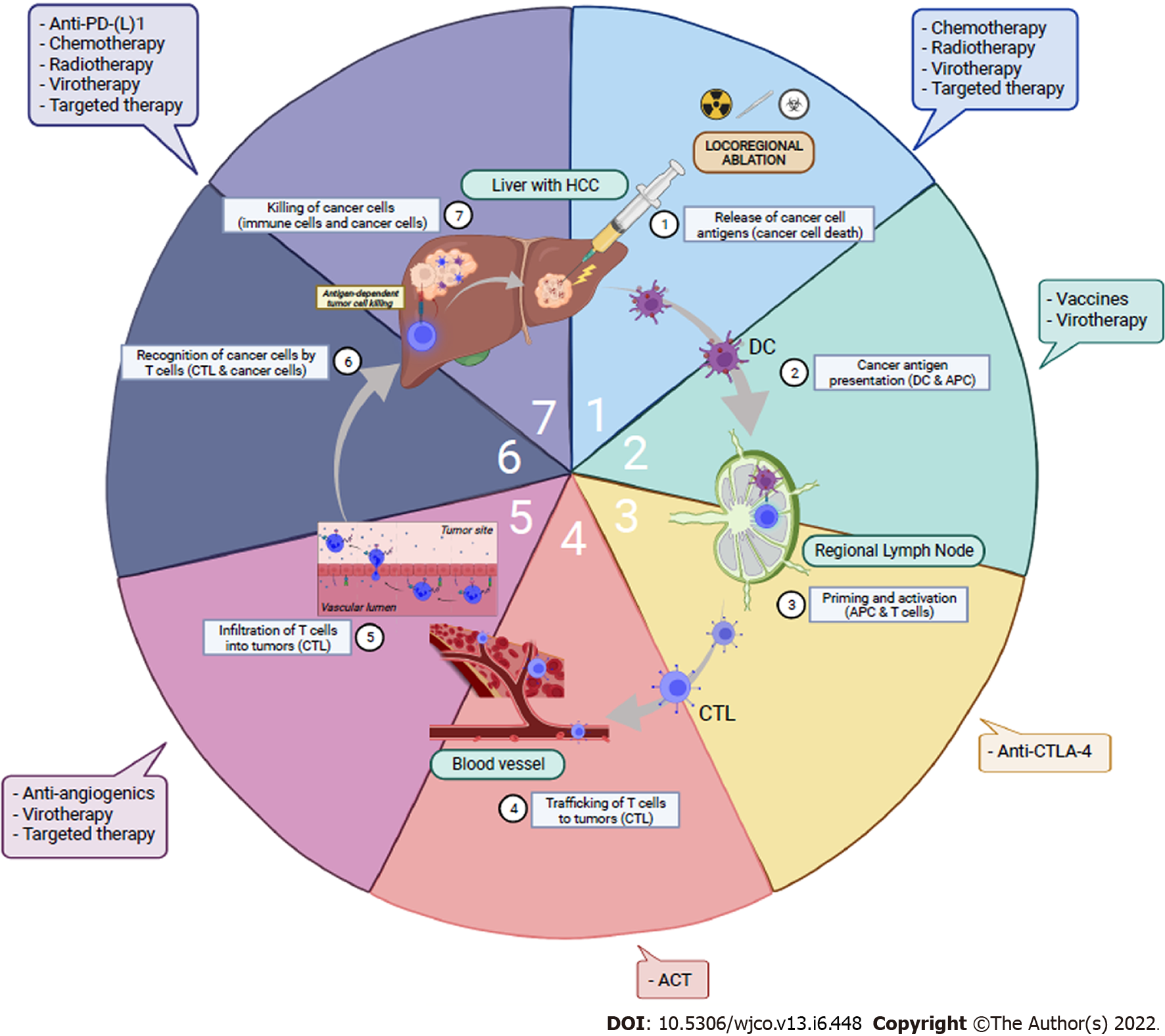 Figure 1 Schematic of the cancer-immunity cycle and strategies to overcome mechanisms of resistance in each step by enhancing necessary immune stages via different anti-cancer therapeutic modalities in advanced hepatocellular carcinoma.
ACT: Adoptive cell transfer; APC: Antigen presenting cell; CTL: Cytotoxic T lymphocyte; DC: Dendritic cell.
In the last decade, the field of cancer immunotherapy has evolved tremendously, largely owing to the success of monoclonal antibodies (mAbs) directed against negative regulator molecules of T-cell activation, namely cytotoxic T-lymphocyte protein-4 (CTLA-4), programmed cell death protein 1 (PD-1), and its ligand, PD-L1. Immune checkpoint inhibitors (ICIs) reverse the immunosuppressive cancer phenotype by binding to and blocking co-inhibitory immune signalling molecules that are upregulated in cancer providing a means of systemic immune recognition and targeting of malignant cells. Following the approval of ipilimumab (anti-CTLA-4) for metastatic melanoma in 2011, ICIs have gradually been trialled and expanded across solid tumors. To date, four ICI regimens have been approved for HCC: nivolumab (anti-PD-1), approved as 2nd-line in 2017[16]; pembrolizumab (anti-PD-1), approved as 2nd-line in 2018[17]; nivolumab plus ipilimumab, approved as 2nd-line in 2020[18]; and atezolizumab (anti-PD-L1) plus bevacizumab (anti-vascular endothelial growth factor [VEGF] mAb), approved as 1st-line in 2020[19].
The complex interdependent relationship between chronic inflammation and anticancer immunity in HCC represents a possible opportunity and challenge for immunotherapy. Intelligent therapeutic strategy design that balances enhancing anti-tumor immunity whilst minimizing pro-tumorigenic inflammation and immunosuppressive adaptations lies at the center of successful immunotherapeutic regimens for HCC. Furthermore, effective anti-cancer immunity to overcome cancer immune escape involves multiple steps. Hence, new immunotherapies continue to be investigated for HCC, with novel adoptive cell transfer (ACT), therapeutic cancer vaccines, and virotherapy being developed as monotherapies or in combination strategies. This review summarizes updates and future directions for immunotherapies and their combinations in HCC.
IMMUNOGENICITY IN HCC
Immunotherapies are potentially promising therapeutic strategies in HCC. A complex interdependent relationship exists between chronic inflammation and anticancer immunity in the normal liver and in HCC, representing an opportunity and challenge for immunotherapy in HCC.
The liver itself is an immune organ with rich and unique immune cell populations (e.g., Kupffer cells), functional anatomy, and immune functions. Under normal conditions, the liver finetunes immune tolerance, systemic inflammation and immunity, and anti-tumor immunity (reviewed in[20]). The tolerogenic potential of the liver – required for the modulation of host response to gut flora – underlies its capacity to generate potent immune tolerance to tumors when liver metastases occur from other primary cancers[21]. This same tolerogenic potential of the liver also underlies its ability to fully accept allograft LT and safely discontinue immunosuppressants in some LT patients[22]. Immune tolerance within the liver develops through complex interactions between liver-resident cells and peripheral leukocytes involving poor or incomplete activation of CD4+ and CD8+ T cells, elevated expression of immune checkpoints, and an immunosuppressive environment mediated by IL-10 and TGFβ[23,24]. Indeed, through new technologies and machine learning algorithms tumor immune microenvironment features have been correlated with patient prognostication to classify patients into separate groups based on response to immunotherapy and other treatments[25-28].
HCC represents a typical inflammation-associated immunogenic cancer as it often arises in chronically inflamed livers (necroinflammation)[29]. It is well known that chronic inflammation causes local and systemic immunosuppression of innate and adaptive immunity due to chronically elevated pro-inflammatory stimuli[20], while scar tissue itself impedes immunosurveillance[30]. Chronic antigen stimulation results in T-cell exhaustion, immune inhibitory receptor upregulation (e.g., PD-1), and progressive loss of polyfunctional cytokine production[20]. Moreover, cirrhotic patients are systemically immunocompromised, due to loss of synthetic liver functions, and are susceptible to life-threatening infections[31]. Locally, both tumor cells and surrounding stroma orchestrate tissue remodeling with concurrent functional and phenotypical immunobiology adaptations resulting in a dysfunctional and immunosuppressive tumor milieu[32]. Simultaneously, successive chronic inflammatory stresses cause hepatocellular DNA damage, whereby genetic and epigenetic mutations give rise to immunogenic pathogen-associated proteins (abnormal amino acid sequences) through transcription and translation of mutated genetic sequences. In turn, tumor associated antigens (TAA) and neo-antigens may result that act as recognizable epitope targets to facilitate effector T-cell recognition of a non-self antigen against which to mount an immune response, so long as strong human leukocyte antigen binding and immunological synapse is possible against the new abnormal peptide sequence[32].
ICIs and other emerging forms of immunotherapy display high efficacy in cancers expressing targetable TAAs and neo-antigens. Indeed, some forms of immunotherapy incorporate molecular recognition of specific TAAs and neo-antigens in their mechanistic design[33]. Tumor mutational burden (TMB) is regarded as a surrogate marker for the expression of TAA and neo-antigens, and hence immunotherapy efficacy, as seen in the case of melanoma[34]. HCC has been shown to feature a low-to-moderate TMB compared to other tumors[35]. Although this theoretically corresponds to lower probability of immunotherapy efficacy, the antigenicity and immunogenicity of any resultant TAAs and neo-antigens in HCC is not well characterized and these may still be sufficiently potent targets for immunotherapies[36].
Intelligent therapeutic strategies that achieve an acceptable balance between enhancing anti-tumor immune surveillance and destruction whilst minimizing pro-tumorigenic inflammation and immunosuppression lie at the center of successful immunotherapy regimen design for HCC.
IMMUNE CHECKPOINT INHIBITORS IN HCC
REAL-WORLD DATA FOR IMMUNOTHERAPY IN HCC
Despite the advances in ICI therapies for HCC in recent years, phase II/III studies are generally limited by strict inclusion and exclusion criteria, thus lacking ecological validity and generalizability to real-life clinical practice outside of clinical trial setting[88]. Real-world data describe health-related information gathered outside of clinical trials. Gathering and reporting real-world data through cohort and observational studies is important for clinicians who aim to apply approved clinical trial regimens to a broader patient group.
FUTURE DIRECTIONS
Immunotherapy beyond ICIs: ACT, vaccination, and virotherapy
Other promising forms of immunotherapy for HCC aside from ICIs include ACT strategies, anti-tumor cancer vaccines, and transgenic therapy applied through viral vectors. These strategies have begun to be investigated clinically as monotherapy options in HCC and as combination therapies, to enhance the efficacy of other treatments. The potential of such immunotherapies as combination treatments is highly promising, particularly in the context of combination with other immunotherapies, such as ICIs, as they improve immunogenicity. Combining immunotherapeutics with different mechanisms of action and primary immune effects is a well-recognized approach to counteract the multiplicity of tumor immune evasion mechanisms and ensure all necessary steps for the successful mounting of an anti-tumor immune response are met, as described in the cancer immunity cycle theory[31,131,132]. The same principle stands true as the underlying biological rationale to justify combination therapy of ICIs with different mechanisms of action – an example being combination with anti-PD-1 and anti-CTLA-4 agents which has been shown to significantly improve ORR, at the expense of increased but tolerable toxicity (Figure 2).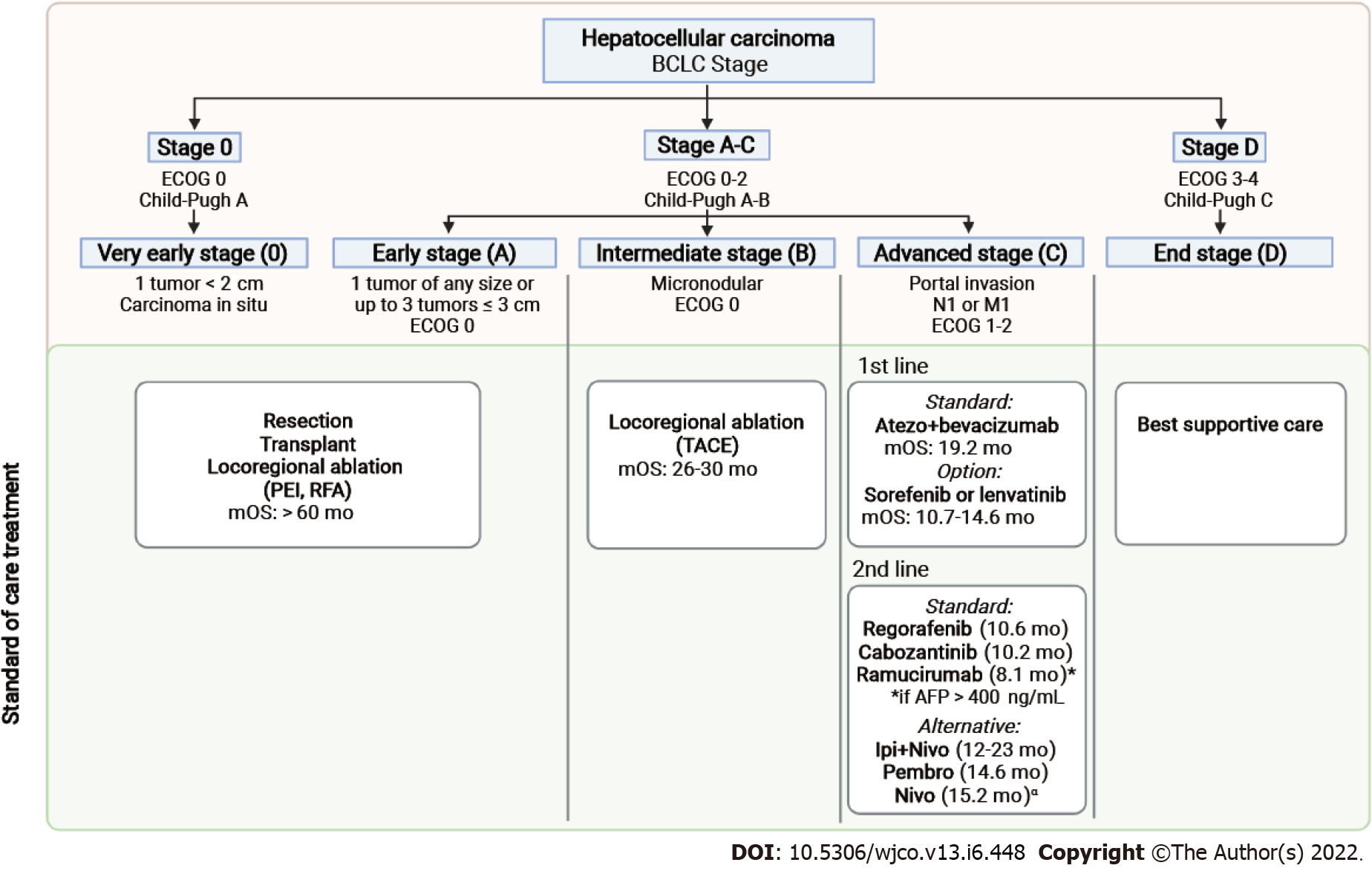 Figure 2 Treatment algorithm for immunotherapy in hepatocellular carcinoma according to American Society of Clinical Oncology guidelines.
Atezo: Atezolizumab; Ipi: Ipilimumab; Nivo: Nivolumab; Pembro: Pembrolizumab; mOS: Median overall survival; mo: Months; PEI: Percutaneous ethanol injection; RFA: Radiofrequency ablation; TACE: Transarterial chemoembolization; ECOG: Eastern Cooperative Oncology Group; BCLC: Barcelona Clinic Liver Cancer; AFP: Alpha fetoprotein; cm: centimeter; N1: Regional nodal spread; M1: Metastatic spread.
ACT: Following the success and approval of a plethora of ACT strategies in hematologic cancers[133], researchers have explored various forms of ACT in solid tumors. ACT involves the autologous or allogeneic transplant of tumor-infiltrating lymphocytes (TILs), or genetically modified T-cells engineered to express novel T-cell receptors (TCR) or chimeric antigen receptors (CAR)[134]. Cytokine-induced killer (CIK) cells represent another form of ACT wherein T-cells are co-cultured in vitro under cytokine manipulation to express natural killer (NK) cell-surface markers in addition to TCR. Cytotoxic cells with this double T/NK phenotype are capable of lysing a broad array of tumor cell targets in a non-MHC-restricted manner[135].
The primary immune effects of ACT result in supplementation of immune effector cells[31]. Compared to other immunotherapies, one of the advantages of ACT is that it is considered a "living" treatment method as it exhibits the capability to become active and replicate in vivo for long lasting anti-tumor effect[136]. In theory, this grants the possibility of disease cure due to the accrual of long-term immunological memory; however, in practice this is often not achieved due to multifactorial lack of cell persistence[137]. Currently, most novel ACT strategies, such as CARs, are bespoke to each patient and are manufactured specifically for them. Off-the-shelf ACT strategies are being investigated as a means to improve costs, time and ease of manufacturing, and allow for universal applicability across patients[133]. Due to the presence of TAAs with an acceptable specificity, HCC in one of the most promising organs for ACT in solid tumors, as TAA specificity decreases chances of on-target off-tumor recognition and subsequent toxicity due to target antigen expression on normal cells which are then destroyed[138].
Combinations of ACT with ICIs have not yet been trialed in HCC, while in other solid malignancies such combinations have been shown to be feasible and safe[139]. Conversely, ACT in combination with ablative therapies in HCC is undergoing investigation in phase I/II setting[58]. Regarding ACT monotherapy for HCC, early phase I/II studies have shown feasibility and tolerability with TILs, TCR, and CAR cell variants while several other phase I/II trials are ongoing (reviewed in[35,138,140]). CIK is the only ACT that has been investigated for HCC in a phase III setting (NCT00699816). This multicenter trial involved 230 HCC patients who had undergone curative surgical resection, radiofrequency ablation, or percutaneous ethanol injection that were randomized to receive adjuvant CIK immunotherapy (injection of 6.4 × 109 autologous CIK cells, 16 times over 60 wk) or no adjuvant therapy (controls)[141]. mPFS was significantly prolonged in the CIK arm vs control (44 mo vs 30 mo; HR: 0.63, 95%CI: 0.06-0.75). All-cause death and cancer-related death were also significantly reduced in the experimental arm. AE occurrence was higher in the experimental arm but SAEs did not differ significantly. In combination with transarterial chemoembolization (TACE), an international registry analysis of 106 clinical trials including 10225 patients of which 4889 patients in over 30 distinct tumor entities were treated with CIK cells alone or in combination with conventional or novel therapies, CIK has been shown to significantly improve mPFS and mOS (27 trials), and 5-year survival rate (9 trials) with mild AEs and graft-versus-host diseases[142]. Additionally, a systematic review and meta-analysis of 6 randomized controlled trials including 844 HCC patients concluded that adjuvant autologous CIK after curative resection significantly improved 1-year, 2-year, and 3-year disease-free survival and OS but did not significantly extend these at 4 and 5 years; AEs were comparable in CIK and control patients[143]. Furthermore, combination of CIK with ICIs has been trialed in solid and hematologic cancer with promising results and potential to be trialed in HCC in the future[142]. Despite these positive results, ACT including CIK is still not used in most centers as an adjuvant therapy, probably due to the limitations of in-house cell therapy facilities[35].
Vaccination and virotherapy: Following results of several early phase trials involving relatively small numbers of HCC patients in the past decade, vaccines and virotherapy are currently being investigated as enhancer strategies in combination with other forms of therapy as opposed to a viable monotherapy option[31,35].
Vaccines: The underlying primary immune effect of vaccines lies in their ability to enhance T-cell priming and expansion[31]. Cancer vaccines are being constructed to enhance presentation of tumor-associated epitopes to host immunity to overcome tumor-specific tolerance in the context of immune stimulation by activating and selectively expanding tumor-specific lymphocytes within the native effector cell repertoire while maintaining immune-regulatory protection against autoimmunity[144]. Vaccine-mediated stimulation of tumor-specific immunity provides a physiologic stimulus for T-cell activation, fostering a potentially more-sustained native immune response with greater durability for long-term antitumor surveillance. Alike engineered ACT, cancer vaccines may be designed to target TAAs or neoantigens, of which HCC exhibits many with high specificity[10]. Classical cancer vaccines rely on exogenous administration of antigens or antigen-pulsed dendritic cells (DCs). The only cancer therapy vaccine to be approved by the FDA to date is Sipuleucel-T, a DC-like anticancer vaccine for prostate cancer[145]. In HCC, vaccine constructs are mainly based on RNA, peptides, proteins, or DCs[31,140].
Early investigations in cancer patients and pre-clinical models have demonstrated the synergistic capacity of cancer vaccines in combination with anti-PD-1 and anti-CTLA-4 checkpoint blockade, with evidence also reported for HCC[146-148]. Vaccines can reverse immune tolerance and exhaustion seen in patients treated with ICIs by providing a stimulus to prime and expand tumor-specific T-cells that preserve their effector functions through the effect of ICIs[31]. Moreover, phase I/II studies have shown that vaccines are tolerable and can reduce recurrence rate[149] and prolong recurrence-free survival[150,151] in patients treated with ablative therapy. However, trials with tumor lysate vaccines have failed to show promising results in terms of efficacy[31,151]. Today, combination of vaccines with ICIs are being investigated clinically in phase I/II trials in HCC (NCT04912765, NCT04248569, NCT04251117), as are combinations with ablative therapies (NCT03674073, NCT03942328), and other treatments.
Virotherapy: Cancer virotherapy represents the most common type of cancer gene therapy and involves the transfer of genetic material (transgenes) into cells to modify their gene-expression profiles via viral vectors[31]. Oncolytic viruses (OVs) are a type of cancer virotherapy incorporating modified viral agents that selectively replicate in cancerous cells resulting in tumor cell lysis[152]. By contrast to classical vaccines, OVs represent an in situ cancer vaccine[35]. The primary immune effect aimed with virotherapy is to reduce tumor burden and broaden TCR repertoire[31]. Yet, scientists have increasingly realized that most anti-cancer efficacy observed with OVs is attributable to enhanced immune response activation triggered by immunogenic cell death caused by the destruction of cancer cells and uptake of tumor antigens by antigen presenting cells – often enhanced by the arming of OVs with cytokine encoding genes, such as granulocyte-macrophage colony-stimulating factor (GM-CSF) – rather than their oncolytic properties[153]. Additionally, OVs display short-lived efficacy and are not effective on repeated doses, due to brief vector replication and transgene expression as well as neutralizing antibody development after first vector administration, respectively. However, long-term vectors may broaden applications[31]. Hence, OVs are better candidates as an adjunct therapy to trigger adaptive antitumor responses which require maintenance and expansion with additional immunotherapies[154]. To date, three OVs have been approved for cancer therapy: RIGVIR for melanoma[155], Oncorine for head and neck cancer[156], and T-Vec for melanoma[157], though only the latter has been granted FDA approval.
In HCC, several OVs have been investigated clinically with some featuring promising results. JX-594 (Pexa-Vec), an oncolytic poxvirus carrying human GM-CSF genes, is the only OV to have successfully reached phase III investigation. Unfortunately, phase IIb/III trials showed that Pexa-Vec failed to improve treatment efficacy in patients previously treated with sorafenib[158], in combination with sorafenib[159], and in sorafenib-naïve patients[160]. Investigation of Pexa-Vec combination with nivolumab was also terminated early due to futility in other pivotal trials[161]. Still, phase I/II trials are ongoing to investigate different virotherapy agents as monotherapy (NCT00028496, NCT04246671), and in combination with pembrolizumab (NCT02509507, NCT02432963) for HCC.
CONCLUSION
The progress achieved within the landscape of immunotherapy for HCC is remarkable. In the last five years, ICIs have become a cornerstone systemic treatment approach in the routine clinical management of aHCC. The year 2020 saw ICIs become frontline treatments for aHCC in combination with bavacizumab, rendering sorafenib frontline only for patients who are ineligible for or contraindicated to receive immunotherapy or anti-angiogenics. In 2nd-line setting, several ICIs continue to be standard of care, with more agents emerging in the horizon. Still, much progress is yet to be made, especially concerning the lack of real-world data to support the generalizability and applicability of clinical trial findings to a broader cohort of aHCC patients who are not subjectable to stringent clinical trial inclusion and exclusion criteria. The main obstacles to immunotherapy frequently encountered in real-world practice surround patient ineligibility for immunotherapy because of contraindications, comorbidities, or poor performance status; lack of response, efficacy, and safety data; and cost-effectiveness. Hence, the reality of immunotherapy treatment for HCC outside of trial setting is far from ideal. Further real-world data from high-quality large prospective cohort studies as well as evidence from institutional experiences of immunotherapy in patients with aHCC outside of clinical trials is mandated to aid evidence-based clinical decision-making for this cohort of individuals who indeed represent the vast majority of patients encountered. At the same time, ongoing trials investigating novel approaches to optimize systemic regimens and enhance ICI efficacy through combination with locoregional ablation, other systemic agents, and novel immune-based approaches are necessary to break new grounds. With multiple ICI agents undergoing investigation, more ICIs are likely to enter the treatment landscape for aHCC. The development of new models such the cancer immune cycle theory to better understand and reverse limiting steps in cancer immune evasion; the characterization and subgrouping of different tumor immune microenvironment phenotypes in aHCC; and novel means of employing machine learning algorithms to predict patient response to select targeted therapies further advance the field of precision medicine in HCC into a new era. In the years to come, ACT including CAR T cells and CIK cells are likely to become part of the treatment armamentarium against aHCC. We eagerly await to monitor the field as it advances.
Provenance and peer review: Invited article; Externally peer reviewed.
Peer-review model: Single blind
Specialty type: Oncology
Country/Territory of origin: United States
Peer-review report's scientific quality classification
Grade A (Excellent): 0
Grade B (Very good): B
Grade C (Good): C
Grade D (Fair): D
Grade E (Poor): 0
P-Reviewer: Li Y, China; Ling Q, China; Zeng YY, China A-Editor: Liu X, China S-Editor: Liu JH L-Editor: A P-Editor: Liu JH