Copyright
©The Author(s) 2015.
Published by Baishideng Publishing Group Inc. All rights reserved.
World J Gastrointest Pathophysiol.
Nov 15, 2015;
6(4): 150-158
Published online Nov 15, 2015. doi: 10.4291/wjgp.v6.i4.150
Eosinophilic esophagitis: From pathophysiology to treatment
Alessandra D'Alessandro, Marcella Pesce, Rosario Cuomo, Giovanni Sarnelli, Department of Clinical Medicine and Surgery, Gastroenterology Unit, Federico II University, 80131 Naples, Italy
Dario Esposito, Giovanni Domenico De Palma, Department of Clinical Medicine and Surgery, Endoscopy Unit, Federico II University, 80131 Naples, Italy
Author contributions: D'Alessandro A, Esposito D and Pesce M reviewed literature data and wrote the manuscript; Cuomo R and De Palma GD participate to the critical revision of the manuscript; Sarnelli G designed, coordinated and revised the manuscript.
Conflict-of-interest statement: All the authors declare that they have no competing interests.
Open-Access: This article is an open-access article which was selected by an in-house editor and fully peer-reviewed by external reviewers. It is distributed in accordance with the Creative Commons Attribution Non Commercial (CC BY-NC 4.0) license, which permits others to distribute, remix, adapt, build upon this work non-commercially, and license their derivative works on different terms, provided the original work is properly cited and the use is non-commercial. See: http://creativecommons.org/licenses/by-nc/4.0/
Correspondence to: Giovanni Sarnelli, MD, PhD, Department of Clinical Medicine and Surgery, Gastroenterology Unit, Federico II University of Naples, Via Sergio Pansini, 5, 80131 Naples, Italy. sarnelli@unina.it
Telephone: +39-081-7464290 Fax: +39-081-7464290
Received: May 25, 2015
Peer-review started: May 28, 2015
First decision: July 27, 2015
Revised: July 30, 2015
Accepted: September 25, 2015
Article in press: September 28, 2015
Published online: November 15, 2015

Eosinophilic esophagitis (EoE) is a chronic immune disease, characterized by a dense eosinophilic infiltrate in the esophagus, leading to bolus impaction and reflux-like symptoms. Traditionally considered a pediatric disease, the number of adult patients with EoE is continuously increasing, with a relatively higher incidence in western countries. Dysphagia and food impaction represent the main symptoms complained by patients, but gastroesophageal reflux-like symptoms may also be present. Esophageal biopsies are mandatory for the diagnosis of EoE, though clinical manifestations and proton pump inhibitors responsiveness must be taken into consideration. The higher prevalence of EoE in patients suffering from atopic diseases suggests a common background with allergy, however both the etiology and pathophysiology are not completely understood. Elimination diets are considered the first-line therapy in children, but this approach appears less effective in adults patients, who often require steroids; despite medical treatments, EoE is complicated in some cases by esophageal stricture and stenosis, that require additional endoscopic treatments. This review summarizes the evidence on EoE pathophysiology and illustrates the safety and efficacy of the most recent medical and endoscopic treatments.
Core tip: Eosinophilic esophagitis (EoE) is a chronic immune disease, characterized by a dense eosinophilic infiltrate in the esophagus, leading to bolus impaction and reflux-like symptoms. The pathophysiology of this entity is still unclear, however the involvement of both genetic and immune factors have been suggested. In this review we summarize the evidence on EoE pathophysiology and illustrate the safety and efficacy of the most recent medical and endoscopic treatments.
---
Citation: D'Alessandro A, Esposito D, Pesce M, Cuomo R, De Palma GD, Sarnelli G. Eosinophilic esophagitis: From pathophysiology to treatment. World J Gastrointest Pathophysiol 2015; 6(4): 150-158
---
INTRODUCTION
The eosinophilic esophagitis (EoE) is a chronic immune disease, characterized by a dense eosinophilic infiltrate into the esophagus. Dysphagia and food impaction episodes are recognized as the main symptoms of EoE in adults, however regurgitation, chest pain and heartburn may also be referred[1].
Considered as a pediatric disease until few years ago, it is now clear that EoE may also occur in adults, especially young Caucasian man[2]. A rapid increase of incidence in the last decades has been registered, however a retrospective study[3] on biopsies collected between 1982 and 1999 revealed that the incidence of EoE appears stable, suggesting that the higher rate of new diagnosis depends, almost in part, on the improved disease recognition. African, West Asian and South American population share a low prevalence rate, but the real incidence of EoE in these countries remains unclear[4,5].
The EoE-symptoms pattern is heterogeneous and although dysphagia and food impaction are frequently reported, patients may also complain of typical and atypical gastroesophageal reflux disease (GERD) symptoms, leading to a delay in the diagnosis.
Endoscopic features, such as esophageal rings, white exudates or plaques, longitudinal furrows, diffuse esophageal narrowing, and mucosal fragility, may help the diagnosis, but histological identification of predominant eosinophilic-inflammation, with more than 15 eosinophils for high power field, represents the main diagnostic criterion for EoE (Figure 1 and Table 1). Nevertheless, the histological evidence of esophageal eosinophilia in a subset of proton pump inhibitors (PPI) responder patients further complicates the diagnosis. Previously considered a GERD-subtype, actually, PPI-responsive esophageal eosinophilia (PPI-REE) is considered a different entity, not distinguishable from EoE[1,6]; in the Figure 2 it is summarized the diagnostic algorithm in case of suspected EoE.
Endoscopic features
Esophageal rings
White exudates or plaques
Longitudinal furrows
Diffuse esophageal narrowing
Mucosal fragility
Histological features
Eosinophilic infiltration (≥ 15 eos/hpf)
Eosinophilic degranulation
Basal zone hyperplasia
Eosinophilic micro-abscesses
Spongiosis or dilated intercellular spaces
Intramucosal lymphocytes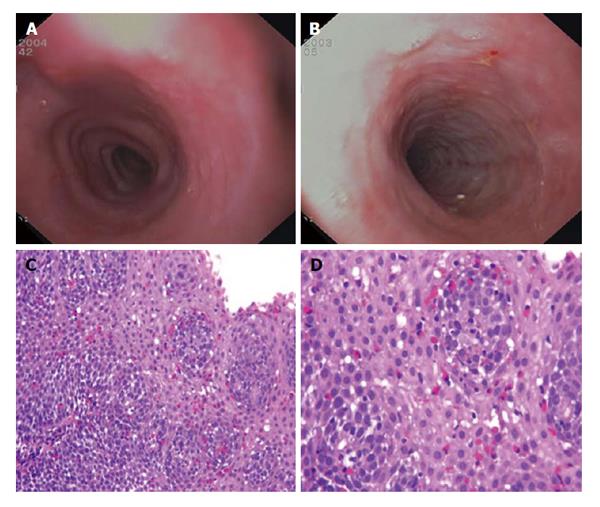 Figure 1 Endoscopic and microscopic findings in eosinophilic esophagitis.
A: Esophageal rings; B: White exudates, longitudinal furrows and mucosal fragility; C and D: Esophageal mucosa infiltrated by several eosinophils (red cells) (C: Original magnification HE 150 ×; D: HE 400 ×).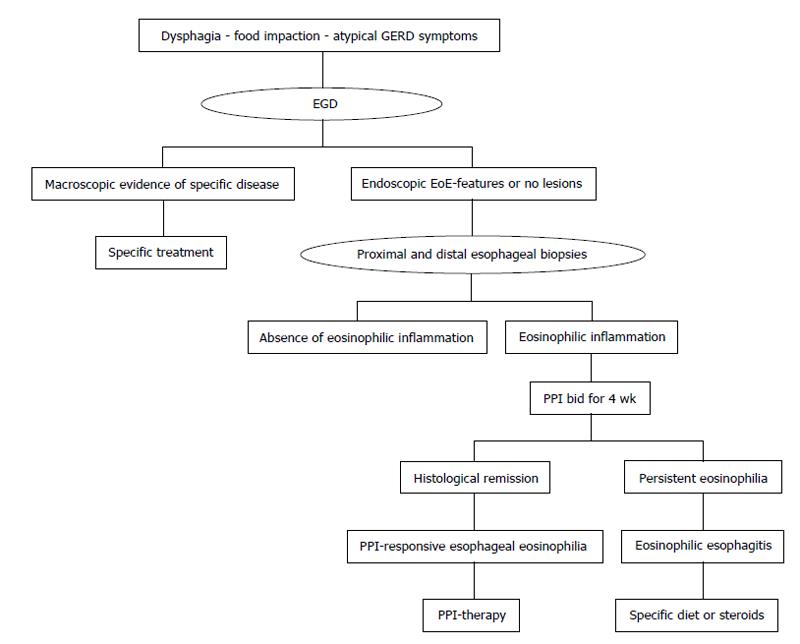 Figure 2 Diagnostic flow-chart of eosinophilic esophagitis.
GERD: Gastroesophageal reflux disease; EoE: Eosinophilic esophagitis; PPI: Proton pump inhibitors; EGD: Esophagogastroduodenoscopy.
The pathogenesis of EoE is unknown, but it is supposed to be multifactorial with genetic, immunologic and environmental factors being all involved. There is evidence that EoE is more prevalent in patients suffering from food-allergy, rhinitis, asthma or atopic dermatitis[7,8]. Interestingly, all these pathologies share an altered immune response to common antigens, which determinates an aberrant Th2-response, and, hence, the uncontrolled activation of eosinophils, mast cells and basophils[9-13].
Specific allergy testing, or empiric elimination diets represent the first line therapy in children with EoE[1,14]. Topical corticosteroids are considered the mainstay of therapy for adult patients[1,15], while systemic steroids are reserved to patients with persistent eosinophilia[1]. Besides its central role in the diagnosis of EoE, endoscopy has also of great impact on the treatment of EoE fibrotic complications[1,16].
This review summarizes the most recent evidence on the pathogenesis of EoE, focusing on the role of genetic and immunologic factors and illustrates the safety and efficacy of the most recent medical and endoscopic treatments.
PATHOPHYSIOLOGY
Genetic factors
The higher risk of EoE in familiars of affected patients supports the hypothesis of genetic predisposition. The latest familial study[17] estimated that 2.4% of proband siblings' also had EoE, with a 40-folds higher risk, than general population.
The incidence of EoE is higher in monozygotic twins (41%), but the observation that the disease also occurs in 21% of dizygotic twins suggests a role for environmental factors, especially in the early-life[17]; by using a complex statistical model it has been estimated that the contribution to the familiar risk depends by hereditability and exposure to common environment for 14.5% and 80%, respectively[17].
Three different approaches have been used to identify the genes involved in EoE predisposition: The association with Mendelian syndromes, the search for a specific gene and the genome-wide association studies[18] (Table 2).
Genes
Encoded protein
Mechanism of action
Ref.
Mendelian syndromes
FBN1 (Marfan syndrome)
Fibrillin
Alteration of TGF-β pathway
[19]
COL (Elher-Danlos syndrome)
Collagen
Alteration of TGF-β pathway
[19]
TGFBR (Loeys-Dietz syndrome)
TGF-β-promoters
Alteration of TGF-β pathway
[21]
STAT3 (Iper-IgE syndrome)
Transcription activator 3
Aberrant cytokines production
[18]
DSG1 (SAM)
Desmoglein1
Loss of cell-cell adhesion
[23]
EoE-associated genetic variants
CCL26
Eotaxin-3
Eosinophilic chemo-attraction
[25]
FLG
Filaggrin
Epithelium-ECM interaction
[18]
TSLP (5q22)
TSLP
Basophils chemo-attraction
[28,29]
CAPN14
Calpain 14
Proteolytic effects
[28]
An increased prevalence of EoE has been reported in patients affected by hypermobile connective tissue diseases, like Marfan, Ehler-Danlos and Loeys-Dietz Syndromes; interestingly, these pathologies are characterized by a defective transforming growth factor (TGF)-β pathway, and the observation that this factor is increased in the esophagus of both syndromic and not EoE likely supports its causative role[19-21]. A major risk of EoE has been also described in some pro-allergenic Mendelian diseases, like the "Iper-IgE syndrome"[18] and an autosomal dominant disease belong to Mast-cell Activation syndromes, characterized by high levels of mast cell tryptase, this association strongly suggests the pathogenic association between EoE and atopic diseases[22]. This concept is further supported by the association between EoE and a rare syndrome characterized by severe atopic dermatitis, multiple allergies and metabolic syndrome (SAM); this syndrome is characterized by a mutation of desmoglein-1 gene's[18,23], whose expression is significantly reduced in idiopathic EoE[24].
Candidate-gene identification studies allowed identifying the putative factors associated with EoE in non-Mendelian syndromes. A single-nucleotide polymorphism (SNP) in the gene CCL26, encoding for the eotaxin-3, was associated with EoE[25]. This protein is overexpressed in esophageal epithelial cells of affected patients, and plays an important role in the chemotaxis of eosinophils[26,27]. Similarly, a SNP in the gene encoding for the filagrin, a structural membrane protein involved in epithelial cells-extracellular matrix interaction has also been identified[18]. Several genes were found to be associated with EoE by genoma wide association studies. In one of the most recent report[28] a significant association between a locus on 5q22, encoding for the cytokine thymic stromal limphopoietin (TSLP) and EoE was reported. Although the specific mechanism remains, yet, to be clarified, TSLP has been demonstrated to have a pivotal role in the activation of basophils in human and animal models of EoE[29,30]. In the same study[28] also the CAPN14 gene, encoding for the calpain subfamily of proteolytic systems, was identified; more precisely this protein, that is specifically expressed by epithelial cells of the esophagus, is activated by interleukin (IL)-13 and participates to inflammatory process[28].
Immune system factors
The EoE is characterized by a prevalent eosinophilic infiltrate in the lamina propria and submucosa of the esophagus. The precise mechanisms of such localized inflammatory reactions are not recognized yet, but it is suggested that different cytokines are involved in the maturation and migration of eosinophils. In particular, IL-5, IL-13 and granulocyte-macrophage colony-stimulating factor are produced by different cell types, included esophageal epithelial cells, after an appropriate stimulation by the antigen-presenting cells (APCs)[31]. As shown in Figure 3, the evidence that in EoE patients there is desmoglein-1-dependent altered barrier function[23] have led some authors to hypothesize that the increased permeability of esophageal epithelium could facilitate the passage of different antigens, that causes the activation of APCs and invariant natural killer T-cells. These cells, if properly stimulated, are able to prime a Th2 immune response, by the production of IL-13 and IL-4[32]. However, whether the barrier impairment represents a primum movens, or an epiphenomenon in the context of the eosinophilic-inflammation remains unclear. Sherrill et al[33] have demonstrated that esophageal epithelial cells express toll-like receptors, whose antigens-mediated activation, through the production of IL-5 and IL-13[34], is able to trigger a Th2-response with the production of other cytokines and the proliferation of eosinophils, T-cells, mast cells and basophils[31].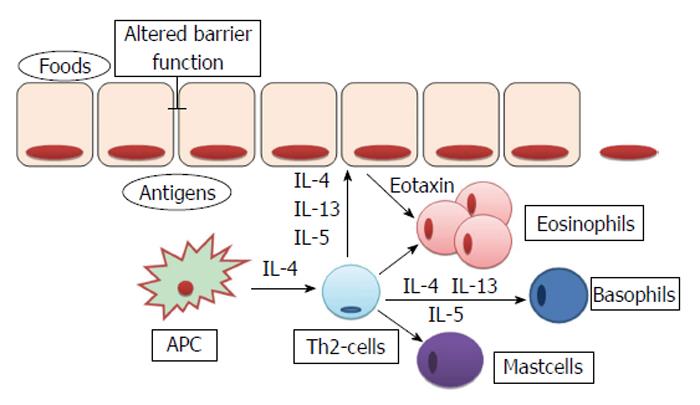 Figure 3 Pathophysiological mechanism involved in eosinophilic infiltration of esophageal mucosa.
IL: Interleukin; APC: Antigen-presenting cell.
The increased release of these cytokines in both the esophagus and the blood of EoE patients has been demonstrated in different studies[35,36], and, although need to be further clarified, their role in the pathogenesis of EoE appears to be fundamental.
IL-4 and IL-13 are able to prolong the T-cell survival and to increase eosinophilic migration through the release of Eotaxin-3 and TSLP by epithelial cells[37]; recently, Zhu et al[38] found that IL-15 is also enhanced in EoE and, most interestingly, they demonstrated that IL-15 receptor deficient mice are protected from EoE, but not from other allergic diseases, supporting a specific role of IL-15 in the "allergic-pathway" of esophagus. Although the eosinophilic infiltration represents the main characteristic, it is of relevance that other immune cells, like basophils and mast cells, are also involved in the pathogenesis of EoE and they likely contribute to the amplification of the esophageal inflammatory response and mucosal damage[18,20,29].
Mechanisms of mucosal damage and fibrosis
Food impaction and dysphagia are the main symptoms in patients with EoE and these are a direct consequence of the esophageal mucosa remodeling and fibrosis.
Eosinophils synthetize and release many proteins and mediators, in particular major basic protein (MBP), eosinophil cationic protein, eosinophil peroxidase, eosinophil-derived neurotoxin, TGF-β, IL-13 and platelet-activating factor. Although all these mediators play a key role in the tissue damage and remodeling, the most robust data are about MBP and TGF-β[37].
MBP is able to directly damage epithelial cells, but also to induce mast cells degranulation, increasing the release of proteolytic enzymes, tryptase and chymase, that further participate to the deconstruction of the extracellular matrix[39]; MBP is also able to stimulate the production of fibroblast growth factor-9, leading to fibroblasts proliferation and activation[40]. Similarly, TGF-β induces both fibroblasts activation and contraction, causing their transformation into myo-fibroblasts[41]; in addition at high concentration TGF-β stimulates epithelial cells to assume phenotypical characteristic of fibroblasts, a process named epithelial-mesenchymal transition[42]. These mechanisms act synergistically, determining the altered synthesis of extracellular matrix proteins, such as collagen, tenascin-C and metalloproteinases[43]. In recent studies the periostin, that is highly expressed in the esophagus of EoE patients, has been proposed as a major determinant of extracellular matrix alteration and epithelial barrier function impairment, because of its ability to determine collagen cross-linking and to bind several matrix proteins and integrins[44].
As mentioned above, other immune cells rather than eosinophils participate to the inflammatory response described in the EoE; recently, the ability of epithelial and mesenchymal cells to synthetize and release different molecules has been also suggested to contribute to tissue damage[12,20,45]. In addition, some authors found a correlation between the inflammatory cells infiltrate and enteric neurons alterations, but the role of enteric nervous system impairment in the process of mucosal damage has not been clarified, yet[46].
THERAPEUTIC OPTIONS
The "3 D-approach" summarizes the three major treatments for EoE: Diet, drugs and dilation. Although clinical remission represents a good parameter to evaluate the effectiveness of therapy, the endoscopic and histological response is required. The main endpoint of diet and drug therapies is the resolution of both symptoms and inflammation, however the complete remission is rare, and the relief of esophageal symptoms in association with a significant reduction of mucosal eosinophilia should be considered a good response[1].
CONCLUSION
EoE represents a multifactorial disease, in which both genetic predisposition and environmental factors contribute to disease manifestations. Although in the last years many studies have been performed, its pathophysiology remains unclear, likely reflecting the heterogeneity of disease phenotype.
The EoE-symptoms pattern is heterogeneous, dysphagia and food impaction are frequently referred, however also atypical GERD symptoms may be reported. The histological identification of a prevalent eosinophilic esophageal infiltrate represents the major diagnostic criterion for EoE, however only the PPI-trial allows to distingue EoE from PPI-REE.
The good response to diet therapy in children, supports the role of food as a major trigger factor, leading to define EoE a subtype of food-allergy. For this reason, elimination diets and corticosteroids represent the mainstay of EoE-therapy, while endoscopic dilation have a key role in the treatment of fibrotic complication.
P- Reviewer: Hokama A S- Editor: Song XX L- Editor: A E- Editor: Liu SQ